Most people have a fear of this creature. This fear has given rise to a few horror films. They are creepy and crawly with multiple legs building webs as their homes. If you thought about spiders, then give yourself a pat on your back. You are right. We've got you a collection of free printable spider coloring pages.
Those tiny creatures you see in the corner of the house or in the backyard somewhere, are one of the most diverse organisms in the world, with known species ranging around 48,200. Spiders are part of joint-legged invertebrate animals known as Arthropod. They belong to the class Arachnida, which includes scorpions and mites.
If the term Arachnida seems familiar to you, it must be because of another term, arachnophobia which is what we know as fear of spiders. Let's cast aside all fears and explore the webbed world of this creature through this collection of spiders coloring sheets to print.
to join this conversation on GitHub. Already have an account? Sign in to comment Footer © 2023 GitHub, Inc. Footer navigation Terms Privacy Security Status
27 Free Spider Coloring Pages Printable
Black Widow Spider, The Lethal Hunter:
Famous or infamous for its lethal prowess as a hunter and reputation for being notorious, the Black Widow spider belongs to the family Theridiidae. There are several species under the genus Latrodectus of the widow spiders, one of which is the Black Widow seen here in all its furious glory.
Camel Spider, Neither Spider Nor Camel: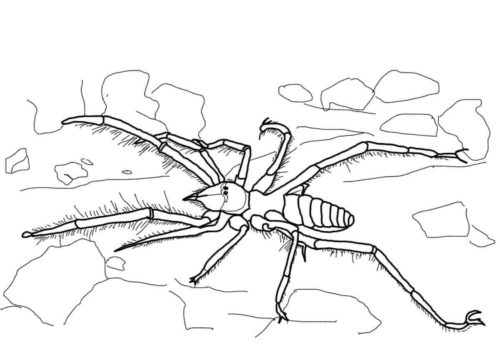 Some names of animals can get pretty confusing. Take this fellow as an example. Looking at it you can be sure it's a spider, especially when it is called Camel Spider, but it's not a true spider. And it clearly is not a camel! It belongs to the order Solifugae under the same class as spiders, Arachnida. You are lucky to be able to see them here because they are fast creatures with a maximum speed of 16 km per hour.
Carolina Wolf Spider, Agile Hunters: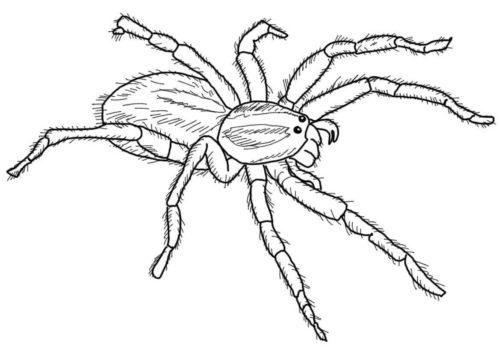 Wolf Spiders derived their name because of their ability to hunt with great agility, helped by their powerful eyesight and incredible strength. Belonging to the family Lycosidae, Wolf Spiders are solitary hunters, with varying methods of hunting depending upon the species.
Cute Spider Smiling, His Fangs Dangling:
If the first few illustrations got too serious or scary for you, here's a cute little spider to give you a happy break. Showcasing all its eight legs, this spider is smiling wide for you, so wide with its fangs dangling.
Easy & Cute Spider Coloring Page: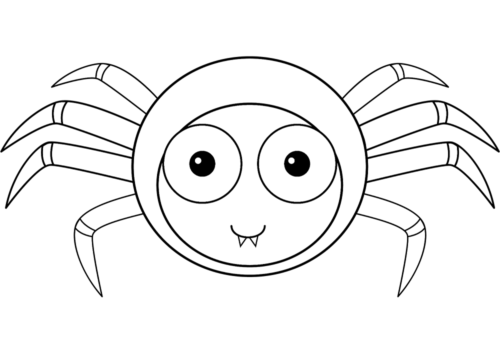 With sparse details and bare outlines, this spider coloring page should be easy for those who are just starting to learn to color. Remember to follow the first rule of coloring, always color inside the lines. Print this coloring page and easily color this spider illustration.
Animated Female Spider, Looking Joyful & Happier:
Frustrated by the strong winds, this female spider was unable to construct its web house. Thankfully, the wind subsided, and the weather turned fine. Now, she is looking much happier having just completed building her web.
Fill Colors In The Spider: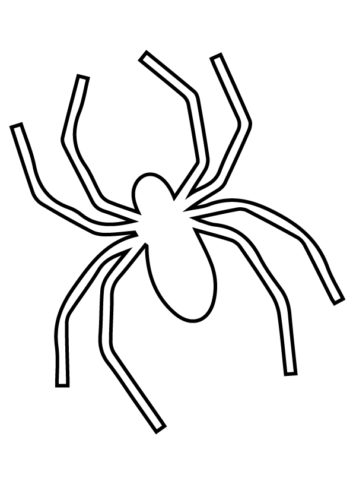 This is a bare minimum spider illustration. You can make it come alive with your expert coloring skills. Be sure to use different colors for different parts of the spider's body to highlight the complete body structure.
Holding A Spider On Your Palm, Be Sure To Remain Calm:
Several spider species are non-venomous and do not harm humans or other mammals. Even among those which are venomous, there are species that are non-aggressive towards humans. The key is to remain calm when handling them. Just like this fellow, who is expertly letting the spider remain on its palm by being super calm.
Halloween Spider Is Here To Scare You:
With a witch hat on top of its hat and its dandy long legs, this spider is fully ready for the Halloween party. Seems like it is completely happy with its getup for the day. Give it a splash of some scary and happy colors to make it an even more memorable experience.
Halloween Scene With Spider, Bats, Kitty & Pumpkin:
The little kitty is hiding behind the giant Halloween pumpkin cut-out as the street is filled with several people in extremely odd and weird costumes. The flying bats in the background and the spider trying to reach for the pumpkin add to this scary Halloween scene.
Happy Four-Eyed Spider:
Spiders can have multiple pairs of eyes, unlike humans. As this funny illustration suggests, you can have spiders with four eyes and some as many as eight eyes. This is also one of the reasons why some spider species have excellent eyesight. Give this jumpy & funny spider some of your bright and fun colors.
Realistic Spider Coloring Page:
From the wacky and fun spider illustration, we now have a completely realistic interpretation of a spider on this coloring page. You can clearly see the segmented body, the multiple legs and the fangs in the front. Print this coloring page and give this realistic illustration a realistic color treatment.
"S For Spider" Coloring Page:
What comes to your mind starting with the letter "S" in the English alphabet? Yes, of course. As our topic of this collection is spiders, "S" is for "Spider". Look at the cool illustration that accompanies the letter "S" on this coloring page. Be as creative with your coloring skills as the artist was with the illustration.
Spider Activity Sheet:
Time for some activity with spiders. Don't be alarmed. It doesn't involve a real spider, only this illustration. As you can see the spider isn't fully drawn and needs your help to become whole. Print this page and complete the illustration by joining the dots.
Spider Comes Out Of A Bowl, After Its Accidental Fall:
As a strong wind blew suddenly, this spider was caught off-guard and found itself falling from its climb on the wall, straight into a water bowl. Thankfully, it was just normal temperature water and not hot liquid. After struggling for a while, the drenched spider makes its way out.
Spider Coloring Page For Adults:
This artistic representation of a spider and its web comes with an excellent level of detail. The design is too intricate for newcomers and is an apt illustration for adults. So, turn on your creativity to its highest level as you print and color this elaborately designed spider illustration.
Spider Coloring Page For Kids:
Giving a more simplistic and realistic depiction of a spider in its web, here's a coloring page that will be super easy yet creatively satisfying for kids to color.
Giant Spider Comes Down A Tree:
This illustration shows a giant spider coming down a tree branch. Instead of walking along the tree, it simply uses its web string to hang itself, slowly descending to the ground.
Spiders Are "Webmasters":
With their ability to make webs, spiders can be called the webmasters of the animal kingdom. Here is a group of four spiders making a large web together.
Spider Enjoying In Water:
Playing with water is a fun activity, isn't it? Illustrating the same sentiment is this illustration of a spider riding on water falling from the drainpipe.
Spider Found Food:
Using their web, spiders hunt for their food. Any disturbance on the web like vibration can be felt by the spider, alerting it of possible prey.
Spider Hanging Out With Bats:
Do you know some giant spider species can even prey upon bats? Yes, some species are big enough and have strong webs where if bats get stuck, they fall victim to the spiders.
Spider Looks Hungry, Color It Pretty:
Talking of prey, it seems this spider has got an appetite. For now, satiate its hunger with some colorful splashes on its body.
Spider Web Coloring Page:
With this illustration, you can appreciate the artistry of a small spider that can even build a giant web.
Spider With Mustache: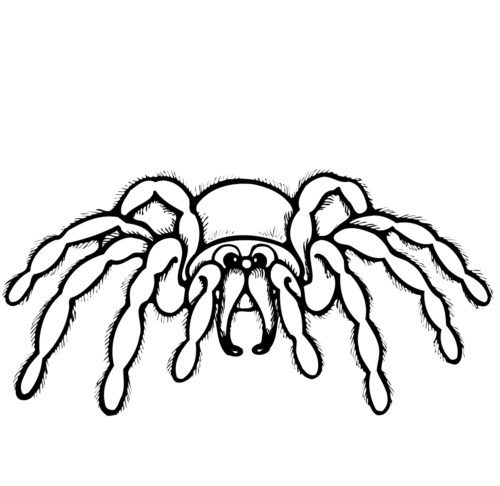 Some spider species seem to be sporting a mustache, like Heteropoda venatoria spider which use their fine white mustache just below their eyes to lure preys and hunt.
Ron Weasley's Nightmare, Crawling Spiders:
A bunch of spiders crawling all around. This seems like the kind of nightmare Ron Weasley from Harry Potter would have, doesn't it?
Tarantula, Hairy Spiders:
Perhaps one of the most popular spiders, being adopted as pets by many, Tarantulas belong to the Theraphosidae. They are very hairy; their hair can cause skin irritation and other effects.
On that note, we conclude today's collection of scary, funny and interesting spider coloring pictures to print. As you noticed in this collection, spiders come in varying sizes, ranging from the tiniest spiders you might have seen in and around your house to the giant ones you must have watched on wildlife shows and videos. So, next time you see a spider, you will be able to know some of its visible features like its size and even the number of eyes.