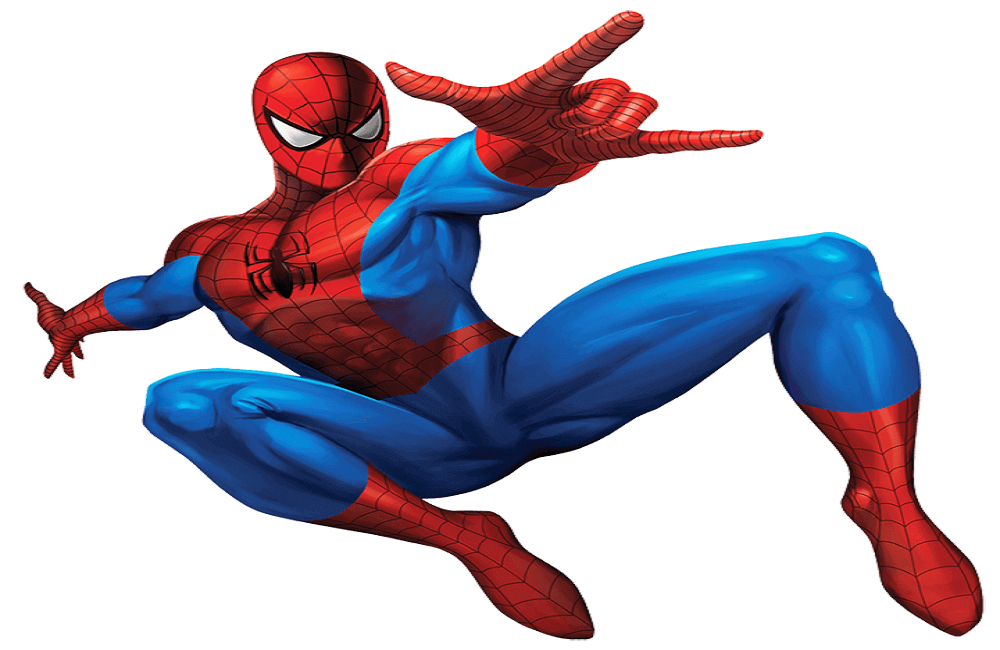 Greetings little superheroes! We are tackling some superpowers of a young superhero in today's collection of free printable Spider Man coloring pages.
Created by Stan Lee and Steve Ditko, Spider-Man was first introduced to the world through Marvel Comics in August 1962. He is one of the most well-known and loved superheroes and the first teenage superhero. Spider-Man is a story of a teenager who gets bitten by a radioactive spider and starts exhibiting spider-like qualities, such as being able to climb walls, ceilings and shoot spider-web.
The story has seen several adaptations on TV and films. The latest being the Tom Holland starrer, Spider-Man: Homecoming, released in 2017 under the Marvel Cinematic Universe, with a sequel releasing this year on July 5, 2019.
to join this conversation on GitHub. Already have an account? Sign in to comment Footer © 2023 GitHub, Inc. Footer navigation Terms Privacy Security Status
Let's explore more about this teenage superhero through this collection of Spider Man coloring sheets to print.
30 Free Spider-Man Coloring Pages Printable
Black Spider-Man: The Darkness Of Spider-Man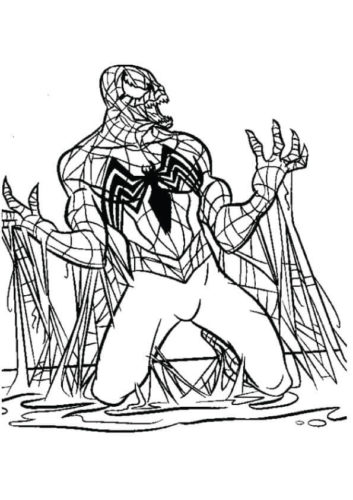 When a mysterious black alien substance comes in contact with Peter Parker, it feeds on the darkness in him, multiplying to an extreme degree. This leads to the formation of a new Spider-Man costume, which is black in color, giving rise to the Black Spider-Man. In the near future, it is revealed that the alien substance finds a new host and brings about the rise of the villain Venom.
Peter Parker Changes Into Spider-Man:
In the back-alley of the New York street, Peter Parker changes into Spider-Man when he hears about a crime being committed not far from where he was going. Look at the dog, staring blankly while Spider-Man shows him a thumbs up to say that everything is alright.
Spider-Man Fights Doctor Octopus, The Mad Scientist:
In 2004 movie, Spider-Man 2 directed by Sam Raimi, we are introduced to a mad scientist Otto Octavius. In his mad ambition, he infuses four mechanical tentacles to his spine, thus earning the name, Dr. Octopus. When he tries to run a highly dangerous experiment, risking the lives of people and the existence of a city, Spider-Man stands in his way.
Spider-Man Watches Over The City:
With his sharp spider-sense, Spider-Man watches over the city, keeping a tab on any crime being committed. No sooner does he hears or knows about something odd happening somewhere, he will come swinging through the skyscrapers to the rescue and stop any criminals. Print this page and get this worthy superhero your best colors.
Spider-Man And His Spider-Web:
One of the most popular illustrations to showcase the powers and origins of Spider-Man, this coloring page shows Spider-Man hanging on to a large spider-web. Print this page and remember to color this cool superhero in his proper color. That's right – red and blue and a little bit of black.
Lego Spider-Man Coloring Page:
Like those of several superheroes, to make your playtime fun there are Lego versions of the Spider-Man as well. If Batman has a Lego Batman Movie to boast about, Lego Spider-Man has a television series to his credit.
Peter Parker – The Teenage Superhero:
Much like any other normal high-school going teenager, Peter Parker shares the same difficulties and challenges in life. This was what set Spider-Man apart from other superheroes who were all grown-up and not a teenager like him.
Peter Parker Saves Gwen Stacy:
Gwen Stacy studied in the same high school as Peter Parker, but it was only later that they became lovers. When Gwen Stacy became a science major and Peter had broken up with Mary Jane, they reconnected again. Here, you can see Peter's Spider-Man instinct coming to the fore, as he saves Gwen Stacy.
Spider-Man And Batman: Two Comics Worlds Collide:
These are two superheroes belonging to two different comics world, Marvel Comics and DC Comics which does not interact at all. Except on rare occasions like the time when DC's Batman and Marvel's Spider-Man came together for a comics issue. Give this rare image your respected coloring skills.
Spider-Man And Venom In A Duel:
Eddie Brock is a journalist who starts working in the same place as Peter Parker, trying to defame Spider-Man in 2007 film, Spider-Man 3. When Spider-Man discards the black alien substance which had overtaken him, it clings on to Brock and he becomes Venom. Here you can see Spider-Man fighting Venom in an exciting fight sequence from the movie.
Peter Parker Gets Exclusive Spider-Man Photographs:
In order to find a job while still being able to fight crimes as Spider-Man, Peter Parker lands a job at the newspaper, Daily Bugle. He had taken photographs of himself as Spider-Man knowing they there wouldn't be anyone else with better pictures.
Spider-Man Holds Up A Falling Bridge:
In one of his rescue missions, you can see Spider-Man using his superhuman strength to keep a bridge from falling and hurting people. He is carrying the falling piece of the bridge away from the public to safety. Print this page and just like Spider-Man, give it your best effort.
Spider-Man Fighting A Villain: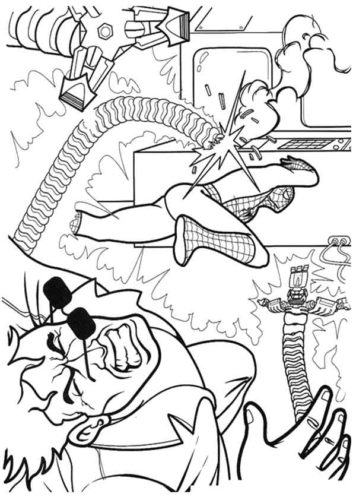 In his fight against crimes, Spider-Man comes across various villainous people. Some are odd and powerful creatures, while some are ordinary people with really bad intentions. Fighting one such villain here, you can see Spider-Man is using all powers flying around the room to defeat him.
Spider-Man Flying With His Thread Of Web:
One of the major powers that help Spider-Man, aside from being able to crawl up on walls and ceilings, is the ability to make the web. Using an aid on his wrists, he is able to throw a thread of web which he uses as ropes to fly around the cityscape, enabling him to navigate fast and effectively.
The Mask Of The Spider-Man:
Here's the mask that kept the identity of Peter Parker safe while letting the world know of Spider-Man. You must have toy masks of Spider-Man of your own or have seen it being worn by others. Print this page and bring out the cool detailing of the mask with your colors.
Peter Parker – The Man Behind Spider-Man:
Looks like Peter Parker has just come back from a very successful rescue operation. He is smiling widely after having saved the day and stopping a crime from happening. Doing something good always brings us happiness and joy, doesn't it? Make sure, whenever you can, to help those around you who may need your help. A little help can go a long way.
Spider-Man Rescues A Girl In Danger:
When you are fighting crime, you never know when and where you will be needed. That is why Spider-Man always carries his costume with him. This trick has worked for him, as he just helped a girl in danger while he was taking a walk in the park. Look at him flying her back to safety.
Spider-Man Is On The Ceiling, Ready To Pounce On A Villain:
Taking complete advantage of his superpowers, here is Spider-Man firmly gripping to the ceiling. He has come into the scene silently and is just about ready to pounce on the villain below who has no idea the Spider-Man is here to stop his evil plans. Print this page and color this thrilling moment.
Spider-Man Climbing On The Side Of A Building:
Another exciting thing Spider-Man is able to do after he got the powers, is being able to climb up a building. Can you imagine looking out your building and seeing Spider-Man being supercooled, simply climbing up the building with just his hands and feet? Give this fun illustration some exciting colors.
Spider-Man Flying, Swinging Around The City:
The first time Peter Parker discovered his ability to shoot a thread of the web, it was an exciting and adventurous time. But it came with a lot of hiccups. He would fail to aim properly and stumble and fall. But he never gave up and quickly learned the art of flying, which helped him in swiftly fighting crimes around the city.
Spider-Man Hangs Upside Down In Front Of The Town:
All the crime-fighting doesn't stop Peter Parker from having fun as Spider-Man. He is gathered here making a special appearance, living up to the phrase, "Your friendly neighbor Spider-Man". When the mayor of the city was supposed to give him the Key to the City, he turned up in an amusing way, hanging upside down on the stage. Get a print out of this coloring page and fill this illustration with entertaining colors.
Spider-Man Signal, Logo And Pose:
This illustration shows you the Spider-Man in one of his most popular poses, where he is ready to shoot out a thread of the web, as well as the Spider-Man logo and Spider-Man signal. Print this page and give each element on this illustration, the apt color combination with your coloring skills.
Spider-Man Faces His Enemy Venom:
Fighting with all his might, Spider-Man is seen here in this illustration making sure that Venom is subdued and defeated. This was part of the climax sequence in the 2007 Spider-Man 3 directed by Sam Raimi. Spider-Man was played by the actor Tobey Maguire in this Spider-Man trilogy.
Green Goblin Battles Spider-Man:
The main villain in the first part of the Spider-Man trilogy, simply titled "Spider-Man", Green Goblin is seen here trying to beat Spider-Man. During the end of their fight, Peter learns that the Green Goblin is actually his best friend, Harry Osbourne's wealthy industrialist father. An experimental disaster led him to become the psychotic villain, Green Goblin.
Spider-Man Homecoming Coloring Page
First making his appearance as Spider-Man in the 2016 Captain America: Civil War movie as part of the Marvel Cinematic Universe, Tom Holland returned with his own movie, Spider-Man: Homecoming in 2017. The film, which was a critical as well as box-office success, shows him as Peter Parker, anxiously waiting for his next job assignment from Tony Stark.
Spider-Man Clinging To The Ceiling Poster:
The perfect place to put up this Spider-Man poster is to paste it up on your ceiling. The illustration on the poster cleverly shows Spider-Man clinging on to the ceiling, looking down at you. Imagine waking up to Spider-Man looking down at you! If it feels too creepy like spiders, you can hang it on your wall instead.
Spider-Man Resting On A Hammock:
Swinging around from one building to the other and always on the move in the city when he is fighting crime, Spider-Man has fun taking a few moments to rest high above. He shoots his web and creates a fun hammock for himself high up in the air to rest for a while, in between his crime-fighting.
Spider-Man Saves A Young Kid:
While resting up above, Spider-Man notices a young kid in danger. Within seconds he swoops down below and scoops the young boy out of the collapsing building, flying through the traffic till they reach a safe area.
Spider-Man Saves The Day:
On the way back home when a woman was being robbed, Spider-Man was in the neighborhood and came right into the save the day. When he was done with the two robbers, they had been tied tightly together for the cops to catch them.
The Amazing Spider-Man Shooting His Spider-Web:
Using special wrist actions, Spider-Man is able to shoot threads of the web to move around the city as well as use it in any way possible. This illustration may remind you of the funny sequence, in Spider-Man 2002 movie, when Peter Parker, after realizing his power, tries to remember how he had managed to shoot out the web.
If you are eager to catch a glimpse of Spider-Man before the July 5 sequel, Spider-Man: Far From Home, you can fill these Spider-Man coloring pictures to print while he continues to work as part of the Avengers team in Avengers: Endgame releasing on April 26, 2019. Get into the superhero groove, by printing and coloring our special Superhero coloring pages; from Batman to Avengers to this collection of Spider-Man coloring pages printable and many more.