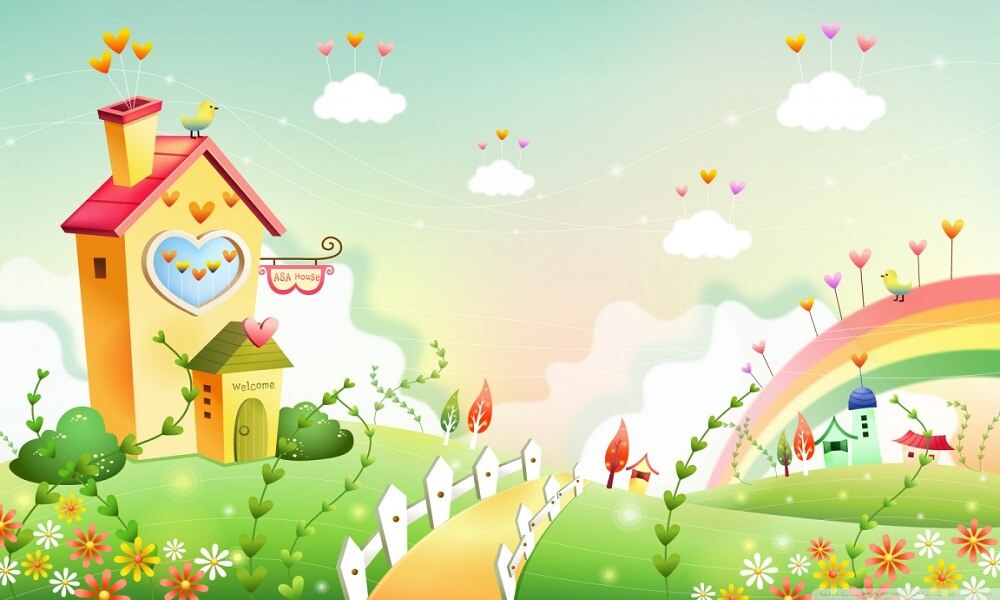 "I heard a thousand blended notes, while in a grove I sat reclined; the birds around me hopped and played, the budding twigs spread out their fan to catch the breezy air." Do these lines remind you of any season in particular? Well, this reminds me of the spring season. The wind, chirping of the birds, and everything pleasant are signs of the arrival of spring. To commemorate this beautiful season, we've got our young readers a collection of free printable spring coloring pages. Below you will find our collection of spring coloring sheets. Peep on!
35 Free Printable Spring Coloring Pages:
Adorable Spring Coloring Sheet Featuring Bees And Flowers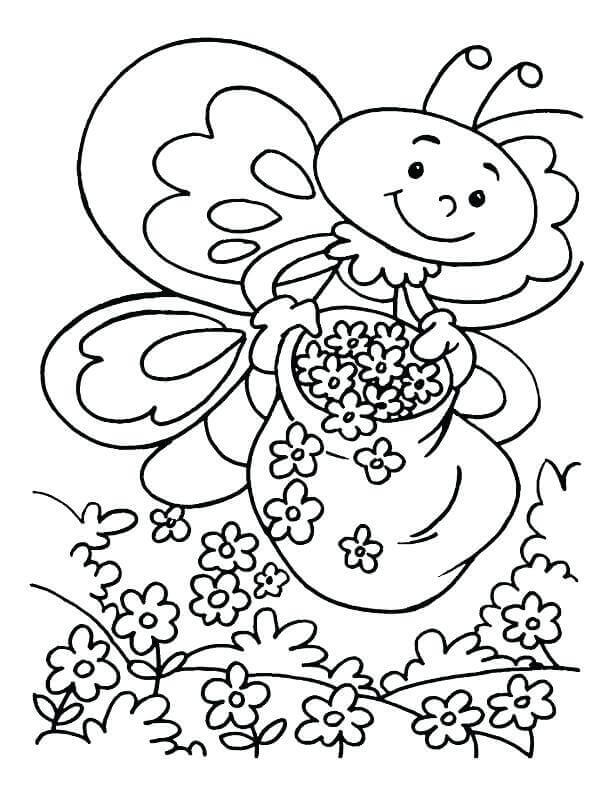 The butterfly is out to collect the flowers for her yearly spring reserve of honey. She was short on honey last year, so she decided to get a sack this year for the flower collection. As the spring season started, she got her sack and reached the best flower garden in the city. Look, she has already collected so many flowers.
[ Read: Butterfly Coloring Pages ]
to join this conversation on GitHub. Already have an account? Sign in to comment Footer © 2023 GitHub, Inc. Footer navigation Terms Privacy Security Status
Rabbit Spring Coloring Page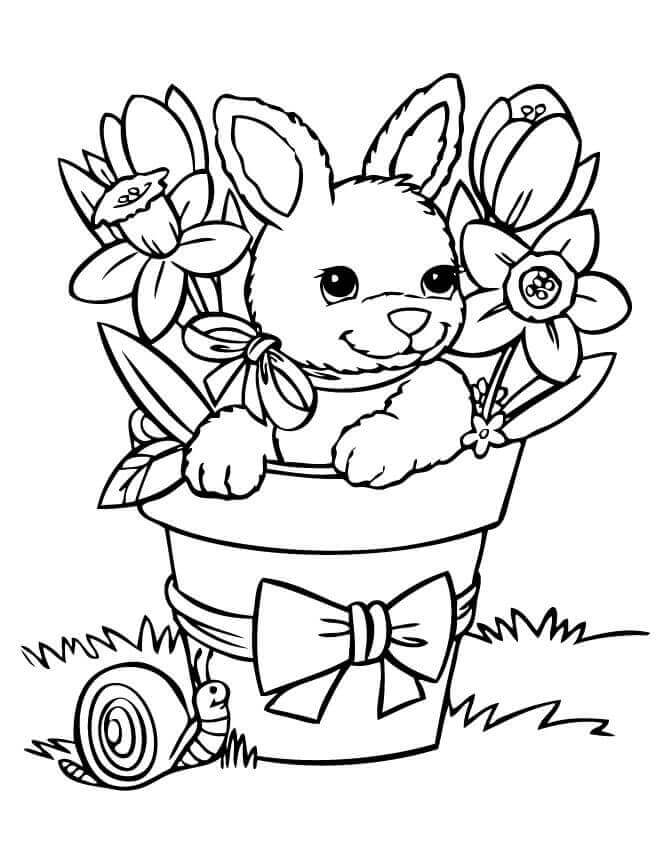 Momo the rabbit and her friend Catherine, the snail were out for a spring evening walk. They walked through all the gardens of the city and finally reached my garden. Momo was very tired, so she got in a flower pot and slept there while Catherine looked after her. When I went out to enjoy spring morning, I saw a shy Momo smiling at me.
Beautiful Spring Coloring Page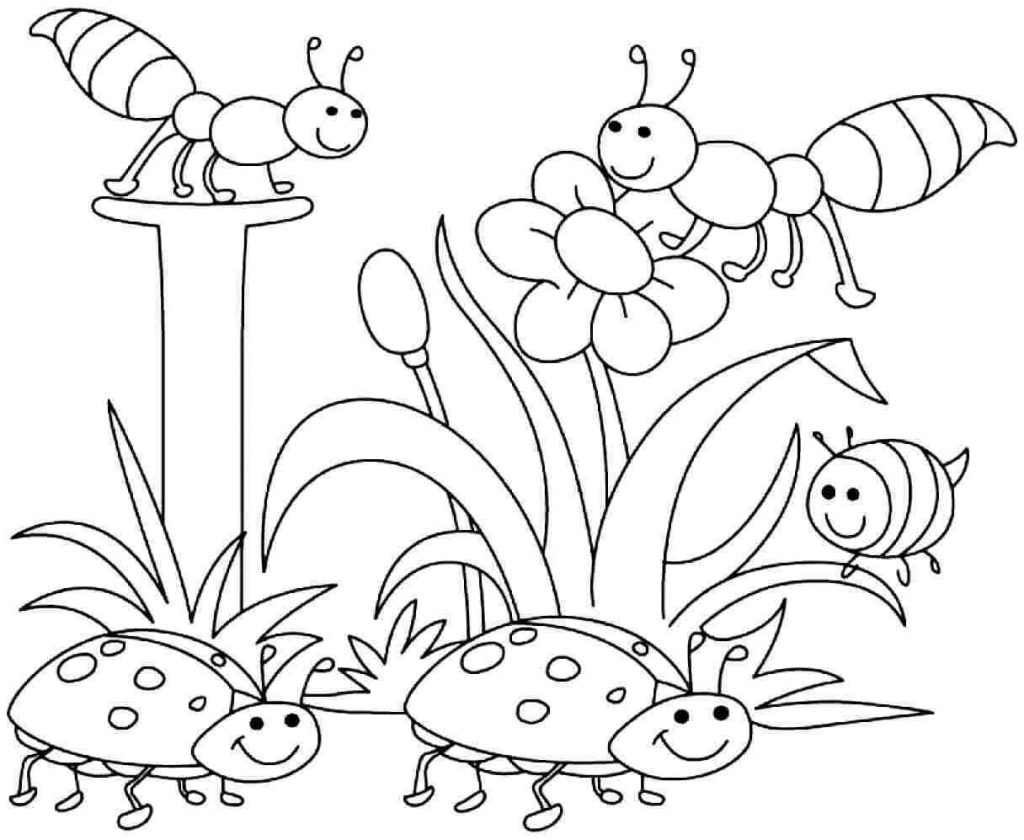 Everyone who loves spring knows there is nothing better than the fresh fragrance of flowers in this season. These little, cute insects came out of their homes to enjoy the spring weather. There is a light wind blowing and with it is the fragrance of many flowers. They also want to enjoy the colors of flowers, but those were lost. Will you be kind and make their spring more beautiful and enjoyable by coloring the flowers?
What's Happening In The Gardens?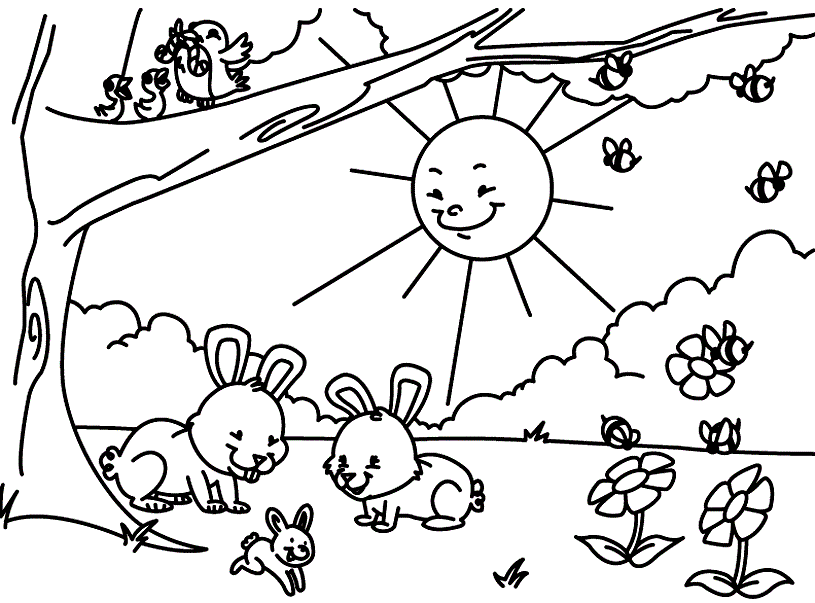 Today is a fine sunny morning of the spring season. Everyone is enjoying the weather with their families under the bright, yellow sun. The rabbit family is playing with each other after they had an early breakfast. The mother bird is feeding her babies. And look at those cute bees! They are getting ready for an adventure of collecting honey from new gardens today.
It Is Pollen Collecting Time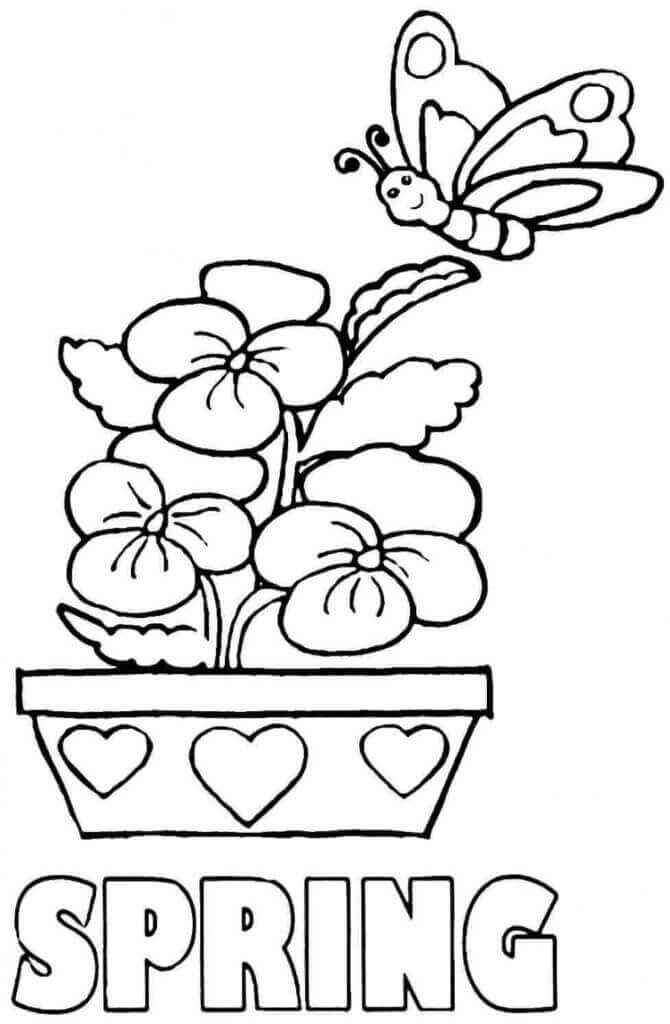 Spring is the bees' honey collection time. They get the taste of the best flowers of the year. When the flowers have just bloomed, and there is a lot of pollen to be collected, the bees become very happy. They collect as much honey as they can to make their honey. They also love the fresh smell of different types of flowers.
Donna And Delores' Spring Party
Spring means that there will be many garden parties on the list. And with parties come a lot of yummy, finger-licking food. Donna and Delores are getting ready for one such spring party they were invited to. They are trying new spring-themed hats on this spring coloring page.
Flower And Butterfly Spring Coloring Page: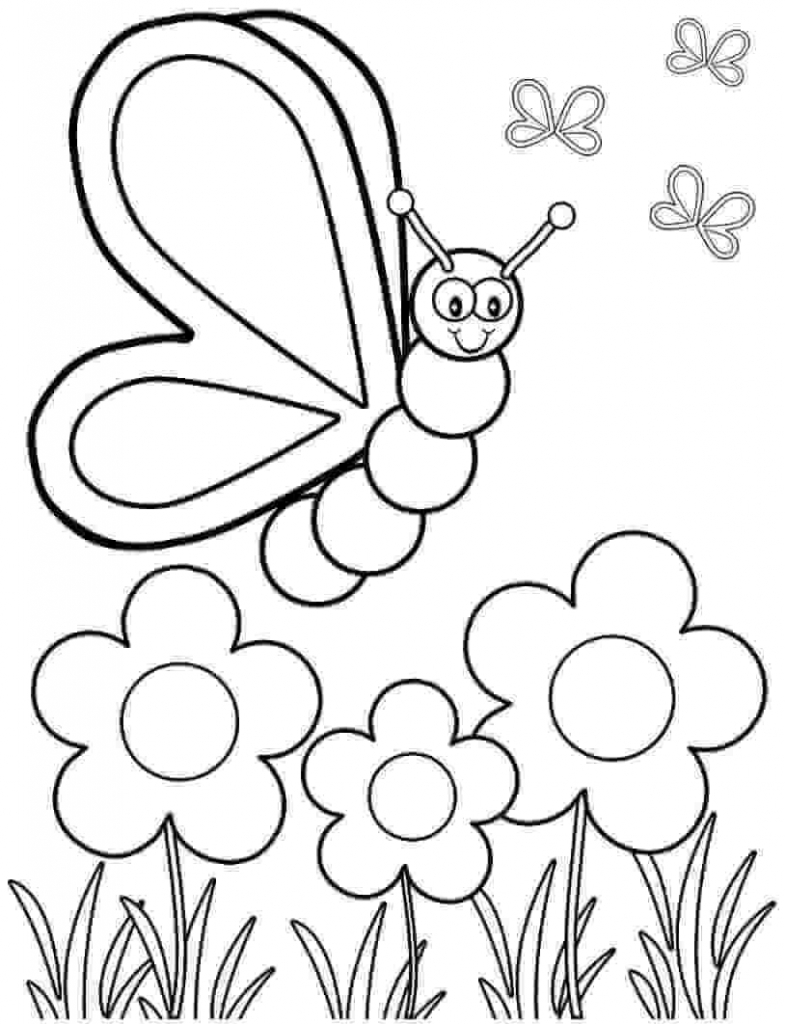 Clickee-the bee is very happy to see the new flowers. She came out of her house and was amazed to see so many flowers. At first, she started wondering where did all the colors go, and then she started searching for the colors frantically. Will you color the flowers so that she can sit in peace and enjoy the scene?
Disney Spring Coloring Page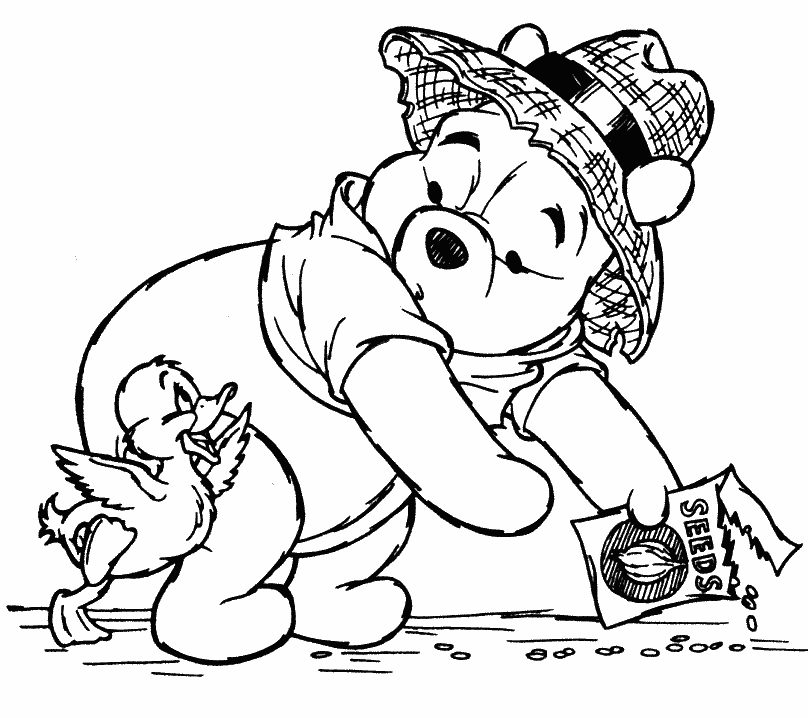 This is one of the most beautiful spring season coloring pages. Pooh was waiting for the spring season eagerly. The reason was that he wanted to sow the flowers that Piglet loves. He wanted to surprise Piglet on his birthday with a garden full of his favorite flowers that grow only during the spring season. When he put on his farming hat and had all the things he needed for the garden, he was joined by another friend. A ducking came up to him and asked whether he could join Pooh. Pooh readily agreed.
[ Read: Winnie The Pooh Coloring Pages ]
Three Little Birds
These three little birds are friends, and they like to go on new adventures every day. As spring is considered as the most pleasant season of all, they got ready for a day-long adventure. They traveled all day, and when they were tired, they would just stop by some fountains to get refreshed.
A Scenic Spring Coloring Page: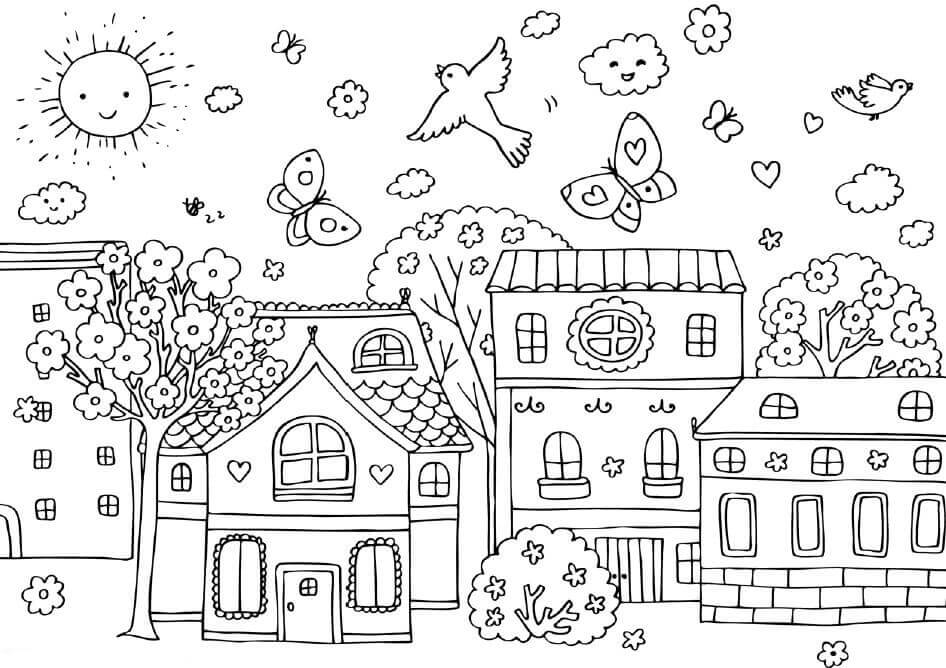 This photograph was clicked by Mary in the starting of the spring season. She wanted to capture her neighborhood in her camera's frame so that she can show that to her friends. Can you see all the happy chirping birds, buzzing busy bees, and flowers everywhere! But there was a problem, her camera only takes black and white photographs, so this spring neighborhood didn't get any color. She was told that you love to color, so will you help her?
Spring Picnic Coloring Page:
Spring season is the best time for picnics and adventures, When the parks are greenest, and there are birds, bees, flowers everywhere. So, on one fine spring morning, papa bear decided it was a perfect day for a picnic. He made some sandwiches, baked a cake and some cookies and also packed some fruits and baby bear's favorite juice for the day.
Mark's Gardening Skills
Mark had decided to learn gardening and grow his favorite vegetables in their backyard garden this year. He started learning and reading about gardening, and by the time it was spring, he was ready to start gardening. He got the seeds from the market and took out the gardening tools from the garage. He then started planting the seeds.
Flowers Spring Coloring Page: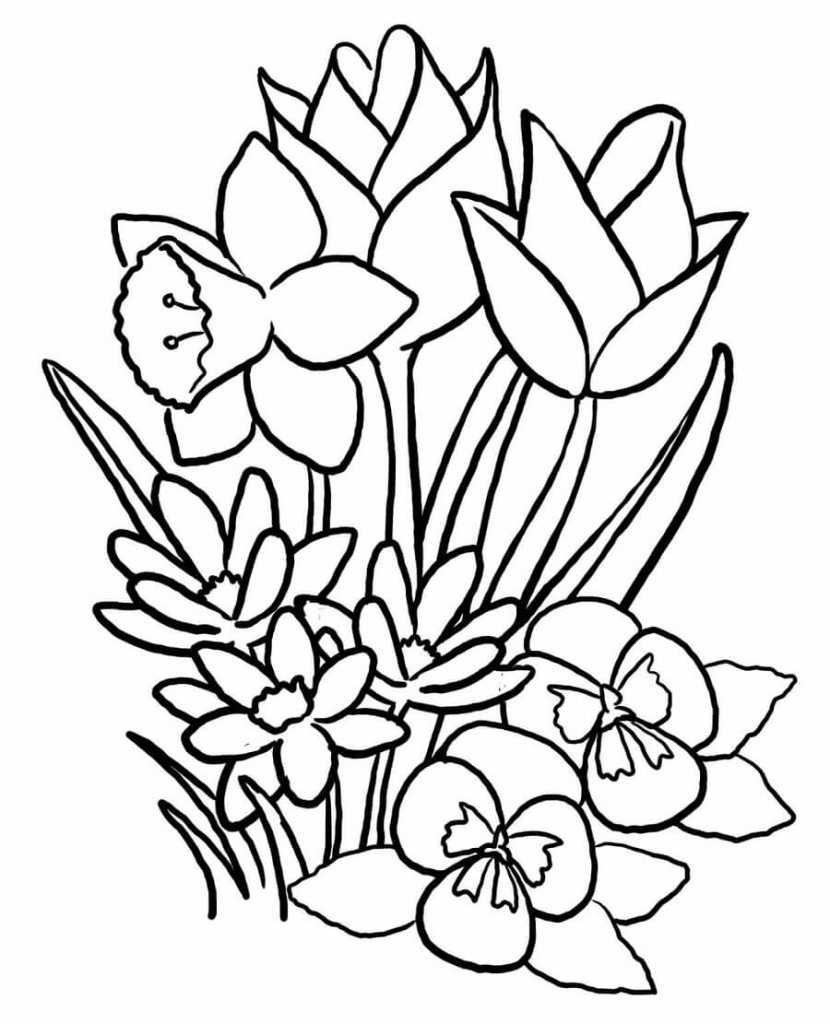 Flowers cheer up everyone, especially daffodils. They can make anyone's day better. They come in a myriad of colors and shapes, and they smell good too. Spring season is when the flowers are fresh as they have just bloomed. But this year as God was too busy, he forgot to color some flowers. These are the flowers that were left from being colored. Will you help them by coloring so that they can join the other flowers in the garden?
[ Read: Flowers Coloring Pages ]
Happy Spring Coloring Page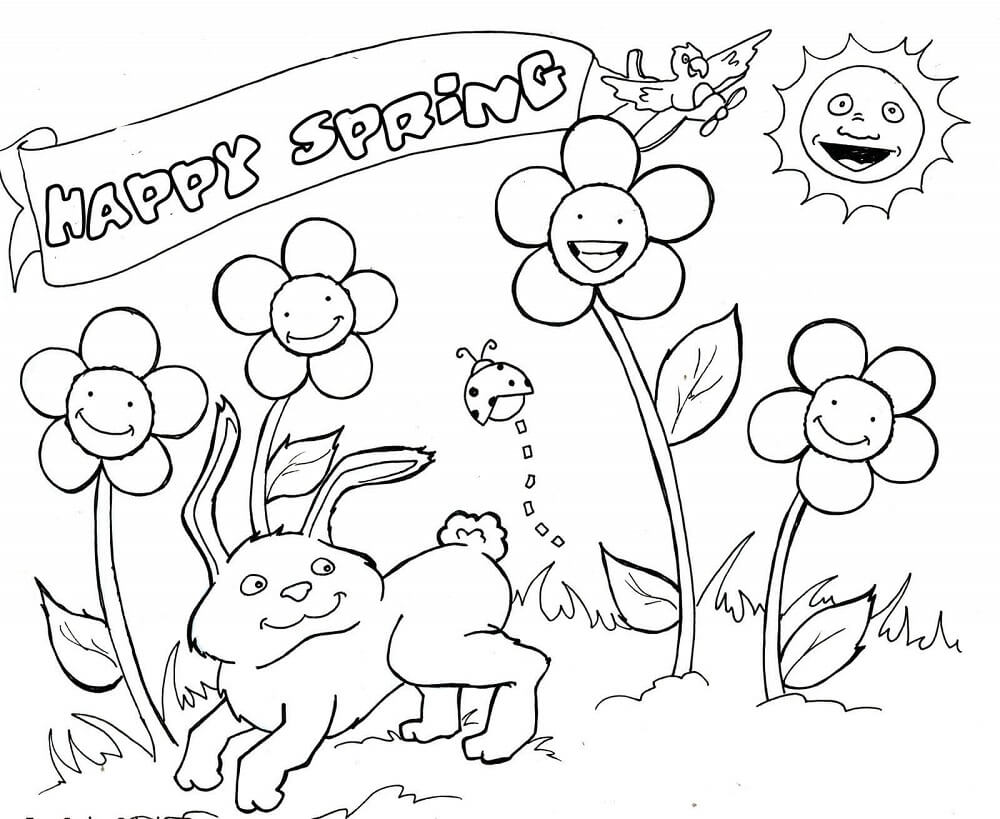 Everyone in the jungle is celebrating the spring season's arrival. They love this season very much and organize an annual festival to celebrate spring. They gather together near a lake with food and sing songs, play games and talk to each other. This spring coloring page depicts the same.
Happy Spring Coloring Sheet
Bunny wanted to wish you a very happy spring. He came all the way from the jungle after crossing mountains and rivers to meet you. He also brought some fresh spring flowers. But as he was crossing the river, he got wet, and all his and the colors of the flowers were washed away. Now he is being shy to meet you as his flowers are colorless. Help him out by coloring the flowers so that he can be happy again and stop hiding in the basket.
Spring Fancy Dress Competition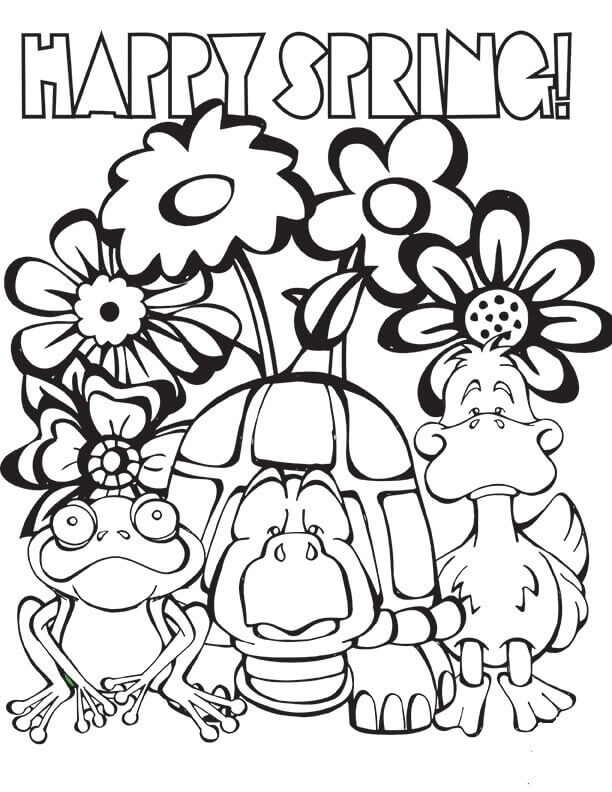 The turtle, frog, and duck wanted to mix with the colors of the spring season for the fancy dress competition. They had no idea what to do, so they decided to go to a wise man. On their way to searching for a wise man, they found a monkey. The monkey told them that he was the wisest of them all and asked them about their problem. Then they told him about their competition. The prankster monkey asked them to make a cap of flowers and wear that so that together they would look like a bunch of flowers.
Cute Spring Coloring Page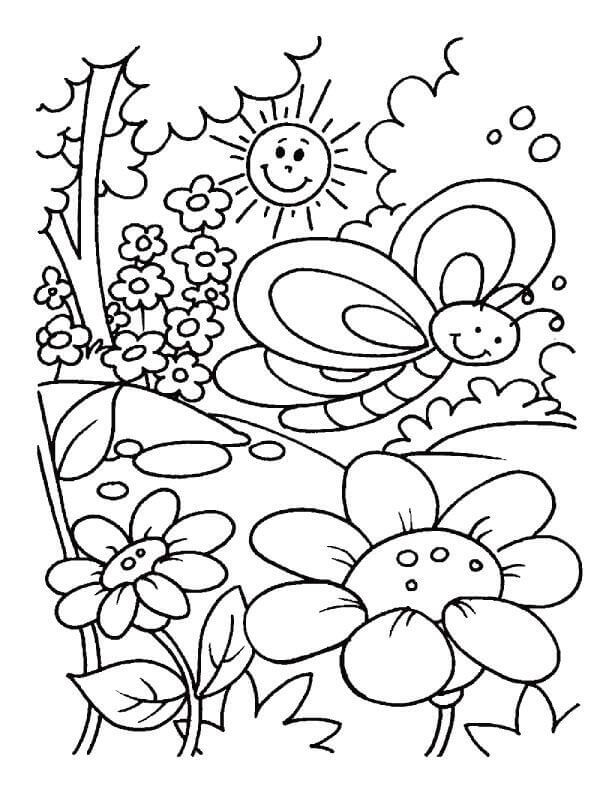 Minnie the butterfly is out for her last flying lessons before the spring starts. She has been learning to fly for a few days now and is an expert at it now. She will soon receive a flying license and will be able to go to faraway places. She wants to discover the farthest gardens which are full of fresh, blooming spring season's flowers
Jack, Mary, And Nemo's Picnic Time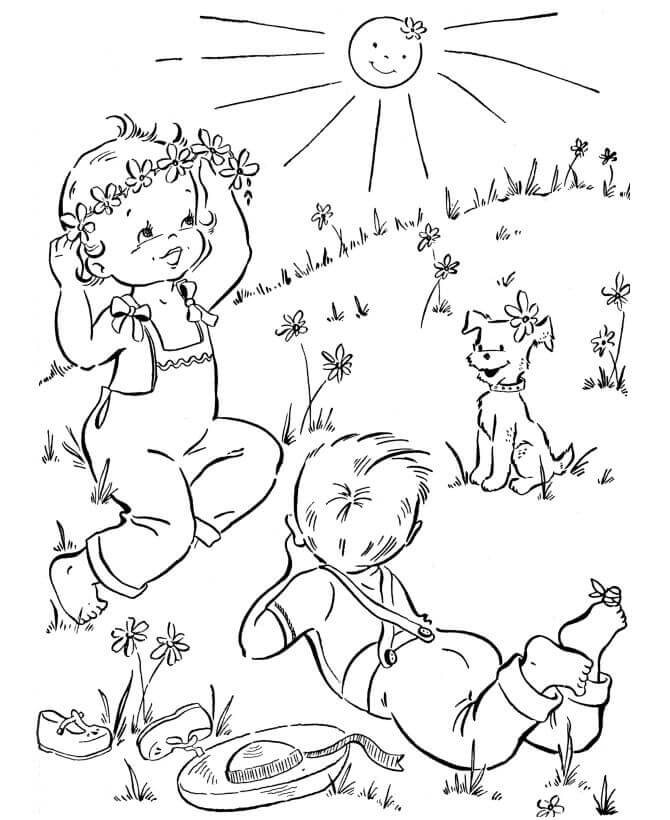 Jack and Mary were asked by their father to take their pet Nemo out for a walk. They readily agreed as the spring season has started and they knew about a beautiful garden where there were many beautiful flowers along with the cool spring breeze. On reaching the garden, they sat down on the greenest patch of grass and made flower crowns for themselves.
Tell People That It's Spring Time
Many people around you don't know that it is already spring season. They must know about it so that they can also enjoy the flowers, wind, and sun of the season. How can you tell them? There is one way how they would love to know about it. Color this card with fresh spring colors and then gift it to them.
Hummingbirds From Garden To Garden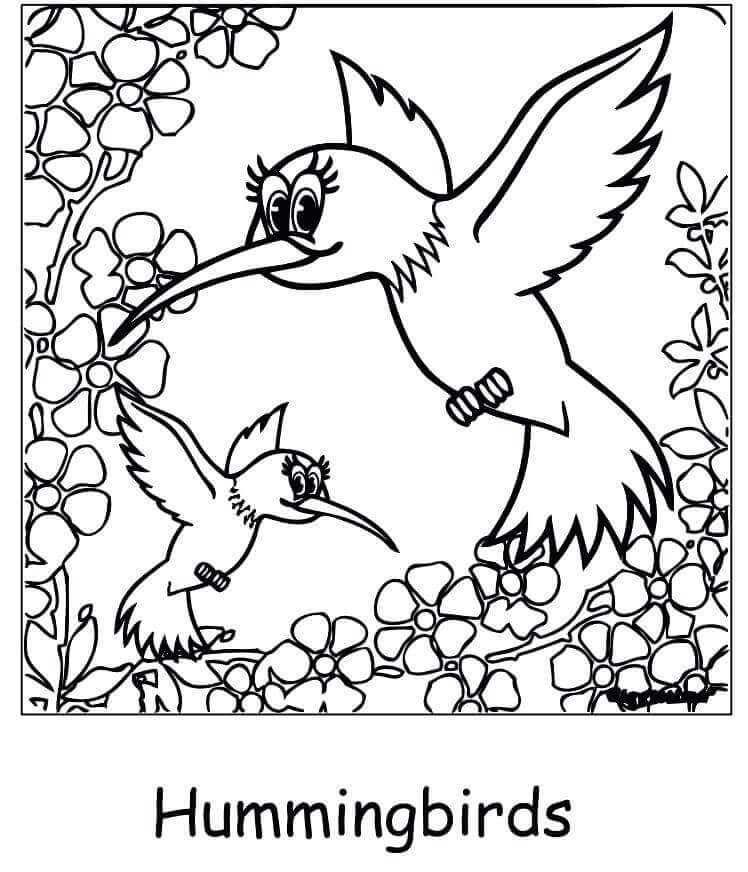 Hummingbirds are the smallest bird in the world and just like other birds, they too love the flowers. Spring season brings the freshest flowers full of pollen and a beautiful aroma. The hummingbirds can fly from garden to garden really fast.
[ Read: Hummingbirds Coloring Pages ]
Sun Is Loved By Everyone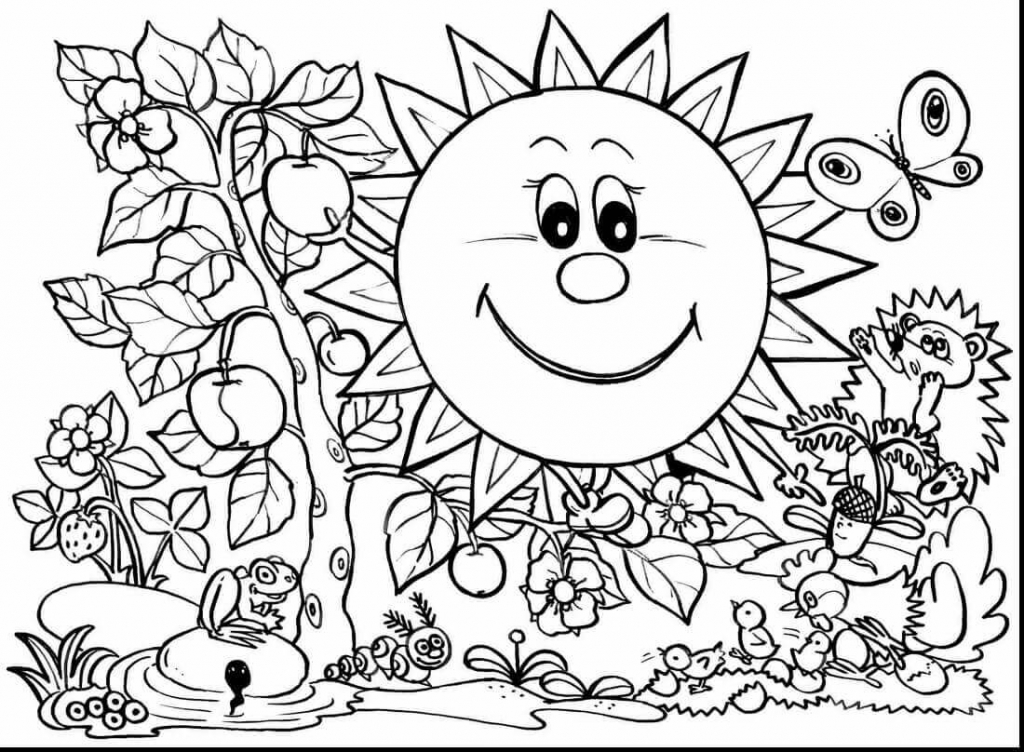 The sun is the hero of the spring season. It helps the flowers grow and gives them nutrients to look beautiful and grow. Everyone loves the sun in the spring season, with its sunshine making everything look beautiful. Here's a spring coloring page of the sun shining in all its glory.
Spring Time Rain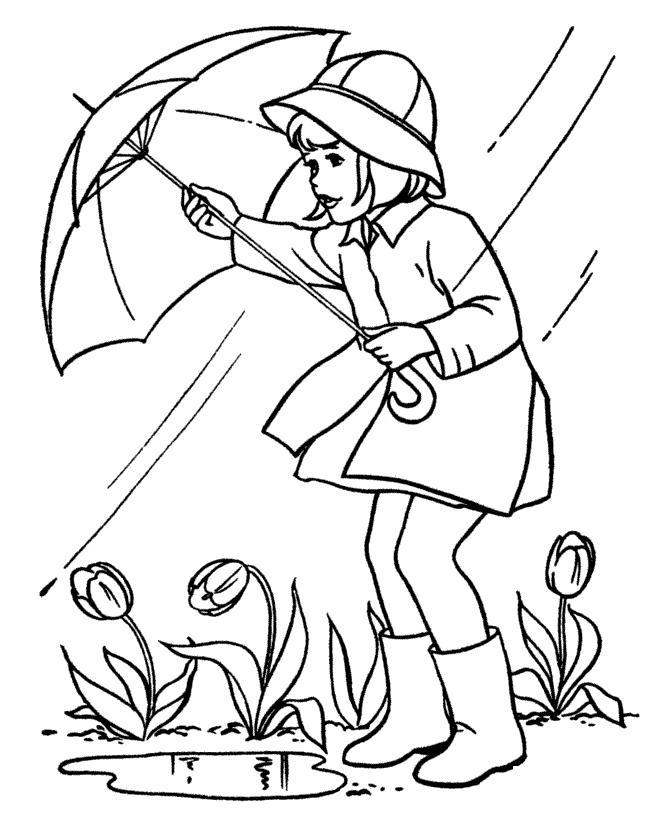 Rain in the spring season is very rare, so Misty wasn't prepared for heavy rain when she went out shopping. Her mother had asked her to keep an umbrella with her after seeing the heavy clouds, but as the rain started pouring, the wind grew stronger and the umbrella was no use. Misty struggled to keep the umbrella over her head.
[ Read: Rainy Day Coloring Pages ]
Pretty Coloring Page Of Spring Season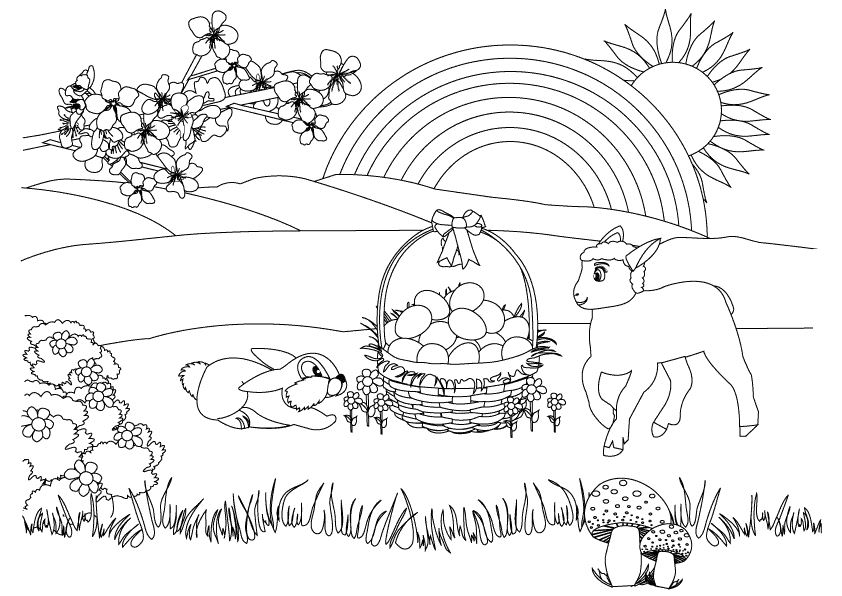 There were a lot of people in the garden yesterday for a spring picnic. On Sundays, people from the whole town come to the garden to enjoy with their family and have some fun. One of the families left their basket full of Easter eggs after their picnic. The next day when the animals saw the basket, they were curious. The rabbit and the sheep are trying to know what is in the basket. Color the Easter egg chocolates so that their curiosity can be answered.
Spring Color By Number Activity Sheet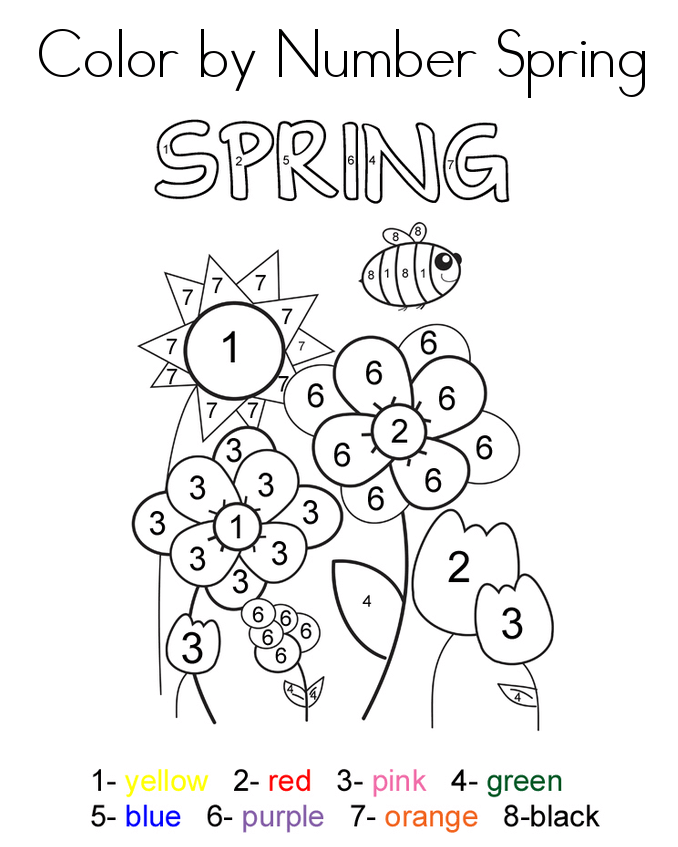 This is a color-coded picture that shows us the colors of spring. There are a few things in this picture that depicts what spring means to most people. There are numbers in the picture and the color with numbers is written on the bottom of the page. Just color the picture by matching the numbers from the bottom. You will soon find what the picture contains.
Spring Coloring Pages For Adults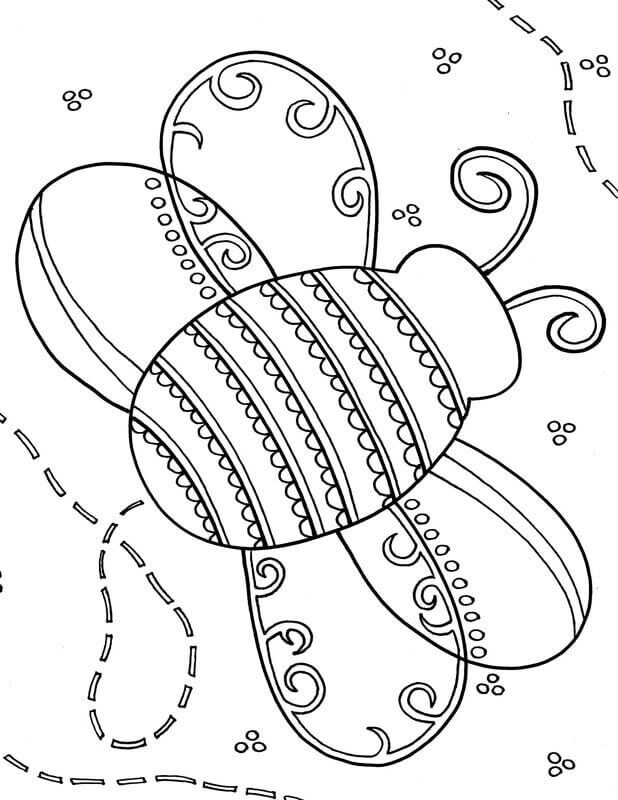 This is a busy bee. She is always very busy collecting pollen from the flowers to make honey for her family. She is a very hard worker. As the spring season came, she started making space for the honey that she will be making from the flowers growing during the spring season. She was so busy that she forgot to get herself colored. Would you color her quickly so that she can return to collecting pollen and look beautiful as well?
Spring Means Easter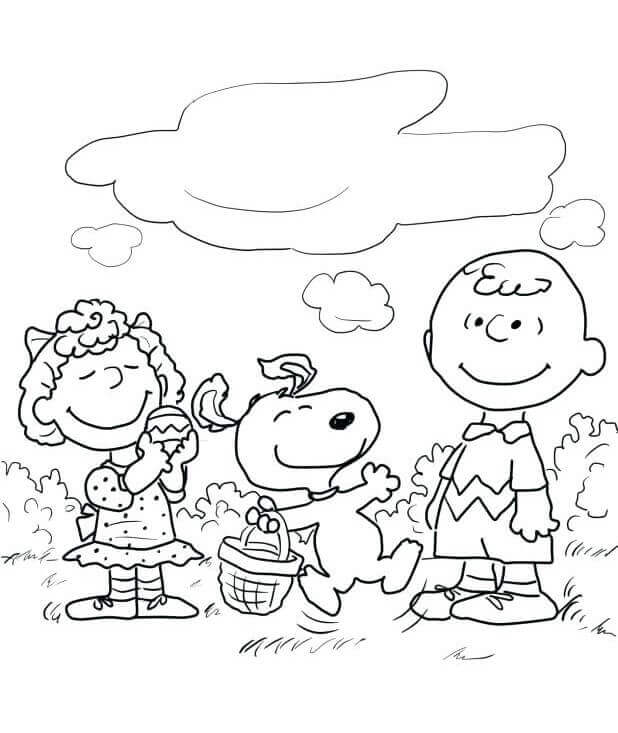 Snoopy, Charlie Brown, and Frieda are excited as it is spring season and Easter at the same time. They love the fresh smell of colorful flowers a lot. They are also happy that it is finally Easter and they have already started to color their eggs. Today they decided that they will color all the eggs outside in the garden under the sparkling sun and cool breeze.
[ Read: Easter Coloring Pages ]
Kitty Fiona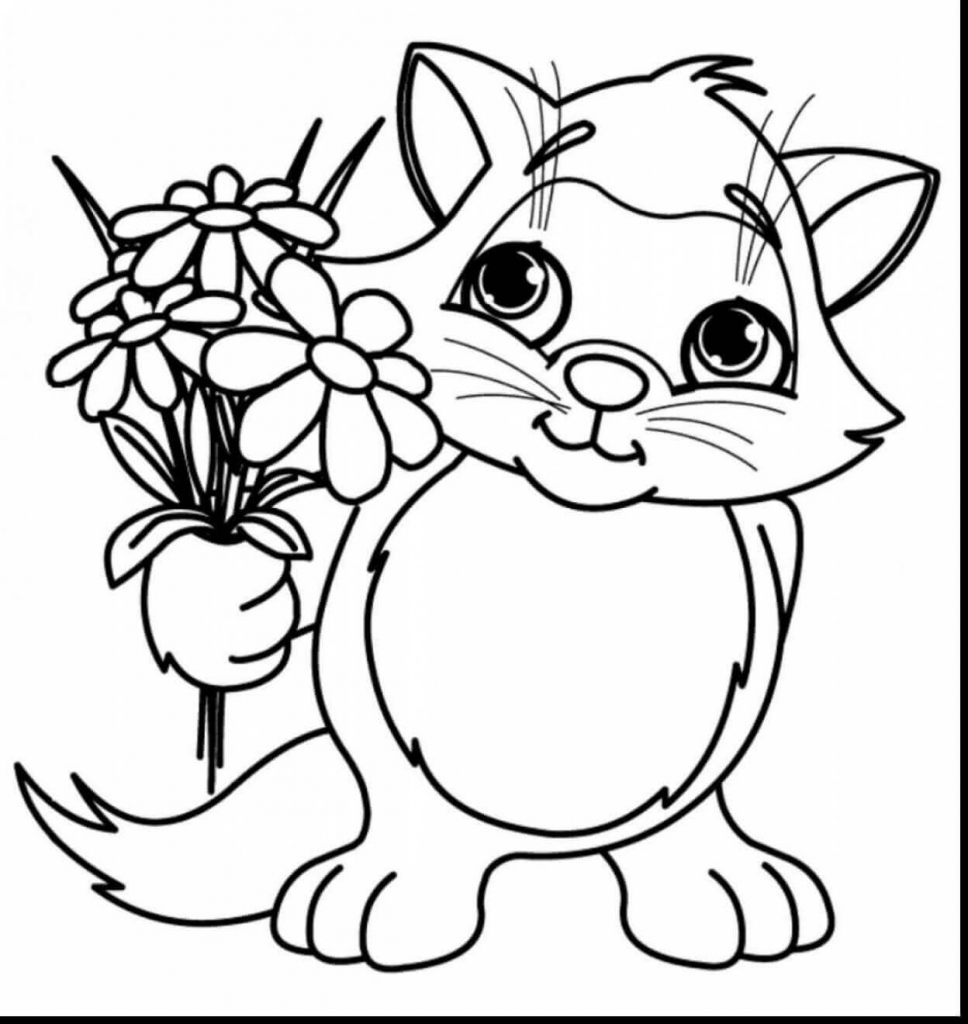 Kitty Fiona has brought some flowers for you. She is very kind-hearted and wants everyone to be happy. Someone told her that flowers make people happy, so she went out in the garden and took some flowers for you. She didn't know what colors you liked, so she picked the ones with an option to be colored. Now you can choose your favorite color.
A Ladybug And Her Shoes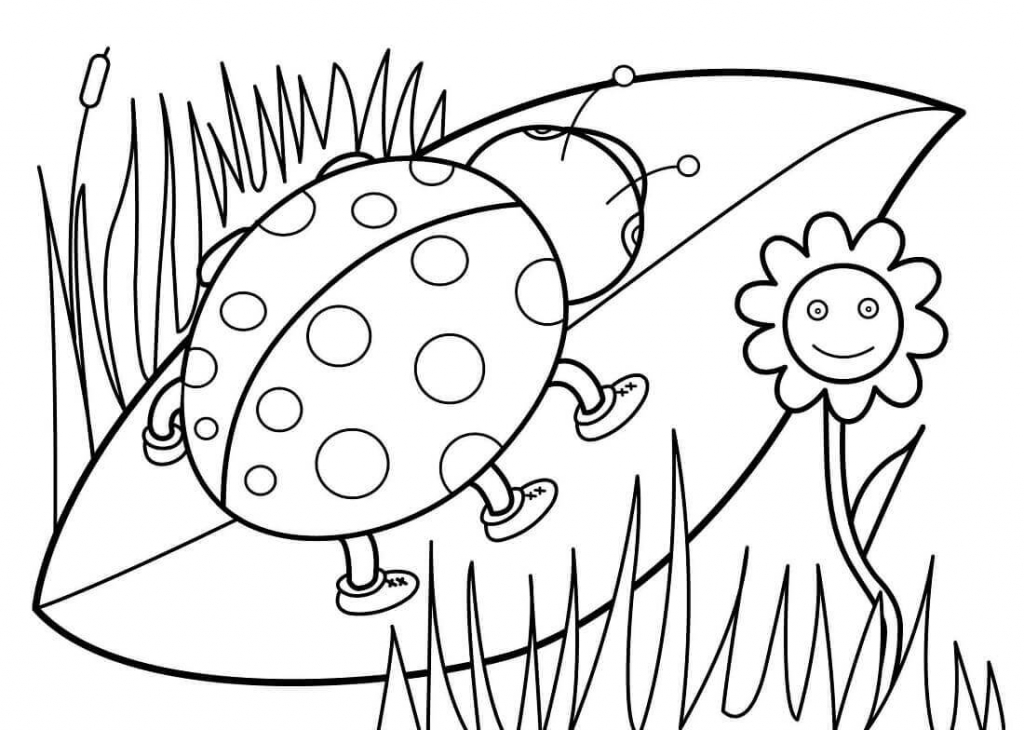 This ladybug knew that spring season was almost around the corner, so she went shopping. She knew that she would have to walk for many hours every day so she went into a shoe shop to buy shoes. She brought a shoe fit for walking all day.
Lily In Spring Time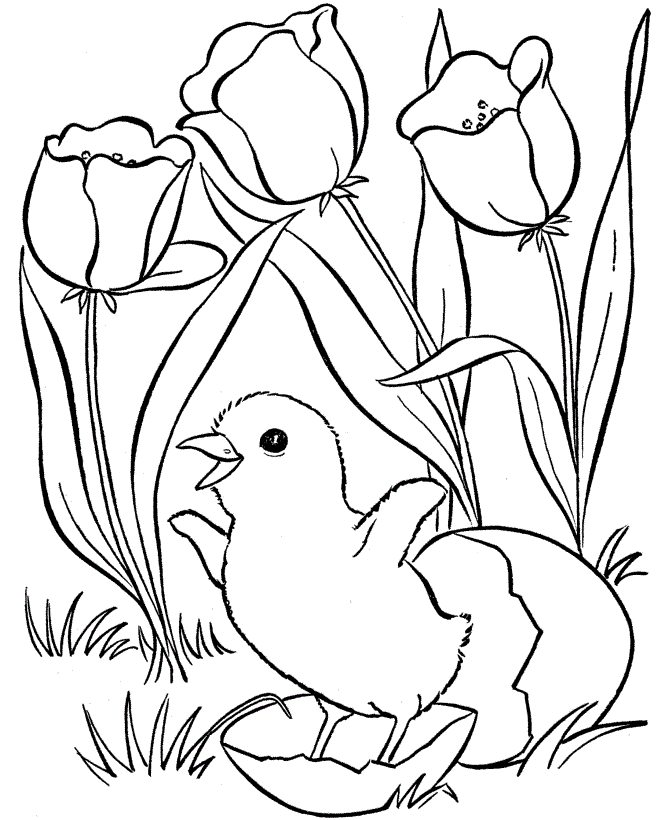 Lily is lucky as she has just hatched out of her egg in the spring season. She would be able to see the beautiful world. She is already in love with the beautiful flowers which are the gift of the spring season. She is smelling the flowers and looking at the green trees and grass shining under the sunshine.
Be Quick And Color The Flowers
The flowers are waiting to be colored so that they can go out in the garden. All the flowers were asked to line up to be colored. These two friends also went and stood in the line. Color in this spring coloring page before time runs out.
Scared Bee And Jacky
Here's another awesome spring coloring sheet for you to fill. Jacky is out to catch some bees for his ultimate bee collection. He loves the spring season as there are a lot of bees around in his garden. He waits for them around the flowers and attacks with his net when they are closer. This time he is trying to catch a young bee and the bee is so scared.
Springtime Coloring Page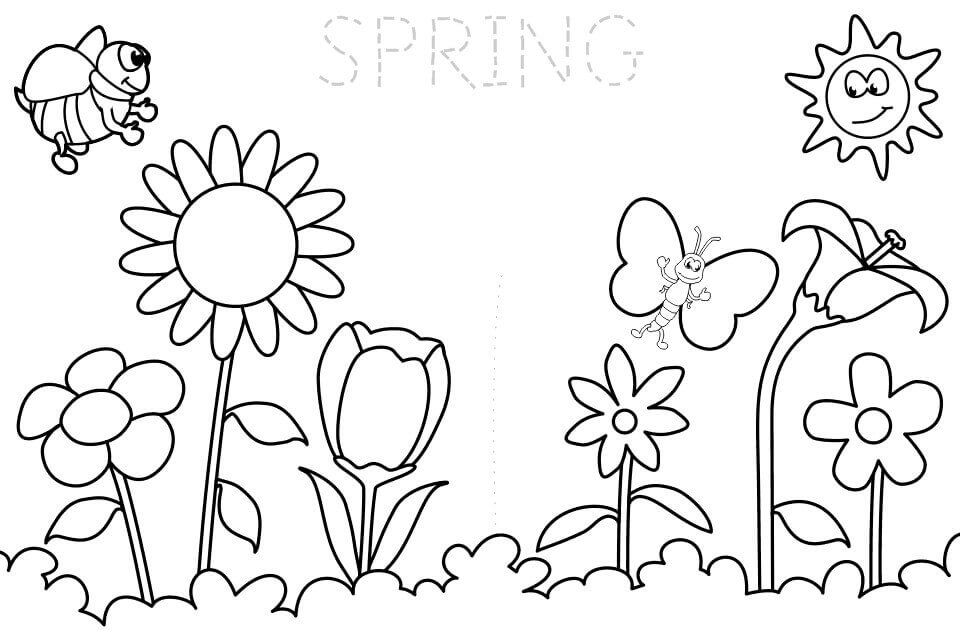 The bees are getting ready for their spring dance. During every spring season, the bees' community organizes a spring festival before their hard work starts. At this festival, there are a lot of dancing, singing, food, music, and games. They decorate the place with the first fresh flowers of spring and enjoy it. These two bees are looking for arrangements for the annual spring festival. Kids can even trace the word Spring before coloring.
Welcome Spring Card Coloring Page
This is a welcome spring card. There are flowers that makes the spring season beautiful and there is a small bee as well. She is collecting pollen from the flowers to make honey. Could there be a better way to welcome spring? Probably this spring coloring page can also be one of them.
Welcome Spring Coloring Page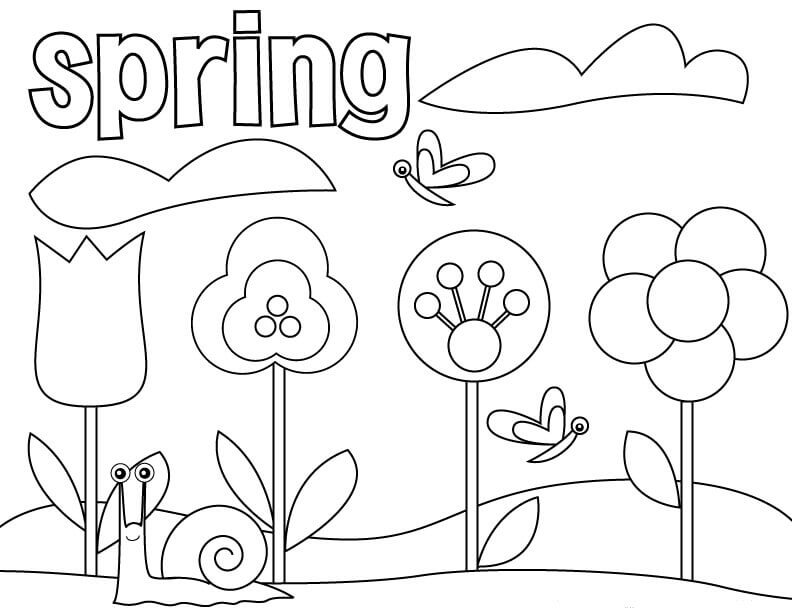 Spring season is a happy time for the insects. They get to eat plenty of food after the harsh winter has passed away. They get to see and smell flowers of spring along with the bright sunshine. They mostly spend their time out of their homes collecting food and store it.
Sun- The Hero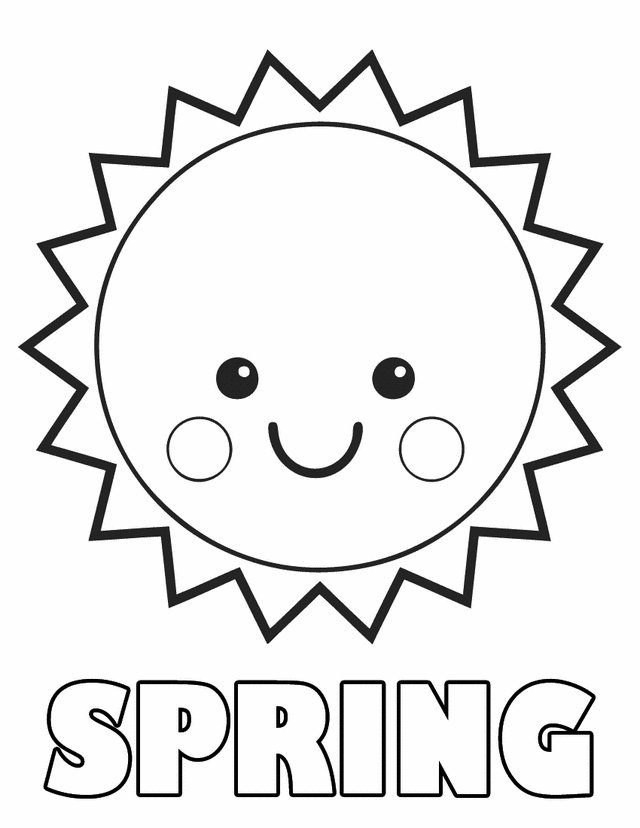 This spring coloring page features the sun, the hero of the spring season. The sun makes the flowers grow and provides them with food. His sunshine makes people happy and they get ready for picnics and adventures. Sun makes everything look beautiful and more colorful than it already is. So color this diagram in the best way possible.
This was our compilation of free printable spring coloring pages for you! We hope you guys liked it. If you do, then don't forget to print and color our spring coloring sheets! For more amazing coloring pages such as winter coloring pages, keep yourself hooked with us.