We, at ScribbleFun, are huge "Star Wars" fans. I, personally, have watched the original "Star Wars" trilogy a plethora of times and still can't get enough of it. When "Star Wars: The Last Jedi" was announced, I was over the moon, and I'm glad that the movie didn't fail me. It's clearly one of the best "Star Wars" movies ever made. So it's obvious I would come up Star Wars the Last Jedi coloring pages for my readers. So without wasting any more time, check out our collection of printable Star Wars the Last Jedi coloring sheets below.
10 Printable Star Wars The Last Jedi Coloring Pages
AT-AT:
Here's a coloring page of "Star Wars" exclusive, AT-AT droid, which stands for all terrain armored transport. These four-legged combat vehicles, standing tall at 20 meters are used by the Imperial ground forces.
R2-D2 Droid:
This Star Wars the Last Jedi coloring page features one of our favorite "Star Wars" characters, R2-D2, pronounced as Artoo-Detoo in the movie. This little hero has been with us since the very inception of this masterpiece, called "Star Wars".
to join this conversation on GitHub. Already have an account? Sign in to comment Footer © 2023 GitHub, Inc. Footer navigation Terms Privacy Security Status
Master Yoda Coloring Page:
How can we not mention Master Yoda, the Jedi master who trained our favorite Jedi, Luke Skywalker? Within the order, Master Yoda is renowned for his powers of the Force, wisdom and his brilliance in lightsaber combat.
R2-D2 AND BB-8 Coloring Page:
This coloring sheet features two of the most lovable droids of the "Star Wars" series, R2-D2 and BB-8. While R2-D2 have been with us since the very first "Star Wars" movie, BB-8 joined just a couple of years back and managed to impress almost every viewer.
Chewbacca:
The one character from "Star Wars" The Last Jedi" loved unanimously by the viewers is Porg, the fluffy and adorable creature, who play a major role in the series. In this coloring page, porgs are seen with none other than Chewbacca, another favorite character from this series.
Kylo Ren:
Here's the coloring page of Kylo Ren, the Supreme Leader and Force warrior of the First Order. Kylo Ren was originally Ben Solo, child of Han Solo and Princess Leia. His inner turmoil was exploited by Snoke, who took him towards the dark side of the Force.
Rey And BB-8: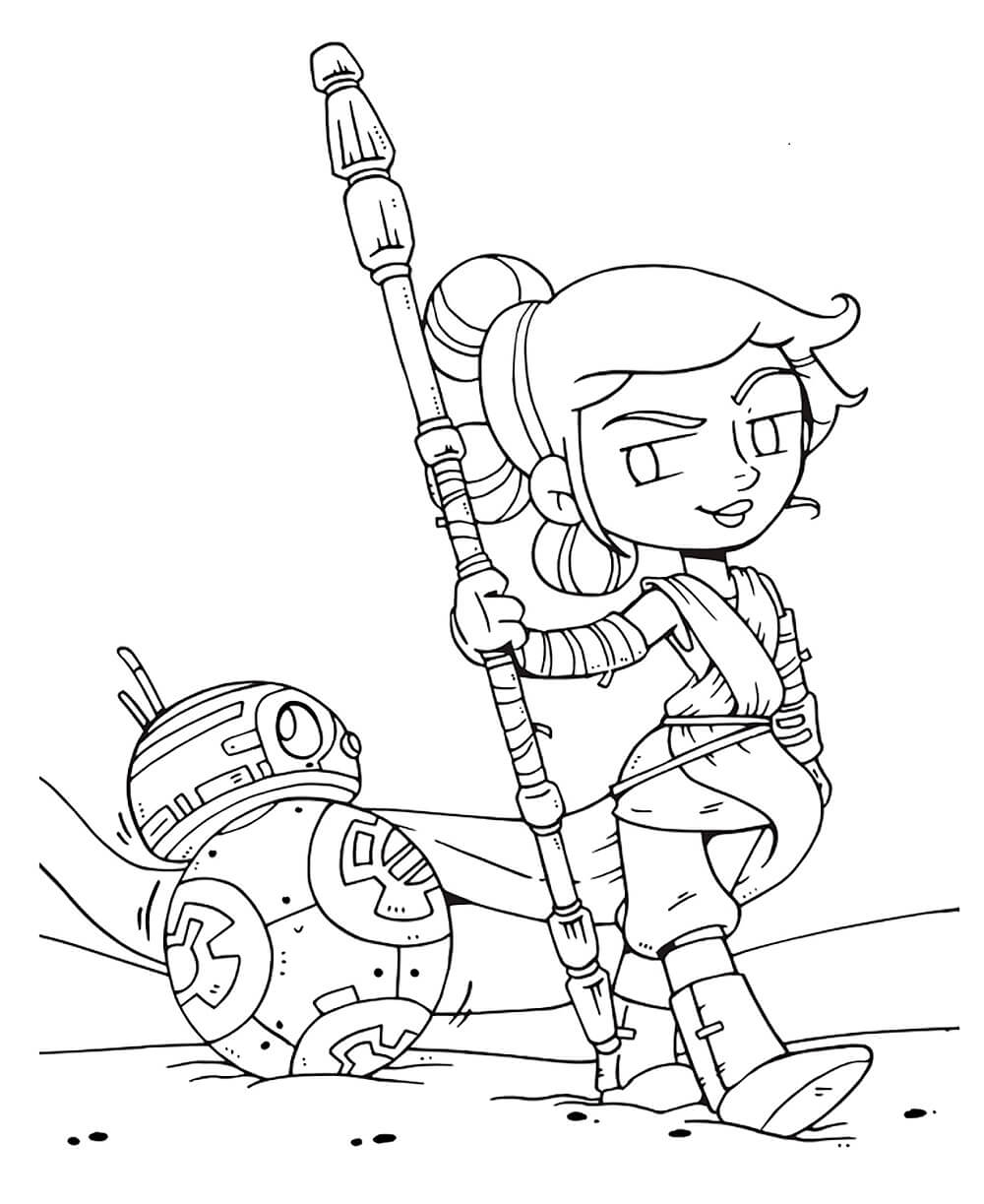 This coloring page features Rey, the protagonist of "Star Wars: The Last Jedi" with BB-8. Rey, a female Jedi, discovered her Force-sensitivity challenge on her way to find Luke Skywalker, the legendary Jedi Master.
The Three Famous Droids Of Star Wars: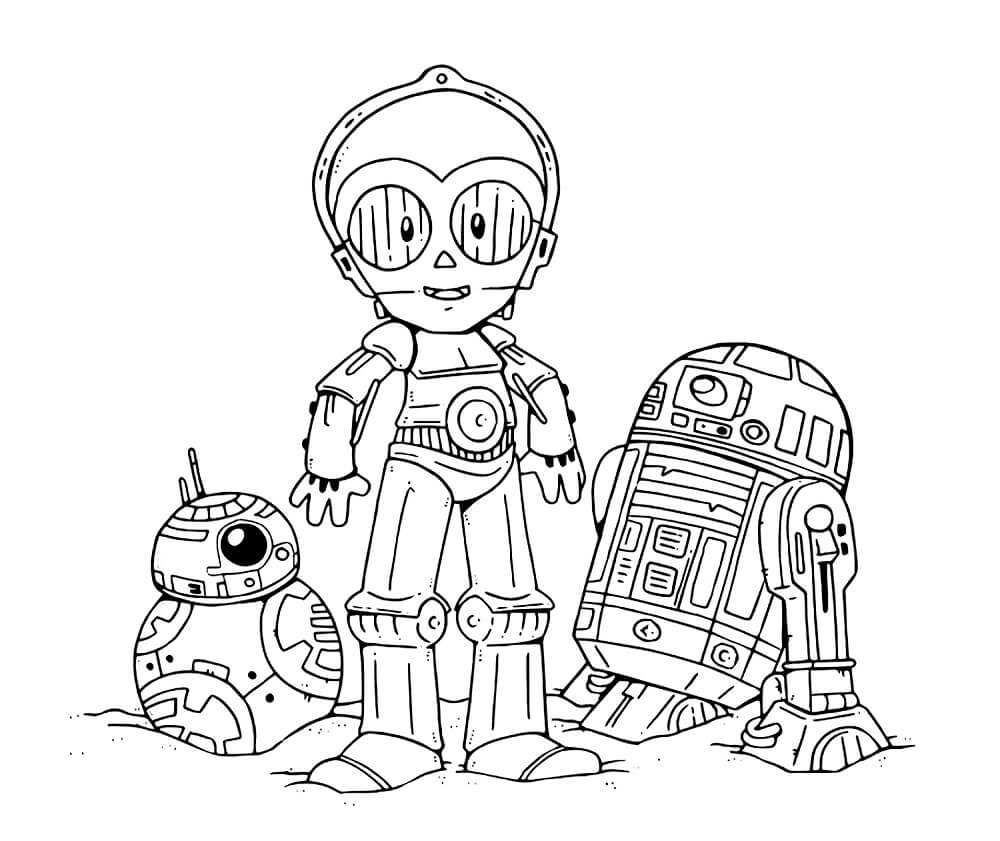 This Star Wars the Last Jedi coloring page features three of the most loved droids of this movie series, C-3PO, R2-D2, and BB-8. Paint them in beautiful shades or rather their signature shades and see them come to life.
BB-8: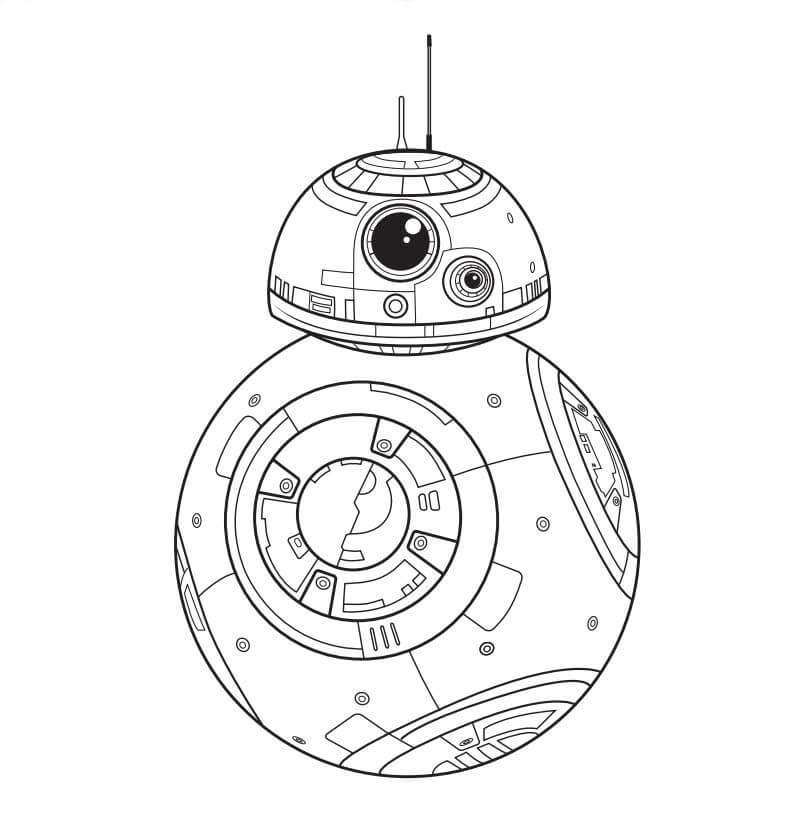 Here's a coloring page of BB-8, an astromech droid who came into the picture almost thirty years after the Battle of Endor. Just like R2 series of droids, even BB-8 has a dome head, with the body made up of a ball.
Storm Troopers Coloring Page:
This coloring page features the legendary Storm Troopers, the elite soldiers of the Galactic Empire. These faceless soldiers use brutal tactics to make the star systems of the galaxy submit to the Empire. You can love them, or hate them. But you can definitely not ignore them.
We hope these Star Wars the Last Jedi coloring pages would appeal to our fellow "Star Wars" lovers. Print out all these Star Wars the Last Jedi coloring pages to create a custom "Star Wars" coloring book. And have you watched the movie? Who is your favorite "Star Wars" character? Let us know by commenting below. And don't forget to check out our Transformers Rescue Bots Coloring Pages