Twinkle, twinkle little stars can be seen on a clear night sky. When the day comes, the stars are no longer visible. For today's collection of coloring pages, we have a star that is not only visible during the day but is also at the center of our solar system. If you thought of the sun, then you are absolutely correct.
While it doesn't twinkle, the sun is actually a star of hot plasma, undergoing constant nuclear fusion reactions and releasing a huge amount of energy as light and radiation. Because of this, the sun is, in fact, what makes life possible on earth. Composed mainly of hydrogen and helium, the sun is a giant star, amounting to 99.86 percent of the solar system's total mass.
Sunrises and sunsets mark the beginning and end of the day, giving rise to the concept of day and night, which is due to the rotation of the earth. While the earth's revolution around the sun constitutes a year. This is the basis of solar calendars like the Gregorian calendar, mostly used around the world. Let's begin our fun and sunny journey through this shining collection of sun coloring sheets to print.
to join this conversation on GitHub. Already have an account? Sign in to comment Footer © 2023 GitHub, Inc. Footer navigation Terms Privacy Security Status
[Related: Solar System Coloring Pages ]
32 Free Sun Coloring Pages Printable
Sun Shining at the Beach:
It's a nice and lazy start to this collection with this beach coloring page. The umbrella is upright and well-placed at the beach as the sun shines in the sky. You can use the blank billboard at the center to write some fun messages and turn this page into a poster.
[Related: Beach Coloring Pages ]
Cartoon Sun and Cloud:
When there are clouds in the sky, they tend to cover up the sun every now and then, turning the world shady and dark. This cartoon sun was hidden behind this giant cartoon cloud but look at it triumphantly emerging out of the cloud's end. Everything is brighter and sunnier again!
Coconut Tree and Sun:
If you are living in the coastal regions, then you must have surely seen quite a few coconut trees. Here we have one tree full of coconuts waiting for you to fill it with ripe colors on this coloring page. Don't forget to color the sun and the clouds too.
[Related: Tree Coloring Pages ]
Sun Wearing Sunglasses:
Sunglasses are protective eyewear that guards our eyes against harmful UV or ultra-violet rays of the sun. Keeping it witty and fun, this illustration shows the sun itself wearing a pair of sunglasses. Give this fun coloring page some cool protective colors.
Cute Sun Coloring Page:
Blissfully shining on, this cute sun illustration looks like a flower with the rays resembling the petals of a daisy. It seems to be relaxing with its eyes closed and a smile on its face. Print this coloring page and fill it with soothing and peaceful colors.
Family Out in Summer: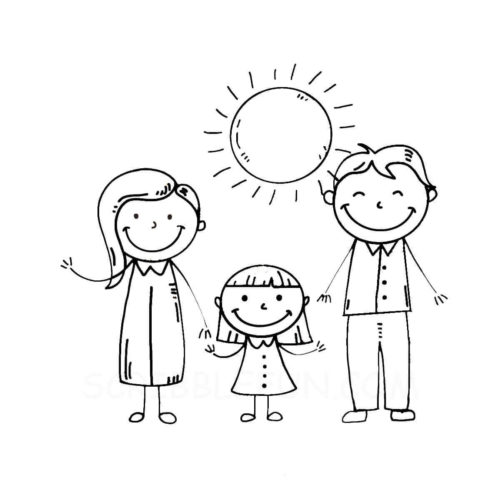 A nice, warm, and sunny day is always the best time to go out. This small family of three has decided to make the most of the pleasant summer day by going on a family outing. Look at their smiles, as bright as the sun shining behind them.
[Related: Summer Coloring Pages ]
Smiling Cartoon Sun:
The happiness of the family seems to have caught on as the sun is seen here smiling wide on this coloring page. You can even see the cheeks blushing with joy. Print this coloring page and give this smiling cartoon sun some joyful colors.
Umbrella for the Hot Weather:
While it is a good thing to have a bright and sunny day, it can be extremely hot during the afternoon when the sun is at its brightest. If you are going out on such a summer day, be sure to carry an umbrella as illustrated on this coloring page.
Kids Out in the Sun:
Taking a cue from the family outing, these kids are enjoying their fun time in the sun by going out on a Sunday morning. It's always a lovely time when these bunch of friends meets together to play. You can plan an outing with your best pals as you color this loving illustration.
Little Girl Enjoying Herself in the Sun:
Everybody would love to hang out with friends daily. But that is not always possible. On days when you are at home, you can always spend a good and sunny time like this little girl on this coloring page. She seems to be enjoying her time in the sun in her garden.
Meditation Outdoors:
Besides simply relaxing and sunbathing, doing meditations and exercises in the morning sun is a good way to spend your time in the sun. Extremely focused on her breathing, she is fully immersed in meditating outdoors. Give this calm illustration some rejuvenating colors.
Cool Pear and Hot Sun:
Unlike the meditating girl, this pear is way too cool and lazy to do meditation. Instead, it has decided to simply stretch out and tan himself in the sun. To be on the safer side, he is wearing a pair of sunglasses.
S for Sun Coloring Page:
It's time now for some alphabet lesson! Today we are learning about the letter S and as illustrated on this coloring page, S is for Sun. Print this coloring page and fill this sunny letter with some radiating colors.
Sky, Sun, Sea, and Clouds:
On a clear sunny day, for those living near the beach, spending a leisurely time in the water is an obvious choice. Just like these fun creatures who are floating in the sea under the bright sun and drifting clouds. Add lively colors to each of the elements illustrated on this page.
Summer Refreshment:
Summer is not far and giving a glimpse of some cool summer refreshments is this chilled-out illustration. Here you can see the sun holding a slice of watermelon and an ice cream. Looks like the ice cream is melting. Quickly print and fill this coloring page with refreshing colors.
Watermelon Summer: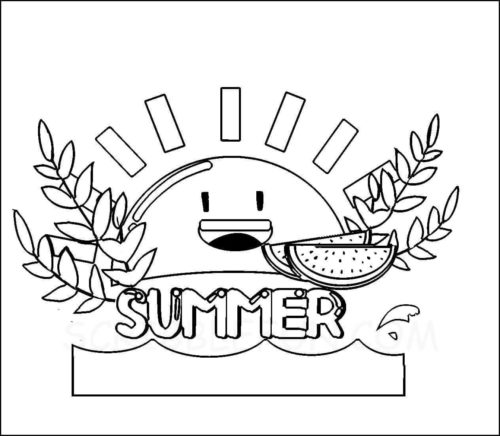 It seems like the sun is enjoying eating the watermelons. There's not just one but at least two huge slices of watermelon on this coloring page. The sun's mouth is wide open, ready to relish the cool summer delight.
[Related: Food Coloring Pages ]
The Sun Hugging the Cloud:
It feels great when our loved ones give us warm and tight hugs, doesn't it? Just look at the sun hugging the cloud ever so affectionately! Capture all the bright, loving feelings on this coloring page with your coloring skills.
Smiling Sun and Cloud:
After that loving hug, look at both the sun and the clouds smiling wide on this coloring page. Expressing our love for each other is a happy and joyous thing to do. Be sure to go and give your family some love once you finish coloring this illustration.
The Sun and the Moon:
When the sun rises in the morning, the moon sets. When the sun sets in the evening, the moon rises. But if you notice early in the morning or in the evening, you can see both the sun and the moon in the sky for some time.
Sun and Rainbow Coloring Page:
Witnessing a rainbow feels like magic. You can almost always see a rainbow when the sun shines after the rain. As the rain clouds drift away and the sun comes out shining, here is a bright rainbow appearing on this coloring page. Don't make it wait longer for its colors.
[Related: Rainbow Coloring Pages ]
Sun Coloring Page for Kids:
There's a surfboard, a guitar, a drum, and a coconut tree on this coloring page. It seems like a tropical paradise with the sun setting behind the horizon in the sea. This tribute to the tropical regions is perfect for kids to color.
Artistic Sun Coloring Page for Adults:
The sun is illustrated here inside a perfect circle with the rays portrayed in eight alternate triangles and wavy figures. The sun has also been given an emotive face. Taking the complexity level higher, this artistic sun coloring page is ideal for adults to color.
Going for a Drive on a Sunny Day:
It's no fun going out on a wet and rainy day. But when it's as pleasantly sunny as it is on this coloring page, going out for a drive can feel like a heavenly trip. The driver seems to be singing a song. Fill in the colors as well as the lyrics of your favorite song on this coloring page.
A Picturesque Sunny View:
Time to make a fun poster for your room or your school. This picturesque sunny illustration of a landscape will surely add to the beauty of any room where it hangs in the wall. Print this coloring page and skillfully add the appropriate colors to bring this scene alive.
Sun Enjoying Ice Cream:
Who doesn't love to eat ice cream, especially on a hot day? But what do we have here! It's the sun itself enjoying an ice cream. If the sun also cools itself by eating ice creams, we sure can enjoy one or even two.
[Related: Ice Cream Coloring Pages ]
Radiating Sun Goddess:
The sun has been an important part of several civilizations and across different cultures. In many places, in the past and in the present, the sun is seen as a deity and worshipped as such. Illustrating the sun as a goddess, add some reverent colors to this coloring page.
Hot Sun Makes One Sweaty: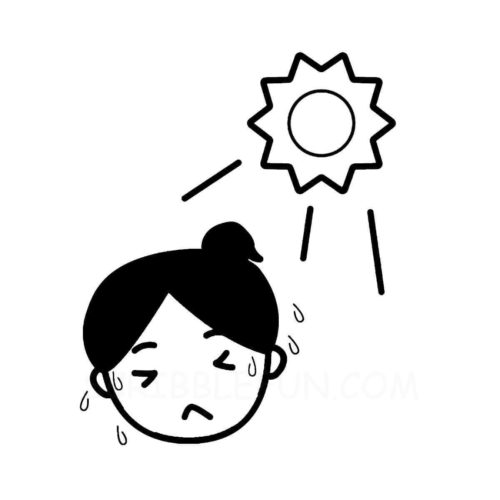 Someone seems to have forgotten to carry her umbrella today. Walking in the hot sun, this girl is feeling the heat and has already started to sweat profusely. Remember to always carry an umbrella along with a hat on a sunny day. For now, fill this coloring page with some breezy colors.
Sun Shaped as a Flower:
This illustration has excelled in the attempt to make the sun look like a flower. With its wavy and flowy petals or rays and the round center, this sun reminds one of a flower. Perhaps, the sunflower. Be sure to give this floral illustration, all the colors of the sunflower.
Sun Sleeping Coloring Page:
Showcasing how the sun might rest when it sets in the evening, the sun is busy snoring in this illustration. Such creative imagination, although not true. In fact, it is us who sleeps in the night while the sun is busy rising on the other side of the earth.
Sun, Moon, and Cloud:
A cute illustration of the sun and the moon. This time there are some stars as well. It looks like the cloud is separating the day at the top from the night at the bottom of this illustration. Print this coloring page and give this clever sketch different colors to depict the day and night scene.
Scenic Sunset Coloring Page:
Such an idyllic and peaceful scene! Sunsets are always some of the best natural wonders one can witness every day. What makes this sunset scene even more spectacular is that the sun is setting in the sea, reflecting its last light on the water surface. Print this coloring page and render your best colors for this scene.
The Sun With Cotton Candy:
You have already seen the sun enjoying a few slices of watermelon as well as slurping on some ice cream. Here we have the sun enjoying cotton candy with a smiling face. The sun must have a sweet tooth! Print this coloring page and give this sweet illustration some tasty colors.
With that candy-filled sweet encounter of the sun, we have reached the end of this exuberant and entertaining printable collection of sun colouring pages. Hope you enjoyed coloring these bright and fun summery scenes. In several places around the world, it is still winter and cold. But in just a few months, it will be warmer when summer arrives. In the meantime, you can dream about the warm and pleasant outdoor activities and fun in the sun by coloring this sparkling collection of coloring pictures inspired by the sun.