When Pixar and Disney announced Toy Story 4, way back in 2014, we all were surprised. I was pleasantly surprised though. While even I agree that "Toy Story 3" was a perfect end to the trilogy, I just couldn't wait to watch another movie from this franchise. The movie was originally supposed to release in 2017, but better late than never. The reviews of this movie are out already and some are saying it's the best "Toy Story" sequel. And this has got us even more excited. So if you're as enthusiastic about this movie as I am, check out our collection of free printable Toy Story 4 coloring pages.
Free Printable Toy Story 4 Coloring Pages
Buzz Lightyear:
We're kicking off this list with Buzz Lightyear coloring page. Buzz was introduced as a deuteragonist but became one of the most loved characters with every film. His arrival in the movie brought him in conflict with Woody, but the rivalry soon blossomed into a strong friendship. Buzz Lightyear was created because astronauts were very popular with children in those days, and they still are, isn't it?
Duke Caboom:
Here's a coloring sheet of a new Toy Story franchise character, Duke Caboom. And he's voiced by none other than Keanu Reeves, the Hollywood's good guy. As seen in the trailer, Duke Caboom is Canada's greatest stuntman and it's believed that he plays a pivotal role in the movie, especially in helping out woody.
to join this conversation on GitHub. Already have an account? Sign in to comment Footer © 2023 GitHub, Inc. Footer navigation Terms Privacy Security Status
Gabby Gabby:
Here's a coloring sheet of Gabby Gabby, the primary antagonist of this movie. Gabby Gabby is a vintage doll from the 60s who grew bitter with time because no child would adopt her because of her deteriorated box voice. She became absolutely hateful towards other toys for this very reason, and even tried to control the other dummies in the shop. Her main aim is to steal Woody's voice box.
Jessie:
This coloring sheet feature Jessie, the cowgirl doll and Buzz's love interest. Jessie is a friendly cowgirl who totally loves to yodel. She was introduced in Toy Story 2, where she initially detests the fact that Woody has an owner. But she has a change of heart when Woody and Buzz rescue her from the plane bound for Japan.  
Little Bo Peep:
Here's a coloring sheet of Little Bo Pee with her lambs. Woody meets Bo after a long hiatus and realizes that her life on the road and her adventurous spirit completely belie her soft and delicate exterior. It's at this time Woody realizes that they are poles apart.
Rex: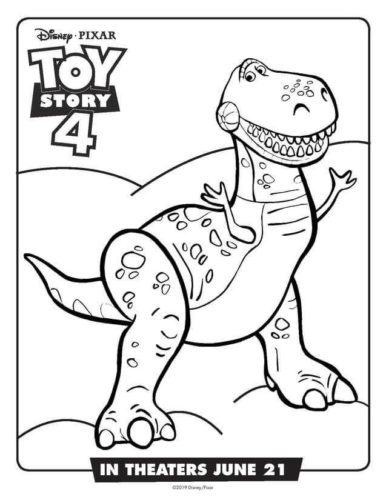 Rex is a supporting character of this franchise, but it's believed that he plays quite an important role in this movie. His personality is still the same as it was in the first film. He looks ferocious but is gentle, caring, kind and a bit fearsome. He's also a bit absent-minded, which often causes accidental mayhem.
Toy Story 4 Activity Sheet:
This Toy Story 4 activity sheet will definitely keep the kids occupied as they wait until 21st June for the release of their favorite movie. In this activity sheet, they need to help Little Bo Peep meet her sheep through the maze. And we're pretty confident they'll do it in minutes.
Alien:
Here's a coloring sheet of another adorable character from this series, the squeeze toy aliens or the Little Green Men. These lime colored, short aliens with three eyes and chubby body squeak when squeezed. All the three aliens do not just look alike, but also speak in the same voice and tone.
Ducky And Bunny:
Here is a coloring sheet of two new characters from this movie, Ducky, and Bunny, the carnival toys. These characters appeared in the second trailer of the movie and we have no idea whether they appear in the movie or not. In the trailer, they discuss the excitement for the movie and even tell the viewers what they feel about Buzz and Woody.
Toy Story 4 Logo:
We've even got you Toy Story 4 logo coloring page, which you can print out to make cards or invitation cards. The movie revolves around Forky, a toy created by Bonnie, who tries to make an escape when they are on a road trip. Forky has serious identity issues as he believes himself to be a scrap and not a toy. But we are confident that sensible Woody would definitely knock some sense in him.
Connect The Dot Activity Sheet:
Here's another fun Toy Story 4 activity sheet for preschoolers, where they need to connect the dots to reveal the characters underneath. After joining the dots, kids can color them any way they like. It won't just entertain them, but will also improve their math skills.
Woody:
Last, but definitely not the least, here's a coloring sheet of Woody, the main character from the Toy Story franchise. This vintage cowboy doll originally belonged to Andy but is now with a little girl named Bonnie. However, Woody feels a bit washed up with Bonnie as she hardly plays with him.
We hope you enjoy filling these Toy Story 4 coloring pictures as much as we enjoyed compiling them for you. We will be updating the article with more such pages the moment we find them. So stay tuned with us.