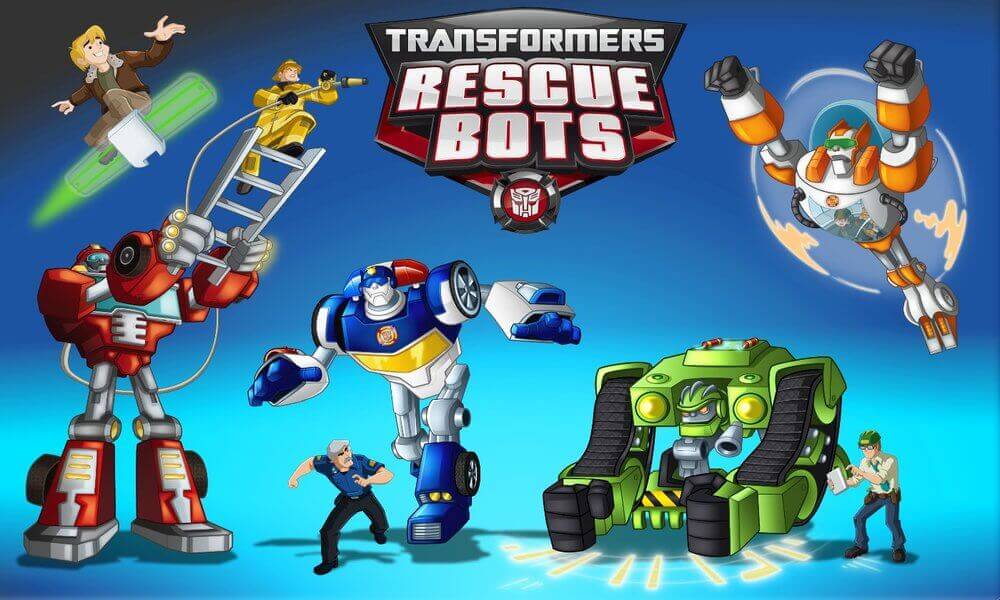 "Transformers: Rescue Bots", better known as Rescue Bots is an animated television series and a story book series based on Hasbro's Transformers. In this series, the Rescue Bots attempt to educate kids regarding safety and hazard. The series is loved immensely by children, which is why it's a major hit. Not just the show, but it's toyline is equally popular with the children. Keeping with the popularity, we've compiled a collection of printable Transformers Rescue Bots Coloring Pages. We're sure you'll find hard to stop yourself at just one Transformers Rescue Bots coloring sheet.
20 Printable Transformers Rescue Bots Coloring Pages
Blades:
Here's a coloring page of Blades, a Flight Bot and Copter Bot that transforms into an orange helicopter. He is a caring and emotional Bot, but is very scared of heights. He also enjoys taking part in the events and customs of the earth.
Boulder And Chase:
This coloring page features Boulder and Chase in their car forms. Boulder is busy in his work and Chase seems to be coming from behind. They both look very competitive right now. What could be the reason?
to join this conversation on GitHub. Already have an account? Sign in to comment Footer © 2023 GitHub, Inc. Footer navigation Terms Privacy Security Status
Boulder:
Meet Boulder, an autobot that transforms into a bulldozer. This coloring page shows Boulder in the bulldozer form. As a bulldozer, he uses his shovel to plow through as many materials as he can.
Boulder The Transformer:
Boulder has three forms, dinosaur, robot and bulldozer and he nails every personification. This coloring page shows him in his original form, which is of a robot. In this form, Boulder sends out sonar pulses from his palms.
Boulder In Action:
In this coloring page, we see Boulder, the transformer in complete action. He looks ferocious in this coloring page and we're wondering what exactly must be going on in its mind. Perhaps, you can weave a story while coloring this image.
Bumblebee: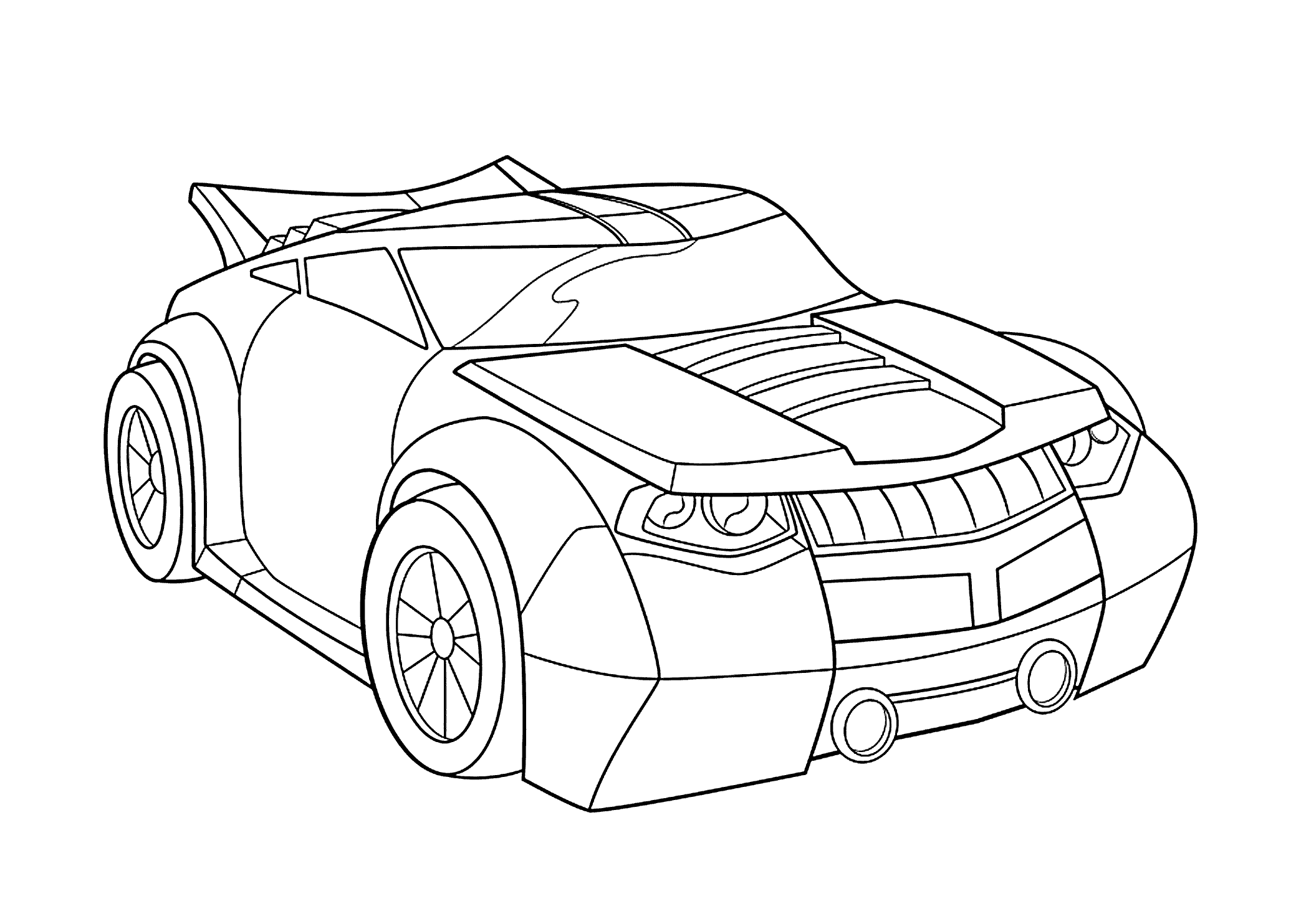 This coloring sheet features Bumblebee in the auto form, who usually appears in the series with Blades. It's a yellow colored Robot with black and silver borders.
Chase, The Transformer Rescue Bot:
Here's a coloring page of Chase, the Rescue Bot who transforms into a police car and stegosaurus. This coloring page shows Chase in his robot form, in which he has two spotlights in his forearms and can carry two passengers in his cabin.
Chasing Saving A Policeman's Life: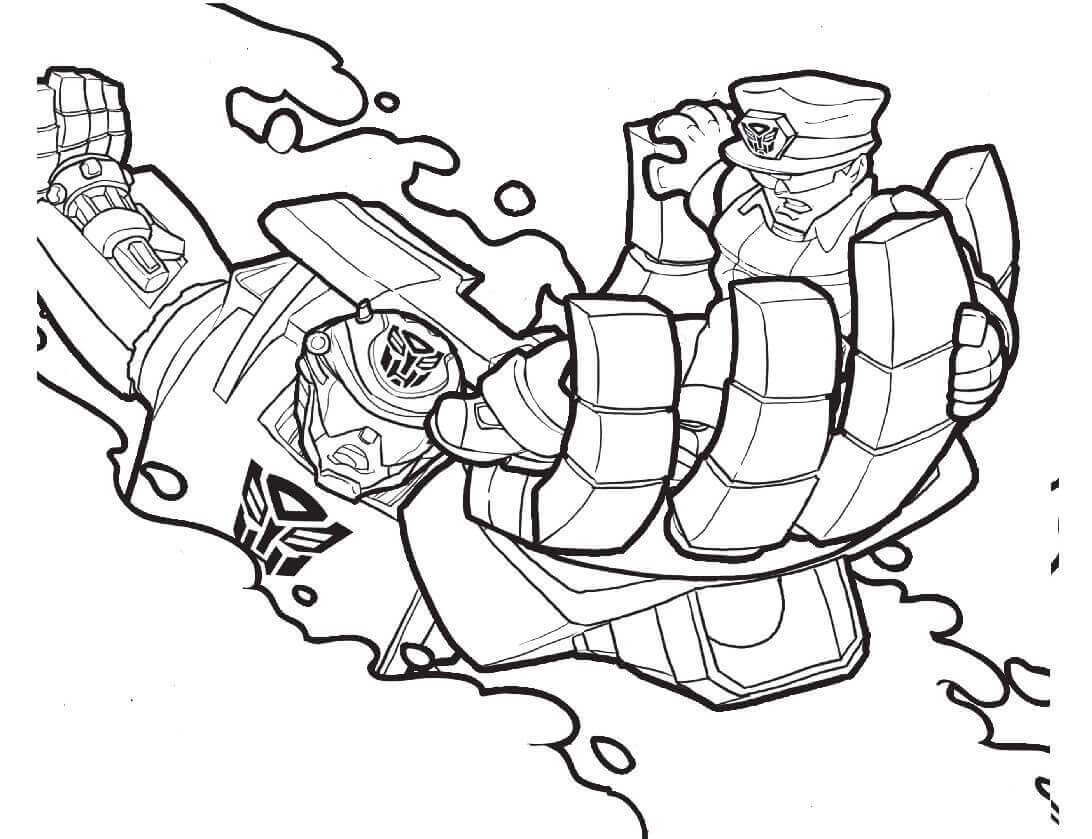 Chase is indeed a hero and this Transformers Rescuebots coloring page displays it perfectly. Here we see Chase saving the life of a policeman. We wonder how things would have become if Chase wasn't there to save him.
Heatwave, The Firebot:
Meet Heatwave, the fire bot and the leader of the Rescue Bots. Kids will definitely enjoy filling colors in its fine lines. Being a Cybertronian, Heatwave can assume several forms, and here it's in the form of his fire truck.
Optimus Prime:
This coloring page features Optimus Prime, the leader of the Autobots. He was the one who sent Blades, Boulder, Chase and Heatwave to aid human beings. So we all must be thankful to him.
Rescue Bots Chase Car:
This handsome looking vehicle belongs to none other than Chase, the macho transformer rescue bot. In his vehicle, or rather police car mode, Chase is very swift agile, just like a race car. This helps him fight the baddies faster.
Transformers Rescue Bots:
This is one of our favorites Transformers Rescue Bots coloring pages as it features four important characters in one frame. The coloring sheet includes Boulder, Blades, Chase and Heatwave. Give each of these characters their signature shades and see how beautiful they look.
Rescue Bots In Action:
Boulder is in some serious rage as it's seen throwing Chase car on some other vehicle. Whose vehicle could it be?  Or is it a part of the group? Write the story on this coloring image as you fill colors.
Police Saved:
Like we had mentioned before, Chase had valiantly saved a police from trouble and this coloring page shows how relieved the cop looks. The cop is also pointing towards something. What could it be?
Rescue Bots Having Fun:
In this coloring page, we see Chase and the cop paying their homage, while Boulder seems to be in a fun mood. Even the cop near Boulder is in a jolly mood, visible from his posture. The scene is a great respite from the action we get to see in this show.
Chase And Heatwave Having Fun With Firefighters:
This one's another fun Rescue Bots coloring page as all the characters seem to be in a cool and light mood, probably because of the puppy, who wants to play with them. We love the smile on Chase's face, as we rarely get to see it.  
Chase Out Of Control:
Why does Chase look out of control in this picture? Two cops have intervened to make him understand something, but he is in no mood to listen. Only colors can him down? So what are you waiting? Paint him bright with your watercolors.
Color By Numbers Activity Sheet: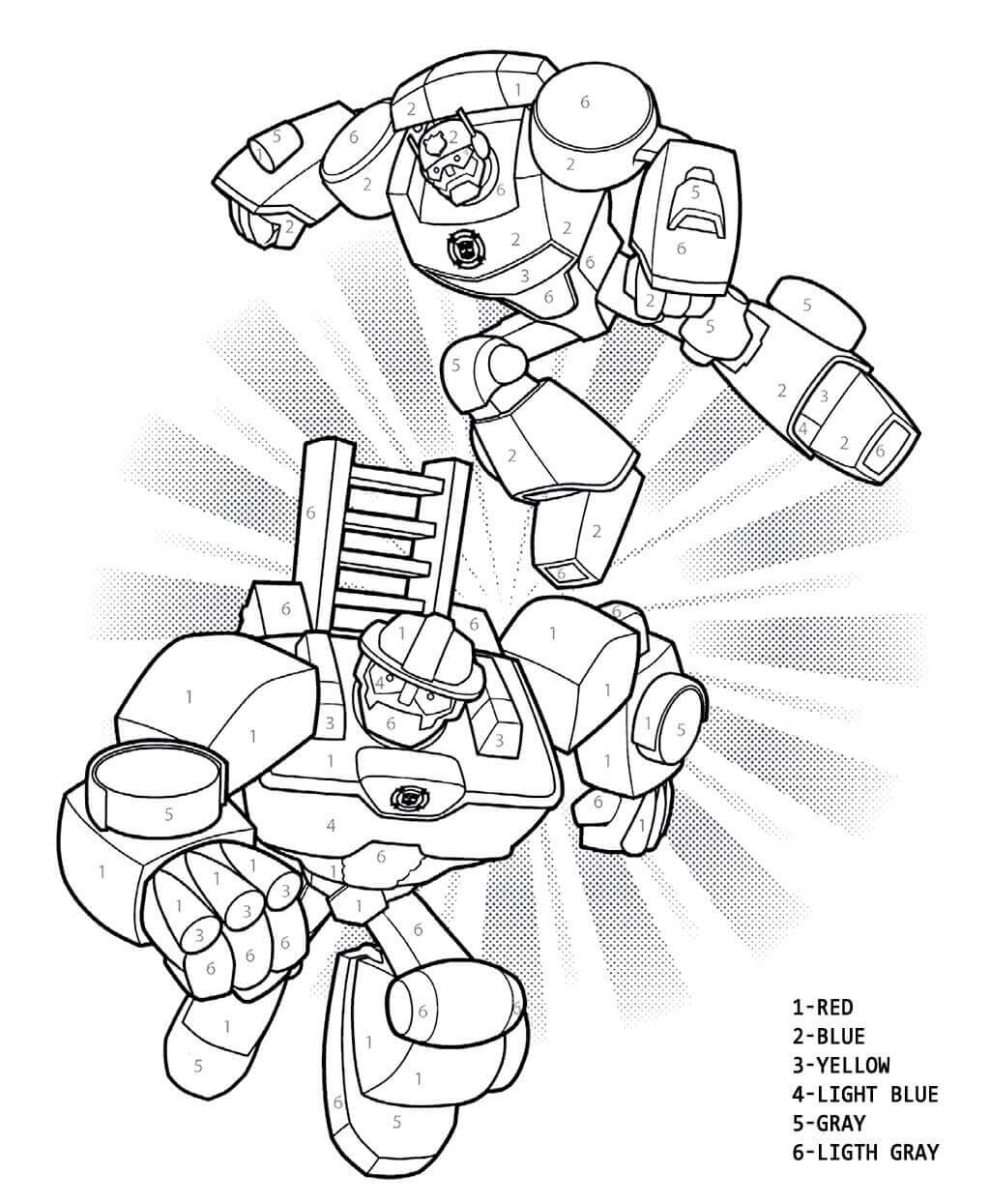 Here's a wonderful coloring page where you need to color by referring to the shade card mentioned below. We think this activity sheet is ideal for preschoolers, who have started learning numbers.
MorBot: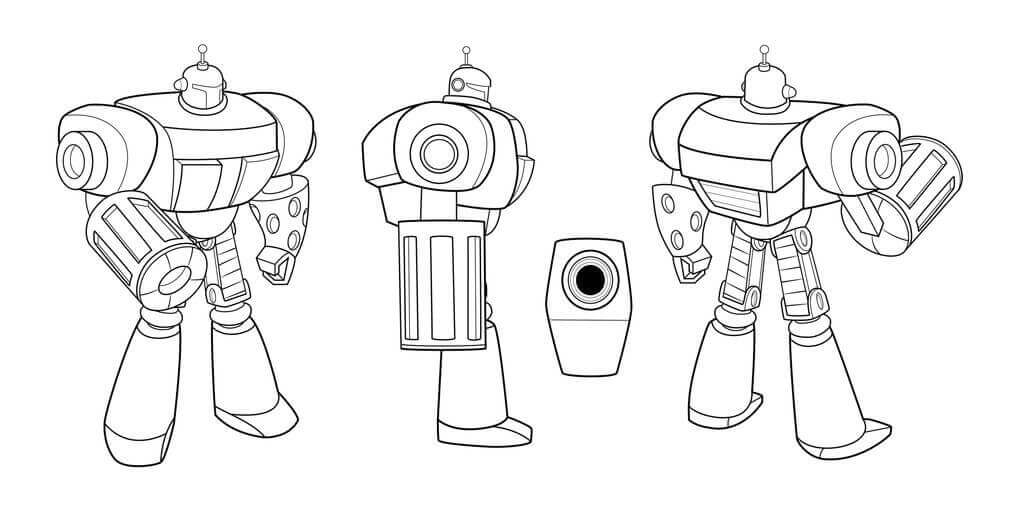 This coloring page features MorBot, made by Thaddeus Morocco with the most advanced technology. It bristles with some of the deadliest weapons, such as a giant cannon, rocket boots, high tech rescuing gears and fire extinguisher.
Vehicles Of The Rescue Bots: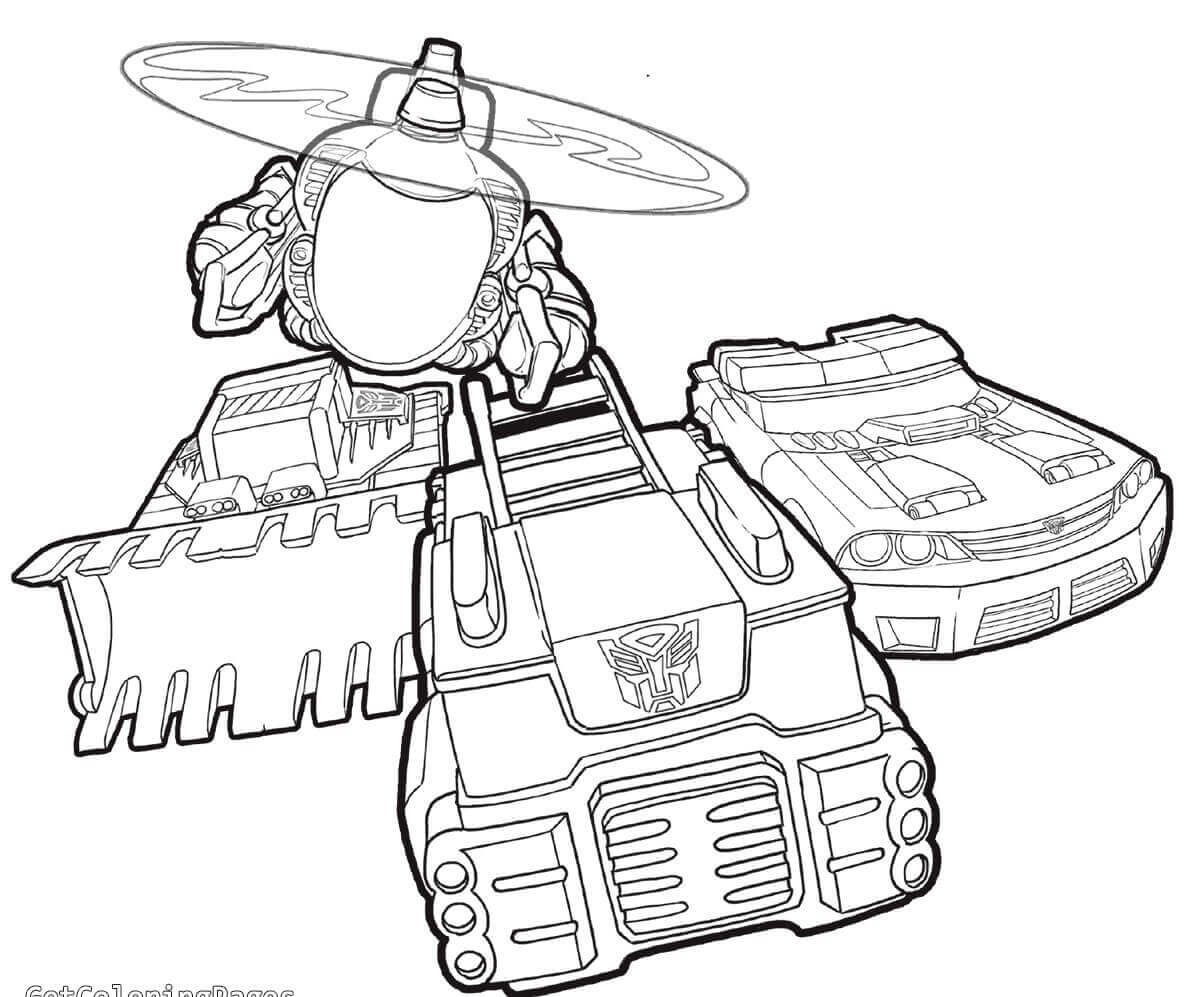 This coloring page features the Rescue Bots, namely Blade, Boulder, Chase and Heatwave in their vehicle form.
So these were 20 best Transformers Rescue Bots coloring sheets. All of these Transformers Rescue Bots coloring images are wonderful and perfect to print out. And for you, we've included all the major characters of Rescue Bots. So print out all these pages to create a Transformers Rescue Bots coloring book. Until then, check out our Rick and Morty coloring pages.