The month of fall brings so many fun-filled activities for adults and kids. Trick or Treat is one such occasion when kids, especially below age 14, indulge themselves in certain interesting activities like dressing in dramatic monster costumes, going door to door calling out "Trick or Treat". This day is enjoyed equally by adults and kids. This day is special as kids get so many candies and they are also free to play mischief.  Our free printable trick-or-treat coloring pages give kids a chance to enjoy the festive occasion of Halloween. These trick-or-treat coloring sheets to print can be used for decorating various places or for exchanging sheets with other kids.
20 Free Printable Trick Or Treat Coloring Pages:
Mickey Mouse Trick Or Treat:
This lovable Disney character is all dressed for Halloween and ready to knock at your door. He is carrying a small packet which he wants to fill with candies if his call for "trick or treat" is answered with a treat. Can you imagine what trick this cute Mickey can play to surprise everyone? Decorate this page with colors for a colorful ghoulish holiday.
[ Related: Mickey Mouse Coloring Pages ]
to join this conversation on GitHub. Already have an account? Sign in to comment Footer © 2023 GitHub, Inc. Footer navigation Terms Privacy Security Status
Uncomfortable Costume:
Eating too many candies can give you a stomach ache, and that's what has happened to this boy. The boy was interested in playing tricks with the people, but he was given treat wherever he went. Maybe his costume was too dramatic that people decided to play safe and offered him candies. The boy has emptied the bag of candies into his stomach, and that is the cause of his pain.
Smiling Vampire:
Do not wonder if you see a smiling vampire knocking at your door. A vampire can give you a smile when Halloween is around, especially for trick or treat activity. The vampire is accompanied, by a little ghost and the two have decided to celebrate the season with some candies. Please fill their little spooky bag with some luscious candies for a change of taste.
[ Related: Vampire Coloring Pages ]
Halloween Trick Or Treat:
The two little kids are dressed cutely, and it would be very easy for them to collect a good number of candies in their Trick Or Treat bag. It would also be interesting to see what tricks these innocent kids could play in this activity. While they are busy collecting candies, color their costume to give it a festive look.
Trick Or Treat Characters:
These ghost templates are perfect for decorating the classroom or home for a Halloween activity. The bunch of small-sized ghosts wants to take the lead this Halloween. So they have confronted the big ghost to play Trick Or Treat with him. No doubt, the big ghost is shocked to see the behavior of his subordinates. What tricks will little ghosts play on the big ghost as he has no candies to treat them?
Tiger Trick Or Treat:
This Halloween the animals in the zoo have become desperate. The reason is very terrifying as the king of the jungle has decided to play trick or treat with other animals. But animals can please the king of the jungle with some tasty candies as this is the season of Trick Or Treat.  His bag full of candies proves that he is truly the king of the jungle.
Trick Or Treat Bag:
Our coloring page shows a Trick Or Treat candy bag with some spooky prints on it. When you go door to door in your neighborhood with this big-sized bag, you can collect a lot of candy. What colors would you like for your Trick Or Treat bag? It seems you are going to have fun coated with sweetness this Halloween.
Trick Or Treat Bag Full Of Candies:
This Trick Or Treat Day was full of fun, frolic, and candies. Just see this Trick or Treat bag in the picture. Lots of candies, lollipops, and sweets have found a place in the bag. This is the benefit of demanding a big sized Trick Or Treat bag. Let us make the candies look tempting by making them colorful.
Friends in Fun:
Dracula and Witch are mythological characters, and they appear to frighten people. Have you ever thought about what happens if both the horrific characters come together? Well, they may be dangerous for the rest of the days, but it is Trick or Treat Day. Look at their charming and innocent faces. The people around, are convinced that they are friendly monsters and given a good amount of candies to them. They are ready to give you candies if you color them.
Trick Or Treat Pumpkin:
The carving of Jack o lantern is completed for Trick or Treat Day. The aged witch has given to her tall and conical hat, which is full of powers of black magic. What a spooky way of celebrating the advent of Trick Or Treat day? The mystic bats are flying in the sky to inspect the preparation of the Day.
[ Related: Jack o Lantern Coloring Pages ]
Pluto On Trick Or Treat Day:
This Mickey Mouse's pet Pluto is overwhelmed to see a Trick Or Treat bag full of candies. This Halloween all the Disney characters are busy in Trick or Treat activity. There is a contest, of collecting more and more candies and the one who collects a maximum number of candies will be the winner. Pluto's bag is full and still, there are some candies lying on the ground. He is trying to hold some candies in his mouth. Pluto can be looked funnier if some colors are added to the picture.
Kids Out For Trick Or Treat
This picture clearly shows the true spirit of Trick Or Treat. All the four kids are dressed in typical costumes and carrying the Trick Or Treat bag in their hands. Their enthusiasm indicates that they will enjoy the day to the fullest and celebrate with each other. It is the duty of the devil leader to make sure that the bags of all the kids get full of candies. What colors have you decided on the devil and others?
Trick Or Treat For Three: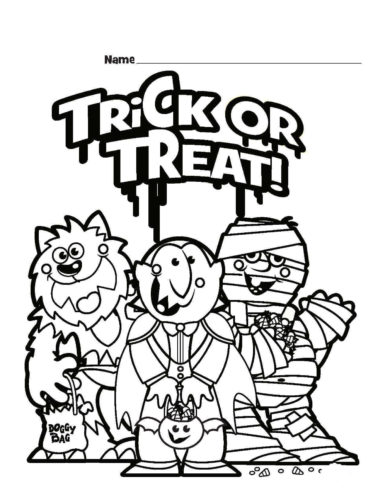 The two little monsters have brought their pet dog with them with the hope that if they fail to get candies then maybe the dog gets. It seems from their faces that are not interested in playing pranks probably because they do the same all the time. 
Trick Or Treat In Halloween City:
This might be the picture of Halloween city as all those present there are dressed as ghostly characters. They all look ready for the Trick Or Treat activity. These real monsters should not get a chance to mischief on innocent people. The best way of keeping them away from playing treat is to give them some candies when they call Trick Or Treat.
Kids in Trick Or Treat Costumes:
This picture gives you a suggestion on how to dress for the Trick Or Treat day. There are so many costumes that you can fit into to enjoy the activities. Have a look at, how the kids are dressed- a cat boy, a butterfly girl, a dragon boy, and a witch. People are happy to see kids dressed in these costumes, and they happily gift those candies. You can color this image and show your creativity to your friends.
Trick Or Treat Pumpkin:
Pumpkins have a very special role in Halloween. It is a popular Halloween tradition to carve out jack –o'-lanterns from pumpkins. A face is carved out, and the inside flesh is scooped out for a hollow look. The hollow inside, of the pumpkin, is lit when some light is kept inside. The two pumpkins are sending a message of celebrating Trick Or Treat happily.
[ Related: Pumpkin Coloring Pages ]
Happy Halloween Pumpkin:
No one can resist the sweetness of candies not even pumpkins. People love to eat and share pumpkin pie during Christmas and other festivals but do you know what pumpkin likes? It is clear from the picture what pumpkin is interested in? it is nothing else but the candies distributed in Trick Or Treat day. The wicked smile on the face of the pumpkin indicates that he has collected more than needed.
Flying Ghost With Candies: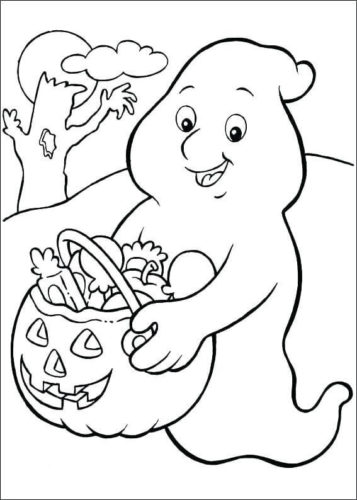 This ghost has every reason to fly this season. Just look at his spooky Trick Or Treat bag in a pumpkin shape. It is full of candies and the ghost wants to make sure that his candies are safe from theft, so he is flying. But the candies are so tempting that even the static tree wants to have some.
[ Related: Ghost Coloring Pages ]
Gentle Kids Playing Trick Or Treat:
Though the kids are dressed in Halloween costumes they look very gentle. It is clear from their face that they want to behave properly in this calm weather. The wicked witch failed to train them in the art of mischief and flew away. Let the kids appear more decent by adding some decent colors to them.
Winnie The Pooh Trick Or Treat
Another Disney character out to make the best use of the Trick Or Treat Day. It is clear that nobody wants to miss the opportunity to collect candies. A bandaged pooh will surely fill his pumpkin bag with candies as he heads forward.
[ Related: Winnie The Pooh Coloring Pages ]
The Trick or Treat coloring pictures can be downloaded and colored by kids and they can also surprise the monsters knocking at the door with these colored pictures. There are so many images to choose from our Trick or Treat coloring images. The kids can invite their little friends to join them in coloring and exchange each other sheets as a token of Halloween.