When Valentine's Day comes near, all of us hurry down to the stores to buy gifts for our loved ones. But instead of rushing to the shops, we can quickly make them happy with simple coloring pages and cards. Here is our collection of such easy and love-filled free printable Valentines Day coloring pages for you. We've even got Valentine's Day 2018 coloring pages. So check out our collection of Valentines Day coloring sheets below. 
Free Printable Valentines Day Coloring Pages:
Adorable Valentine's Day Coloring Page: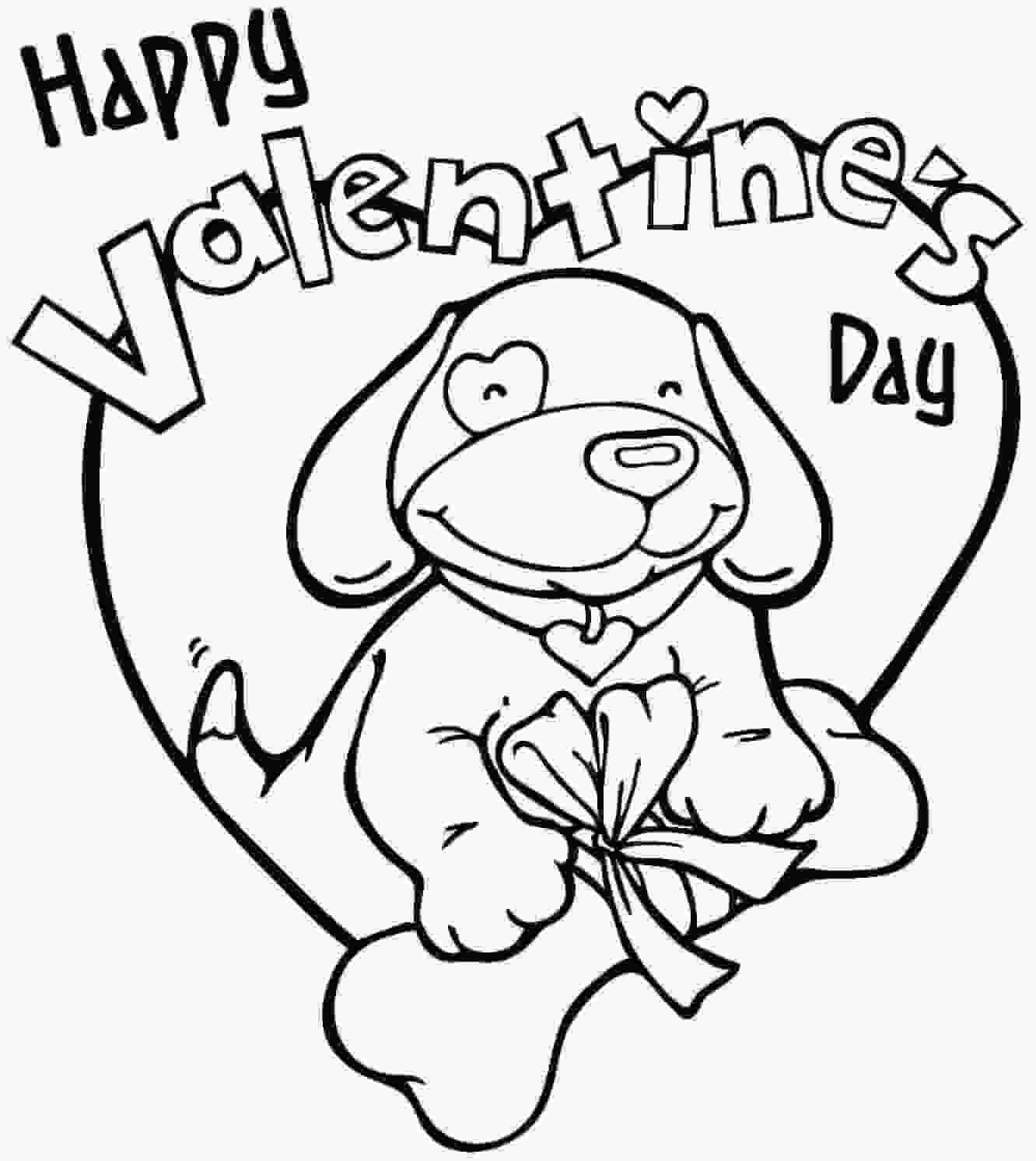 This cute doggy is wishing you all a very Happy Valentine's Day. His parents have gifted him a bone for the Valentine's Day. His parents tied a cute blue bow to the bone. They clicked his photo, and then they framed it with a nice happy Valentine's Day frame.
Angry Birds Valentine's Day Coloring Page:
Angry birds are known for their anger, but they love their family and friends very much. When red was fighting a battle against the pigs, he met Daisy. She is a very great fighter and he wanted to be her friend.
to join this conversation on GitHub. Already have an account? Sign in to comment Footer © 2023 GitHub, Inc. Footer navigation Terms Privacy Security Status
Be Mine Valentine's Day Coloring Page:
What a lovely wordplay! Would you accept his proposal?
Perfect Valentine's Day Card Coloring Page:
Do you want to tell your loved ones that you love them on Valentine's Day? This card filled with so many hearts makes a perfect card to be gifted. Color the hearts with different bright colors to make it beautiful. Voila, its ready to be given to your loved ones.
Flower Bouquet Coloring Page:
This is a bouquet of hearts that has been prepared for this Valentine's Day. There is a cute bow attached to the bouquet and a gift paper to keep it together. You can color the hearts in different beautiful colors and gift them to your loved ones.
Boyfriend Girlfriend Valentine's Day Coloring Page:
How cute is this couple looking in this coloring page? They'll look lovelier when filled with colors!
Curious George Valentine's Day Coloring Page:
Curious George was passing by a tree when he heard a person crying. He looked up, and there sat a sparrow who was crying. He asked her what the matter was. She told him that her family stays away beyond the hills and she is all alone on Valentine's Day. So he made a heart symbolizing that he loves her and they became friends after that.
Cute Valentine's Day Coloring Page:
Ponchu is a very loving polar bear. His best friend is a penguin named Pingu. They made hearts for each other on this Valentine's Day. When they met on the day, they give each other the hearts and promised each other to be friends forever.
Papa Snowman Receives A Handmade Card
Papa Snowman loves his daughter a lot. For this Valentine's Day, she gave him a handmade card, and that made him very happy. He hugged her tight and promised that he would love her forever.
Pooh Loves His Friends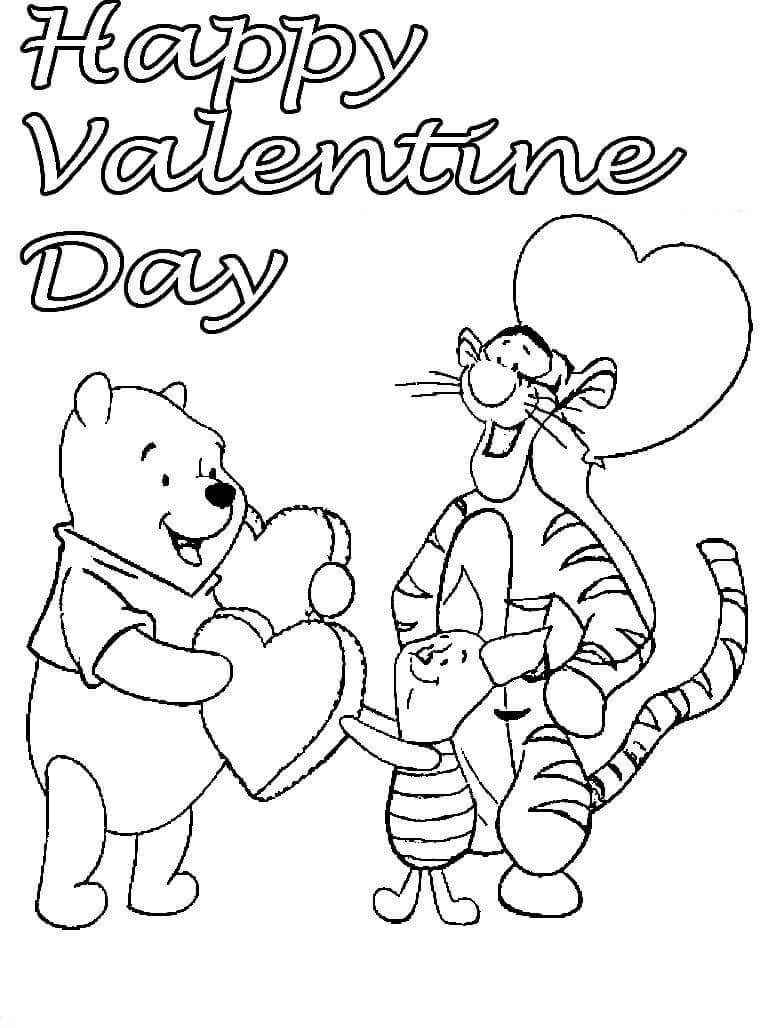 Everyone loves their friends, and there is no other day better than Valentine's Day to tell them how much you love them. Pooh loves his friends and cares for him. He wanted to tell them this, so he bought hearts filled with chocolates. He filled those hearts with their favorite chocolates.
Valentine's Day Postcards From Royal Family
For the citizens of the Oceana kingdom, the royal family sends out postcards every year on Valentine's Day. This year they have special hand-made cards for each of their citizens. The Royal family was drawn by the artists of the nation. But they are out of colors now, and this card is yet to be painted. Will you help the artists and paint this for them?
Coloring Jack's Giant Heart
Jack is waiting for his Valentine outside her house. He had earlier planned to get a very large red heart for her. So he ordered the same at the craftsman's store. But the craftsman was too busy and he forgot to color the heart. Jack was informed that you are the best when it comes to coloring things, so he came running to you to get the heart colored. Can you help him out by coloring the heart?
Color The Heart For Baby Elephant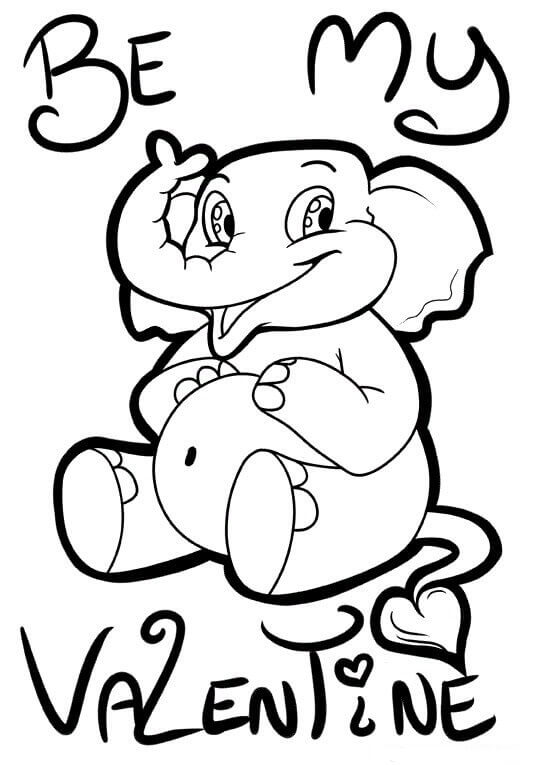 This elephant is ready for Valentine's Day. He got a heart for his parents and decorated his home and baked a cake for them. The only thing he forgot to do was to color the heart he got for them. He doesn't have time to get the new colors from the market so he came to you for help. Will you help him and color the heart up for him?
I Love You Valentine's Day Coloring Page: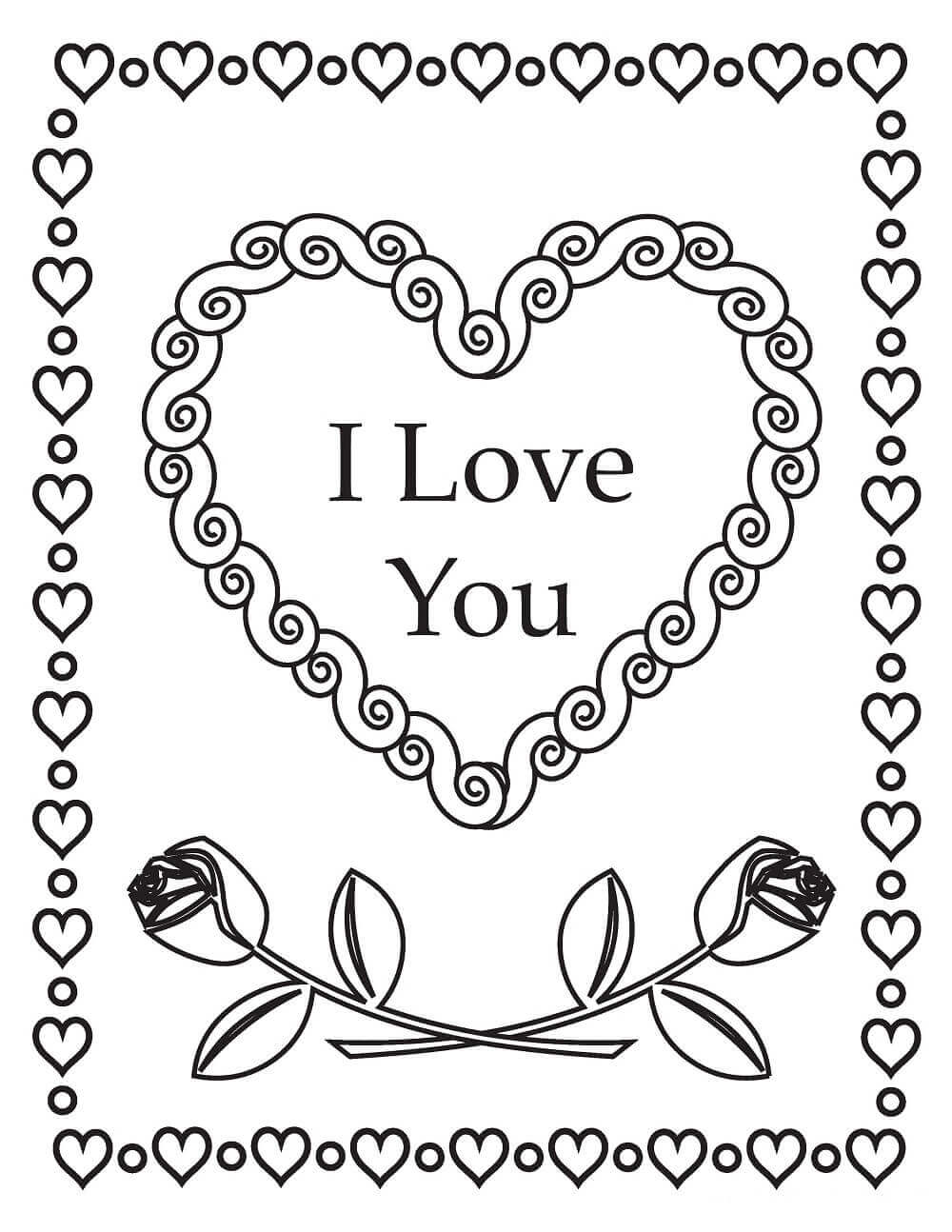 Wish your loved ones a happy Valentine's day with this I Love You coloring page.
Happy Valentine's Day 2018 Coloring Page:
Pooh got a balloon from a shopkeeper who told him that he could fly by holding the balloon if he has a friend with him who truly loved him. He went to everyone and tried to fly, but he failed each time. He was very disappointed and sat under a tree when finally, Piglet came and asked him what's wrong. When told, he merely held Pooh's hands and the balloon. The balloon started to fly.
Happy Valentine's Day Coloring Page:
Ricky, the turtle, is in the display picture of a store that sells Valentine's gifts. There was an audition going on for the face of the store a month ago, and Ratter was passing by the area. He saw the crowd and went to check what it was. He came to know that the animal with the best smile will be the face of the store, he participated. He won the competition and got his face up on the posters and other things.
Heart Coloring Page:
Friends are the best gifts of the world. Heart and Hearty are spending their time together for this Valentine's Day. They had an early breakfast, and then they went on an adventure trip where they can have fun and make memories. They promised to be each other's friends forever.
Hello Kitty Valentine's Day Coloring Page:
Hello Kitty is wishing you all a very happy Valentine's Day.
Jasmine Valentine's Day Coloring Page: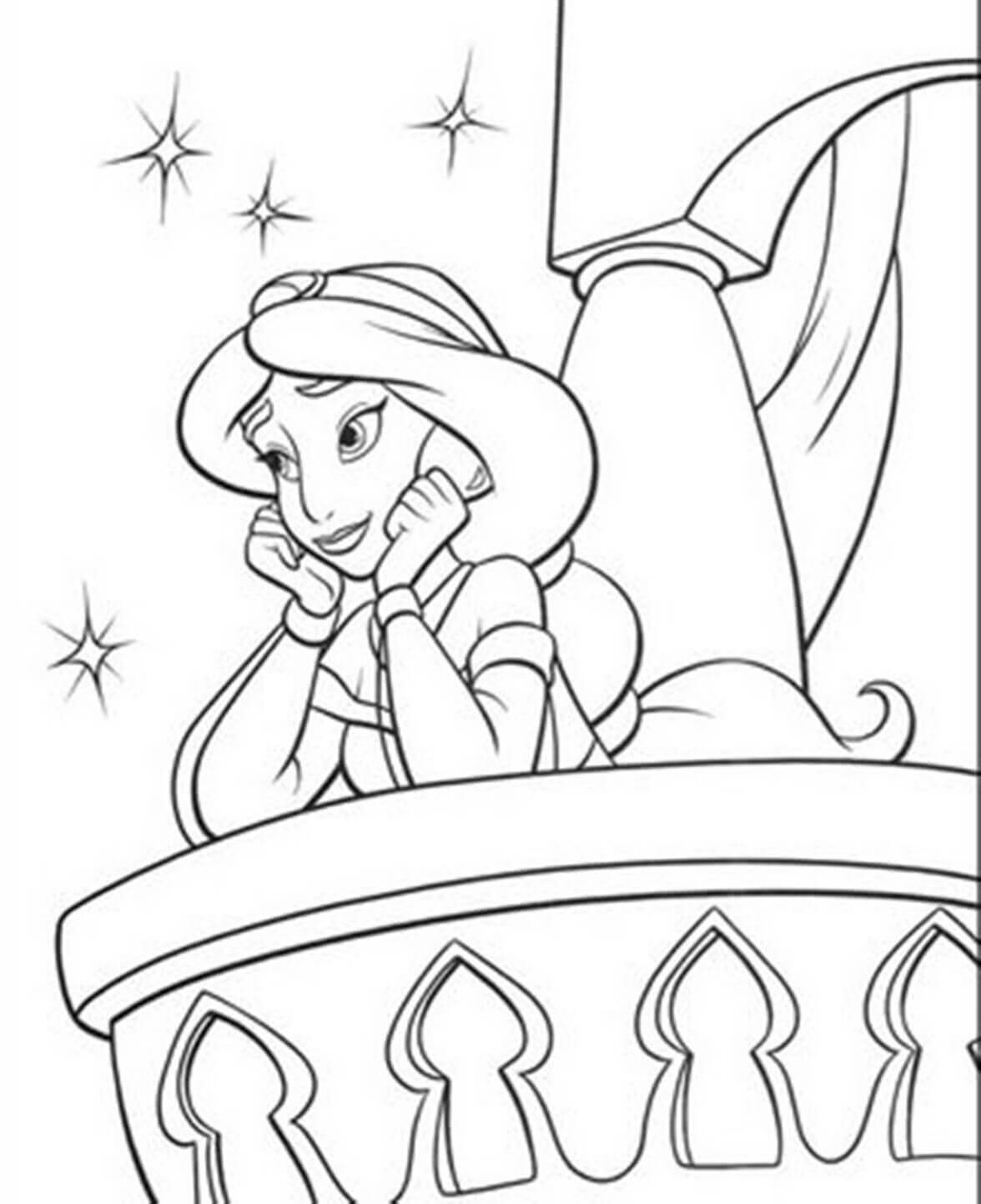 Princess Jasmine and her beloved have a nice and amazing evening planned ahead for Valentine's Day. Aladdin is out for the business of the day and is yet to come back. She is waiting for him to come back and have a nice dinner with him.
[ Related: Princess Jasmine Coloring Pages ]
Kitten's Valentine: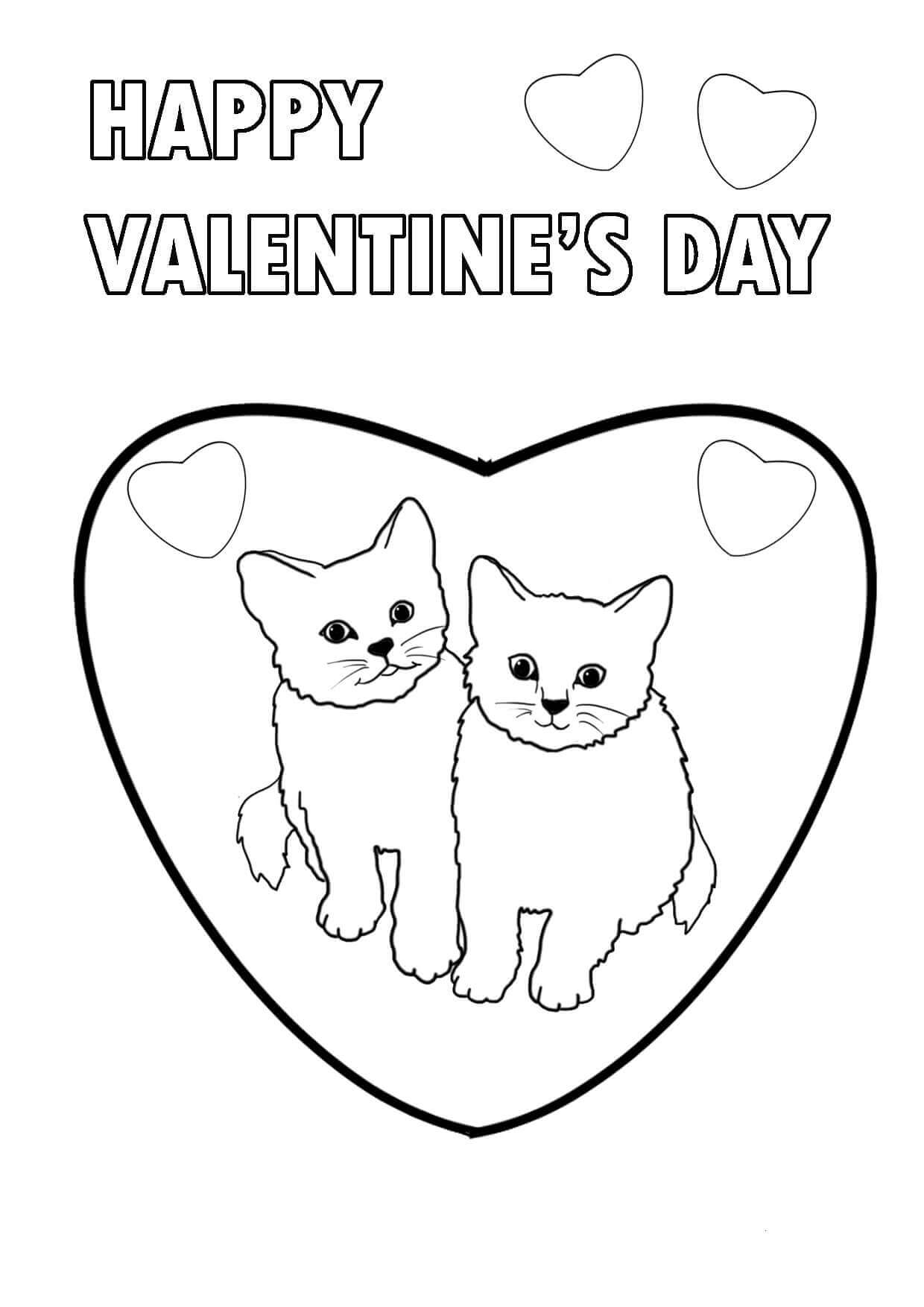 Kitty received a letter from her friend who lives on a different island. As the postal services are closed for the Valentine's Day, a bird helped her friend to send the letter to Kitty in a faraway place.
Mother Loves Everyone:
Johnny loves his mother a lot, and there was no other better day than Valentine's Day to tell her that. He got up early and prepared a healthy breakfast with their nanny for his mother. When she woke up, she was surprised and happy to see such an effort by her child.
Pokemon Valentine's Day Coloring Page:
Pokemon is looking so adorable in this picture!
[ Related: Pokemon Coloring Pages ]
Pooh Receives A Valentine's Day card From Piglet:
Pooh received a Valentine's Day card from Piglet. He is his best friend and they have been together since childhood. They love each other a lot. Piglet also received a beautiful gift from Pooh. Pooh made a hand-made heart-shaped wall-hanging for his dear friend.
Precious Moments Valentine's Day Coloring Page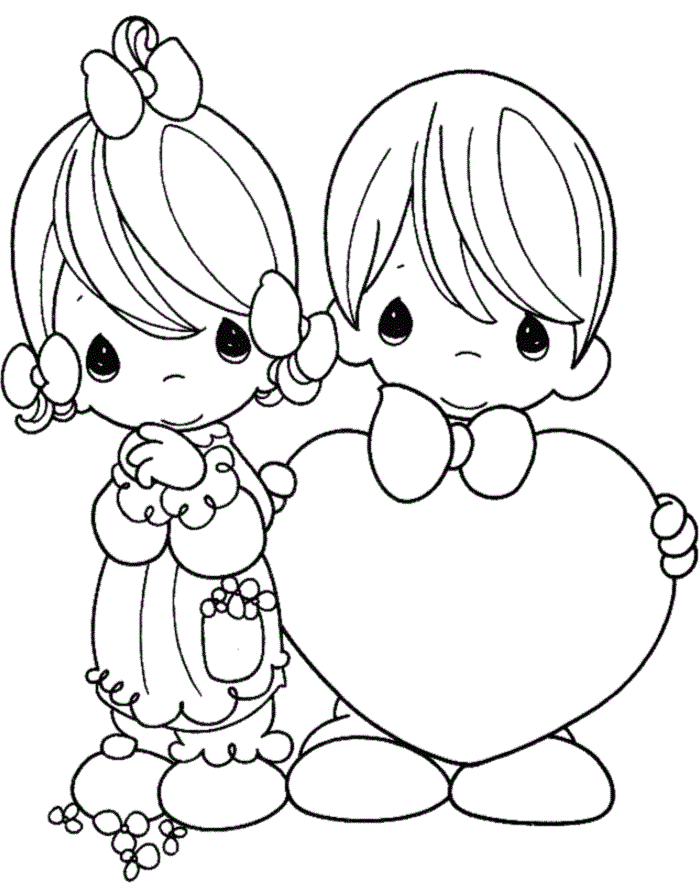 Here's a lovely Precious Moments Valentine's day coloring page for you to fill!
Precious Moments: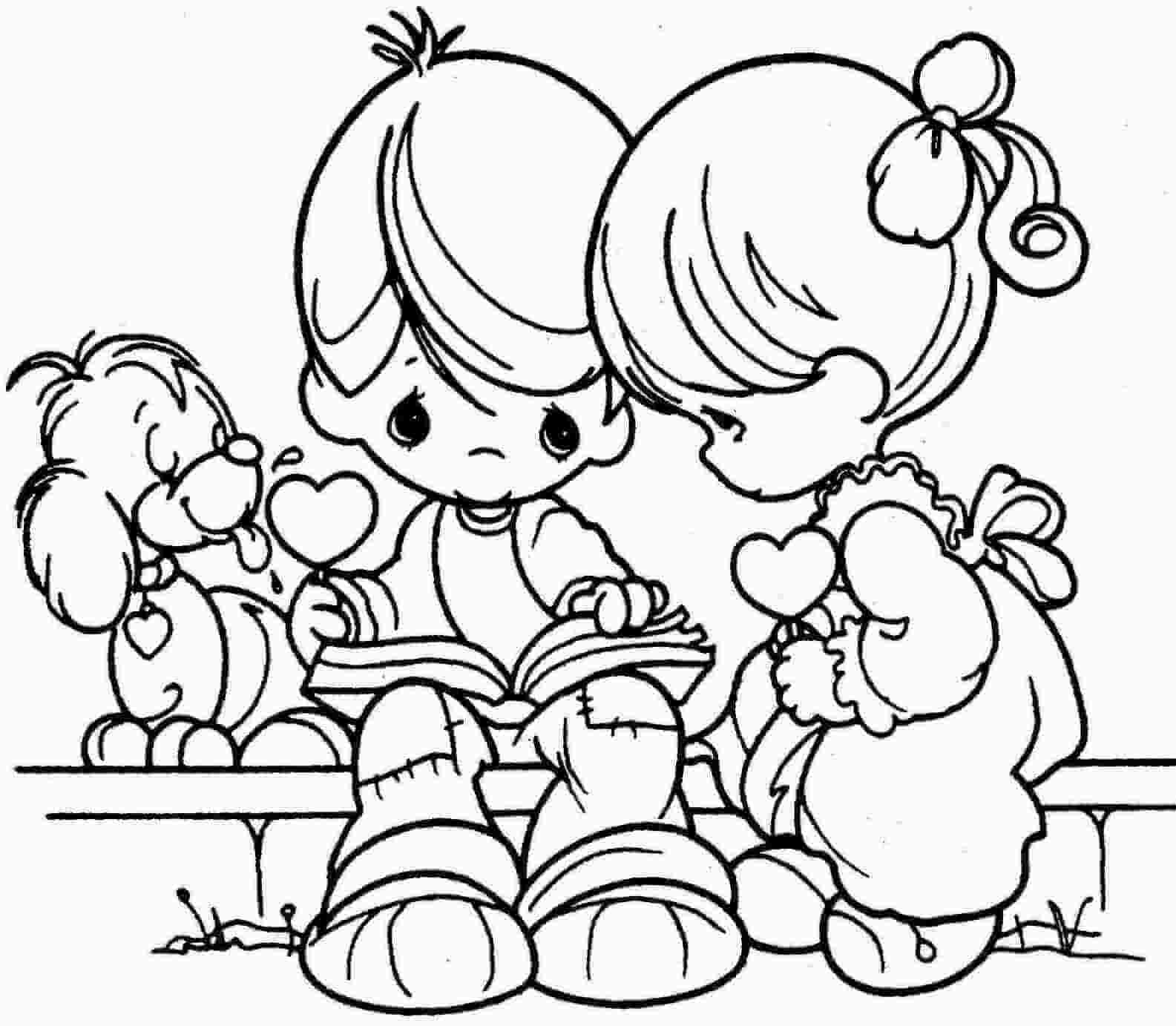 How adorable is this Precious Moment's coloring page for Valentine's day?
Princess Fiona And Her Valentine's Day Dinner
Princess Fiona is getting ready for her Valentine's Day dinner with her friends. She chose a lovely green dress and got her makeup done by the professionals. She also got her hair done and collected the gifts she got for her friends with her.
Tigger Is His Own Valentine
Tigger loves the time he spends with himself. He got his Valentine's Day gift for himself and is happy with the heart balloon. He is so happy that he later burst the balloon out of happiness. Though that didn't make him sad and he continued to be happy.
[ Related: Winnie The Pooh Coloring Pages ]
Snoopy Helps Mark To Make Friends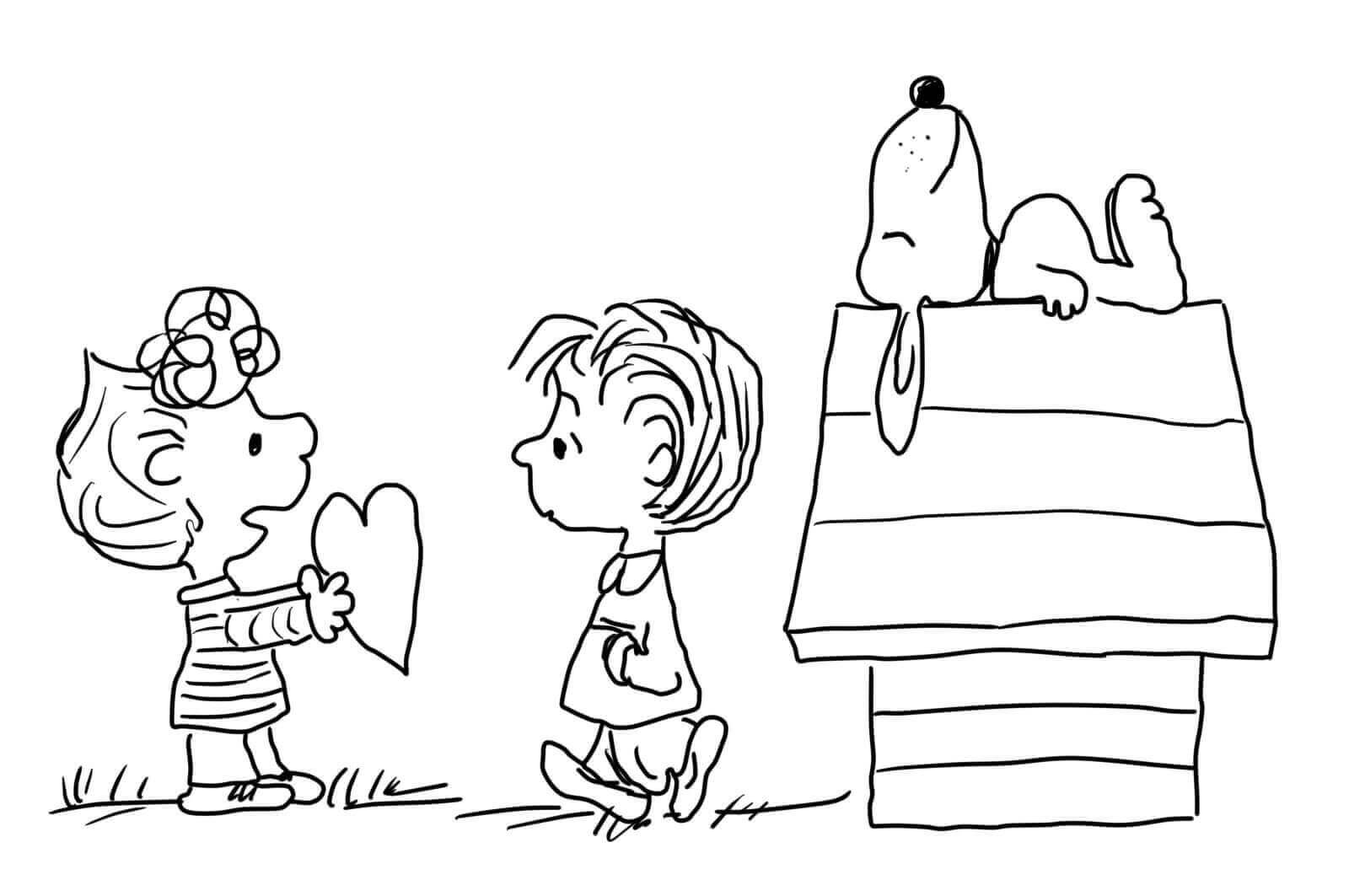 Snoopy decided that it was finally time for Mark to finally be friends with Lucy. He always wanted to be her friend as she is his neighbor and also is in her playschool. So Snoopy gave him the idea about how to make her friend.
I Love You, Mommy
Don't you love all the delicious food cooked by your mother? When you are hurt, she lovingly patches up the wound, doesn't she? For this Valentine's Day tell your mother how much you love her. You can color this card in beautiful colors and give it to her to tell her how much you love her.
[ Related: Mother's Day Coloring Pages ]
Rose's Valentine Surprise
Rose wanted her parents to know that she loves them a lot. She started saving her pocket money so that she can give her parents some gifts on this Valentine's Day. So, on the Valentine's Day, she woke up early, went to a florist with her aunt and bought fresh flowers. She also got some chocolates for them. When her parents woke up, she gave them the flowers, chocolates and a handmade greeting card saying I Love You.
Snoopy's New Friend: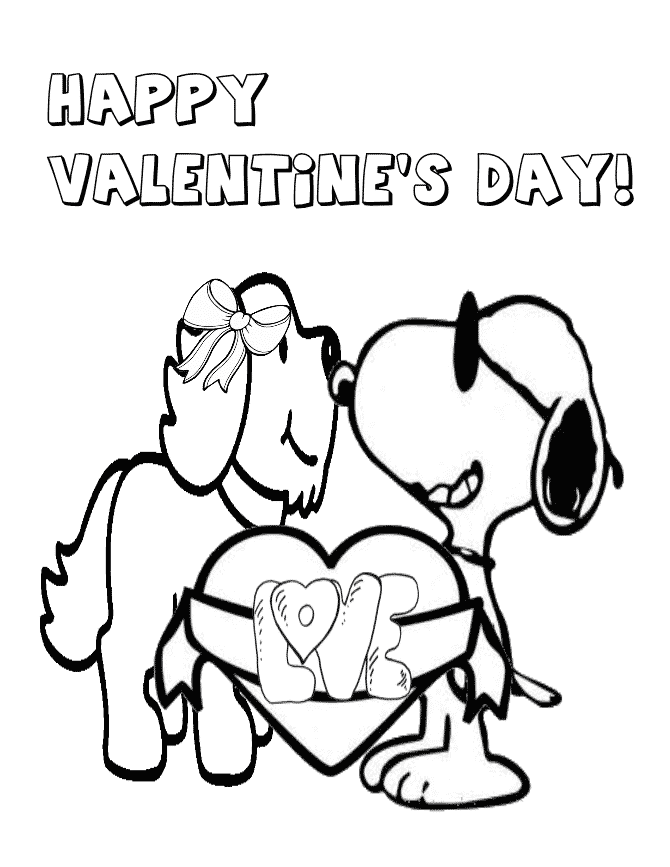 Snoopy always wanted to be friends with Diana from the neighborhood. So as the Valentine's Day arrived, he started saving money so that he can give her a gift then. Finally, on the Valentine's Day he went to her and gave her the gift, and they started talking.
Balloons For Cuddly: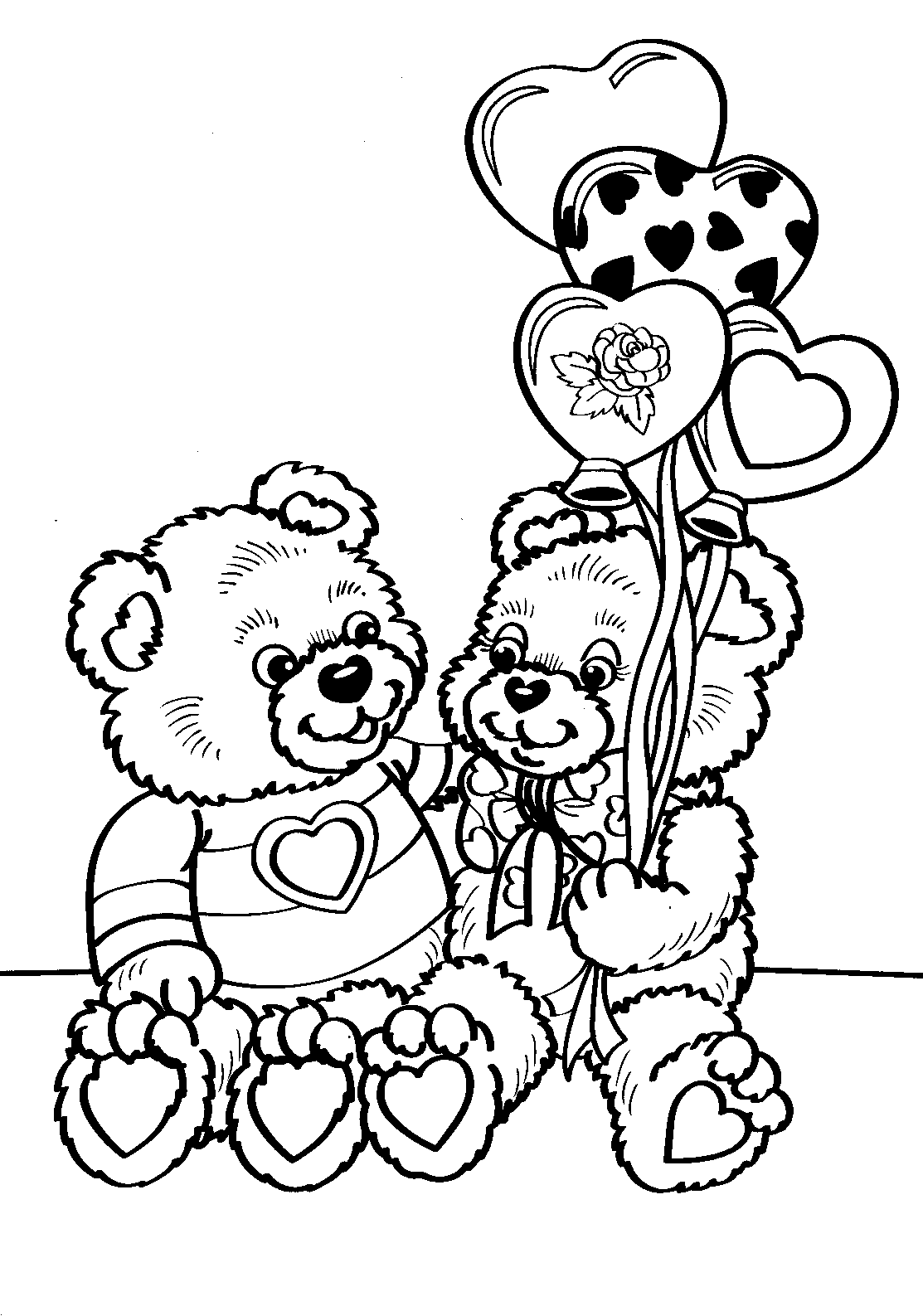 Cuddly was going to a café to get his breakfast, when he saw a balloon seller shoved down on the road. He ran down to her and helped her up. She had a bruised knee, and the person who had shoved her ran away. He took her to doctor for first aid and then to her home. They have been friends since then. On the Valentine's Day, she brought heart-shaped balloons for him to thank him for being her friend.
Cuddly Spreads Happiness On Valentine's Day
Cuddly bear wants everyone to be happy on Valentine's Day. He spent all his day yesterday drawing and cutting papers in the shape of hearts. He made them very small and on the Valentine's Day, he spread them on the lawns of people. They were surprised and happy when they came out of their houses to see red hearts on their green lawns.
Gummy Wuves You: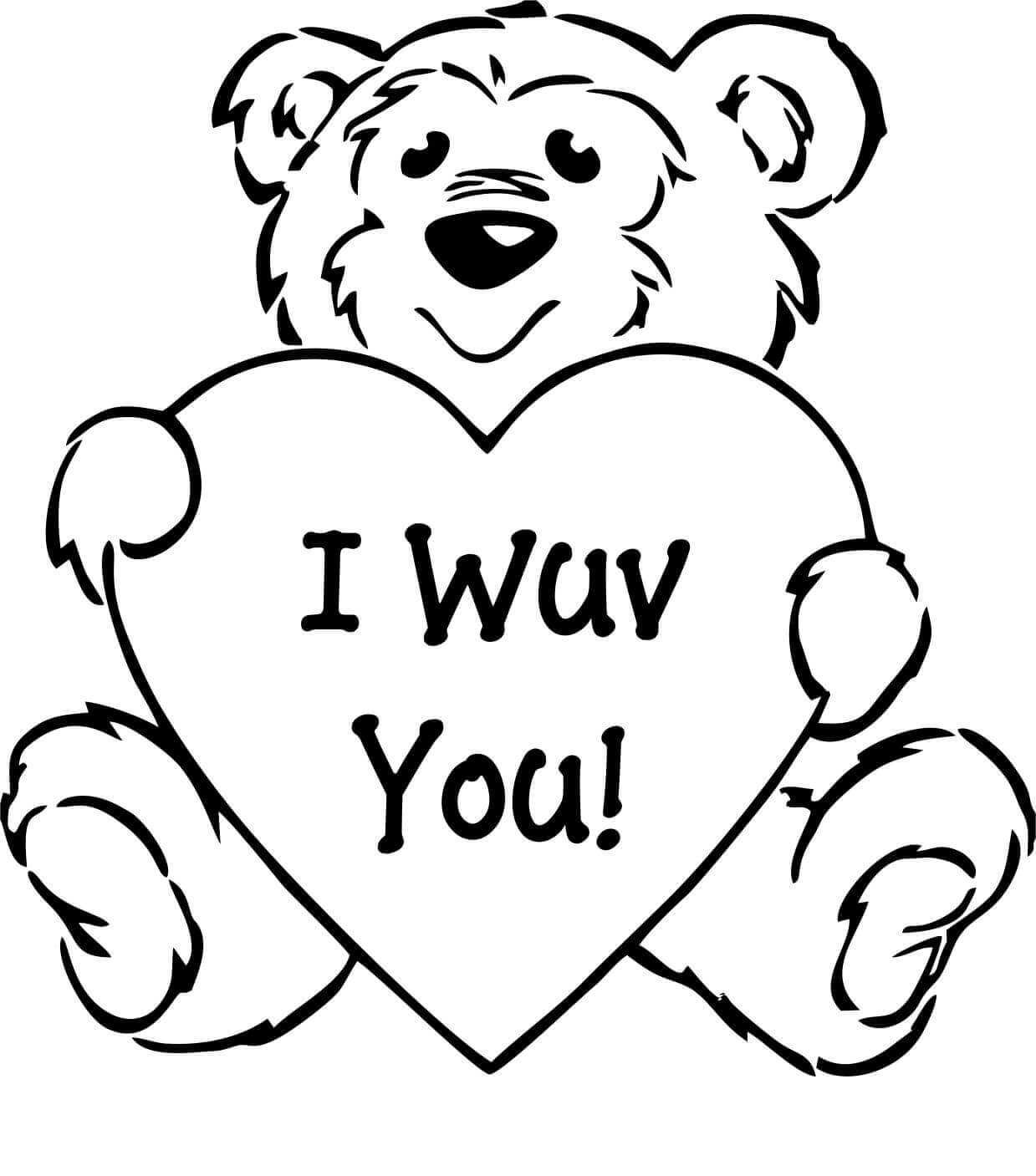 Gummy the bear wants to tell you that he loves you. Though Gummy is just learning his words, he still made a placard for you in his own handwriting. He spelled love wrong, but he tried, isn't it? Color him up in your favorite colors to tell him that you love him too.
Valentine's Day Chocolates Coloring Page:
Give your loved ones some cute chocolates, though virtual ones, with this coloring page.
I Love You Valentine's Day Coloring Page:
Let your loved ones know how much they mean to you with this I love you coloring page.
Here Comes The Naughty Cupid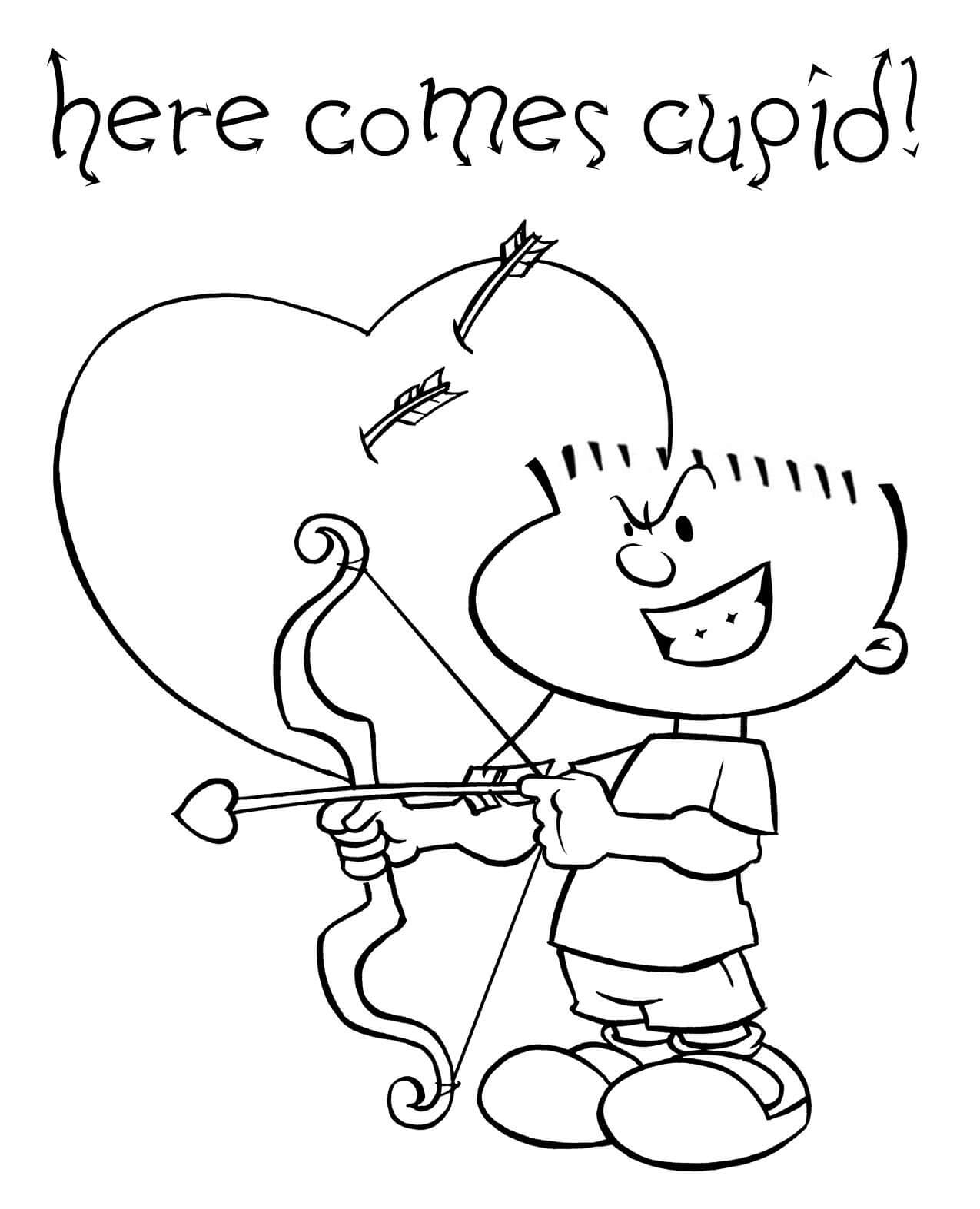 Jeffery is being naughty on this Valentine's Day. He found an arrow and bow and is shooting down the hearts that people hung on their doors. There were heart-shaped balloons as well, but Jeffery shot them down too. He is searching for his next target, and it looks like he found one.
Mira's Hand-made Valentine Gifts: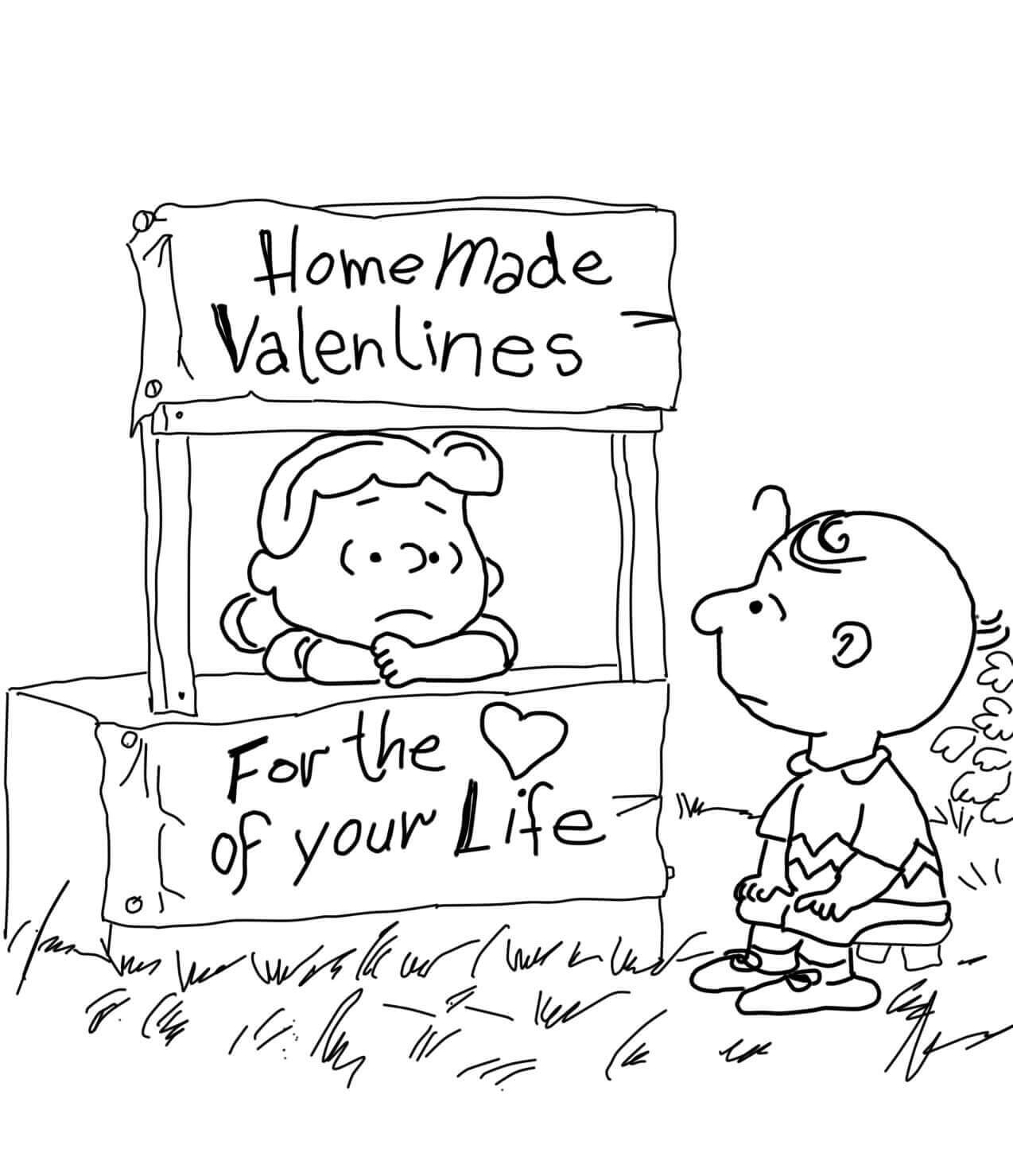 Mira is selling hand-made gifts for Valentine's Day. She made all the cards, hearts and everything else and set up the stall next to her home. She was very happy and hoped that people would come and buy gifts for their loved ones from her. It has been three hours and not even a single gift has been sold. The reason behind this is that she forgot to color her stall to attract customers. Will you help her out by coloring her stall in nice attractive colors?
Make Loved Ones Happy: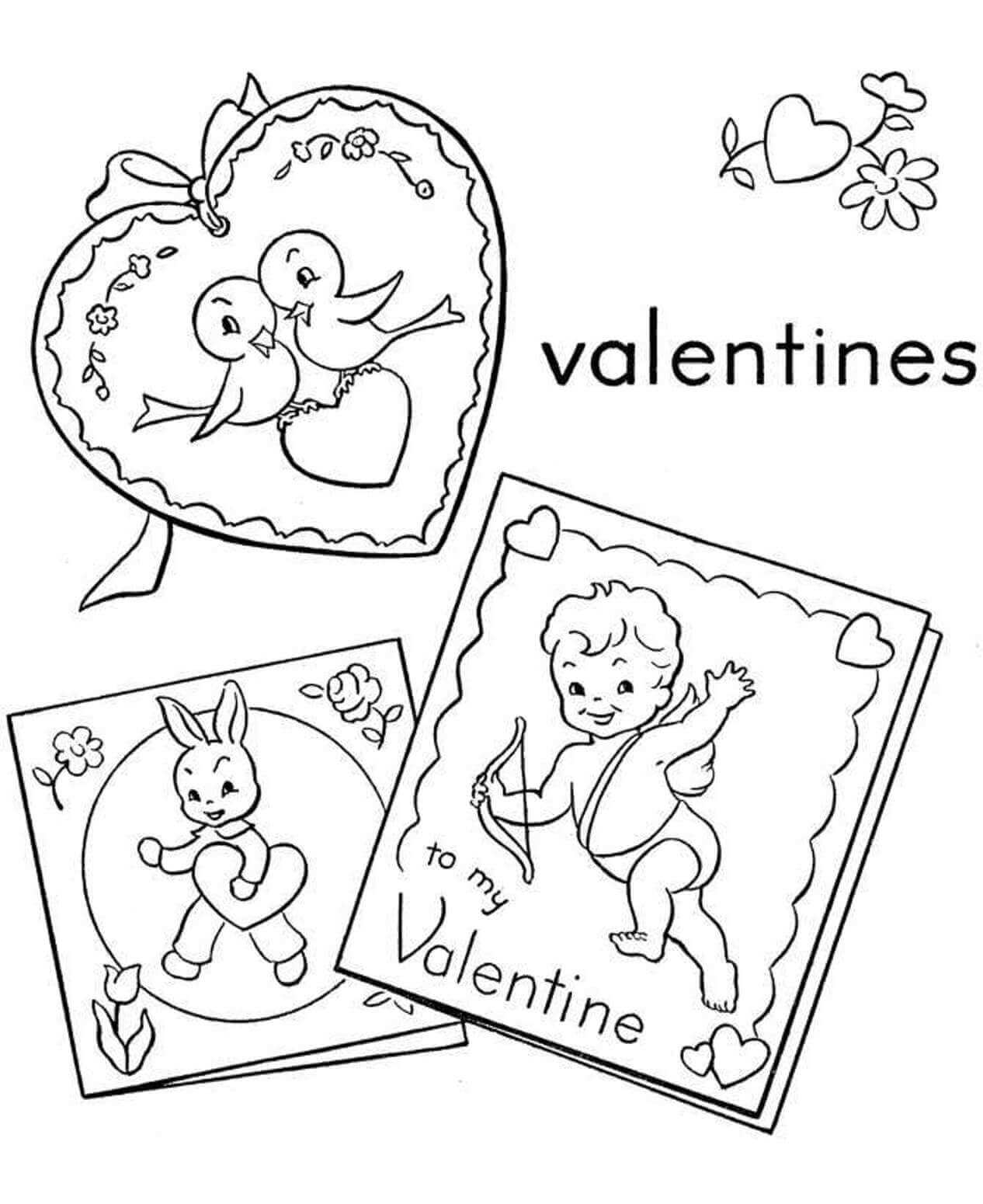 Give this card to whoever loves you, and you love them. A simple I Love You card to make their Valentine's Day better and full of happiness. Oh and don't forget to color the card before you give it to someone. Make it as beautiful as you can just like the person you love.
40.Valentine's Day Greeting Cards/Mails Coloring Page: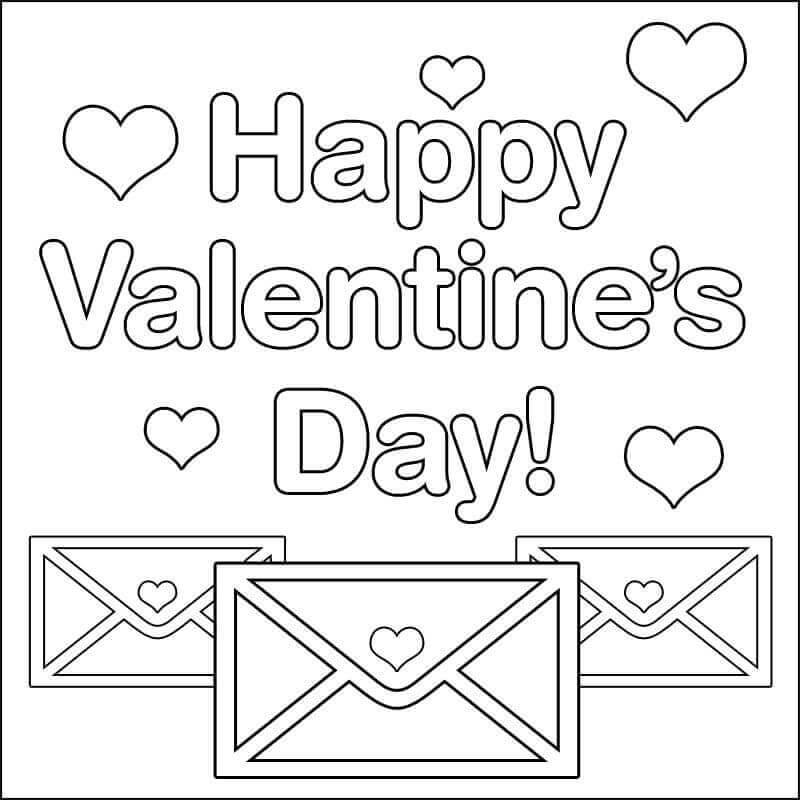 This was our compilation of Valentine's Day coloring pages for you! We hope you guys liked it. If you do, then don't forget to print and color our Valentine's Day coloring pages! For more amazing coloring pages, such as Mardi Gras coloring pages, keep yourself hooked with us.