Hola friends! I believe you must all be busy in the preparation for Halloween. Getting your costumes ready, searching for pumpkin designs, creating evil creatures of paper, and mastering the 'tricks of deception'. Well, we have some ideas for you today, with a bit of history and folklore. Vampires! They are back with these free printable vampire coloring pages.
A vampire also referred to as the 'undead', is a demon who thrives by sucking on the life force of the living, blood in the literal sense! The most famous or shall I say, the most infamous vampire is 'The Dracula'. A novel 'Dracula' written by an Irish author, Bram Stoker, in 1897, introduced this fictional character as Count Dracula. The story revolves around how Count moved from Transylvania to England so that he could spread his curse of the undead, leading to a subsequent battle between a small group of men and women and him led by Professor Abraham Van Helsing. Vampires can be killed supposedly by decapitation and stuffing their heads with garlic or through a sacred bullet, or a blessed stake through the heart. But do these evil creatures really exist? Let us create our own opinions by filling these vampire coloring sheets to print.
30 Free Printable Vampire Coloring Pages
Anime Vampire Coloring Page:
'Blood: The Last Vampire' is an anime action and horror film directed by Hiroyuki Kitakubo and released on 17 August 2001. The movie is set during wartime. The soldiers of the United States of America fear that the Yokota Airbase is crawling with ominous vampires and the only way to hunt them down is through the deadly beautiful Saya. Colour Saya well, and she shall protect you and help you win the airbase back.
to join this conversation on GitHub. Already have an account? Sign in to comment Footer © 2023 GitHub, Inc. Footer navigation Terms Privacy Security Status
Bats And Vampire Coloring Page: 
The resemblance between bats and vampires is unavoidable and widely spread. Both have canine-like sharp teeth, both feed primarily on blood (except some species of bats), and they love living in the dark. You will hardly find a bat or a vampire in the sunlight or during the day. It seems as if the bats are vampires' spirit animal. Ironical, isn't it? Color the pair well.
[ Related: Bats Coloring Pages ]
Cute Vampire Coloring Page:
Vampires can be deceptively charming. They can mesmerize you into looking what you want and seduce you into their lair. Once there, there is not much you can do, except let it peacefully feast on your blood. So, stay safe and keep yourself aware of these wicked creatures. Color him maybe hideously!
Dracula's Lair:
Bran Castle, situated on the borders between Transylvania and Wallachia, is often considered Dracula's lair and is a national monument in Romania. This medieval architecture is at an elevation of twenty-five hundred feet from sea level and the current owner of the fortress is Archduke Dominic of Austria-Tuscany. Colour this fortress and before going into the castle don't forget to carry some silver and sacred bullets!
Female Vampire Coloring Page: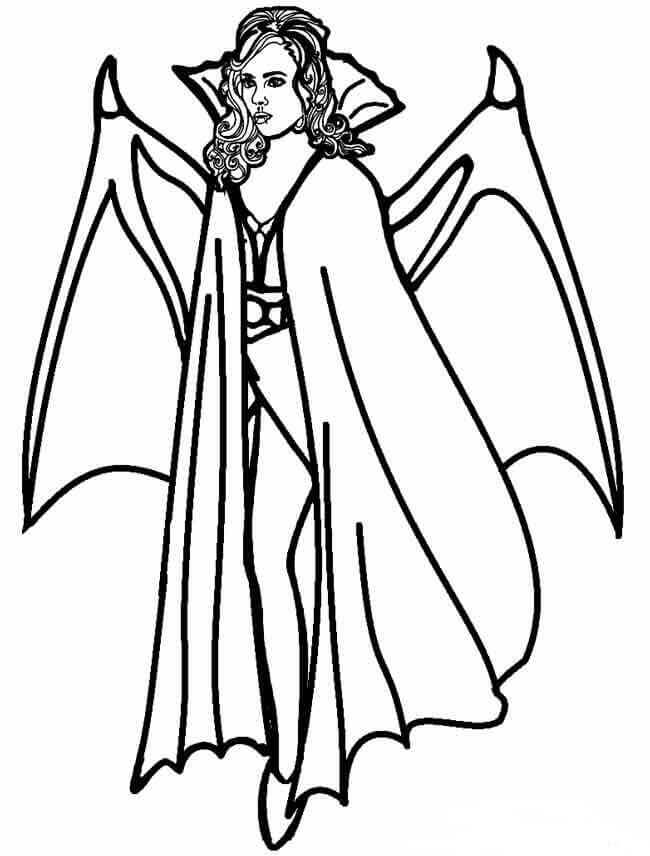 A Halloween celebration dressed as a flying vampire? It would be fun! Red fleshy wings, with a black cloak and brunette hair. The white horns on the wings to stab anyone who stands in your way! It would be the most horrifying and scary costume of the night. Color her well and start weaving your wings.
Vampire Kid Coloring Page:
Looks like a vampire can disguise themselves even as kids! See the skull symbol on the T-shirt, the canine teeth just perfect for biting, a large grin on the face, and how unafraid he is tossing that spider around. Clearly, he isn't one of us, is he? I mean who isn't scared of spiders! Color this Kid Vampire and run for your lives.
[ Related: Spider Coloring Pages ]
Vampire Going To Office:
It looks like vampires have finally settled in the normal society and they have even adapted to the sun! is it so? No! Vampires have a night office. Derek here has a job of scanning the potential victims for the company's customers. They have created the perfect algorithm to hunt down humans. Beware of popping on their search.
Vampire And The Mosquito: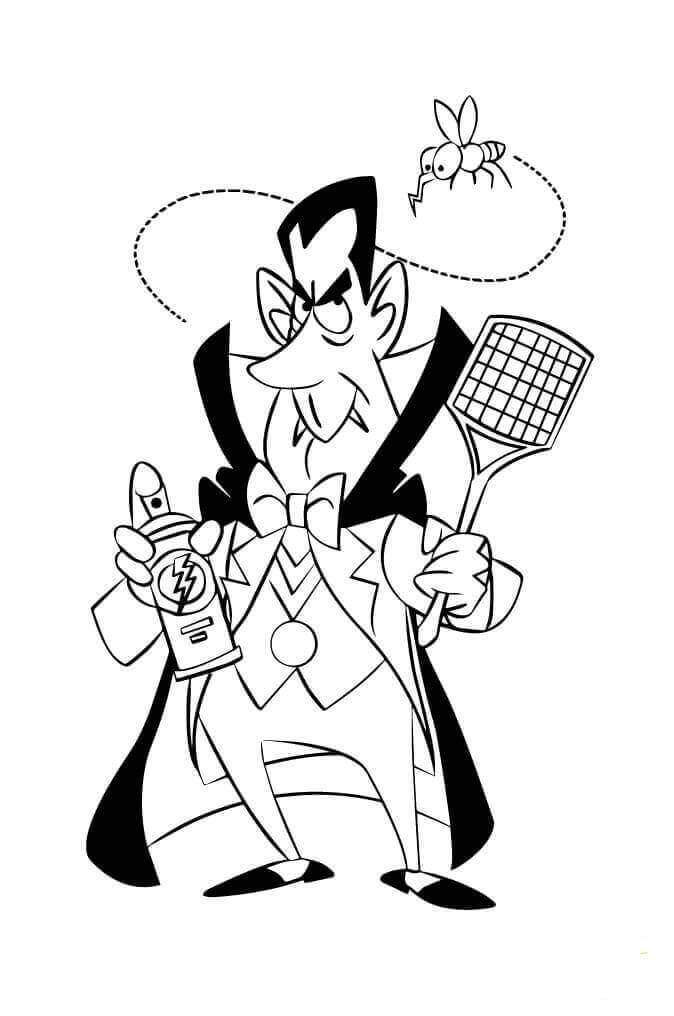 Vampires love sucking on blood. So do mosquitoes! One would think they get along very well. But that is not the case! Clearly, even vampires don't like getting their blood sucked. How hypocritical of them! Don't let Dracula here kill that mosquito. Let us create trouble for Count by letting the mosquito in his coffin and buzzing around his ears all day long. Color the picture well.
Girl Vampire Coloring Page:
Females are usually considered as symbols of peace and calm. They will never ever begin a fight and will always try to break one. But is that the case with a female vampire too? No, it is not. Becka here loves to get into trouble. She antagonizes her prey and then takes one quick bite on the neck when once again everything plunges into a silence. Colour this scary ghost hideously.
Starved Vampire Coloring Page:
Dave hasn't hunted in a long time now. It seems that the Halloween treachery of fooling ghosts by dressing up like them is working. Dave is now the consequence of malnutrition. But hey he is wishing you a Happy Halloween! Wish him back but only dressed as a ghost. Color the skinny vampire and maybe draw a bottle of blood for him.
Cute Halloween Vampire Coloring Page: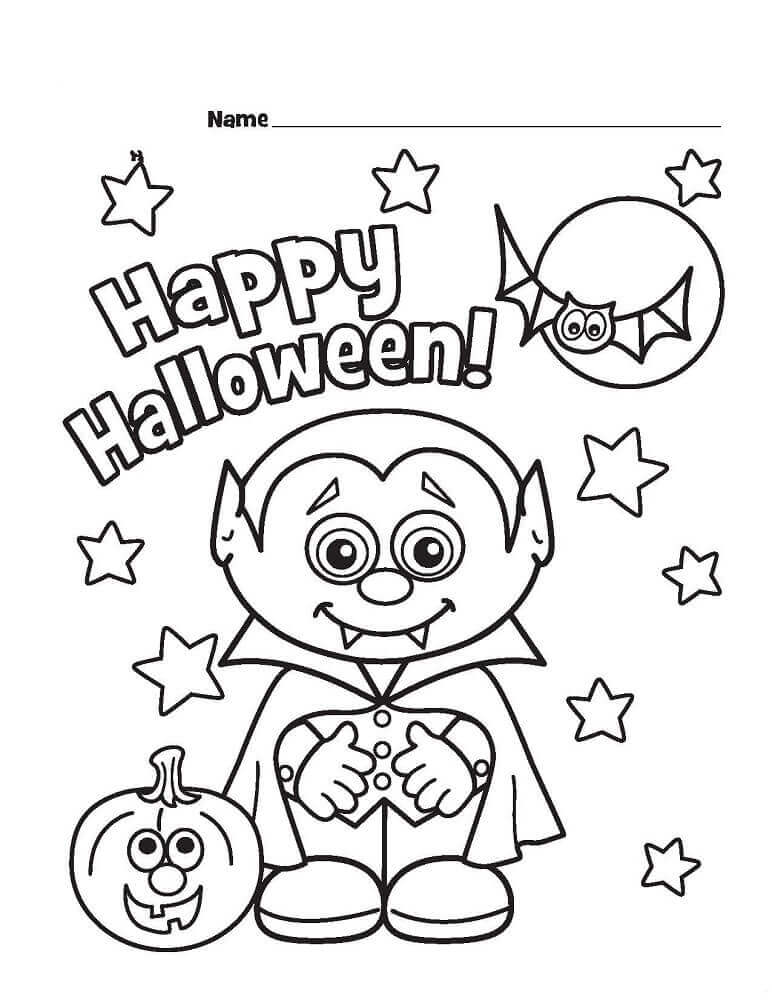 I have an idea. Let us create a Halloween notebook. Jot down all your tricks, pranks, magic movements, dresses, costumes, ideas, and decoration setups in this notebook and pass it onto generations. Make this your cover page. The innocent vampire hiding some invaluable themes! Brush this perfect cover page well.
'Boo!' Vampire Coloring Sheet:
Dress up like this cute vampire on Halloween. Red inside cape with black on the outside. Big white canines. A black waistcoat over a redshirt. And deep night-black trousers and shoes. Don't forget those long ears! Go behind your friends and scare them with your looks. Scare them enough that they give you their candy in exchange for their lives. Have fun coloring.
Vampire Doctor:
Looks like even vampires get sick! In their teeth! They need a Vampire dentist to fix them up all new. Dr. Aubergine here is the top vampire dentist. He can fix the most obnoxious of cavities. Don't you think if something were to happen to the doctor, all the vampires will subsequently be eliminated? Let us make an evil plan of coloring him comically so that he runs away out of shame and never come back.
Mickey As Vampire Coloring Image:
You have been invited to a party on October 31st at Mickey Mouse's mansion. Grab your pumpkins, wear your costumes, get the engines running and drive away. There will be a disco night, lots of candy, thousands of games and a lot of ghosts! So, fire away from your engines and begin your journey into Mickey's world. Color your host well.
[ Related: Mickey Mouse Coloring Pages ]
Mina Harker:
Mina Harker is one of the most complex characters of the novel Dracula, written by Bram Stoker in 1897. Although she is very pure and innocent, some instances in the novel bring out her hidden capacity for evil. She is extremely intelligent and brave. Before you color her, read the novel well, so that you can do justice to this woman.
Minion Vampire Coloring Page:
Minions are undoubtedly cute. Even when they try to dress like an evil supervillain they end up being cute. Look at George here. He wanted to be a fearsome vampire this Halloween! But are you afraid of him? I don't think so! Instead, let us color him all yellow and red and black before we go in and hug him.
Vampire Diaries Coloring Page:
Elena Gilbert, Katherine Peirce, and Jenna Sommers are three of the main vampires of a television series called, 'The Vampire Diaries'. Are you a fan? Watch the series and you will be. Color this trio well before you huddle up to watch the series.
Vampire Attacks:
Run! Run! Run! The vampires have attacked. The Dracula just killed your neighbor. Run far away or you will be bitten too. Don't let those fangs touch you. Or you will become one of the undead. Gather those sacred bullets and sharp pikes, don't forget your cross! You will need everything you have got to ward off this evil. Don't be afraid while painting this slaughter.
Vampire And The Graveyard Coloring Page: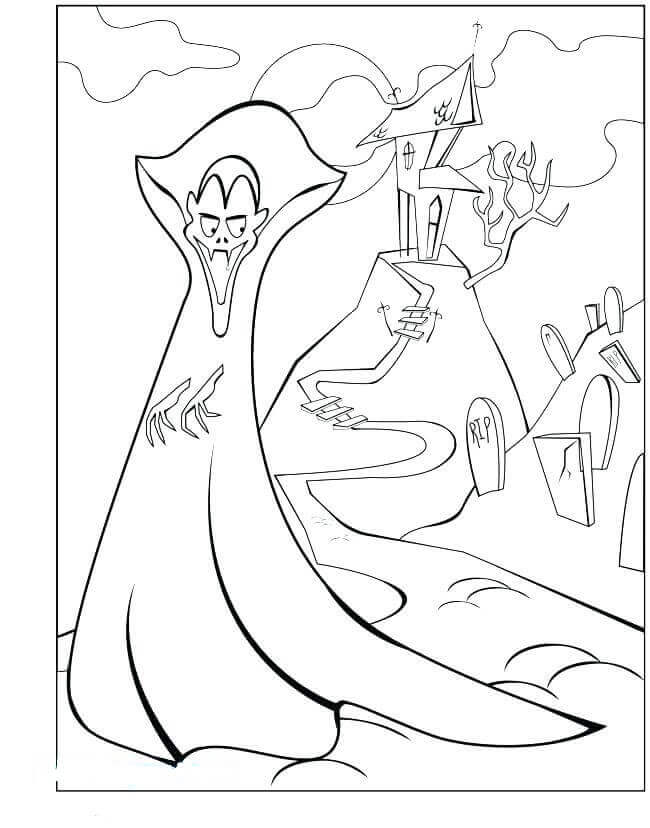 The dead are not alone! See that small cottage up the hill, overseeing the graveyard? It is a vampire's lair. Beware. Don't visit the graveyard at night. For the undead would be waiting. He has been alone for a long time now and he wants some company. If you go, you will become the perfect prey. Let your paints flow on this night scene.
Vampire Coloring Image:
Hosting a party? Put this as the welcome poster! Let people know in advance that they are going to enter the vampire's castle. Let it act as a warning that dangers lie beyond this point. Enjoy coloring this poster.
Vampire Coloring Page For Kids:
The blood-sucking demons are believed to have some terrifying powers as well. Telepathic abilities, super speed and transforming himself into an animal are some of them. Color this vampire before he reads your fear and attacks you.
Vampire's Resting Place:
Vampires are night owls. They can't come out in the sun. The sun is their weakness. Therefore, they lay in their coffin during the day, like the dead. And wake up only at night to hunt for their prey! Hence, the term undead. Color the coffin well.
Vampire's Army Coloring Page:
"Looks like vampires have their own homing devices. Bats! They keep them captive and release them at night. The bats' eyes become the demon's eyes. The bat is the spy sent by the vampire to search for the next victim. Next time you see a bat, run as far as you can." Alas! It is all just stories and fiction. Colour this image like it was really true.
The Modern Legend Of Vampire:
There is a disease named, 'Porphyria'. This is a collection of diseases with symptoms that include strange behavior, fangs like canines, and extreme sensitivity to the light of the sun. And this disease is considered to be the basis for modern Vampire legends and myths. Color this image of vampire well and this time take care for he too may just be another human like you.
Bloodthirsty Vampire: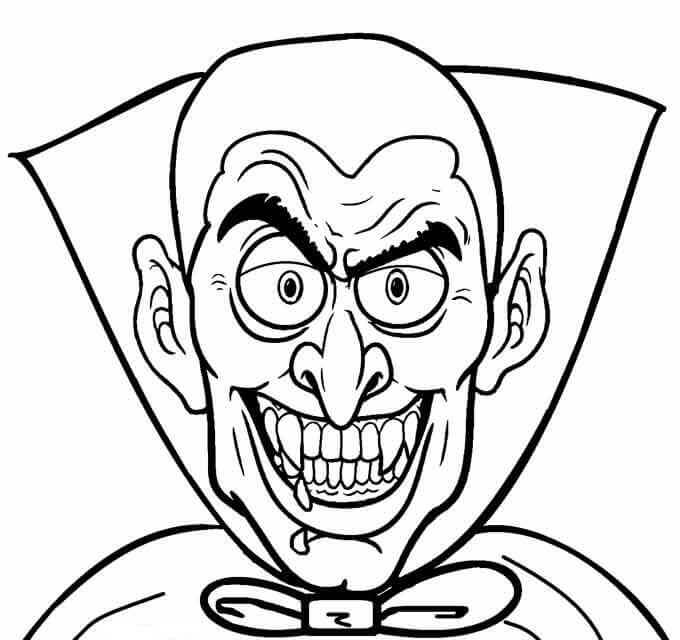 Imagine yourself in a dark room. Suddenly a tap from behind is heard. You have nothing but a candle with you. You begin turning around slowly, but then something piques you to turn back to where you started from. And then you see this horrific face with blood dripping from its teeth. Color the image as if you were really there!
Vampire Coloring Picture To Print:
There is a legend that says Malaysian vampires are tiny creatures that dig into people's heads and pressure them into talking about cats. Colour this cute yet disturbing fact well.
Vampires Powers: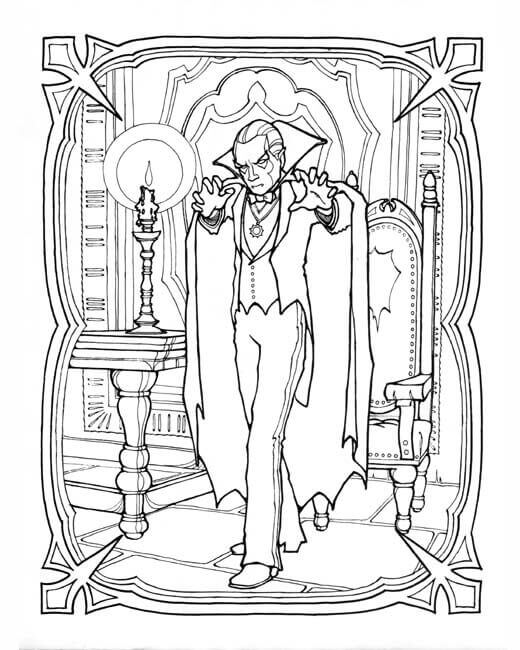 It is said that a vampire can make you his slave by just looking directly into your eyes and hypnotizing you. Once he gets what he wants from you, he then drinks your blood for dinner! Selfish creatures. Color him but don't stare into his eyes.
Dracula's Victims: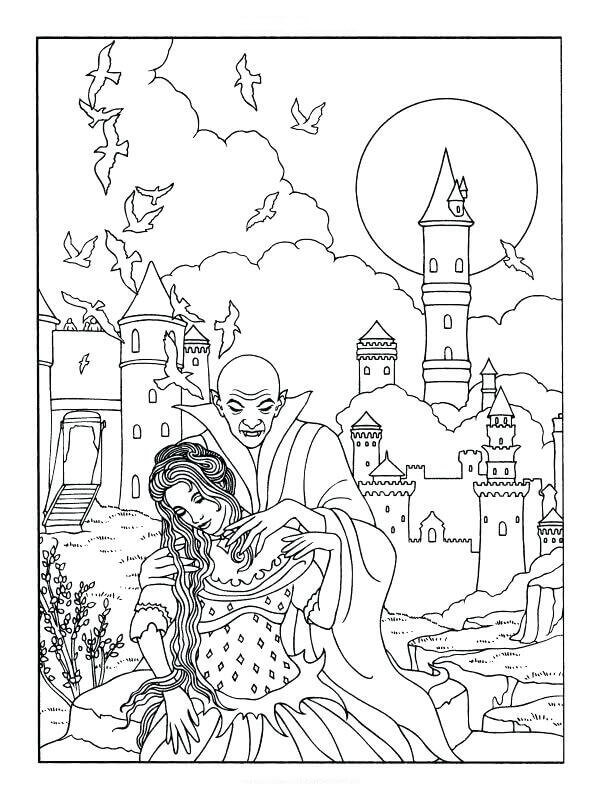 Dracula often seduced his victims into his lair. This demon has a charm about himself that is difficult to avoid. Beware of this creature and print this wonderful sheet well.
Vampires Are Cold:
When a person becomes a vampire, the blood flow in his veins stop. The heart stops beating. The body drops dead cold. Except that the person is still somehow alive. If you ever touch a vampire, he will be freezing cold. Color these unique creatures.
Vampire In A Coffin Coloring Page:
The Count has woken up from his sleep. It is night now. It is his time to feed and hunt. Keep in your homes! Don't come out. Keep some sacred bullets and crosses on the bedside. Brush him while protecting yourself.
Halloween is almost here guys! Dress up as the classic Count Dracula and win the Best Costume Prize. Research more on vampires as you fill these free Vampire coloring pictures printable Find out if they really are real or just a creation of folklore.  And don't forget to share your favorite vampire coloring images with us.