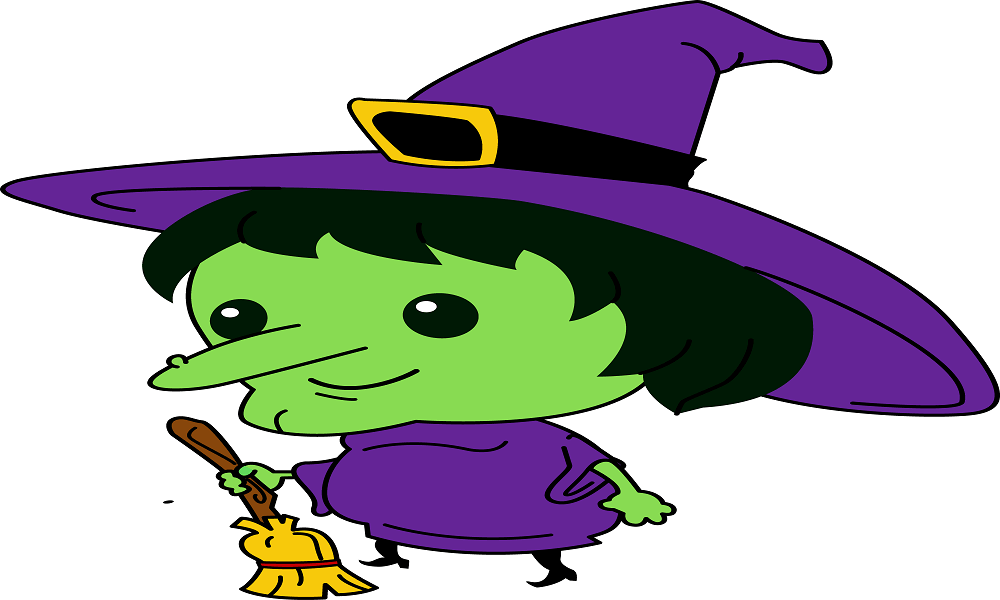 Hey friends! Hope you are having fun with our series of Halloween coloring pages. Keeping up with it, today we've got your free printable witch coloring pages.
Halloween sure does have a lot of things! Vampires, ghosts, and now witches! It sure does take a toll on the mind to decide what do dress up like this year? Witches are thought to be evil women who practice black magic, and they have a stereotypical description wearing a black half torn cloak, with a big pointy hat, a flying broomstick, and green toned skin. They are usually portrayed as being ugly and obnoxious, selfish creatures who cast an evil spell on anything or anyone they need their way with. But hey, are all witches really bad? Heard of 'Hogwarts School of Witchcraft and Wizardry'? Of course, you have! Was Hermione an evil character? She was, in fact, one of the most charming, beautiful, helping, and a loved protagonist of the series. But still, generations of Hollywood and literature have conditioned our minds of the set image a witch is supposed to have. Even in 'Alice in Wonderland', the White Queen, played by Anne Hathaway, is actually a beautiful witch who longs only for good and stands for what is right in the world! Maybe witches aren't that bad after all! Let us know a bit more about witches through our collection of witch coloring sheets to print.
30 Free Printable Witch Coloring Pages
Creepy Witch Coloring Page:
An old lady with warts all over her face, barely any teeth, skeleton body structure, standing over a fire, stirring a green portion in a big black cauldron, while she laughs unceremoniously and eerily at the top of her voice. That is the perfect description of a witch brewing an evil concoction to intoxicate and make a slave of your senses. Color her before she finishes cooking the mixture, armed with widespread damage!
to join this conversation on GitHub. Already have an account? Sign in to comment Footer © 2023 GitHub, Inc. Footer navigation Terms Privacy Security Status
Cute Witch Cat Coloring Page: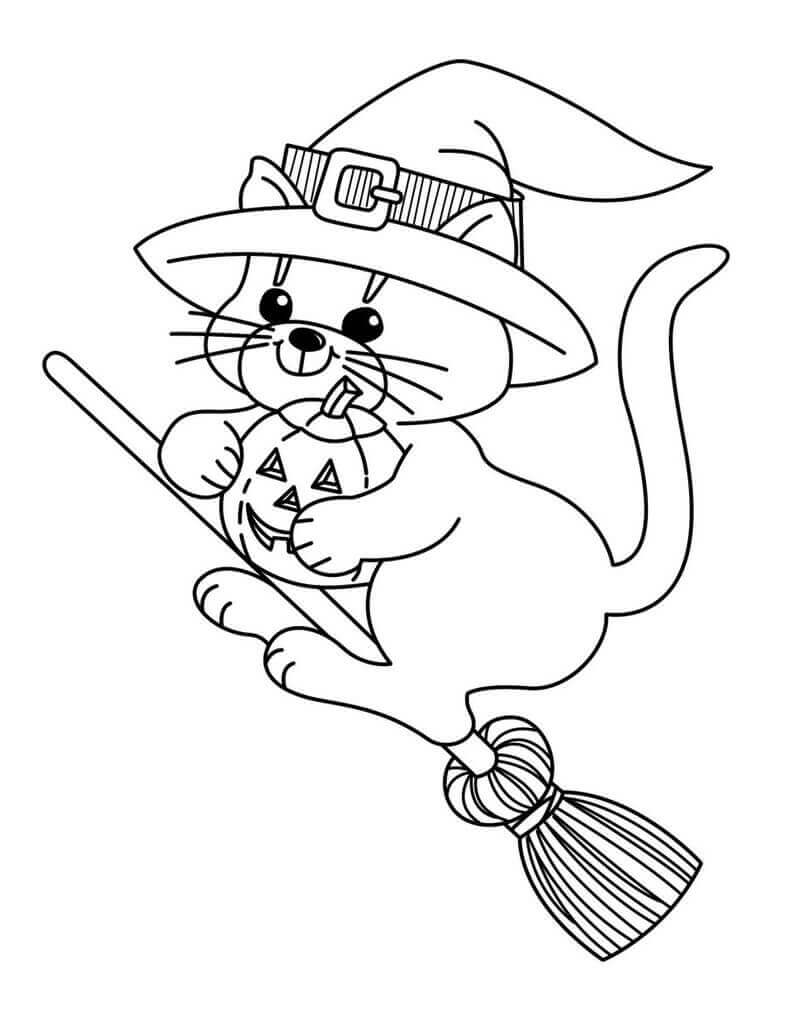 Are you a cat lover? So were the witches! Do you have a cat? If yes, then this Halloween put some makeup on your cat, give it a tall black hat, and voila, you have the perfect companion for trick or treating! And trust me you will get more candy if you take this sweet creature along with you. Who could possibly refuse those small, deep, and dreamy eyes? Colour this cat, that will help you get rich in candy this Halloween.
[ Related: Cat Coloring Pages ]
The Wicked Queen:
You must have read 'Snow White and the Seven Dwarfs' when you were kids. The Wicked Queen, who was jealous of Snow White's beauty dreamed of being the 'fairest of them all'. Only Snow White could challenge her beauty! And therefore, to claim the title of the most beautiful person alive, she gives snow white a poison apple, which if eaten would put her into a sleep till eternity to come. Color this image of the Queen preparing the Poison Apple! Also, don't take things from strangers.
The Witch And Her Broom Coloring Page:
Witches love to fly, especially on full moon nights! Thought you saw an 'Unidentified Flying Object' that night? Well, you were wrong! It was just a witch. It also looks like witches are improvising. Look at the bottom of the broom. It is not a broom anymore; it has taken the shape of a shoe! Or maybe it is just a vacuum cleaner! Color this and let your imagination run wild.
The Halloween Witch Coloring Page:
Witches usually tend to have very long and pointy noses. So now how do you use that on a costume? Oh, I know, do you? Pick up a carrot, hollow it out and your long pointy nose is ready. Color this imaginative thinker and get ready to find a ghost this evening.
The Halloween Brew Coloring Page:
Beer is an alcoholic drink made by a process called brewing, in which different elements are mixed together to create an intoxicating mixture. Similarly, witches, with their sister witches, come up together to create intoxicating potions for the human mind! They use great spells, cursing the potions and making sure anyone who drinks it, becomes their slave!
The Young Witch Coloring Page:
Grab that broom. No not for sweeping but for touching the skies. Dress in your favorite costume and get ready to fly across the world on your broom of magic. Don't forget your dear cat. Let her wander the skies with you too. When up there, don't be afraid, because you are the queen and the world is at your feet. Color her well.
Printable Witch Hat Coloring Page: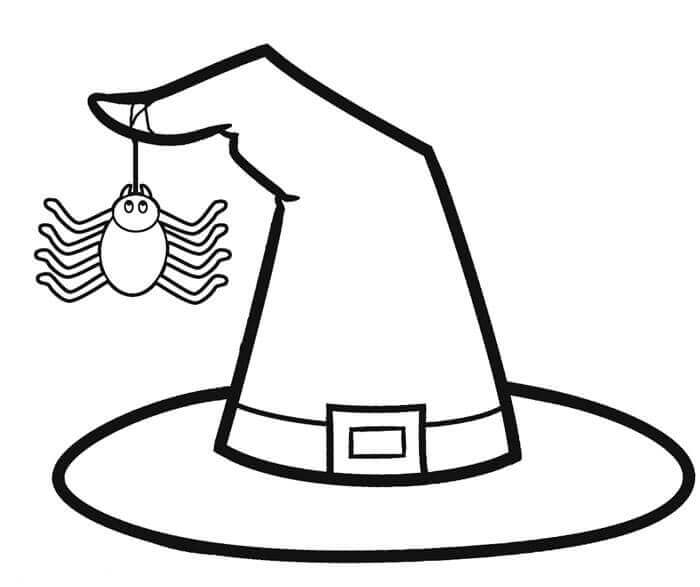 A conical and a long-pointed hat seems to be the choice of the magical beings. Witches are no exemptions! Do they give them any kind of extra magical powers? Maybe they hide some secret tricks 'up their hat' instead of 'up their sleeves'. Who knows what they are up to! Color this image well.
Flying Witch Coloring Picture:
Witches may be wicked, but they are privy to some of the most picturesque scenes in the world. They can go anywhere and very high! Imagine having a birds' eye view of the whole of the United States of America or complete India! Such beauty beholds their eyes. One must truly feel like a master in that realm. Color her while dreaming of flying high!
Funny Witch Coloring Picture:
Did you know if someone was suspected of practicing Witchcraft and Wizardry, they could be condemned legally, without any solid evidence to prove the claims? A mere conjecture in the minds of the masses was enough to accuse the woman of being a witch. Those weren't very easy times. Therefore, color this witch with some happiness! Because she just might be a victim.
Speeding Witch Coloring Page:
Woooooooosh! Let us race this Halloween, to the top of the mountain tower, across the river, beyond the bridge and breaking the sound barriers. Just gather your brooms, put on your magic costume and you are ready. Hint: If you design the costume like that in the picture, the broom flies faster! Color her before she escapes with super fast speed.
Old Witch Coloring Page:
Witches might have magical powers but they get old too. And when old people usually like to be left alone. The neighborhood kids love such people, don't they? They love pestering them and irritating them. Elsa was one such witch. Tonight, she is out to curse the wicked kids who break her peace and quiet. Color her well and she might spare you.
Witch Halloween Dress Coloring Page:
Thinking of going as a green human being on Halloween? Dress like the one we have got right here. This image is the right amount of mystery, sophistication, and evil a witch could have! Don't forget the cat. They are important for the witches because cats are the only living creatures that perhaps don't judge them. Let those paints flow, for this could very well be your costume.
Margie, The Kid Witch Coloring Sheet:
Heard of angels descending from heaven? Margie is one such witch, because there is no one more innocent and purer hearted than a kid, and no one more powerful than a witch. When you put these two qualities together, you get Margie. Color this innocent soul and her pumpkins well.
Pumpkins, Moons And Stars Coloring Page:
Big carved evil shaped pumpkins, dogs howling in the light of a moon, under the sky lit up with the stars of space and ghosts walking around for revenge. Did you guess it already? Of course, it is Halloween night. But the sky is devoid of ghosts this year! It is up to you to fill it with witches. Color the image for a costume suggestion.
Mischievous Witch And Her Ghost Friend Coloring Page:
The neighborhood is in trouble. Greey, the witch, and Mooh, the ghost has decided to attack the innocent homes with some pumpkin bombs! Take shelter, keep inside your homes, don't run on the streets lest you should be hit by a giant pumpkin bomb! Color her brightly and she might refrain from her ominous plans.
Cat Dressed As A Witch Coloring Page: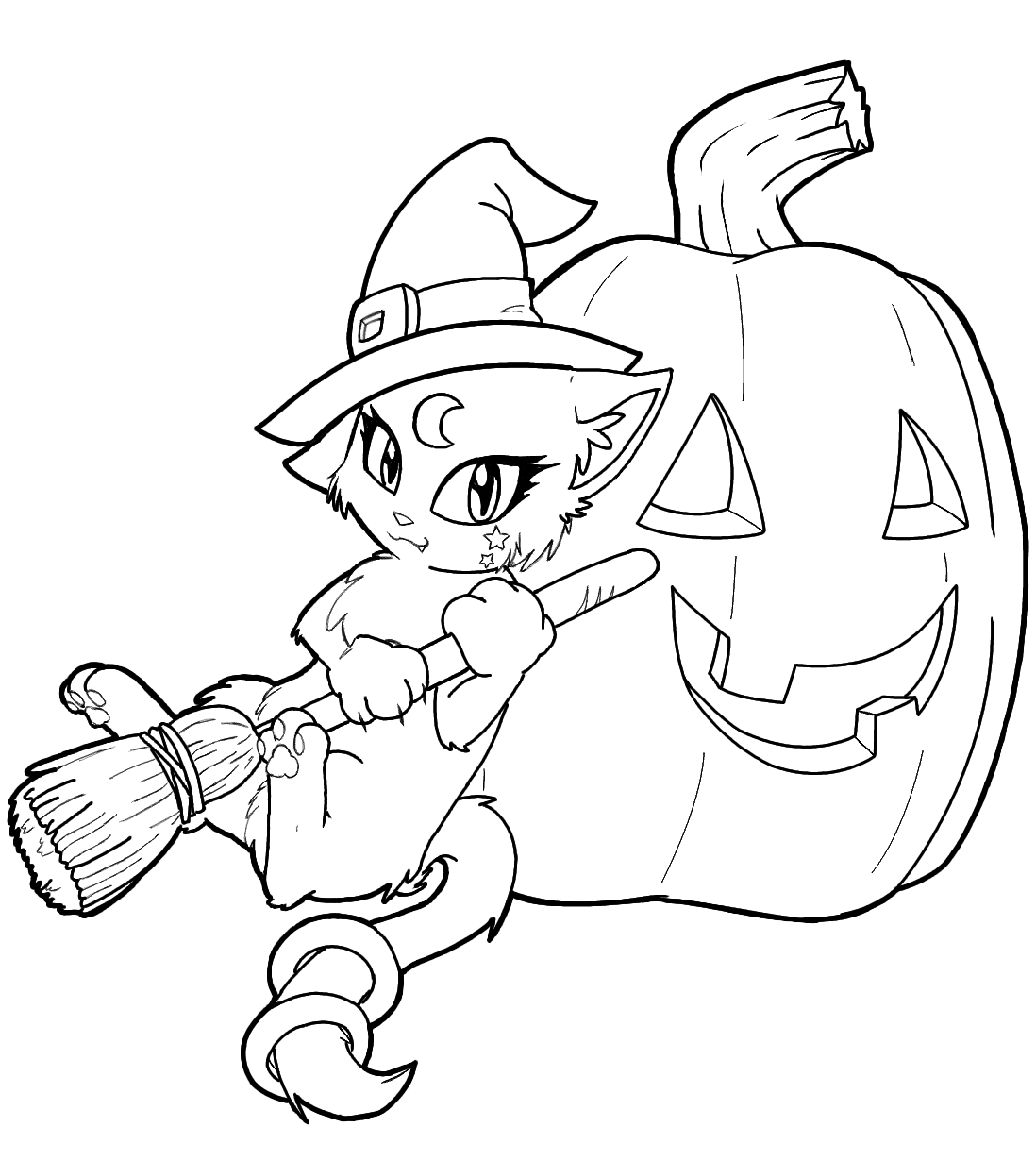 Cats seemed to have a mysterious air about them. They don't express much. The Egyptians thought of them as Gods. They worshipped them. And incidentally, they have even taken to the liking of the Witches! They are a witch's constant companion and they seem to enjoy the company of their mistress. Decode the mysteries behind this feline but not before you color this page.
The White Witch Colouring Page:
'The Wizard of Oz', is a movie based on how an evil witch tries to dethrone her pure-hearted white witch sister from the throne to the kingdom. The White Witch, Glinda is portrayed as the epitome of White Magic. She was a healer and a good soul who wanted to manage her kingdom with love and happiness. Not all witches are bad! Colour Glinda gleefully.
Pretty Witch Coloring Page:
Wondering a good trick or treat, trick? How about making a broom fly! But wait, I won't tell you the secret behind the trick. A magician never tells his secrets. That is what makes him a good magician. It is up to you to figure the incantations to chant to make the broom fly. But I will help you design your costume. Paint the picture for a simple magical costume.
'There's A Witch' Coloring Page:
The origins or we can say the etymology of the word 'witch' is unknown. The closest and possibly the right origins are from the Old English word wicce, meaning 'female sorceress'. Strange, how humans come up with words and their meanings. Colour the flying 'human' well while you find the origins of the word you are using for her.
Scary Witch Coloring Page:
Don't take treats from strangers! The world is full of good, but it has plenty of evil too. You might just be unfortunate enough to meet the latter. So, listen to your parents and don't take that candy apple from the old woman lurking about your school every afternoon. Stay safe, stay aware and color the evil witch preparing the intoxicated apple.
Magical Beings Coloring Page:
Witches don't have much of a social circle to meet up with daily. Are they lonely? It appears not. Their magic allows them to bring to life even the most inanimate objects like a broom or a bucket of water. They might as well be their best friends'. It is sad and awesome at the same time. Color this witch some friendliness and make her forget her evilness.
'The Wicked Witch?' Coloring Page:
An old woman, with a hunchback, a tall black hat leaning over the black cauldron stirring some liquids. What would your guess be as to who she is? A witch? That is just presumptuous of you! Maybe she is a neighborhood grandmother preparing a feast for all the kids that live there and love food. Think before you judge someone by their looks! Colour the sweet grandmother with love.
The Neat Freaks Coloring Pages:
Witches love cleanliness. Well, then why else would they carry a broom everywhere they go? They fly into the air and rid the world of all that is unclean. Color these dust-free lovers well.
Potion Of Your Choice Coloring Page:
What potion do you want? The one that gets you more playtime? Or daily tasty lunch?  Perhaps eating candies without cavities would do? Or do you want that video game? Color the image and brew your choice.
Witch Hunting Coloring Page:
People have an entire craft dedicated to witch-hunting. There are millions of books, techniques, and rituals that exist on this subject.  Paint this and learn some of them for future reference.
Halloween Witch Coloring Page:
Flaunt your brush and stroke skills by printing this cover page and painting it well for one of your notebooks. Don't forget to write your name.
Nature Lover Witch Coloring Page:
Did you take responsibility for re-growing the pumpkin you took for Halloween? Martha here did. She put a new plant for the pumpkin she took. Be responsible and color her.
Goodbye Coloring Page: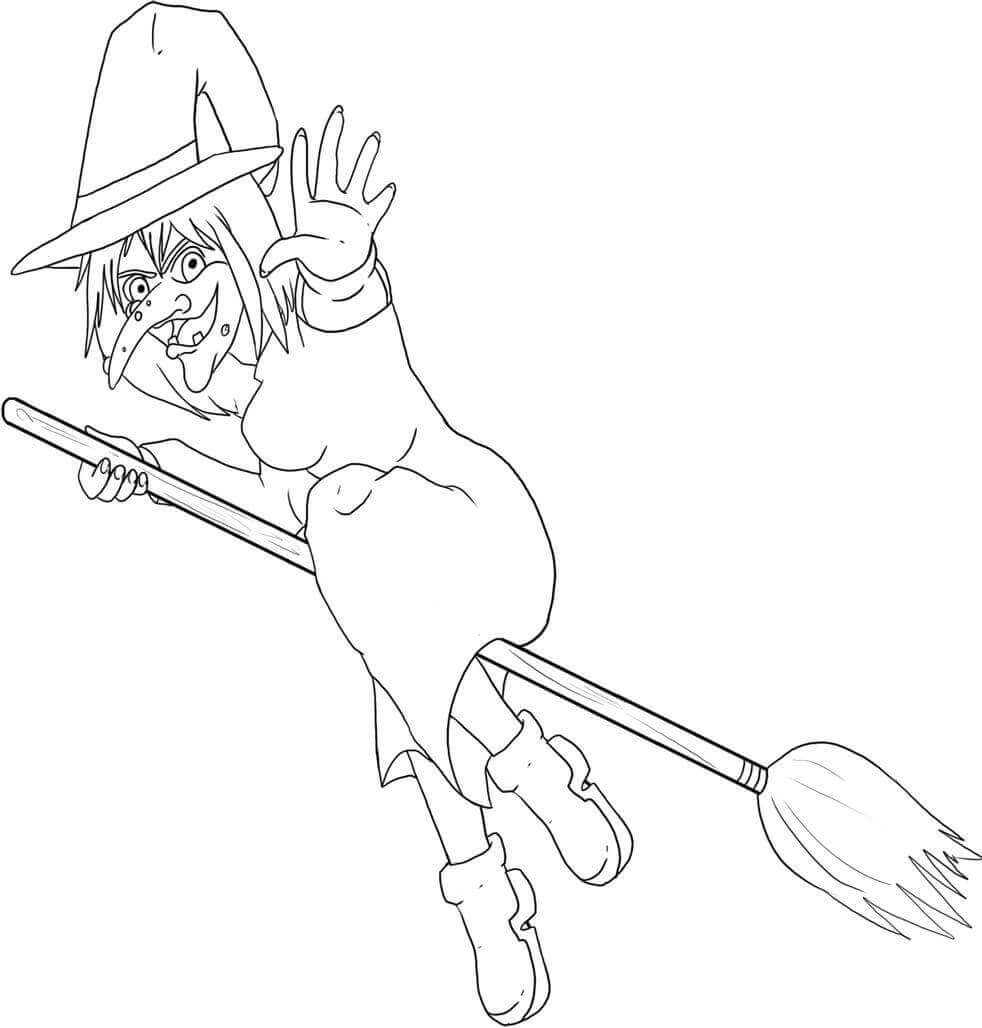 The witch is waving goodbye. Bid her adieu and show her some kindness by breaking the stereotype and coloring her brightly.
Witches Are A Maze Coloring Page:
Witches truly are a maze. Some are good and some are bad. While others find just the right balance in between good and bad. Figure out the way of the maze before you try to understand the witches.
Halloween is just here guys. 2018 is also coming to an end. I hope you are enjoying the Halloween based pages we make for you. Let us know what you feel about free witches coloring pictures to print below.