International Women's Day, celebrated every year on the 8th of March in several countries across the world, recognizes women for their achievements, and reflects on the progress made by them. The theme of 2018 International Women's Day is "Time is Now: Rural and urban activists transforming women's lives". So, celebrate women's power with these wonderful free printable International Women's Day coloring pages. Apart from regular and cute Women's Day coloring sheets, we've even got you printable depicting women who have promoted girl power in their times. So check out all these 8th March Women's Day coloring sheets below.
15 Free Printable Women's Day Coloring Pages:
Beautiful Women's Day Coloring Page:
Nothing can make a woman happier and cheerful than a bunch of flowers. And someone has made a special arrangement to make the most important woman in their life feel special on this important day. This coloring page features a vase with a myriad of flowers and gift box placed near it.
Women's Suffrage Coloring Page: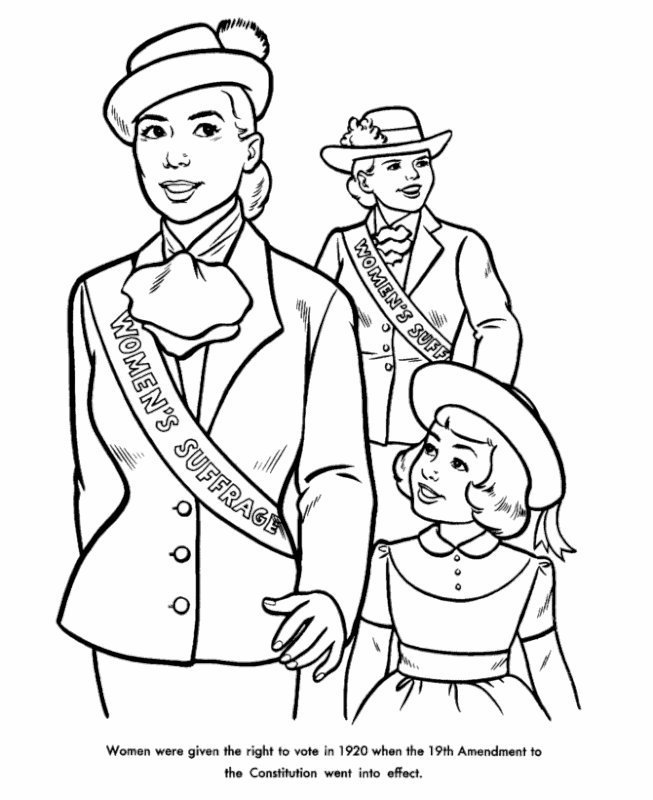 Here's an inspiring coloring page of two proud members of the Women's Suffrage. We totally love how the little girl is in awe of the first lady. Below is mentioned the fact that women were given the right to vote in 1920 with the 19th amendment to the constitution.
to join this conversation on GitHub. Already have an account? Sign in to comment Footer © 2023 GitHub, Inc. Footer navigation Terms Privacy Security Status
Happy Women's Day Coloring Page:
Here's a cute Happy Women's Day coloring page for you to print out. It's a cute and feminine coloring page featuring a little girl holding a bunch of flowers. She has probably got these flowers to wish her mother or teacher.
Women's Right Coloring Page:
Here's another coloring page celebrating women's right and liberation. It features a woman holding a poster, "Women and typewriter are not inseparable". Below it says that women's equal right and liberation were as important as they are today.
Baby Tiger Wishing Happy Women's Day:
How adorable does this baby tiger look with a bunch of flowers in hand? Absolutely adorable, right? Kids will definitely enjoy filling shades in the tiny flowers found in this image. We'd suggest you use different shades for making this diagram unique.
8th March Coloring Page:
This is one of our favorite International Women's Day coloring pages as it features a little body wrapping the gift he has got for his mother or sister on occasion of Women's Day. It shows how much he appreciates the women in his life, that too at such a young age.
The Dalmatians Celebrating Day:
These cute little Dalmatians have brought this balloon with 8th March written on it to surprise their mother and owner. The Dalmatians are generally black and white, but how about giving them some hues this time? Won't they look stunning?
Frida Kahlo Coloring Page:
This coloring page features Frida, the activist and artist who worked hard to change the idea that women do not have to be submissive. Her art, which mainly included portraits and self-portraits were inspired by nature and had strong autobiographical elements.
Amelia Earhart Coloring Page:
Here's a coloring page of Amelia Earhart, the first female aviator to fly solo across the Atlantic Ocean, that too at the time when women were not even allowed to work outside, leave alone flying planes. For her accomplishment, Amelia Earhart was also rewarded the U.S. Distinguished Flying Cross by the government.
Rosie The Riveter: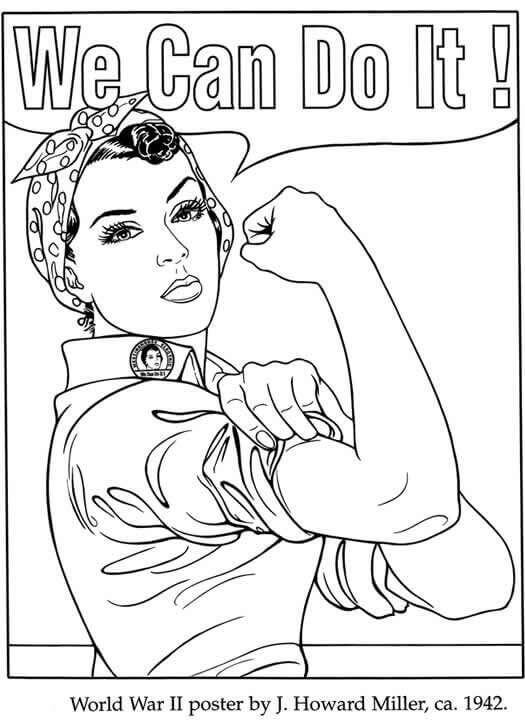 Who can be a better role model for our little female leaders than Rosie the Riveter? This cultural icon of the Second World War represented the women who worked in shipyards and factories during that period of turmoil.
Women Riding A Scooter:
We wonder if you know or not, but women rarely drove a motorcycle or scooter in earlier times. But now, it's a common sight, and it really makes me and many girls like me happy. This coloring page features a young girl, probably from India or Pakistan, riding a scooter. And she looks highly excited. Is it her first time?
Malala Yousafzai Coloring Page:
Malala Yousafzai is indeed a youth icon. She's a Pakistani activist for female education, who was even shot by the Taliban for her firm stand. Malala is also the youngest Nobel Prize receiver. Right now, she's pursuing her education at Oxford University.
Women's Day Connect The Dots Activity Sheet: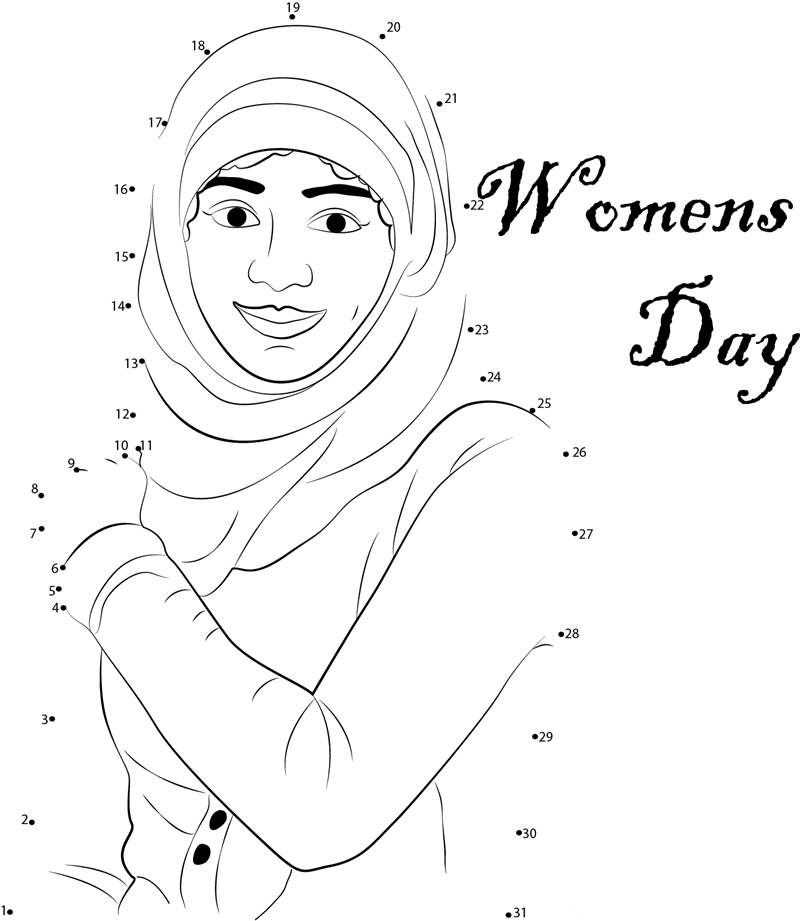 This fun Women's Day activity involves connecting the dots to complete the image. The image is anyway very strong and beautiful, displaying a young and aspiring woman in a hijab. Hijab is not and should never be considered a hindrance. It liberates those who feel it does.
Rachel Carson Coloring Page:
This coloring page features Rachel Carson, a scientist who worked all her life to protect the environment. She even published her book, "Silent Spring" which is believed to have inspired the modern-day 'green' movement and the creation of the Environmental Protection Agency.
Cute International Women's Day Coloring Page:
Chocolates are loved by everyone, especially women. And if you really want to make a woman happy on Women's Day, gift her a box of chocolates. Her face will shine brighter than the flowers and even the sun, as shown in this coloring image.
We assume you enjoyed going through these free printable Women's Day coloring pages because I definitely felt great compiling them for you guys. Girls should try to make the most of this day by trying to learn about women icons of all time and boys should make an effort to make the women in their lives happy, especially on this day. If you have some free time, you can even check out our March coloring pages.