"Descendants: Wicked World", better known as "Wicked World" is a series based on one of the most famous Disney movies, "Descendants". It revolves around children of fairy tale leads and villains. The series is basically the continuation of the film with new and exciting characters from Isle of the Lost and Auradon. The series got positive reviews for its first season and became a major hit with the release of the second season. Since "Descendant Wicked World" is winning the hearts of youngsters all around the world, we decided to compile a list of coloring pages featuring the major characters of the series. Below you'll find our gallery of printable Descendants Wicked World coloring pages, with a short description of each character. Take a look!
Top 15 Descendants Wicked World Coloring Pages
Descendants: Wicked World Coloring Page:
We're starting off the list with the famous group photo of the four notorious students of Auradon Prep, Mal, Jay, Carlos, and Evie. These youngsters may be children of villains, but they are quite unlike their parents. You'll get to know more about them below.
Mal: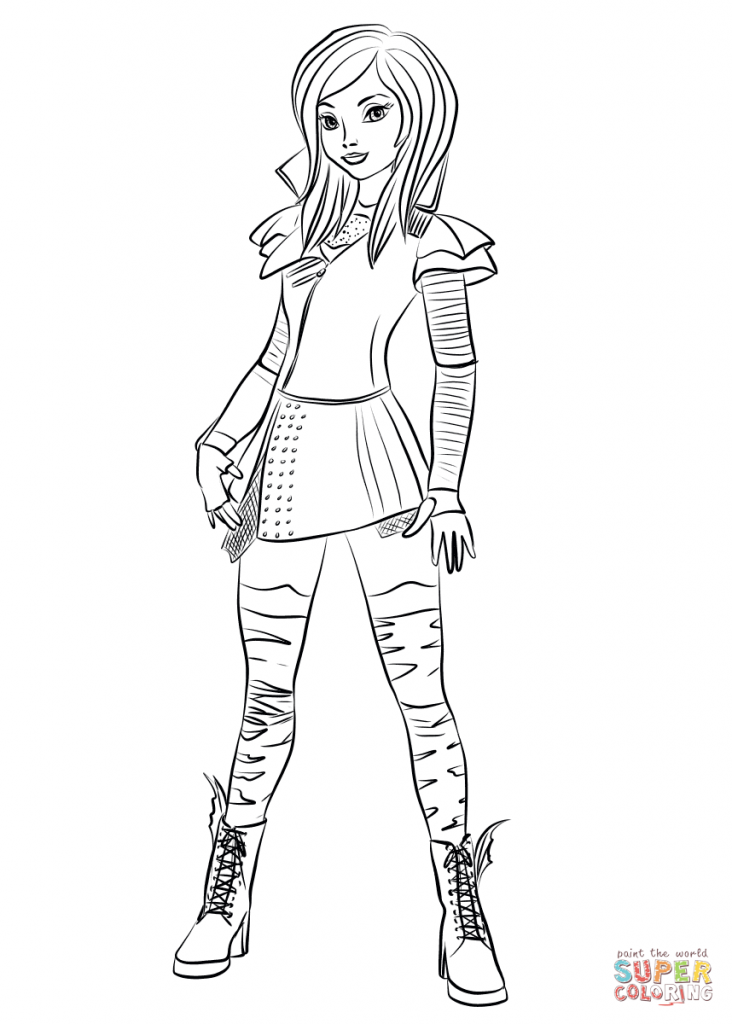 Image Source: supercoloring.com
to join this conversation on GitHub. Already have an account? Sign in to comment Footer © 2023 GitHub, Inc. Footer navigation Terms Privacy Security Status
Mal, officially known as Lady Maleficent Bertha is the protagonist of the Disney "Descendants" series. Being a natural leader, Mal undertakes the responsibility of carrying out her mother, Maleficent's plan of stealing the magic wand of the Fairy Godmother. She even loves casting spells, but only when needed. But as the series progresses, Mal gets weary of all the villainous activities, abandons the evil life, and starts walking on the path of goodness and positivity.
Jay:
The handsome hunk featured in this coloring page is Jay, the son of Jafar from "Aladdin". Jay is a handsome and quick-witted boy who can steal and lie through the teeth effortlessly. In fact, it's his penchant for stealing, which keeps him occupied on the Isle of the Lost. Jay's aim in life is to steal the 'big prize' so that he can impress his father.
[ Read: Aladdin Coloring Pages ]
Evie:
Evie, one of the central characters of the movie and series, is the daughter of the Evil Queen from "Snow White". The highlighting feature of Evie is her lush, thick, and dark hair, which she adorns with a crown. Her main aim in going to Auradon Prep is to find the perfect prince. But through her adventures in "Auradon Prep", Evie learns that a perfect prince is nothing, and she's a lot more than just a pretty face.
Carlos De Vil:
Carlos De Vil, the son of the infamous Cruella De Vil, is another significant character in this series. Carlos is her son, but Cruella treats her more like a slave. She asks him to pamper her, wash her and brush her furs, and being a doting son; he does everything. But the worst of it is that she has instilled a fear of dogs in Carlos' heart.
CJ Hook:
Image Source: supercoloring.com
CJ Hook, the antagonist of the series, is the daughter of none other than Captain Hook. CJ Hook is a slender woman with tanned skin, pale ruby lips, dirty blonde hair, and golden-brown eyes. Her dressing sense is quite like her father's. She wears a red jacket with golden buttons, three black straps, and a belt with a hook over a white dress.
Freddie:
Image Source: supercoloring.com
Freddie, the slick talker of "Descendants: Wicked World", is Dr. Facilier's daughter. With the power of her words, Freddie can convince anyone to do anything. Her favorite pastimes include spending time in her father's shop, and learning magical arts. Freddie is a slender, dark girl with greenish-yellow eyes.
King Ben:
Image Source: supercoloring.com
Handsome and sweet-natured King Ben is the son of Belle and Beast. Ben feels really sorry for the children of villains and wants to give them a chance for redemption even though his parents are dead against it. Appearance-wise, Ben is like his father, but his personality is like his mother. He is a gentle person, loves reading books, and sees people past their physical appearances.
Lonnie:
Image Source: supercoloring.com
Lonnie, just like her mother Mulan, is a kind and sympathetic soul. She has no qualms about sharing her schools with the wicked descendants. Rather, she is incredibly empathetic and friendly towards them and chides anyone who looks down upon them. At one time, she even cried when she got to know that the villains do not love their children.
Jordan:
Sassy and funny Jordan is the daughter of one of the most iconic Disney characters of all time, the Genie. Like her father, even Jordon lives in a lamp but isn't a prisoner. And like other genies, even she has magical powers, which she uses to decorate her house. Appearance-wise, Jordan is nowhere near her father. She has a slender figure and fair skin with long black hair and blue eyes.
Jane:
Image Source: supercoloring.com
Jane, one of the primary characters from "Descendants: Wicked World" is a demure, shy, and insecure teen fascinated with magic. She has no self-confidence, which can be observed by her desire to look good all the time and to be accepted by others. Slowly, but steadily she learns that it is never about a person's look, but what they are inside. Jane is Fairy Godmother's daughter.
Freddie As Genie:
Image Source: supercoloring.com
Can you recognize the character featured on this coloring page? It's Freddie dressed up like a genie. The scene is from the episode Genie Chic, in which Jordan forces everyone to follow a dress code while they are inside her lamp. She gives Mal, Ben, Audrey, and Freddie their new outfits and they totally love it. Freddie, especially, looks outstanding dressed up like a genie.
Audrey:
Image Source: supercoloring.com
Audrey, the daughter of Aurora and Prince Philip and the ex-girlfriend of Prince Ben, is the tertiary antagonist of the series and film. She is a supremely overconfident girl, who feels the world revolves around her. She is friends with Evie and Mal, but her antics often get on their nerves. Audrey is even known to magical mishaps, such as, getting teleported to the Isle of the Lost or getting hit by exploding cupcakes.
Ben And Mal:
Image Source: supercoloring.com
This is perhaps the cutest Descendants Wicked World coloring pages. It features the it-couple of Auradon Prep, Mal, and Ben. Ben was smitten by Mal the moment he laid his eyes on her. And the feeling is pretty mutual, considering both of them dreamed about each other even before enrolling in the school. The fact that both believe that parents do not define their children makes them even more similar.
Descendants: Wicked World Logo:
We're winding up the article with the beautiful black and white logo of this series. We'd suggest you use red for the letter and gold and brown for the lettering to make the logo lifelike.
We hope you find our compilation of Descendants Wicked World coloring sheets helpful. We'd love to see your works. So send us a few of your finished Descendants Wicked World coloring pages. We will wait for it.