In just a matter of a few days, we are going to witness another holiday, Chinese New Year, also known as Lunar New Year. For those who are not aware, Chinese New Year marks the beginning of the lunisolar Chinese calendar. Since it is based on the lunisolar calendar, it usually falls in late January or early February.
The year 2023 of this Spring Festival is the year of the rabbit. It's believed that this year will bring prosperity, peace, and patience in everyone's lives. Let's celebrate this auspicious holiday with our collection of Chinese New Year 2023 coloring pages.
22 Free Printable Chinese or Lunar New Year 2023 Coloring Pages
Ecstatic Rabbit With A Lion's Dance Mask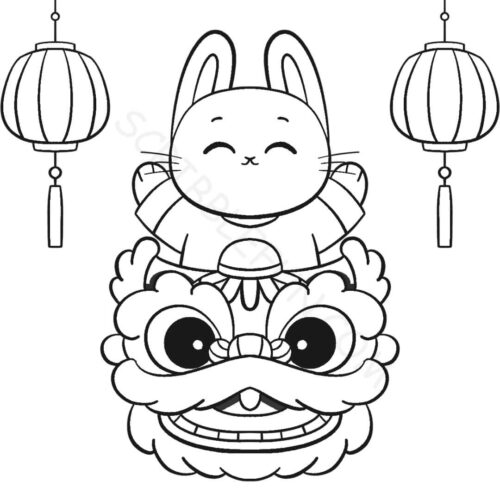 to join this conversation on GitHub. Already have an account? Sign in to comment Footer © 2023 GitHub, Inc. Footer navigation Terms Privacy Security Status
How ecstatic does this rabbit look on this coloring page? No wonder he is, after all, it's his year. Water Rabbit is believed to represent good luck and money, so it's going to be a wonderful year for those born under this sign.
Rabbit With Kite:
How cute does this rabbit look kissing the kite? Kites are symbolically important in Chinese culture. It's believed that flying kites will drive away bad luck and improve health. Some even fly kites to pay tribute to their dead loved ones. Can anyone tell us what's written on this kite in Chinese?
Happy Chinese New Year 2023
Here's a cute coloring page commemorating the Chinese New Year 2023. It shows the face of a cute little rabbit perched on the 0 of 2023. The coloring page has neat and bold lines, which means even preschoolers and kindergarteners can fill it with little to no difficulty.
Rabbit With Bunting
Here's another cute illustration showing an excited little rabbit holding a 2023 bunting. Chinese New Year is celebrated with pomp across most south Asian countries. In China, it's a 7-day long holiday, for schools, corporate, and government houses.
Water Rabbit With Firecrackers
Here's an adorable illustration of a rabbit with firecrackers. Firecrackers also hold a certain degree of importance in Chinese culture. Chinese people hang firecrackers outside their homes to ward off misfortune and evil during the New Year. Some even burst the firecrackers with the belief that it will ward off Nian, the legendary monster.
Rabbit Sitting on Sycee
Here's a coloring page of a rabbit seated on Yuanbao or Sycee. Sycee, a boat-shaped silver or gold ingot, is basically the first type of currency used in China. People of China display imitation ingots during Chinese New Year with the hope to attract wealth in their offices and homes.
Rabbit With Fish
Chinese New Year celebrations are incomplete without a whole fish. They believe that eating fish will bring prosperity to the family for the entire year. The rabbit on this coloring page has brought in a huge fish for dinner.
Dragon Dance
It's no news that dragons play a vital role in Chinese tradition and culture. So how can they not be a part of the Lunar new year festival? Every year, we witness magnificent dragon dance performances in China and Chinatowns across the world. Since dragons are supposed to bring good luck, the longer the dragon performs, the more luck it will fetch its people.
Read: 35 Free Printable Dragon Coloring Pages
Lion Dance
Another important tradition of the Lunar new year is the lion dance. It's performed every year to bring in good luck and prosperity and drive off evil spirits. Sometimes, the lions even bite people on the head. The one who is bitten on the head is expected to receive good news throughout the year.
Read: 35 Free Lion Coloring Pages Printable
Lunar New Year 2023 Template
How cute is this Lunar New Year 2023 coloring page? Its features a baby rabbit surrounded by flowers. This beautiful image can be used for making greeting cards. Just make sure you use pastel colors for this illustration. It will bring out the real beauty of this illustration.
Chinese New Year 2023 Free Template
Here's another picture you can use for creating greeting cards and postcards. There's plenty of space on this template for you to showcase your artistic skills. Or write a heartfelt note on it. It will definitely please the receiver.
Lunar New Year Greetings
Here's another great Lunar new year coloring page complete with greetings. Can you guess what's written on this coloring page?
Rabbit Doing Dragon Dance
The rabbit here is looking absolutely fierce donning the dragon dance attire. Did you know? Dragon dance was originally performed in the Han Dynasty to please the ancestors. This dance is performed at all major festivals, not just the Chinese new year.
Rabbit Dressed In Chinese Attire
The rabbit in this coloring page wants to absorb the essence of this festival and has dressed in traditional Chinese attire. If we're not wrong, the female rabbit here is dressed up in Hanfu, one of the oldest traditional clothes in China.
Traditional Chinese New Year Clothing
Here's another lovely image of a cute rabbit dressed in traditional Chinese clothing. She's even carrying a scroll with her. But what makes her stand out is the traditional headgear.
Rabbit, Sign Of Wealth
It's believed that the rabbit is the luckiest of all the signs in the Chinese zodiac. It's considered to be really lucky, especially in terms of wealth. No wonder the rabbit here looks so wealthy with gold coins strewn here and there.
Rabbit With Firecrackers
Here's another coloring image of a rabbit with firecrackers. Just see how happy he looks.
Rabbit With Spring Couplet
The scroll you see the rabbit holding on this coloring page is actually a spring couplet. A Chinese spring couplet basically comprises poetry verses. These couplets are used as decorations to express hopefulness for the coming year.
Intricate Year Of Rabbit Coloring Page
This coloring image will definitely test even the best of artists. The lines are highly intricate and will look amazing once it's done.
Year Of Rabbit Coloring Page

2023 Chinese New Year

Rabbits Celebrating
Here's a group of rabbits celebrating their year in full glory. It looks like preparations are in full swing in their houses.
We hope you enjoyed filling out our Chinese New Year, Year of the Rabbit coloring pages. Share your favorite with us by commenting below.