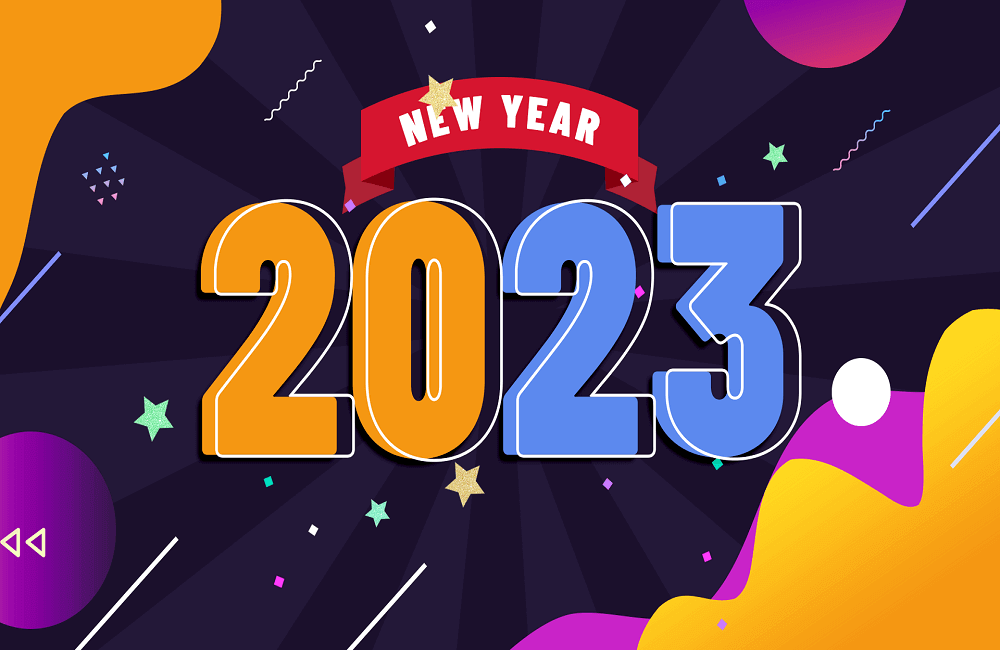 In just four days, we will be stepping into the new year, 2023. The year 2022 was a roller coaster for most of us. Covid 19, which has been plaguing our living for three years, continues to mutate. But we are hopeful that the coming year will usher positivity and the virus will be gone for good. On that hopeful note, let's fill some celebratory New Year 2023 coloring pages from the collection below.
15 Free Printable New Year 2023 Coloring Pages
Happy New Year 2023:
This is a fairly simple new year 2023 coloring page with the term 'Happy New Year' given a 3D effect. The image looks quite cool on its own and will look even better when it's filled with bright and bold colors.
to join this conversation on GitHub. Already have an account? Sign in to comment Footer © 2023 GitHub, Inc. Footer navigation Terms Privacy Security Status
Twinkling 2023 Coloring Page:
This twinkling 2023 coloring image looks simple yet classy. It has clean and bold lines and will make a perfect picture for making projects, banners, and more. If you want to make it stand out, fill each number in different colors.
Year Of Rabbit Coloring Page:
Can you guess whose year is it in the Chinese calendar? It's the year of rabbit! Can you tell what this rabbit has written on the kite? It's pretty self-explanatory! Don't forget to fill the candles with the brightest of colors. They may look tiny but are highly mighty.
Clock Is Ticking:
The countdown to the 2023 new year has begun! No wonder even the clock has worn the cap to bring in the year. After all, the clock is the center of attraction in the new year and rightly so, it decided to dress itself up. Fill this picture with some bright and vibrant colors to give justice to this jolly clock.
Rabbits Wishing Happy New Year:
How happy do these rabbits look wishing you all a happy new year. It's not surprising, to say the least, after all, it's their year. One rabbit is carrying a 2023 flag, one a gift box, and the third one a red envelope. And look at the adorable female rabbit (doe) posing for the camera!
Chinese New Year 2023 Coloring Page:
It's the year of rabbit so we had to get this Chinese New Year 2023 coloring page for you! We liked the creativity of this coloring picture. The face of the rabbit is used in place of zero. And how cheerful does the rabbit look? Give him some nice and pretty colors to make it look even happier as he is in this picture.
Also Read: Chinese New Year Coloring Pages 
Merry Christmas And A Happy New Year
Christmas has just gone by and we hope you had a wonderful one with your near and dear ones. In just a couple of days, we will ring in the new year, which means another reason to get together with the family. Kids can use this coloring page for making holiday greeting cards. It will definitely be appreciated by anyone who receives it.
Hello 2023:
Welcome to the new year 2023 with this thoroughly detailed coloring page. The image is full of positivity and cheers with stars, confetti, and paper streamers all over. So make sure you fill in some happy colors in this illustration.
Happy 2023 New Year:
Have a happy and prosperous upcoming new year with this incredible coloring picture. This illustration has a lot of small and even minute detailing, which our aspiring artists will thoroughly enjoy filling in. Besides, you can even use this coloring image for making greeting cards.
Trippy New Year 2023 Coloring Page:
If you wish to do something challenging to end this year, we would suggest you fill out this coloring picture. It may look simple at first glance, but once you start coloring it, you will realize it's not a cakewalk. If you want to make it more challenging and beautiful, use your watercolors.
Cats Wishing Happy New Year:
Feline lovers are going to love this cute new year 2023 coloring page. It features a group of cats totally thrilled to welcome the new year. One even has a fish in its hands, their feast for the new year. There is a huge blank space in the center of the coloring page, which kids can use to write new year wishes and greetings.
New Year 2023 Greetings:
The FIFA world cup in Qatar has just ended and people are still reeling in the joy that team Argentina, led by Lionel Messi has won the world cup. So if you're a true blue soccer lover, you should definitely get this coloring page downloaded and printed out. Or you can use it during the next year's football championship.
Also Read: 35 Free Printable Football Or Soccer Coloring Pages
New Year 2023 Greeting Card Template:
If you are in the mood for some creativity, you can try your hands at making new year greeting cards yourself. Here's a wonderful template that you can use for your purpose. It has a beautiful floral print, which will look gorgeous when it's filled with bright colors.
Kids Enjoying New Year Fireworks:
How enthusiastic are these two kids for the new year? They look so happy seeing the fireworks burst on the occasion of the new year. Not just kids, even adults love witnessing fireworks heralding the new year. If you're also one of them, make sure you fill the image with blasting colors.
Cats Welcoming New Year
These cats here are welcoming the new year with balloons! And ain't they looking adorable with bows around the neck? It's like they are the new year gift themselves. It's actually a great idea to gift a cute little kitten to an animal lover for the new year. They will be grateful to you forever.
Also Read: 30 Free Printable Cat Coloring Pages
How excited are you for the new year? And how was 2022 for you? We would like to know more from you in the comment section below. See you next year with even better and unique coloring pages. Until then, have a very happy new year ahead.