Summer vacation has ended and it's time to get back to school. First day of school brings out a varying degree of emotions in students. Some are extremely excited to get back to their school, meet new friends and share everything that happened during the vacation while others feel a bit apprehensive, which again, isn't entirely absurd. Then we have tiny tots who are going to school for the first time. In this article, we have captured the essence of the first day of school from different sections of the school. Take a look at our collection of the first day of school coloring pages below.
25 Free Printable First Day Of School Coloring Pages
Back To School With The Paintbrush:
Art is as valuable as other lessons imparted in school. Most of the students go on to become top-notch artists and the foundation is laid in the art classes at school. Here's a simple but neat coloring page for our budding artists. It features a paint palette, paint tube and a couple of brushes to get their imagination going.
Boy Wearing A Mask All Set For School:
It's so heartening the see this young boy so excited to go to school. The pandemic may have caused irreparable damage to society, but it failed to deter the spirit of this young lad. He's extremely excited to visit his friends personally at school after a long hiatus of 2 years. Glad to see that he's following all the safety norms required.
to join this conversation on GitHub. Already have an account? Sign in to comment Footer © 2023 GitHub, Inc. Footer navigation Terms Privacy Security Status
Students At School:
We totally adore the display of contrasting personalities on this coloring page. One student is carrying a pile of books and probably preparing for the next semester's tests, while the other is whistling, probably still dreaming about the summer vacation that went by.
High School Student's First Day At School:
Going by the illustration, it looks like this young lad skipped a couple of classes and is now making a note of everything that he may have missed. Doesn't really matter as long as you're up to date with all the lessons taught at school.
Back To School Supplies:
We know you're highly excited about going back to school, but don't get so carried away that you forget important school supplies. This coloring page features the most basic school supplies, such as a school bag, pens, globe, paintbrush, calculator, a basketball for the athletes, and more.
Mom Seeing Off Her Child On The First Day Of School:
As I mentioned before, not everyone is excited to get back to school. Some may feel a bit apprehensive and scared, especially if they are joining a new school. During this time, a few words of encouragement and apprehensive, especially from mothers, can go a long way in bucking up a child.
Students Coloring Page:
How cute is this illustration of different types of students found in a school? The girl in the first picture is definitely interested in science. The kids in the second and fourth pictures are into writing and arithmetic. But the one who stands out is the boy in the third picture who seems a bit overwhelmed with all the lessons imparted, especially on the first day of school.
Little Girl Writing: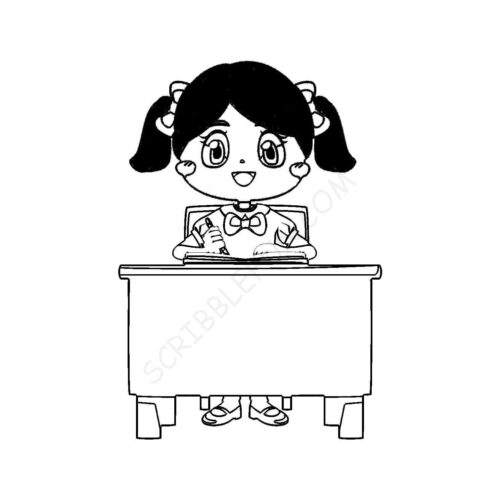 Here's a coloring page of a little girl taking down all the notes her teacher is teaching. She looks like someone who is totally into her studies.
Girl Is Back To School:
This studious princess is all set to get back to school after the summer vacation. She had been waiting to get back to school for days and started preparing her school bag two days before the school was about to reopen. She stuffed the bag with all the essentials required, such as pens, pencils, a ruler and books and everything required.
High School Students Back To School:
Here's a coloring page of high school students back to their school after the summer holidays. This illustration may seem a bit incomplete to you. That's something we've done it intentionally as we want you to make the facial features of these students any way you want.
I'm Back To School:
How cute is this illustration of a little hijabi student all excited to get back to school? Do you see the rainbow and clouds behind her? That itself signifies how happy she is to get back to school and make new friends.
Students At Art And Craft Class:
Here's a lovely and detailed coloring page of two students in their art and craft class. The assignment given to them seems to be of painting a tumbler and looks like they are doing a pretty good job at it. If you want, you can give your own design to these tumblers.
The Boy Is Back At School:
Here's another happy illustration of a young boy going back to school. Since it's the first day of school, the boy doesn't want to risk it and is seen carrying all the important supplies required, such as books, pens, and of course, an apple, to fuel him during recess.
Mom Taking Her Kids To School:
Since it was the first day of school, the mother herself decided to drop her girls to school. We think it's a great gesture, especially when the kids are feeling a bit nervous about going to school, particularly when it's a new school.
School Bell:
This is a pretty simple and basic illustration of a school bell, which kids can print out for their school projects as well.
Bus Going Back To School:
How cute is this illustration of a school bus going back to school? Did you notice a rainbow on the top? It shows how happy the bus is going back to school again. While you can pick the classic yellow for the school, make sure the rainbow is filled with seven colours.
School Coloring Page:
Here's a neat illustration of a beautiful structure of a school, exactly what you need while preparing for going back to school. Along with the school building, we can also see two buses and a huge school bag at the center.
Science Laboratory Essentials Coloring Page:
If you're a science student, you would know how important these props are in a science laboratory. Fill all these images with the truest colors to make them look lifelike.
Back To School Essentials: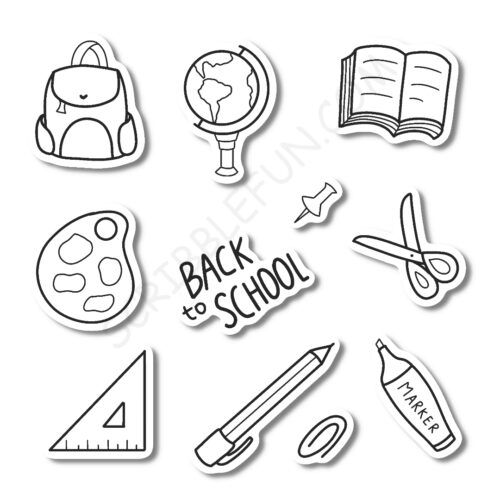 Here's another easy to color first day of school image for the preschoolers and elementary school goers.
Back To School Supplies:
You may think it's getting a bit repetitive, but we're totally loving these essential coloring pages featuring important subjects taught in school. This coloring page here displays mathematics essentials or supplies.
Junior Talking To Senior:
Here's a simple lineart depicting a senior talking to a junior. Or are they both sisters? We're leaving that for you to decide. Even better would be to weave a story behind this image.
Two Students Reading From The Same Book:
It looks like one of them forgot to bring the school essentials and is sharing the same book. Well, it's not really an impossible situation, considering all the excitement involved in going back to school after such a long break.
Welcome Back To School Coloring Page: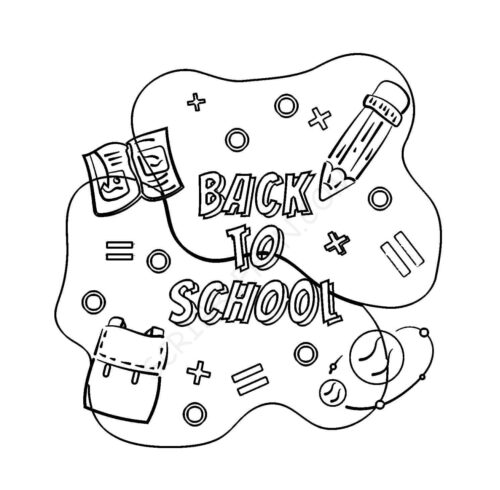 How lovely is this back to school coloring sheet to fill in?
Welcome Back To School Coloring Sheet:
Here's another simple, but unique welcome back to school coloring picture for you to fill.
25: Girl Welcoming Everyone Back To School:
Here's an illustration of a cheerful and excited girl welcoming each one of you back to school.
We hope you enjoyed filling these welcome back to school and the first day of school coloring pages. We would love to know how your first day of school went. Share with us in the comment section below.