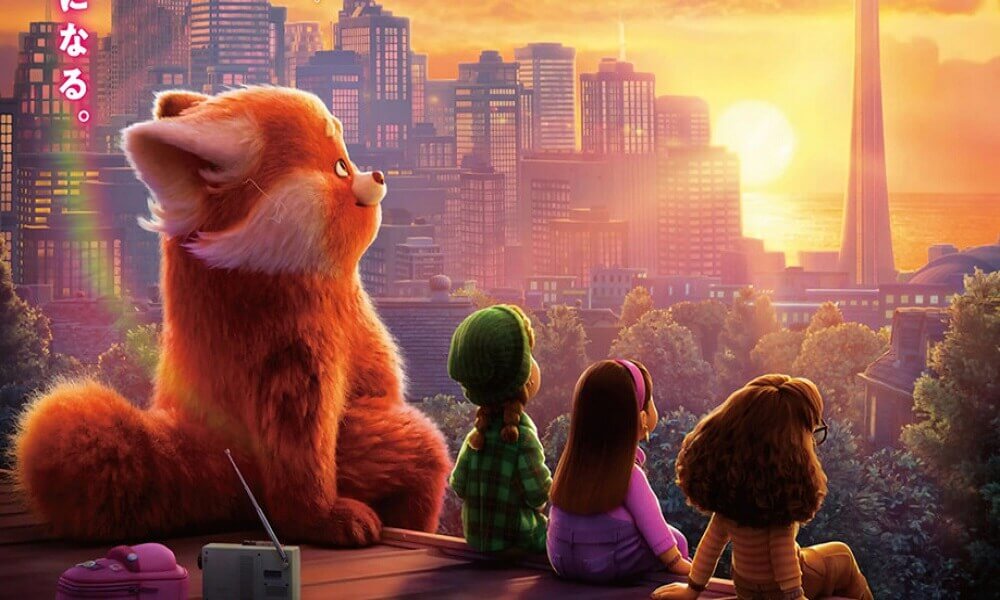 Hello, little readers. Today we've got all you enthusiastic souls an exclusive collection of Disney Pixar's Turning Red coloring pages. This latest animated flick from Disney Pixar released in the theaters in March 2022 in several parts of the world and has been received with open arms by everyone. The movie itself is one of a kind as it perfectly captures and presents the huge emotional turmoil teenagers go through in the adolescence phase. The story revolves around Mei Lee who transforms into a giant red panda when she is enthusiastic.
10 Free Printable Turning Red Coloring Pages
Let's dive into Mei's world with our collection of free printable Turning Redcoloring sheets.
Abby Park
to join this conversation on GitHub. Already have an account? Sign in to comment Footer © 2023 GitHub, Inc. Footer navigation Terms Privacy Security Status
Abby Park is a Korean descent teenager and one of the best friends of Mei Lee. She is a highly energized and excited girl, who gets angry really easily. This isn't the best of her traits, as it distracts her in crucial situations.
Girl Gang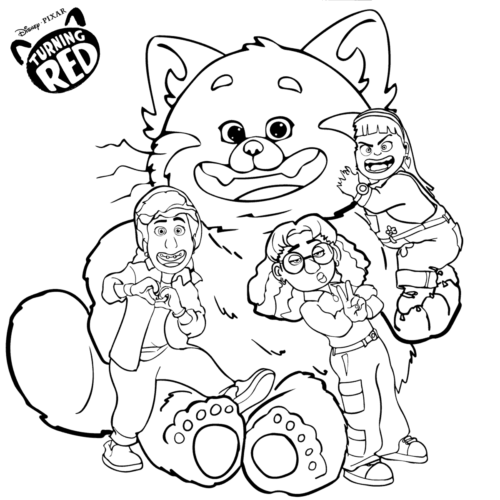 This illustration features the three best friends of Mei Lee with her Panda avatar, namely Miriam, Priya, and Abby. We totally loved how comfortable Mei's friends were with her panda form, especially Abby, who love to hug Mei as she is fluffy. Abby's color is purple and she appears in the movie wearing very cheerful purple overalls on a purple top. Even her shoes are dark purple in color.
Mei Lee
Meet Mei Lee, the 13-year-old protagonist who is always torn between being a good daughter to her protective mother and the turmoil of being a teenager. For example, Mei is absolutely obsessed with a boy band, something that her mother never approves of. The unique thing about Mei Lee is that she turns into a giant red panda whenever she is too excited, which is almost always if you ask us.
Mei Lee In The Panda Avatar Color By Number
Here's a fun activity printable that preschoolers will thoroughly enjoy indulging in. It's a color by number activity sheet featuring the giant red panda, which is basically the avatar of Mei Lee. The activity sheet features a number-coded color bar, which the kids have to refer to while filling the black and white image of the red panda.
Miriam Mendelsohn
Miriam Mendelsohn is one of Mei's best friends and one of the main characters in the movie. Miriam is an absolutely fun-loving teenager who always supports and looks out for her friends, no matter what. We loved how supportive and nurturing she was towards Mei when the latter discovered her red panda powers. Miriam is represented by the color green. She wears a green jumper and military green pants and a green beanie. Even the accessories that she wears have a green tint to them.
Priya Mangal
Priya Mangal is the coolest and the most mellow of all the four girls in the gang. She's a bit stoic by nature but does her best to look as excitable as her friends. Her interests are gothic, especially vampires. Priya is represented by the color yellow. She appears in the movie wearing a yellow shirt, brown baggy pants, and grey sneakers, along with a grey-yellow watch.
The Red Panda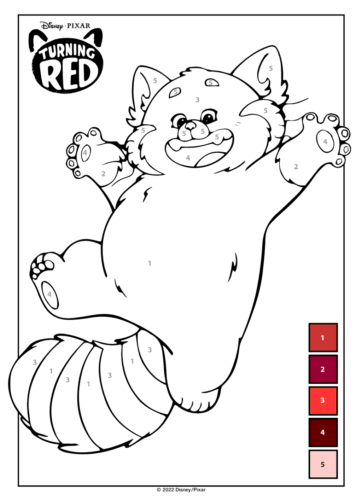 This coloring page shows Mei Lee absolutely stunned seeing herself in the red panda form. For those who don't know, Mei Lee got the red panda's powers passed down from ancestry through a mystical connection to the animal. Everyone in her family has the Red Panda powers, except her father. So whenever Mei experiences strong emotions, such as anger, sadness, or excitement, she turns into a red panda. Eventually, she has to calm herself down to come back to her original form.
Turning Red Activity Sheet
This Turning Red activity sheet will definitely come in handy if you're throwing a movie's themed birthday party. The printable requires coloring and decorating the panda ears and then cutting and stapling it. Kids are free to adjust the size of the ears to fit.
Turning Red Printable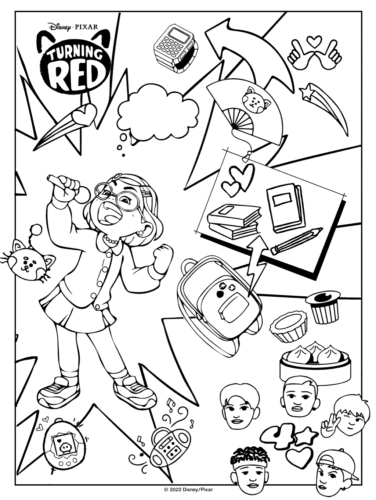 How cool is this Turning Red printable for kids? It features our favorite Mei doing something that she absolutely loves doing- singing, much to the dismay of her mother. Not just that, this coloring printable also features her favorite band, 4*Town.
Turning Red Logo
Last, but not least, here's a coloring page of the Turning Red movie logo. We quite like the logo of this movie. It features the outline of a red panda's head with the name of the movie written inside it in bold.
We hope you enjoyed our collection of Turning Red printables for kids. All these Turning Red coloring pictures are absolutely free to click and print out. We'd love to know your favorites too! So do let us know in the comment section below.