The long-awaited Paw Patrol the Movie is finally released and we couldn't be more excited. The movie is set in Adventure City, where the Paw Patrol team is summoned to protect it from its evil mayor. The trailer itself was action-packed with thrilling missions and high-stake rescues by the pups. We even saw a couple of new pups with cool vehicles, who might make an entry to the cartoon show as well. So if you haven't watched the movie, or if you have, but couldn't get enough of it, we would like you to go through our collection of Paw Patrol the Movie coloring pages. This printable set will keep you hooked to your seats, just like the movie.
15 Free Printable Paw Patrol The Movie 2021 Coloring Pages
Chase:
This illustration features Chase, one of the protagonists of the series. A German Shepard, Chase is a police and traffic cop pup, which is quite fitting for his personality. He keeps everyone on track and even warns the traffic in case of some problem. Chase's job is also to track missing animals with the help of his spy gear. Who do you think Chase will be chasing in Paw Patrol the movie?
to join this conversation on GitHub. Already have an account? Sign in to comment Footer © 2023 GitHub, Inc. Footer navigation Terms Privacy Security Status
Paw Patrol The Movie Colouring Page:
Here's a coloring picture of Ryder and Chase, the poster boys of Paw Patrol the Movie. Ryder is the 10-year-old boy who leads, rescues, and teaches the pups. Ryder and the pups have a bigger responsibility this year as they have to stop Mayor Humdinger from destroying a hustling and bustling metropolis for his nefarious schemes. Will he be able to do it this time?
[ Related: Dogs Coloring Pages ]
Liberty: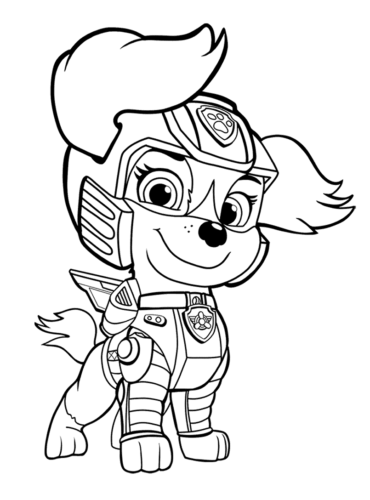 How cute does Liberty look on this coloring page? This long-haired dachshund is one of the newer characters introduced in the movie. She's a curious, kind, and lively pup from the Adventure City, the place the movie is set in. Liberty looks up to the Paw Patrol team and tries her level best to keep the city clean. She is later taken into the team.
Paw Patrol Thank You Note:
This is a very interesting printable for kids. It's basically a postcard, which kids can use to write everything they are thankful for to the Paw Patrol team. Alternatively, they can print it out and use it as an invitation card for a Paw Patrol-themed birthday party. There's even a coloring picture on the other half to help them show their creativity.
Paw Patrol Badge:
This is the badge that little pups work hard to achieve. It's the Paw Patrol badge held by the esteemed members of the rescue group. This badge is affixed to the hat or helmet of the pups while their individual badges are fixed to their leashes. This Paw Patrol Movie coloring image can come in handy for several purposes. So make good use of it.  
Marshall:
Here's a black and white illustration of Marshall with his huge, multifunctional fire truck. Marshall is a Dalmatian and is responsible for the fire safety of the town. We love how cheerful Marshall looks in this picture. Even in the series, Marshall acts as comic relief.  
Paw Patrol Badge Activity Sheet: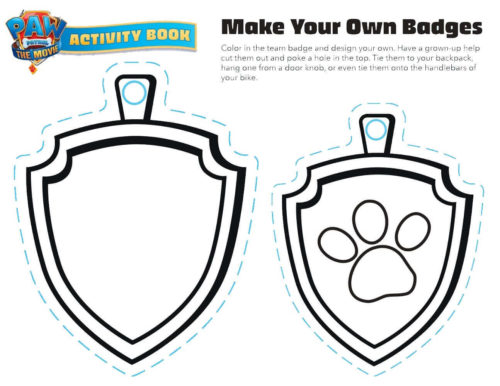 Here's a lovely make your own badge activity sheet for our little readers. It features a blank template of a badge along with the highly coveted Paw Patrol badge. Kids can decorate the blank badge anyway they want, and then cut it out along the dotted lines. They can tie their custom badge on their bags or from their bike's handlebars.
Complete The Drawing:
This is a wonderful activity sheet to help kids learn to draw within the lines. It features an incomplete drawing of Rubble, with faded lines on the other side. Kids have to complete the picture by drawing on the faded lines. After they have drawn the image, they can fill it with the color of their choice.
Paw Patrol The Movie Maze Activity Sheet:
The pups are hungry and they need their bones. Will you help them get it from the maze? Believe us, it's really easy. After finding the bone, you can color the cheerful pups any way you like.
Read And Activity:
This Paw Patrol the Movie activity sheet will help develop the writing and reading skills of preschoolers. It features a few words related to the movie that the kids have to read and trace. There's also a huge coloring page of Rocky, which they can color.  
Paw Patrol Movie 2021 Coloring Page:
This coloring picture features four of the central characters from the Paw Patrol 2021 movie; Rubble, Liberty, Marshall, and Chase. The pups look all geared up to work for the community, this time, in a big city. We're sure they won't disappoint.
Paw Patrol The Movie Printable:
There's a fire and Marshall needs your help urgently. There are too many hoses here and Marshall doesn't know which one is connected to the water pipe. Can you help Marshall find out which hose can help him douse the fire?
Match The Badge:
This activity sheet will test your knowledge of your favorite Paw Patrol series. It features three primary characters from the show and movie and three badges. Your job here is to draw a line from the pups to their respective badges. Let's see how many of you can get it right.
Rocky: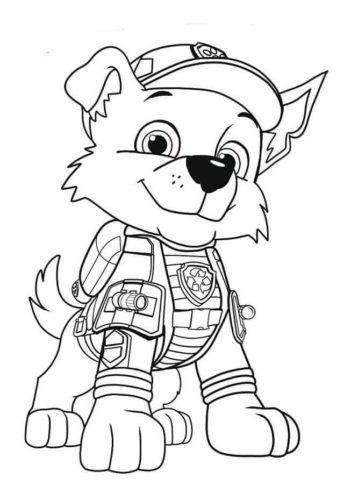 If you're familiar with the Paw Patrol cartoon show, you must be aware of Rocky, the handsome little, environment-friendly pup. His job is to reduce, reuse and recycle everything that he can lay his hands on. What makes him stand apart is his intelligence. He tries to make good use of everything he finds, which is a lesson for us.
Rubble:
The English bulldog pup that you see here is Rubble, the 6th member of the Paw Patrol team. Rubble's job is to help the team with the construction work, such as carrying the materials to fix damaged buildings or fixing the broken train tracks.
[ Related: Puppy Coloring Pages ]
That's all we have for today, folks! I watched the movie already and really enjoyed it. What do you think about it?