What happens when the garden ornaments start disappearing mysteriously from the Garden gnomes? Sherlock Gnomes comes to the rescue! After the forgettable "Gnomeo and Juliet", director John Stevenson and Paramount Pictures have come up with a sequel, "Sherlock Gnomes", centering around the famous detective Sherlock Holmes as a garden gnome. In this movie, Gnomeo and Juliet team up with Sherlock Gnomes and Watson to crack the case and find out the culprit behind the disappearing garden ornaments.
Going by the reviews, "Sherlock Gnomes" is being considered more watchable than "Gnomeo and Juliet", which probably explains the growing popularity of Sherlock Gnomes coloring pages. Keeping up with the demand, we, at ScribbleFun, have also come up with a set of free Sherlock Gnomes coloring pages to print. Check them out below.
10 Free Printable Sherlock Gnomes Coloring Pages
Sherlock Gnomes Coloring Page Printable:
This is one of the most exciting Sherlock Gnomes coloring sheets, featuring the protagonists, Sherlock, Gnomeo and Juliet in action. They have probably found some clue and are running towards it. If you have seen the film, you can definitely tell us what's going on in this picture.
to join this conversation on GitHub. Already have an account? Sign in to comment Footer © 2023 GitHub, Inc. Footer navigation Terms Privacy Security Status
Frog Nanette With Paris Sherlock Gnome Coloring Page:
Here's an absolutely adorable Sherlock Gnomes coloring page featuring Frog Nanette being flattered on receiving a bouquet of flowers from Paris. Nanette and Paris seem to share a good bond with each other. In the last film, Paris was a suitor of Juliet, but now, he's shifted his attention to her friend, Nanette.
Garden Gnomes:
This coloring sheet features the tiny garden gnomes having fun by hanging from a planter. Be as creative as you for filling these cute patooties and the scenery behind them.
Gnomeo: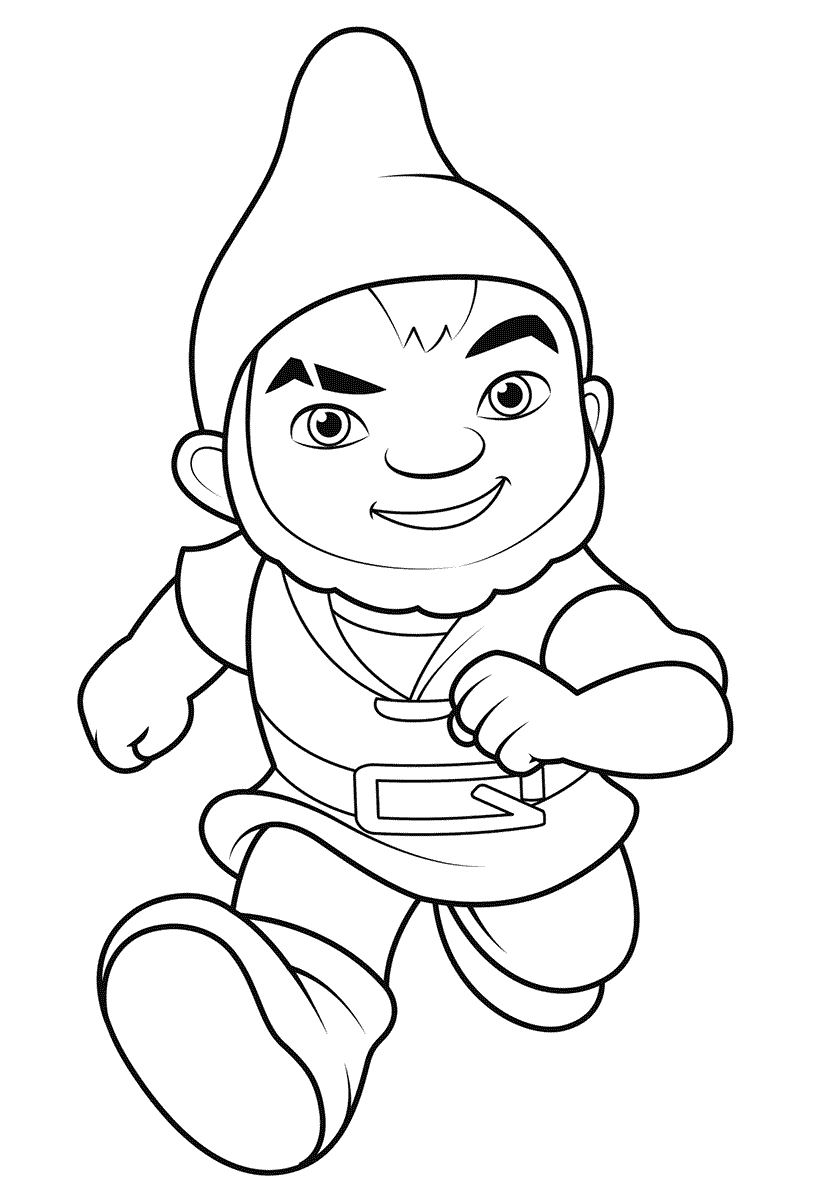 Meet Gnomeo, one of the central characters from the movie, "Sherlock Gnomes". Based on Shakespeare's Romeo, Gnomeo looks like a typical garden gnome, but has something extra. He's even a sort of leader as witnessed in both the movies. And it's this leadership quality, which makes him absolutely endearing.
Sherlock Gnomes Activity Sheet:
One garden gnome has lost his way in this maze. Can you help him reunite with his friends? We're sure you all can because we have a bunch of intelligent readers. Furthermore, you can even decorate this activity sheet in the brightest and most beautiful shades. Just ensure they are pretty and colorful, as the gnomes should be.
Sherlock Gnomes Party Invitation:
We're cent percent sure that kids will demand a Sherlock Gnome themed party for their birthday. And if your child demands the same, we've got you covered on this front as well, especially on the invites part. You just need to print out the picture on card stock paper, decorate the sheet any way you like and then send the invites.
Sherlock Gnomes And Gnome Watson:
Here's a coloring sheet of the heroes of the movie, Sherlock Gnomes, and Gnome Watson. Sherlock Gnome, voiced by none other than Johnny Depp, is an uptight detective, who calls himself the sworn protector of garden gnomes. Watson, on the other hand, is a trusty sidekick donning a bow tie, mustache, and cane.
Sherlock Gnomes Characters:
This coloring sheet features all the major characters from this movie, including Gnomeo, Juliet, Nanette, Sherlock Gnomes, Gnome Watson, Paris, Benny, Lady Blueberry, Lord Redbrick, and the tiny garden gnomes. We can't even imagine how colorful and beautiful this sheet will look when it's filled.
Gnomeo And Juliet:
Here's a coloring sheet of the adorable duo from this series, Gnomeo and Juliet. Gnomeo had eloped with Juliet so that they can live peacefully in the garden gnome. However, a new trouble cropped up. But we're sure, they'll deal with this issue also seamlessly.
Connect The Dots: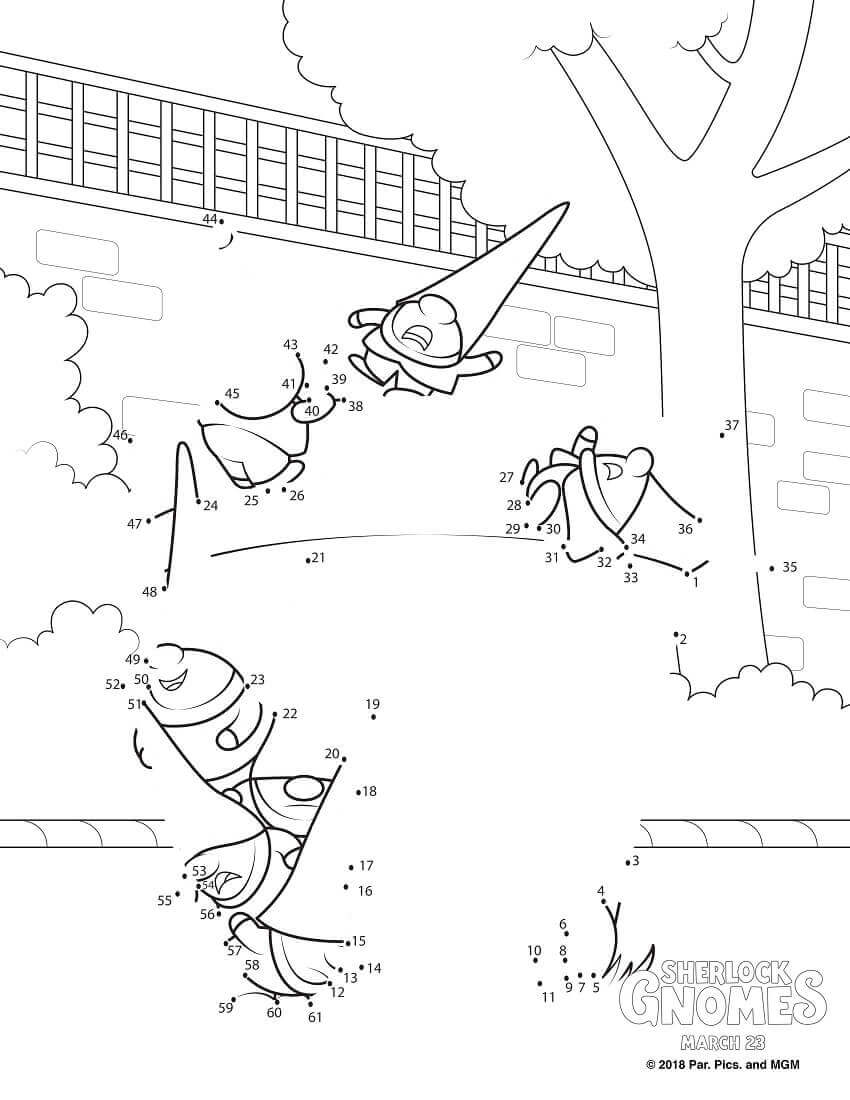 If you have a preschooler at home, he'll definitely find this connect the dot sheet handy in learning numbers, that too, in a fun way. Mommies just need to build the interest by saying that they'll discover something really exciting and unique when they connect the numbers. When they have finished joining the dots, tell him to color it in pretty shades.
We hope you liked our collection of free printable Sherlock Gnomes coloring pages. You can even check out our latest Kitten coloring pages. We're sure you'll like them too!