Hello friends! Today we've got you free printable snowflakes coloring pages. There is something magical about snow and the way everything seems to be covered in pristine white. The winter snow adds to the festivity of the holiday season. Christmas does not feel like Christmas unless it is snowing, does it? Enjoying your first snowfall of the season can be a rewarding experience. It might have also led you to wonder about snow and how these snowflakes are formed.
Well, snowflakes are ice crystals that are formed in the atmosphere when water droplets in the clouds freeze. As they increase in size, they start to fall to the earth's surface. The shape and size of the ice crystal depend on the varying elements like the temperature and humidity in the cloud and the atmosphere. Let's dive deeper into the world of winter and snowflakes, with this collection of snowflakes coloring sheets to print:
30 Free Snowflakes Coloring Pages To Print
Princess Belle And Christmas Snowflakes:
to join this conversation on GitHub. Already have an account? Sign in to comment Footer © 2023 GitHub, Inc. Footer navigation Terms Privacy Security Status
One of the bravest among the Disney princesses, Princess Belle of The Beauty and The Beast is also one of the kindest souls. You can see her good spirit aglow in this coloring page as she goes on about her Christmas decorations. Isn't that a beautiful-looking snowflake Christmas ornament in her hand? Print this page and fill it with all the goodness of colors.
Christmas Tree And Snowflakes Cutout:
One look at this coloring page and you can clearly feel the excitement of the Christmas season. The pleasantly decorated Christmas tree with the bright star on top and all the different shining designs of snowflakes. These are Stellar Dendrite snowflakes which are star-shaped snowflakes having outward radiating branches. You can print this page and add your chosen colors to this festive decoration.
Connect The Dot Snowflake:
If you are still learning to draw and find yourself less confident in drawing complex shapes and objects, then this coloring page will help you. With its dotted design, all you need to do is simply connect the dots and you will have a perfect snowflake. Print this coloring page and practice your drawing and coloring skills.
Cute Snowflake :
Christmas is no Christmas without joy and laughter. Bringing you some cheer is this coloring page with such a happy snowflake. Look at the broad smile on its face! Run along quickly and print this page. You don't want to wait to color this smiling snowflake, do you?
Radiating Dendrite Snowflake Coloring Page:
A form of Stellar Dendrites, Radiating Dendrite snowflakes have more intricate branches and side-branches, growing like branches of a fern. The detailed representation on this coloring page is awe-inspiring. Surely, such an attractive snowflake deserves an equally grand coloring scheme. Take a printout of this page and bring out the coloring avatar in you. It's time to color this snowflake masterpiece.
Frozen Princess Elsa's Snowflake:
If I say the word frozen, what comes to your mind immediately? Of course, the Disney blockbuster movie, Frozen and all the spectacular scenes flashing in your memory. Showcasing her ice power on this coloring page is Princess Elsa with a strikingly grand snowflake she just created. Print this page and help her add sharp colors to her creation.
The Girl And The Snowflakes:
As enticing as snowfall is, deciding to go out in the snow can prove to be less fun if you get cold and fall sick. There's nothing worse than falling sick in the holiday season, is there? Like this girl on this coloring page, ensure that you are properly dressed from head to toe when going out to enjoy the snow. Being warm and cozy, she looks happy walking and enjoying the falling snowflakes.
Ninjago On Snowflake Coloring Sheet:
Looking sharp like the pointed tips of the snowflake is this Ninjago-inspired coloring page. Like the ninjas from the land of Ninjago, a Lego theme introduced in 2011, keep up your spirit this holiday season by spreading goodness and helping others. Print this page and color with razor-sharp vision like the eyes of this ninja.
[ Related: Ninjago Coloring Pages ]
Printable Frozen Snowflake:
Snowflake formation is a dynamic process, which is why different varieties of snowflakes can be found in nature. One example of a complex snowflake is this solid hexagonal plate snowflake with dendrite extensions. Print and color this detailed snowflake illustration on this coloring page with your unmatched coloring skills.
Printable Snowflake Cutout:
Take your Christmas decorations to another DIY level with this printable snowflake cutout. After printing the page, color it according to your needs and then expertly cut out the design. You can then paste this snowflake decoration wherever you want it to be placed. To add to the design, you can utilize the central space to stick photographs of your family members.
Santa And Snowflake Coloring Page:
Santa Claus is here, and he is equally, if not more pleased than you are, about the coming holiday season. You can see him having the first snow experience of this year, as he tries to catch the falling snowflake. Bring out the colorful excitement of the scene by printing and coloring this page with equal joy.
[ Related: Santa Claus Coloring Pages ]
Snowflake Mandala Coloring Page:
Mandala which literally means "circle" in Sanskrit has been associated with Hinduism and Buddhism, representing the symbol of the universe. Generally speaking, mandalas are diagrams or geometric patterns having radial balance. Taking inspiration from the holiday season is this snowflake mandala coloring page. Enhance the beauty and balance of this mandala by printing this page and giving it dazzling colors.
[ Related: Mandala Coloring Pages ]
Simple Snowflake Coloring Printable:
If the complex structures of the snowflakes are giving you a hard time, this simple illustration of a snowflake is the one for you. Take a printout and start coloring segment-wise, to reveal a colorful and festive snowflake.
Snowflake Activity Sheet For Kids:
It's time for a fun activity to turn up your holiday excitement factor. This winter wonder illustration is missing one giant snowflake. Print this coloring page and help the bear find the missing snowflake. All you need to do is follow the dots according to their numbers, joining them to one another. If you play this game right, the giant snowflake will be in sight.
Snowflake Coloring Image Printable:
A testament to the variety of shapes and sizes of a snowflake is this unusual snowflake, which appears to be a combination of columns and needles. You can print this page and give this unusual snowflake some unconventional colors.
Snowflake Coloring Page With Facts:
You must have learned a few things about snowflakes so far. With this coloring page, you can have fun coloring while going through a revision of some of the things you have learned. Like how snowflakes have different shapes and sizes, and why they appear white even though they are made of clear ice.
Dendrite Snowflake:
You are looking at an illustrative representation of another Stellar Dendrite snowflake on this coloring page. They are relatively large and common snowflakes. You must have come across one on your winter snowy walks; easily spotted if wearing dark attire. Take a printout and give this snowflake some aesthetically pleasing colors. 
Snowflake Coloring Page For Kids:
In case the previous snowflake was a bit complicated, you can print this simpler-designed coloring page. Featuring an equally spectacular snowflake with an easier design to color, this coloring page is perfect for you if you are unsure of your coloring skills.
Snowflake Christmas Mittens:
Wouldn't you like to have this pair of snowflake-designed mittens this Christmas? Quickly print this coloring page and give it your favorite colors. You can show them to your parents and let them know about it. Maybe you will get one for Christmas!
No Two Snowflakes Are Alike:
Because of the complexity of its formation process and how the slightest changes in the atmosphere, especially temperature and humidity, can alter their structure, it is highly improbable that any two snowflakes are alike. Even similar-looking snowflakes reveal minute differences under rigorous examination. You can find the illustration of one such unique snowflake on this coloring page for you to color.
From Simple To Complex Snowflakes:
This coloring page features four sectored hexagonal plate snowflakes on four sides, with a more complex snowflake in the middle. It illustrates how a simple snowflake can form complex shapes upon collision with other crystals in the atmosphere. You can observe the addition of dendrite extensions on the simple central snowflake. Print this page and have a fun time filling this intricate illustration with different colors.
Winter Is Coming:
Apart from being an accepted traditional symbol of Christmas and the holiday season, a snowflake is also often used to represent winter. Illustrating the same is this coloring page with an exquisitely designed snowflake symbol with the word "Winter" below it. Announce the arrival of winter by printing and coloring this page.
[ Related: Winter Coloring Pages ]
White Winter Blanket Of Snowflakes:
In winter, nature seems to be covering itself in a white blanket to keep itself warm. From the snow-covered trees to all the slopes, hills, and mountains, this illustration gives you the complete winter vibe. The huge snowflake, a hexagonal plate crystal with fernlike dendritic extensions, holds center stage on this coloring page.
Slow Falling Snowflake:
It is such a serene scene to watch the snowfall. The gentle falling of the snowflakes is because of their lightweight and relatively larger surface area. Looking at this illustrated snowflake you can see its wide flat surface area which aids in its fall.
Complex Snowflake Mandala Coloring Page: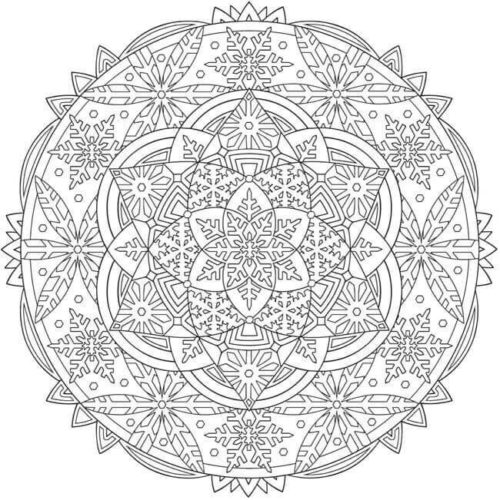 Since you have already tried your hand at coloring a mandala before, we have got another one for you. This one is a more complicated and complex mandala and will require your undivided attention. You can prep well for the coloring session by dividing different colors for different sections beforehand. Once complete, this snowflake mandala will give you a kaleidoscopic feel.
Snowflake Christmas Ornament:
Decorations for Christmas need not always be bought from the stores. If you have a creative trait and some artistic skills, you can come up with your own decorations. Like this coloring page which you can print and color, then cut out adeptly to use as a Christmas ornament for your Christmas tree decoration.
[ Related: Christmas Ornament Coloring Pages ]
Snowflake Variations:
Showcasing a few more examples of snowflake variations is this illustration on this coloring page. From simple hexagonal plates to fernlike stellar dendrites, you can give each one of these snowflakes a different color to help you identify them.
Snowflakes Christmas Decorations:
Here are a few more snowflakes to help you with your Christmas decorations. You can print and cut strips of each line of the same designed snowflakes. After giving them your desired color, you can either paste it as a strip or cut out individual circles for your Christmas decorations.
Snowman And Snowflake Coloring Page:
It is such a fun illustration of the holiday season. A snowman trying to catch all the falling snowflakes with his stick arms. But you know he can't catch them, right? Let's try to cheer him up by printing this page and adding sparkling colors on him and the falling snowflakes.
Winter And Snowflakes Coloring Page:
When you go out during snowfall you can feel the silence in the air. It is because fresh snow gathering on the ground can trap air in between individual snowflakes. When the air gets trapped, the vibration gets reduced, making it difficult for sound to travel. Everything feels so peaceful and quiet when it is snowing outside. Just like this peaceful Christmas scene with the snowman amidst the snow-laden environment.
You must be beaming with Christmas excitement after going through this snowy collection of free snowflake coloring pictures to print. We hope you have now learned a lot more about snowflakes than you knew before. Be sure to revel in the spirit of joy and kindness this holiday season. Always remember, each one of you is as unique as a snowflake with your own individual talent.