Good day young readers! How is life? Hope you are surrounded by the greenery which keeps our planet alive. Today we are celebrating the day dedicated to the autotrophs that ensure oxygen stays in breathable proportions in our atmosphere. We are celebrating Arbor Day! Arbor in Latin means "tree", and Arbor Day is a holiday celebrated throughout the world. On this holiday, people are encouraged to plant trees. However, the date varies country to country, culture to culture, on the basis of climate and seasonal suitability of planting. It is a way of thanking Earth for the plant life and forests. Let's celebrate this glorious holiday with some free printable Arbor Day coloring pages. Check out the Arbor Day coloring sheets to print below.
25 Free Printable Arbor Day Coloring Pages
Arbor Day 2018 Coloring Page:
Today Alan learned at school about the importance of trees. He understood what the Greenhouse effect is, how it is leading to Global Warming, and how trees can save the planet from it. Then he decided to do his bit to save the planet. Color him bright!
Trees And Humans:
This page shows a deep relationship between trees and humans. Here the shadow of the tree shows the shadow of three humans. It depicts that one tree in its lifetime can make life possible for at least three people. Think about it and color!
to join this conversation on GitHub. Already have an account? Sign in to comment Footer © 2023 GitHub, Inc. Footer navigation Terms Privacy Security Status
Trees And Kids:
Kids are usually attracted to nature more than elders. Gloria has another reason to love the tree in her backyard – a swing on its branch. Her grandfather has grown some trees, now his granddaughter is reaping benefits from one of those!
Arbor Day Coloring Page For Preschoolers:
Did you know that trees, like humans, can feel emotions like pain and happiness? Scientists have found out that trees that have happier surroundings flower earlier and more than others. Color these two happy!
Calvin Learns Farming: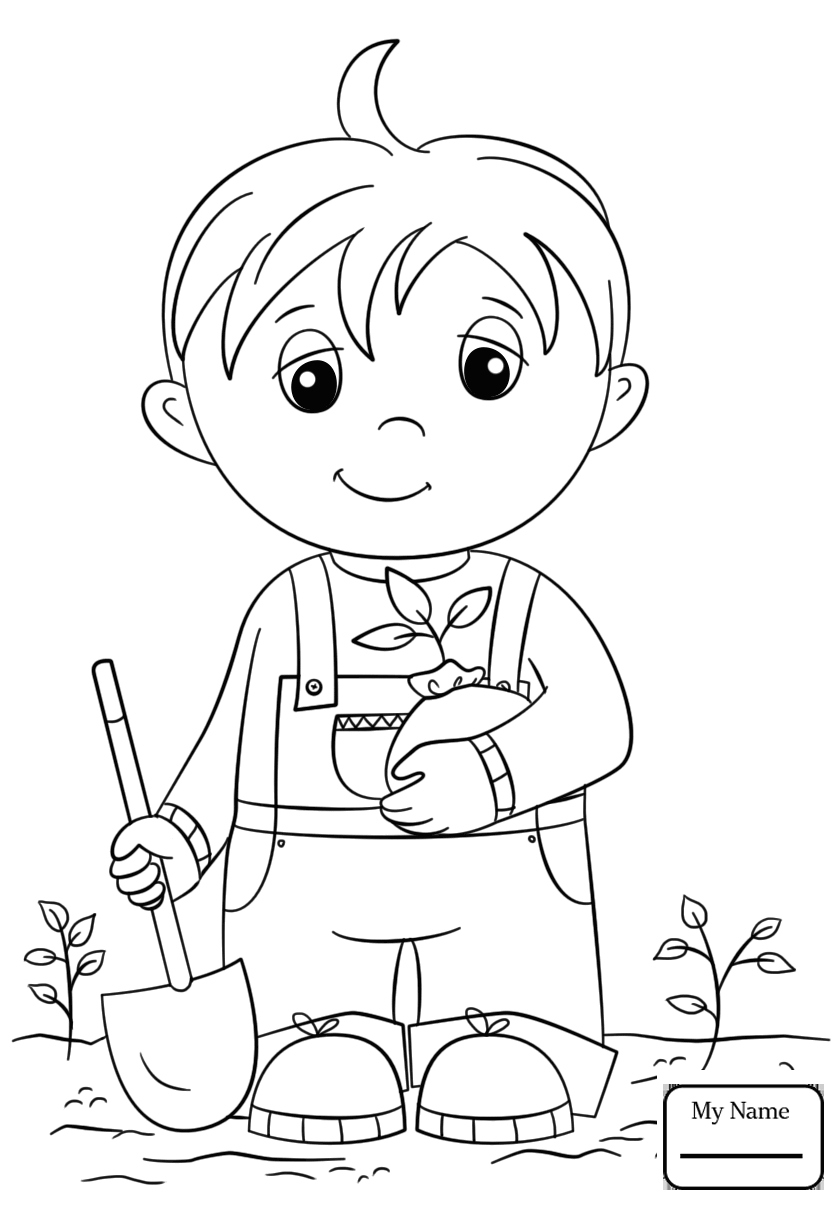 Cute kid, Calvin has recently learned how to plant saplings. He loves digging the ground and putting the sapling in it. He was taught about it by his elder sister who learned it at school. Now he dreams of becoming a farmer and growing an orchard!
A Friend Indeed: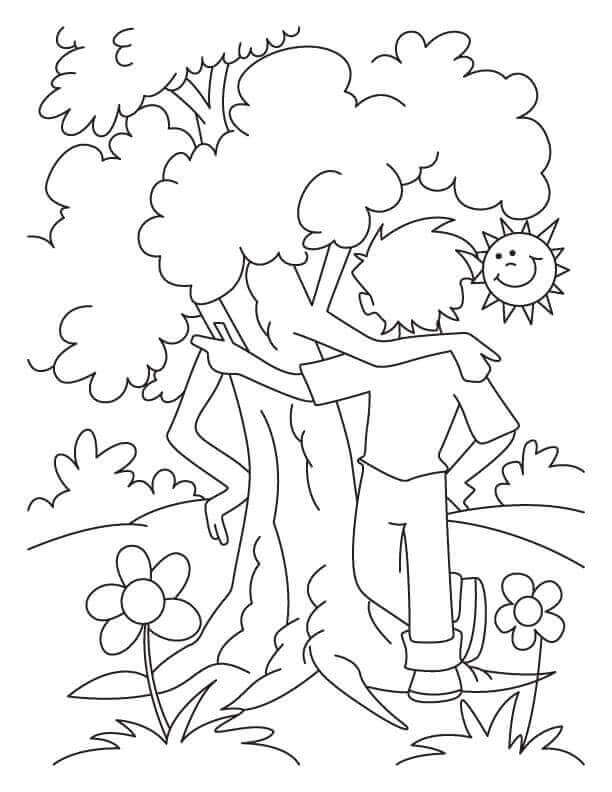 It is a hot sunny day, but Mac is comfortable with his companion. A tree in his, farmland that he regularly looks after is looking after his comfort today by providing him a cool shade. Not just fruits and oxygen, trees provide a shed overhead too. No doubt trees are reliable friends!
A Rhyme For Arbor Day:
The most comforting sight for a tired traveler is a garden or an isolated huge tree, under which he can relax and cool down. Marcus is relaxing in a quite similar manner. Here is a rhyme that tells us the other things that trees can provide Marcus.
Plants In A Pot: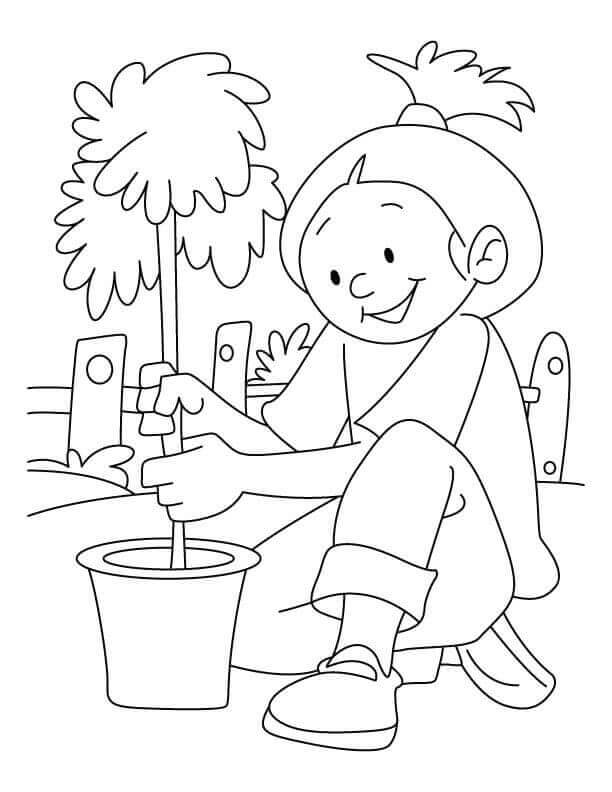 Linda is moving to a big city, and her new home might not have a garden as big as she has here. So she is learning the art of growing a garden indoors in pots. Here she has potted her first plant. Being in a concrete jungle can't stop you from celebrating Arbor Day.
Go Green For Health:
Darren is an aspiring sportsman, and even during his vacations, he doesn't stop his routine jogging. In fact, he enjoys it more in the countryside than at school. This is because greenery around provides fresh oxygen-rich air, and transpiration from the leaves cools the air. Color him healthy!
Twins Minnie And Winnie Celebrating Arbor Day Colouring Page:
To celebrate Arbor Day, the school in which Minnie and Winnie study is presenting a skit to emphasize the importance of trees in the ecosystem. The twins are dressed like stumps of trees. The conclusion of the skit has arrived, and the woodcutter realized why trees should be saved. That is why the twins look happy!
Different Trees To Color On Arbor Day Coloring Image: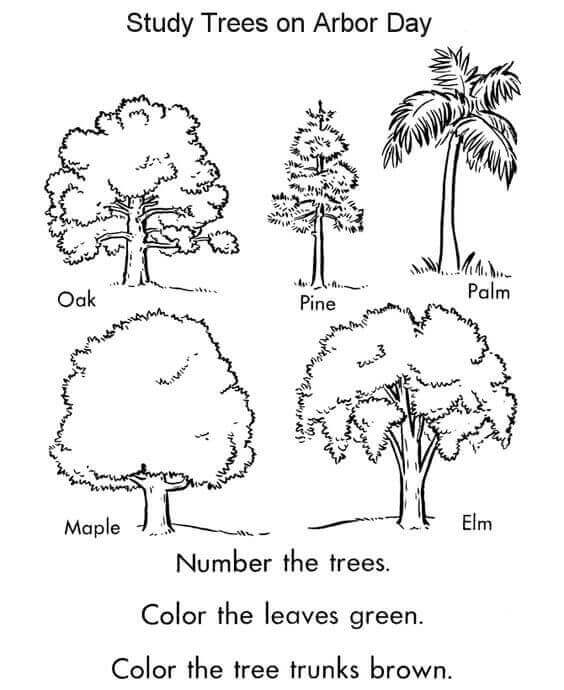 Different regions on Earth have different kinds of trees, and all of them have a high value in their respective ecosystems. Here are a few along with the instructions given on how to color them. Color them accordingly.
Kyra's Granny:
Kyra was very fond of her granny. She used to play with her under an oak tree where her granny used to have her tea in the evening. She loved this tree. Now that Kyra's granny is gone, the oak tree remains, with granny's memory etched on its bark for Kyra to adore.
The Fruity Gift:
Alex's father is a fruit merchant and has a huge mango orchard. Alex loves walking through them to reach his home after school. Some days he finds ripe mangoes fallen on the ground. He loves mangoes. Whenever he gets such a gift, he thanks the trees for it. Isn't he a good boy?
National Arbor Day Coloring Page:
Carl has returned from school's Arbor Day celebration and is determined to plant a tree in his garden. Now that he knows the meaning of Arbor Day, he has dragged his parents also to plant trees. Doesn't he look happy as he is about to plant his first tree?
Trees Of Wisdom: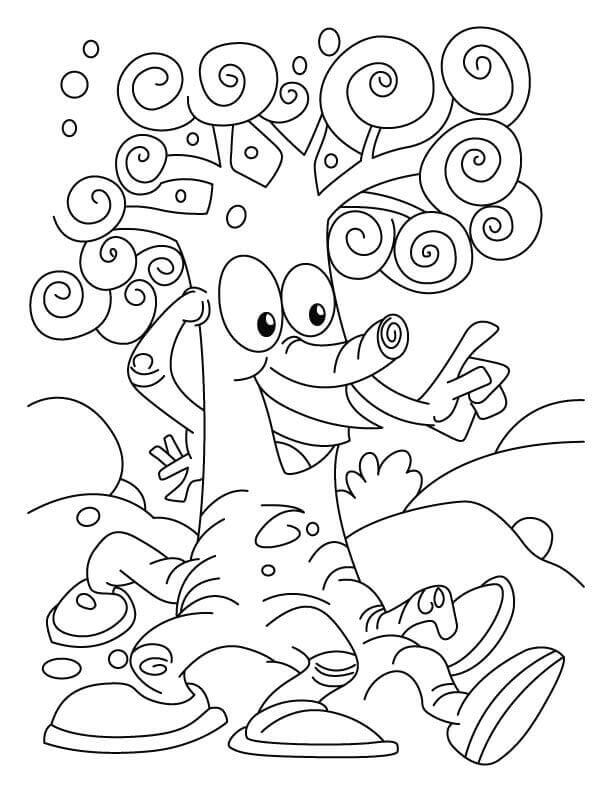 Some trees are so old that they grow prop or stilt roots, huge barks, and expand laterally rather than vertically. Such trees are easy to recognize as old. Being alive for such long periods they are believed to be trees of wisdom, and they have a very high religious value in many cultures and customs.
Kylie's Garden:
Kylie had forgotten to plant a tree for Arbor Day, but her mother did not. She planted it for Kylie. As a good daughter, she promised to take utmost care of the tree and water it regularly. Now she is going to water that tree, but knowing the value of plants, she waters the entire garden!
Planting Life On Arbor Day Coloring Picture:
Even if you don't like celebrations, ensure you celebrate Arbor Day as by adding a new tree on Earth, you gift yourself a longer life. Carbon dioxide is harmful to the atmosphere and the trees ensure that they stay within limits. So celebrate Arbor Day and plant a life!
Plant To Maintain:
Don't let Arbor Day be a one-day deal. Make it a lifelong commitment. Many people plant a tree and forget how it will survive without water. So whatever you plant, ensure you water it regularly. For better results, add manure.
Making A Mini Garden:
Gardening is a famous and healthy hobby. It can be done by people of any age and locality. Here, Patricia is growing different flowering plants to beautify her little garden. No matter which plant you grow, if its leaves are green, rest assured that the plant is giving oxygen.
Money Plant Confusion:
Lily returned from her school and told her father about a money plant. He told her that money does not grow on trees. Then she asked him why it is called a money plant if it does not grow money. This thought-provoking question forced her father to dream of a literal money plant that gives currency bills!
Tree And Earth Coloring Page:
Sally chose a rejected piece of land to celebrate Arbor Day with her friends. Here she shows them how to take care of the planted saplings. This land was illegally taken by a builder who cut down many trees of this former park. But now that law has given it a park status, people have chosen to plant about fifty trees on this Arbor Day to regain the lost park.
National Arbor Day Celebration Coloring Page:
First Arbor Day was celebrated in Nebraska, the United States of America in 1872. About one million trees were planted in the celebration. However, the roots of Arbor Day are said to be Spanish. No matter what the root, the fruits of it are useful to the entire planet!
Afforestation – Need Of The Hour:
Afforestation is the establishment of trees or forests in an area where there was no tree cover. This is needed for the sake of Earth. Max has recently come to know that the Amazon rainforest, the lungs of Earth, are being felled at an alarming rate. He has sworn to counter deforestation by afforestation. How about starting it on this Earth Day itself?
Reviving Dried Plants:
Plants may look dry, but water can revive their life. Here Maisie and Mark are trying to revive a thrown out dry plant. The plant dried out because their neighbor never watered it as it was not in their complex. Mark took it to his garden, and Maisie chose to help him revive it.
Small Scale Planting:
It is not necessary to plant a tree on a lawn or a farm. If you can manage to grow plants in pots, you can celebrate Arbor Day anywhere. This is what Theo is doing. He is watering a small plant that he planted last year on Arbor Day. Doesn't he look like someone with a green thumb?
Earth is losing its green cover to concrete jungles. That has increased the requirement of trees everywhere. Our ancestors knew the true value of trees. That is why many cultures and regions celebrate Arbor Day their own way. India has a week dedicated to celebrating forests. The event is called "Van Mahotsav". How does your country celebrate greenery? Color thee Arbor Day coloring pages printable and let us know!