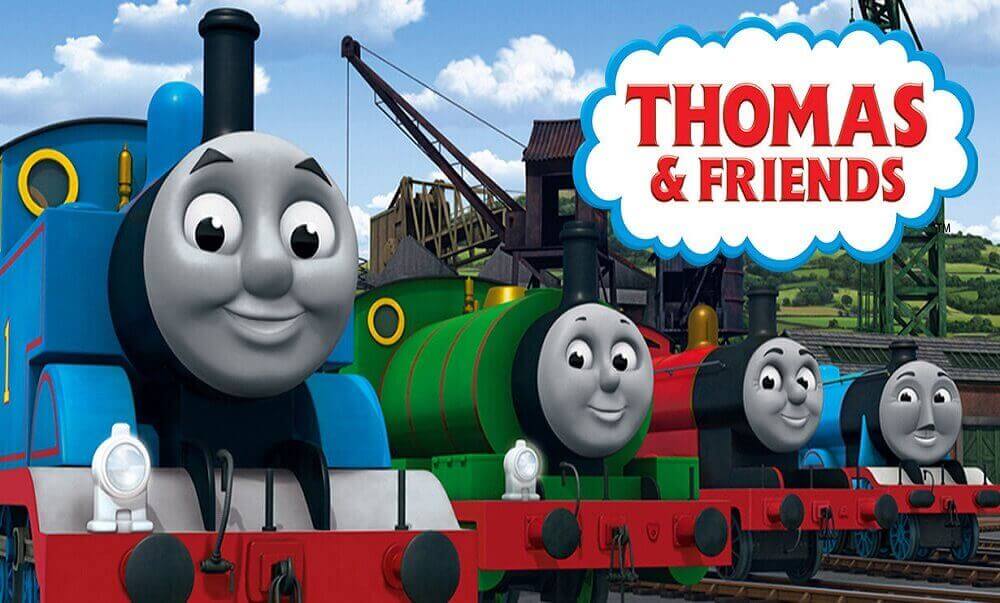 Thomas and Friends is a popular television series for children, based on the book "The Railway Series" by Reverend Wilbert Awdry and his son Christopher Awdry. First featured in the United Kingdom in 1984, the setup for the stories is the fictional island Sodor. "Thomas And Friends" traces the friendly and sometimes unfriendly relationship between Thomas, Edward, Henry, Gordon, James, Percy, Toby, and Emily who are locomotive engines with human characteristics and facial features. The stories are based on real-life incidents and always end with a moral that children can connect and learn from. The characters of "Thomas and Friends" have also been adapted in toy series, readily available for kids in toy shops all over. With such a huge fan base, Scribble Fun presents here 30 free printable Thomas the Train coloring pages from various situations between Thomas and his friends. We hope you will put your imagination to work and enjoy filling these free Thomas the train coloring sheets to print.
30 Free Printable Thomas The Train Coloring Pages
Bertie The Bus Coloring Page: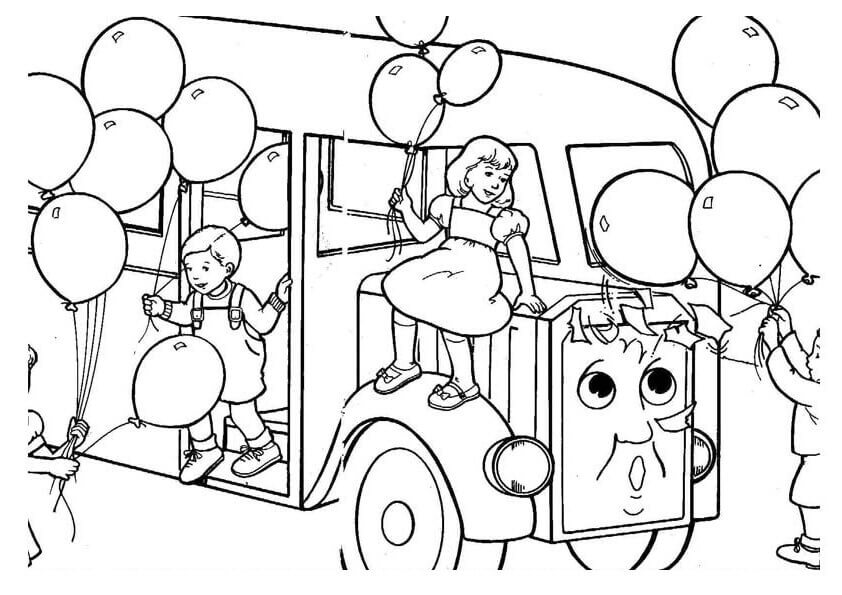 This red color bus is one of the non-locomotive characters in the series. He is friendly and jovial and helps the engines by transferring passengers to and fro when the railway is out of order. At times, he challenges the engines for a race, all in good spirit.
Engine No. 2 Edward Coloring Page: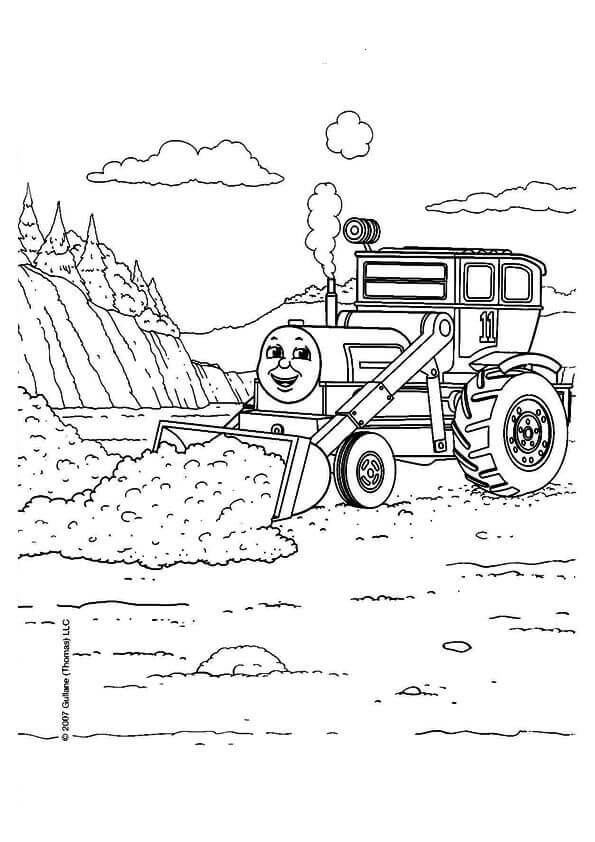 One of the oldest engines in Sodor, Edward is wise and always eager to take on new jobs and finish them sincerely. He is full of advice for the younger engines. Color him in blue and the linings in red.
to join this conversation on GitHub. Already have an account? Sign in to comment Footer © 2023 GitHub, Inc. Footer navigation Terms Privacy Security Status
Engine No. 1 Thomas The Tank Engine Coloring Page:
This blue colored engine works on the North Western Railways. With a heart of gold, this friendly engine is ever ready to help out friends. But he is absentminded, disrespectful at times, edgy, and likes to show off his superiority to other engines.
Kids Riding on Thomas The Train Coloring Page: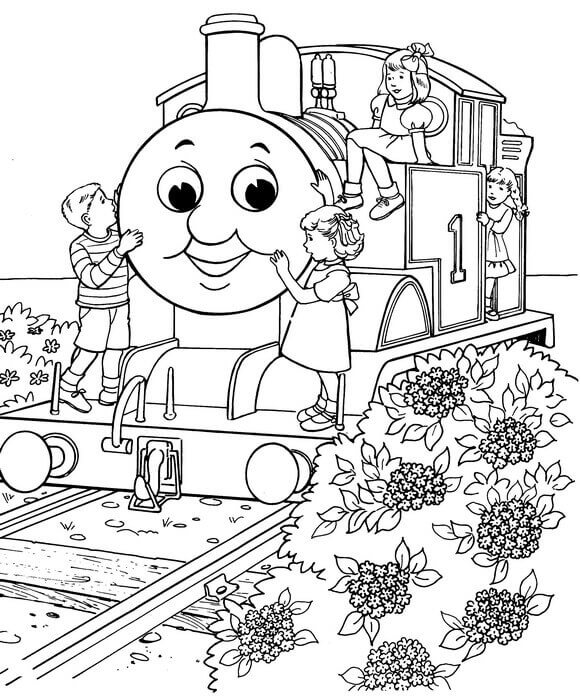 Thomas being one of the most popular engines in the Fat Controller's railway lines is one of the favorites of the kids in Sodor. Playful and helpful by nature, kids love to sit in his engine compartment and play with his funnel, boiler, and dome.
Engine No. 6 Percy Coloring Page:
Color Percy in green and red! Good-natured and helpful, Percy is Thomas' best ally. One of the junior members in the yard, Percy delivers mails happily and keeps puffing around with no particular motive.
Kids Learning About Engines:
At Sodor, locomotive and docks play an important role. Hence it's essential for young children of Sodor to understand the basics of harbors and trains because once they grow up, they will take up the reins of running the township. In this coloring sheet, we see a teacher teaching the A, B, C's of engines as the children happily gulp down the information.
[ Related: ABC Coloring Pages ]
S C Ruffy Coloring Sheet:
This dark brown wagon is privately owned. S C Ruffy used to head the Troublesome Trucks but was pulled apart while trying to resist being pulled by Oliver.  After being punished for his action, his remains were discarded.
Salty from Thomas The Train Coloring Page: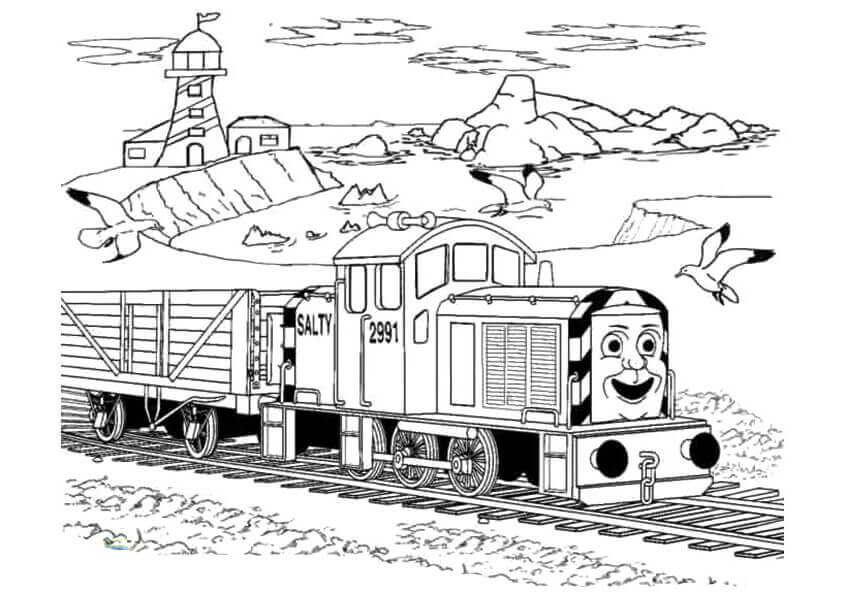 With the accent of a sailor, Salty loves the sea and likes to narrate stories of the sea to other engines. He is the only engine that can work fine with the Troublesome Trucks because of his sense of rhythm.
We Love You, Thomas Coloring Page:
The hero of the story, all narrations majorly revolve around Thomas. His caring and friendly nature make him a big hit with all his passengers. That is the reason why he is being shown a placard saying 'We Love You, Thomas'. And he loves it!
Sir Topham Hatt Coloring Page:
Famously called The Fat Controller, Sir Hatt manages North Western Railway. He controls the engines with fatherly affection, laughs in between. Sir Topham Hatt is kind and just but is unyielding with the engines especially the ones who tend to disobey him.
Thomas And Friends Coloring Sheet Printable:
Affectionate Thomas loves when children play with him, caress him and jump into his engine compartment. Watch him smiling and enjoying the kids playing with him!
Sodor Roundhouse Coloring Page: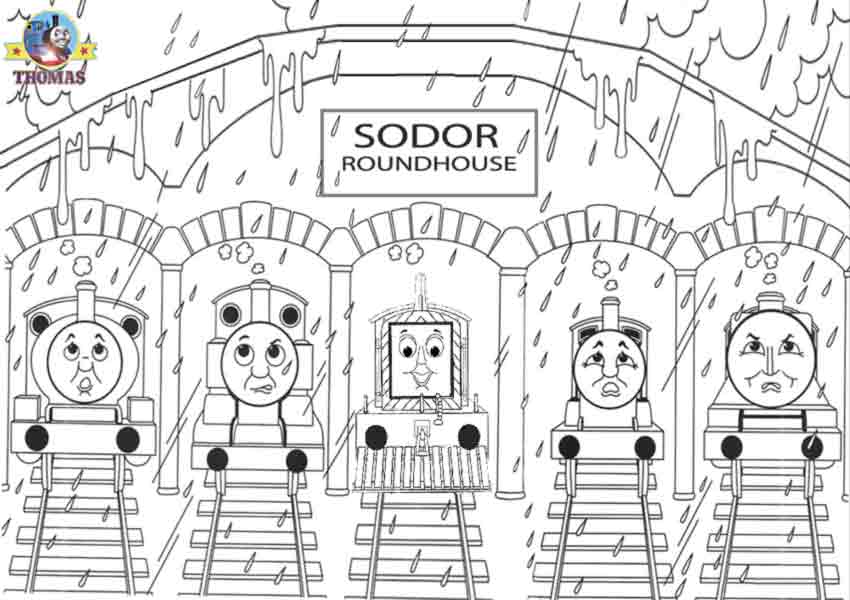 The roundhouse also called Tidmouth Sheds is the main engine shed having six berths where Thomas, Gordon, James, Percy, and Emily spend the night. Sometimes other engines also join into sleep here. Initially, it had ten sheds to house ten engines but later after the renovation things were changed.
Bill And Ben:
Bill And Ben, the twin tank engines work for Sodor China Clay Company. Their primary task is to shun trucks to the mainline and the harbor. They work as a pair but also tend to end up squabbling at times. Very naughty and always mocking others, they are quick to act in case any engine or railway staff is trapped in the rockslide. They also love being photographed by visitors at the Harbor.
Edward: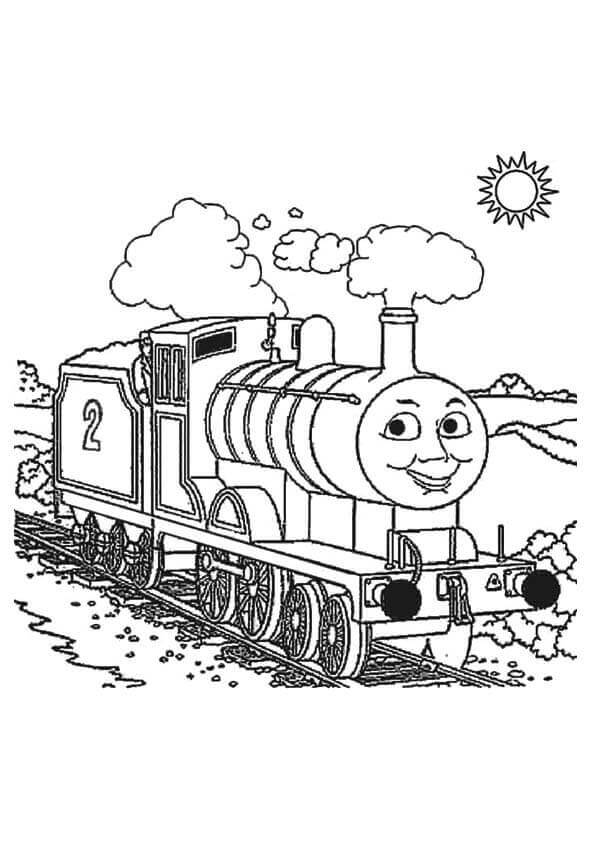 Edward is old by age and wisdom. Most of the other engines respect him for his experience and knowledge and encouraging words. Even the naughty Bill and Ben would listen to Edward, but most of the engines at Sodor like to make fun of his age. He and BoCo run their own branch line in Sodor.
Emily From Thomas And Friends Coloring Page: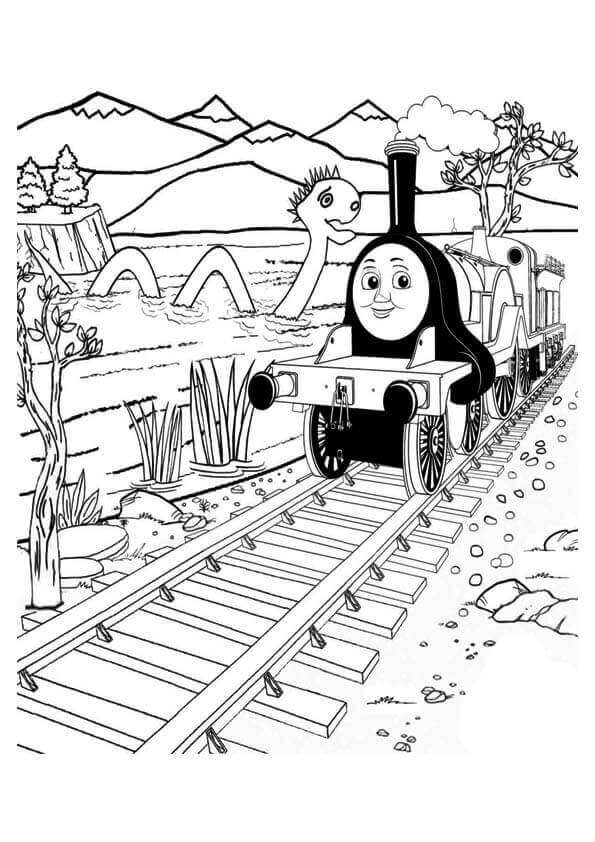 One of the newest members at Sodor, Emily works on the mainline and has her own set of coaches. She is affectionate, but at times bossy too. Quick to realize her mistake and apologize for the same, she offers friendly advice when her friends need her. Emily is like a sister to the other engines at Sodor. Color her in green and red.
Fergus From Thomas And Friends Coloring Page: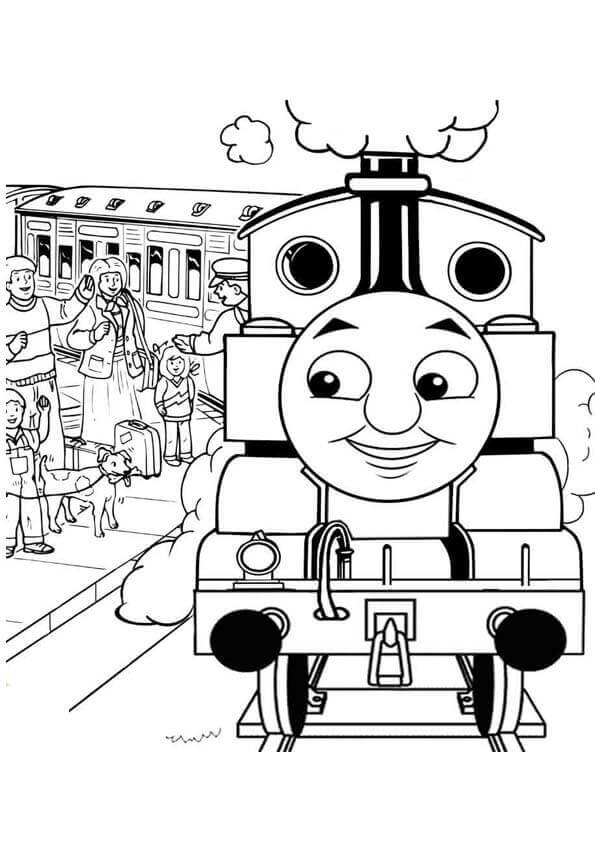 Fergus works at the Sodor Cement Works. He believes in righteousness and though friendly by nature he can be annoying at times because he keeps persisting with all the engines to follow the rule book. Being continuously working at the Cement Works, Fergus has developed a cough which interrupts his speech.
Gordon Coloring Page:
Working on the mainline, Gordon's main task is to pull the Express as he is one of the fastest and the most powerful engine in Sodor. He is Engine No. 4 and blue in color. He is a bit arrogant and likes to boast about his superior strength. At the same time, he is also kind and helpful especially when the smaller engines get stuck somewhere, he helps to pull them out of trouble. He thinks Edward is not worthy of being a part of the engine team as he is old and slow.
Henry From Thomas And Friends Coloring Page:
No. 3 green engine, Henry is a mixed traffic engine working on the Main Line of Sodor.  He does not keep too well, and often his boiler keeps suffering from some problem or other. He is also a bit slow to understand things. Otherwise, he is a hard-working, well-mannered engine. He has been portrayed as snooty and arrogant in specific episodes.
Thomas And Friends Christmas Coloring Page: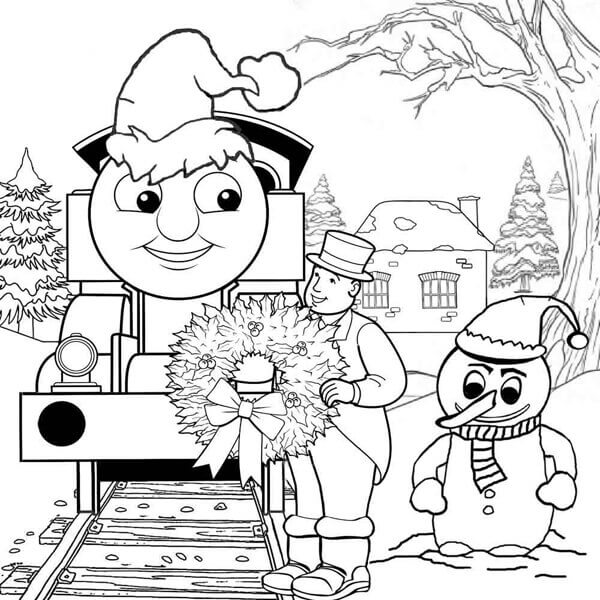 Christmas is that time of the year when there are celebrations all around in Sodor. The engines are made to wear Santa's caps, and there are lots of Christmas trees around. The Fat Controller is busy putting up flower arrangements onto the front of the engines. Don't miss the snowman on the side! Since its Christmas use reds, greens, and whites to color this picture.
[ Read: Christmas Coloring Pages ]
Thomas The Tank Engine Coloring Page: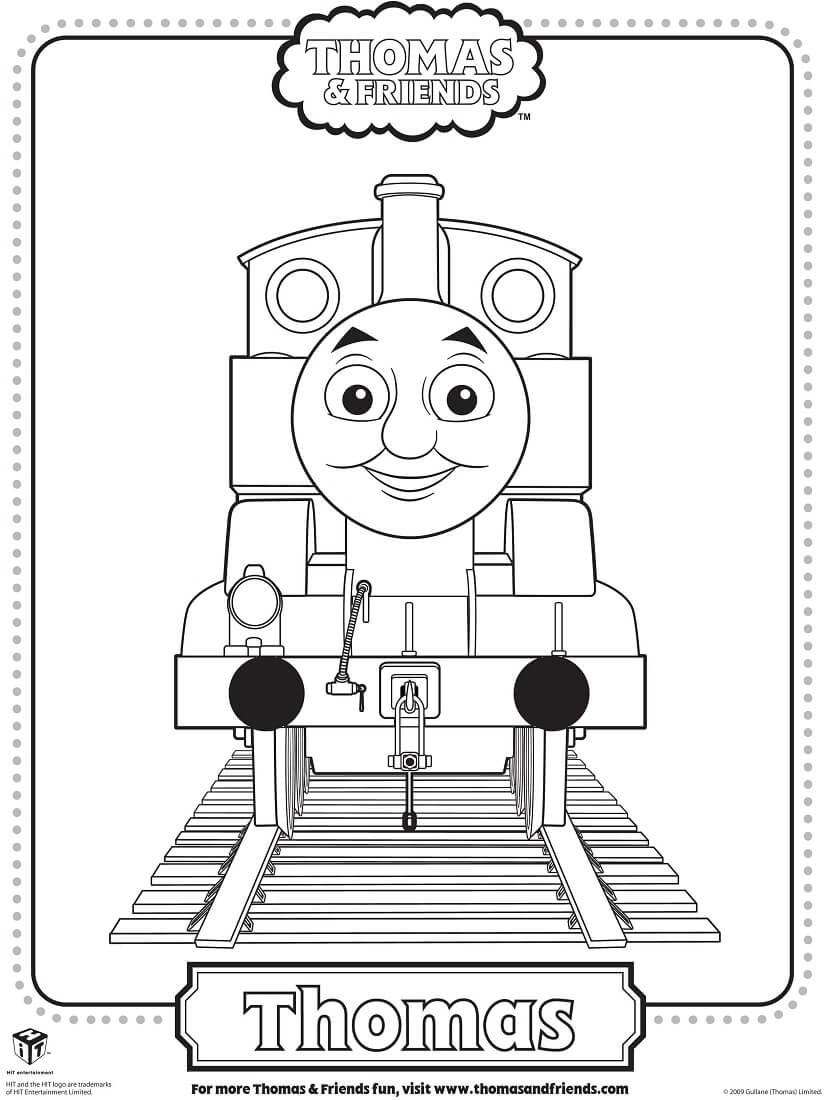 With big eyes and a lasting smile on his face, Thomas, the central character in the series is one of the most loved and popular engines from Sodor. He always proves his usefulness and his worth that is why he is the No. 1 engine at Sodor. He loves to race with James and Bertie and tries his best to win it too.
Harold The Helicopter From Thomas And Friends Coloring Page:
Part of the Sodor Search And Rescue Team, Harold is a helicopter whose main task is to patrol Sodor. Always alert and on his toes, Harold initially had a superiority complex that train engines are slow. However, having been proved wrong time and again, he is now behaving with much maturity. Look at the picture and notice how he is keeping a watchful eye as the children play in the park.
Thomas The Train Christmas Coloring Page: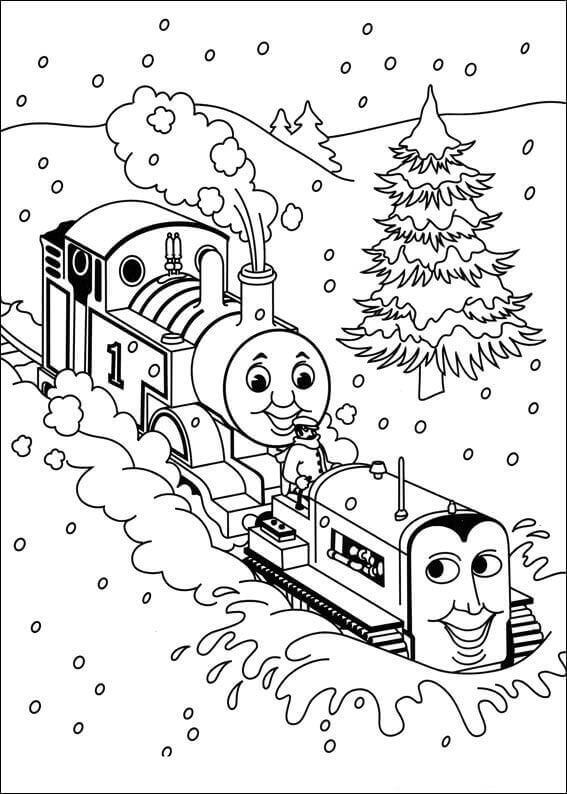 Thomas and Diesel are having a fun race with Christmas celebrations on. It's snowing, and there's a Christmas Tree further away. But the two engines, one a steam engine and the other a diesel engine are making merry by chasing one another. Who wins the race is for you to guess!
Thomas's Friends Coloring Page Printable: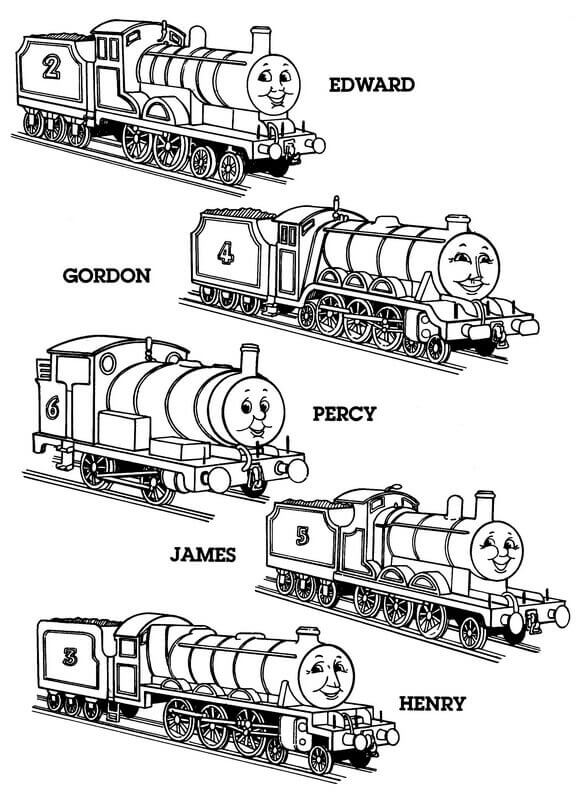 Seen together in this picture are Edward, Gordon, Percy, James, and Henry. The happy-go-lucky Percy, the wise and experience Edward, fast and powerful Gordon, the overconfident James and hardworking Henry pose together for a group photograph.
Harold:
This is the vigilant helicopter that belongs to the Rescue team at Sodor. Color Harold in white with red lining; his name is to be colored in red too! He has been built based on Sikorsky S-5 Helicopters that were built in the United Kingdom.
James:
Engine No. 5, this red color engine has a brass dome and scarlet coat because of which he thinks of himself as a splendid engine.  He is quite arrogant and vain especially with the slower and the weaker engines. He also loves to play pranks and scares other engines, but all said and done he is still caring at heart and is a responsible, hardworking engine of the North Western Railway.
The Road And Air Vehicles From Thomas The Train Coloring Page: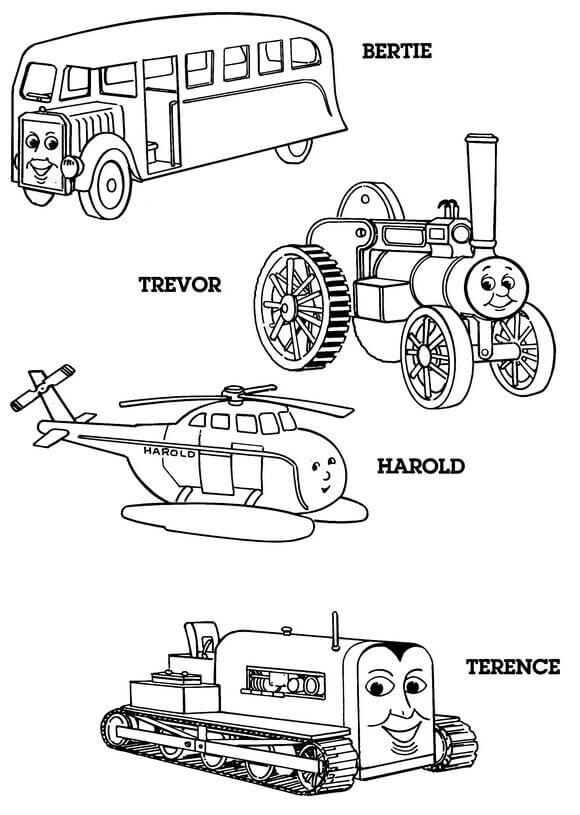 Here's a group picture of all the non-locomotive engine character in the story, Thomas, and his friends.  It features the likable and helpful Bertie, a bus character and a friend in need! Green colored tractor engine Trevor who is extremely fond of children riding on his back. The white-colored helicopter Harold who is always geared up for rescue operation!  And orange-colored tractor Terence is a bit slow because of his huge structure, and though the engines find his tracks a bit weird, he is capable of going anywhere especially in the snow.
Thomas The Train St. Patrick's Day Coloring Pages: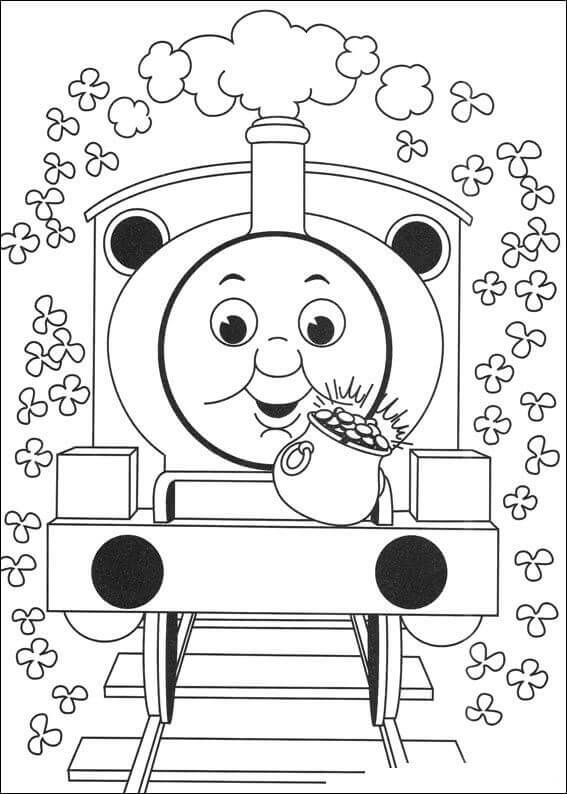 St. Patrick's day is celebrated on the birthday of Saint Peter by Christians all over the world. After a mass at the church, a feast is held. Seen in the picture here is Thomas carrying some goodies to the feast. There is lots of dancing, singing, and merrymaking too and the engines of Sodor actively participate in the same.
Toby:
A brown colored steam engine, Toby pulls coaches Henrietta and Victoria. Like Edward, he is old and slow, but years of experience have made him wise. He loves to recount his stories to other engines and is careful enough to avoid accidents. Toby loves napping and rarely loses his temper.
Happy Easter Thomas The Train Coloring Picture:
Like all other festivals, Easter too is a happy time at Sodor with children and adults all geared up to actively participate in the celebrations. Our engine friends are also not behind! As their human counterparts exchange Easter eggs and chocolates and other eateries, Thomas and the other engines run around with speed and gaiety transporting people and materials from one place to another to participate in the celebrations.
[ Read: Easter Coloring Pages ]
Halloween Party With Thomas And Friends Coloring Image: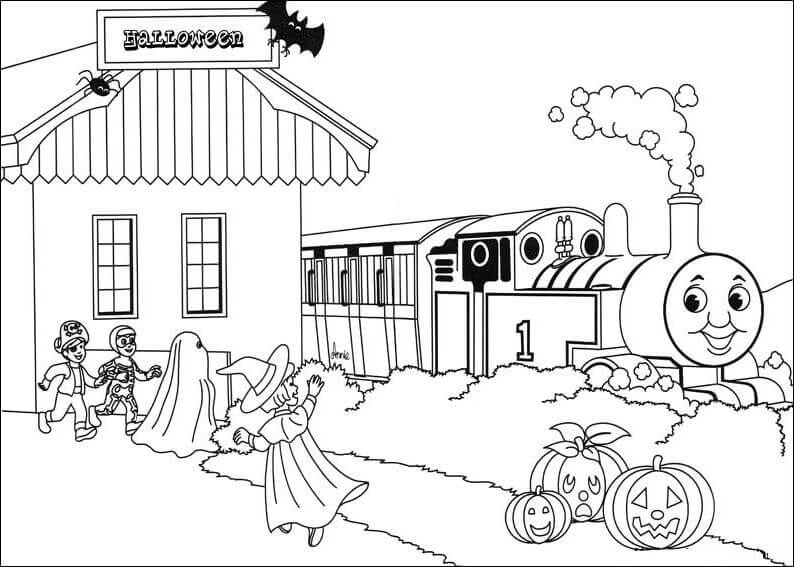 Halloween is typically celebrated to mark the end of summers that is the end of the harvest season. In Sodor, children are dressed up in spooky and funny dresses, and the town is decorated with all kinds of spooky elements. What role do the engines play at this time of the year? They love transporting kids and their parents to the parties in the town and dock area.
[ Read: Halloween Coloring Pages ]
Kids, we hope you like our selection of Thomas the train coloring pages printable for you to download and color. Imagine yourself to be at Sodor enjoying rides on the back of Thomas and his friends as you lend color and life to these pictures!