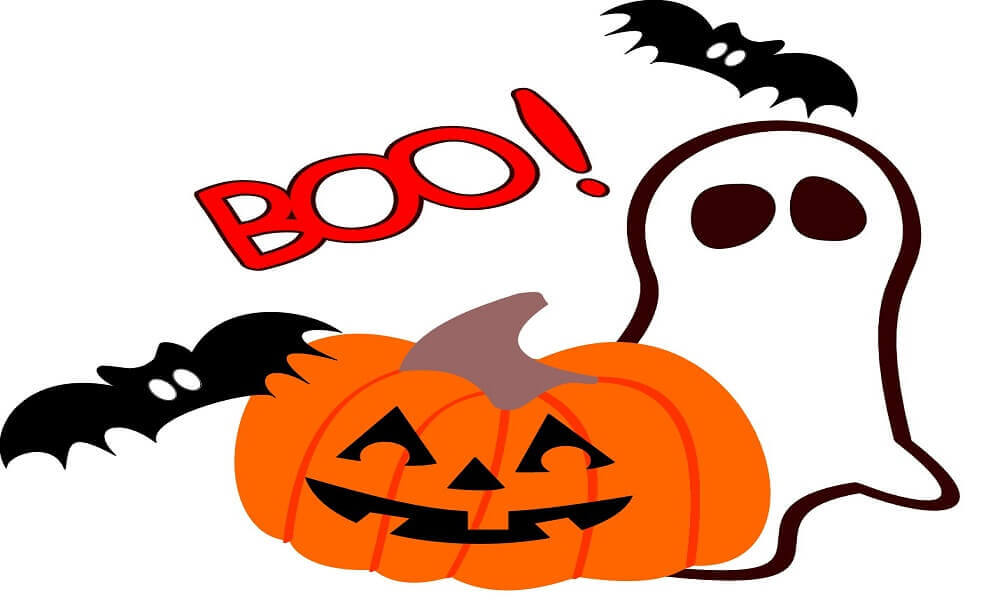 Hey friends! Hope you are enjoying the coloring spree. Now let us begin preparing for the holiday season with free printable cute Halloween coloring pages. This annual holiday, celebrated each year on the 31st of October is the day when people dress up as ghosts, ghouls, monsters, apparitions and what not. October 31st often marks the end of the summer, and along with it the end of the harvest season. The time is often linked to a cold and dark winter often associated with human death. It is said that on this day, the ghosts of the dead rise from their grave and visit the earth. In an attempt to save themselves and fool the ghosts, humans dress up just like them to blend into the environment. Let us get into the spirit of this fun holiday with our collection of free cute Halloween coloring sheets to print.
30 Free Printable Cute Halloween Coloring Pages
Trick or Treat Coloring Page:
Get your costumes ready! I call dibs on the Dracula, the blood-sucking demon. And today I am going to collect the biggest bag of candies and 'suck' on them tonight alone in my chambers. Beware, if you collect more than me, I might just pay you a visit, for human blood is the sweetest candy of all. Colour this little devil and his fangs.
 [ Related: Trick or Treat Coloring Pages ]
to join this conversation on GitHub. Already have an account? Sign in to comment Footer © 2023 GitHub, Inc. Footer navigation Terms Privacy Security Status
The House:
Looks like the ghosts are having a meeting pre-Halloween at the haunted house. I fear they have found out that we dupe them each year. The witches and the bats are on air patrol. The cats are on the lookout for ground threats. The owl is observing the darkness. And the trolls are hiding behind the trees to thrash any human interference. Or maybe, they are all just partying! Use your imagination to color the picture.
 [ Related: Haunted House Coloring Pages ]
Casper Is Trick-Or-Treating:
Casper is a friendly ghost. And he is the same age as you. Just twelve years old. He died unfortunately of pneumonia while he was playing in the cold winter all night. But he never lost his childhood wishes. And he is out this Halloween trick-or-treating with you guys. Play with him. But be aware of the haunted tree coming to steal his candy.
Alex In Wonderland Halloween Coloring Page:
Even little Alex loves Halloween. She has called her soldiers, the cat, the crow, and the spider aunt to conjure up delicious recipes for some mouth-watering candies. Magical Mushrooms, Sweet Mint, baby pumpkins, a dash of happiness, a few spells of love, and voila the candy is ready. Stock up on her candies if you want to enjoy your night. But color her skirt brightly and beautifully, or she won't treat you.
Disney Halloween Coloring Page: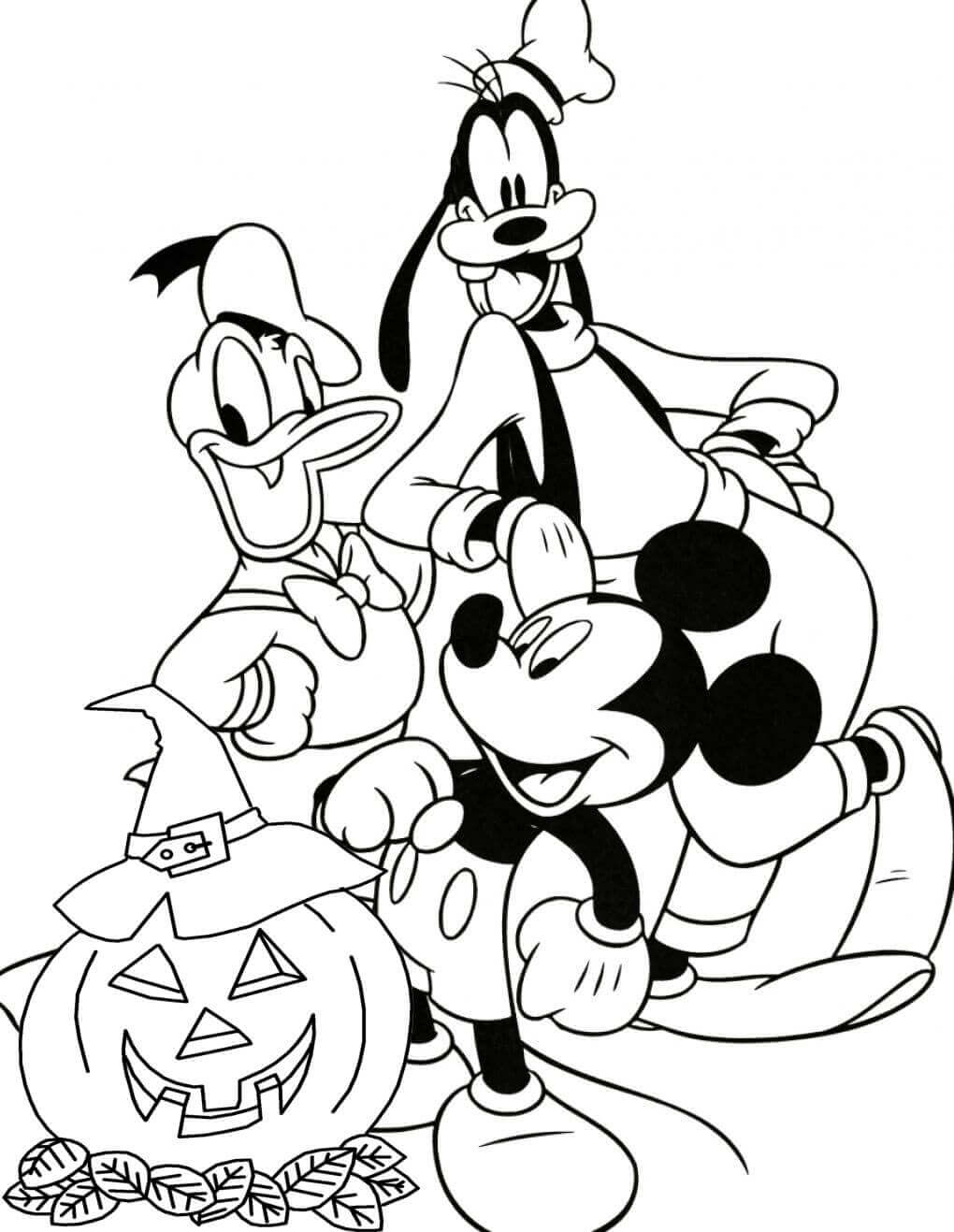 Goofy, Donald Duck, and Mickey Mouse are back with a bang to celebrate the festival of ghosts with you. Did you know that Disney World holds a 'Mickey's Halloween Party' as an after-hours celebration from September 19 to October 31? Pack your bags, tell your family and hop on a plane with them to celebrate some wonderful nights of your life this year. Color this image before booking those tickets.
 [ Related: Disney Halloween Coloring Pages ]
Margie The Witch Coloring Page:
Girls prepare to dress as a nice and a kind witch this Halloween. Put on the cute witch dress and replace the hat with a big ice cream cone. Eat it while you are trick or treating. Use the broom to ward off the ghosts who try to grab your candy or your cone. Color this image as you picture yourself like her on Halloween.
Brooms Coloring Page:
Some bad boys are out there snatching candy from small kids. Margie, the witch has now equipped herself with her flying broom and magical pumpkin to rescue the kids and their candies. Do you want to help? Then put on your witch suits and flying brooms to accompany Margie in her endeavor to save the neighborhood kids from the bullies. Color her well.
 [ Related: Witch Coloring Pages ]
The Pirate Cats Coloring Page:
Source: cbc.ca/parents
Run! Run! Run! The Pirate Cats are here. They are here to get some Halloween loot. These vigilantes run wild with a soft foot, slowly creep up behind you, and just a minute before, you had ten chocolates, twenty-five hard candies, and sixteen soft bars, and now they are all gone. But they have a weakness. Keep a ball of wool on top of your candy. Color these mischievous cats well.
 [ Related: Cat Coloring Pages ]
Goofy's Got It:
Goofy is very happy tonight. And he is sprinting about everywhere like a jumping bean. He has got a bag full of his favorite treats and he cannot wait to dig into that bag. Don't forget to treat your dog well this Halloween.
 [ Related: Goofy Coloring Pages ]
Little Witch Coloring Page:
Fun Fact: 'Witch' means 'Wise Woman'. So be a wise woman this Halloween, dress up in a black costume, a white bow-tie, small boots, and a long green hat! Get your speaking cauldron ready to brew some delicious candy portions. Use that portion to lure the other kids to give their candies. Sounds like the best evil plan ever! Get coloring this picture and find some recipes to lure the kids.
It's Trick Time: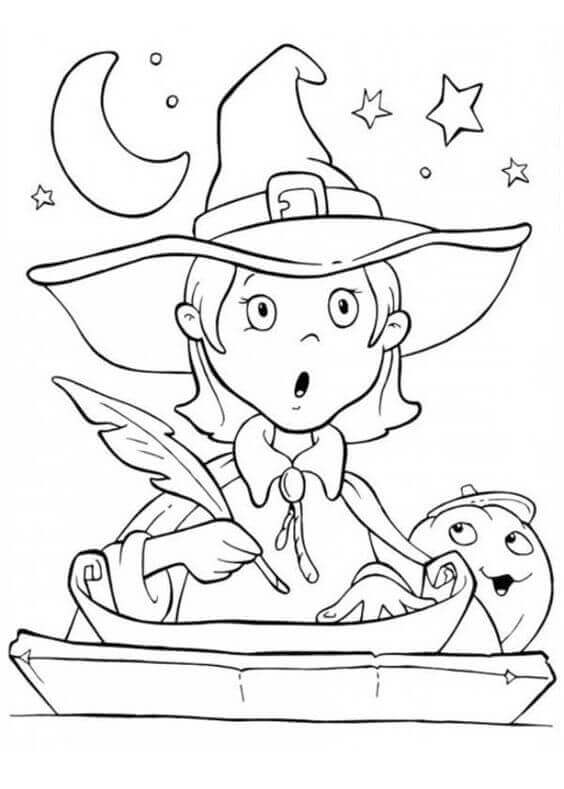 Enough of getting free treats. The treat giver now demands a trick. Get a pen and paper ready. You have work to do. List every magic trick you have ever seen. Select your favorite one. Brew the perfect recipe to perform that trick. Practice it over and over, till you get perfection, and then go asking for your favorite chocolate. Who knew getting chocolates would require so much work! Color this image after you get your perfect recipe.
Family Holiday: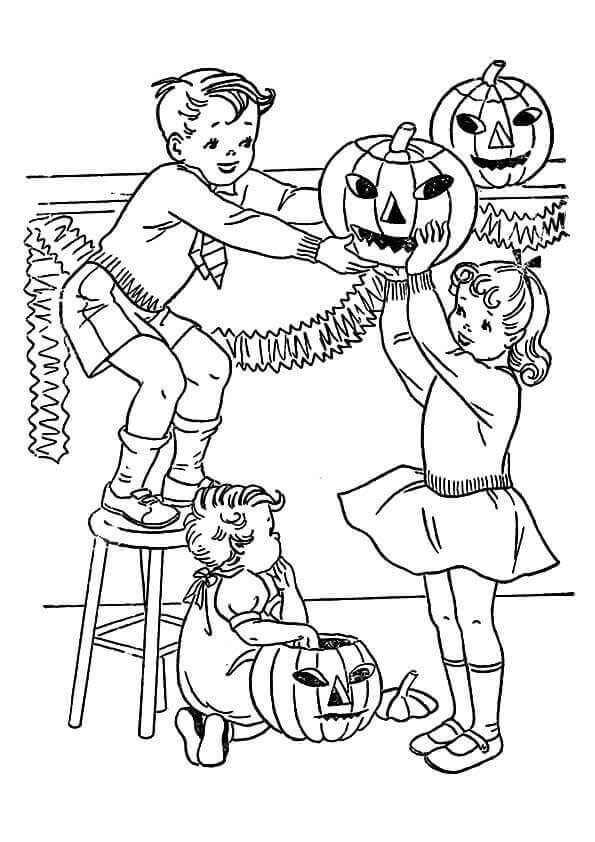 Remember the last time you all spent time as a family, together? The perfect opportunity knocks. Gather your parents, your siblings, and your cousins, bring them together, and give way to the Halloween celebrations. Get the pumpkin chandelier up, carve the pumpkins, hang the bats while all the time singing the holiday rhyme. Color this and experience the joy of being one big family again.
Cute Ghost Coloring Page:
Who is up for a prank? Print this page full size. Color it weirdly. A dash of red, a portion of black, a green drippy nose, the yellow spider, and the big 'BOO!', all combined to create a ghoulish yet funny poster to scare your small brother or sister on Halloween night. P.S., Use neon colors!
Jack-O-Lanterns Coloring Page: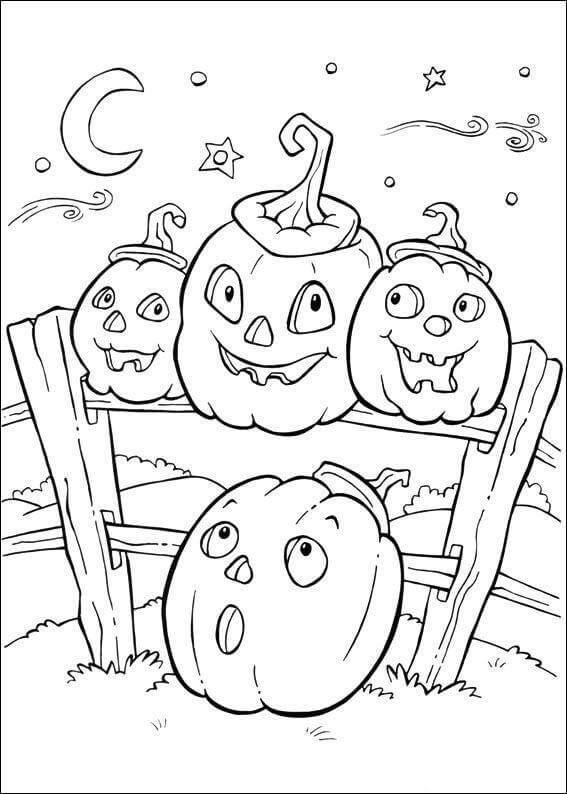 Halloween is a time when pumpkins of different shapes and sizes are first scooped out of their insides, and then we put a knife in them to make evil faces. Then we drop a few orange and yellow lights into them. Who knew carving a pumpkin is such a ghastly task. Color this image well, because you will need new pumpkin carving designs eventually.
 [ Related: Jack 0 Lantern Coloring Pages ]
Pumpkin Vine Coloring Page:
Pumpkin Vines can grow as long as fifteen to twenty feet in length. The cultivation of pumpkins is now a multi-million-dollar industry. Centuries have shaped the traditions for the presence of pumpkins on Halloween nights. Let us respect the industry and the traditions by painting this image.
Cute Mummy Coloring Page:
Mummies are one of the best costumes for Halloween. In ancient Egypt, when the kings or queens died, they were buried via a process called mummification. The tombs were often cast with dark magic to prevent people from disturbing the dead in their afterlife. Color this page and dress up as mummies to get free candies or curse those who don't.
 [ Related: Mummy Coloring Pages ]
Scarecrow Coloring Page:
Birds and especially crows can be quite evil. They will swoop into your farms and they will eat all your crop. Imagine this on a Pumpkin plantation on a Halloween night. The celebrations will be spoiled. Let us protect the farms this season with a Pumpkin Scarecrow. Maybe dress like one while giving out candy to scare away the faint-hearted.
Role Reversal Coloring Page:
Pooh and Tigger are reversing roles this Halloween. Now, Tigger is carrying the honey as Pooh, and Pooh is carrying the pumpkin basket. Can Pooh control himself and not reach the honey container? Let us find out by coloring this picture.
 [ Related: Winnie The Pooh Coloring Pages ]
Transylvania Kids: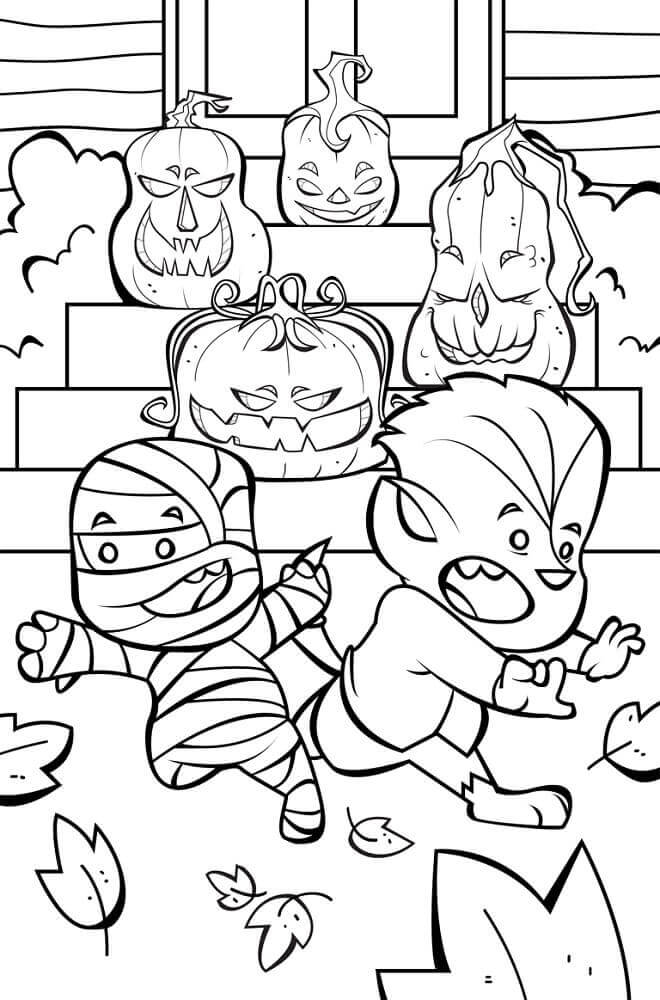 Hotel Transylvania is an animated film based on a hotel only for monsters away from all the humans. What you see here are the very first occupants of the hotel, a baby mummy, and a kid werewolf! Seems like even monsters are cute when they are young. Let us color them with some childhood innocence.
Black Cat Cute Halloween Coloring Page:
In the world of Witchcraft and Wizardry, cats have always had a special place. Halloween decoration is no exception. You will often see a black cat near a witch or on a Halloween hat. Let us color this mysterious creature.
Barbie's Ghost Coloring Page:
Imagine a barbie turn to your door for trick or treat. And then suddenly she transforms into the ghost of a girl. Or maybe someone just poured water on her from above and all her makeup fell off. That would be a nice prank! Color her like a doll.
Cute Halloween Coloring Image:
The birthplace of Halloween is Ireland. The dress-up festivals originated in 4000 B.C. That means it has been around now for more than six thousand years now. It is amazing how many developments it has gone through to acquire the form of present-day Halloween celebrated by kids and adults alike. Colour these cute kids.
Cat In A Pumpkin:
Unsweetened, canned organic pumpkin can actually be very good for these felines. Being a great source of fiber, it improves their digestive health by leaps and bounds and it is a natural weight shedder for these animals! I wish humans could lose weight that easily. Color this image and don't forget to give your cat pumpkin treats this Halloween.
Goofy's Halloween: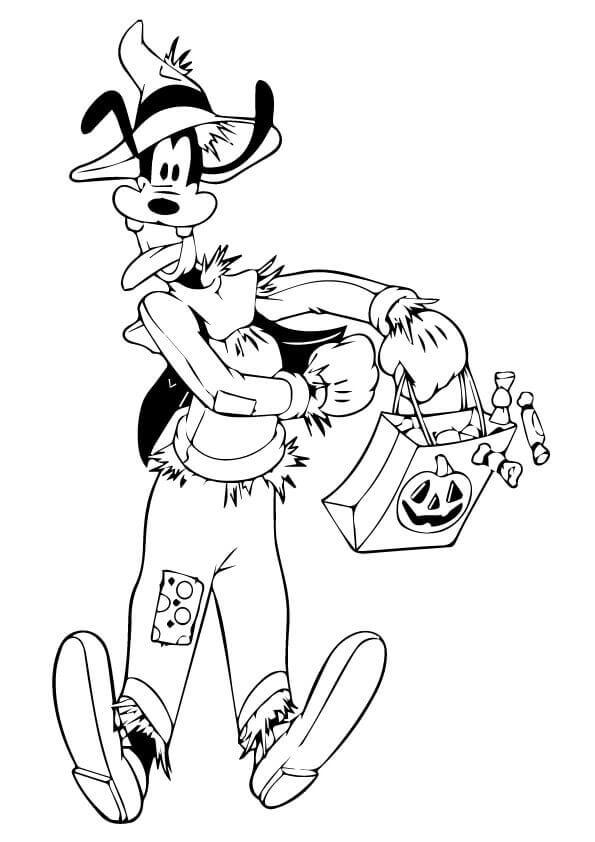 Goofy is a tall funny-animal cartoon shown as having a human-like appearance and characteristics (anthropomorphic dog). He is Mickey Mouse's and Donald Duck's best friend. He made his first appearance in 1932. He is a happy-go-lucky eccentric character who always keeps smiling. Let us color him with the same enthusiasm we can see on his face in this image.
Halloween Colour By Number Coloring Page:
It is Witch coloring Time. Pick up the five colors. Match each color to its number and see the witch come to life. Print the poster and boast to your friends about your coloring skills.
Halloween Ghost Coloring Page:
Run! The bag of bones is gaining on you. He will smash that pumpkin on your head. Guys, don't be judgemental. Just hear him out. Maybe he wants to celebrate Halloween after all these years and he is just bringing you some candy. Let us forget all of our notions of others this Halloween and celebrate this festival with joy. Color the Mr. Skeleton and make him your friend.
Halloween Kids Poster Coloring Page:
The famous Jack-O-Lantern which is now carved out of pumpkins was originally crafted out of turnips. But through centuries of developments, and the intermingling of various cultures and trends, the turnip was replaced by the pumpkin. This Halloween let us do some justice to the old culture by painting those pumpkins like a turnip.
Magic Potion Coloring Page:
Not all witches are evil. For instance, Miss Anne right here is brewing a potion to save your teeth from all the teeth infections that you will get from eating that candy. Thank her, by painting her beautifully.
'Hello Kitty' Coloring Page:
Hello, Kitty says hello and wishes a grand happy Halloween to you. Buy one of her stuffed toys. Before coloring, this image cuddle with her, leave all your worries behind, and then wish her a happy Halloween by painting some kitty treats for her.
 [ Related: Hello Kitty Coloring Pages ]
The Witch And The Cat Coloring Page: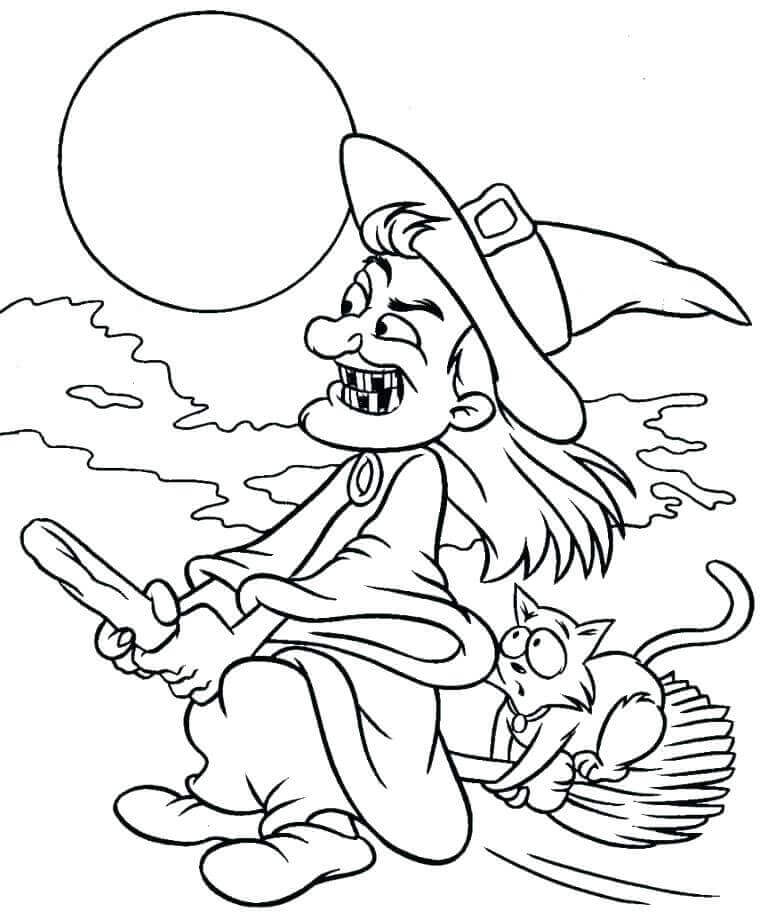 Looks like the witch is up to something evil. Maybe she is going to rain down some bitter candy. Be aware of her treachery. Don't spoil your taste. Change her intentions by coloring her brightly.
Halloween is just around the corner. It is time to learn some amazing magic tricks and intelligent pranks to keep you going. Let us know in the comments below of the pranks you successfully pulled and the number of candies you gathered. My favorite is Lollipop. Also, we'd love to know your views on these cute Halloween coloring pages printable. So share your favorite cute Halloween coloring pictures printable with us by commenting below.