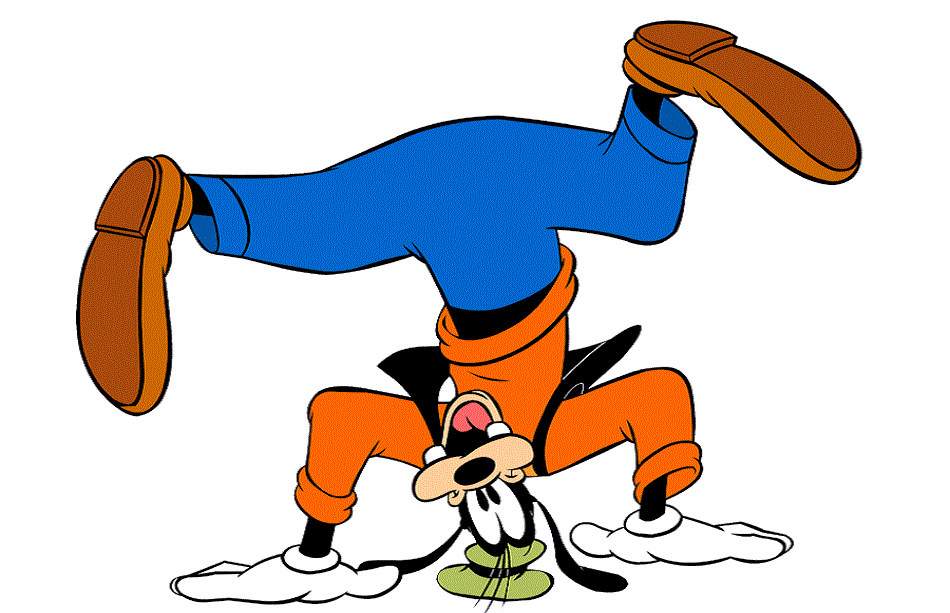 Over the years, the Walt Disney Company has created several memorable and widely popular characters. Most of which have permeated the subconsciousness of the world – young and old alike. Today, we are going to explore one of the six most popular Disney cartoon characters. Someone who started out "clumsily" as a comedy trio together with Mickey and Donald. You got it right, today we've got you free printable Goofy coloring pages.
Goofy made his debut in 1932 and has since then become an irreplaceable part of Disney's legacy. Goofy is a tall, anthropomorphic dog, often characterized as clumsy yet quite clever with his own eccentric way of thinking. It's easy to identify him with his tall stature and the clothes he wears – a turtleneck with a vest, a tall hat, and shoes, and of course, the white gloves. Starting out as a supporting character, Goofy got to star in his own short series in 1939. Since then he has been a part of several theatrical animations, short films, and comics. Let's not goof around any longer and embark on a fun journey through this collection of Goofy coloring sheets to print.
40 Free Goofy Coloring Pages Printable
Baby Goofy Looks Happier Holding A Toy Alligator:
to join this conversation on GitHub. Already have an account? Sign in to comment Footer © 2023 GitHub, Inc. Footer navigation Terms Privacy Security Status
Growing up we tend to have one favorite toy that we loved more than the others. Little Goofy is heartily hugging his favorite soft toy – the huggable alligator. Even the alligator looks happy to be hugged, doesn't it? Give this endearing illustration some loving colors.  
Baby Goofy On Easter Egg Hunt:
Those are some of the most colorful Easter Eggs that Baby Goofy has around him. You can't see the colors right now because Baby Goofy needs your help to fill colors on the eggs and everywhere else in this illustration.
Read: Easter Egg Coloring Pages
Cowboy Goofy Ties Himself Up:
Goofy is finding himself at the end of his ropes when it comes to picking up cowboy skills. Like here in this illustration, Goofy has got himself all tied up while trying to learn the art of lasso using the rope.
Disney's Goofy, Dancing Happily:
When we feel happy, we end doing something unique or silly to show our joy. Just like Goofy here, who is breaking out into a little happy dance. Print this coloring page and fill it with joyful colors.
Goofy Gets Writing:
Writing a letter can be a very personal experience. You are thinking about the person you are writing the letter to and then carefully putting those thoughts into words. Help Goofy think better by giving this illustration thoughtful colors.
Goofy And Donald Duck Goes Camping:
Being amidst nature is a great feeling. One of the things that we do, to be with nature, is going out camping. Goofy is here on this clear night camping with Donald Duck and excitedly looks at the shooting star passing through the night sky.
Read: Donald Duck Coloring Pages
Goofy With His Disney Friends:
Everything feels better when you are with your friends, doesn't it? Being Goofy, his friends are from Disney too. Can you identify all his famous friends on this illustration? We are sure you have already guessed them correctly by now.
Goofy And Friends On A Safari:
We end up doing some crazy, fun things with friends. Once on a safari trip, when Goofy and his friends encountered a giraffe, they ended up doing a crazy thing: standing up on top of each other's shoulders to get a closer look at the giraffe.
Goofy Plays A Prank On Mickey: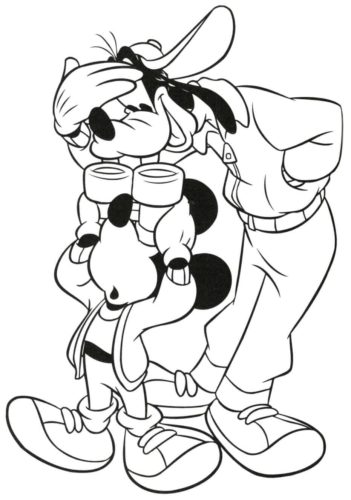 Some friends are simply fun to be around. Goofy is one such fellow. Look at him blocking the view of Mickey's binoculars with his face. Print this coloring page and fill it with some playful colors.
Goofy And Mickey Sailing:
After the playful binocular prank, here the duo is enjoying some adventurous time. Look at both Goofy and Mickey expertly maneuvering the boat.
Goofy And Pluto Flying A Kite: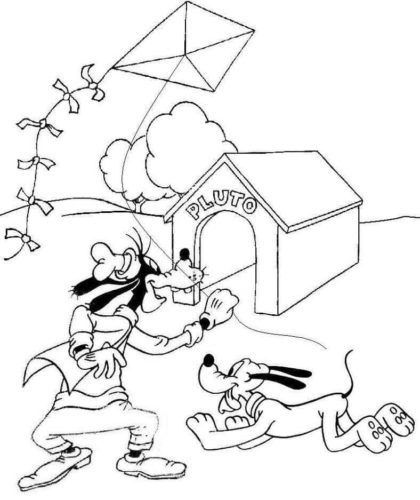 Playtime has turned into a fly time for Pluto as Goofy brings a kite for flying. Pluto is running as excitedly as Goofy is flying the kite.
Goofy And Pluto At The Discotheque:
It's not just flying kites, Goofy and Pluto have a fun time even in the discotheque. They are doing some serious disco moves in this illustration. Add some dazzling colors to this fun coloring page.
Goofy Trips Over Christmas Candy Canes: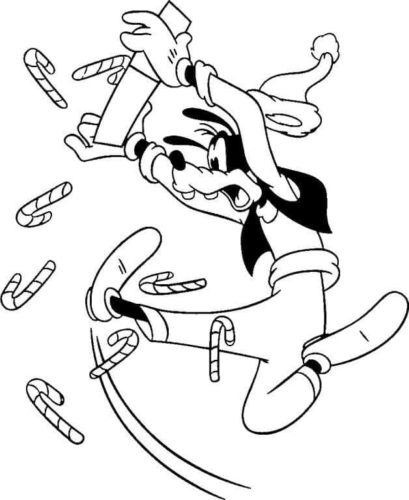 Clumsy Goofy while running around to prepare for the Christmas decoration, ended up tripping over them. You might have tripped or bumped into things in the house too, haven't you? Fill this "accidental" illustration with fun colors.
Baby Goofy Scared By Butterfly: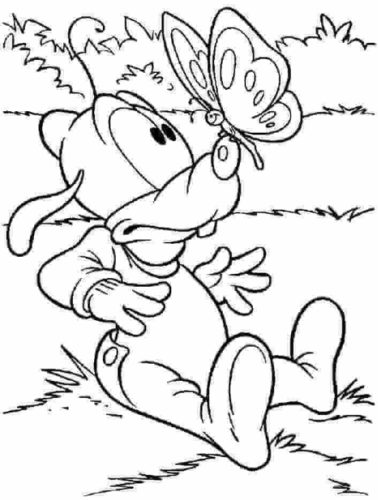 Poor Baby Goofy gets spooked by even the most harmless things. Like this beautiful butterfly that has flown and sat on top of his nose, yet Baby Goofy is feeling terrified of it.
Read: Butterfly Coloring Pages
Goofy Breathless Blowing His Trumpet:
If you thought blowing one's own trumpet is an easy job, you can check out this illustration. As you can see, Goofy is having a tough time trying to blow his trumpet. Give him some relief with your soothing colors.
Goofy Is Ready For Beach Party:
Taking time out to rest and relax is important. For most people, the weekend is a time to unwind. Goofy too is heading out to have a fun time at the beach, carrying everything he needs to enjoy a beach party.
Goofy Is So Light, Balloons Take Him For A Flight:
Who knew the tall and lanky Goofy would be so light? Just a bunch of balloons is enough to take him off ground and flying up in the clouds. Maybe it's his dream!
Goofy Plays Soccer As A Goal-Keeper:
Goofy is indulging in some sporting activity today. He has joined as the goal-keeper for his team and is eagerly defending the goal. Make sure you quietly color this illustration so that you do not break Goofy's concentration.
Goofy Finds No Luck Fishing:
This is an interesting illustration. While Goofy looks supremely delighted thinking he hooked a fish, you can tell he just hooked his pants instead. Let him know he didn't catch any fish while you color this scene.
Goofy Is Cooking, Baking, And Roasting: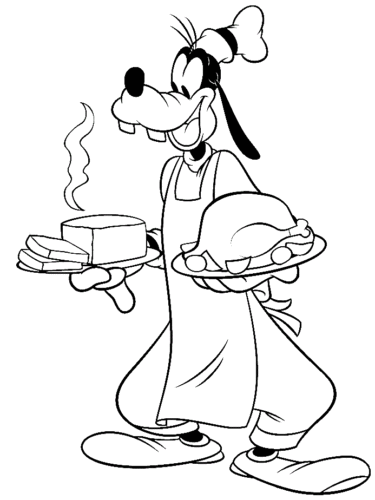 He might not have any luck fishing but Goofy sure knows his cooking. He has been busy in the kitchen today. From baking a fine bread to roasting a full chicken, you can see his cooking skills on full display here.
Goofy Disguised As Penguin: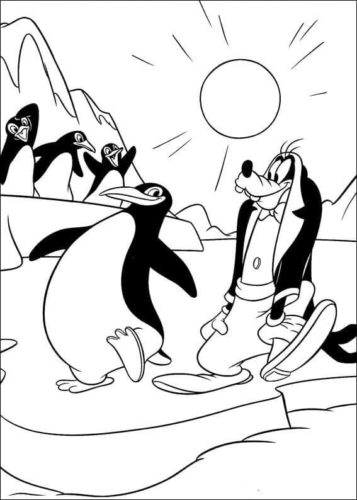 Do you think Goofy has succeeded in disguising as a penguin? Maybe from far, looking at the black and white tuxedo we won't know. On closer look, especially his face and snout, one can easily tell it's not a real penguin.
Goofy Dressed As A Bunny:
Goofy still seems to be in costume mood in this illustration as well. It must be Easter. He is dressed as a bunny and carrying a basket full of decorated eggs.
Read: Bunny Coloring Pages
Goofy Dressed As An Arab:
During his visit to the Middle Eastern countries, Goofy actively participated in the culture of the place. He has decided to wear the clothes that are worn by the locals as he travels around the desert paradise.
Goofy Enjoying Ice Cream:
It's still summertime and the heat can get really bothersome. On a hot and humid day, Goofy finds comfort slurping on a cold glass of ice-cream. You can imagine its sweet taste while coloring this illustration.
Goofy from Mickey, Donald, Goofy – The Three Musketeers:
The famous tale of "The Three Musketeers" had a Disney makeover with Mickey Mouse, Donald Duck and Goofy playing the three characters. You have Goofy in his musketeer avatar, posing confidently with the sword and proper costume.
Goofy Takes His Halloween Seriously:
When it comes to Halloween, looking your scariest with the best costume and makeup is high on everyone's agenda. But with Goofy, it's on another level. Here he is dressed in rags costume, looking weirdly scary. He is even carrying a bag of treats.
Goofy Has Goofed Up, Again:
Goofing up every so often, Goofy can sometimes forget if he actually goofed up or not. Right now, on this coloring page, Goofy is slowly but surely realizing that he has actually goofed up again.
Goofy Is In Trouble:
This isn't the kind of goof-up that one should forget, especially when it involves a lion. Intrigued by the butterfly and attempting to catch it, Goofy flung his net but ended up on top of the lion instead.
Goofy Is Sleepy, Getting Dragged By Mickey:
Sometimes you just don't feel like doing something that you are supposed to do. Like house chores or homework. Goofy is feeling too sleepy to go out but Mickey drags him, making sure he sticks to the plan. 
Goofy Playing Basketball: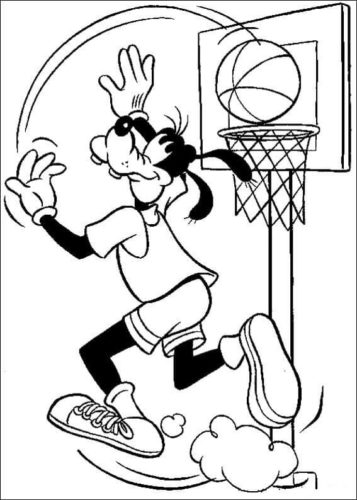 In complete contrast to the sleepyhead in the previous illustration, Goofy is super active and indulging in a solo game of basketball on this coloring page.
Read: Basketball Coloring Pages
Goofy Playing Football:
When he is active, Goofy is extremely active. After a game of basketball, today Goofy is practicing his football skills – dribbling and kicking the ball across the field.
Goofy Ready To Play Baseball:
The pace of a basketball and a football can get pretty adventurous. Equally adventurous and thrilling, Goofy is taking on America's favorite sports, baseball. Standing cross-legged, resting his hand on the bat, Goofy looks every bit the confident baseball player he truly is.
Goofy Showing His Strength:
Keeping fit is an important part of being able to play sports. Here's Goofy showing just how much strength he has by lifting the weights. Pluto gives him the nod of approval for his show of strength.
Goofy The Musician:
It's not only sports that Goofy excels in. He is equally at ease strumming an electric guitar and jamming to the most popular songs. Goofy has even captured the style of a rockstar. Print this coloring page and fill it with colorful and musical details.
Goofy The "Magical" Snake Charmer:
Seeing how excited and happy Pluto was with his show of strength, Goofy has a magical show in plan for him on this coloring page. Pluto is immediately enraptured by the magical rope dance performed by Goofy the snake charmer.
Goofy Thinking And Ideating: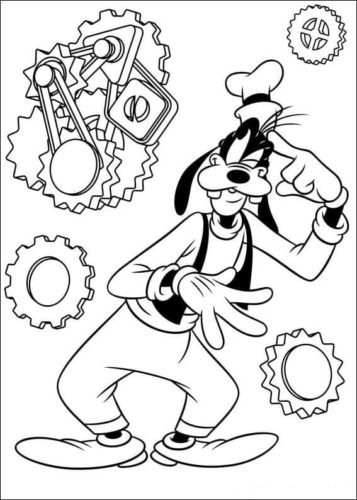 A clever illustration showing how it feels like when we are thinking up ideas in our head. As Goofy starts thinking to come up with some ideas for a problem, you can see the different machinery parts sketched around him. It's like the brain is a machine.
Goofy Meets An Underwater Friend:
It's an underwater escapade for Goofy today. Lo and behold, in his first trip, he has met one of the most lovable sea creatures – the dolphin. Goofy looks as excited as any of us would be to encounter a dolphin.
Goofy With His Best Friend Mickey:
If life is an adventure, then our best friend makes for the best companion we can get. For Goofy, the adventure of life is more fun when his best friend Mickey is with him. You can color this lovely illustration and dedicate it to your own best friend.
It's Goofy's Birthday
Everybody gets excited when it's their birthday. It's plain to see just how happy Goofy looks on his birthday, holding up the cake in a beautifully decorated room.
Painter Goofy:
Goofy is now donning another hat, that of being a painter. He looks every bit the talented painter, doesn't he? Give this colorless illustration a splash of bright and joyful colors.
On that colorful note, we have come to the end of this collection Disney's Goofy coloring pictures to print. We hope you enjoyed coloring the different shades of Goofy's life and find yourself inspired by him to live your life to the fullest – never hesitating to explore your talents and do it with great enthusiasm and sheer fun.