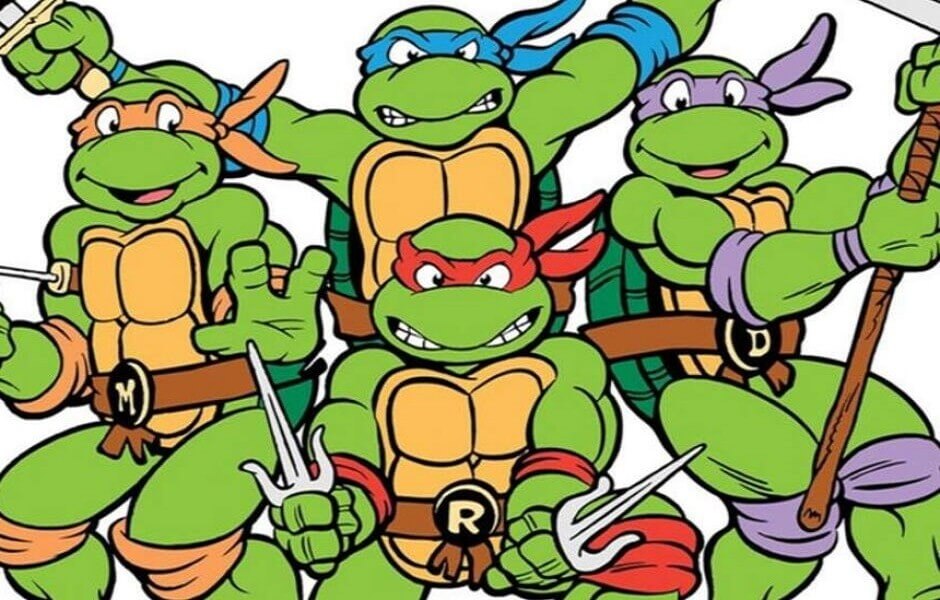 Almost every superhero has an origin in the world of comics. Be it, Superman or Batman, our Superheroes had their humble beginnings through the pages of comic books. Today's topic features not just one, but a team of four superheroes unlike any other. They are a mix of ninja and turtle. Yes, you guessed it right. We've got you free printable Teenage Mutant Ninja Turtles coloring pages.
Read: Superheroes Coloring Pages
Created by Kevin Eastman and Peter Laird for Mirage Studios comic books, the Teenage Mutant Ninja Turtles are anthropomorphic mutant turtles. Each of the four Ninja Turtles or TMNT bear the names inspired by Italian artists during the Renaissance period – Leonardo, Michelangelo, Donatello, and Raphael. They are trained in ninjutsu, a Japanese martial art, by their sensei or teacher, Splinter, an anthropomorphic mutant rat. Living hidden from the society, the Ninja Turtles fight the evils in the world ranging from petty criminals to alien invaders. The success of the comics led to several merchandise and adaptations, right from animated series and video games to toys and live-action feature films. Without further delay, let's jump right into the action-packed collection of TMNT or Teenage Mutant Ninja Turtles coloring sheets.
to join this conversation on GitHub. Already have an account? Sign in to comment Footer © 2023 GitHub, Inc. Footer navigation Terms Privacy Security Status
35 Free Teenage Mutant Ninja Turtles Coloring Pages Printable
Agent Bishop – Sometimes Ally, Sometimes Enemy: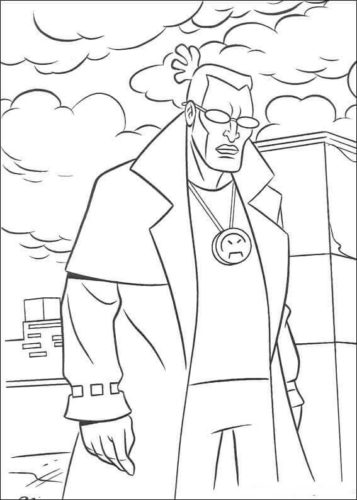 Starting today's collection is an interesting character. His name is Agent John Bishop, head of the Earth Protection Force. With a mission to safeguard planet earth from alien invasions, Agent Bishop can be a good ally and at other times, a fierce antagonist of the Ninja Turtles.
April O'Neil From TMNT: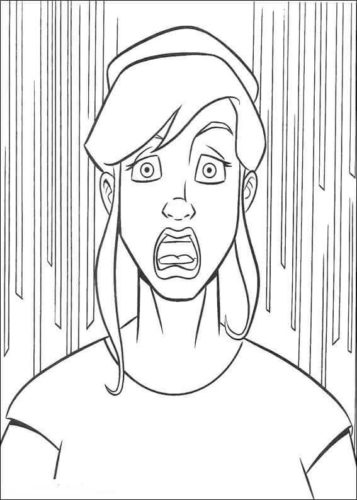 Rescued by the Ninja Turtles, April O'Neil has since become a longtime human companion and even received some lessons in being a ninja from the Ninja's master, Splinter. But something feels wrong here. Why does April O'Neil have such a fearful expression? Maybe she is in danger.
Baby Ninja Turtle Coloring Page: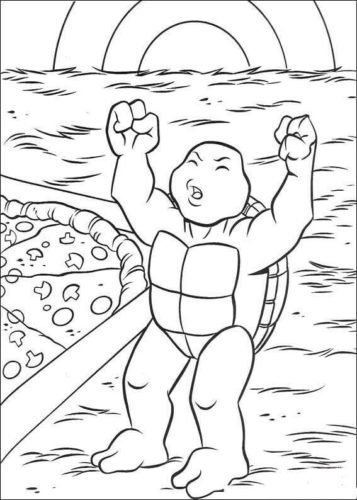 Every superhero started as a young kid. So is the same with Ninja Turtles. Here is a glimpse of a little Ninja Turtle showing his excitement at the sight of pizza. Print this coloring page and fill it with exciting colors.
Read: Baby Coloring Pages
Casey Jones and Michelangelo: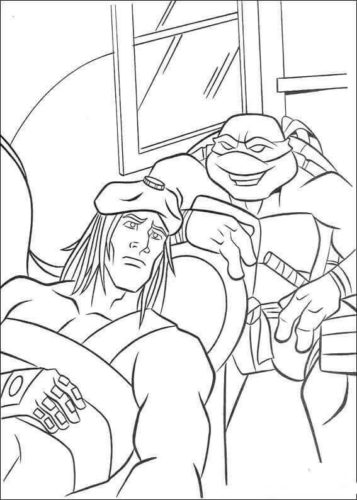 Another one of the allies of the Ninja Turtles is Casey Jones. Here he is with Michelangelo, the most free-spirited and funny one of the Ninja Turtles. It was through Michelangelo that Casey got to know about the Ninja Turtles. Give this illustration a splash of friendly colors.
Casey Jones From TMNT Coloring Page: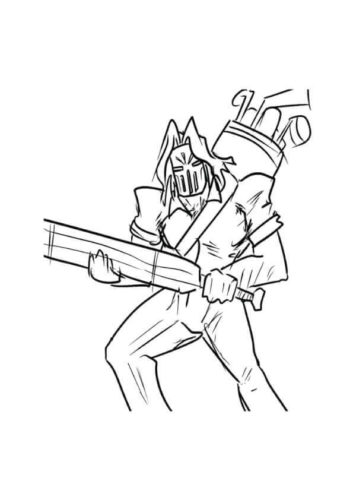 Unlike the Ninja Turtles who are superheroes, Casey Jones fights crime using different sports items such as his weapon like golf clubs, hockey sticks, etc. He also wears a hockey mask to keep his identity hidden.
Leonardo Wears A Disguise: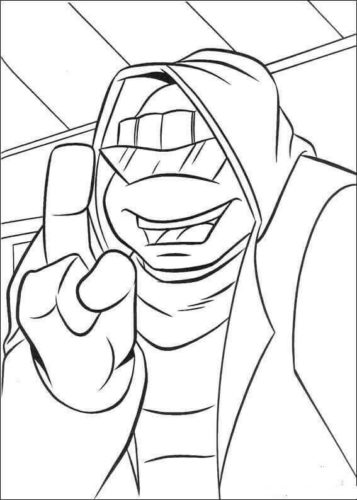 Teenage Mutant Ninja Turtles fight crime in the dark and choose not to show their true selves in the open. That is why even to go out like any other ordinary citizen they need to be in disguise. That's exactly what Leonardo, the leader of the group, is doing here.
Donatello – The Genius Teenage Mutant Ninja Turtle: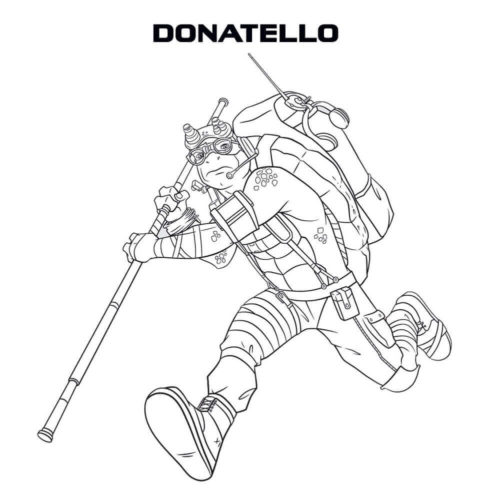 After meeting the two members of the Teenage Mutant Ninja Turtles, here we have the third member, Donatello. Also called Donnie or Don, Donatello is not only the brain of the group but a great fighter too. Like other members, he also wears a mask, but his color is purple.
Duel Between Ninja Turtle And Shredder:
One of the main villains of the Teenage Mutant Ninja Turtles series is the Shredder. An expert ninjutsu master, the Shredder's real name is Oroku Saki. He is the leader of the Foot Clan, a group of ninjas that the Ninja Turtles frequently battle. Print this coloring page and do justice to this duel with your thrilling coloring skills.
Foot Clan From TMNT: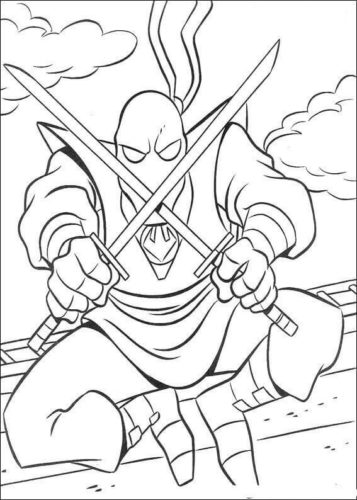 The ninjas of the Foot Clan can easily be called as foot soldiers as they are often just brainwashed to follow orders and execute the plans of their masters. Here you can see one of the foot soldiers posing to strike during a fight.
Teenage Mutant Ninja Turtles In Action:
What do we have here? This is a poster-worthy illustration of the Teenage Mutant Ninja Turtles in action. They are ready with their weapons and striking a deadly pose as a warning to their enemies.
Inside The Laboratory: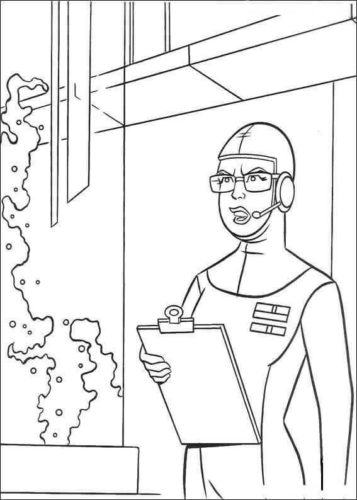 Donatella being a scientist, it is only natural that the Teenage Mutant Ninja Turtles have a laboratory to help him work on his inventions. Some kind of experiment seems to be in process in this illustration as a lab assistant reports over the headset.
Krang And Shredder, Two Villains Together: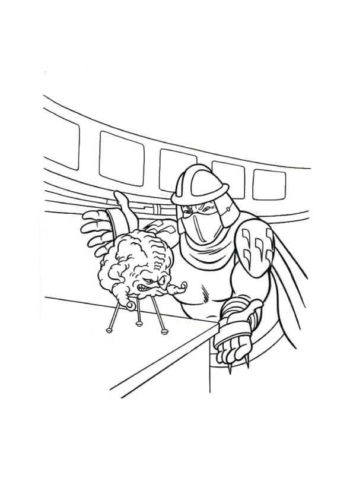 Two of the villainous creatures from the world of Teenage Mutant Ninja Turtles are here together. They must be plotting some kind of evil plan to attack the Ninja Turtles. Krang is the brain-like creature, an alien warlord while you have already met the other villain, the Shredder aka Oroku Saki.
Leonardo, The Level-headed And Raphael, The Bad Boy: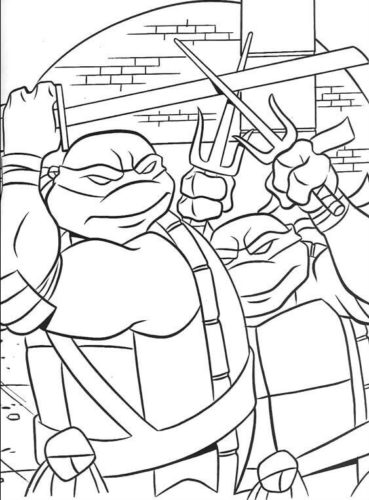 The trusted and level-headed leader of the group, Leonardo is seen here fighting brilliantly along with Raphael. Also known as Raph, Raphael is the fierce and sarcastic one in the group and known for his aggressive nature, earning him the bad boy image.
Leonardo Defeats A Foot Clan Ninja: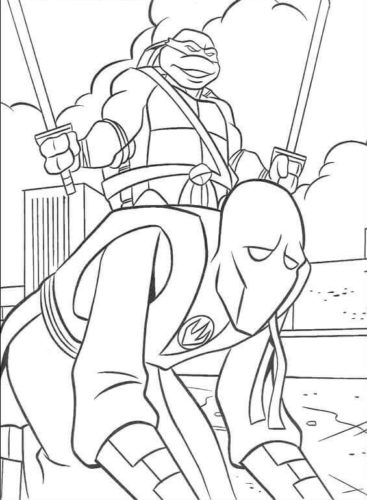 One of the most common enemies that the Ninja Turtles come across is the group of Foot Clan Ninjas. Leonardo with his excellent skill has managed to overpower a foot clan ninja, who has admitted his defeat.
Leonardo Practicing With Splinter: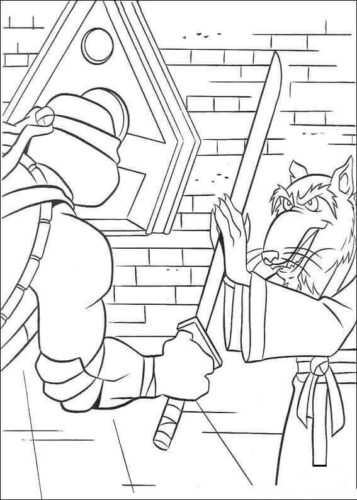 No matter how talented one is, there is always some scope for improvement. To improve oneself, the best way is to keep practicing. It also helps to maintain our skill level. Doing just that is Leonardo along with his master Splinter.
Leonardo, Leader Of The Teenage Mutant Ninja Turtles: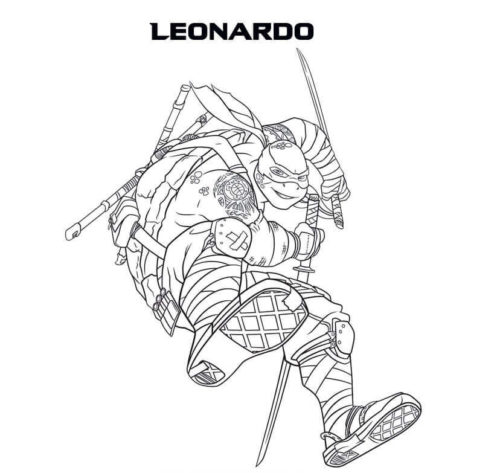 Practicing his skills is doing wonders for Leonardo who is seen here in action. He wields two swords as his preferred weapon of choice and wears a blue mask.
Michelangelo Is Shocked:
Looking at the illustration, it feels like Michelangelo was watching a horror movie and one of the scary moments shocked him. Jumping in his seat and spilling his drink, Mikey or Mike seems genuinely scared. Try to comfort him with some warm and soothing colors.
Michelangelo Enjoying, Brilliantly Skating: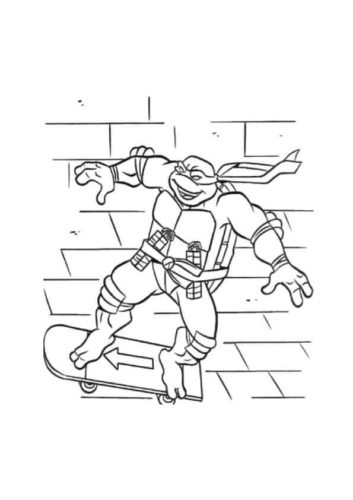 If the earlier illustration showed a "scary" image of the superhero, this one overturns his image to a very "cool" one. With his goofy and free-spirited nature, here is Michelangelo enjoying skating in his inimitable cool style.
Michelangelo, His Nunchaku And His Skate: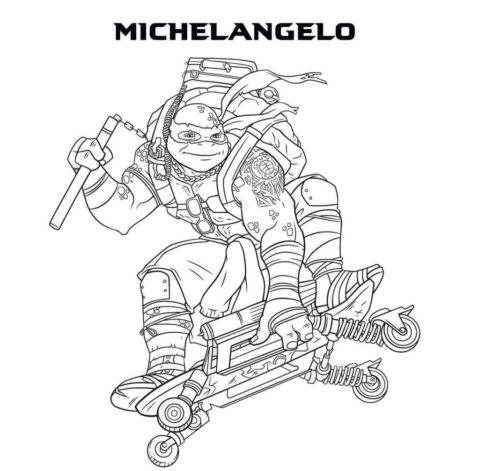 Wearing his trademark orange mask and wielding his weapon, a pair of nunchaku, Michelangelo looks every bit the cool superhero in this illustration. Print this coloring page and fill every minute detail with some brilliant colors.
Michelangelo With His Motorcycle: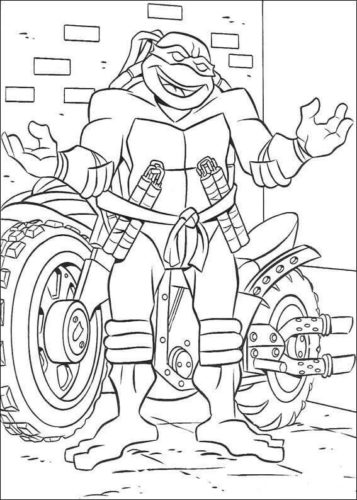 Being jovial and fun-spirited, Michelangelo also likes his adventures. That's why he loves to skate and also enjoys taking a ride on his motorcycle.
Michelangelo With Nunchaku: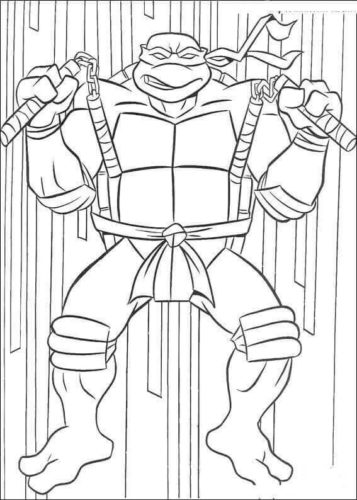 After all that fun stuff about Ninja superhero Michelangelo, here we have him in complete fighting mode. Look at him powerfully wielding his pair of nunchaku as he gets ready to face his enemies.
Ninja Turtles Dressed In Casual Clothes: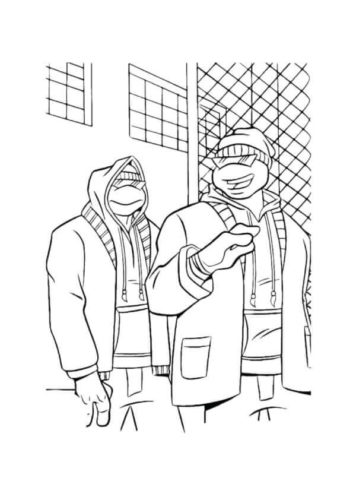 It is not very often that you get to see the Ninja Turtles in casual clothes. Being superheroes and fighting crimes incognito, the Ninja Turtles are not seen as their real selves. Wearing casual clothes helps them disguise in plain sight.
Our Ninja Is Trapped!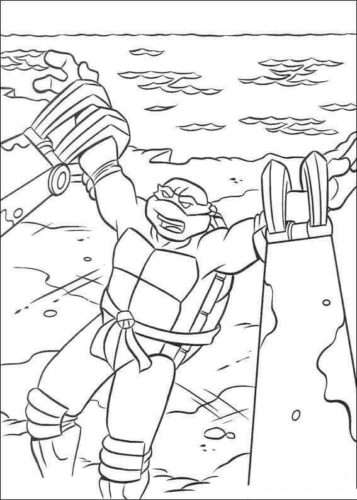 Fighting crimes is not an easy task. There are formidable enemies and troubling situations one need to overcome. This is one time when one of the Ninja Turtles found themselves trapped with big iron clasps tied around their wrists.
Raphael Kicks The Foot Clan Ninjas: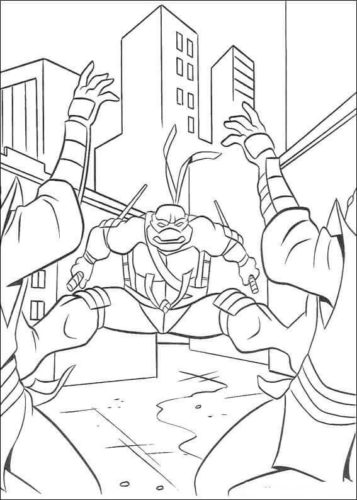 Facing the ever-present enemies, the Foot Clan Ninjas, one of the Ninja Turtles is seriously kicking his way into victory. Splitting his legs, Raphael kicks down both of the Foot Clan Ninjas in one fatal move.
Shredder from Teenage Mutant Ninja Turtles: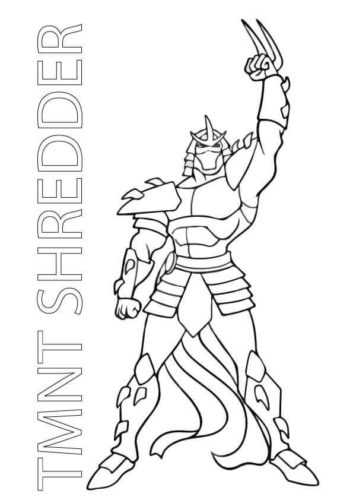 Every superhero story becomes great when there's a challenging villain on the opposite side. The Shredder is one such archenemy of the Teenage Mutant Ninja Turtles. With his body armor, the Shredder is able to withstand even the most lethal attacks during a fight.
Sleepy Michelangelo Wants To Sleep Some More: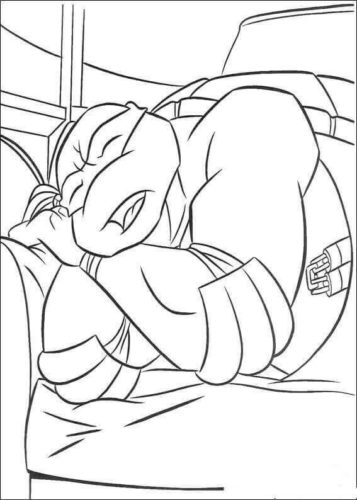 You better not disturb Michelangelo now. After all those fun and adventurous activities, he is utterly tired and simply wants to sleep, sleep, and sleep some more.
Splinter – The Learned Master: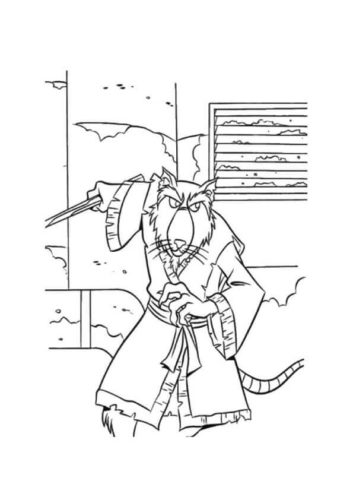 Loving like a father, Splinter is the sensei or master of the Ninja Turtles who ensures that all four of them never falter and stay the course in their fight against several enemies of the earth. As you can see, Splinter is an anthropomorphic mutated rat. Show your reverence to the master with solemn colors.
Teenage Mutant Ninja Turtles Activity Sheet: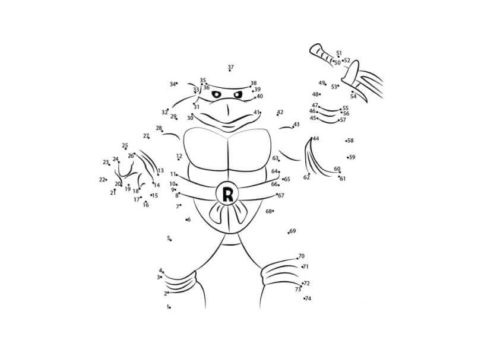 After seeing all the characters in this collection engaging in some fun activities, it's time now for you to participate in an illustrative activity as well. Print this coloring page and connect the numbers in ascending order to reveal the complete illustration of the Ninja Turtle.
Teenage Mutant Ninja Turtles, Christmas Special: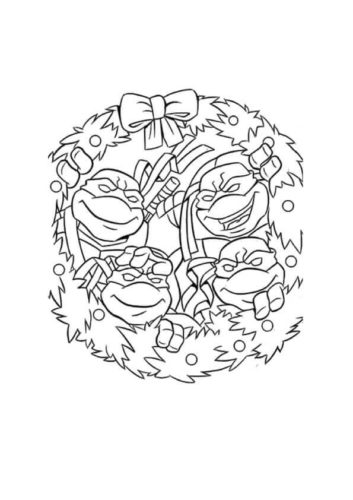 Holidays are always a fun time. What makes them more enjoyable is having your loved ones together and being surrounded by your favorite things. This Christmas special wreath features the Ninja Turtles greeting you for holidays. Be sure to stick to the Christmas colors for the wreath and different mask colors for the Ninja Turtles.
Read: Christmas Coloring Pages
Teenage Mutant Ninja Turtles Poster: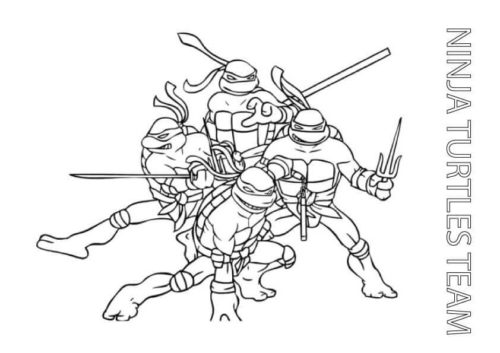 If you are having fun coloring the Ninja Turtles, you will definitely enjoy filling colorful details in this illustration. With each of the Ninja Turtles striking a different fight pose, use your expert coloring skills to turn this coloring sheet into a Teenage Mutant Ninja Turtles poster.
Teenage Mutant Ninja Turtles: Out Of The Shadows: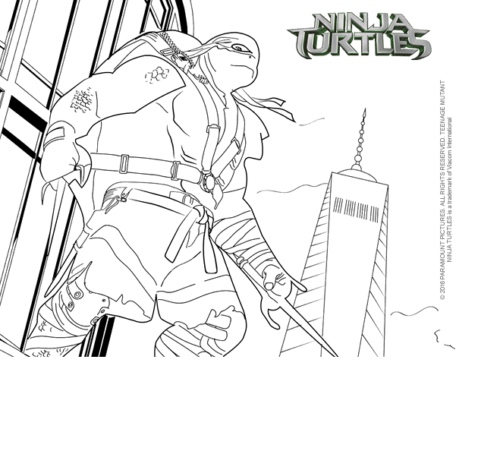 This illustration is dedicated to the most recent feature film of our Ninja superheroes titled, "Teenage Mutant Ninja Turtles: Out of The Shadows". It looks magnificent, doesn't it? Print this coloring page and give it some awe-inspiring colors.
Teenage Mutant Ninja Turtle Raphael In Attack Mode: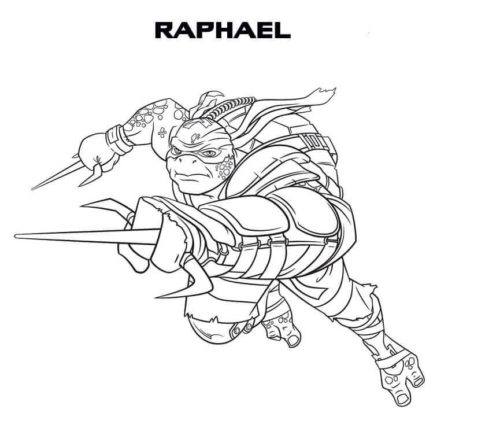 The "bad boy" of the Ninja Turtles group, Raphael looks fierce in this illustration. Here he is wielding his weapon of choice "sai" and heading straight ahead to attack his enemies. After you print this coloring page, give it some striking colors.
Ninja Turtles Wrestling With Each Other: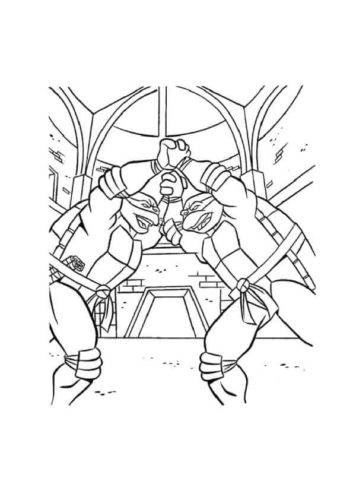 Spending so much time together, there are bound to be friendly disagreements and tussles. Two of the Ninja Turtles were having some kind of argument and ended up having a wrestling match.
Turtles Can Ride A Bike Too: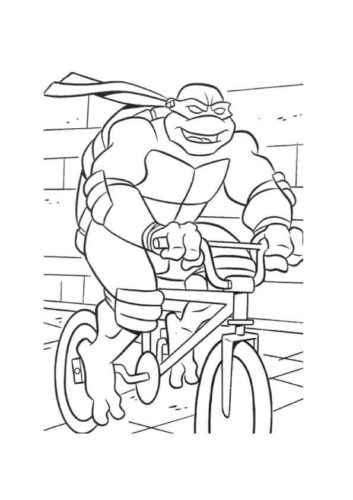 You have already seen the turtles fighting like warriors, skating, and riding a motorcycle. Now you get to see a turtle ride a bicycle too. To be fair it's the Ninja Turtles and being superheroes, there's hardly a thing that they can't do.
Turtles Enjoying Pizza: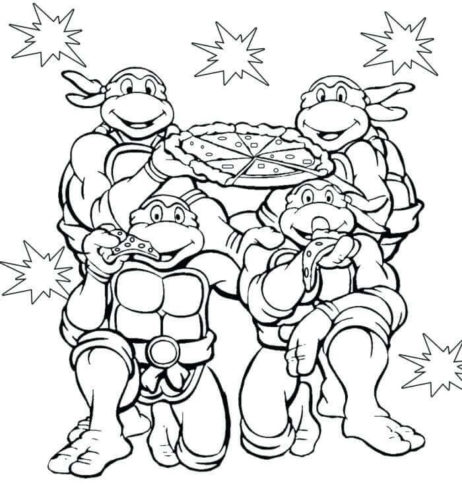 If you love pizza, then you will love seeing how much the Ninja Turtles love their pizzas. Like a true family, they are all gathered together to enjoy the delectable slices of the huge pizza. Celebrate this happy meal-time with joyful colors.
Read: Pizza Coloring Pages
On that joyous note, we have reached the end of today's collection of Teenage Mutant Ninja Turtles coloring pictures to print. Did you know that aside from the comics and series, there are altogether six feature films based on the Ninja Turtles? The latest reboot of the superhero franchise features the live-action film simply titled "Teenage Mutant Ninja Turtles" which was released in 2014. The concluding sequel of the reboot titled "Teenage Mutant Ninja Turtles: Out of the Shadows" had its release in 2016. If you haven't yet seen the series or the movies, you can use this collection of TMNT coloring images to get acquainted with the characters.