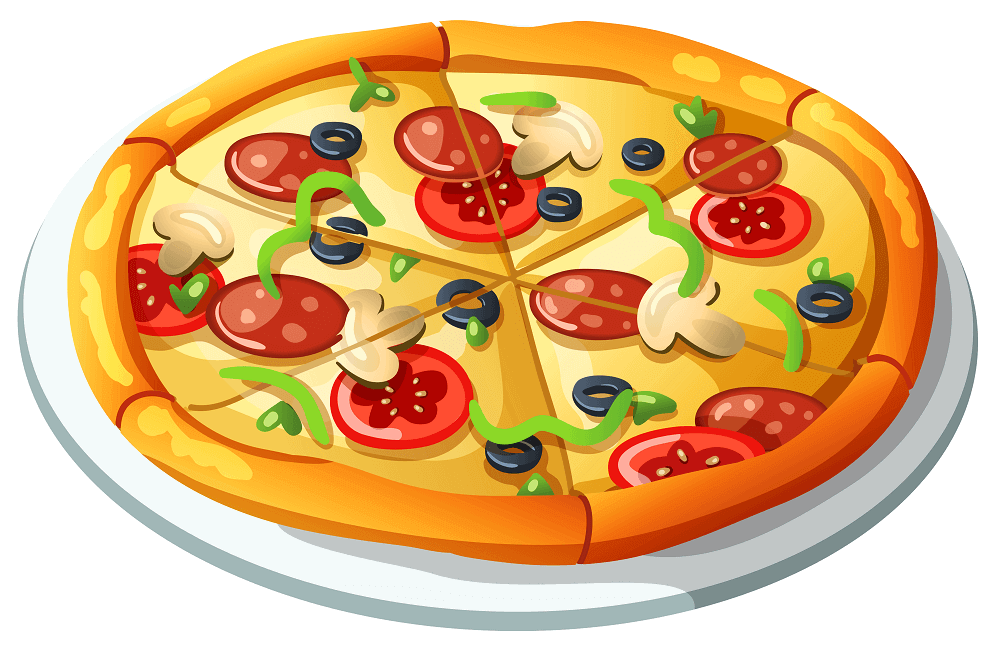 As the world opens up slowly, we are here with a collection of coloring pages that is dedicated to a delightful treat to fill your day with goodness. The savory dish we will be discussing today is a flatbread baked with various toppings and has its origin in the European country of Italy. Any guesses? Yes, you are right. We've got you free printable pizza coloring pages
There are very few dishes that enjoy worldwide popularity like pizza. The first known record of the word "pizza" was in the 10th century in a Southern Italian town. The pizza as we know it today had its beginning in Naples. The most common toppings for pizza are tomatoes and cheese, with other general toppings like anchovies and meat, among others. Due to its widespread popularity around the world, several countries use local ingredients as toppings. While traditionally pizza is baked in a wood-fired oven, with modern technology different methods of baking have evolved. Let's dig into the delicious baked world of pizza through this collection of pizza coloring sheets to print.
34 Free Pizza Coloring Pages Printable
A Slice Of Pizza:
to join this conversation on GitHub. Already have an account? Sign in to comment Footer © 2023 GitHub, Inc. Footer navigation Terms Privacy Security Status
While a pizza is generally baked in a circular shape, it is cut into triangular slices for ease of eating at fast-food joints. Cutting into slices helps to share when we are eating together with our family and friends. Print this coloring page and give this slice of pizza some delicious shades.
Little Caillou Makes A Big Pizza:
Caillou is the main character of the eponymous educational show. He lives on Pine Street along with his parents and sister. Here he is demonstrating just how to make a pizza. That's a giant pizza for a little 4-year-old boy, isn't it? Give this large pizza some colorful toppings.
A Slice Of Cartoon Pizza Waving: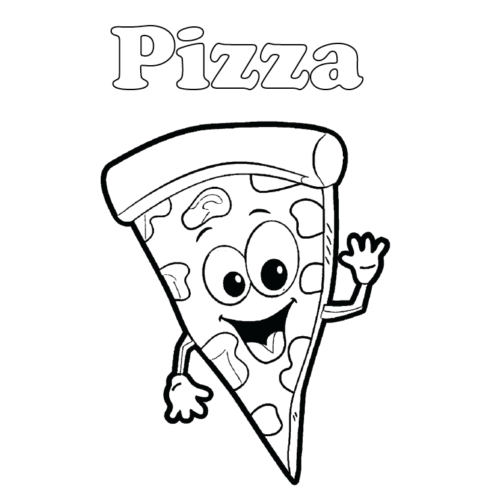 Here's another slice of pizza. This time it's a cartoon pizza. Look at the expression of utter excitement as it waves at you. Be sure to return the greeting by filling it with enthusiastic colors.
Large Double Cheese Pizza:
Cheese is always a tasty treat in a pizza. In fact, it can make the pizza even tastier. And when you can have two different kinds of cheese in your pizza, why settle for just one? Just looking at this cheese-filled, freshly baked pizza might make your mouth water.
Cute Couple Enjoying A Cheesy Pizza:
Sharing is caring. Making this adage come true is this illustration of a lovely couple sharing a pizza together. The huge smile on their faces proves enough of the love they feel for each other. Print this coloring page and let the love shine through by filling it with bright colors.
Delighted Chef Tossing Pizza:
The process of making pizza may seem easy once you know how to make one. But for those who are trying it out for the first time, it may be difficult. Especially when you see chefs tossing the well-kneaded pizza dough up in the air, as shown in this illustration.
Proud Chef With His Pizza: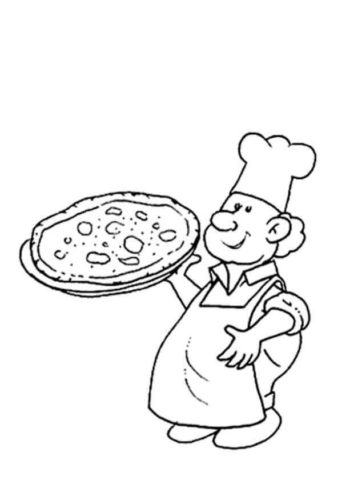 When you make something from scratch and it comes out wonderful, you feel a sense of pride. That's exactly what this chef is feeling – proud of his baked delicacy. Look at the way he is confidently displaying the pizza on one hand.
Equal Slices Of A Pizza:
This must be a familiar sight when you order a pizza. Perfectly round pizza that has been cut into equal slices to make it easier to eat and share. Just like how you order your favorite pizza with your preferred toppings, you can give this pizza illustration some colorful toppings you like.
Garfield And Odie Treating Themselves With Pizza:
Perhaps one of the most popular cats in the world of comics, Garfield is a chubby anthropomorphic tabby cat. While famous for being utterly lazy, when it comes to food he is as active as any cat can ever be. Today, he is not alone to enjoy the pizza. Odie, the dog is also here with him.
Hungry Girl Eating A Whole Pizza:
When you are feeling very hungry, sharing your pizza is the last thing on your mind. Thankfully, no one is at home at the moment, that is why the girl on this coloring page is taking her time eating the freshly-baked pizza she just ordered.
Italian Pizza Maker:
Maybe a little stereotypical, but this is how most of the traditional Italian pizza makers and chefs look like. Sporting a nicely trimmed and shaped mustache. He is here to show you, how to bake pizza in a wood-fired or brick oven.
Let's Eat The Pizza:
Have you ever tried eating an entire slice of pizza at one go? This fellow here is attempting to put the whole pizza slice in his mouth. Looking at how big his mouth is, it seems he won't have any problem doing so.
Making Pizza At Home Can Be Serious Fun:
It's easy to make a pizza at home thanks to ovens and grills. There are even methods whereby one can make a decent pizza using the gas stove. For this duo, cooking is not just something serious, it's actually serious fun. One of them has even mastered the delicate art of tossing the pizza dough.
Make A Pizza Activity Sheet: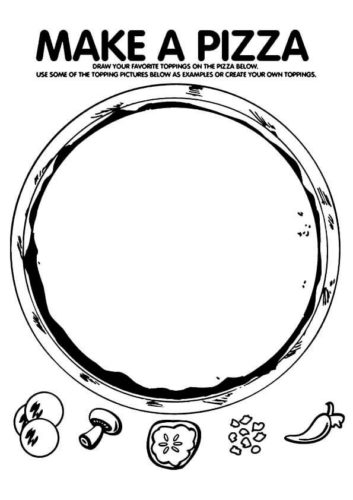 If you were feeling left out observing the two of them making pizza at home, here's an activity for you to make a pizza by yourself. Once you take a printout of this coloring sheet, fill in the pizza with different toppings. You can choose the toppings from the ones given below; add as much or as little of the toppings according to your preference.
Making The Pizza Dough:
While kneading is a required process to soften the dough, in order to properly flatten it, the traditional method used is tossing. As illustrated on this coloring page, tossing involves throwing the dough in the air to perfectly shape and achieve the right thinness.
Michelangelo Excited For The Pizza:
It is a known fact that the Teenage Mutant Ninja Turtles are great lovers of pizza. Here we have one of the members, Michelangelo, throwing his hands up in excitement after finding a huge pizza.
A Slice Of Pizza And A Glass Of Lemonade:
There are few food and drink combinations that simply taste like heaven. Like Oreo and milk or tea and biscuits. When it comes to pizza, one of the most popular drinks is a nice lemonade. Give this perfect illustration of a perfect combo, the perfect color treatment.
Handling Pizza With A Long Handle:
The traditional wood-fired or brick oven is simply too hot to be too close. That is why the long handles which look like a flat spatula were invented. The long handle is used to put the properly topped pizza dough inside as well as take the baked pizza out of the oven.
Teddy Enjoying Pizza:
Have you ever tried eating something with a fork or spoon but decided it was better with hands? After trying to eat the pizza using a fork, Teddy here has simply given up and starts eating with his hands.
Read: Teddy Bear Coloring Pages
Pizza Delivery Boy Running To Deliver:
Freshly-baked, hot pizza. That's what most home delivery pizzeria, a restaurant that specializes in pizza, advertises. And this delivery boy is running as fast as he can to ensure the customers get freshly-baked, hot pizza. That's why it is kind to give some tips to a pizza delivery person when they make it on time.
Who Needs Cake When You Can Have Pizza For Birthday!
When you love pizza so much, even birthday celebrations are full of pizzazz. These two not only share their birthdays but also their love for pizzas. That's why on their birthday, instead of the sweet cake, they indulge in a whole savory delight of a pizza.
Read: Birthday Coloring Pages
When You Love Pizza, Pizza Is Love:
For those of you who love pizza more than cake, this is the illustration to show your love. A whole pizza, a pizza cutter to cut it into small slices, a fork to eat – this is a loving snack time for pizza lovers.
Pizza Steve Driving A Car:
The popular kids show Uncle Grandpa has an anti-hero that believes in wild partying. Yes, we are talking about Pizza Steve. Look at him enjoying his drive on the Orting Route 666.
Pizza Steve From Uncle Grandpa:
In case you thought you were imagining things, here's a closer look at Pizza Steve. Yes, Pizza Steve is actually a slice of pizza, sporting cool sunglasses. Bring out the cool personality of this messy character from Uncle Grandpa with your coloring skills.
Pizza Truck Is Here, Bringing Pizzas Everywhere:
Food trucks have revolutionized the way people eat fast food and snacks around the world. Instead of the fixed restaurants, being on wheels, food trucks are able to move around. That's how this pizza truck is earning money and loyal customers by bringing the pizzas to the people.
Pusheen Gets A Pizza Makeover:
This is an imaginative illustration to brighten your day. Someone has turned the famous chubby tubby cat, Pusheen, into a pizza. The result is this somewhat bizarre creation. Give this odd and creative illustration of some weirdly, wonderful colors.
Read: Pusheen Coloring Pages
Putting Pizza In An Oven:
Having newly bought the electric oven, this pizza chef is readily trying out his new pizza recipe. After making the dough and adding all the toppings, he is now ready to put the pizza in the hot oven using a long handle.
Mouth-Watering Realistic Pizza:
Has the illustrator of this realistic pizza been successful in his attempt to make people's mouth water? If you are craving for a pizza after looking at this, then he surely has succeeded. Help him to make it more realistic by adding life-like colorful details on this pizza.
Smurf Enjoying A Pizza:
Everybody knows who the Smurfs are, don't they? From the original Belgian comic franchise to the big screen Hollywood adaptations, the Smurfs are part of the popular culture. Here's one popular Smurf enjoying a cheesy pizza.
Stuffed Crust Pizza Coloring Page:
Even the crust of a pizza can be stuffed too. You will find several restaurants offering pizzas filled with cheesy wonders inside their crusts.
Tasmanian Devil All Set To Attack Some Pizzas:
If you are a fan of Looney Tunes or Merrie Melodies cartoons, then you must have come across the Tasmanian Devil. Often referred to as Taz, here it is getting ready to attack the pizzas someone left unattended.
Teenage Mutant Ninja Turtles Having Their Favorite Food:
The anthropomorphic mutant turtles, otherwise known as the Teenage Mutant Ninja Turtles, are having a yummy time on this coloring page. All four of the teenaged superheroes have one favorite food – pizza.
This Pizza Gets The Chef's Approval:
While trying out different pizzeria in a new city he is visiting, this chef found one perfect place for delectable pizza. It was so good, he even got himself another pizza. Look at him giving his approval to the pizza in this illustration.
The Curious Case Of The Missing Vegetable Pizza Slice:
Did you see who took the slice out of this vegetable pizza? Someone naughty had finished their pizza and then snuck in to eat a slice from here. You can try to figure it out while you print and color this illustration.
With that curiously delicious vegetable pizza, we have reached the end of this collection of pizza coloring pictures to print. We hope you enjoyed getting to know more about pizza while coloring these beautiful illustrations of different characters baking, cooking, or eating pizza. Did you know that the process of making a pizza is part of UNESCO heritage? It was in 2017 when UNESCO added the ancient art of making pizza as one of the intangible cultural heritage.