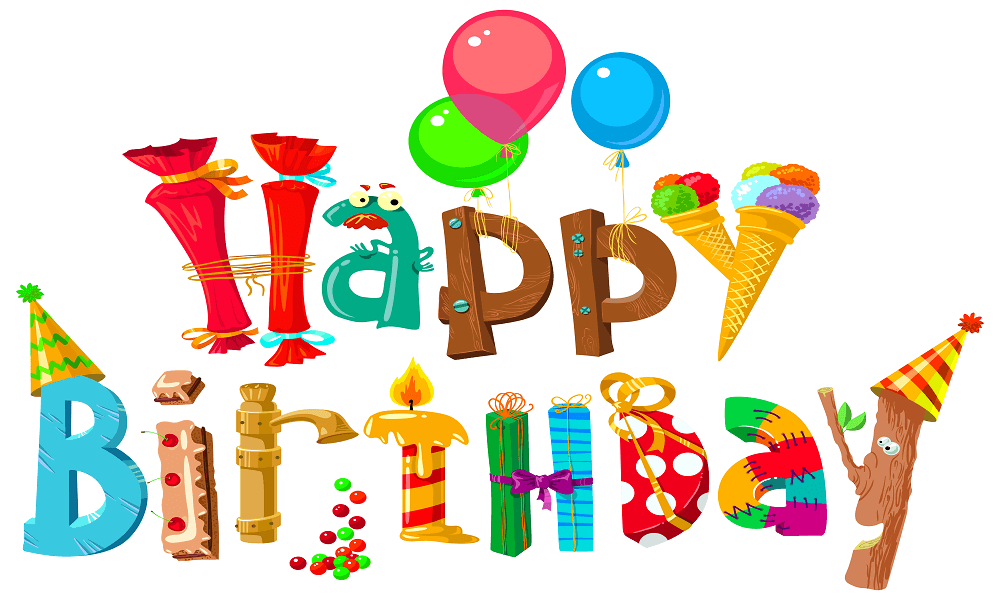 Birthdays are always special, so much that we start preparing for them months before the main day. Parents, especially, do so much to make the birthdays of their children extra special. They invite their friends over, decide on the color and theme of the party, arrange the goodie bags, and gather some cool activities for the little guests. One of the best activities for children to indulge in on birthdays includes coloring pages. And below we've got you tons of free printable happy birthday coloring pages to choose from. So check out our listing of free happy birthday coloring sheets to jazz up your party.
25 Free Printable Happy Birthday Coloring Pages
Happy Birthday Cupcake: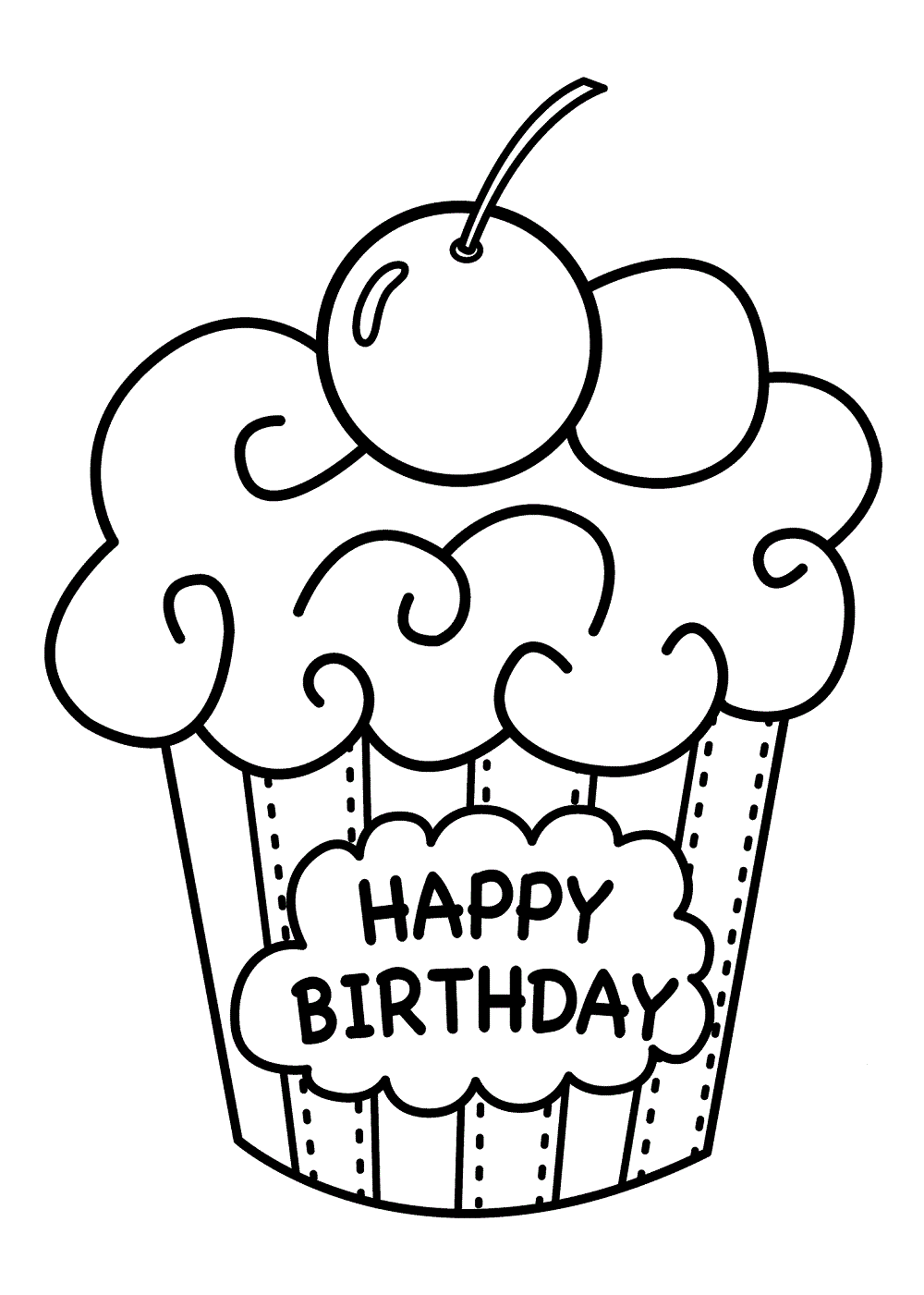 Cupcakes are a major hit with children these days. Not that they don't like cakes, it's just that cupcakes give plenty of room for variations. You can create different flavored cupcakes for the kids, and they will try all of them. Below is a happy birthday cupcake coloring page, which you can print out.
[ Read: Cupcake Coloring Pages ]
to join this conversation on GitHub. Already have an account? Sign in to comment Footer © 2023 GitHub, Inc. Footer navigation Terms Privacy Security Status
Happy Birthday Coloring Page:
Here's a cute and adorable happy birthday coloring page featuring leaves and flowers. To make this coloring sheet a lot more interesting, we'd suggest you use glitters. You can even create a birthday card from it.
Hoot Hoot!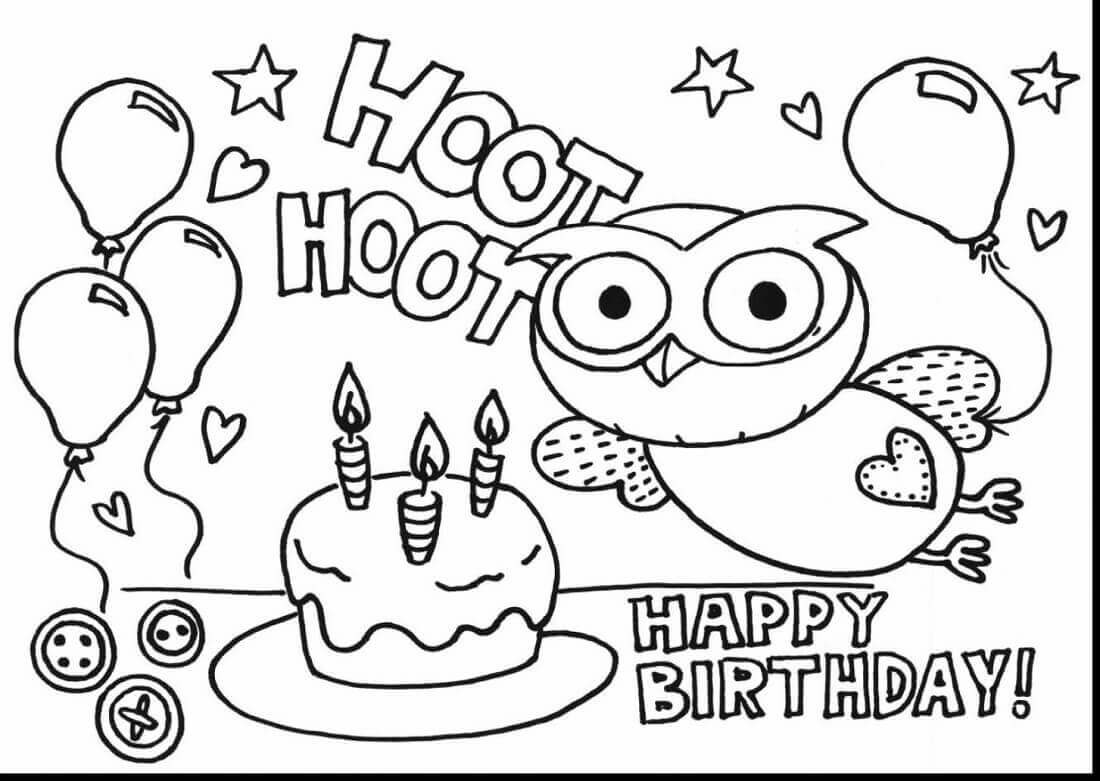 It's this little owl's birthday and could he be any more excited? He just cannot stop himself from hooting at the sight of this delicious cake. There are several balloons too, which you can paint in different shades and see how beautiful it turns out.
Simple Happy Birthday Coloring Page:
Colorful balloons and streamers are absolute essentials to a birthday party, and this coloring sheet has all of it. It's a relatively easy, happy birthday coloring page and can be filled even by preschoolers. Yes, it's that easy!
Happy Birthday, Mom Coloring Page: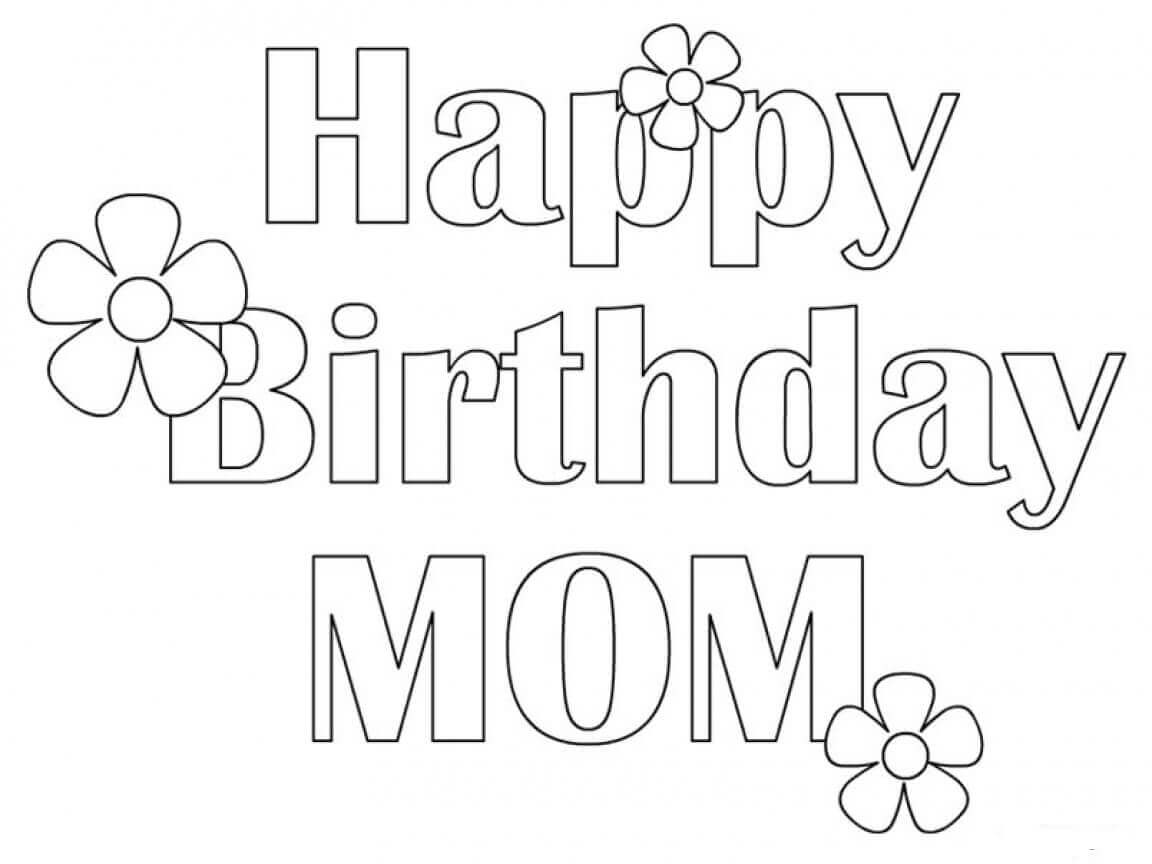 For every person, their mother is the most important, and why not, after all, she brought them to this world. So if you want to make your mommy feel special on her birthday, print out and color this beautiful image. It will definitely bring a wide grin on her face.
Happy Birthday Coloring Sheet: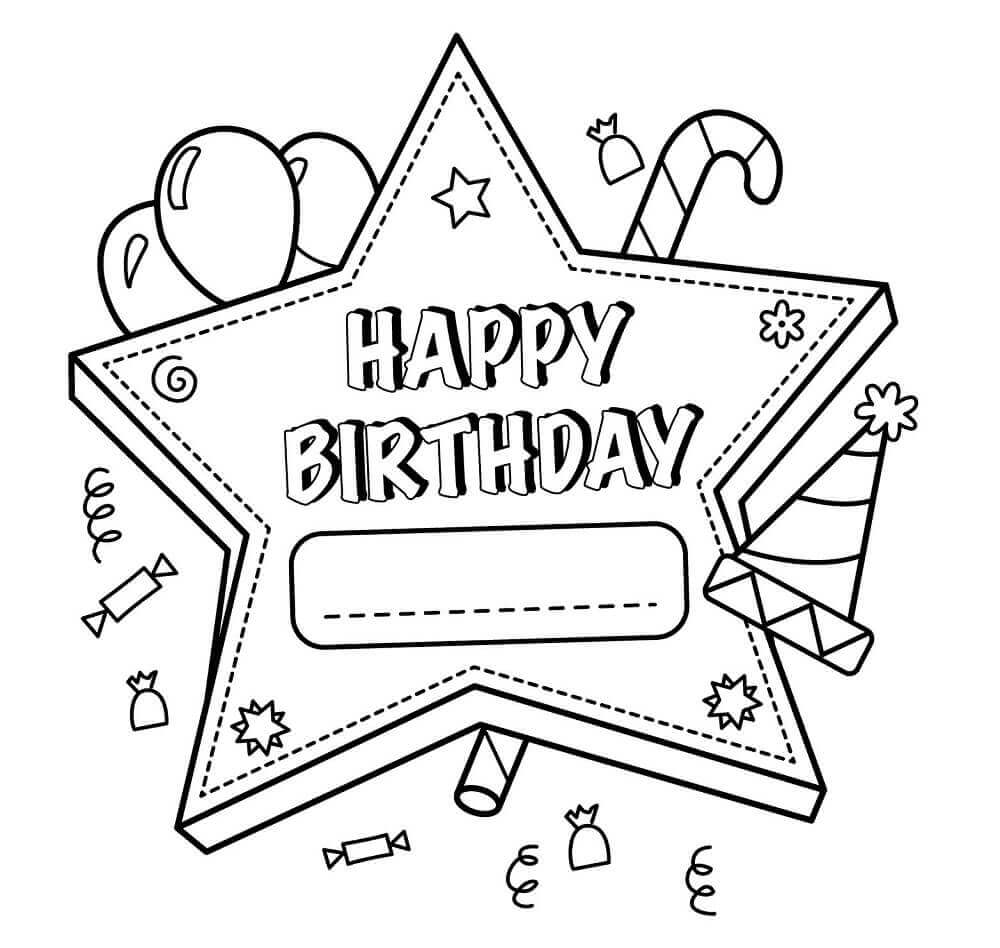 If you're looking for a beautiful template, which you can fill to present to your teacher, this one would be perfect for you. It's a clean and simple image, containing all the elements of a birthday. There's even an option to write your name in the middle.
Anna Wishing Elsa:
This happy birthday coloring page is simply perfect for sisters. It's Elsa's birthday, and Anna has woken her up at midnight just to wish her a very happy birthday. She has even got Elsa a present. What do you think is inside the box?
[ Read: Frozen Coloring Pages ]
Elsa Holding Her Cake:
As we told you above, it's Elsa's birthday, and she's extremely excited. On this coloring page, we see Elsa holding her birthday cake. The palace is also decorated beautifully with balloons and streamers.
Happy 3rd Birthday:
If someone in your family is turning three, this happy birthday coloring page would be perfect to print out. You can either use it for making invites or give it to the little toddler so that they stay occupied.
Birthday Cake Coloring Page: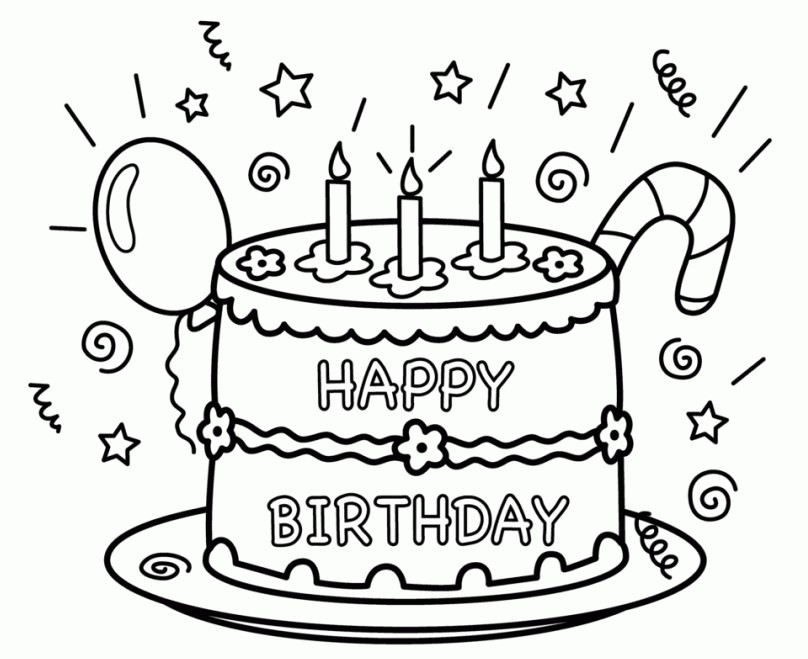 What comes to your mind when you think about birthdays? A cake would be the answer for most of you. Print and out and give your child or friend this cake and let them display their imagination. This way, you'll even get to know the kind of cake your friend, brother, or child wants for his birthday. 
Happy Birthday, Card Coloring Page:
If you wish to make your friend or family extra special on their birthday, make them a handmade card. And to help you, we've got this beautiful birthday card template. Your job would be to print out the image on construction paper and color it any way you like.
Happy Birthday Coloring Pages For Adults: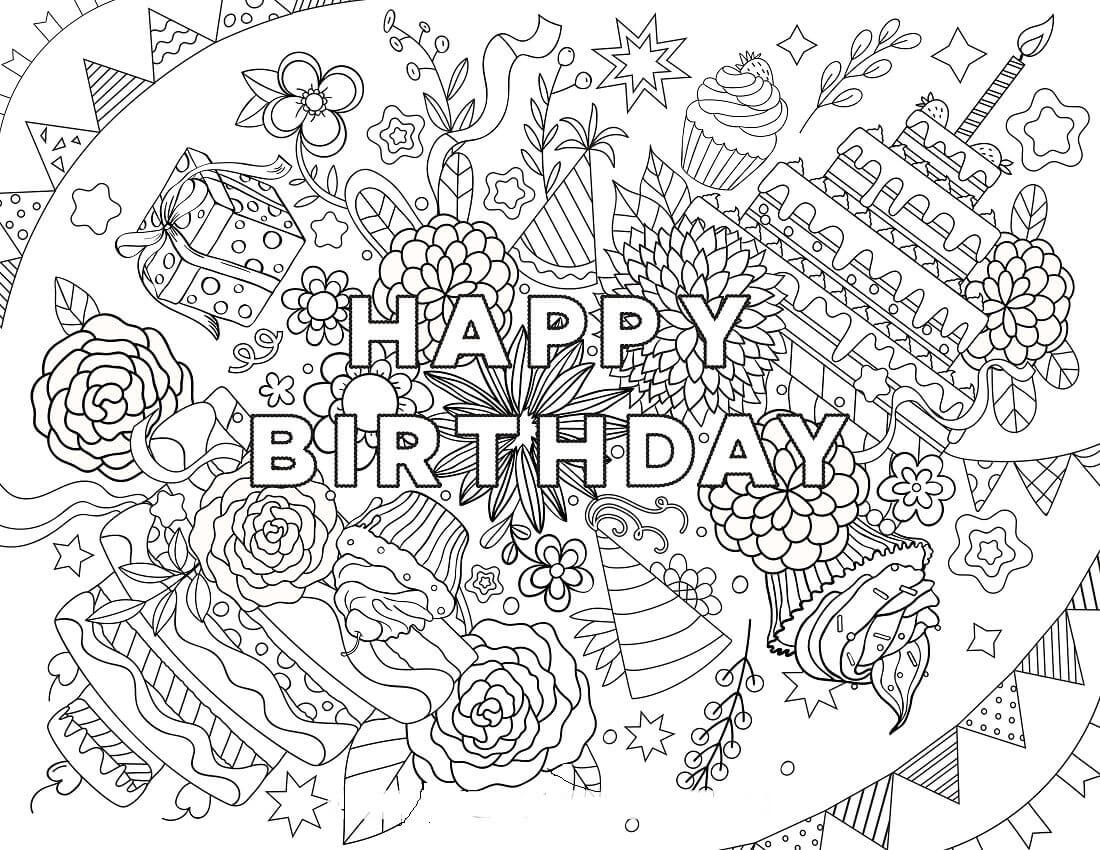 Not just kids, but even adults love coloring. And many of them search for detailed and intricate happy birthday coloring pages, which they can fill and present to their near and dear ones. Here is one such coloring page, which you may want to print out.
Monster Celebrating Birthday: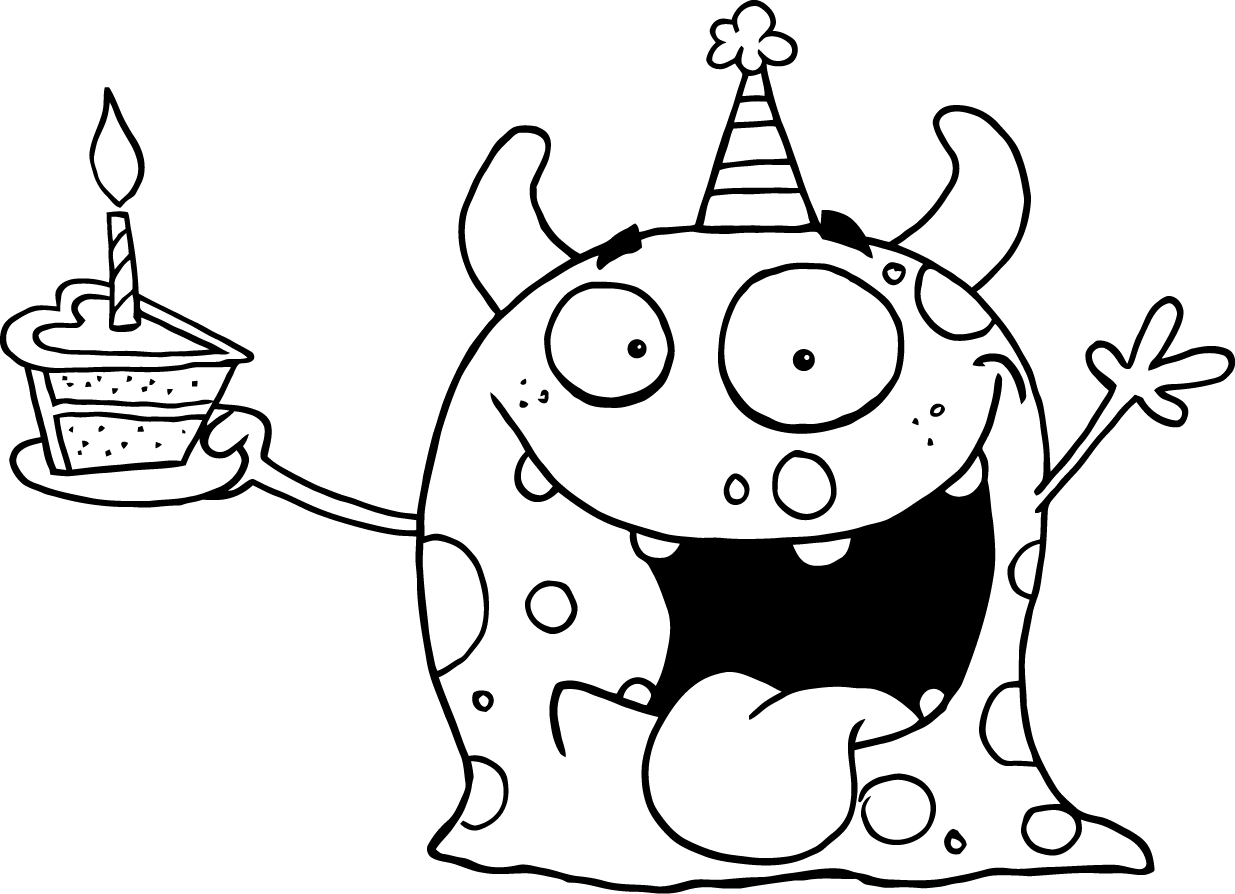 Who said only humans celebrate birthdays. Even monsters celebrate their birthdays in their own sweet and creepy world. In this coloring page, a monster is celebrating his birthday with a piece of cake in hand.
[ Read: Monster Coloring Pages ]
Hello Kitty Celebrating Her Birthday: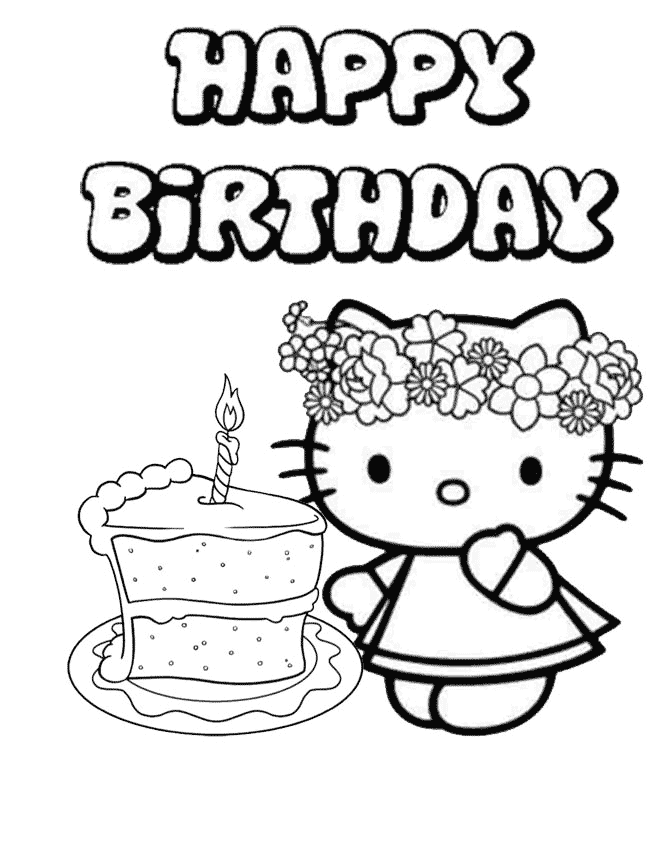 It's Kitty's birthday, and she's got a cake to celebrate this special day. However, the background is looking a bit dull. How about drawing and coloring some balloons, confetti, and streamers to make this coloring page stand out?
[ Read: Hello Kitty Coloring Pages ]
Happy Birthday:
Here's another simple, but beautiful happy birthday coloring page, which you can use for creating banners, cards or invites. You just have to let your creative juices flowing for coloring this image.
Minion Wishing You A Happy Birthday: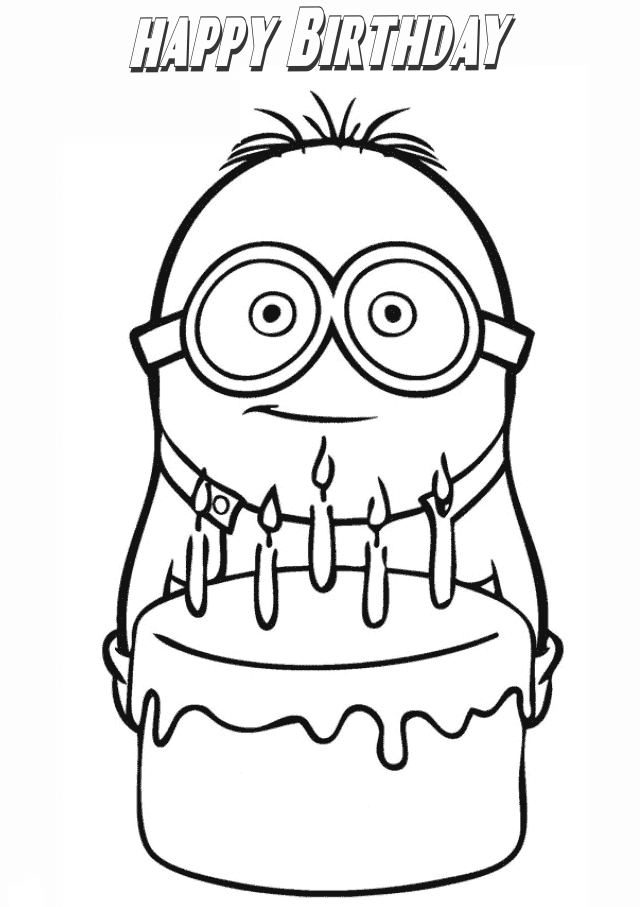 Is it this minion's birthday? Or has he baked this cake for someone special? Whoever's birthday it is, people just need an excuse to eat the cake. We believe this Minion just found the reason.
Mario And Luigi's Birthday Celebration: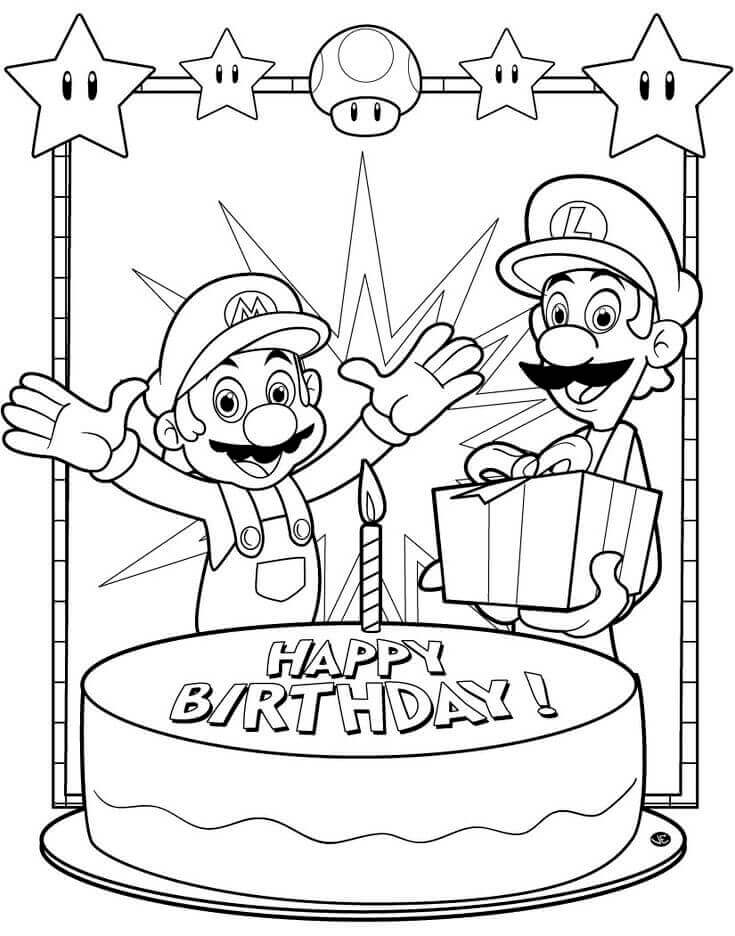 This birthday coloring page is perfect for brothers as it features the legendary siblings, Mario and Luigi. Most probably, it's Mario's birthday, and Luigi has arranged for the grand birthday cake. He's even got a present for his brother.
[ Read: Mario Coloring Pages ]
Mickey Wishing Minnie Happy Birthday: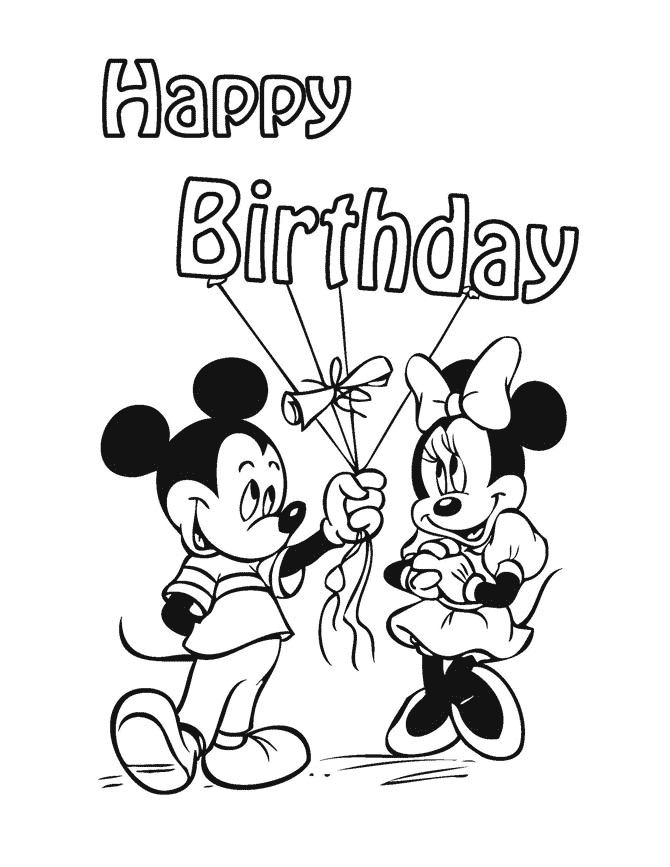 It's Minnie's birthday, and Mickey would do everything in the world to make her happy, and this is exactly what he does. He has got her lovely "Happy Birthday" inflatable for her and Minnie is delighted to see it. This happy birthday coloring page is perfect for friends.
Happy Birthday Invite Coloring Page: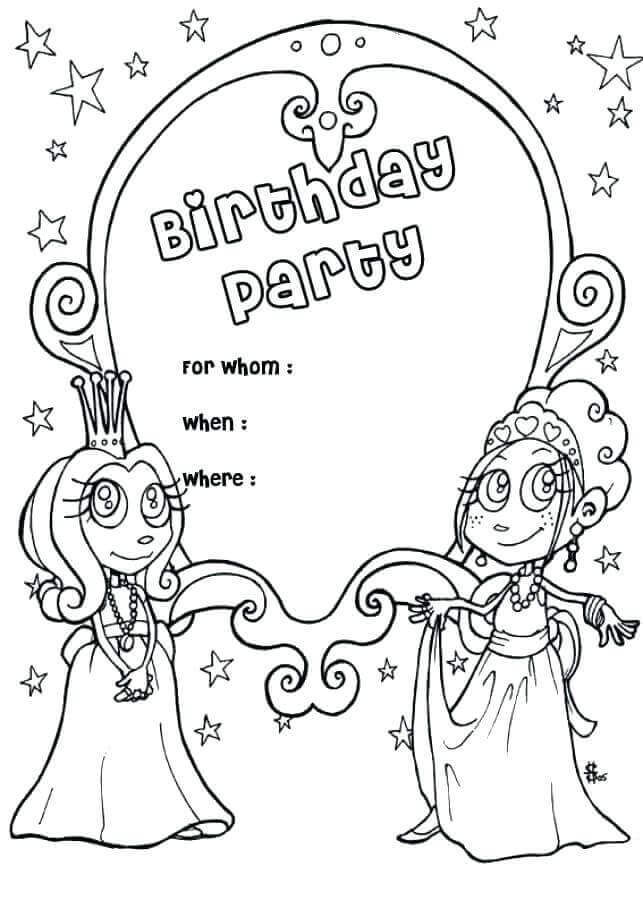 If you're planning to send handmade invites to your friends, this coloring page would fit the bill. It's a lovely coloring page featuring two beautiful princesses. Since this coloring page has princesses, it would be perfect for girls.
Dora Celebrating Boot's Birthday: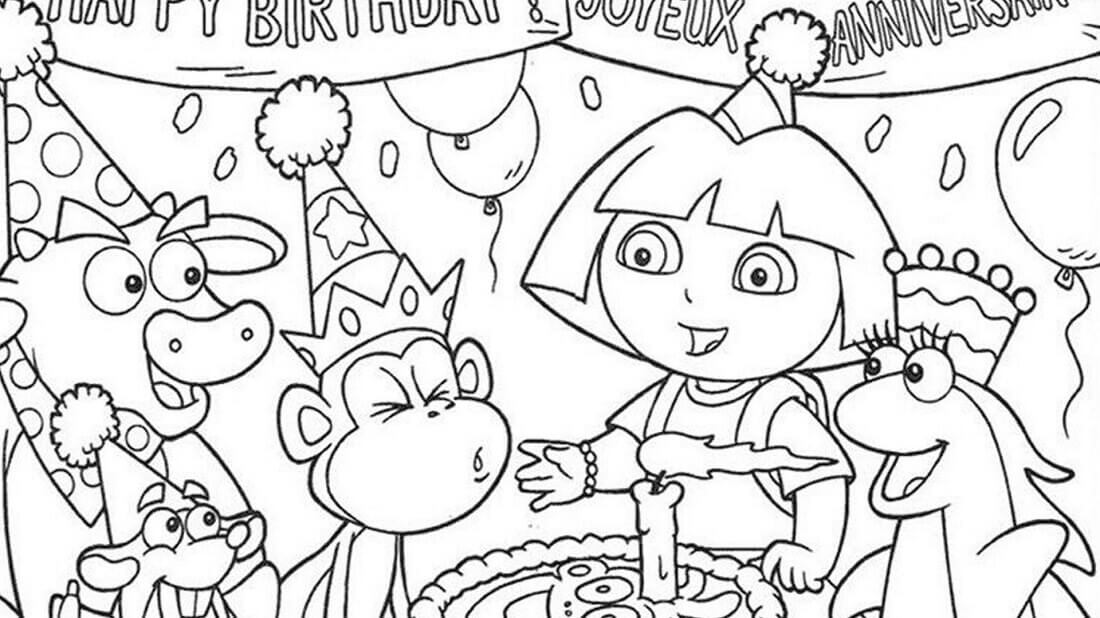 It's Boots' birthday and Dora has organized a grand party for her best buddy. It's cake cutting time now, but before that, Boots needs to blow the candles and make a wish. What do you think would he wish for this year? New exploration with Dora?
Little Puppy Wishing You Happy Birthday: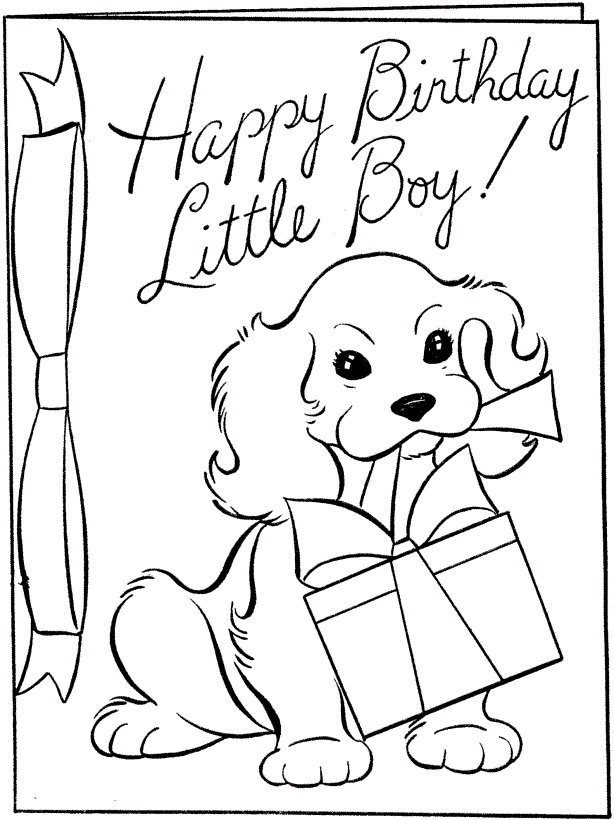 This cute puppy, with a gift box in his mouth, has come all the way just to wish you a very happy birthday. Would you oblige him by adding some colors to his image? He'd be more than happy. And you can use this template for creating birthday cards for young boys.
Happy Birthday, Mandala: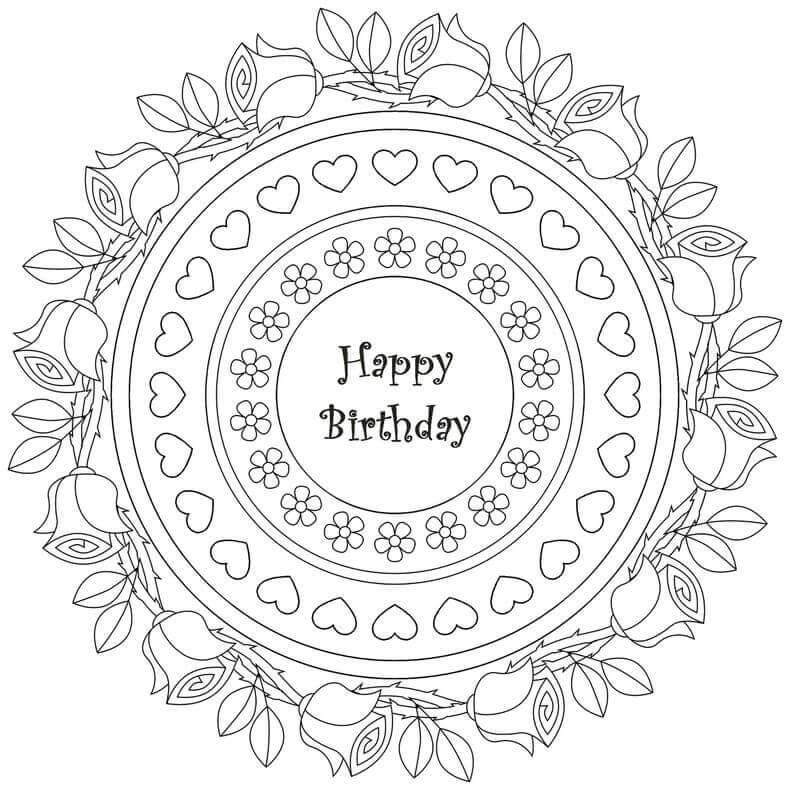 Here's another happy birthday coloring page for adults to print out. Why adults? Because it features an intricate pattern of a mandala, which can be a bit difficult for young kids to fill in.
[ Read: Mandala Coloring Pages ]
Happy Birthday Mom: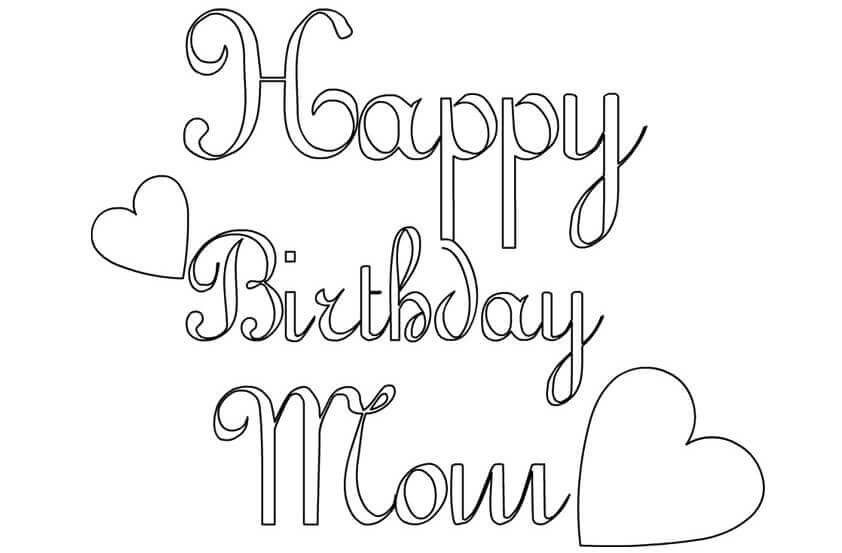 Here's another simple happy birthday mom coloring page. Feel free to add your own designs to this coloring page. You can even try metallic shades for this coloring image.
Birthday Cake:
Here's another birthday cake coloring for you to fill. It features a table with a birthday cake, a gift and a glass of water placed on it.
Happy Birthday Coloring Page For Dads: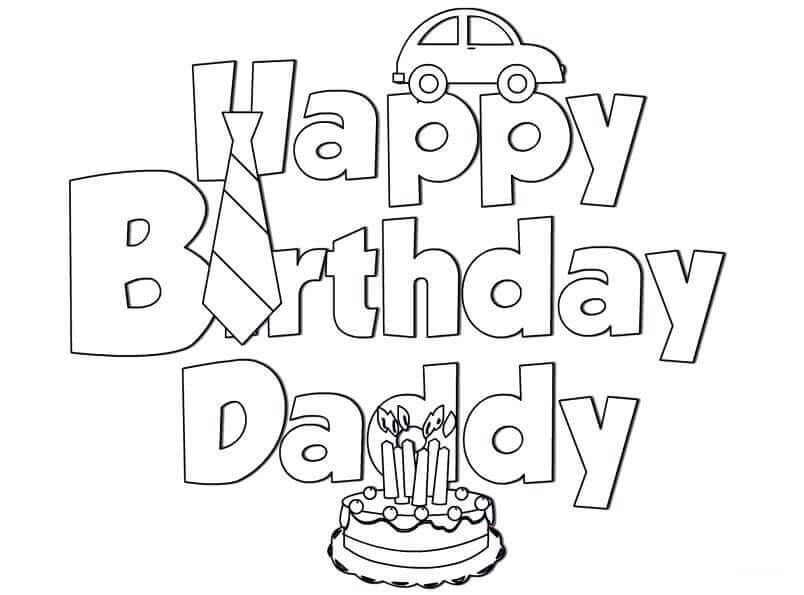 Show your gratitude to your dad by printing out and coloring this cute happy birthday coloring page. We love the little car placed on the top.
All these free printable happy birthday coloring pages will definitely set the mood for the birthday party. You can print out all these happy birthday coloring sheets to create a custom happy birthday coloring book. It will make a lovely gift for them. You can even use these coloring pages to create handmade birthday cards. It will be a gift your friend will cherish forever. And don't forget to stay tuned with us for more fun coloring pages.