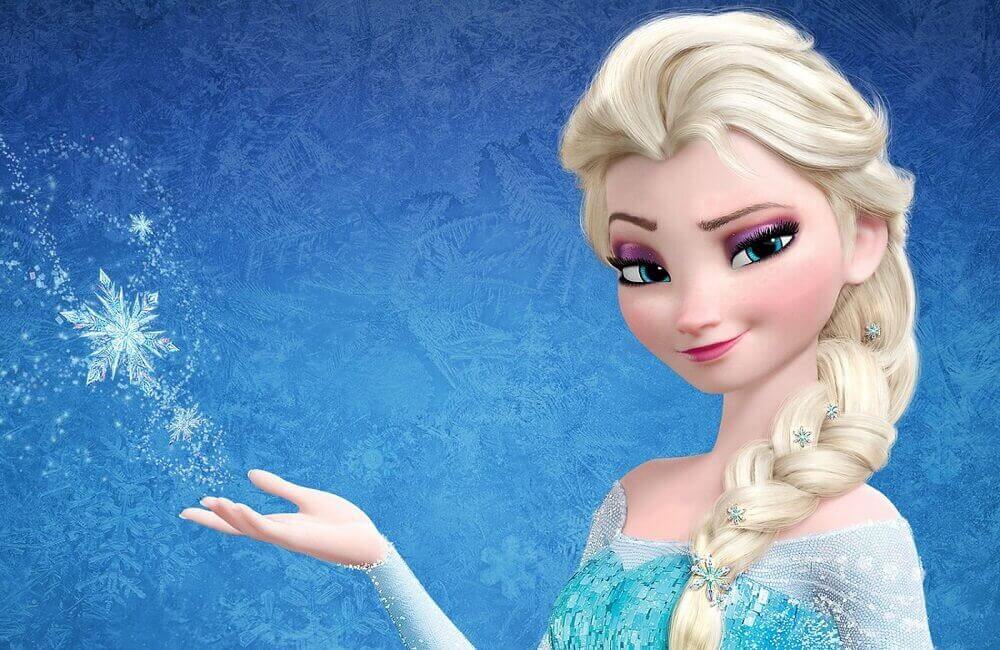 Good day kids! It is going to be an even better day once you get to know the topic of today's collection. Let's give you some hints. It's freezing and one of the most successful animated feature films of all times. Can you guess it? Last hint: don't think too much, just let it go. If you said, Frozen, then you are absolutely correct. After The Lion King and Aladdin, we've got you a collection of free Frozen coloring pages printable. Frozen, released in 2013 was critically and commercially successful, becoming the highest grossing animated film with over $1 billion collection.
The story revolves around the princesses of Arendelle, Elsa and Anna. After their parent's death, Elsa's magical power to create ice and snow is known to the public when she hears about Anna's impulsive decision to marry Prince Hans whom she had only just met. Brandished as a monster, she runs away but unexpectedly freezes the kingdom into an eternal winter. Anna sets out to bring her sister back and return Arendelle into its past glory. Along the way, she meets few interesting and important characters, ensuing twists and turns to this adventurous story.
Let us now travel to this wintry world and work your magic on this special collection of Frozen coloring pages to print.
to join this conversation on GitHub. Already have an account? Sign in to comment Footer © 2023 GitHub, Inc. Footer navigation Terms Privacy Security Status
35 Free Frozen Coloring Pages Printable
Anna And Elsa – Forever Sisters:
Get to know about the two leading ladies of Frozen with this coloring page. Princesses of the Kingdom of Arendelle, Elsa, the one making snowflakes, is the elder sister and Anna is the younger sibling. Bring alive their brilliant characters with your coloring skills.
Anna And Elsa Making Olaf, The Snowman:
Playing together in the snow, Anna and Elsa are enjoying creating a snowman. Thanks to Elsa's magical powers this particular snowman turns out to be extra special, as she unknowingly makes it come alive. This adorable, funny and always cheerful snowman is known as Olaf.
Anna And Hans – First Meeting:
When the doors of the kingdom were thrown open to the outside world, Anna chances upon a young Prince Hans of the Southern Isles. She instantly falls for his charm and decides on getting married to him, something Elsa disapproves.
Anna's Curse Is Broken:
Elsa's shock and outburst on hearing what has happened to Arendelle when Anna comes trying to persuade her to return and restore the kingdom to its past days, she accidentally hits Anna's heart. This curses Anna to soon freeze if curse not broken by an act of true love. Curse gets broken when Anna sacrifices herself to save Elsa from Hans' attack.
An Enchanting Scene From Frozen:
Presenting a scene of wonders with Anna and an iceman, Kristoff, she recruits to help her find Elsa. There are the wonderful Olaf and Kristoff's clever and loyal companion reindeer Sven giving them company as they navigate the frosty forest.
Little Elsa And Little Anna Making A Snowman:
When they were kids, little Anna and little Elsa would often naughtily sneak out to play together, especially in snow and ice that Elsa was able to somehow create with her magic. During those times they had fun playing with snow and making a snowman.
Elsa Disapproves Anna's Marriage:
After Anna tells her plans to marry Prince Hans, Elsa is shocked and completely disapproves the union. This outrages Anna who shows sign of rebellion, leading to Elsa's outburst which exposes her secret magical power.
Elsa Building Her Snow And Ice Castle:
When she runs away following the fight, Elsa decides to never be ashamed of herself or to hide away her powers in fear of people not understanding or accepting her. She lets go of all her fear and builds herself a snow and ice palace.
Elsa Running On The Frozen Lake:
Elsa escapes after captured by Prince Hans who had been plotting all along to get rid of both the sisters and rule the kingdom himself. Here she is, running across the frozen lake to her freedom.
Elsa Embracing Her Powers:
Taking off her gloves that insulated her powers, Elsa feels the freedom in her power high on the mountains. She gleefully creates snow, ice and snowflakes not worrying anymore about what would people think or say.
Elsa, The Snow Queen:
One of the magical abilities of Elsa, the Snow Queen is to be able to create snowflakes like the ones in this illustration.
The "Frozen" Royal Family Portrait:
Earlier photographic evidence of the happier times in the kingdom of Arendelle. The King and the Queen are seen here posing with their smart, clever and beautiful princesses, Elsa and Anna.
The Accident That Separated The Sisters:
Playing together without permission as kids, unable to control her magical powers, Elsa accidentally injures Anna. This incident led to them being isolated from each other, turning close sisters into familiar strangers.
Frozen 2 – Coming Soon:
Six years after the first movie, the Frozen sequel will be released worldwide on November 22, 2019. Simply titled Frozen 2, the sequel will explore the origin of Elsa's powers. Here is an illustration of Anna and Sven during their journey.
Anna's Sacrifice For Elsa:
When Anna weakened by the curse notices Hans attempting to strike Elsa unaware with his sword, she jumps in and sacrifices herself. She freezes to ice as her curse completes but this sacrifice was an act of true love and soon, she returns to life.
The Frozen Family:
This coloring page brings together the seven important characters of the film Frozen. There are the sisters, Princess Anna and Queen Elsa, Kristoff and his reindeer companion Sven, the charming villain Prince Hans and the funny snowman, Olaf.
When things fall into place and Arendelle is free of its winter cage, Summer returns. To keep Olaf, the snowman, save from getting melted, Elsa makes him his own personal snow cloud.
Anna, Kristoff And Sven Search For Elsa:
Finding herself lost in the forest, Anna employs the help of Iceman Kristoff and his reindeer Sven to help her locate Elsa. She is adamant that she will be able to persuade her sister to return to and restore Arendelle.
Elsa Freezes Anna's Heart:
Aggrieved on hearing about the eternal winter in Arendelle and not knowing how to reverse it or how to control her magic, Elsa lashes out. She accidentally hits Anna, freezing her heart. Kristoff is quick to take her to his adoptive family of trolls to find a cure. Print this page and give this major turning point in the movie all your best coloring skills.
Frozen Meets Halloween:
An interesting illustration celebrating the Autumn festival of Halloween with the theme of Frozen. You can clearly see several familiar characters of the Disney 3D animated movie in some unfamiliar outfit and characterization. Enjoy and have fun coloring this imaginative coloring page.
Frozen Movie Activity Sheet:
It's activity time! Now that you are into this journey of Frozen world, here is the adorable Olaf, the snowman, needing your help in finding his way out of the frozen maze, that too without running into Marshmallow, the giant snow monster Elsa had created.
Hans Proposal Gets Anna's Approval:
After just spending a day with Prince Hans, Anna feels sure about him and when he proposes marriage at the end of the day, she willingly says yes. She had always dreamed of being married to a prince charming who would sweep her off her feet.
Sisterly Loving Embrace:
Curse broken, Anna and Arendelle saved, the two sisters lovingly embrace each other, acknowledging, understanding and accepting each other. Despite their moments of separation and misunderstanding, their family ties bind them strongly.
Hans And Kristoff Fight:
Discovering the truth of Hans' intention, Kristoff gets in time to fight him off before Hans could do any serious harm. Hans had been plotting to kill Anna and Elsa so that he could rule the kingdom of Arendelle.
Hans Leaves Anna To Freeze To Death:
Kristoff drops off Anna to the castle with Hans, hoping the true love kiss from him would cure Anna's curse. But Hans shows his true color, trapping Anna in the castle and extinguishing the fire before he leaves so that she would quickly freeze to her death.
Hans With His Horse, Sitron:
Prince Hans horse named Sitron plays an introductory part in getting him to first interact with Princess Anna. Anna had crashed into the horse. Giving you a glimpse of another moment from the film, here's Hans trying to calm down Sitron during one of their journeys.
King Arendelle Putting Gloves On Young Elsa:
Following the accident in which little Anna gets injured, King Arendelle takes precaution to conceal young Elsa's magic by putting gloves on her hands. Both the King and the Queen also decides to isolate the two sisters.
Kristoff And Sven – Unlikely Best Mates:
Ice harvester Kristoff shares an unlikely great relationship with Sven, his reindeer companion. Unlike Olaf, the snowman, Sven does not talk but communicates in grunts, etc. which only Kristoff is able to understand. Give this idyllic illustration lots of snow and some warm colors.
Kristoff – The Ice Harvester:
A little rough on the outside and genuinely soft-hearted, Kristoff somehow manages to get by in life thanks to his ice harvesting. An orphan who is raised by an adoptive family of trolls, he has a deep bond with his reindeer companion, Sven.
Marshmallow – The Giant Snow Monster:
Following Anna's visit, Elsa creates Marshmallow, a giant snow monster that chases away all intruders including Anna and Kristoff. Marshmallow guards the snow and ice castle where Elsa has chosen to live alone for the rest of her life.
Oaken – Owner Of Wandering Oaken:
Lost in the forest while searching for Elsa, Anna finds Wandering Oaken's Trading Post and Sauna where she collects some supplies. As the name suggests the shop is owned by Oaken. It is here that Anna encounters Kristoff and recruits his help in her task to find Elsa.
Olaf Enjoying Summer:
An illustration showing how Olaf can now enjoy summer without worrying about getting melted, thanks to Elsa's magic gift of his own personal snow cloud.
Olaf Sniffing Spring Flowers:
As the curse ends and the eternal winter starts to disappear, the cheerful Olaf takes a moment to sniff and breathe in the fragrance of a spring flower in bloom. Make sure to fill in lots of green colors along with traces of snow and bright hues for the flower.
Distraught Elsa Mourns Anna, Prince Hans Readies To Kill Her:
Prince Hans knowing Anna is locked in the castle, lies to Elsa that she had caused Anna's death. Distraught by this news, Elsa mourns with guilt and sorrow. Believing Anna to have frozen to death already, Hans takes advantage of this moment when Elsa is unguarded to get rid of her as well.
Princess Anna – Fearless And Faithful:
Presenting, the determined Princess Anna who fearlessly set out on her own to find her sister, bring her back and cast away the eternal winter from Arendelle.
Whether you are new to this story and the characters or know them like your own family and friends, after going through this collection of Frozen coloring pages printable, you must have felt a certain element of special bond with the film. Relationships, whether with family, friends and all our loved ones, make life a better and rewarding experience. Acceptance of who we truly are and embracing it wholeheartedly without any fear is the key to truly being alive and living a complete life. So, remember to never give in to fear, live life as you are and sincerely pursue your dreams. Also, always cherish love and support your family and friends. You can enjoy some good moments with them by sharing and coloring this wonderful collection of Frozen coloring pages to print.