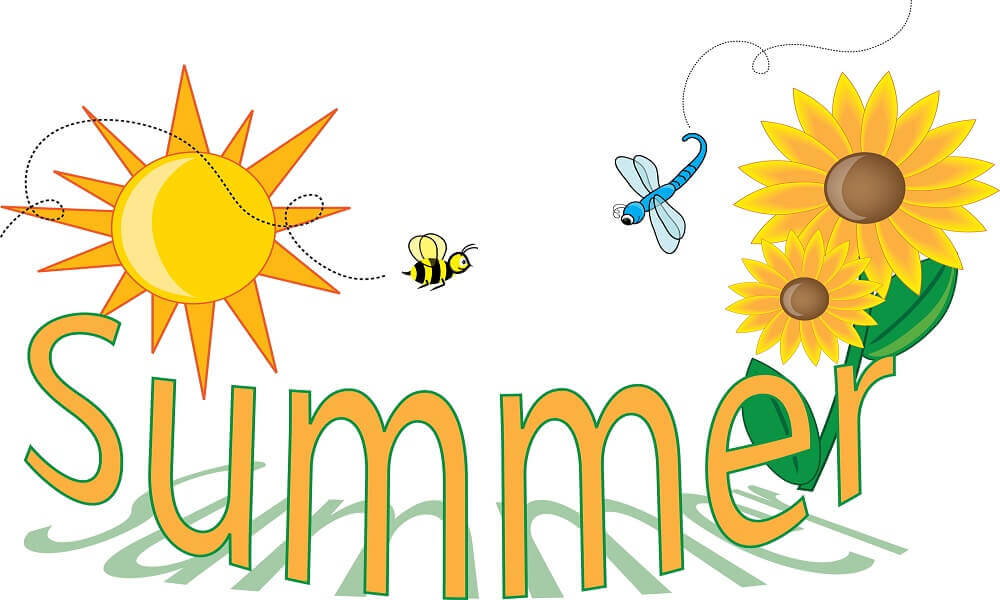 Good day, young learners! Hope you had some appropriate refreshments today. If not, don't worry! These free printable coloring pages are about the season that adds extra value to the need for refreshments. We are going to color some free printable summer break coloring pages! Summer is the hottest of the four seasons, when days are longer than nights. The date of its beginning and ending varies from place to place, culture to culture. It comes after the refreshing spring and before the awe-inspiring autumn. In some places, they can be so extreme that temperatures reach 55 degree Celsius. But no worries! Below are some cool free summer coloring pages to beat the heat and appreciate the beauty of Earth that this season highlights. Check out our collection of summer coloring sheets to print below.
Free Printable 36 Summer Coloring Pages
Mickey Mouse At The Beach Coloring Page: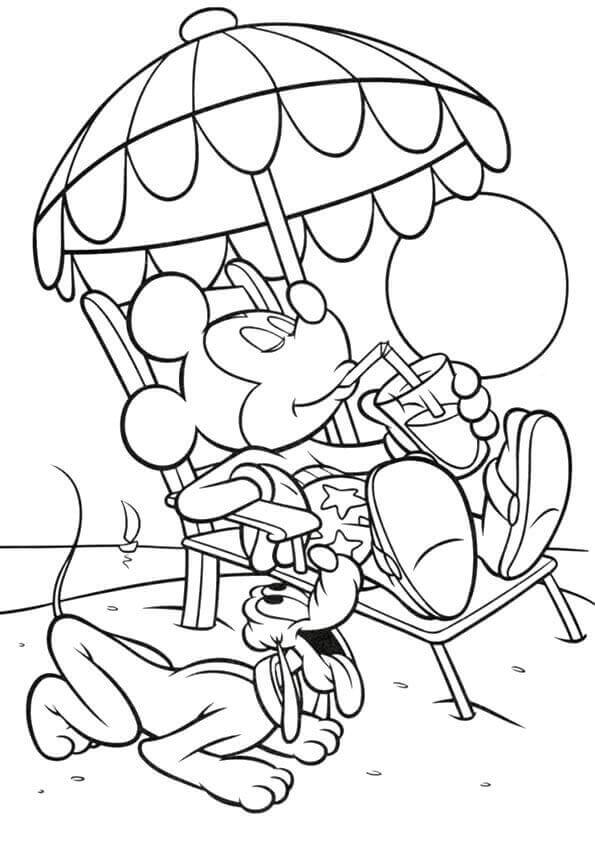 The world-famous cartoon characters Mickey Mouse and Pluto know very well how to enjoy summers. Relaxing on the beach is the best way to stay cool at such high temperatures. A refreshing cold drink further comforts the body in such a scorching season. Color them as bright as the summer sun!
[ Related: Mickey Mouse Coloring Pages ]
to join this conversation on GitHub. Already have an account? Sign in to comment Footer © 2023 GitHub, Inc. Footer navigation Terms Privacy Security Status
Kids At The Beach Coloring Page:
Beaches are cool even in summers, literally. This is because of a scientific phenomenon by which cool breezes blow from over the seas to the shore. That is the reason kids don't miss their air-conditioned home on the beaches. They stay busy building sandcastles and sipping sodas, like in this summer coloring page!
[ Related: Beach Coloring Pages ]
Sports At The Beach Coloring Sheet:
Beach volleyball is a very refreshing sport once you reach the beach. Many strangers become friends over it while playing. Sweating increases the cooling rate, which makes the beach environment feel cooler. Here Greta is enjoying the beach in an athletic way. Color her cool!
Cute Summer Coloring Page:
Lola enjoys summer mornings on Sundays. The cool breezes under the warm sun feel like spring days. So she enjoys the cool time in full swing on the swing in her garden. But she has to be careful not to stay out until noon. The sun starts scorching the afternoon.
Walk In The Park:
The onset of summer is similar to spring in many ways if you are surrounded by greenery. Here we Jackson and Jillian walking to their school through the park, witnessing the magic of beautiful creatures like bees and butterflies. The concretized cities are hot because they absorb heat quickly and lack any cooling effect, unlike plants.
Dora With A Rabbit:
Summer is a critical season for many crops. Some crops are harvested while some just grow in the fields. Dora, the explorer, met a friendly rabbit and is picking the ripe carrots from a field. They ripened early because abundant water was present there.
Beach Time For Kids: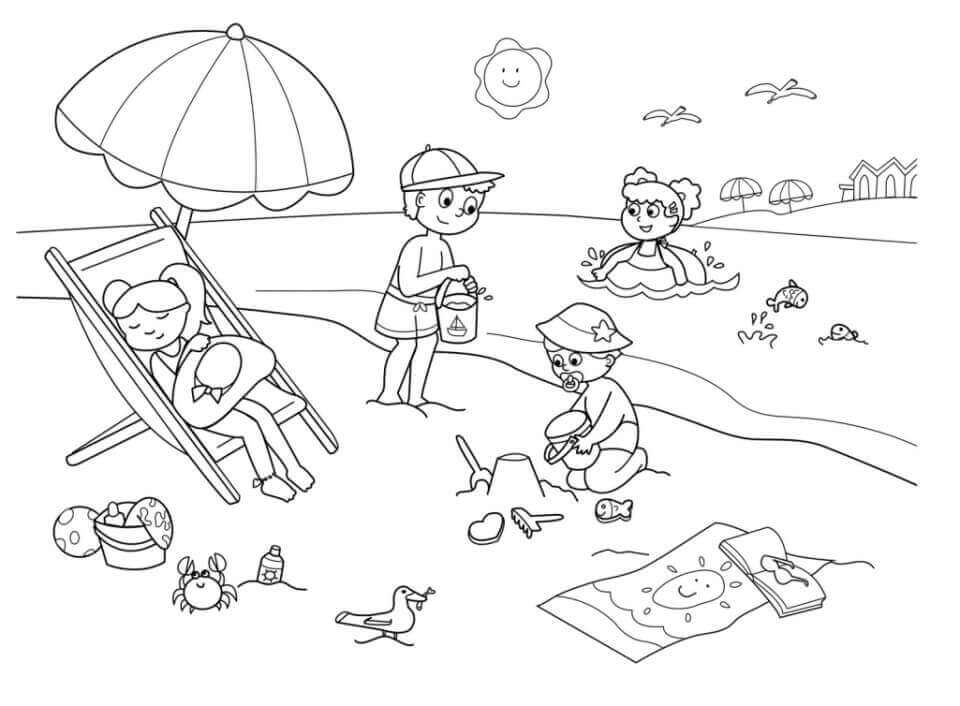 Beach offers a lot of ways to enjoy the summer. Kids who don't enjoy swimming against the unpredictable waves of the sea can enjoy making the sandcastles, floating on calm waters, reading under the sun, watching fish and crabs, or simply relaxing in the shade. What would you do?
Barbecue Coloring Page:
Some regions on Earth find solace in summer as they are used to long spans of cold winter-like conditions. So they celebrate the warm summers by socializing with their neighbors over barbecue luncheons and dinners. Doesn't it look yummy?
Hot-Air Balloons Coloring Page: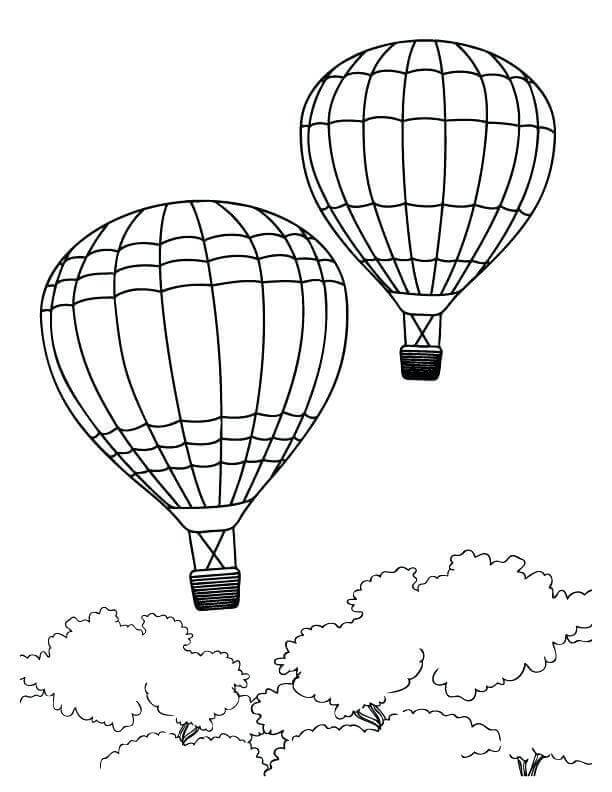 Another geographical fact is as the altitude increases, temperature decreases. In simpler words, if you want to beat the heat, just go higher – a hill-station or a hot-air balloon. Hot-air balloons here offering two benefits: cool breezes and scenic view. 
Water Relief In Summers Coloring Page:
Many living beings love to cool in a pool when summer is in full force. Look at Susie feeding the ducks. The sun is out and hot, but the ponds offer much-needed aid to the suffering beings. What would the ducks be thinking – what a relief, or water relief?
Garfield's Summer Coloring Page: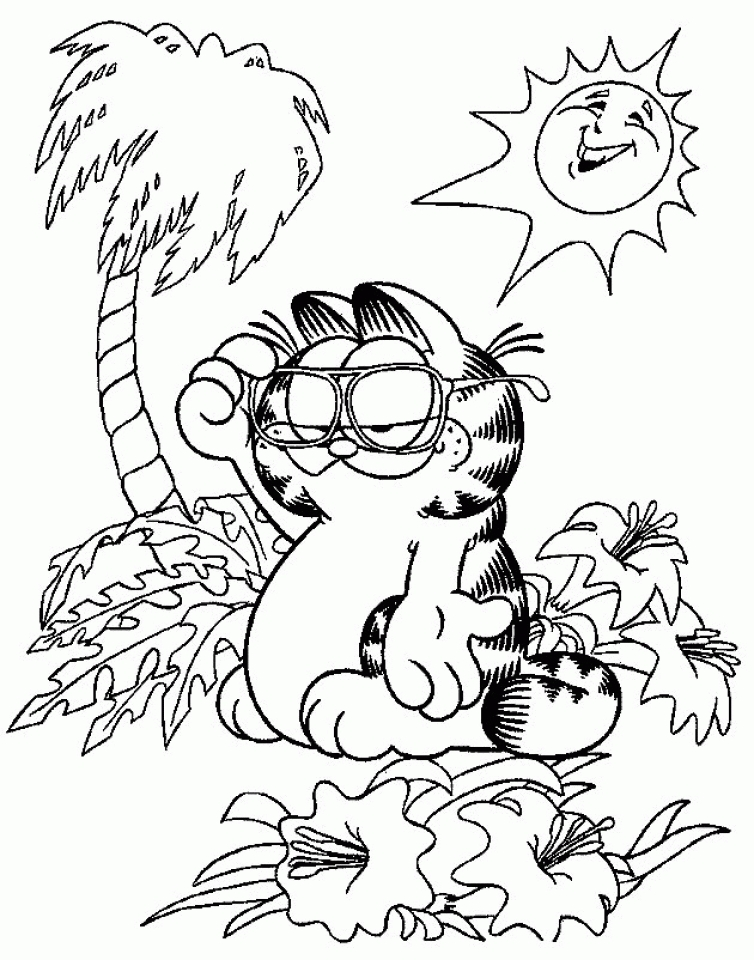 Presenting to you the most chilled out cat that the world has ever witnessed – Garfield! A character and comic series created by Jim Davies, the cat, is known for his greed and laziness. Look how cool he looks with his glasses on. Color him in cool shades!
[ Related: Cat Coloring Pages ]
Happy Summer Coloring Page: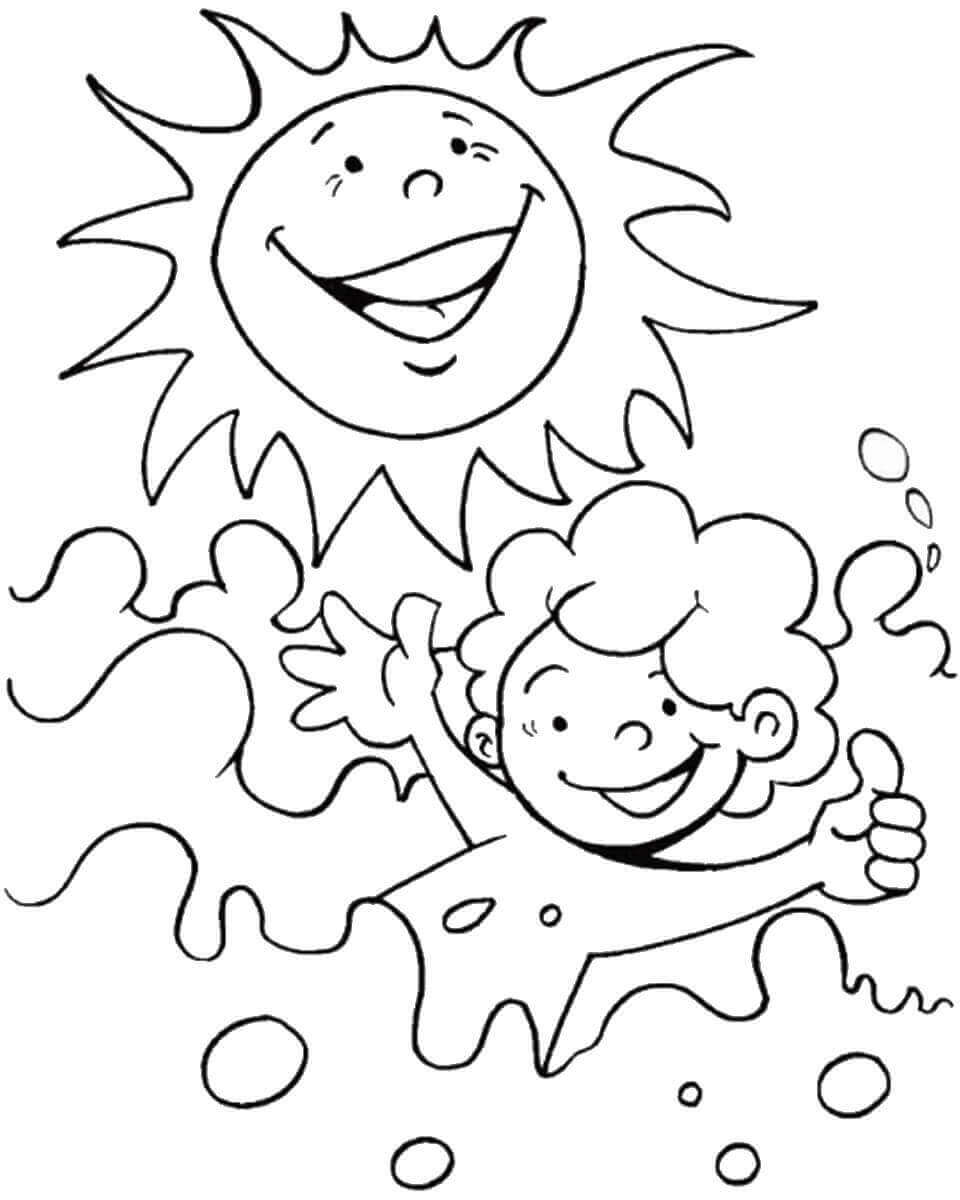 Adventurous swimmers like Robin dream of jostling against the tidal waves. Summertime makes this adventure his favorite recreational activity. Look how he is playing with the frothing waves happily; even the sun is smiling upon him!
I Love Summer Coloring Page: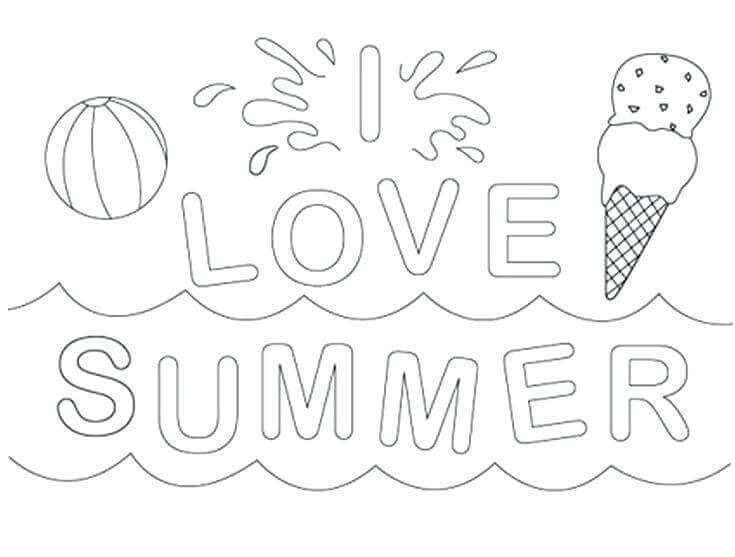 This is a page for people who find cold and snow menacing them throughout the year. For them, summer comes as a blissful relief. There are other reasons too to love this season as shown – clear skies, swimming pools, seas, water sports, ice creams! What is your favorite?
Ice Cream Coloring Page:
What can give you cold in the winters, can save your life in summers. This is true about a few things including the most beloved dessert in the world Ice Cream. Kids eagerly wait for ice cream trucks and vendors in the summertime. Even the parents don't stop their kids from having a bite of it. Color this Hero of Summer Days!
Ice Cream, Ice Cream Everywhere:
On this page, different ice creams are depicting different human activities at a beach famous among tourists. The abundance of ice cream in tourist places is true, though they don't build sandcastles. The ice cream provides the cooling effect with a sweet taste that every person enjoys.
[ Related: Ice Cream Coloring Pages ]
Mickey Enjoying Summer Coloring Page: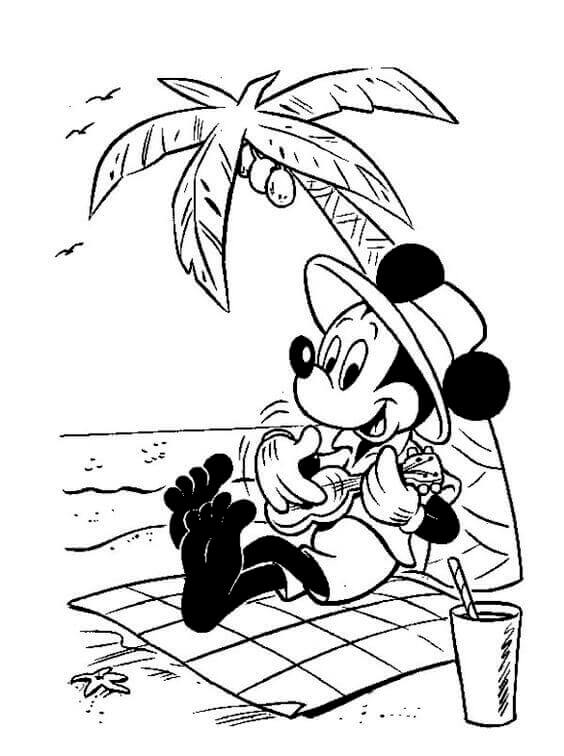 Under a palm tree, Mickey Mouse is playing the ukulele, a Hawaiian musical instrument. This is a common scene at beaches filled with tourists enjoying the summer. Many people entertain others while enjoying themselves. Color this page in funky shades!
Olaf At The Beach Coloring Page:
Olaf, a snowman in the movie Frozen, produced by Walt Disney Animation Studio, is relaxing on a beach. A chilled drink brings the much-needed refreshment that Olaf needed in this hot summer. How come the snowman is not melting under the sun? Maybe he is too cool to melt!
Water Sports At The Beach:
Speedboats are an exciting way of fulfilling your hunger for a thrill during summers, especially at a beach. Here, Dorothy is being pulled by a speedboat on a wooden board. Those who don't enjoy speeding like Dorothy can just use oars to boat in calm waters as you see in the background.
Summer Break Coloring Page:
Kids get another reason to love summers in the form of summer vacations. A break from school routine allows kids to pursue new hobbies, like Jennifer here is enjoying cycling with her pet Casper. The birds and butterflies add to her glee that the motion on wheels brings to her!
[ Related: Butterflies Coloring Pages ]
Summer Break Coloring Sheet: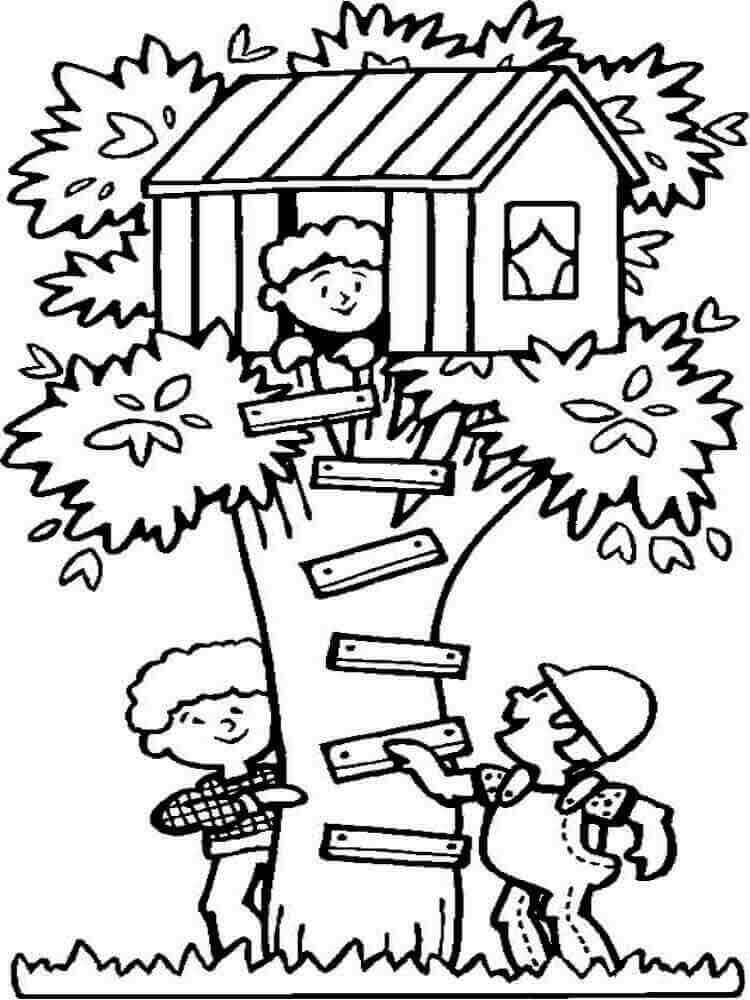 Trees provide the much-needed relief from the heat of the summers, but it can help you beat boredom too. Bob with his friends has successfully used the vacation to build a treehouse. Now it will serve as their new headquarter, for their planning of other projects this summer.
A Relaxing Hammock: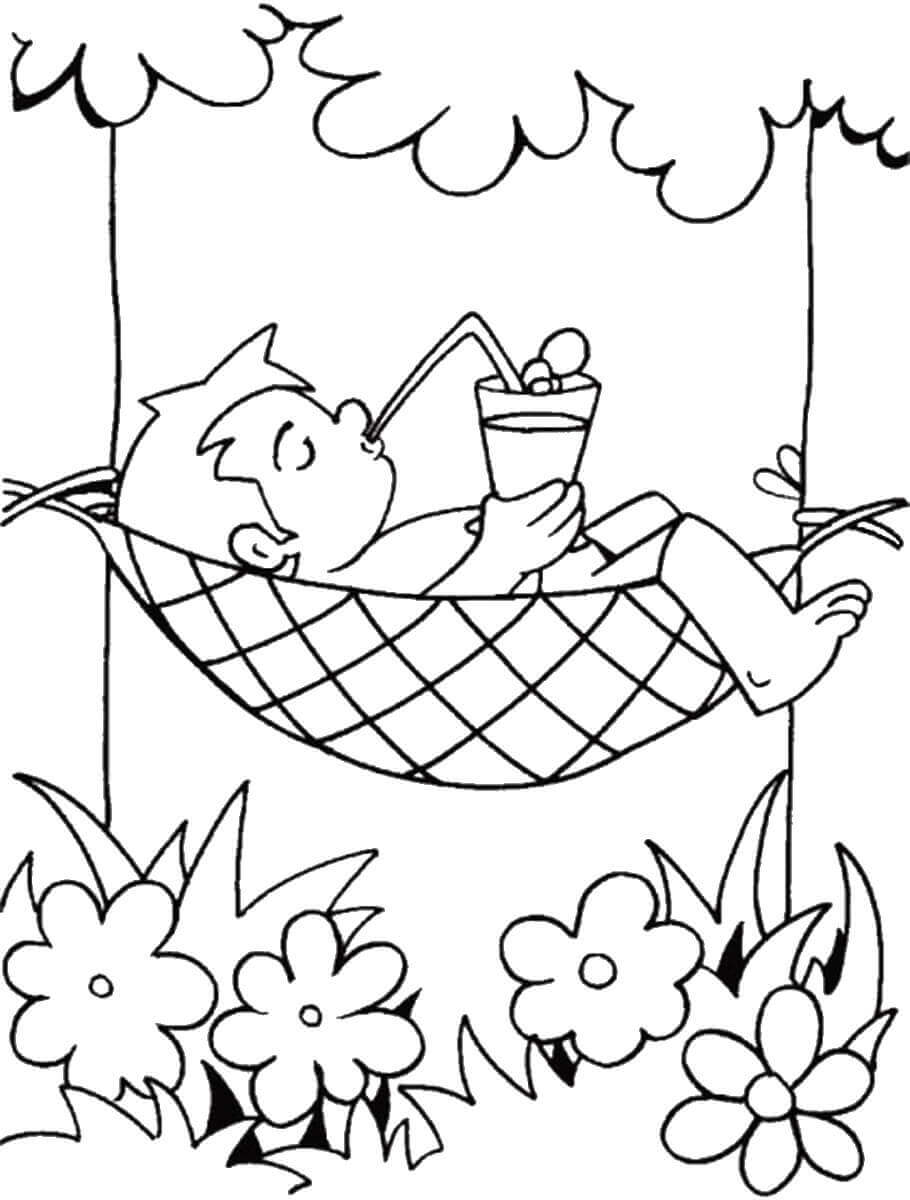 One of the best things to relax is a hammock. Mostly tied between two trees, suspended in the air, it feels like a swinging bed. Walter is making full use of it as he is lying under the shade of the trees and drinking a chilled fruit juice with eyes closed and body relaxed.
Surfing Coloring Page: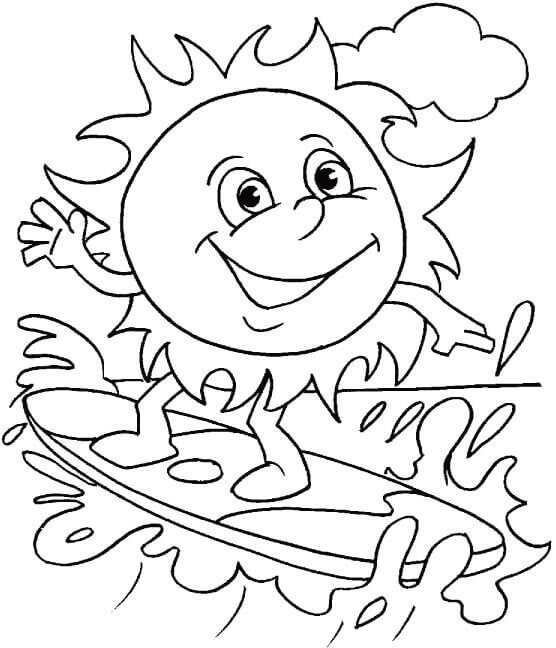 If you can ride the tides, surfing is the perfect sport for you. With summer comes an opportunity to visit the beach, and if you visit it with a well-polished surfboard, you are in for some water treat. But it is a difficult skill to master. Sun seems skilled enough!
Summer Coloring Page For Toddlers:
As the sun is brighter and hotter, eyes need some protection against sun glare. That purpose is fulfilled by goggles. The sky is bright blue with puffs of cotton-like clouds floating around sometimes. Color them with the warmth of the season.
Summer Vacation And Socializing:
With school closed and days free, many kids come together to study or play. Here we see Harry leading his friends out as evening has arrived – the best time to play outdoors. So what should they play – catch the ball, statue, or hide-and-seek?
Best Time To Cycle: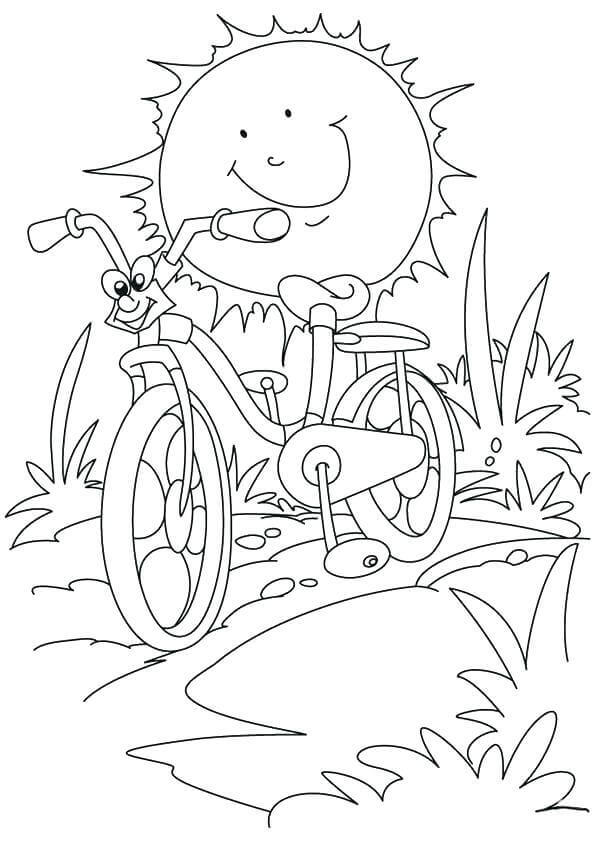 The bicycle is the best mode of transport for those who wish to stay healthy. Summer is a good time to cycle around the cities and countryside. You can witness some spectacles of Nature that you might have never seen. However, wear a helmet and carry sufficient water.
Cooling Away Coloring Page: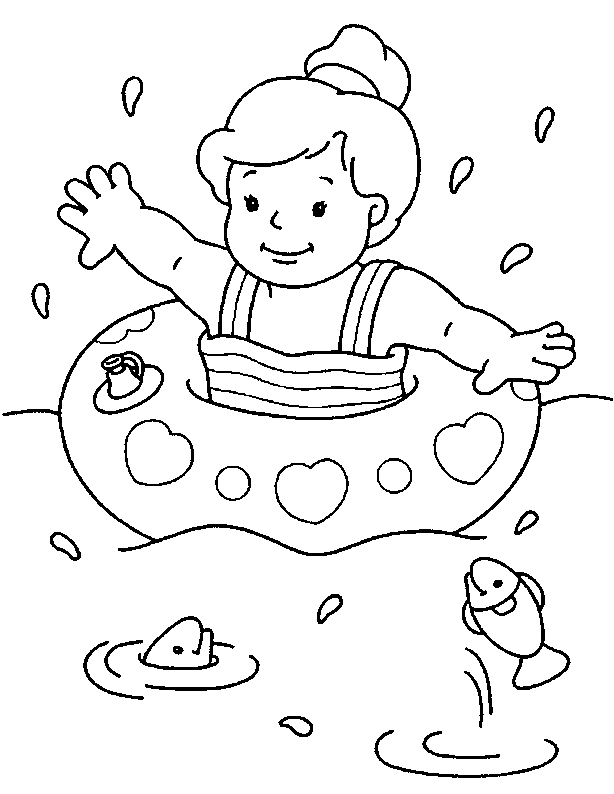 Annette loves summer vacations because that is the time when she visits her grandparents in the countryside. There is lake close by where she swims. Here she is floating on a tube and seeing the fish dance.
Season Of Cold Drinks:
To beat the heat, Sun is demonstrating how to enjoy the season-best floating on a tube. Have a chilled drink and goggles on. Nothing is more refreshing than a chilled juice under the scorching sun. Maybe that is why even Sun is having a drink!
Season Of Tourism: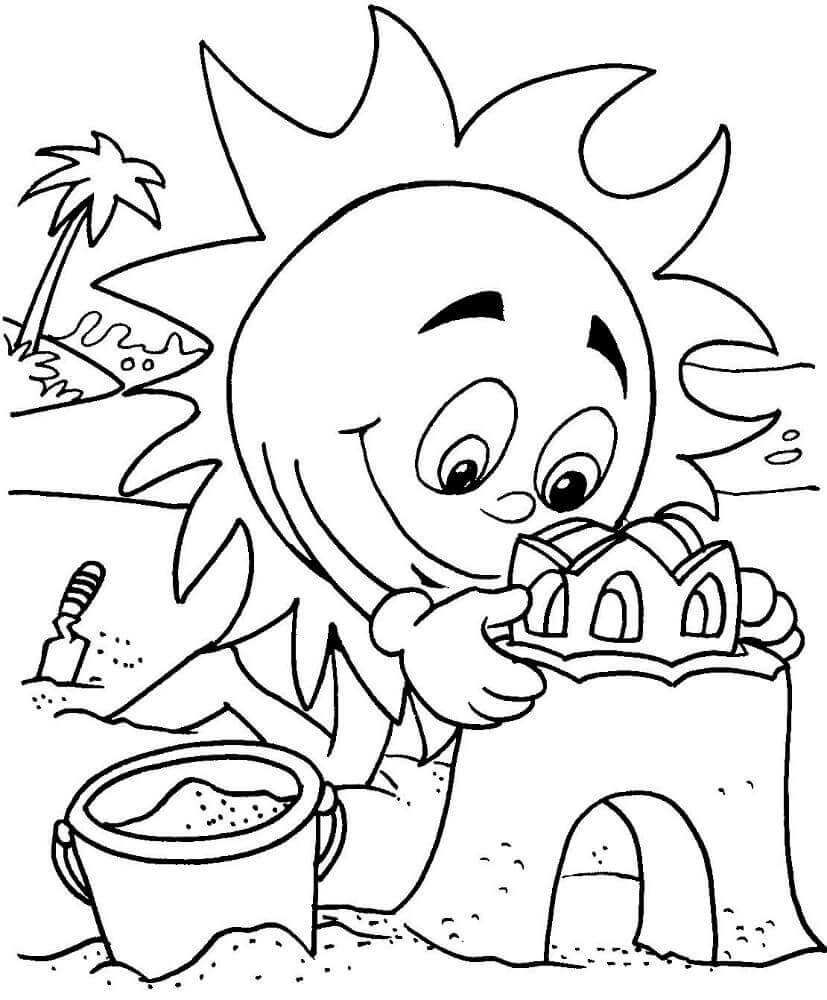 The summer season increases the importance of the beaches. Many countries and cities rely on tourism for their revenues and income. Here, Sun is telling us how to make sandcastles on the beach. Have you ever built one?
Summer Diving Coloring Page: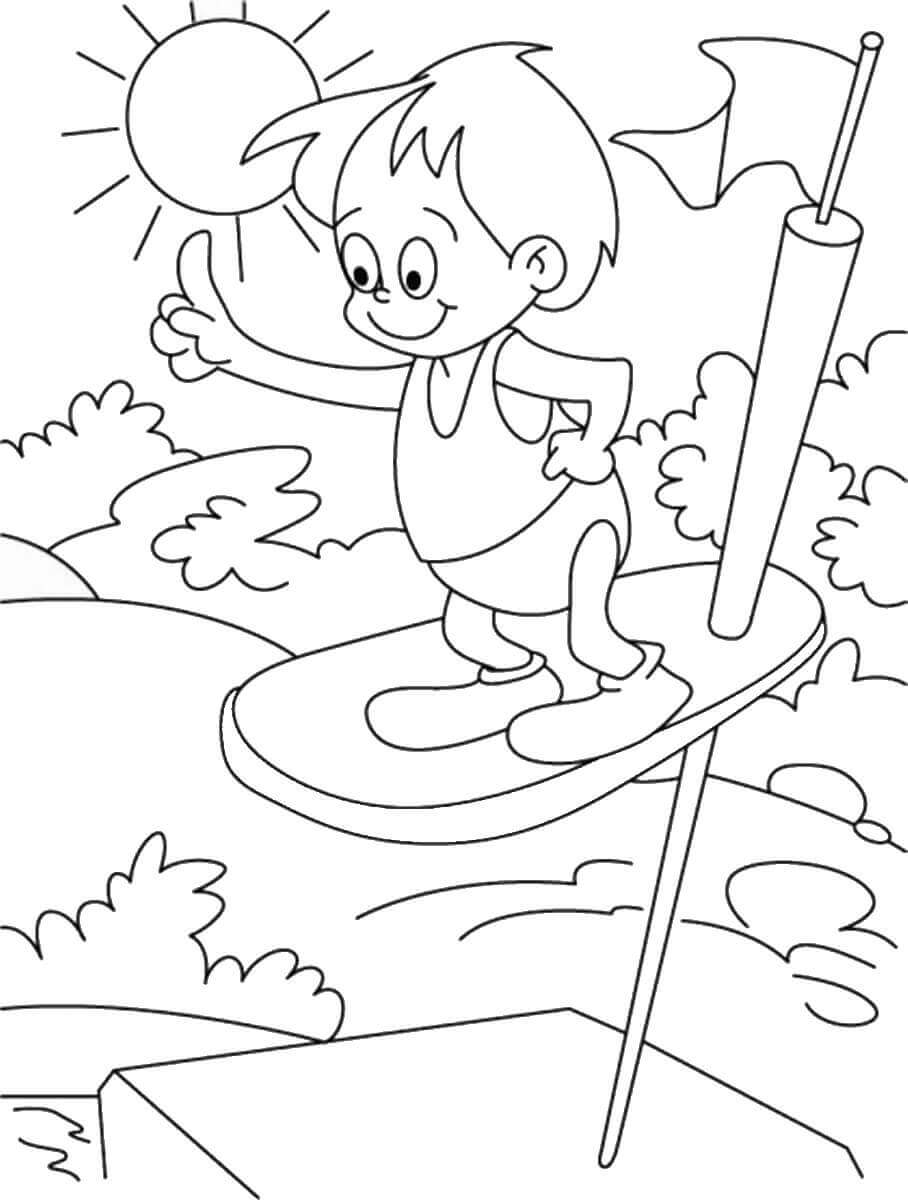 Swimmers love this season when swimming serves two purposes – entertainment, and beating the heat. Some swimmers love the thrill of diving from a height. Here is Duncan, who is going to dive from such a height for the first time. If you are not confident, you should not dive!
Summer Essentials Coloring Page: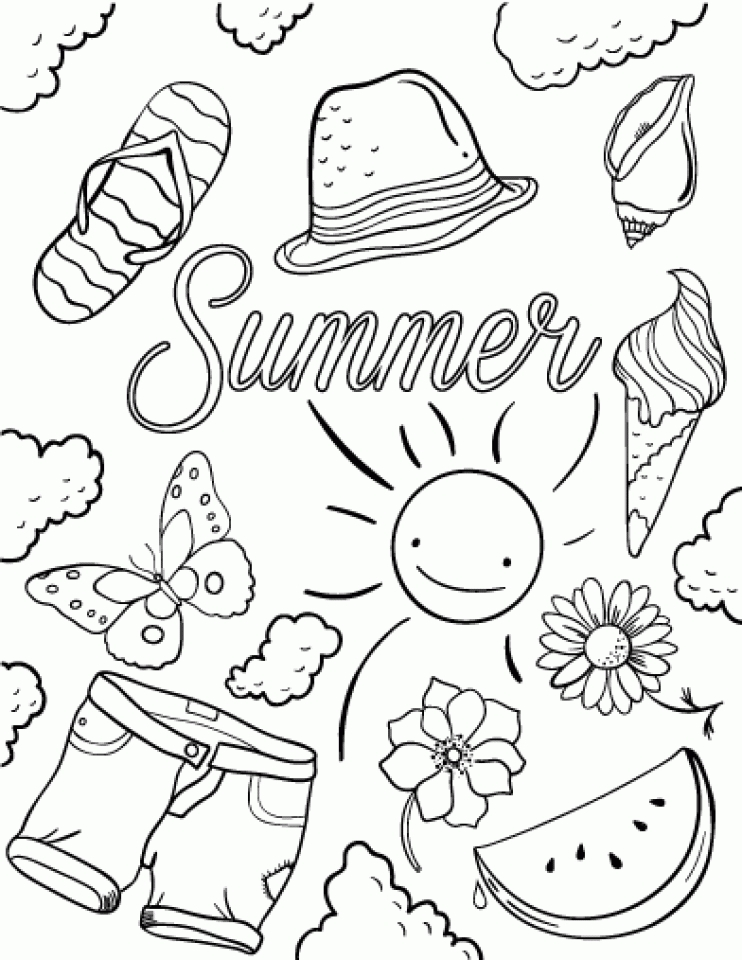 Summer is the season when Earth is in Summer Solstice position along its orbit. This means the Northern Hemisphere gets more intense sun rays. This increases the temperature of this portion of Earth. These things are related to summer, which needs to be light and cool. Color them!
Summer Fruits Coloring Page:
Summers are hot and dry. So the fruits that we need to eat should be cool and juicy. Here are a bunch of refreshing fruits for this scorching season. These are grapes, pear, strawberries, and bananas. Color them as written!
Speedboat And Surfing:
Tourism spots need to make the most of the travel season. So water sports are a must in crowded beaches. Speedboat surfing gives you the thrill of speed and refreshment of the cool sea. Sounds fun, right?
Summer Swimming Coloring Page:
Nothing soothes in the summer like cold water of a swimming pool. Here, Gunter is preparing to dive into a swimming pool and go freestyle in the water. Surrounding greenery ensures that the air is cooled. So let's countdown to his dive!
Sabrina The Surfer: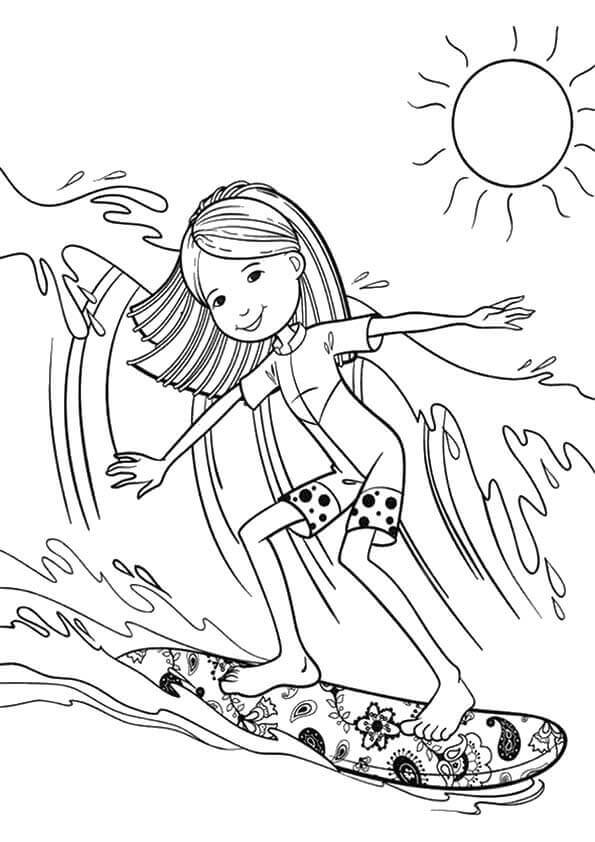 Sabrina's father has been a national-level surfer and inspiration and trainer to his daughter. Someday she wishes to break her father's record of surfing the most enormous wave. Look at her surf – will she succeed?
Tom And Jerry Enjoying Summer:
Debatably the best cartoon characters in the world, Tom and Jerry have given up their hostility to enjoy the refreshment during a hot summer day. Most of the countrymen of cold countries like Russia and Germany love to tan naturally under the sun. They lie down on the sand just like these two. So color them up in some cool shades!
Summer Break Coloring Page: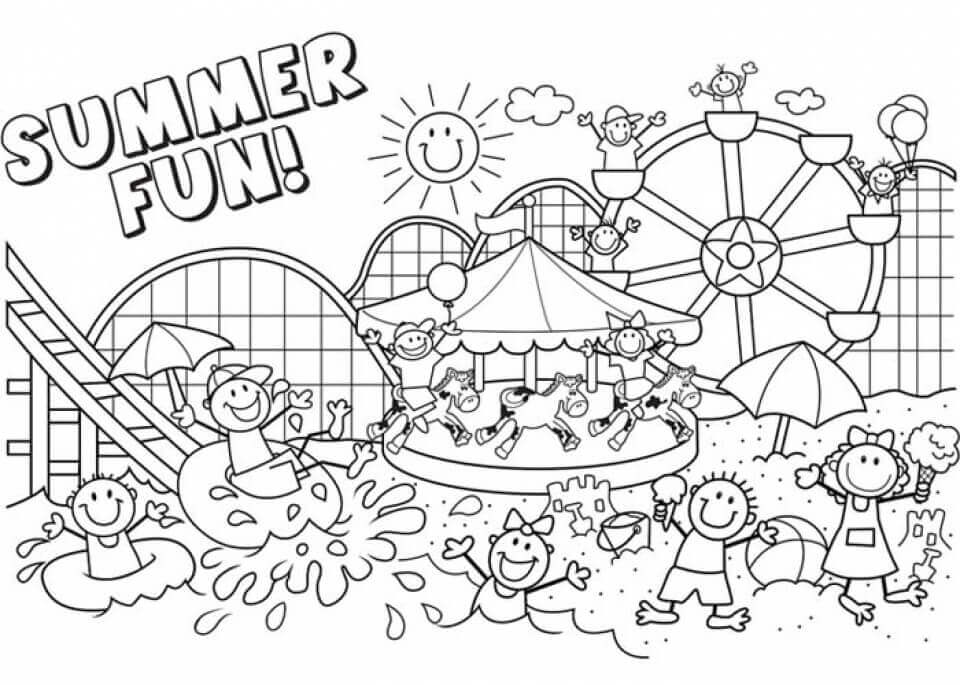 Last, but not least, here's a cool coloring page, which you can color in your summer break. We love how it captures the essence of this bright season.
Hope you found our collection of free printable summer coloring pages as cool as the fruit juices you enjoyed this season. Do you know air-conditioners are the major contributors to Global Warming that is making every summer hotter than the previous? There are natural ways of beating the heat eco-friendlier than air-conditioners. Grow more trees, save water, and travel when you can! Think of more such ways to make summers more special, and while you are at it, color all these pages!