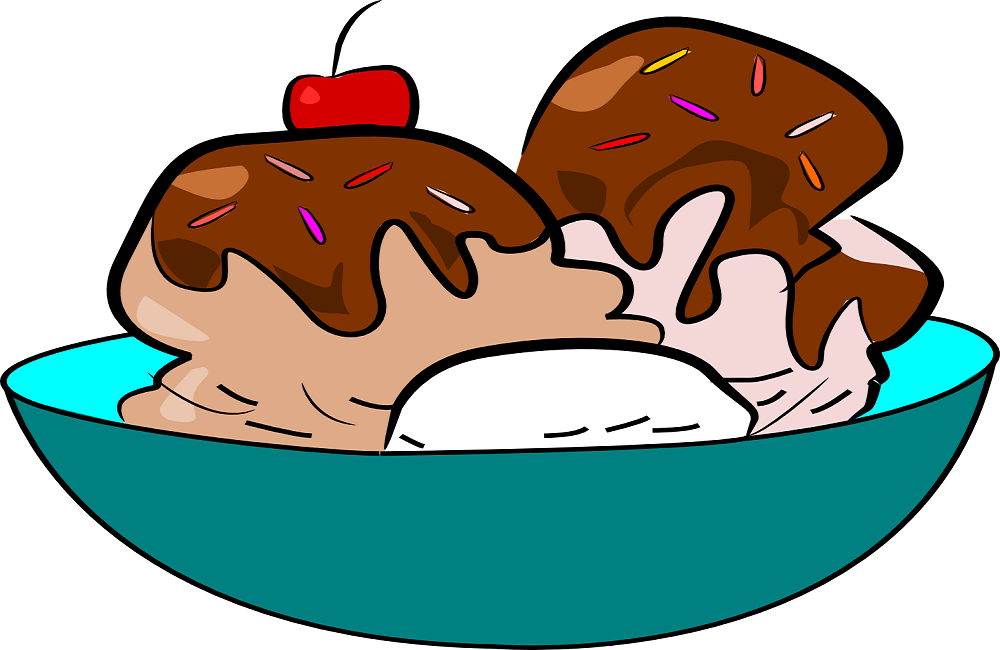 Few things in life give us an immediate sense of happiness and joy. Very few among them, elicit a joyful reaction that transcends all ages. We are sure you will definitely have the same reaction when we reveal today's topic. Ice cream! Is there a huge smile on your face right now? Let's get the grin a bit wider by filling these free printable ice cream coloring pages.
Ice cream is sweetened frozen food which is widely eaten as a dessert. But many people also eat it as a snack. While there are several different versions and new recipes of ice cream being invented all around the world, the key ingredients almost always remain the same. Ice cream is made from cream or milk and is sweetened using sugar or similar alternatives. Any other ingredients and spices can be added. The mixture is then stirred and set to cool beyond the freezing point, following which smooth and delectable ice cream is ready to be devoured. Let's not wait any longer and start tasting this sweet and delicious collection of ice cream coloring sheets to print.
30 Free Ice Cream Coloring Pages Printable
A Tempting Popsicle: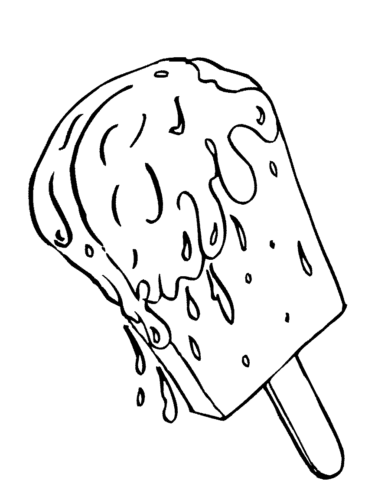 Starting off the collection is a very tempting kind of ice cream that has a different name altogether. It's a popsicle! The liquid ingredient is frozen with a stick so that it can be eaten while holding it. It's already starting to melt. Quickly add colors to this before it disappears completely.
to join this conversation on GitHub. Already have an account? Sign in to comment Footer © 2023 GitHub, Inc. Footer navigation Terms Privacy Security Status
Baby Donald Enjoying Ice Cream: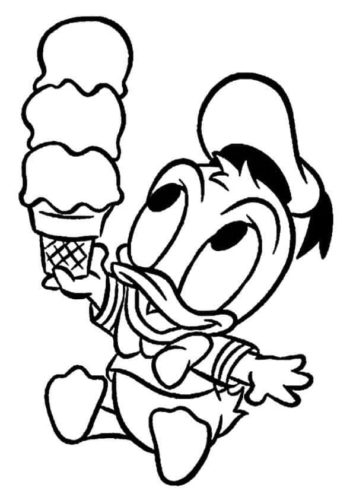 Did you have this much ice cream when you were a little kid as well? Baby Donald is truly in love with his ice cream and cannot get enough of it. Look at the stacked up triple scoops of ice cream, which he is balancing perfectly well. Fill this illustration with varied colorful flavors.
Baby Kermit and Miss Piggy Eating Ice Cream:
Not just Donald Duck, but other popular characters love ice cream too. This coloring page shows Baby Kermit and Miss Piggy having a nice time slurping on some tasty scoops of ice cream. Decide on the flavors you want to give to their individual ice cream and fill this illustration with all the colorful details.
Barney Having An Ice Cream: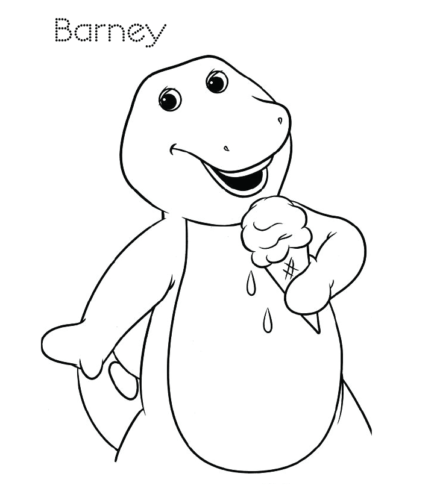 Another character from the television world graces this coloring page. This time it's the titular character of a British animated television series, Barney. As you can see from the illustration, Barney is a dinosaur and here he is having a gala time eating his ice cream.
Boy With A Huge Ice Cream:
Who would not love to have such a huge ice cream? But as they say, too much of everything isn't good. So, instead of trying to eat lots of ice cream after looking at this young boy, work your colorful magic to bring out the details in this illustration.
Clifford Ice Cream Coloring Page:
Here's Clifford from the hit television series inspired by the popular books written by Norman Bridwell. Being a big dog, the fake huge ice cream decoration on top of the ice cream truck looks like real ice cream to him. Even the owner is getting worried Clifford might topple his truck.
Climbing On A Cup Full Of Ice Cream: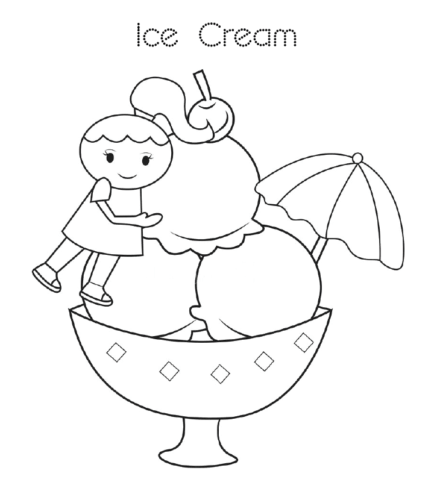 Wishing to eat lots of ice cream, this little girl is having strange dreams of this sweet delicacy. She has found a giant cup filled with several scoops of ice cream and has even managed to climb up to start devouring it. Make her dreams look real by filling it with fun and colorful details.
Happy Ice Cream In A Cone:
If some ice cream likes to be in a cup, this one is happy being with a cone. That wide open-mouthed laugh of the ice cream looks joyful, to say the least. Add more to its reasons for happiness by giving this illustration splashes of color.
I For Ice Cream:
Today's alphabet lesson involves the letter "I". And I is for? Yes, you are right, it's ice cream. Illustrating this is the excited little rat holding a popsicle to get started on the alphabet lesson for you.
Ice Cream In A Bowl, Forgot To Eat At All: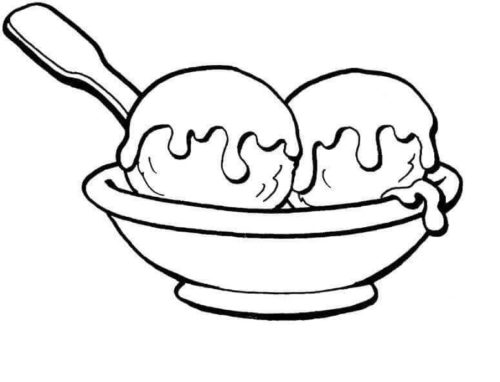 Someone took out two scoops of ice cream and then forgot to eat them. Now, the ice cream is starting to melt. Maybe if you fill it with different flavored colors, they will remember to eat them before it melts away.
Ice Cream Coloring Page For Teens: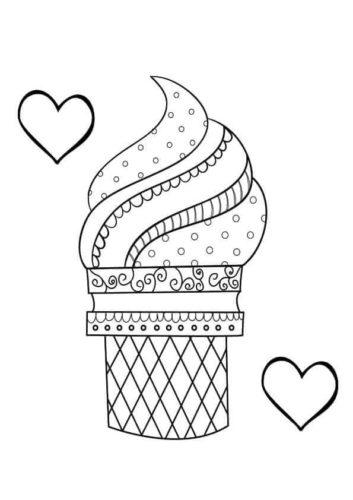 You can be creatively satisfied with this wonderful illustration of ice cream. Showcasing minute detailing and design elements, this swirling ice cream will be a gem to color. Print this coloring page and fill different colors for different sections to bring out a multicolored ice cream.
Ice Cream Inspired Poster: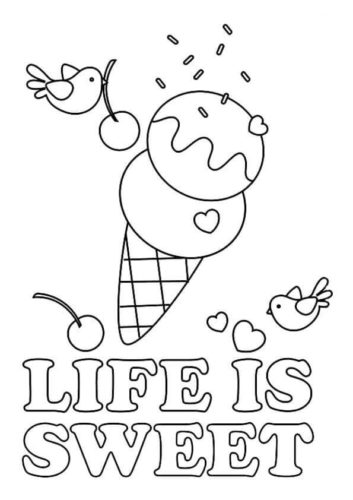 If you like inspirational and positive quotes, then this poster inspired by ice cream would fit in perfectly as your inspirational poster. From the ice cream cone to the little birds and cherries, there are so many lovely vibes coming off this illustration. Color them all and hang it as a sweet reminder in your room.
Noddy And Clockwork Mouse Eat Ice Cream From Miss Harriet: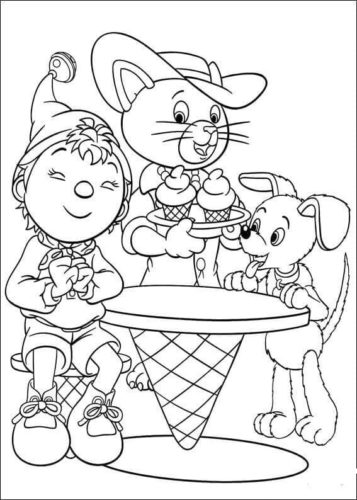 Selling ice cream as her business, Miss Harriet the Pink Cat often finds Noddy and Clockwork Mouse coming up to her to savor some delicious ice cream. These three are all characters from the famous books created by Enid Blyton. They are also part of a television series which you might have seen, as they are still running on TV.
Ice Cream Party In The Park:
This ice cream themed party has been a success. You can tell this by simply looking at the number of attendees. There are so many different animals who have come to enjoy some flavorful ice cream at this party. Color this celebratory scene with lots of joy and fun.
Ice Cream Cone Coloring Page: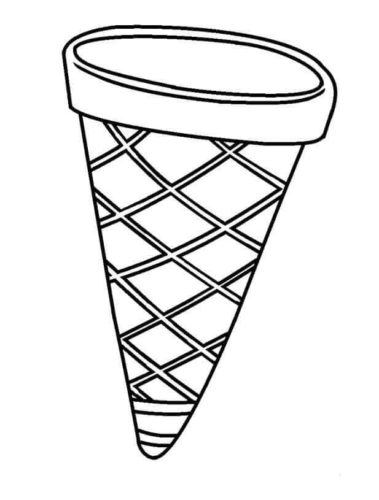 Unlike the ice cream that is super smooth and cold to taste, the ice cream cone is crispy and crunchy to taste, which helps to hold the scoops of ice cream. Print this coloring page and turn this ice cream cone into a colorful one.
Ice Cream Color By Number Activity Sheet: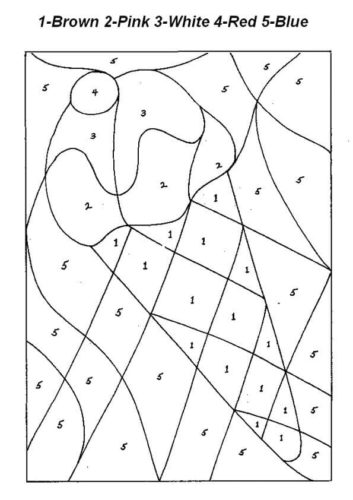 Time now for some fun activity inspired by the ice cream theme. On this coloring page, you can find different numbers written in different sections. Simply color each numbered section with the corresponding color given at the top of the page. Once you are done, you will be rewarded with a colorful ice cream illustration.
Ice Cream Sandwich:
One of the many different ways to eat ice cream is by making it into a sandwich. Yes, there is something called ice cream sandwich. Somebody has already taken a bite out of one of the sandwiches on this coloring page. Turn each sandwich into different flavored ice cream when you start coloring this illustration.
Ice Cream Seller In An Ice Cream Truck:
It is a funny-looking ice-cream seller who is driving the ice cream truck, isn't it? It almost looks like a cat. Maybe it is a cat. Give this interesting ice-cream seller and his ice cream truck illustration some of your funky set of colors.
Realistic Ice Cream Truck:
This illustration shows an ice cream truck that you might have seen in real life. If you have then you can give it similar colors to the one you saw. If you haven't seen any ice cream truck, go wild with your imagination and showcase your coloring skills.
Ice Cream Man With His Ice Cream Van:
A lovely and friendly ice cream man is ready to sell some flavorsome ice cream today. He is carrying different varieties and flavors of ice cream in his van. Print this coloring page and give this illustration some cool and vibrant colors.
Ice Cream With Waffles:
You have already seen how ice cream can be eaten as a sandwich. Here you can see another combo being tried out. It's the magic of waffles accompanied by the wonders of ice cream. Think of the flavor combination while you print and color this page.
Jerry Has Found An Ice Cream: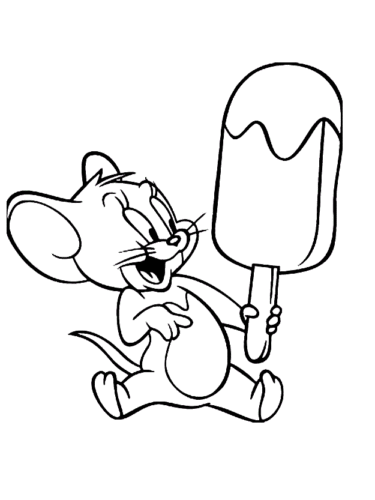 Being as smart and industrious as Jerry is from the show Tom and Jerry, it comes as no surprise that he was able to find this ice cream. Look at the sheer excitement on his face. You can tell he is going to have a great dessert for dinner today. Hopefully, Tom doesn't find out about it. In the meantime, you can multiply Jerry's joy by filling wonderful colors on this coloring page.
A Cute Kawaii Ice Cream: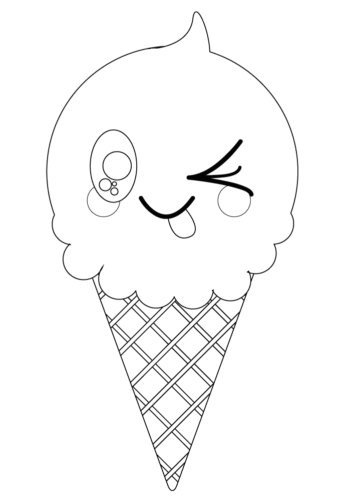 Merging the cuteness factor from the Japanese Kawaii phenomenon, this illustration features cute little ice cream with a winking expression. Give some more detailing and an added human expression to make this coloring page stand out.
Read: Cute Coloring Pages
Mickey Mouse Enjoying Ice Cream:
When everyone seems to be enjoying some ice cream, how can one of the most important Disney characters be left behind? Here is Mickey Mouse taking his time eating a huge ice cream. Can you guess the flavor of the ice cream? Print this coloring page and give this ice cream your favorite flavor.
Read: Mickey Mouse Coloring Pages
Minnie Mouse Enjoying Popsicle: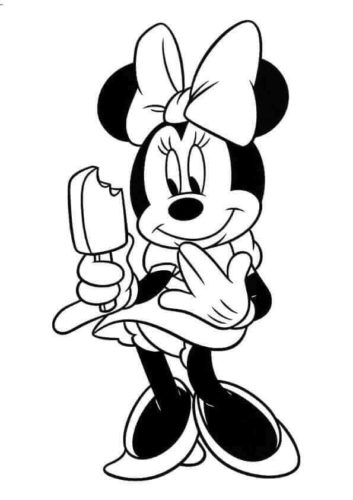 Mickey Mouse may love his ice cream but for Minnie Mouse, it's the cold and icy popsicle. She has already bitten into the popsicle and is slowly enjoying the flavor.
Read: Minnie Mouse Coloring Pages
Peppa Pig Enjoying Ice Cream:
Another British television animated character is here to bless with its ice cream. Peppa Pig, seen here in this summery illustration, is an anthropomorphic pig. Since summer is already here and the temperature is rising, Peppa is trying to keep cool by enjoying a cold ice cream. Bring out the summer vibes on this coloring page with your fun coloring skills.
Read: Peppa Pig Coloring Pages
Boy Carries Several Scoops Of Ice Cream:
Fulfilling his wish to eat as many different flavors of ice cream at one go, this boy has bought ice cream scoops in different flavors. Do you think he will be able to eat them all without letting it fall? Think about it while you color this illustration.
Sweet Ice Cream Dream From Shopkins: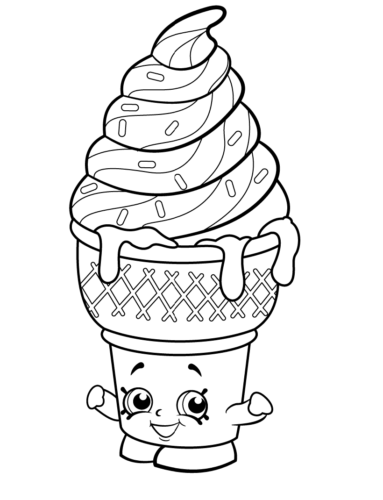 Manufactured by Moose Toys, Ice Cream Dream is a part of the collection called Shopkins based on grocery store items. If you have seen it, then you know that the cone is pink in color and the ice cream is brown with blue sprinkles on top.
Read: Shopkins Coloring Pages
Teddy Bear With A Huge Ice Cream: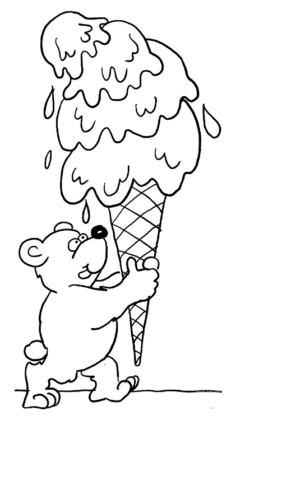 We have seen some pretty big ice cream in this collection. This one, however, beats them all with its humungous size. Look at the bear effortlessly carrying this giant ice cream. Alas, the heat is already melting the ice cream. Print this coloring page and give some summery colors to this illustration.
Read: Teddy Bear Coloring Pages
Zombie Ice Cream Coloring Page:
We have a drastically odd ice cream illustration to end this collection. Inspired by the undead creatures, here's a scary-looking zombie popsicle for you. Make sure to bring out the oddness and spooky expression with some dark and gloomy colors.
Read: Zombie Coloring Pages
With that scary looking zombie ice cream, we have come to the end of today's sweet collection of ice cream coloring pages printable. As Summer is upon us, you will be able to eat lots of different varieties of ice cream. You can even help your parents make ice cream at home. Depending upon the style and variety, ice creams are also referred to as frozen yogurt, gelato, or sorbet and by many other names. As long as they taste sweet and delicious, it should not matter, right? After all, like Shakespeare says, what's in a name?