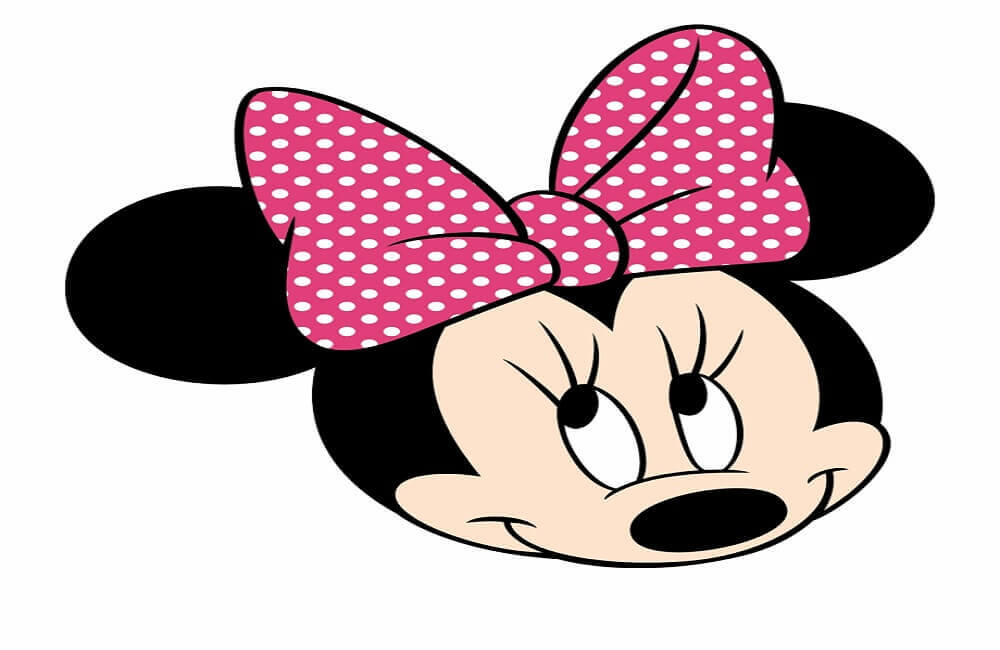 Hello children! Hope you are making the most of the summer days, as summer has officially begun. Joining you for the fun days in the sun is Disney's little miss sunshine. We are here today with a sunny and fun collection of free printable Minnie Mouse coloring pages.
One of Disney's popular characters, Minnie Mouse was created by Walt Disney and Ub Iwerks in 1928. Minnie Mouse was introduced as a couple along with Mickey Mouse. They have both appeared together in several animated shorts and series. Minnie Mouse's first appearance was in the film, Steamboat Willie. You can easily identify her by her polka-dotted dress and large hair bow as well as large pump shoes with bow design. Not to forget the white gloves and black stockings.
It's time to discover more about this Hollywood animated celebrity through this interesting collection of Minnie Mouse coloring sheets to print.
35 Free Minnie Mouse Coloring Pages Printable
Minnie Mouse Is Angry:
Looks like we are starting our collection on a not-so-good note. Something has upset Minnie Mouse and she is fuming with anger. Because she is angry, she has taken a break to be by herself so that she doesn't take out her anger on people around her. Even in her anger, she is kind.
to join this conversation on GitHub. Already have an account? Sign in to comment Footer © 2023 GitHub, Inc. Footer navigation Terms Privacy Security Status
Baby Minnie Mouse Plays With Teddy Bear:
Wearing her cute onesie, baby Minnie Mouse is having fun playing with her teddy bear. Even as a child, she had her trademark styling, her large bow tied on her head. Print this page and color this playful illustration.
Mickey and Minnie Mouse Swinging And Enjoying:
Spending quality time with your loved ones is an important aspect of any relationship. Much like how you must like playing with your friends or having a family holiday. Doing just that is the loving couple, Mickey Mouse and Minnie Mouse, as they have a great time talking about their day, swinging playfully.
The Next Great Baker, Chef Minnie Mouse:
Donning the chef hat for the day, the talented Minnie Mouse has tackled the tricky task of baking a cake. She has done a great job, hasn't she? The cake with the frosting and the cherry on top looks delicious. Imagine how the cake would taste, as you print this coloring page and fill it with yummy colors.
Minnie Mouse Gets Ready For Party:
Minnie Mouse, known for her fashionable and trendy styling is looking pretty all dressed up. She has donned a flower on her stylish hat and wearing a wonderful smile on her face. Compliment her dressing and her beautiful personality by printing the coloring page and filling it with brilliant colors.
Daisy And Minnie Try On Some Clothes:
Daisy was created by Carl Barks for Walt Disney Studios in 1940 as Donald Duck's girlfriend. But she is also Minnie Mouse's best friend. Look at the pair of them getting together and trying out new outfits. Get creative with your coloring skills by coloring the different clothes you can see in the illustration.
Daisy Duck and Minnie Mouse Go Hat Shopping:
After trying on some clothes at home, Daisy Duck and Minnie Mouse have decided they need to go shopping for some stylish and elegant hats. Daisy seems to have found the perfect hat for herself as she admires it standing in front of the mirror.
Fairy Minnie Mouse:
Like the famous fairy godmother in Cinderella, Minnie Mouse has taken on the avatar of being a fairy in this illustration. She is fully prepared with her large wings and a magic wand in her hands. Give flight to her fanciful avatar with your coloring skills.
Minnie Mouse Watering Her Garden:
Having a lush green garden at her home, Minnie Mouse is diligent when it comes to taking care of it. She looks happy watering the plants in her garden. Remember to take care of the plants if you have a garden at home.
Mickey And Minnie Cooking Together:
A family that eats together, stays together. Mickey and Minnie seem to be aiming for togetherness, as they both decide to not only eat together but cook together. Knowing how to cook is one of the basic life skills, whether you are a man or a woman.
An Evening In Paris For Mickey And Minnie:
It is not just homemade meals for Mickey Mouse and Minnie Mouse. They enjoy eating out as well and they do it in style. Here they are taking a little trip to Paris and having a nice romantic dinner time under the Eiffel Tower.
Mickey And Minnie Mouse Enjoy A Picnic:
When it is not home cooking or a trip abroad, Mickey Mouse and Minnie Mouse take full advantage of a pleasant sunny day. Good weather today has made them take a trip outdoors to the park for a wonderful picnic.
Minnie And Daisy Going On A Drive:
No matter how busy they are with their own individual lives, Minnie Mouse and Daisy Duck are such best friends that they always take time out for each other. Today, they have decided to forgo shopping and dressing up for a cool drive. They sure do look happy driving the car.
Minnie Cheering With Hooray Flag:
If you feel down or disheartened, you can take a look at this cheering illustration of Minnie Mouse. Holding a cheering flag in her hand, Minnie Mouse is playing the perfect cheerleader. Print this page and you can use it as a cheering poster after coloring it perfectly.
Minnie Mouse At The Beach:
Sometimes having a little "me" time is a good thing for you. You can use it to relax and rejuvenate or indulge in your favorite hobby. Minnie Mouse has decided to take a happy break and enjoy some time at the beach.
Minnie Mouse Knitting Christmas Stockings:
There's always a beautifully decorated Christmas tree along with cool gifts in Minnie Mouse's house during the holiday season. Last Christmas she even knitted her own special Christmas stockings to decorate during the festive days.
Song Time At Minnie Mouse Club Glitz:
Minnie Mouse never shies away from any task and always gives her best in everything she does. She is here belting out her favorite song with confidence, singing like a star.
A New Gown For Minnie Mouse:
Getting something new, whether it's a new toy or a new piece of clothing, is always an exciting feeling. Look at the nice little twirl Minnie Mouse takes as she admires her new gown, standing in front of the mirror.
Dolphin Cheering, Minnie Mouse Surfing:
Being an adventurous soul, Minnie Mouse is having a blast surfing on the high waves. Even the dolphins are smiling and cheering her on as she maneuvers her surfboard like an expert.
Minnie Mouse Playing A Movie On Her Laptop:
Guess who enjoys movie time, especially the latest new DVD collections. It's Minnie Mouse. Here she is all excited about the new movie DVD she just purchased, ready to watch it on her laptop.
Breakfast With Minnie Mouse:
Food is always a passion for Minnie Mouse. Even when it is not a big celebration like baking a yummy cake, she makes every food she cooks with her heart and passion. You can tell it is going to be a hearty breakfast just by looking at the spread on the table.
Cheerleader Minnie Mouse:
Jumping up in the air like an expert cheerleader, Minnie Mouse is engrossed in the spirit of cheering on her team. She is proudly swaying the pom-pom in her hands, moving them to the rhythm of the music that is playing. Join her cheers by giving her some cheerful colors.
Riding On A Merry-go-round, Minnie Mouse Makes Cheerful Sound:
Who doesn't enjoy a ride on the merry-go-round in the amusement park? Minnie Mouse is no different. She is laughing and smiling as she rides on the well-decorated horse of the merry-go-round.
Minnie Mouse Tries Her New Shoes:
Checking out the shoe store, Minnie Mouse is trying on a new pair of shoes. She has a couple of shoes she likes. Maybe she will buy all of them. Print this coloring page and give all the different shoes a variety of colors.
Dancing To The Music: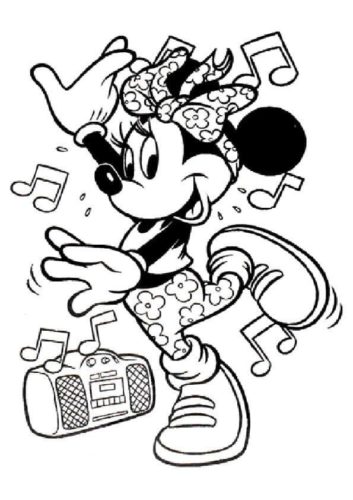 Minnie Mouse knows how to have a good time. Play a song she likes, and you will find her dancing to the beats. Here she is playing her collection of favorite songs and dancing carefree like no one is watching.
Minnie Mouse And Her Lipsticks:
When she decides to go out for an event, Minnie Mouse always does the last minute check looking at the mirror in the hallway. She decides to apply another shade of lipstick to match her dress. Print this page and fill the illustration with your colors.
Pretty Minnie Mouse:
Once Minnie Mouse is done with her makeup and dressing up in her new dress, you can see how pretty she is looking. This is one of the snapshots that was taken of her during the event she visited. Give her your appreciation by printing and coloring the page in trendy colors.
Minnie Mouse Getting Ready For Shoot:
Like a professional model, Minnie Mouse is getting her makeup and hair done before she gets on with the clothes. Sitting in front of her vanity mirror, she relaxes with a book in her hand as hairstylist Hen works on her hair.
Minnie Mouse Playing Lawn Tennis:
It is not just fashion events and shoots that Minnie Mouse is involved in. She is an adventurous soul as you guessed from her surfing illustration. Here she is returning a powerful serve from her opponent with an equally magnificent double-handed backhand.
Art Time For Minnie Mouse, The Painter:
Minnie Mouse believes in nurturing every dream and talent one has. That is why she is ready to pick up the paintbrushes when she feels the need to make some art. Trying is half the battle won. If you have a hobby or an interest in something, be like Minnie. Give it a try, practice diligently, work hard and you will find out how good you can become.
Minnie Mouse With A Zebra:
Part of being a good soul is in loving and caring for every other soul on the planet. That is why it said that to truly know if someone is kind, you need to see how they treat birds and animals. Minnie Mouse's kind soul shines through this illustration of her with a zebra.
Minnie Mouse Enjoys Some Candy Canes:
When it is Christmas time, apart from decorating her Christmas tree and her house as well as knitting Christmas stockings, Minnie Mouse enjoys the delicious festive treats like candy canes.
An Owl Surprises Minnie:
Even this wild owl seems to realize the goodness of Minnie's soul. It doesn't hesitate to fly down on Minnie's arm. But look at how surprised Minnie Mouse looks!
When Minnie Became The Hula Dancer:
Respecting and immersing yourself in the culture of every place you visit is key to becoming a good traveler. And Minnie Mouse is a great traveler who is enjoying her Hula dancing experiment.
Minnie Tries Out Perfumes:
Like her adoration for shoes and clothes, Minnie Mouse also gets mesmerized by a good fragrance. She is having a fragrant time trying out some new perfumes.
As Minnie Mouse finished trying out some perfumes, we have come to the end of today's collection of Minnie Mouse coloring pages printable too. Hope you enjoyed trying out coloring different aspects of Minnie Mouse's personality and different glimpses of her life. She is among the most popular animated characters and a celebrity in her own right. In fact, Minnie Mouse has her own star on the Hollywood Walk of Fame, joining the company of esteemed few of Disney's animated characters and other fictional characters who have been awarded a star.