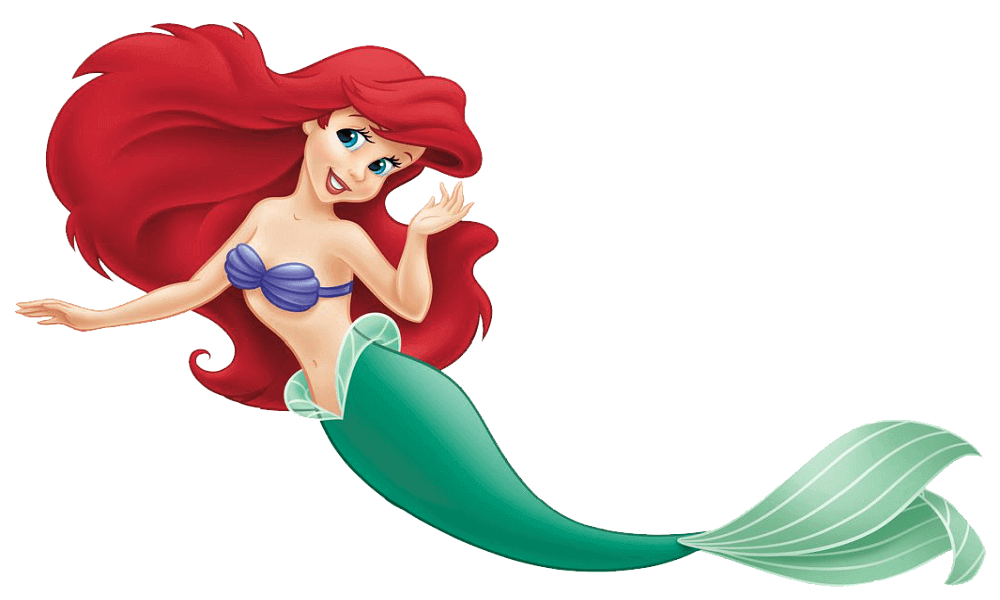 Hello angels! Today we are taking a walk or rather a dive into the underwater world of fairy tales with a spectacular collection of one of its most magical creatures – the mermaid. In particular, we have brought you a collection of free printable The Little Mermaid coloring pages. 
"Den Lille Havfrue", as "The Little Mermaid" was called in its original title, is a fairy tale by renowned Danish author Hans Christian Andersen. First published in 1837, along with other fairy tales, the story tells the adventures and dreams of Ariel, a little mermaid in the underwater kingdom ruled by her father Triton. Ariel is fascinated by the outside world and humans, collecting anything human-related she can find. In her exploration, she witnesses Prince Eric who was celebrating his birthday on a ship and falls in love with him. Her desire to become human and be with the prince changes her fate forever.
The fairy tale has inspired several adaptations in various media like movies, theatre, ballet among others. The most well-known is the Disney animated film, "The Little Mermaid", critically and commercially successful adaptation that was released in 1989.
to join this conversation on GitHub. Already have an account? Sign in to comment Footer © 2023 GitHub, Inc. Footer navigation Terms Privacy Security Status
Let's take a closer look and discover the finer details of this fairy tale through this collection of Little Mermaid coloring sheets to print.
36 Free Little Mermaid Coloring Pages Printable
The Little Mermaid Ariel Marries Prince Eric: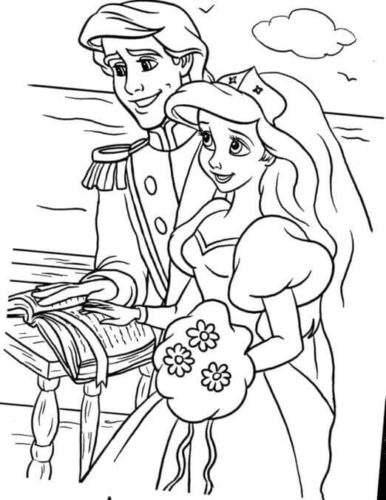 If you have seen Disney's 1989 film adaptation of "The Little Mermaid" then this illustration will come as no surprise. The film makes a lot of changes to the story towards the end. Like the happy union of Ariel, who now becomes a human and Prince Eric in holy matrimony.
Ariel Dines With Prince Eric: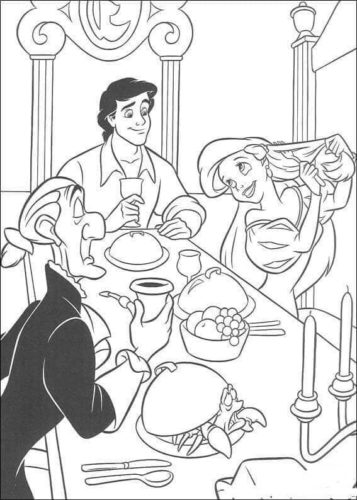 After having a human form, Ariel meets with Prince Eric and they strike up a friendship. They become inseparable in the following days. Here you can see her enjoying a delicious dinner with Eric. She looks so delighted by all the experiences she is getting to enjoy.
Ariel And Eric On Their Wedding:
When Ariel and Prince Eric finally get married, they are blessed by the presence of all their good and kind friends. You can spot Scuttle – the seagull, Flounder – the fish and Sebastian – the crab in this illustration of their wedding day celebration.
Sebastian, The Crab Entertains Ariel:
In the underwater world, Sebastian, the crab who serves the King, Ariel's father Triton. Sebastian always looks out for Ariel and warns her of her attachment with the human world, much like her father. But he also keeps her entertained with his antics.
Ariel Resting In Her Underwater Abode:
Having a quiet day today, Ariel makes the best use of it by taking a rest. You can appreciate her beauty in this illustration with her long flowing hair and fine, sparkling tail. Make sure to bring out the brilliance in her appearance with your exceptional coloring skills.
Ariel Collecting Oysters, Preparing A Sumptuous Dinner:
With Flounder and other friends helping her, Ariel is in charge of dinner today. She has some sumptuous plans for dinner as she goes about collecting lots of oysters. It looks like the dinner is going to be extravagant thanks to all the effort she is putting into the task.
Ariel Combing Her Hair, Her Daily Hair Care:
As smooth as silky as her hair looks, Ariel never forgets to comb her hair every day. It is part of her hair care routine. That is why her hair always looks so great. To achieve great results, no matter what tasks you do, you need to be disciplined and diligent.
King Triton Surprises His Daughter, Gets A Giant Cake For Her:
Giving his daughter a wonderful surprise, King Triton got Ariel a giant cake for her birthday celebration. You can see him smiling widely as Ariel cuts her cake. Flounder, her best friend, is cheering her on. Print this epic illustration and fill it with celebratory colors.
Ariel Heading To School:
When it comes to school, Ariel has the best ride to help her reach on time. She rides on a giant and kind dolphin to carry her swiftly and gently for her day of learning. Flounder is never far behind, always there to give Ariel company.
Ariel Heading Towards A Sunken Ship:
Hoping to find some hidden treasure, which, in Ariel's case would be anything associated with humans, she heads towards a sunken old ship with Flounder closely following her. As she does not always get the chance to go up to the surface, she likes to explore the underwater world.
Ariel No More A Mermaid, She Walks On Her Two Legs:
Once she accepts the conditions presented to her by Ursula, the Sea Witch, Ariel gains her human form. Her tail transforms into human legs. This illustration shows her happiness and delight in being able to walk like a human on her newly formed two legs.
Ariel On The Sea Shore With Scuttle, The Seagull: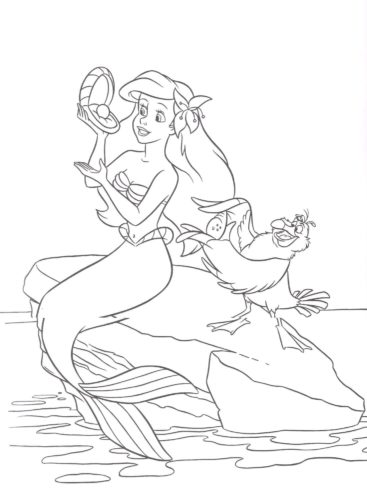 On the rare times, when Ariel can come up to the surface and enjoy looking at the outside world of humans, she is greeted by her friend Scuttle, the seagull. She always has some more questions about humans, their habits and manners for Scuttle. All these Scuttle answers to its best knowledge, albeit misinformed most of the times.
It's Playtime For Ariel, Flounder And A Seal:
Joining in their playtime for today is another wonderful underwater creature, a seal. Ariel has fun swimming around with the seal. All her other friends including her best friend Flounder have happily joined them.
Ariel, Flounder, And Sebastian – Good Friends, Great Conversations:
It's not just playing around and having fun, Ariel and her friends also enjoy a quiet and relaxing time just talking to each other. Communication is key to the development and strengthening of any relationship. Look at how soulfully they are talking to each other.
Ariel With Her Dad, King Triton:
As strict as King Triton is, he is also a very caring father to his children, especially the youngest daughter, Ariel. He makes sure to let her know of his love and affection with kind gestures and by hugging her warmly, to let her know he will always love and protect her.
Ariel Gets Licked By Max, Eric's Pet Sheepdog:
When Ariel turns into a human form and gets her chance to interact with Prince Eric, she gets immersed in his world. Ariel meets a lot of different people as well as Eric's pet dog, Max, an Old English Sheepdog. Showing his affection for Ariel, Max greets her by licking her affectionately which pleasantly surprises Ariel.
Ariel With Her Little Friends, A Seahorse Clan:
Always kind and friendly, Ariel is a popular mermaid in the underwater world and loved by all the creatures. Spending some fun times with a seahorse clan, Ariel patiently listens to everything each of them has to say.
Eric Meets Ariel In Her True Form:
During the climax of the Disney movie, we get to see Ariel turning back to her natural form after the spell is broken. Fighting for each other's love and the safety of the underwater world, they both help in defeating the sea witch. Eric's love remains the same despite knowing Ariel's true form. This was what made King Triton eventually agree to their union.
Eric And Ariel Dancing, Celebrating Their Wedding:
Full of happy delight at being able to finally marry each other, Ariel and Eric enjoy a joyful dance together on their wedding day. You can see the love they have for each other in their eyes and the way they are staring at each other.
Ariel Resting On A Rock Above Water:
Whenever she gets the chance to be above water, Ariel spends most of her time resting on a rock and observing the human world. She also hopes to find any trinkets belonging to humans, her most prized possessions.
Little Mermaid On A Little Rock Underwater:
Ariel takes a moment to rest for a while during her exploration. She finds a little piece of rock that has become home to colorful and varied corals and other ocean creatures.
Flounder Comes To Meet Ariel:
Being best friends, Flounder and Ariel are almost always together. They spend another lovely evening together, as Ariel talks about her desire to see the world beyond the underwater world, she has known all her life.
Prince Eric And Ariel Go On A Boat Ride:
After she is granted a human form, Ariel tries her best to spend all the time with Prince Eric. Here they are enjoying a fun little boat ride. All the creatures around them seem to be serenading their lovely romantic time together.
Little Mermaid Daydreaming:
When she is alone, Ariel is almost always found daydreaming about the outside world of humans. She has been longing to see, discover and experience the world of the humans which gets fueled further by her fascination with Prince Eric.
Little Mermaid Saves Prince Eric:
When a sudden storm destroys the ship where Prince Eric was celebrating his birthday, he gets thrown into the open sea. Ariel rushes to save him and brings him to the shore. Scuttle looks shy as Ariel sings to Eric. She leaves him just when he is about to come to his senses.
Prince Eric, Ariel, And Scuttle On A Ship:
Ariel and her seagull friend, Scuttle rest on the side of the ship. This was one of the moments when Ariel had noticed Prince Eric and had fallen for him.
Little Mermaid Finds A Treasure Chest:
Ariel, the little mermaid looks joyous in this illustration. That's because she's trying on the human jewelry, she found in a lost treasure chest
Little Mermaid, Flounder, And Sebastian:
It's always a fun time when friends spend time together. This moment is no different. Flounder, Sebastian, and Ariel are enjoying a swimming race underwater. Looks like Flounder, the little fish is leading the race.
Princess Ariel In An Oyster:
A wonderful illustration showing the beauty of Ariel. Like a precious pearl is found inside an oyster, Ariel is seen here seated in an oyster.
The Inseparable Trio:
Ariel, Flounder, and Sebastian – the inseparable trio are having fun playing another fun game. This time they are having a friendly competition of blowing underwater bubbles.
The Little Mermaid Characters: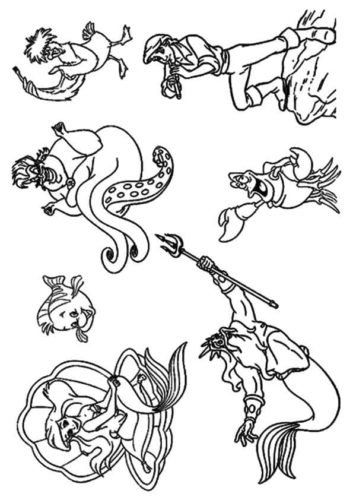 This illustration pays tribute to all the main characters in the fairy tale of "The Little Mermaid". Have a fun time coloring each one of them.
Ariel And Her Treasure:
Ariel likes collecting an assortment of things that she finds in the water, especially those connected with humans. Here she is admiring the mirror and herself.
The Little Mermaid Movie:
Released in 1989, Disney's "The Little Mermaid" has become one of its best-animated features and went on to win two Academy Awards, Best Original Score and Best Original Song.
The Wrathful Ursula:
When her plan to deceitfully marry Prince Eric fails, Ursula takes on a giant form and tries to end the loving couple.
Triton Not Happy To See Eric:
Finding out that his daughter is in love with a human, King Triton takes no time to show his displeasure to Ariel and the prince himself.
Ursula – The Sea Witch:
Here's a frightening illustration of the sea witch, Ursula laughing hysterically while plotting her evil plans.
On that scary illustration of Ursula, the sea witch, we have reached the end of our collection of "The Little Mermaid" coloring pages printable. Hans Christian Andersen had written the fairy tale in Copenhagen, Denmark. If you get a chance to travel to Europe, be sure to visit the Copenhagen harbor where you can find the little statue dedicated to the Little Mermaid. Disney is also planning a live-action remake that starts production in 2020. Be sure to be on the lookout for it. Meanwhile, enjoy coloring this collection of the Little Mermaid coloring pages to print.