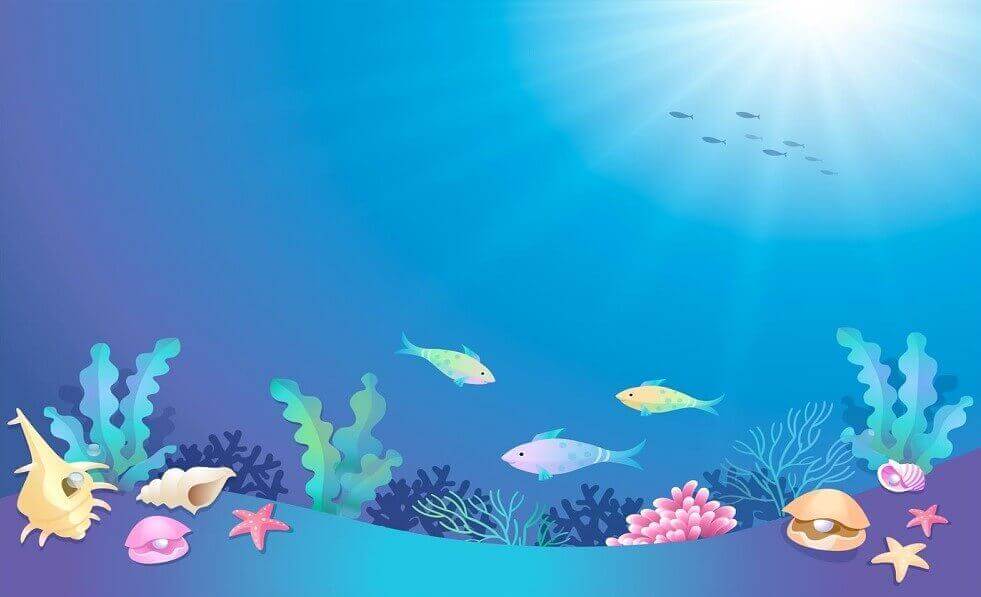 Free printable ocean coloring pages or under the sea coloring pages: Hello there, dear pals! Today, you're going to dip inside the world of, you guessed it, oceans! As the summer comes to an end and the monsoon takes over, we give our tokens of love to the beaches and oceans, which help us cool our bodies from the tormenting seasonal sun.
Oceans are home to so many organisms, including octopuses, squids, corals, water plants, and – your favorite – fish! Without the oceans, there could be no life. They help in providing water, maintaining biodiversity, and protecting the earth from being overheated (imagine Earth as an oven)!
While the oceans are so useful for us, it's time we share our love with them. And so, today you've got free ocean coloring sheets to print. So add shades to the oceans and ocean creatures and make them feel loved with underwater coloring pages. Alrighty, let's begin!
to join this conversation on GitHub. Already have an account? Sign in to comment Footer © 2023 GitHub, Inc. Footer navigation Terms Privacy Security Status
35 Free Printable Ocean Coloring Pages (Under The Sea Coloring Sheets):
Chubby Little Octopus: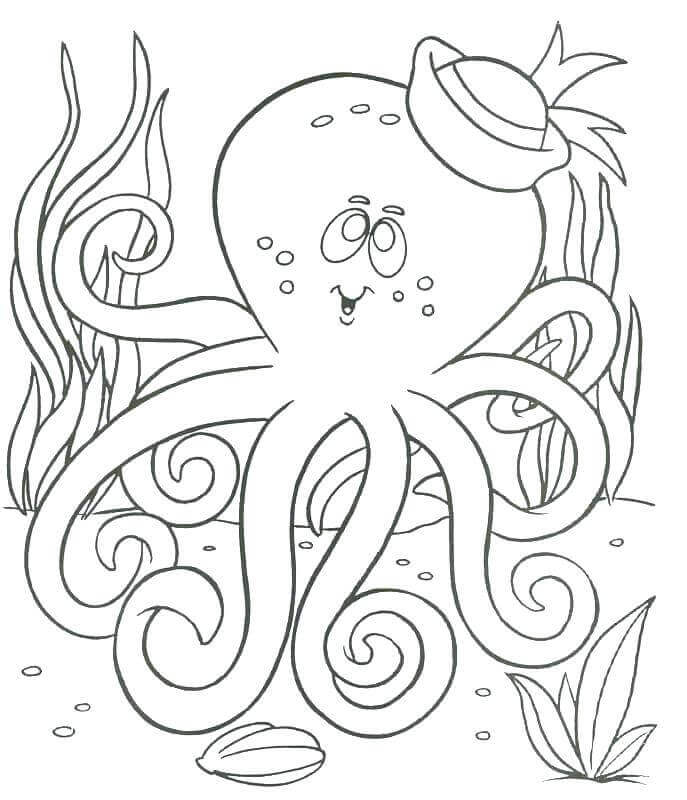 Look at this small octopus enjoying his day in the oceans. He looks so cute wearing that tiny hat. Can you count the number of tentacles he has? That's right, every octopus has eight tentacles, which help them catch their prey. But this little guy needs your help. Before he goes searching for his prey, he needs some shades so that he can look elegant in the waters. Color him well before he leaves for his prey!
Dancing Dolphins Coloring Page: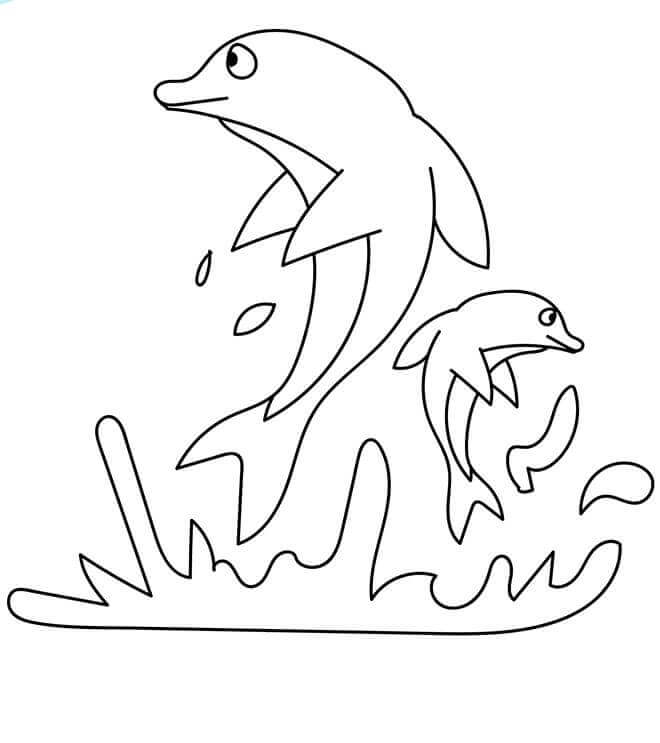 Dolphins are my favorite fishes in the ocean. They are so stylish and talented! Look at these dolphins dancing in above the ocean! Do you know that dolphins can breathe in the air? Unlike most fishes, they don't always depend on water for their respiration. I wish I could dance with them in the waters, don't you think? I'm sure they're having fun together.
Mary The Cruising Fish: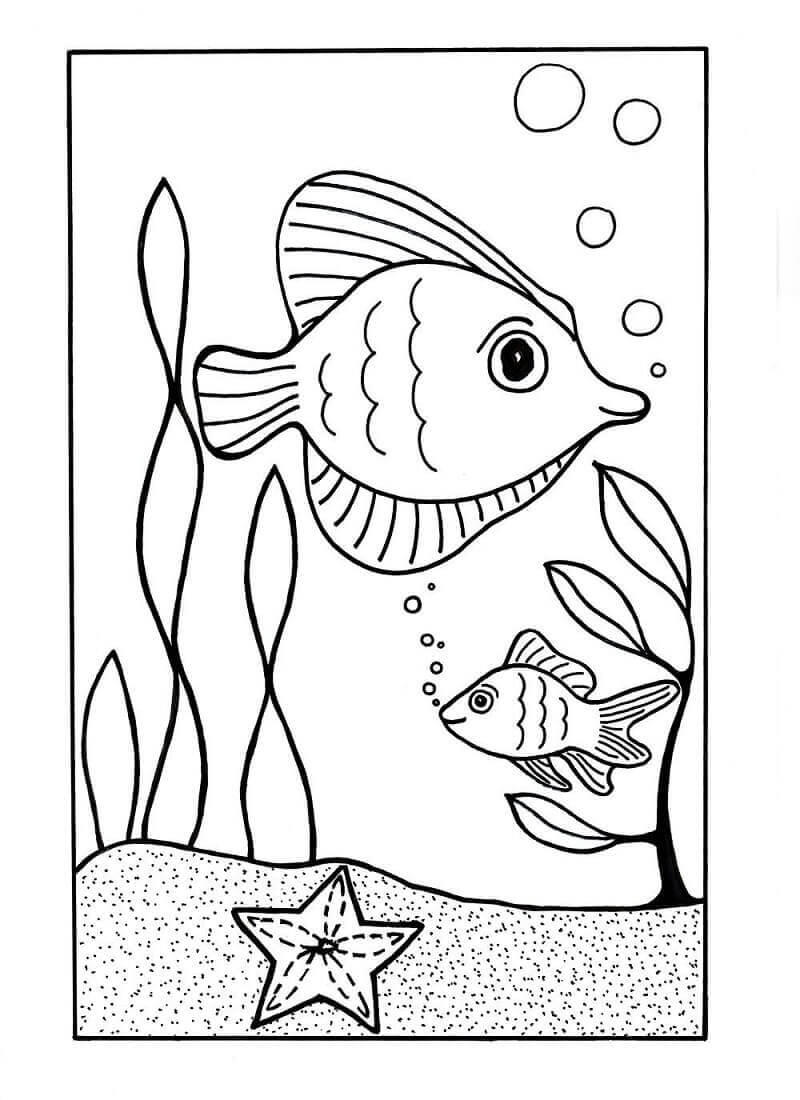 Meet Mary. She is cruising about the ocean, enjoying the cool waters inside, while it is blazing hot outside. She loves exploring new places under the ocean, with her fish companion. Give the companion a nice name and color them both delightfully.
Explorer Turtle Printable Page: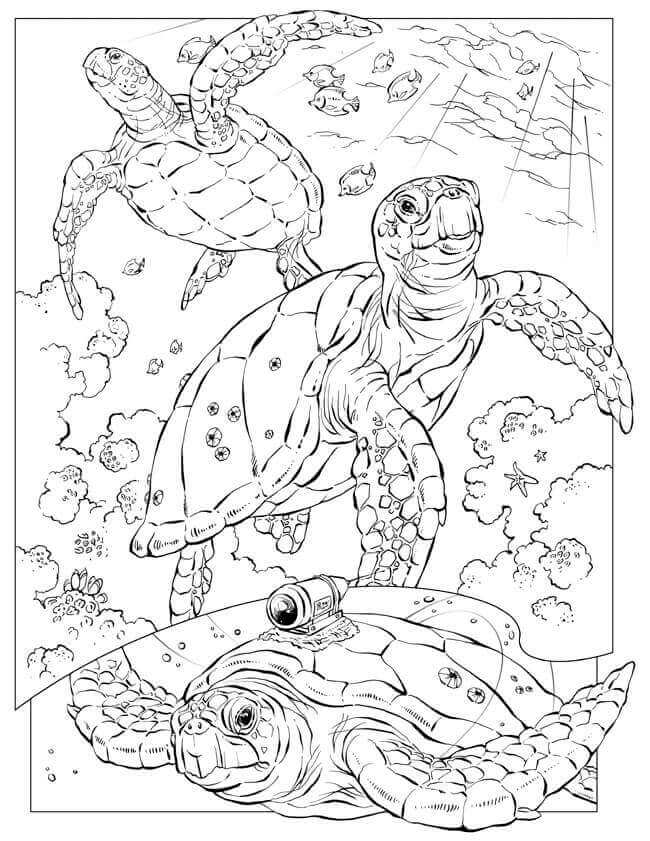 This is the explorer turtle, with his camera over his shell. He is 200 years old! Wow. But this is normal for turtles, they can live for long times. Turtles are known for the serene and composed nature. They rarely indulge in fights and live together as a pack. Paint them up!
[ Related: Turtle Coloring Pages ]
Underwater Creatures Coloring Page: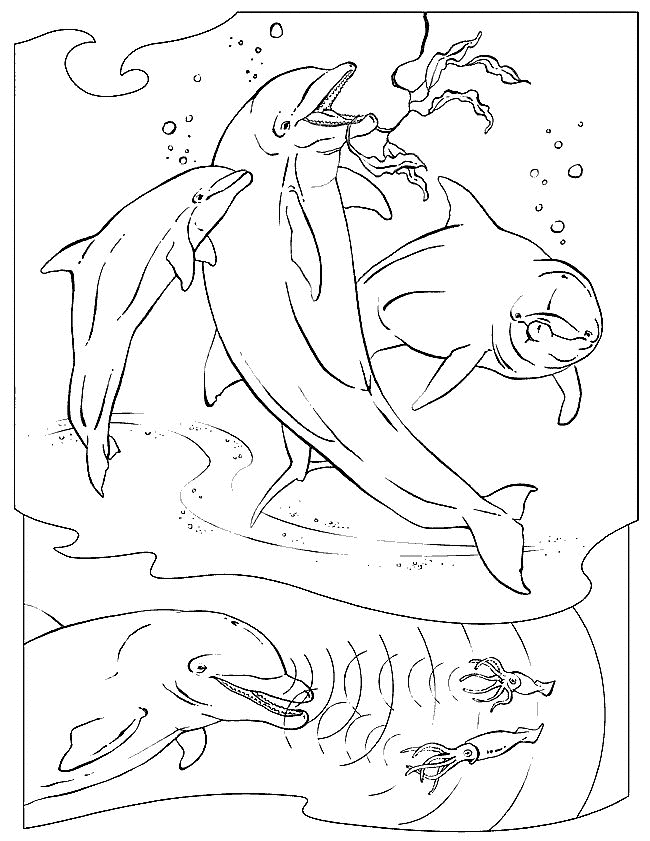 Look at all these different underwater creatures, living together in harmony. How many creatures can you spot? I see squids, whales, and dolphins. Can you see more creatures? Well, make sure they look glamorous with your colors.
Shark In The Waters: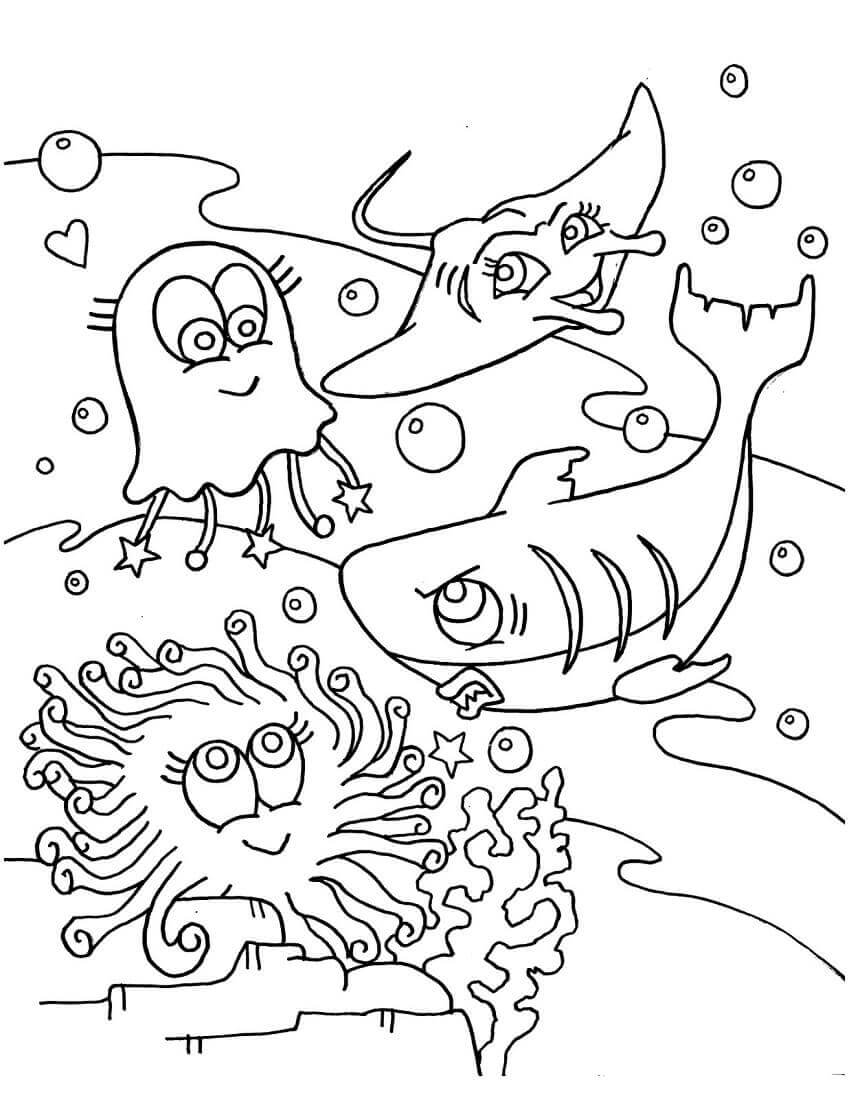 Here is the angry shark throwing deadly looks at the fellow water creatures. Sharks are dangerous marine organisms that are known for the excellent preying skills and sleek body that helps them swim at super speed! This shark is fuming because he is colorless. Help this shark calm itself down by giving it some tints!
Giant Whale Coloring Page: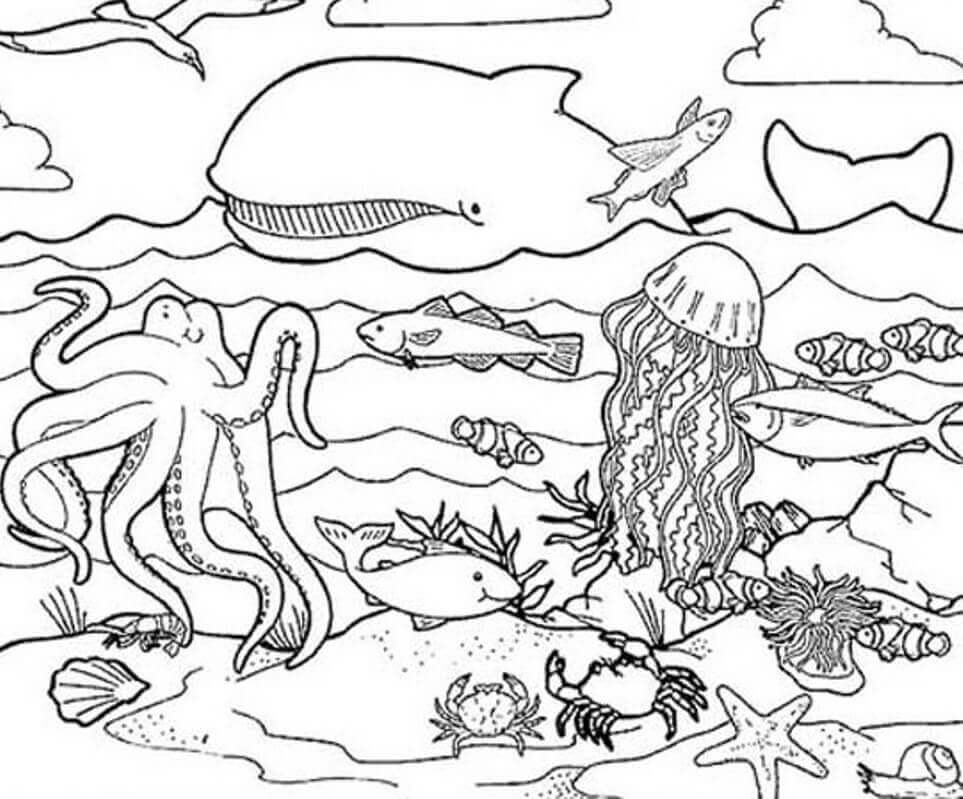 While there are so many organisms in the sea, the whale stands itself out by being the largest, bulkiest creature underwater. Look at this image, compare the size of the whale to its fellow organisms. While they look deadly, whales are not like sharks, they are calm creatures who love lazing around in the water. They do not have teeth, but brown brush instead. So, make sure you color the mouth brown and not white!
Friends In The Waters:
Here are four friends under the sea, having a good day together. Can you name each of the organisms? They are chitchatting with each other and enjoying their last few days of summer vacation. Make their holidays memorable by coloring them stylistically!
Printable Under The Sea Coloring Page: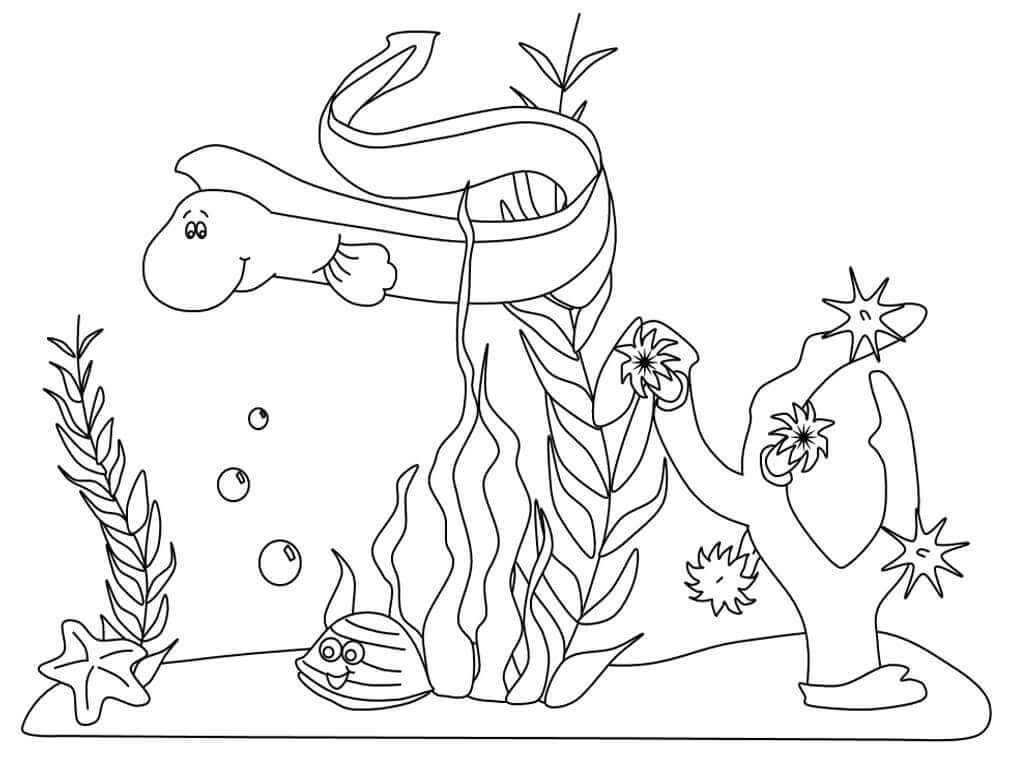 Dolly, the slithery fish, is amused to find a seashell on the bottom of the seabed after a long time. Dolly loves seashells and so wants to look at the beautiful details of this one, but finds it is not colored! Color the seashell so that Dolly can get an impressive sight.
Submerged Castle Coloring Page: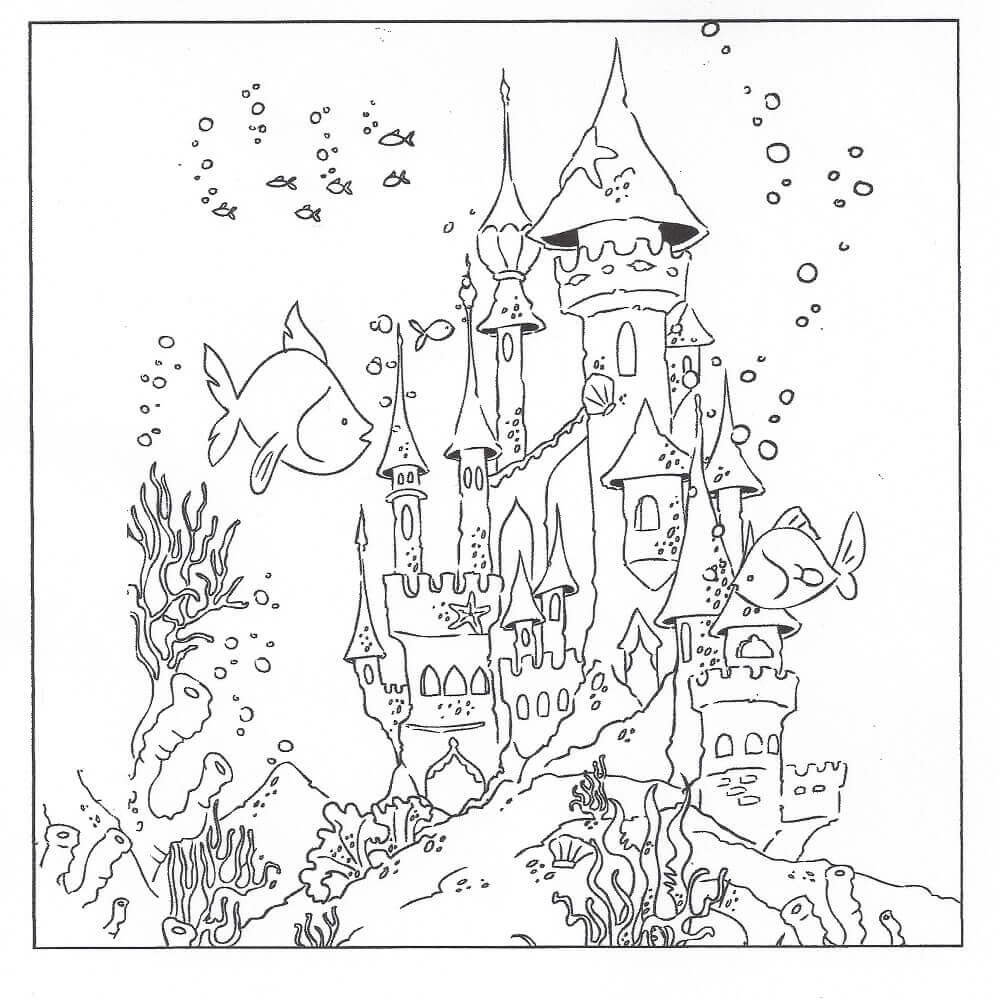 Take a look at this majestic underwater castle. The fishes around are wondering where the castle came from, but they don't have a clue. Now they plan to make this their new home. The fish need some help in decorating the castle and making it look beautiful. Will you help them get this castle colored?
The Distinctive Hammerhead Shark: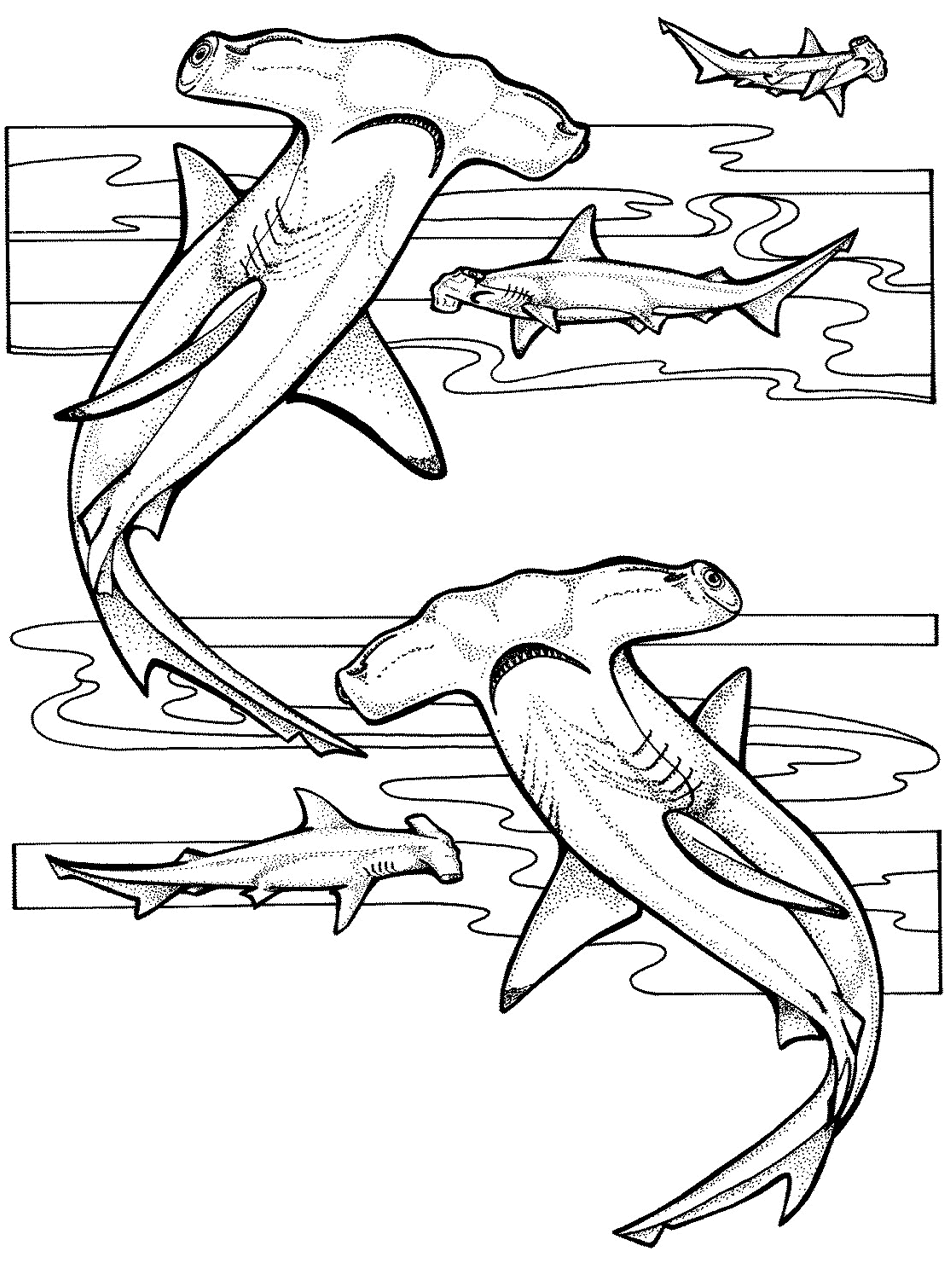 The hammerhead sharks are known for their distinctive head anatomy, which makes them look like a hammer. Here is a colony of hammerhead sharks who have recently moved into this new underwater location, and they are planning to make it their new residence. Color the waters clean so the sharks can have a good place to live in!
[ Related: Shark Coloring Pages ]
Free Jellyfish Printable Page:
Jellyfish are exclusive sea creatures, who have tails that can give their prey an electric shock. Generally, they like living in colonies. This jellyfish has left its colony and wants to become an underwater superstar. Color the jellyfish attractively so that it can grab the attention of other fish.
Marine Animals Coloring Page: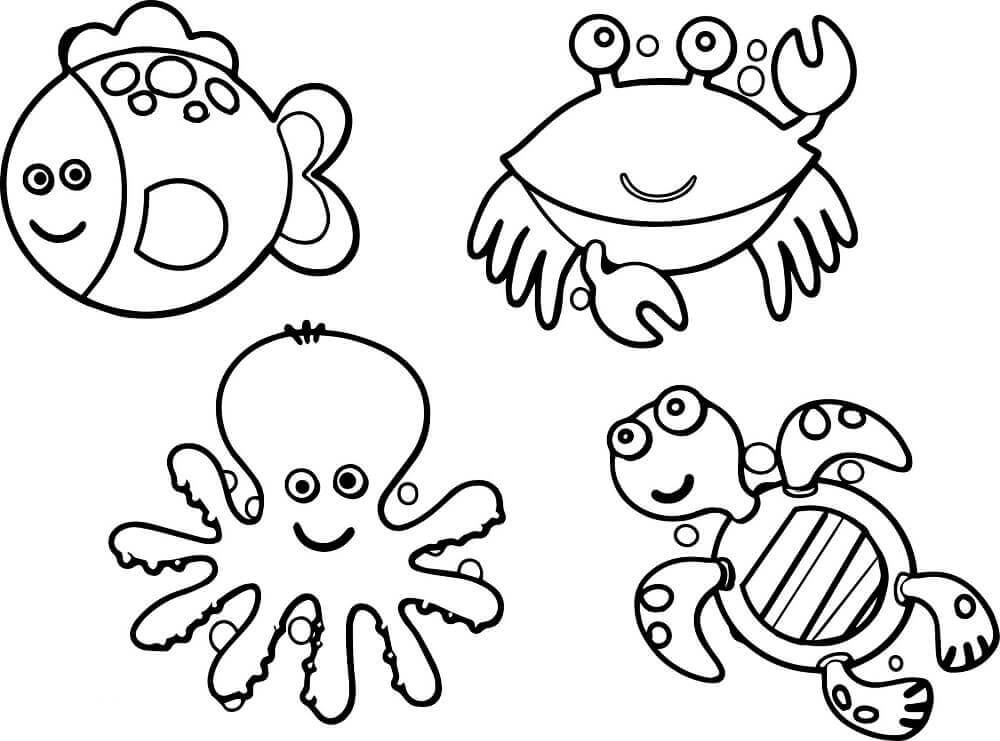 Marine Animals live together in harmony and enjoy each other's company. They do not discriminate against each other based on which organism they are or what is their color. They love each other and entertain each other. Color these marine animals cute!
Fish And Corals Printable Page: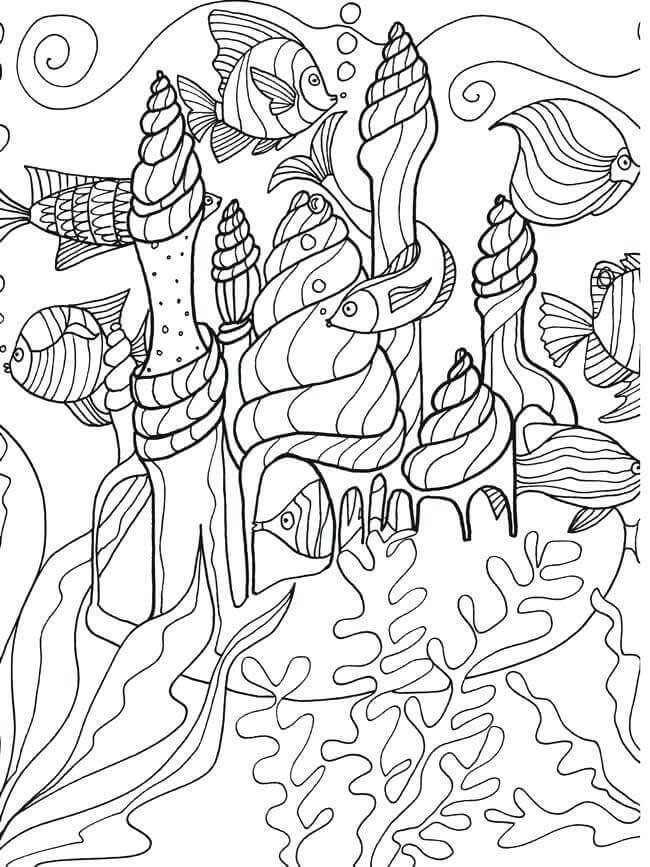 While fishes are the most prominent creatures that swim through the waters, corals are the most found organisms on the seabed, sometimes also living in colonies, and forming coral reefs. Many fishes like swimming through and about larger corals, entertaining themselves. Color these corals and fish with beautiful hues.
Steve The Lazy Seal:
Meet Steve, he's a lazy seal. A very lazy seal. All he likes to do is rest on stones over the waters or plunge into the ocean and glide as slow as a snail. But when he is hungry, he can swim quite fast. Color him to perfection!
Under The Sea Coloring Page: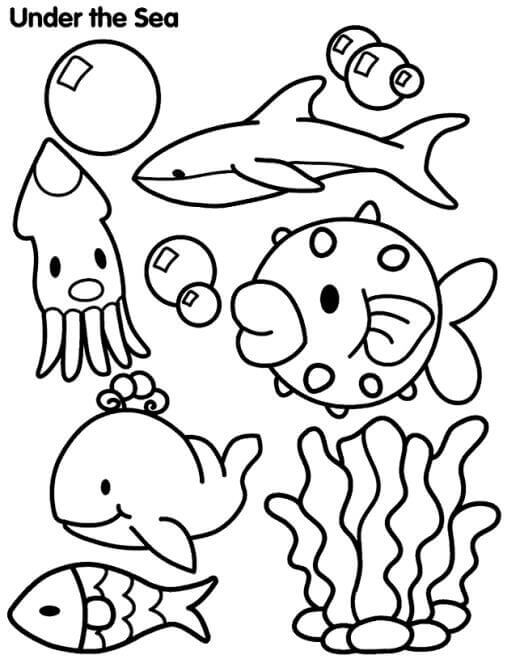 Here are six underwater creatures including 4 types of fish, a coral, and a squid. They are having a good day together, but one thing that is missing is shade. Help their day go better than it is, by giving them immaculate colors!
Octopus And Ship Anchor Coloring Sheet: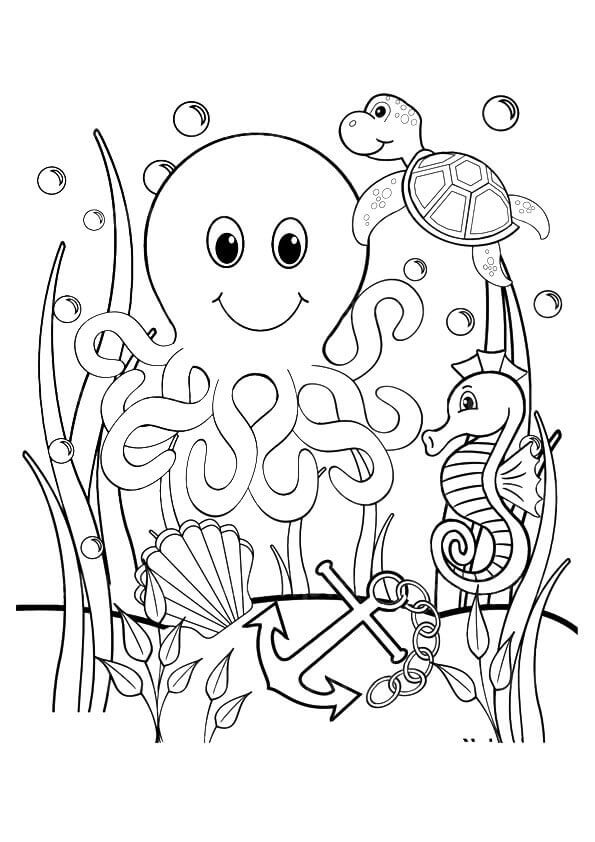 The octopus here is having some good time with his companion turtle and seahorse. They have recently found a new sailor's ship anchor at the seabed. While they examine this exiting object with keen interest, you can color it with beauty, and help them get a better understanding of the object!
Sea Life Coloring Sheet: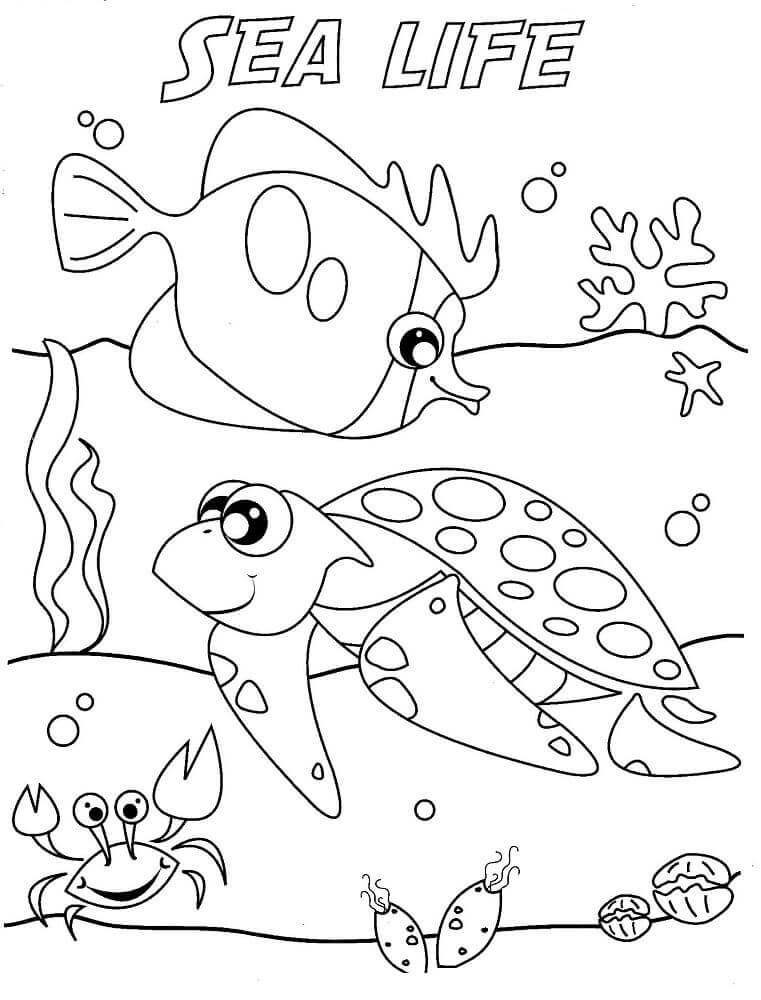 I wish I could have sea life, like the fishes. Wouldn't it be fun to be in waters all day, roaming around lazily and swimming at high speeds? The sea life just seems perfect to me. Here are the sea creatures enjoying the sea life. Use your expert coloring skills and do your magic!
Fishes In The Shell Lagoon:
The Shell Lagoon is one of the favorite tourist spots of the fishes underwater. This place is always crowded, as you can see in the image, and there are beautiful shells that can be seen throughout this lagoon. Make the tourist spot more attractive for the fishes by adding coloring it up!
The Fishes Of 2050: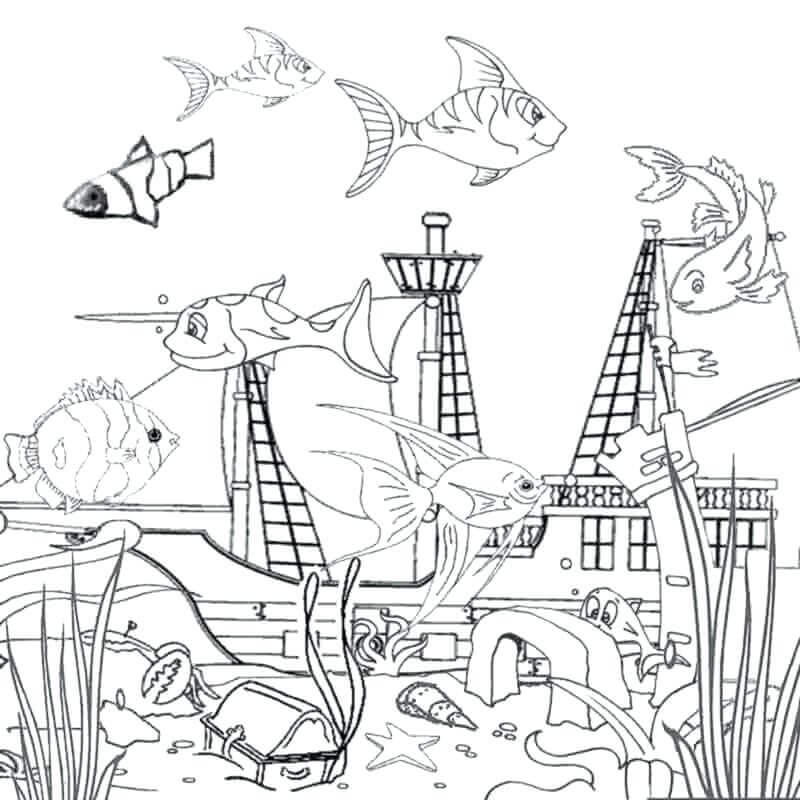 This is the year 2050! The fishes are all urbanized and have formulated their own cities. The cities have all the modern facilities that humans have, but they just miss one thing. Your talent! Use your talent of crayons and make this city flamboyant!
[ Related: Fish Coloring Pages ]
Free Octopus Printable Sheet: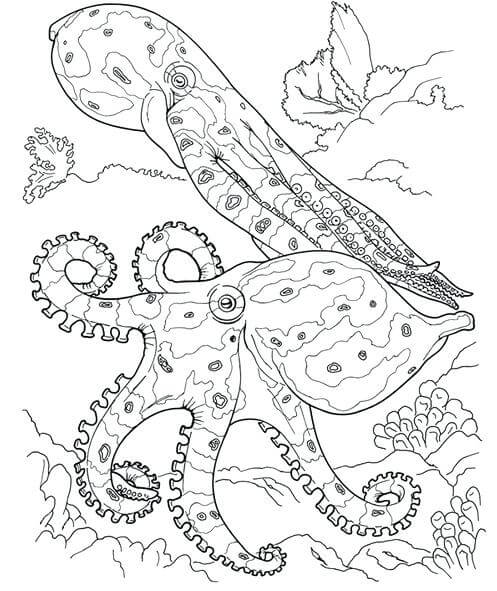 This is one of our most favorite under the sea coloring pages. Look at those two fully grown octopuses, aren't they huge? Some octopuses can also be as long as 8 feet! One fun fact of the octopus is that when the octopus is under attack, it squirts ink on its enemy as a defense mechanism! Imagine that, attacking someone with pen ink! This octopus has attacked so much that it is out of ink! Use your colors to shade this octopus, so that it can use the shade to make ink!
Loki The Water Plant:
This grass in the image, he's Loki. He's actually a plant, but water plants look like grass. Every day, Loki sees hundreds of fishes passing by on their way to work. He loves discovering the variety of fish, but he is facing a major problem. Sometimes, it is too hard to distinguish between two fishes as they are all colorless. Now, it's your job to color the fish and help Loki get a better idea of fish types!
The Newborn Carb Coloring Page: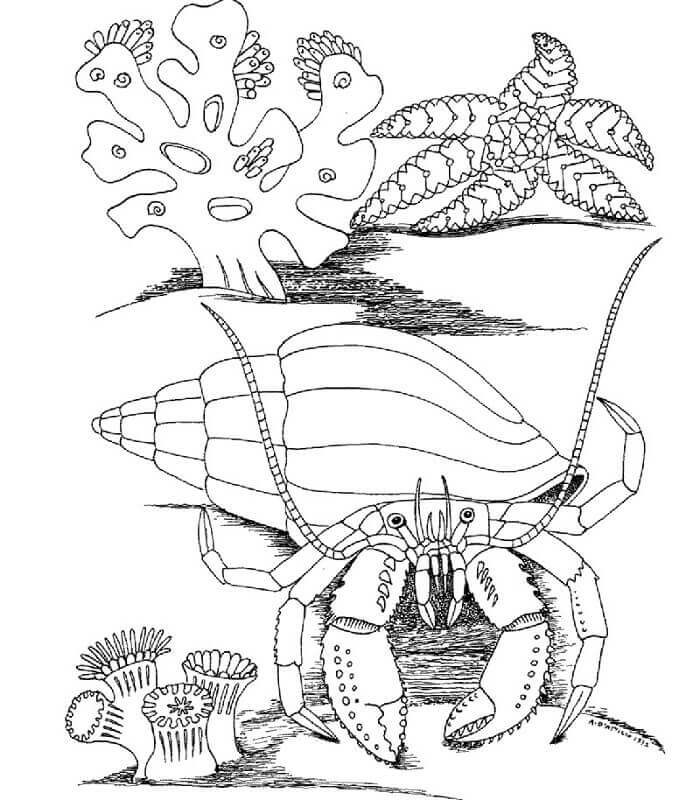 Crabs take birth in their shells. As soon as they are born in their shells, they come out of it and start digging the ground. Look at this carb here. He has just come out of his shell and will soon dig the ground to make his first house! Color him adorable.
Seahorse Coloring Page: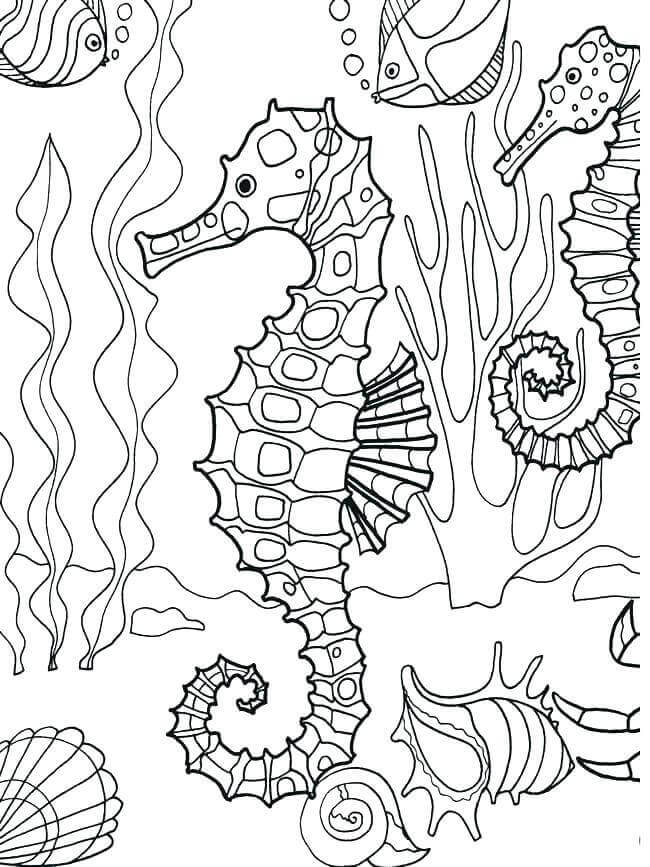 Seahorses are one of the most extraordinary creatures on the planet. They are given this name because their faces and necks look like a horse, while actually, they're just fish! However, they are not good swimmers. Many times, seahorses just prefer to rest in one place for many days, holding corals with their tail. Color the seahorses with grace!
The Underwater Terrorist Shark:
The shark is one of the deadliest enemies of the oceans. Almost all animals fear sharks. They are ferocious and chilly, their very presence means danger to the other organisms. Here is one of the sharks, ready for attack underwater! Let's color him up!
Corals Coloring Pages: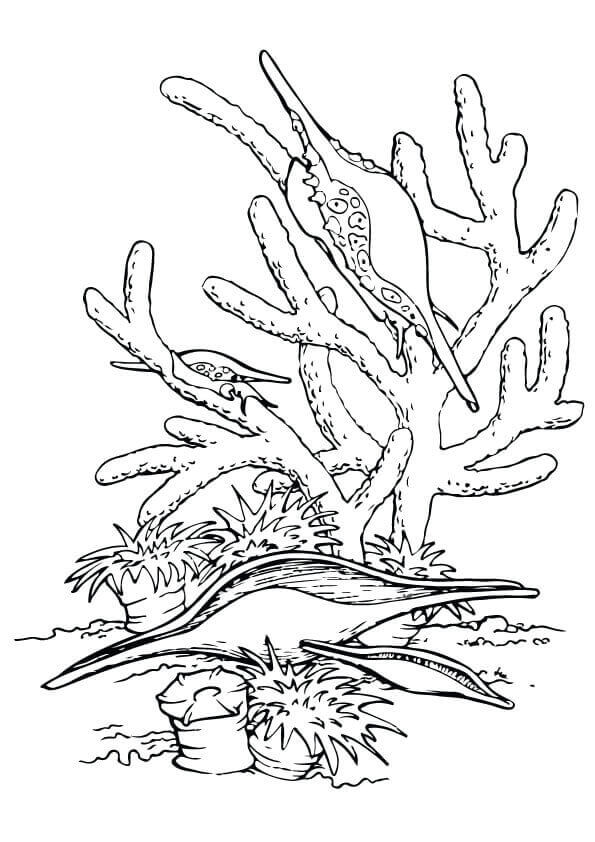 Who does not like corals? They're naturally refined texture, irregular shape, and beautiful shade. Corals are known for their attractiveness, they also attract fishes! Color these corals and make them attractive!
Underwater Zentangle Coloring Sheet: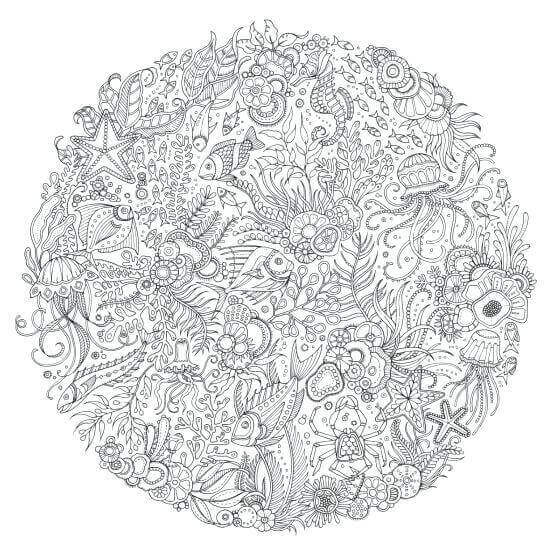 Zentangle is a unique method of drawing, and what could be more interesting and unique than an underwater zentangle picture. This intricate image needs a lot of skill and high attention to color. But I'm sure you, young pals, can do it with ease and grace!
Free Printable Shark Coloring Sheet: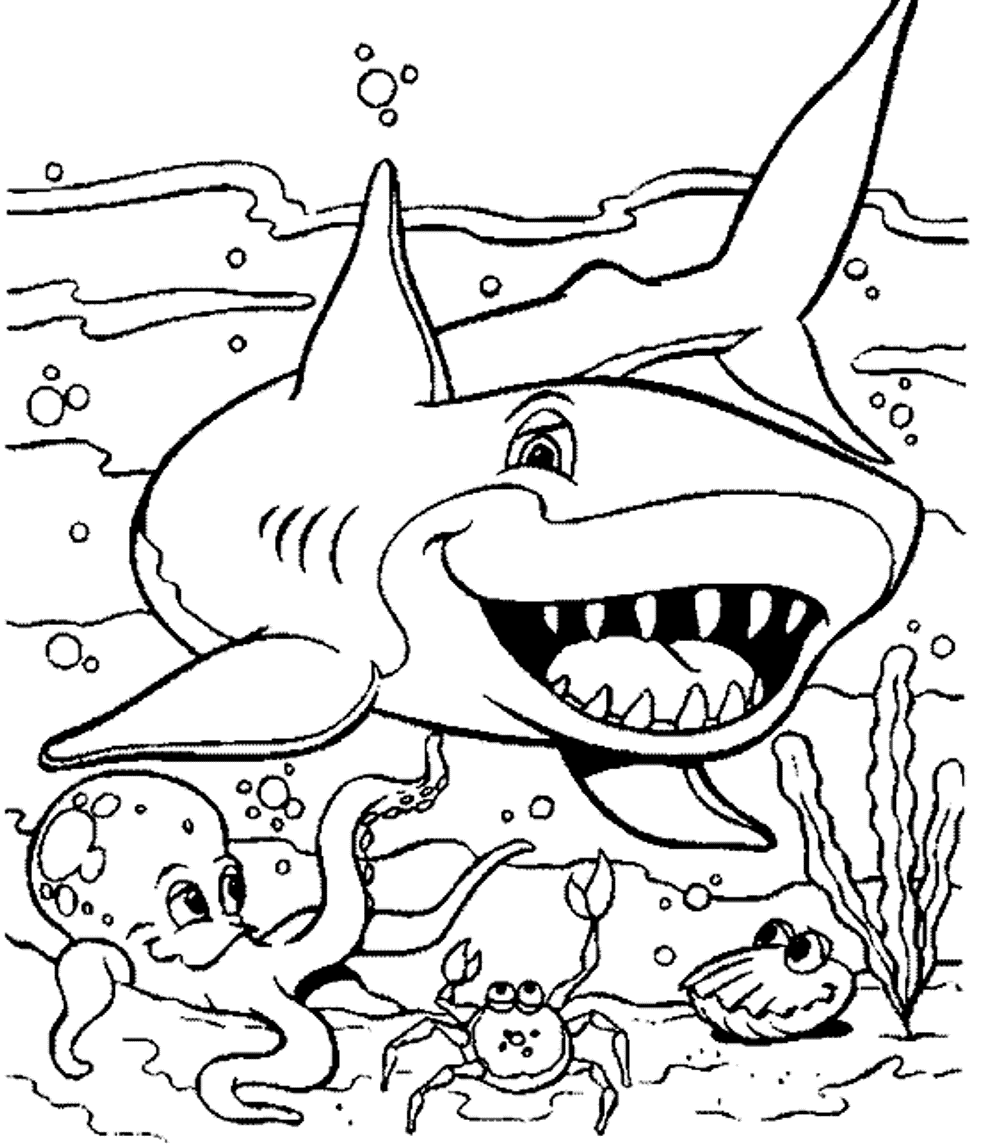 This shark is enjoying his day underwater. Unlike other sharks, he enjoys making friends with other organisms and talking to them. He enjoys being with different creatures. Color him cute.
Starfish Cove:
This is the Starfish Cove, a famous underwater location for viewing Starfish! Starfish are water creatures that stick to any surface they find. Can you spot the Starfish on the seabed? Starfish have a very special ability. In case one of their five tentacles get cut off, they can regrow them! Color the starfish brownish-orange to make them look appealing!
Lauren the Gossip Fish: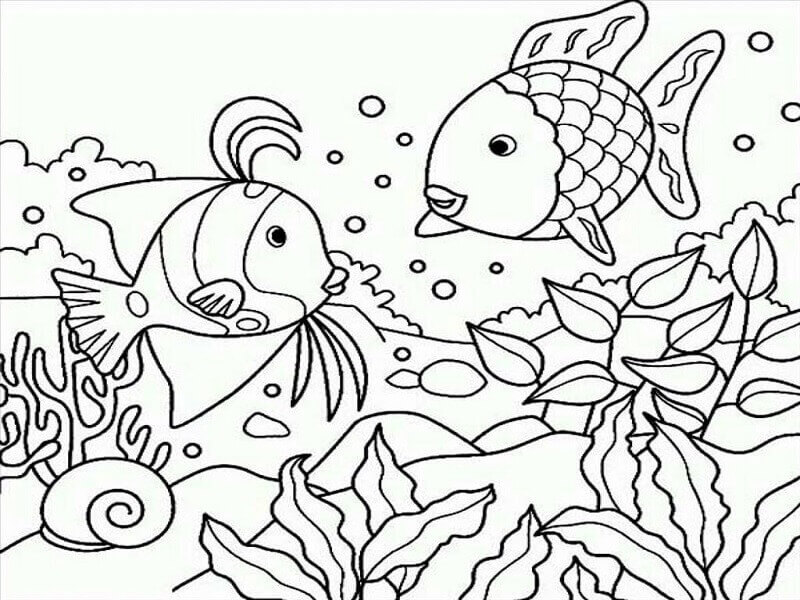 This is Lauren, the fish who is talking to the other fish. Lauren has a habit of blabbering too much. Today, she was lucky to find a stranger fish, to whom she can talk endlessly! She looks all pumped up to chat with her new friend, but before this can happen, she and her friend need some color to make them visible! So, bring those crayons out, Lauren has gossip to finish!
Sea Turtles Coloring Sheets: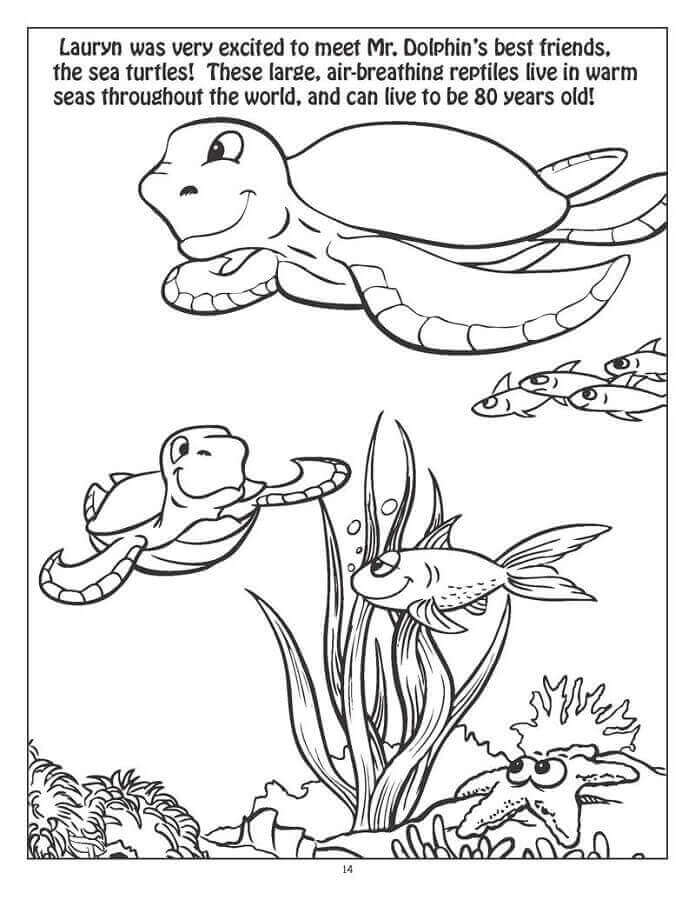 Lauryn, the starfish, has spotted the sea turtles, friends of Mr. Dolphin. The sea turtles came swimming about this area because they found the water to be warm. Sea turtles are reptiles, which means they cannot warm their body by themselves, and so need to go to areas that are naturally warm. Here, Lauryn is ensuring that they get good hospitality. Help Lauryn by coloring the sea turtles with the best shades!
Blue Whale Taking A Giant Dip:
This is the blue whale, the largest organism on earth. It is as long as 30 buses parked in a line! The Blue Whales can only live in very deep waters, due to their humongous size. The underside of the Blue Whale is generally white in color, while their upper-body skin is dark blue. Like other whales, they too have brown brushes instead of white teeth. Give this Blue Whale its proper colors to make it dive deeper!
[ Related: Whale Coloring Pages ]
A Cluster Of Jellyfish Coloring Page:
Jellyfish generally live together as a clan, and these Jellyfish are no exceptions. Every Jellyfish has a different shape and a different tint. Color each of these Jellyfish to their unique colors!
Henry Takes A Scuba Dive:
That's Henry, a Scuba Diver. Today, he is very lucky to find a seahorse amidst the many varieties of fish! Henry is astounded, but he is still not sure whether it is a seahorse, as it does not have the colors. Support Henry by adding some colors to the seahorse!
Map Of The Oceans Coloring Page:
Mr. Turtle is viewing at this map, to reach from one side to the other of the ocean. Mr. Turtle is scared of jellyfish and does not want to meet the corals on his way. Make him spot the various objects on the map by coloring them to order!
So, friends, how was today's trip down into the oceans? Did you have fun? I'm sure of it! Which was your ocean coloring picture? Mine was certainly "Blue Whale Taking A Giant Dip". Share yours in the comments section below! Also, stay tuned with us for more coloring pages. I'm sure you'll always find something new and exciting!