Mermaids and mermen have captured the imagination of not just children, but even adults since time immemorial. These mythical aquatic creatures with upper bodies resembling a human and lower body consisting of a fishtail have featured in folklores, television series, and even bedtime stories in every culture and country. No wonder children go gaga over them. So immerse yourself in these magical, beautiful, and mysterious creatures with our stunning 30 mermaid coloring pages.
Top 30 Mermaid Coloring Pages:
Take a look at our collection of printable merman and mermaid coloring pages below. 
Mermaid Resting On The Shore: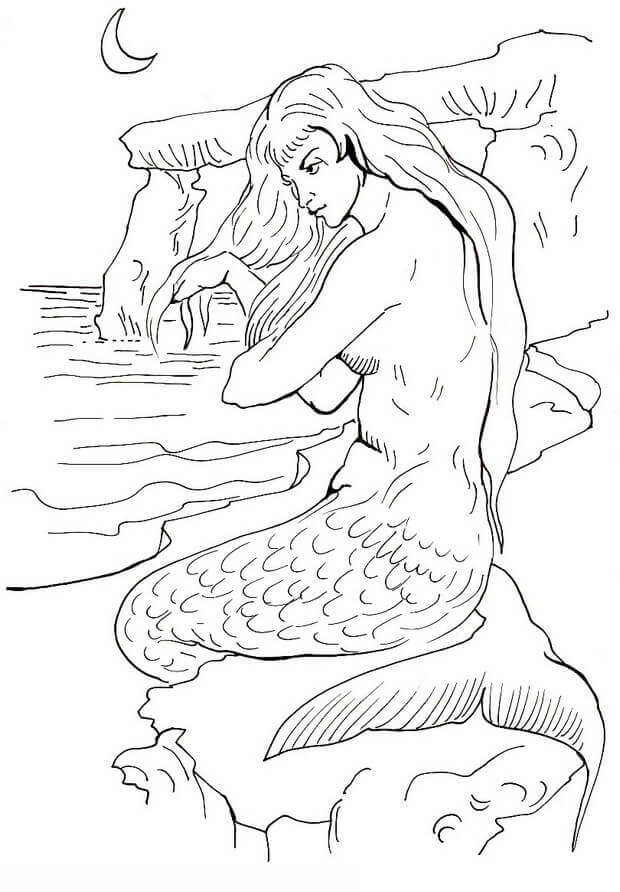 The mermaid featured in this coloring page is seen resting on a rock on a beautiful night. It's one of the most realistic descriptions of a mermaid with a plump body and extra-long fingers. Kids should feel free to add their bits to this beautiful scenery.
to join this conversation on GitHub. Already have an account? Sign in to comment Footer © 2023 GitHub, Inc. Footer navigation Terms Privacy Security Status
Mermaid Enjoying The Water:
The mermaid in this coloring sheet seems to be enjoying the water hitting her face. It looks like she came all the way to the shore just to get the real taste of ocean water.
Easy Mermaid Coloring Page:
Despite any complex line, this mermaid coloring page looks absolutely amazing. The flowers, especially, are a great addition. The clean lines of this coloring page make it perfect for preschoolers.
Read: Flower Coloring Pages
Anime Mermaid:
Have you ever come across an anime mermaid? We're sure our Japanese readers will download this particular mermaid coloring page for their coloring books.
Merliah: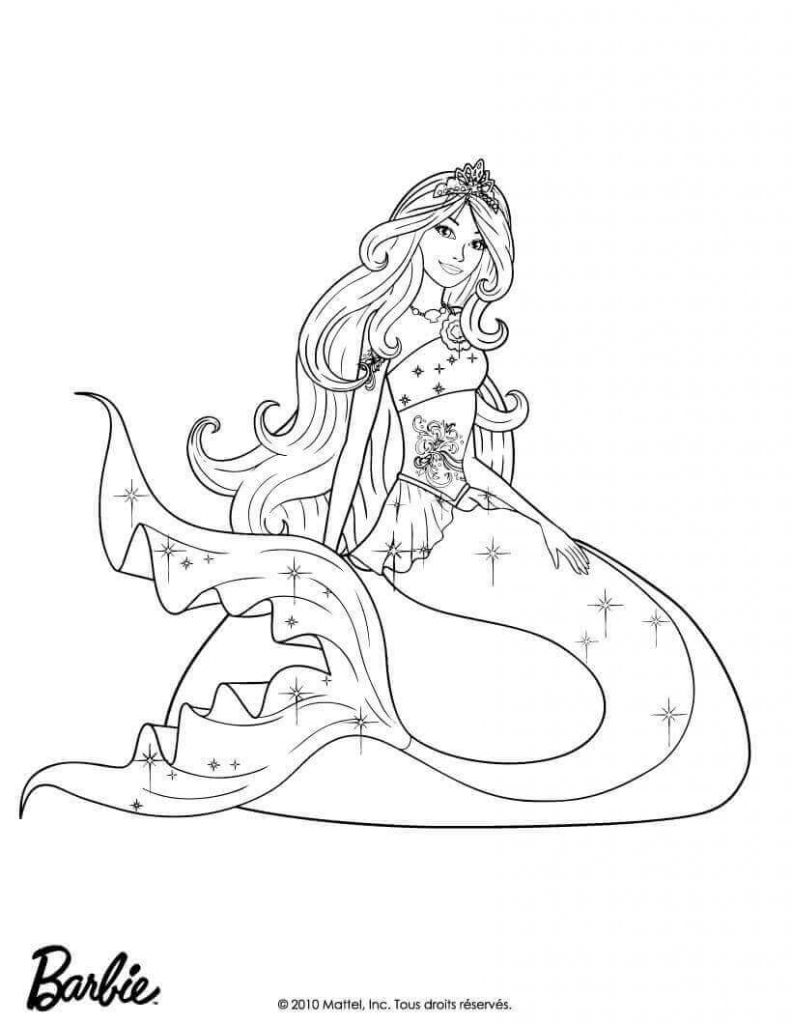 This coloring page features Princess Merliah or Oceana, the main lead in "Barbie in a Mermaid Tale". This surfer and half mermaid princess of Oceana is the daughter of Queen Calissa and Rip. And we must say, she looks majestic here.
Hello Kitty As Mermaid:
As if just Hello Kitty wasn't cute enough that we get to see her mermaid look. For a change, don't give this mermaid the typical pink and white look. Try to make Hello Kitty a little unconventional by adding some blues and greens to her image.
Read: Hello Kitty Coloring Pages
Winx Mermaid: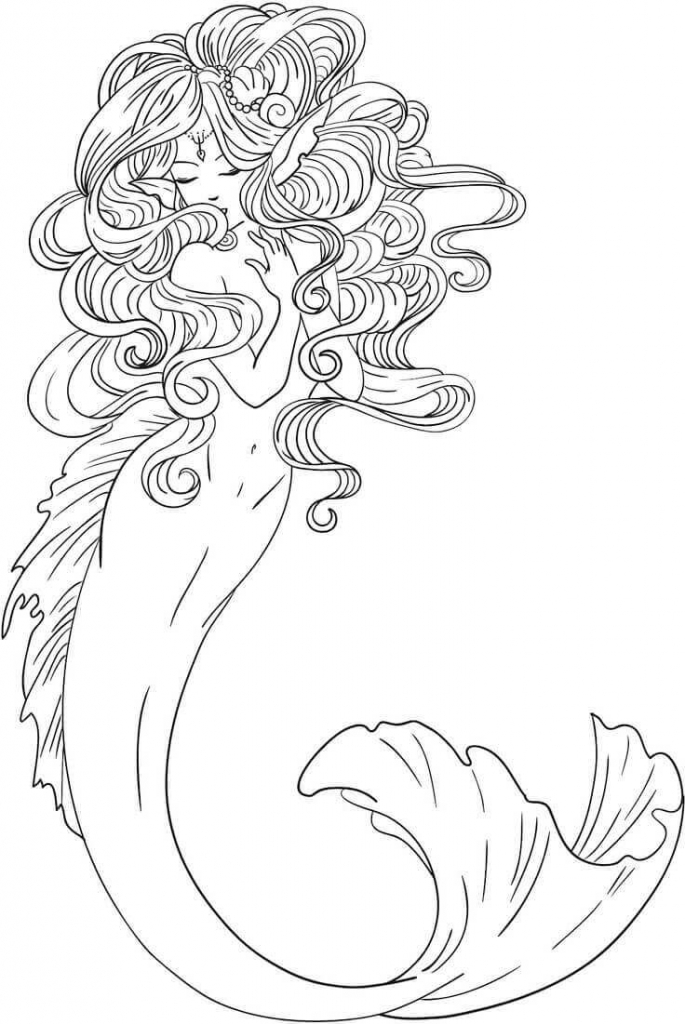 Here's a beautiful coloring page of Winx mermaid, a beautiful species of the mermaid from Anime. Apart from having a unique appearance, Winx mermaids also possess magical powers, which save them from troubles and sometimes, even land them in trouble. 
Ariel:
We're sure you all must be aware of this beautiful mermaid featured in this coloring page. Ariel is the lead of Disney's "The Little Mermaid". She has a beautiful appearance with flowing red hair, blue eyes, and a green tail. Ariel eventually gives up her fins to be with the man of her dream, Eric.
Kawaii Mermaid: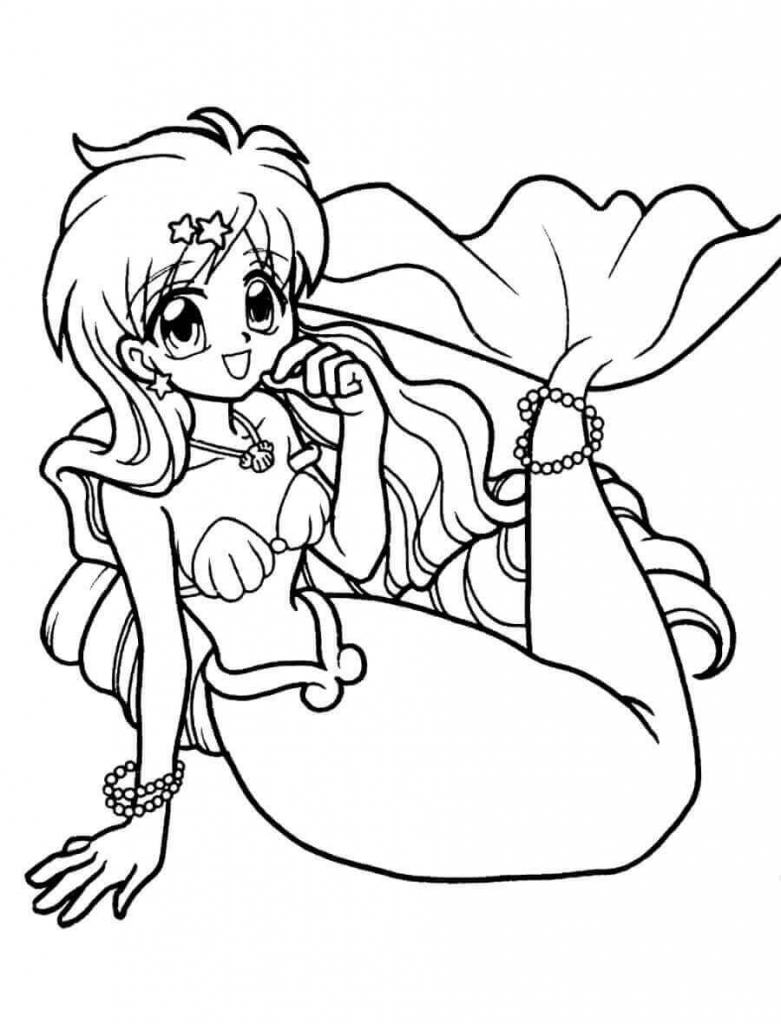 We had no idea that anime is full of beautiful mermaids and we love how they give a glimpse of these mythical creatures in their underwater abode. With loads of detailing, this mermaid coloring page will boost your child's fine motor skills while feeding her imagination at the same time.
Resting Mermaid:
Bring this resting mermaid to life by splashing some colors on it. She looks incredibly classy with her braids. If you want to make it stand out, put some glitters and beads on the outfit to make her seem like a princess.
Mermaid Playing With A Dolphin:
Do you know what's the best thing about being a mermaid? You get to play with dolphins, the most lovable aquatic animal. Here again, we see a mermaid playing with her dolphin friend. The little animal lovers are sure to enjoy filling colors to this adorable scene.
You May Also Like: Dolphin Coloring Pages
Baby Mermaids Coloring Pages:
Swim this way as the baby mermaids have come out to play! We're sure our littlest readers will imagine them as mermaids while adding some bright colors to this scene.
Mermaid With Her Seahorse: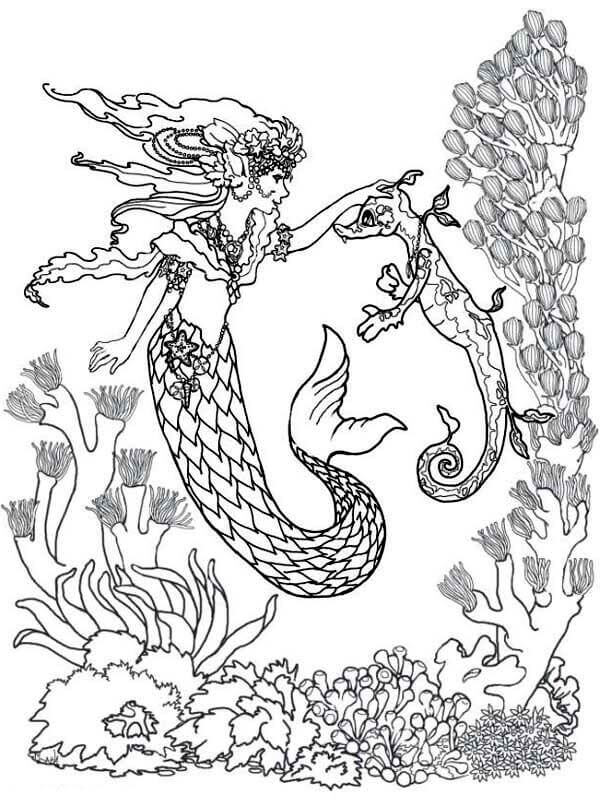 This coloring sheet features a mermaid petting her seahorse. It seems that both are heading to an adventure. Or maybe, they're swimming home after a hard day at school. But she's not an ordinary mermaid. She looks like a princess mermaid to us with all those ornaments.
Princess Mermaid: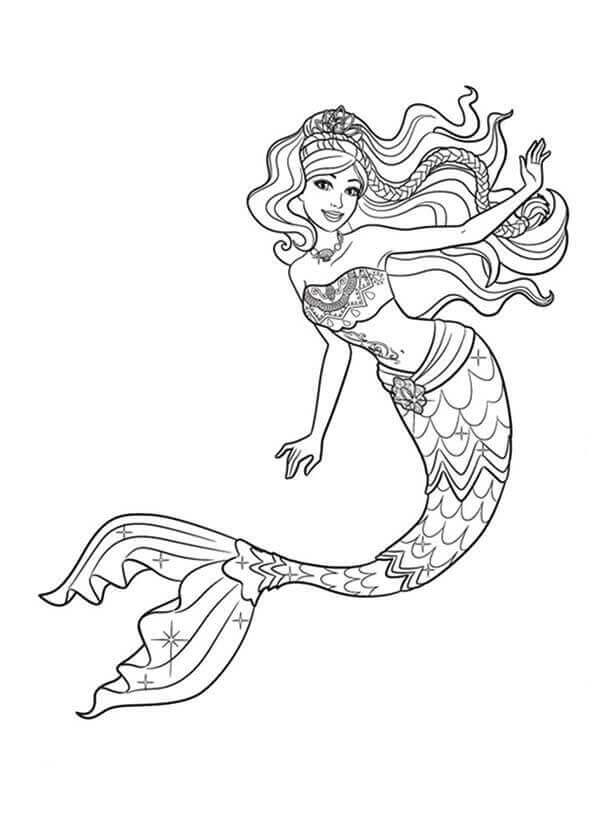 Here's a beautiful coloring page of a princess mermaid. Children have loads to color in this diagram, right from the tiara and braid to the scales and adornments. If the coloring page looks a bit blank to you, fill in by drawing a sea, some anemones, and little fish.
Dora As A Mermaid:
"Woah! When did Dora turn into a mermaid?" You guys must be wondering the same, right? Well, she did, in the episode, "Dora Saves the Mermaids". In the episode, Dora helps Marianna find the magic crown, which can make the garbage disappear. We're totally loving the crown on her.
Mermaid In Her Den:
Not all mermaids are princesses and not all of them stay in a castle. Some mermaids live happily in a cave as well, with their friends like family. So take out your crayons and give some color to this underwater scene.
Detailed Mermaid Coloring Page: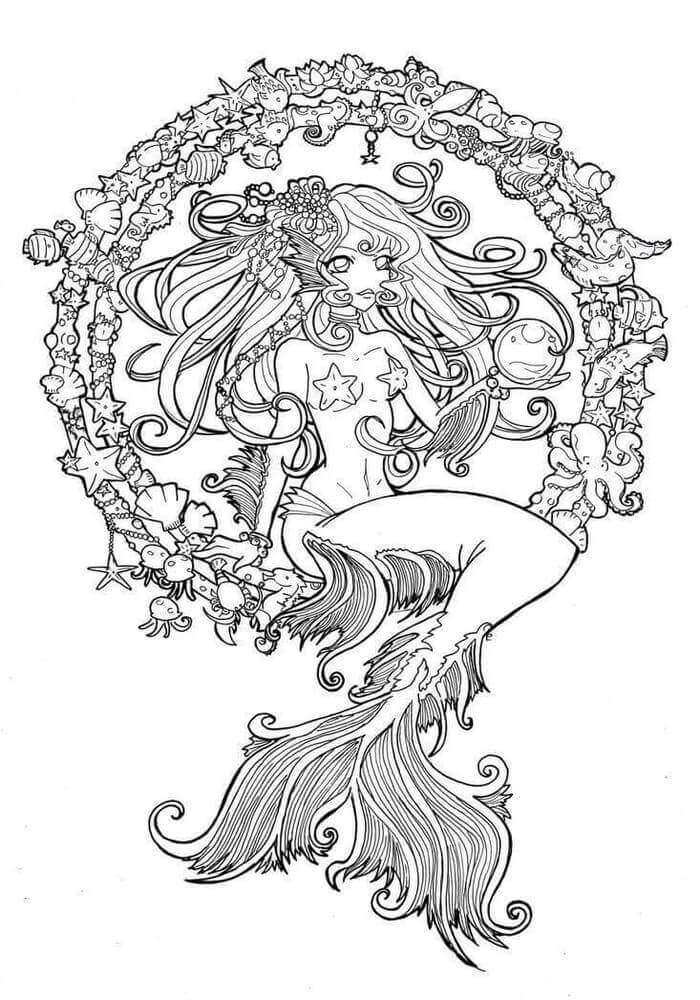 Break out your crayon and fill some colors on this mermaid coloring page. It features a strong, and confident Princess mermaid sitting on a circular throne of sea animals like octopus, crabs, starfish, and fish. Since it's thoroughly detailed, we'd suggest teens to color this image.
A Cute Mermaid: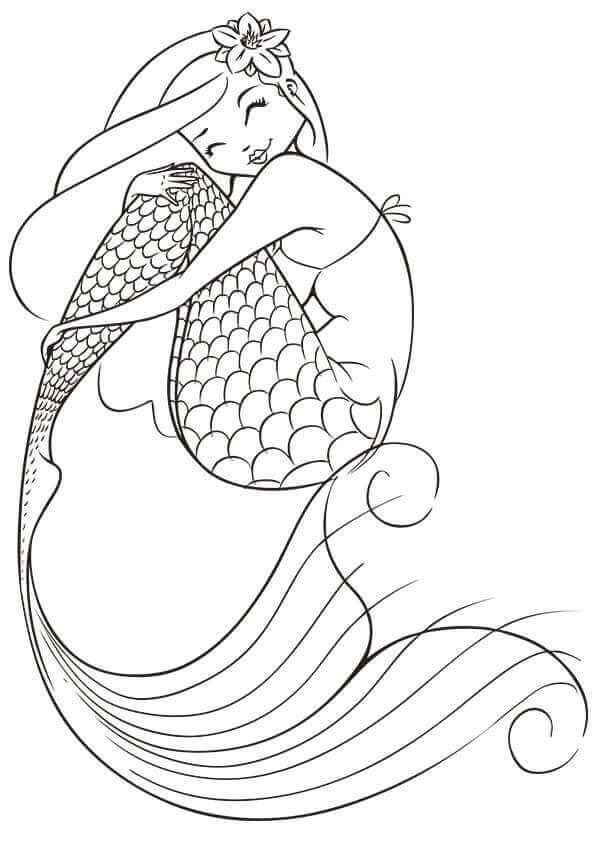 Wouldn't it be fun to be a mermaid? Apart from leading a happening life in the ocean, you even get to be incredibly sweet. Color it and add to your fairy tale coloring book. It will make a great inclusion.
You May Also Like: Ocean Coloring Pages
The Winner Of Hearts:
It seems that this mermaid is a winner of hearts. She has hearts everywhere, right from the bikini to the wand. Even her jewelry has heard pendants on it. Cute, isn't it?
Sophia The First Mermaid: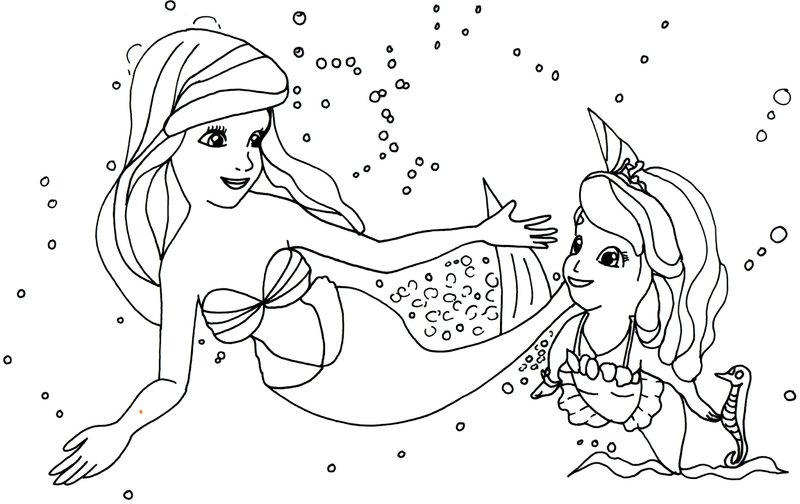 This coloring page features Sophia with Princess Ariel. In the episode "The Floating Palace", Sophia comes across Oona, a mermaid. The two become friends when Sophia helps Oona untangle from the net. Oona then transforms Sophia into a mermaid and together they go on a tour of the ocean, where they meet Princess Ariel.
You May Also Like: Sofia The First Coloring Pages
Lalaloopsy Mermaid Doll:
This coloring page is special because it features a rare Lalaloopsy mermaid doll. When you're coloring this image, paint the body blue, hair pink, and eyes black. As for her pet blowfish, paint it orange with black eyes.
A Terrifying Mermaid:
This strict and stern mermaid will definitely capture the imagination of many. Going by the image, she looks like the queen of the ocean with a trident in hand and crown on the head. But why is she giving such scary and terrifying looks? Perhaps, giving this stealthy lady some colors can calm her down. After all, colors can melt down anyone.
Fun-Filled Mermaid:
Meet this adorable mermaid who loves hanging out with her ocean friends. We loved her blazer top the most, quite unlike the regular outfits mermaids are seen wearing. And don't forget to paint her flowing locks.
A Detailed Coloring Page Of Mermaid: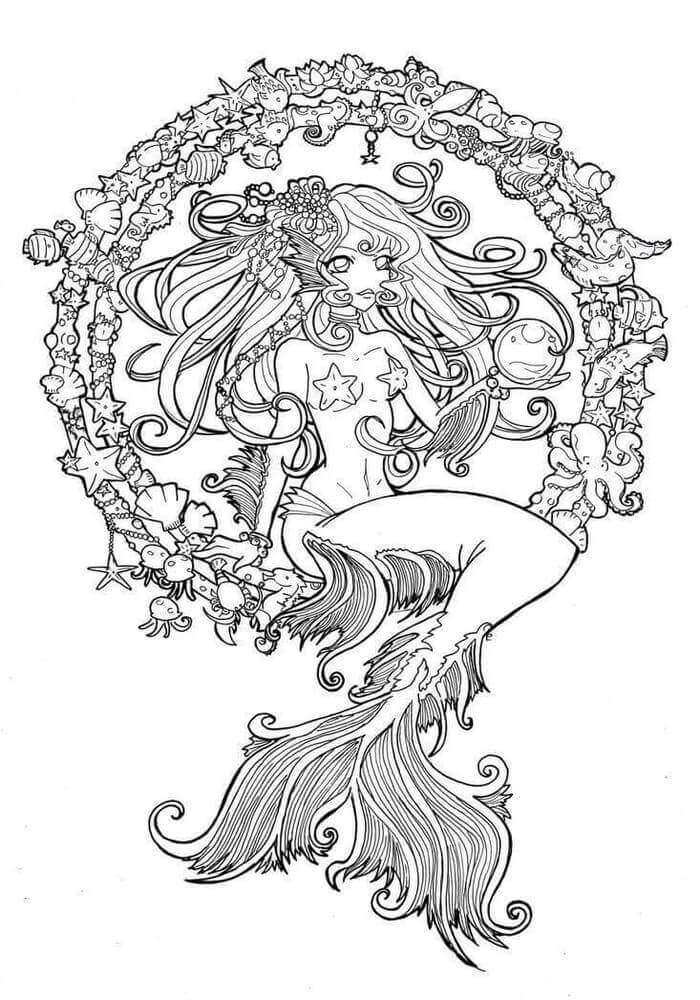 Fantasy lovers are sure to enjoy coloring this gorgeous coloring page of a mermaid. As you stretch your imagination, you'll also get to practice coloring within the lines.
Little Mermaid With Her Little Pet: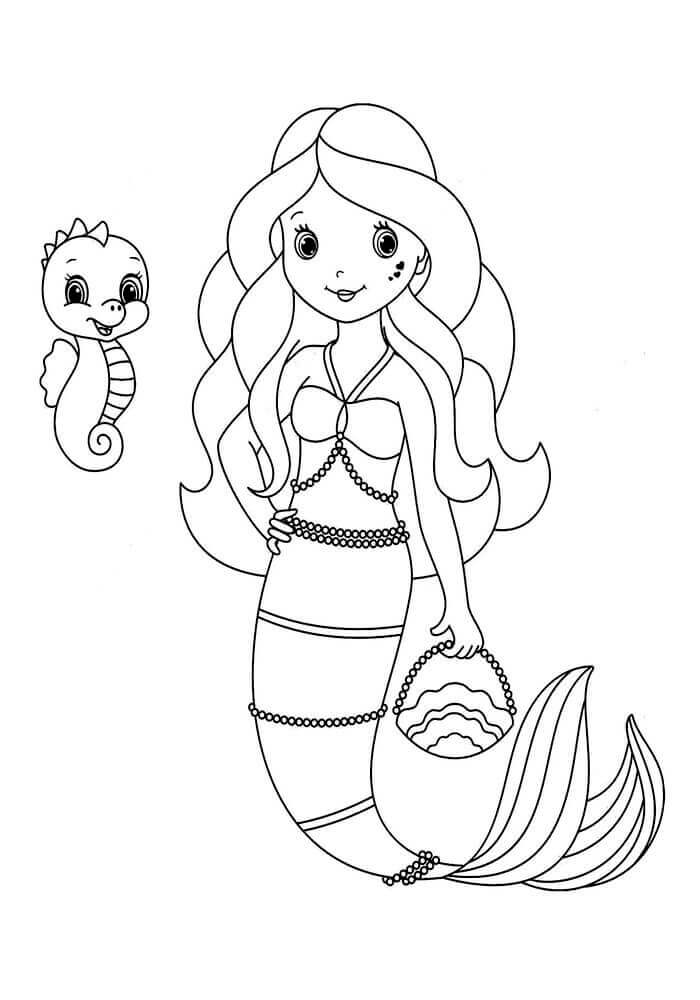 Pull out your coloring pencils and take a break with this adorable mermaid with her tiny seahorse friend.
Cartoon Mermaid: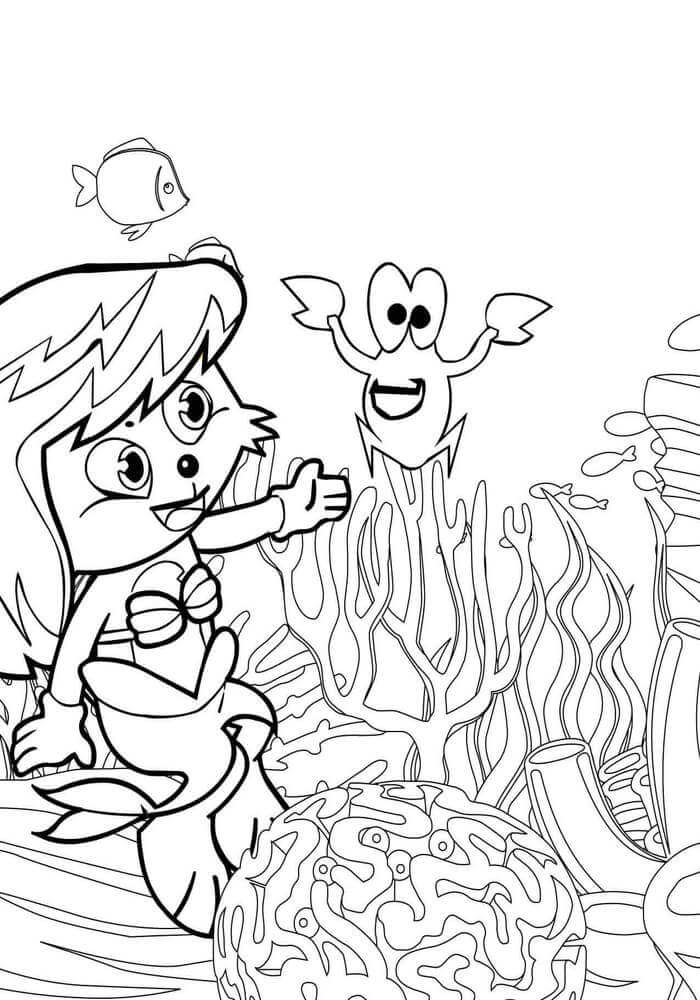 Now that's one unique version of Ariel we've ever seen. Is there anything this cat can't do? She can be anyone she likes, lucky chap.
Mermaid In A Deep Thought:
What is this mermaid thinking about? Can you guess? Or is she upset about something? Perhaps coloring can make her a bit happier. So what are you waiting for? Spread some smiles now!
Mermaid In Anemone:
If your child dreams of an underwater adventure, then this coloring page of a mermaid in the ocean will satisfy his or her quest to a great extent. He can add a few fishy friends to this coloring page as well.
Oona From Bubble Guppies:
Go for an underwater adventure with Oona from the "Bubble Guppies" television series.  Oona, a kind, sweet, sincere, and gentle little mermaid win the viewers' heart with her emphatic attitude. We love how she attends her sick friend, loves a pet, and cares for the plants.
Merman:
We're rounding up our list of mermaid coloring pages with this majestic black and white diagram featuring a merman. With a trident in hand, this anime merman looks like the king of the ocean. And if the missing crown in bothering you, you can add it yourself.
We hope you'll enjoy filling these mermaid coloring sheets. We'd love it if you could show some of your mermaid coloring pages by emailing us. We'll wait for it! Until then, happy coloring!