This Friday, you'll witness the emojis you've been using to display your sadness, hatred, love, anger, mirth, and glee come alive on the big screen. Yes, we're talking about Sony's, "The Emoji Movie". The movie centers around Textopolis, a world within Alex's smartphone inhabited by none other than the emojis we use in our daily lives. Every emoji residing in Textopolis has just one expression, except Gene, a rare emoji, which can convey several expressions. So before you head out to watch this amazing movie, have fun filling these The Emoji Movie coloring pages. From Poop to Smiler, we've got printable coloring sheets of all the characters from the movie, which you can bring to life. Take a look.
[ Read: Emoji Coloring Pages ]
20 Amazing The Emoji Movie Coloring Pages
Gene:
Here's a coloring page of Gene from "The Emoji Movie" and Alex's cellphone. As mentioned earlier, Gene is the only emoji with the power to convey several expressions. But sadly enough, Gene isn't pleased with his 'superpower'. He wishes to fit in so that he can become like his parents. So what will happen with Gene? To know more, you need to watch the film.
to join this conversation on GitHub. Already have an account? Sign in to comment Footer © 2023 GitHub, Inc. Footer navigation Terms Privacy Security Status
Jailbreak:
This coloring page features Jailbreak, the emoji that helps Gene escape out of Textopolis. This light yellow color emoji is shown wearing a light blue code watch, which helps her in jailbreaking. Other than that, she appears wearing a black beanie, black dress, and purple lipstick, which complements her purple-blue hair well.
Smiler:
Smiler is a perfect example of deceptive looks. She appears all happy and fun-filled with that blond hair, pink lips, and long black eyelashes covering her light blue eyes. But in reality, she's a menacing, evil, and cruel emoji. As the President of Textopolis, Smiler controls everything, even the emojis.
Hi- 5:
Here's a coloring page of Hi-5, the best friend of Gene, and one of the central characters of "The Emoji Movie". His British accent has made us fall for him already, and we can't wait to see him on the big screen. Hi-5 has a skin color, but children should feel free to give him any color they like.
Poop:
Poop is one of the supporting characters from "The Emoji Movie" and going by the trailers; he looks quite promising. Tell your child to color Poop in dark brown to give him a realistic look (we hope we do not sound gross here).
Flamenca:
Can you recognize this emoji from the picture? It's Flamenca, the flamenco dancer on our phones. She's a supporting character in the movie, but going by the trailer, we're sure she has an important role to play.
Mel Meh:
Meh! That's what this emoji feels and expresses all the time. Mel Meh is the not-so-amused father of Gene. And he was definitely not amused with the idea of Gene escaping the Textopolis.
Mary Meh:
Here's a coloring page of Mary Meh, Gene's mother. Just like her husband Mel Meh, even May Meh doesn't get amused easily. We can't even imagine how she must be feeling hearing about Gene's escape.
Ice Cream:
This coloring page features Ice Cream, one of the emojis in Textopolis. Not much has been disclosed about Ice Cream, but the trailer suggests that it gets scared and jittery easily. Just keep one thing in mind. Do not confuse the Ice Cream emoji with the Poop emoji. They look pretty similar in black and white.
Angel:
This coloring page features Angel, one of the most adorable-looking emojis in the film. She's one of those emojis that instantly brings a smile to the face. We're sure you'll enjoy filling colors in it.
Devil:
When there's an angel, how can the devil be far behind? We couldn't gather much about Devil from the trailer, but we're confident it will be an interesting character if its character has that perfect mix of good and bad.
Donut:
This donut is making us feel hungry now. Which flavor do you want to give it? Chocolate or strawberry? Or how about making it multi-colored? Don't forget to fill the color in the little sprinkles.
Flying Money:
We may not feel happy when money flies from our pockets. But seeing this coloring page, we feel money definitely enjoys traveling from one wallet to another.
Pizza: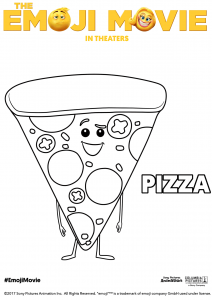 This one's got us salivating. And we're sure Pizza will look even more fantastic when it's filled with colors. So what are you waiting for?
[ Read: Pizza Coloring Pages ]
The Three Monkeys: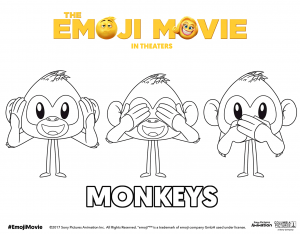 These are the most fun characters in "The Emoji Movie". They hear no wrong, they see no wrong and they speak no wrong.
[ Read: Monkey Coloring Pages ]
Confused Gene:
Why is Gene looking so confused in this coloring? Is he baffled by the fact that he's so unlike the other emojis? But that's where his charm lies- in distinctiveness. I hope he'll understand this soon.
Mr. Poop: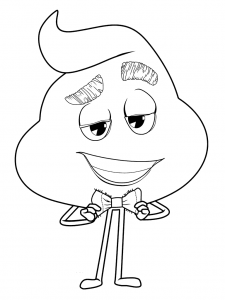 How dapper is Mr. Poop looking in this coloring, with slick hair and lovely bow? Who thought even Poops could look so charming.
The Trio: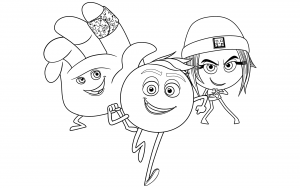 Here's a coloring page of the famous and adorable trio of "The Emoji Movie"- Gene, Jailbreak, and Hi-5. These three are completely inseparable and can solve even the most complex problems, especially Jailbreak.
Jailbreak And Gene:
This coloring page features Gene and Jailbreak having fun with each other. While Gene looks elated, Jailbreak is a bit freaked out.
The Emoji Movie: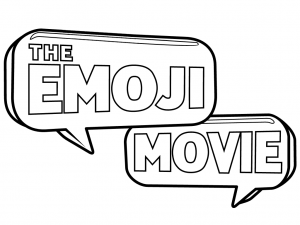 We're winding up the article with the coloring page featuring the logo of the movie title. Logos give children an immense opportunity to showcase their creativity. So you can color it in any color you like, not just in the colors featured in the official logo.
Our printable The Emoji Movie coloring pages will definitely help you break the heat. So which of these The Emoji Movie coloring pages did you like the most? Let us know by commenting below.