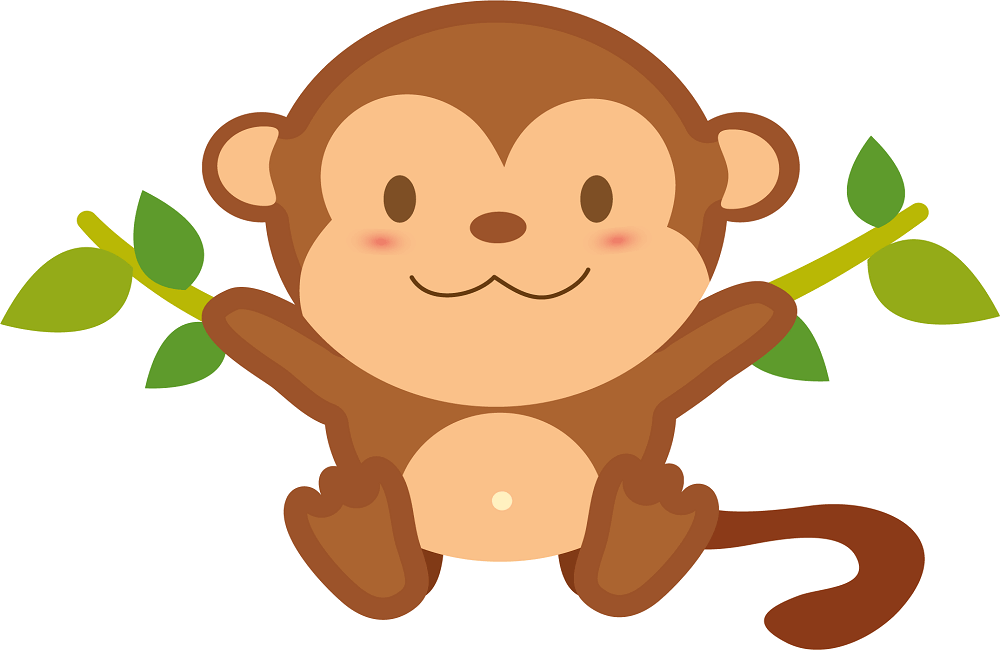 Like dogs and cats, monkeys are one of those animals that most of us have witnessed at least once in our lives. Arguably, the first time a child is introduced to monkeys must be during their pre-school days learning the English alphabet. Like for example, if 'A' is for Apple, then 'M' is for Monkey. Most of us were too young then to remember this. But you might remember seeing one in a zoo or perhaps you were born in a family who kept a pet monkey. Why are we going on about monkeys today? Yes, you guessed it right. Today we've got you a collection of free printable monkey coloring pages.
Also Read: Zoo Coloring Pages
Monkeys are mammals that come in varying sizes depending upon the different species. There are marked differences in physical characteristics as well. While most monkey species are arboreal, living in the trees, species like baboons are ground-dwelling. You can find them moving around, jumping from one tree to the other, eating fruits, flowers, leaves, etc. as their daily diet. Many monkeys have also found a place in urban settings, adapting well to human settlement and human food. Let's wait no more and start monkeying around with this entertaining and mischievous collection of monkey coloring sheets to print.
35 Free Monkey Coloring Pages Printable
Abu From Aladdin:
We're starting today's collection is Abu, the mischievous monkey ally of one of the well-known Disney characters, Aladdin. What makes Abu interesting is the fact that he is a kleptomaniac, who just can't help himself from stealing things wherever he goes. It looks like he's plotting something here. Try to figure it out while you print and color this page.
to join this conversation on GitHub. Already have an account? Sign in to comment Footer © 2023 GitHub, Inc. Footer navigation Terms Privacy Security Status
Also Read: Aladdin Coloring Pages
Angry Gorilla:
You do not want to make Gorillas angry. Because they can be pretty dangerous being the largest among all living primates. You can find them in Sub-Saharan Africa just like this fellow here, who seems to be getting angry about something. Print this page quickly and change his mood by adding some lively colors.
Baboon Coloring Page:
Baboons are native to Africa as well as part of the Arabian Peninsula. Believed to have been in existence for two million years, there is a total of five species of baboons in the world. Looking a little too calm and composed, this illustration of baboon needs some exciting colors.
Boots From Dora The Explorer:
Here's a young and lively monkey to lift your spirits after that calm and composed baboon. Known by the name, Boots, you must have seen him on the popular animated series Dora the Explorer. He is a furry little monkey who seems to be dancing in this illustration.
Cartoon Monkey Swinging From A Vine:
Most monkeys are arboreal, living in the trees, above the ground. And when your lives are spent among the trees, swinging from vines is not only an exciting playtime activity, it's also part of daily existence. Match the excitement of this monkey by coloring this page with equal enthusiasm.
Monkey On A Tree Branch:
As if taking a cue from the earlier monkey swinging from a vine, this particular monkey is showing off his balancing skills. Look at the way he's standing upright by perfectly using his limbs.
Curious George Coloring Page:
Curious George is the main character in a popular children's book which was turned into an animated series. As the name suggests, this cute monkey always finds himself getting into quite a lot of trouble because of his curiosity.
Also Read: Curious George Coloring Pages
Cute Baby Monkey Doing A Split:
This cute baby monkey has finally managed to do a full split. Perseverance pays off for those who are disciplined and work consistently towards their goal. Congratulate this baby monkey and present her with a colorful makeover.
Monkey Asking For A Lift:
With a smile like that and jovial personality, this monkey will not have to wait for long to get a lift from the commuters. Print this coloring page and give this fun monkey some encouragement with your colorful skills.
Funny Monkeys Hanging From Trees:
Having strong and muscular limbs help the monkeys to hang from trees and move about with agility up in the air. These two monkeys are indulging in some teasing and playfulness in this illustration. Give this coloring page some fun colors.
Hairy Monkey Business:
The hair on monkeys like on other animals is called fur, which grows almost all over the body. The fur offers them protection from the natural elements like the sun or weather conditions. Look at the thick fur on this monkey!
Howler Monkey:
If you ever find yourself traveling through a dense rain forest, you will have no trouble discovering if there are any howler monkeys around. Because they have vocal skills; their loud howls can travel as far as three to five kilometers. Give this family of howler monkeys some loud coloring treatment.
M For Monkey Coloring Page: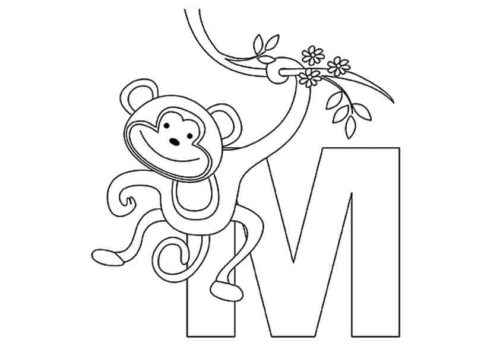 It's time now for the alphabet lesson of the day. You guess it right, the letter for today is 'M' for Monkey. Here's the letter 'M' in this illustration accompanied by a swinging little monkey on a vine.
Mama Monkey With Baby Monkey:
Baby monkeys are usually raised by their mother, with exceptions of both parents involved in parental care if the monkeys are monogamous. They can be found hanging on to their mothers, riding on the back, holding the neck or across the chest as illustrated on this coloring page.
Mandrill Face Coloring Page:
At this time in the tropical rainforests, one can find many young mandrills, as the season of birth is between January and May. Earlier believed to be baboons, mandrills are classified under a different genus Mandrillus.
Monkey Coloring Page For Kids:
Another letter from the English alphabet forms a part of this monkey illustration. Easy for any kid to color, this coloring page depicts a monkey looking out through the hole of the letter 'D'. As long as you color within the lines, you'll do a great job coloring.
Monkey Swinging Like A Tarzan: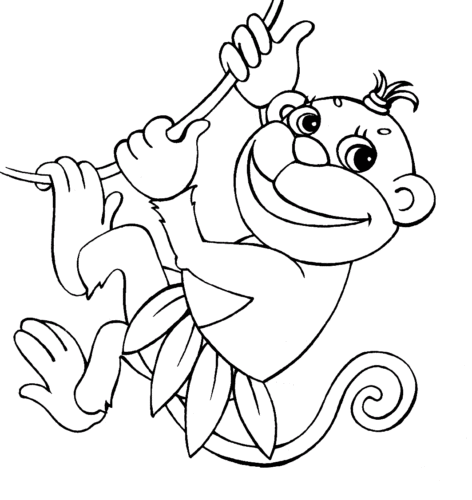 This is a funny illustration. A monkey imitating the famous ape-man character, Tarzan. In case you haven't read about or seen Tarzan, he is a human child raised like an ape-child by apes in the forest. This monkey is even wearing leaves around his waist like Tarzan.
Monkey Resting, Banana Eating:
When they are not running around the trees, you will find the monkeys resting. And what's even better than simply resting? Resting and eating. You can see such a happy expression of satisfaction on this monkey's face who is enjoying a banana.
Monkey Communicating:
There are several different ways in which a monkey communicates among themselves. Body language plays a crucial role as well as audio and olfactory signs. You can see communicating though his stance. What you can't hear is the sound he is also making.
Little Monkey, Eating Peacefully:
This little monkey has had a great day today. After getting to play around the whole day, he gets to munch on some tasty bananas. To avoid sharing with others he has quietly moved to a corner to eat peacefully.
Monkey Checking Out The Globe:
What do you think this curious monkey is trying to find? Is it looking for his ancestral home country? Maybe, he's simply trying to learn about the world. You can think about what he's thinking as you print and color this page.
Big Monkey Eating Banana:
It's not just the little ones who enjoy bananas. Even this grown-up monkey is secretly relishing eating a banana. Apart from bananas, monkeys have a varied diet including fruits, seeds, and flowers. In other words, monkeys are omnivores.
Cute Little Monkey Having A Banana: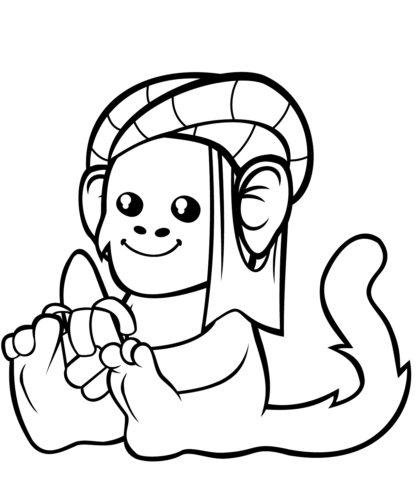 Watching the grown monkey having a banana, this little monkey could not help but have one as well. He looks good wearing the smart headgear. It could be that he is a pet monkey. Several people around the world do keep monkeys as pets.
Monkey Teasing & Dangling Mowgli:
The monkeys in 'The Jungle Book' by Rudyard Kipling had more traits of villains than heroes. Collectively called the Bandar-log, which translates to monkey-people in Hindi, you can see one such monkey teasing Mowgli and dangling him from a tree.
Monkey Hugging Letter 'Q':
We have already learned about the letters 'M' and 'D', all thanks to this monkey coloring pages collection. Adding to our list of letters from the English alphabet is 'Q', hugged so tightly by this monkey. Give the letter and the monkey some of your playful colors.
Monkey In Fez Coloring Page:
Somehow, the image of a monkey wearing a fez, a traditional headdress often red in color, has entered the popular culture. Depicting one such image of a cute monkey wearing the hat with a tassel in this illustration. Print this page and fill it with adorable colors.
Monkey In Love: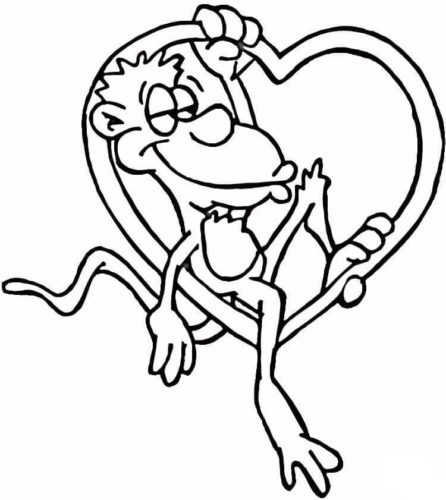 Romance and love have taken a hold of this monkey. You can see him dreamy-eyed, sitting in a heart-shaped swing, probably thinking of the object of his affection. Splash some lovely colors and add to the love-quotient of this coloring page.
Tiny Monkey, Shy Monkey:
How utterly sweet and cute is this illustration, isn't it? Looks like this tiny monkey is shyly playing 'hide and seek' with us. Baby monkeys are considered an adult once they reach around four to five years old.
Monkey Posing As A Superhero:
With all the jumping around and traveling in the air, monkeys can make for a great superhero. Bringing this idea to life is this cool illustration of a monkey superhero. While the design is already done, you get the chance to give this superhero costume your choice of color scheme.
Also Read: Superhero Coloring Pages
Monkey Tasting Snowflake:
Coming from the tropical region, this monkey is having a fun time in the winter. As soon as the snow starts to fall, he sticks his tongue out to taste the falling snowflakes. Have you done something like this? If not, you can imagine what it tastes like while you color this page.
Also Read: Snowflake Coloring Pages
Monkey Wearing A Bow Tie:
If you thought all little monkeys are naughty and playful, this monkey is here to prove you wrong. All neat and tidy, this little monkey is even wearing a smart bow tie. Print this page and fill it with impeccable colors.
Monkeys Playing Around, Hanging Upside Down:
And we go back to little monkeys being mischievous, naughty and playful in this illustration. Do you notice the monkey is hanging only by its tail? That's because they have prehensile tails, that can be used as another limb, being able to hold and reach.
Playful Monkey Moving In A Tree:
While some monkeys travel by swinging using their arms, most monkeys move from one tree to another by walking on the branches, as shown in this illustration. You can see this monkey adeptly moving across the branch and holding on to the vine to jump over to another tree.
Monkey In A Uniform:
Does this remind you of a monkey in a film involving hotel guests? Several monkeys are hired in films and television. This monkey actor seems to be waiting to film his scenes, ready with his bellboy uniform. Give this illustration a cool uniform color.
Three Wise Monkeys:
When it comes to monkeys, one of the things that are widely known about them in popular culture is the "Three Wise Monkeys". Each monkey represents a principle – see no evil, hear no evil and speak no evil.
And on that wise note, we have reached the end of this collection of monkey coloring pictures printable. Although we might see monkeys in abundance in most parts of the world, some species of monkeys are dangerously close to extinction. You can help create awareness about their conservation with the help of your family, friends, and schoolteachers. You can even make posters out of some of these interesting monkey coloring images. So happy coloring!