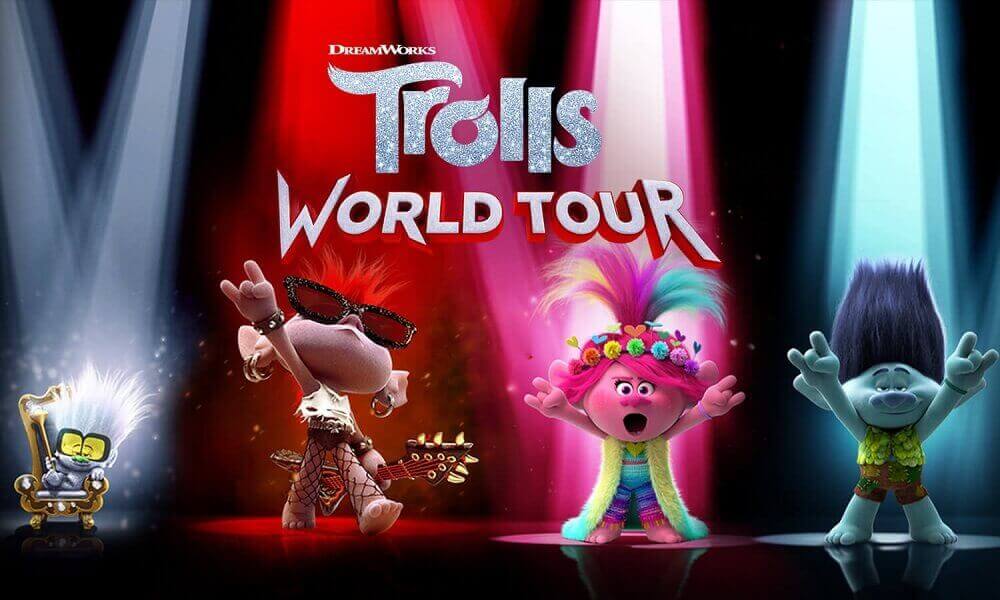 The much-awaited "Trolls World Tour", the sequel to the incredibly popular "Trolls" is finally available for streaming. The movie was supposed to hit the theaters in April, but due to the pandemic and shut down of movie theaters all over the world, the filmmakers decided to release the movie digitally so that the families, especially the kids could enjoy it from the comfort of their homes. In case you're yet to watch the movie or are looking for ways to keep yourself entertained during quarantine, we'd suggest you go through our collection of free printable Trolls World Tour coloring pages.
Trolls 2 Or Trolls World Tour Coloring Pages:
Biggie:
We're kicking off the list with the big-hearted and lovable Biggie, voiced once again by James Corden. Biggie is a big, tall blue troll who doesn't leave for anywhere without his pet, who even happens to be his BFF, Mr. Dinkles. However, Mr. Dinkles is missing here. Can you draw it on this coloring sheet?
Biggie With Friends: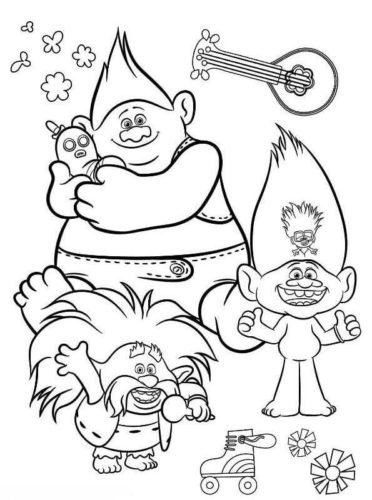 This coloring page features Biggie with his closest buddies, Guy Diamond, Tiny Diamond, and King Peppy. And did you notice, even Mr. Dinkles is there with him? Apart from these characters, there are other small elements, which kids will enjoy coloring.
Branch Ready To Rock And Roll:
Branch is all set to rock the stage and he looks well prepared for it. And this time again, he's brought to life by Justin Timberlake, who happens to be blessed with the most angelic voice. The character of the level headed but grumpy Branch is even more interesting this time as apart from being in a band, he's also trying to work through his feelings for Queen Poppy.
to join this conversation on GitHub. Already have an account? Sign in to comment Footer © 2023 GitHub, Inc. Footer navigation Terms Privacy Security Status
Chaz:
Chaz, the smooth jazz Troll, is a part bounty hunter and part musician and it's this very reason that makes him one of the most popular characters in the film. He sets out to capture Poppy for Queen Barb and is partly successful as he manages to enamor both Branch and Poppy by his smooth jazz skills.
Cherub:
Out of all the Trolls, I personally found Cherub the cutest of all. And there isn't just one Cherub in the movie. You'll find scores of these golden-colored, flute playing trolls, with blue or pink puffy hair. These cuties live in the sky, like most of the cherubs, and enjoy playing classical music.
Copper:
How could we not include the adorable cupcake pooing, four-legged troll, Cooper? He does look a bit out of place among his two-legged friends, but that doesn't alter their love for him even a bit. Also, it is found that he's the son of King Quincy and Queen Essence in Trolls 2.
Debbie:
Meet Debbie, Queen Barb's pet bat, and a supporting character in the film. This messenger of Barb is capable of seeing the world completely in red color. Debbie is a grey colored bat with red eyes and white bushy fur, but we loved it when Poppy added glitter and bow to her look to give her a makeover.
Hickory:
Hickory, the cool, yodeling Troll, is best known for his love for the country music, and of course, his laid back personality. And how could we forget? He's a bounty hunter too! Hickory is a yellow colored troll with orange hair. He appears wearing a black alpine hat, green denim dungarees, and hoof-like shoes, just how you'd expect a country troll to look.
King Trollex:
We totally love the appearance of King Trollex, the leader of the Techno Troll. Unlike other Troll, Trollex is given a colorful, pixelated look. This neon-colored troll is given an aquatic look with fins instead of legs. Even his neon green hair combed in a topknot looks like fiber optics.
Trollex With His Band Members:
If you've watched "Trolls World Tour, or have watched just the trailer, you must have noticed a plethora of brand new characters. This coloring page features King Trollex with his band members. Can you guess the other two characters with Trollex? Comment your answer below.
Barb:
Meet Barb, the queen of hard rock and the antagonist of Trolls World Tour, voiced by Rachel Bloom. Being a leader of Rock Trolls, Barb takes it upon her to capture the five strings and destroy every other form of music played by the other troll tribes.
Queen Of Hard Rock Barb:
The queen of hard rock is all set to set the stage of fire on this coloring page. This muddy red-colored troll with a red Mohawk is a true blue hard rocker and hates every other genre of music played by the other troll tribes. Her aim is to destroy all kinds of music so that just her genre shines all over the world.
Queen Poppy: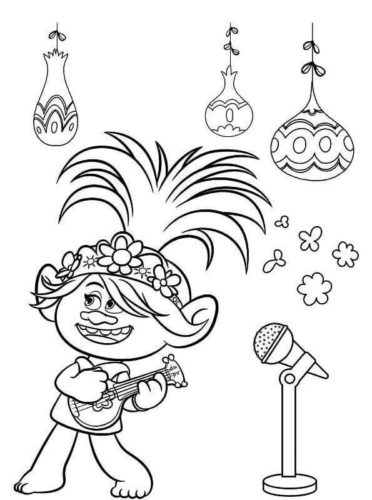 Queen Poppy, voiced by Anna Kendrick, plays the leader of the pop troll in "Trolls World Tour".  In the sequel, Queen Poppy sets to unite the different Troll tribes existing all across the world. She's a cute, pink-colored troll with darker pink hair, which complements her blue dress and tiara beautifully.
Queen Poppy With The Mic:
Queen Poppy looks extremely sassy and confident holding a mic in this illustration. Poppy is adored by everyone in the band as she always has their best interests at heart. Let's just hope she also learns to listen to the others around her as well. That would make her the most amazing queen.
Riff:
This coloring picture features Riff, a Hard Rock troll, and an accomplice of Barb, which makes her the second antagonist of the movie. Riff is a grey colored troll who appears in a denim vest, black torn pants, and fingerless gloves. But what sets her apart is her huge beanie which covers half of her face.
Satin And Chenille:
Here's a coloring sheet of Satin and Chenille, the conjoined twin connected by their pink and blue hair. And just like most of the reel life twins, even Satin and Chenille do not seem to agree on anything.  But at least they managed to avoid being captured by Rock Trolls.
Tiny Diamond:
Tiny Diamond is the son, or you can say, the mini version of Guy Diamond. Just like his father, even Tiny Diamond is silver, glittery, but small. He wears big, yellow shades, which goes really well with his sassy, hip hop personality.
Guy Diamond And Tiny Diamond: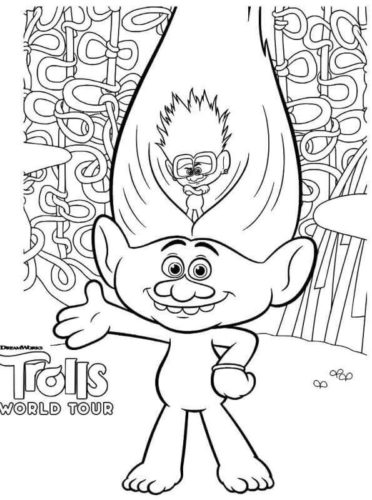 Our favorite Guy Diamond, the glittery troll, isn't alone this time. He's accompanied by Tiny Diamond, his son, who is seen perched on his voluminous hair in this coloring page. Guy Diamond is voiced by none other than our very own Raj Koothrappali from "Big Bang Theory", Kunal Nayyar.
Trolls World Tour Coloring Page:
This 'music is life' coloring page from Trolls 2 collection mainly features the new characters, except for one, Queen Poppy. Can you name all the new characters in this illustration? You definitely can, if you've watched the movie.
Trolls World Tour Activity Sheet: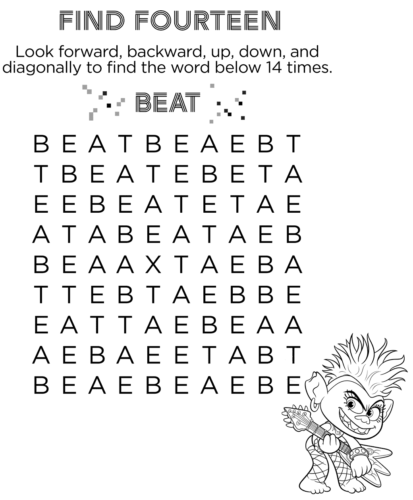 Here's a simple Trolls 2 activity sheet for elementary school goers. Kids need to look up, down, forward, backward, and diagonally to find 14 words. When they are done finding the words, they can color the image of Queen Barb at the bottom right corner of the sheet.
Trolls 2 Cast Coloring Page:
Here's another Troll 2 coloring page featuring all the major actors of the film. If you want, you can write the name of the characters below their pictures. It will make a nice memory activity for the kids.
Trolls 2 Coloring Sheet:
How pretty is this coloring sheet featuring the cast of the movie? Trolls World Tour set several records on the day of its digital release. It is considered the most successful day-one rental out of all the Universal Studio's movies.
Trolls World Tour Coloring Sheet:
Here's another fun colouring page from the film to relieve your lockdown woes.  It features Queen Barb, Poppy, and Branch. The movie itself starts when Poppy receives an invitation from Barb to summon all the musical trolls to a party and reunite their music. Little did they know about her real intentions.
Delta Dawn:
Here's a coloring picture of Delta Dawn, the leader of the country trolls, voiced by Kelly Clarkson. Delta might have a melodious voice, but she also has a bit nasty side, which comes out from time to time. She behaves very politely with everyone at first, but as time passes, people find out that she's anything but nice.
Trollzart:
This puffy troll that you see here is Wolfgang Amadeus Trollzart, the conductor of the Classical Trolls. He has good luck wish stone stuck to his golden yellow body, which apparently provides him with luck. We totally love his thick eyelashes.
We hope you enjoy filling these Trolls World Tour coloring pictures as much as we enjoyed compiling them for you. We'll be updating the article with more Trolls 2 coloring sheets the moment we get our hands on them. So stay tuned! And don't forget to check out our Trolls coloring pages.