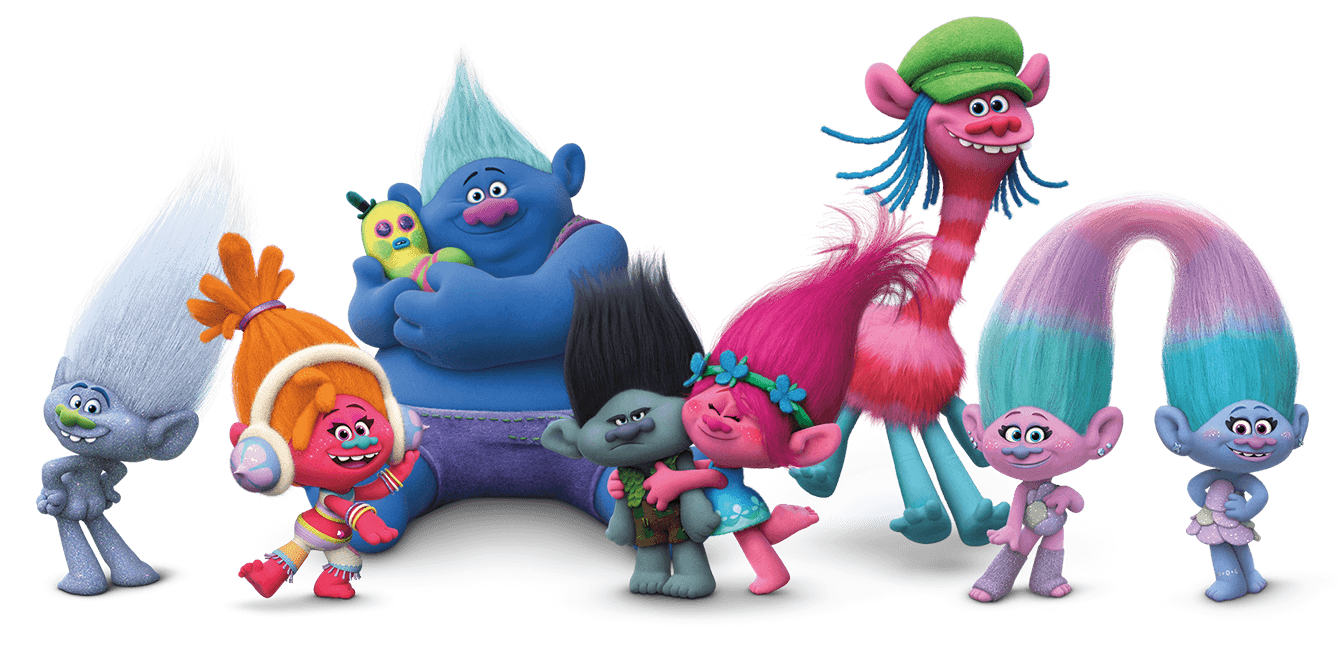 Welcome back, my lovely friends! We are back with another compilation of Dreamworks Trolls coloring pages! Well, Trolls are small creatures who are in a perpetual state of happiness, always singing, dancing, and hugging each other. In contrary to this, there are 'Bergens' who are never ever happy about their selves, but they have a belief that consuming a Troll would give them a feeling of momentary happiness and that's where the interesting part begins! Below we present the top 30 Trolls movie coloring pages from the movie.
Top 30 Trolls Movie Coloring Pages:
Poppy: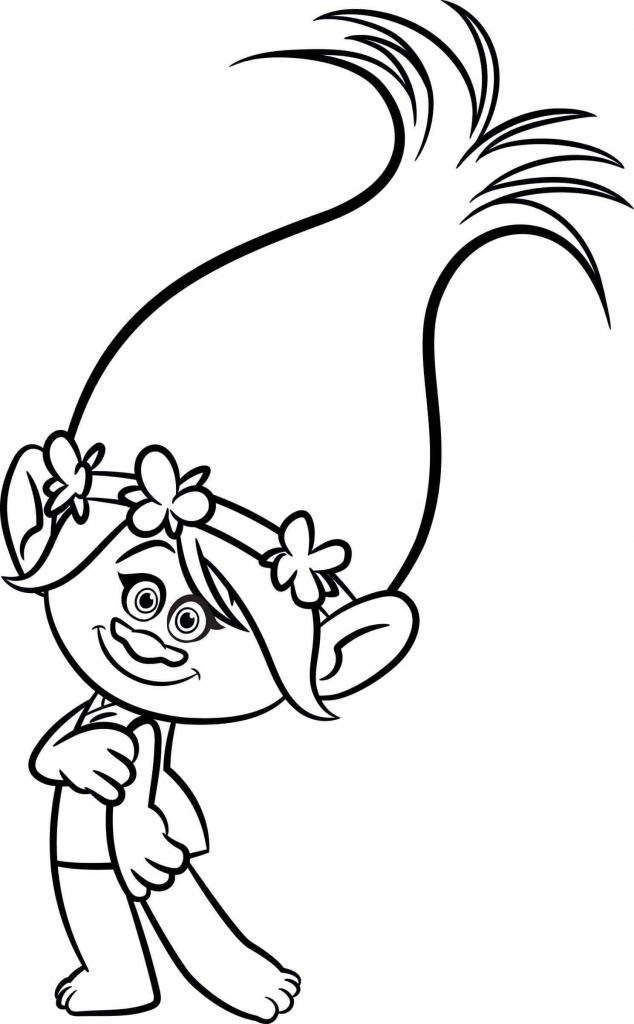 Poppy is a Troll who is cheerful, always high on life, and has the ability to solve any problem by just merely singing, dancing, and hugging! Being the Trolls princess, she has a sense of responsibility towards the other trolls of the kingdom and hence, heads out alone on a mission to save the Trolls from being served to the Bergens! She has beautiful flamingo pink skin and wears a blue dress with a green headband and flowers.  
Branch: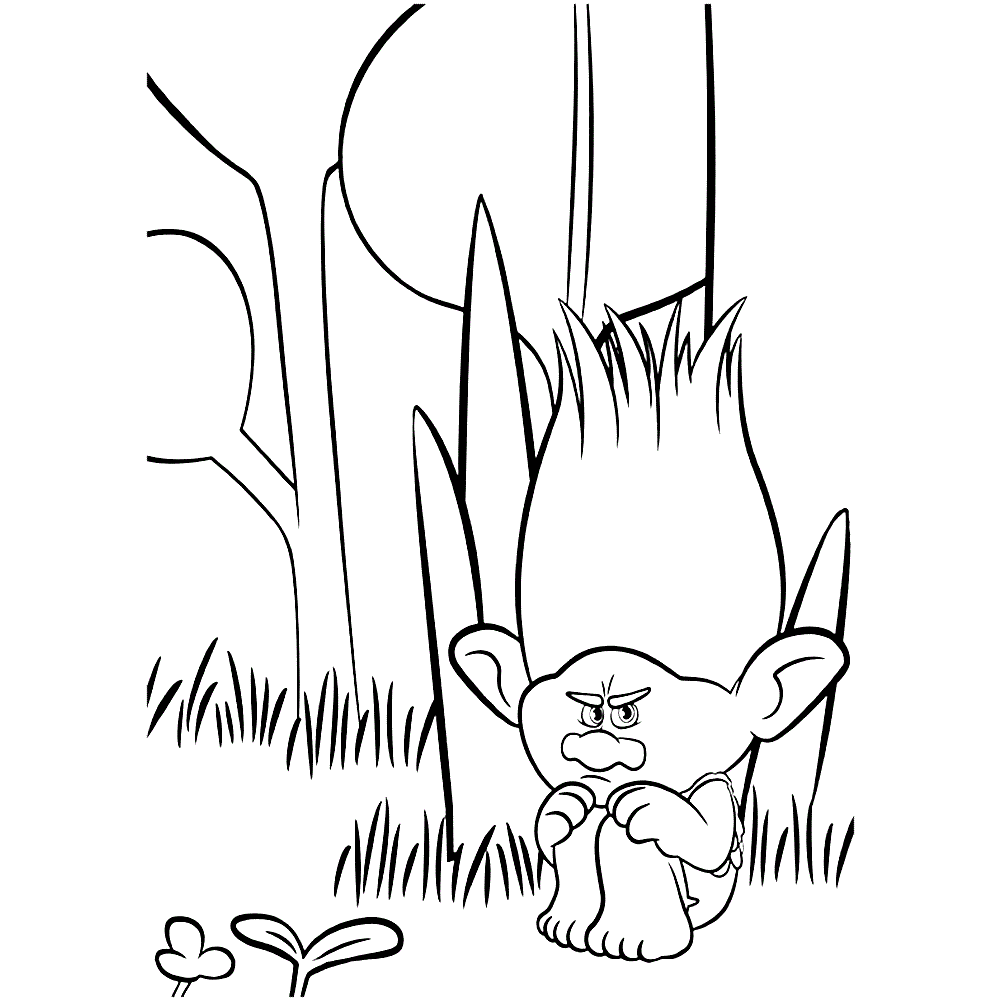 Branch is one of the supporting characters of the movie, Trolls. He became paranoid after his grandmother lost her life in the process of saving him, from being a Bergen meal! After that, he becomes over-cautious, and his color turned gray, which reflects that he isn't happy as the other Trolls of the village are! He is reluctant to singing, dancing and hugging unlike the other Trolls of the town. Teal skin, dark blue hair, bright eyes, and bright clothes are native to him.
to join this conversation on GitHub. Already have an account? Sign in to comment Footer © 2023 GitHub, Inc. Footer navigation Terms Privacy Security Status
[ Read: Tree Coloring Pages ]
DJ Suki:
DJ Suki, the only DJ of the Trolls town, is a bit different from the other Trolls! Nobody can match her energy and promptness in laying down a beat at an impromptu musical moment! She is Princess Poppy's best friend. She has a red-pink skin, wears striped tops and pants, and is always seen with headphones on her ears!
Smidge:

Smidge is a tiny female Troll, with a strong voice! She might tell me the tiniest among the Trolls, but when it comes to fitness and nutrition, nobody can beat her! She tries to fit in an exercise in any dance form. She is the cutest amongst the Trolls and has yellow skin with long blue hair.
Satin And Chenille: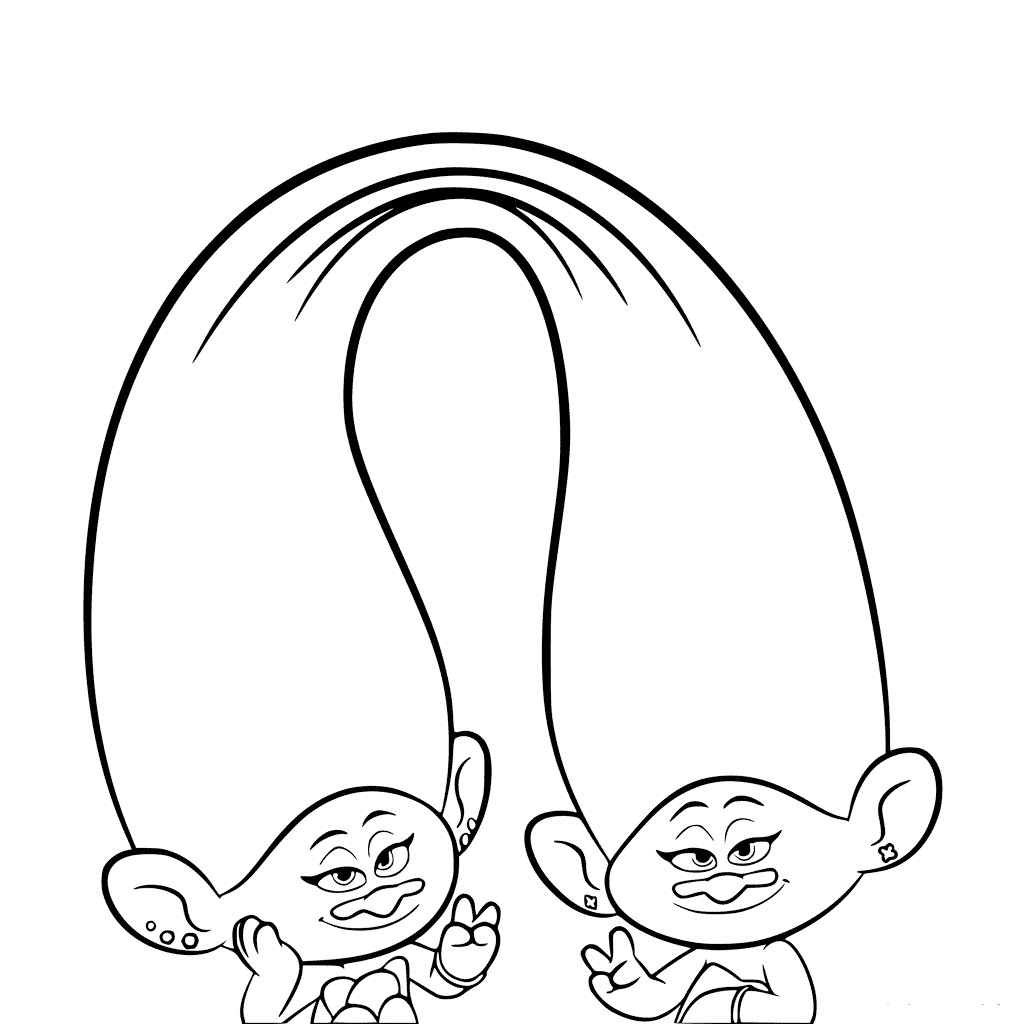 Satin and Chenille are conjoined Troll-twins. They have the best fashion sense among the Trolls! It is also seen that they have some similar habits. Their great style is visible in their dressing sense. They love wearing statement jewelry which mainly includes steel studs.
Biggie:
Biggie is a large-sized Troll, but his heart is the most pious amongst all! He is over sensitive and cries out at emotional and scary moments! His clothes are smaller than his actual size. He has dark blue skin and teal hair.
Cooper:
Cooper is a strange being amongst the Trolls! He is a fuzzy giraffe-like Troll, with a permanent grin jotted down on his face. Cooper has a perfect sense of humor, which makes up for his lack of intelligence. He has a red-orange -pink stripes fur and four blue legs. He is also seen wearing a green hat.
Guy Diamond: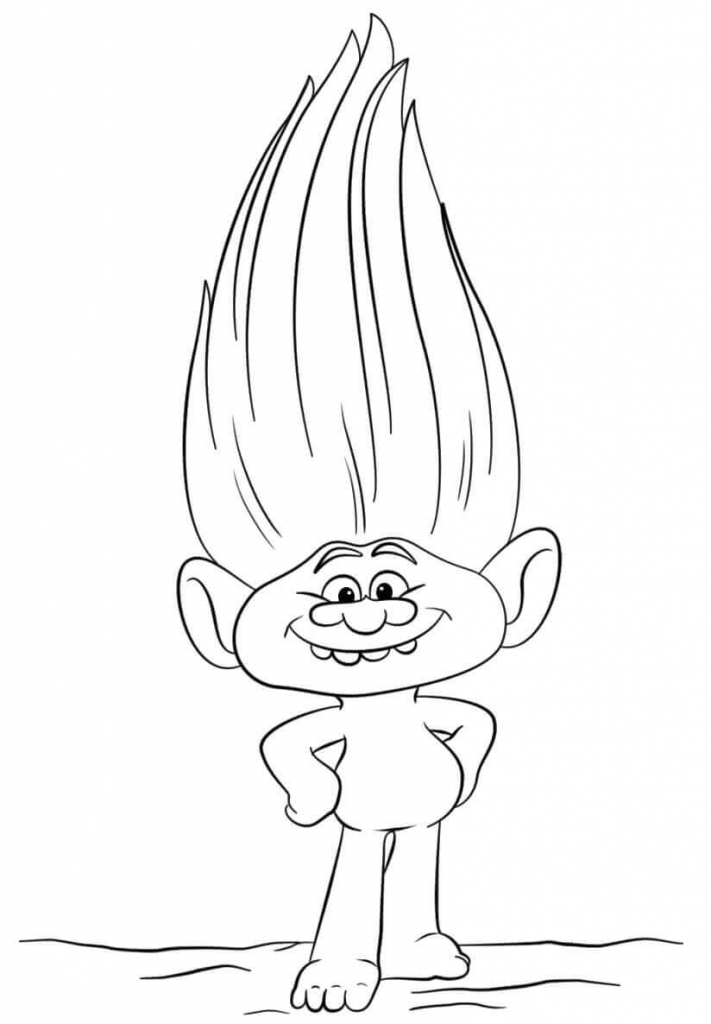 Guy Diamond is a glitter Troll, with sparkly pale gray skin, light gray hair, and bright eyes. He is one of the few Trolls, who doesn't wear any clothes! He is fun-loving, cheerful, and has immense confidence in him as well as his Troll friends.
Chef:
Chef is a female Bergen and the main antagonist of the movie. She was a former chef, with a splendid reputation in the Bergen palace as well as the Bergen town! But all of this went in vain when she was exiled for 20 long years. Since then, she has an eternal hatred for the Trolls who were the reason for her banishment.
Bridget:
Bridget, a female scullery maid, is one of the protagonists of the movie. Surprisingly, she is soft-hearted and kind which makes her different than the rest of the Bergens in the town. She even risks her life to save the Trolls from being served as the Bergen meal. She has a major crush on the current king Gristle Jr. since childhood! She wears a pink dress with a dirty looking apron and has gray skin and light purple hair.
King Gristle Jr.:
Prince Gristle, later known as King Gristle Jr. is one of the supporting characters of the movie. He is the current Bergen king and aims at restoring happiness in the Bergen town by celebrating Trollistice and bringing back the Trolls on the menu! He succeeded his father King Gristle Sr. who was dethroned from his position for miserably failing in serving the Trolls. Prince Gristle later falls in love with Lady Glitter sparkles, who is his scullery maid Bridget in disguise!
King Gristle Sr.:
King Gristle Sr., the predecessor of king Gristle Jr., is one of the supporting characters of the movie. He was dethroned from his position because he was unsuccessful in presenting Trolls as the meal during the annual festival of Trollstice. He is a dark green Bergen with a few gray hairs on his head, wears a purple cape with fur on it and red jacket and pants.
Grandma Rosiepuff:
Grandma Rosiepuff is Branch's late grandmother. 21 years ago at the annual festival of Trollstice, she was caught and served to the Bergens by the Chef, in an attempt to save a singing Branch! Regretting this unfortunate incident, Branch never sang or danced for the next 20 years of his life. Grandma Rosiepuff used to keep young Trolls safe so that they could attain their true bright colors!                                       
Mandy Sparkledust:
Mandy Sparkledust is one of the supporting characters of the movie. She is the maker Troll of Trolls village. She repairs and designs all of the Trolls town's valuables, one of them being the time bracelet. Mandy Sparkledust is the sole inventor of the hug time bracelet which constantly reminds the Trolls of hourly hugs! She is seen wearing a pink hug time bracelet.
Harper:
Harper is one of the happy Trolls in the movie. She is always happy and cheerful! She wears a white dress, has colorful skin and colorful hair as well! How exciting it would be to color a colorful Harper!
Aspen Heitz:
Aspen Heitz is one of those Trolls, who really lives up to his name! He is always seen skitter boarding, unless for a hug or a break time! He is good friends with one of the caterbugs who lives on the top of the Troll tree. He has orange skin complemented with bright green hair. 
Fuzzbert:
Fuzzbert is a mysterious hair like Troll, covered entirely with hair and only the feet being visible! He communicates with the other Trolls by grunting which is audible only to the Trolls! He has bright green hair covered all over his body!
Cloud Guy:
Cloud Guy, a fluffy white cloud in the movie Trolls is one of Princess Poppy's friends. He has a calm personality, has long hands with four long fingers and long legs as well! He is only seen wearing a pair of socks.
King Peppy:
King Peppy, Princess Poppy's father, is the ruler of Trolls. He is a brave ruler who led the great escape of the Trolls from the Bergen town! He has become a bit absent-minded with age, but his love and sense of protection for his subjects have never changed a tad bit! He is an orange Troll and wears a blue-green waistcoat and green pants.
Creek: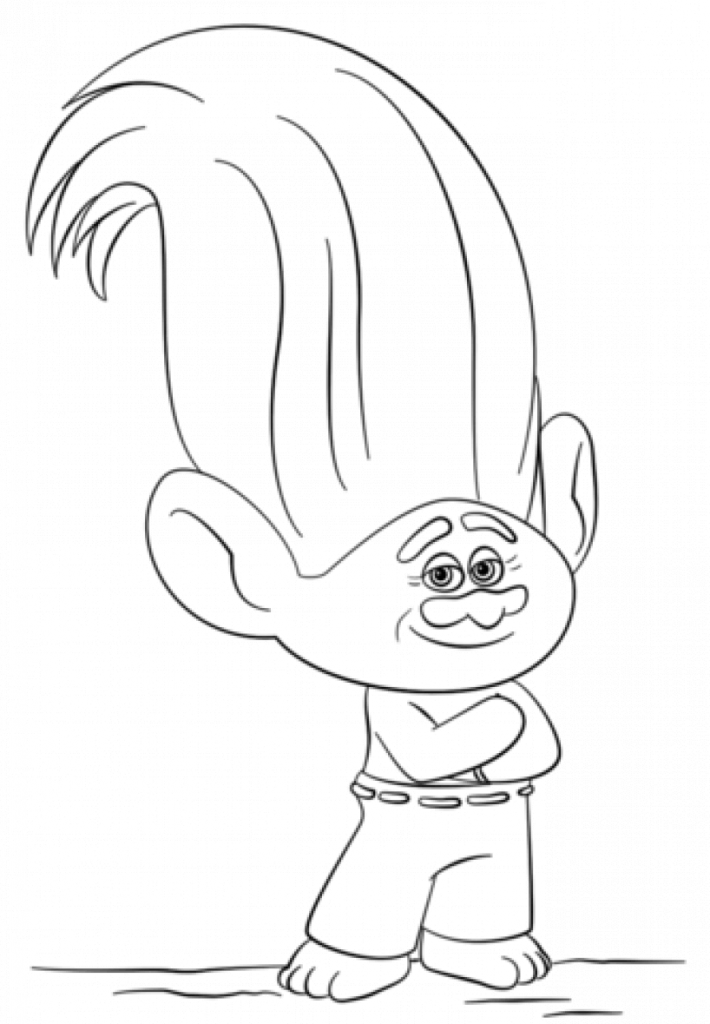 Creek is one of the antagonists of the movie Trolls. He was Poppy's crush, but he never liked her back, but pretended to be the prince of Trolls! He was disliked by Branch earlier because he would always evilly and flirtatiously touch Poppy's nose. It was earlier believed that he has a very cool-headed personality, but he revealed his true colors by betraying the other Trolls! 
Cybil:
Meet Cybil, the appointed life coach of Trolls town. She is a great listener and is ever ready to give a piece of advice. She rides the gentle wave of harmony to float on a cushion of Troll wisdom.
Happy Poppy:
One of the cutest Trolls movie coloring pages. Look how happy Poppy is enjoying life! Poppy's character teaches us to be happy and never give up hope even in the hardest situations.
DJ Suki And Poppy:
Here is a picture of DJ Suki and Princess Poppy laying off beats for a musical event! They both are always high on life and ever ready for a dance no. or a song!
Branch And Poppy:
We know how reluctant Branch is in showing off his feelings for Princess Poppy in spite of having a major crush on her! Here we see a picture of Poppy hugging Branch who is hesitant in embracing her.
Lady Glitter Sparkles:
Lady Glitter Sparkles is none other than the scullery maid, Bridget, of the Bergen Palace. King Gristle Sr. has been a subject of her affections since childhood, but she is reluctant to speak out about her feelings. With the Trolls' help, she manages to get a date with the king in the form of Lady Glitter Sparkles.
Moxie Dewdrops:
Moxie Dewdrops is one of the minor characters of the movie. She is known for her dance craze invention, dazzle razzle! She is frequently seen participating in dance-offs with guy diamond! She always leaves the crowd enchanting Moxie rocks! She has magenta skin and light pink hair.
Cooper And Poppy: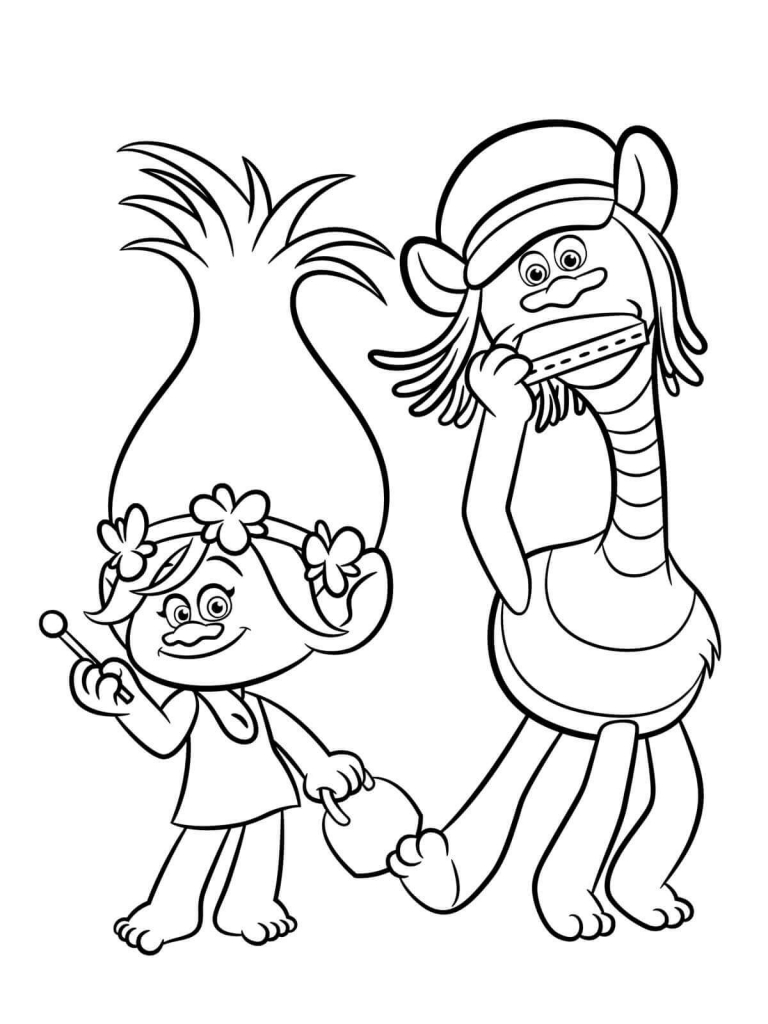 How adorable is the picture of Cooper and Poppy together? Won't it be fun to fill it with beautiful colors!
Mr. Dinkles:
Mr. Dinkles is Biggie's pet worm. Biggie takes good care of him and takes him wherever he goes!  He is dressed up in short adorable clothes by Biggie. He is yellow in appearance with blue eyes and purple lips.
Satin And Chenille With Poppy:
Here Poppy is seen with the fashionista twins Satin and Chenille. Their high sense of fashion combined with Poppy's spirit is a unique combination of its own!
Happy Birthday: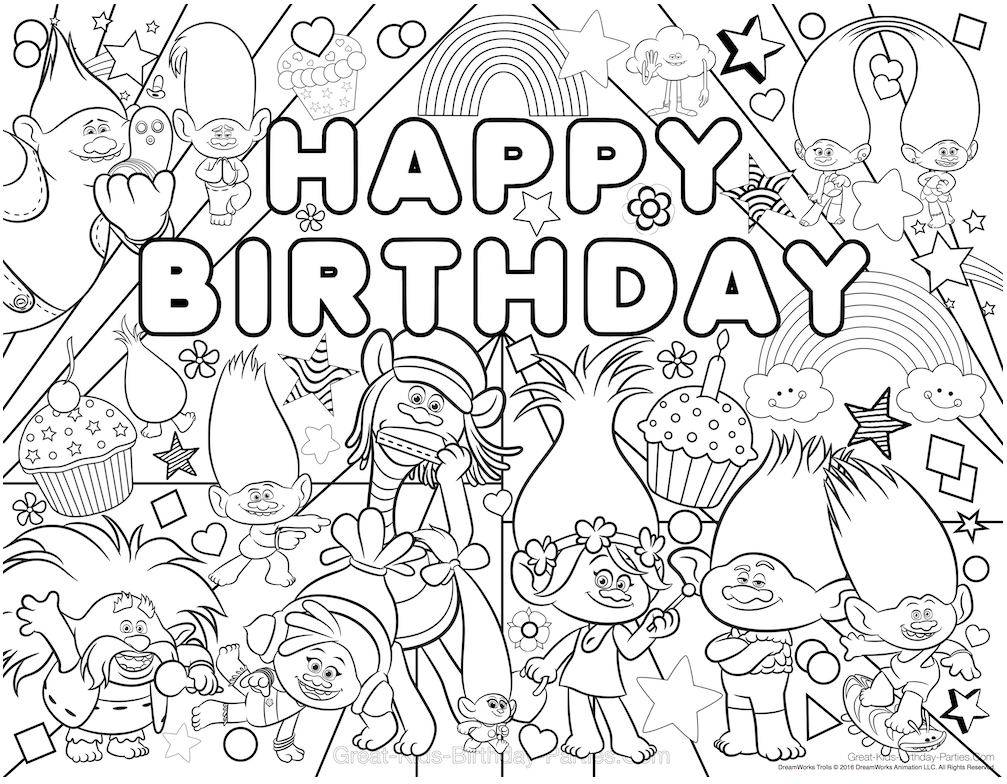 Source: www.kidspartyworks.com
[ Read: Birthday Coloring Pages ]
Here we present the last image of our compilation being the 'Birthday image' which showcases all the happy Trolls of the Town who have won against the Bergens!
So munchkins, this was our collection of the 30 printable Trolls movie coloring pages! Our work is purely based on your choices, so let us know which compilation you would love next! And don't forget to share your favorite Trolls movie coloring picture below. 
If you have time to spare, go through our Minecraft coloring pages as well.