History is full of characters that made extraordinary changes through personal triumphs, against all odds. Most of the time, they are men. Be it kings, fighters or soldiers. It is rare to find historical records of women warriors. Among the few famed and highly revered is the tale of Mulan in the Chinese legends. The story was adapted into Disney's animated film, Mulan in 1998, which was extremely loved by both kids and adults. The popularity of the original Mulan movie inspired Disney to make a live-action version of this movie, which releases in March 2020. So let's pay homage to this female warrior through our collection of free printable Mulan coloring pages.
The film is inspired by 'The Ballad of Mulan', which narrates the tale of Mulan, a young woman, during the Han dynasty. The Emperor's decree mandated one man from each family to fight the invasion of the Huns. Mulan disguises as a man to take her aged father's place in the army, fearing for his life.
Critically loved and commercially successful, Disney's Mulan collected over $304 million and earned several award nominations including Academy Award and Golden Globe. As part of Disney's plan to make a live-action version of its classics, the live-action Mulan 2020 is set to release by March-end. Let's travel now into the enigmatic world of this female warrior through this collection of Mulan coloring sheets to print.
to join this conversation on GitHub. Already have an account? Sign in to comment Footer © 2023 GitHub, Inc. Footer navigation Terms Privacy Security Status
35 Free Mulan Coloring Pages Printable
Chien Po, Yao, And Ling With Mulan:
When Mulan joins the army disguised as a man, she finds Chien Po, Yao, and Ling among the new recruits. Although, initially they did not get along quite well. Things turned out better once they started training and spending more time together. Chien Po is the tallest one, Yao is the shortest and Ling is the slim fellow standing below them all.
Mulan Coloring Page:
Next, we have a dramatic illustration of the Disney animated film. Somebody seems pretty upset with Mulan. Maybe she has done something wrong. You can try to figure out what the drama is all about as you print and color this page.
Fa Mulan On A Horse In The Rain:
When Fa Mulan joins the army in place of her father, she had to get a fake name in order to pass off as a man. Here you can see Mulan in an action sequence, doing her best, riding on her horse in the pouring rain.
Also Read: Horse Coloring Pages
First Ancestor Fa:
Ancestors are held in high regard and worshipped through the generations in Chinese culture. The Fa family also has an ancestor named as the First Ancestor Fa, a ghost figure of the eldest member. As you can see in this illustration, he is shown as a spirit carrying a staff.
Li Shang, The Chinese Army Captain:
One of the main characters in the film, Li Shang is a disciplined army captain. He is known to be very particular about rules and conducting every task as instructed. Traits which aren't exactly like Fa Mulan or Ping, the disguised identity Mulan takes to join the army.
Li Shang Training With Pots And Stick:
Known to have an exceptional strength due to his dedicated training, here's Li Shang diligently working to better himself. Bring out the beauty and discipline of Li Shang by printing and coloring this page dutifully.
Ling And Mulan Practicing Bow And Arrow:
Of the four in the group including Mulan, Ling is the slim man with a medium height. Always ready with a joke or two, here you can find them both undergoing training with a bow and an arrow. Help them get better by filling this illustration with encouraging colors.
Mei, One Of The Daughters Of The Emperor:
Mei is the middle child among the three daughters of the Emperor of China. Here you can see Mei writing a letter to her father, trying to convince him that she has to follow her own heart. Mulan had inspired her to take this step.
Mulan 2020 Live-Action Film: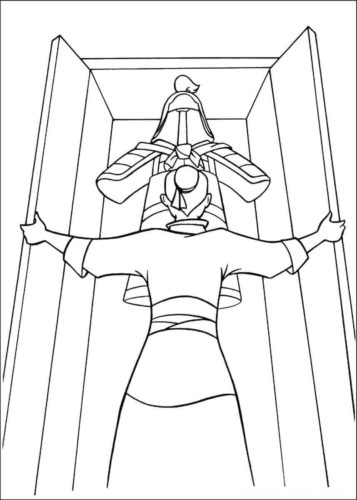 After the animated hit film Mulan and its direct-to-video sequel Mulan II, Disney is ready with a live-action adaptation of the story. This illustration showcasing a silhouette of Mulan opening a window aptly represents the upcoming live-action remake of Mulan.
Mulan And Her Father Fa Zhou:
Fa Zhou is a well-known war veteran who sustained an injury. Although old and weak, his pride makes him accept military duty when called upon. This compels Mulan to go in his stead fearing his safety and returns triumphant with the sword of the enemy wrapped in royal cloth and crest. Give this pivotal illustration some of your remarkable colors.
Also Read: Father's Day Coloring Pages
Mulan Cleaning Her Pet:
Mulan loves animals and here she is making sure her pet is thoroughly cleaned. Even her pet seems to be enjoying the attention, getting pampered while getting cleaned by Mulan. If you have pets, this must remind you of your own pet's cleaning sessions.
Mulan With Her Father And Li Shang:
This marks a solemn scene from the movie, involving Mulan with her father and Li Shang. Print this coloring page and give this detailed illustration a lot of warm and loving colors.
Emperor's Decree Announcement:
A pivotal moment in the film that triggers the entire story is the time when the Emperor's decree was announced by the attendant in the village. The decree mandates one man from every family to serve the army. You can see Mulan's worried face as her father is the only male member and he is old and weak from his war injury.
Mulan Fishes Out A Foot While Fishing:
This is a very peculiar illustration, isn't it? You can see Mulan helping someone out of the water after having fallen in. It seems to have been an adventurous time going out fishing for Mulan and her company.
Also Read: Fish Coloring Pages
Mulan Has Got Tea:
Always looking after her family and especially her father, Mulan hopes for more affection from him. Fa Zhou being strict and a disciplinarian is not very expressive with his feelings. You can see how Mulan tries her best as she brings him some tea.
Mulan In Action:
Mulan makes a great warrior thanks to her passion and hard work. This is why she is one of the most memorable historical characters in China. Here you can see her in action as the disguised male soldier fighting during a battle.
Mulan Practicing Kung Fu:
You can see how dedicated Mulan is when it comes to improving her skills. Even her constant animal companion, Mushu, a tiny creature having the characteristics of several different animals, is trying to imitate her Kung Fu moves.
Mulan Taking A Bath:
Before she runs away to join the military in place of her father, Mulan was constantly picked on by her family for not looking the part of an eligible bride. When she comes unprepared during a visit from a prospective groom's family, her mother forces her to clean herself up for them
Mulan Talking To Her Horse:
A lot of the wars in the olden times involved riding on the horses. This is why the rider and the animal tend to share a unique bond. The fact that Mulan is an animal lover made her relationship with her horse Khan even dearer.
Mulan With Cri-Kee, The 'Lucky' Cricket:
Passed on to Mulan by her grandmother to find some luck, Cri-Kee is a cricket considered 'lucky'. Yet, on the contrary, his actions lead to the Matchmaker's rejection upon meeting Mulan. Just like any other animal, you can see the love and care Mulan shares with Cri-Kee in this illustration.
Mulan With Her Animal Friends:
Although Mulan frees Cri-Kee to go live freely, he follows her around even while she enlists as a man in the military. And Cri-Kee quickly becomes friends with Mushu. Together they make sure to watch over Mulan.
Also Read: Cute Animals Coloring Pages
Mulan With Her Grandmother Fa:
Always the supportive figure in her family, Grandmother Fa makes life easier for Mulan by allowing her to be herself. She is seen here helping Mulan get ready for the Matchmaker. Sadly, the match didn't work out.
Mulan With Her Horse Khan:
In an earlier coloring page, you saw Mulan talking to her horse, comforting him. Here you can see Mulan helping Khan quench his thirst after some hard training.
Mulan With Her Mother Fa Li:
Mulan's mother Fa Li is always worrying about her daughter. More so because of Mulan's failure to take care of herself and be presentable to the matchmakers. Look at her fussing over Mulan to get ready and rushing her off.
Mulan With Lord Qin:
Considered as one of the wisest people in China, Lord Qin is seen here with Mulan. She along with Li Shang had rescued him from Shan Yu, the chieftain of the Huns. It is after this mission that the Emperor gets to know of Mulan's reality.
Mulan Being Entertained By Mushu's Company:
Unlike any other creatures seen in the movie, only Mushu can talk. Which is why you can see him entertaining Mulan with his speech. What makes Mushu special is the fact he's mythical and can survive anything, be it explosions or an avalanche. He is also able to communicate with Cri-Kee and Khan.
Mulan Writing:
While in most parts of the movie, you see Mulan in disguise as the male soldier, here is one of the instances of her being herself, preparing to do some writing. Inspire her with your colors.
Mushu And Cri-Kee With Mulan's Sword:
Mushu and Cri-Kee are hard at work carrying Mulan's sword. Although completely oversized for his body proportion, Mushu is able to handle the weight of the sword with ease. Print this coloring page and give this interesting coloring page some of your fun colors.
Mushu:
You can get a closer look at Mushu in this coloring picture. With the body of a snake, claws of an eagle and head of a camel among other animal's characteristics, Mushu is a mythical creature sent by Ancestor Fa after Mulan runs away.
Mushu On A Ride:
The fun side of Mushu is always never far away. Showcasing just that is this picture with a hyper Mushu making his way across the water in a tiny boat. Be sure to lend your supportive colors to this coloring page.
Princess Mulan Looking Elegant:
Once her secret is out after her triumphant victory in the war, Mulan gets to be herself. Looking exquisitely elegant with true beauty and confidence, here is Mulan in her traditional best holding an umbrella.
Shan Yu – The Ruthless Enemy:
The film depicts the fight between the Imperial army and the Huns headed by the ruthless Shan Yu. You can see how intimidating he looks in this image and why he became an imposing enemy as he marched over the Great Wall to invade China.
Shan Yu From Mulan: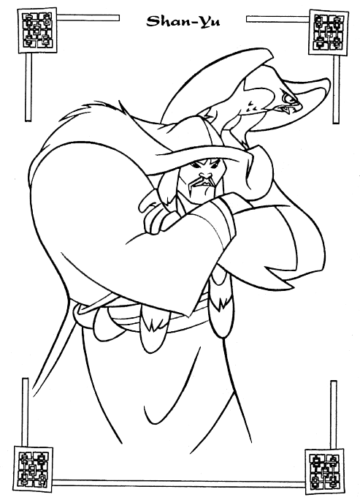 Shan Yu is a cold-hearted chieftain with great powers, being able to remove obstacles with ease. He is also feared because of his merciless killings. Print this coloring page and bring out the ruthlessness of this villain through your color.
The Happy Group:
Here's Mulan's group consisting of Chien-Po, Yao and Ling. But there are also a few others in this colouring page. Can you guess who they are? They seem to be part of the Emperor's family. Yes, you are right, they are the daughters of the Emperor.
Yao and Ling with Mulan and Li:
Captain Li Shang is here discussing their plan of attack with Mulan, Yao, and Ling. Bring out the seriousness of this scene with some grim and dark colors.
On that serious note, we have come to the end of this engaging collection of Mulan coloring images to print. I hope you are inspired by the passion, strength of character and hard work of Mulan. Remember, just like Mulan says, you have a duty to your heart. Always follow your heart and persevere in your hard work to achieve all your dreams. If you need more inspiration, you can check out the live-action adaptation on the big screen when 'Mulan' releases in a few weeks.