Good Day, young learners! Today we shall go through a series of printable coloring pages that celebrates the heroics of an unsung hero in numerous lives. The trouble is he doesn't wear a cape or a mask. He stays in the open or away at a distance, still manages to convey his love to us. I'm talking about the unsung hero – Father!
A father mostly is our second love (first being our mother) and the first lessons of discipline are imparted to us by him. As Mothers' Day is celebrated to show gratitude to our mothers, Father's Day is just complementary to it to thank our fathers. It occurs on different days in different places, but most of the world celebrated it in March, April and June. Let's tell with our colors how much we love our fathers with these free printable Father's day coloring pages. Check out the free Father's day coloring sheets to print below.
31 Free Printable Father's Day Coloring Pages
Cute Happy Father's Day Coloring Page:
The Morgan family is together on the eve of Father's Day when Mr. Morgan was given a rare holiday from his work. To make the day extra special for their father, Mike and Michelle gifted him a big box having a hat that Mr. Morgan always wanted but had been too busy to buy. Color them all happy!
to join this conversation on GitHub. Already have an account? Sign in to comment Footer © 2023 GitHub, Inc. Footer navigation Terms Privacy Security Status
Priceless Gift For Father:
Mr. Brandon had an emotional morning when he found a new tie in his closet with a tag saying "To Dad". Shannon, his daughter had broken her piggy bank the evening before and he wondered why. The tie is cheaper than his other ties, but being from his daughter it has become priceless to him!
The Unexpected Trip:
Aaron's father had been a busy man as a stockbroker for months. On Father's Day, Aaron gifted him a free travel voucher to a beach resort. He had won a quiz to win the voucher. Impressed by his son's intelligence, he agreed to go on the trip.
[ Related: Beach Coloring Pages ]
The Fun Time With Dad:
Fathers return home tired from work, but on holidays, they might have more energy than their kids. The Smith family is enjoying one such holiday on Father's Day. Look how Mr. Smith is being a fun ride to his son, a friendly chatter to his daughter, and a playmate to his pet!
F For Father Coloring Page:
Besides being a disciplinarian, a father serves as a teacher during studies and a fun-loving friend after that. He even teaches us to have fun. Percy and Pearl are having 'F' for 'fun' with their 'F' for 'father' getting a shoulder ride from him. Color them with 'F' for 'fun'.
Father And Child Coloring Page:
During our growth, our mother teaches us how to walk, but the father teaches us how to run properly and efficiently. He teaches us skills and arts that can come in handy in the future to pursue a career or live a splendid life. Here, Irvin is learning the art of fishing from his father. Both are delighted at the first success!
Father And Daughter Coloring Page: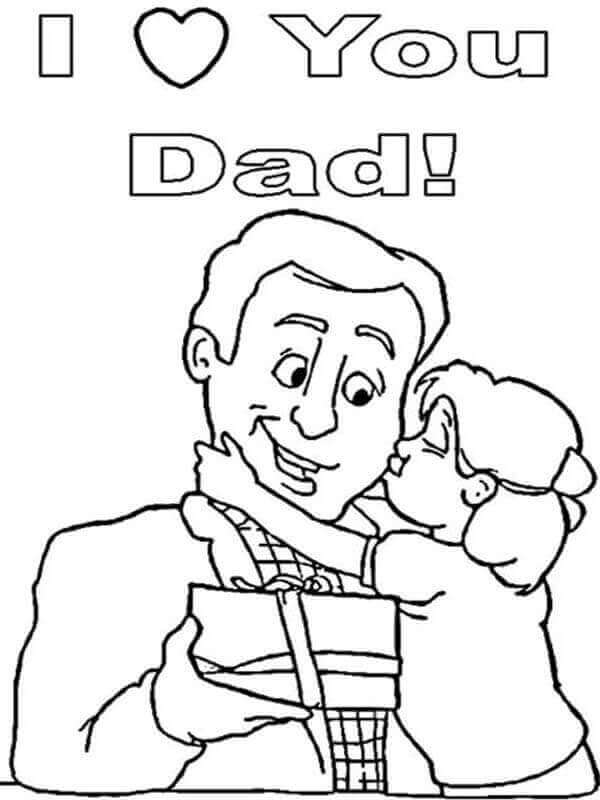 Father and daughter share a special bond with each other. He treats her like a Princess and she looks up to him as a King. Daughters get extra showers of love from their fathers as they seem softer than the sons. Sometimes, while being too careful not to hurt their delicate darlings, fathers end up spoiling their daughters!
Father And Son Coloring Page: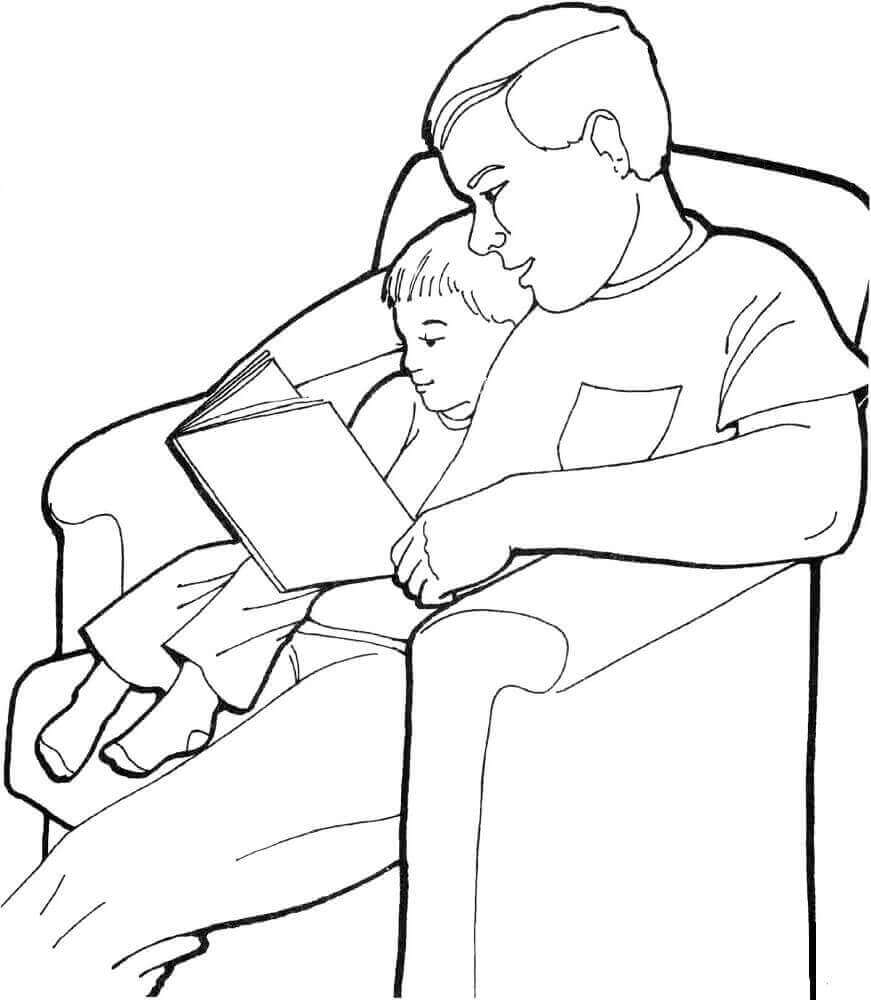 Father and son share a clear-cut bond of respect and cool love. The father tries to impart what he got from his father and wishes his son to become more successful than him. The son on the other hand wishes to be at least half as successful as his hero. If a boy is decent and disciplined, the credit should go to his father.
Brian Learns About Religion:
Many good habits and etiquette are inculcated in us by the regular efforts of our fathers. How to sit while dining, how to hold the cutlery, how to ride a bicycle, and a lot more things are usually taught by our fathers. Here, Brian is learning about a Psalm in the Holy Bible from his father.
Dispute Settler For Siblings:
Sibling fights are common among siblings, and mostly parents intervene to settle them peacefully or by force. Her Mr. Neudstader is calming the sibling storms humorously. The elder brother eventually learns to love the little one, and the little one learns to respect the elder.
Best Father Certificate Coloring Page:
There are plenty of good gifts for Father's Day celebration, but he is supposed to be the wisest person in the family. The worth of the gift is more important for him than the price. Here is a worthy economical gift for your father from you. Color it and fill in the details!
Certificate Of Awesomeness: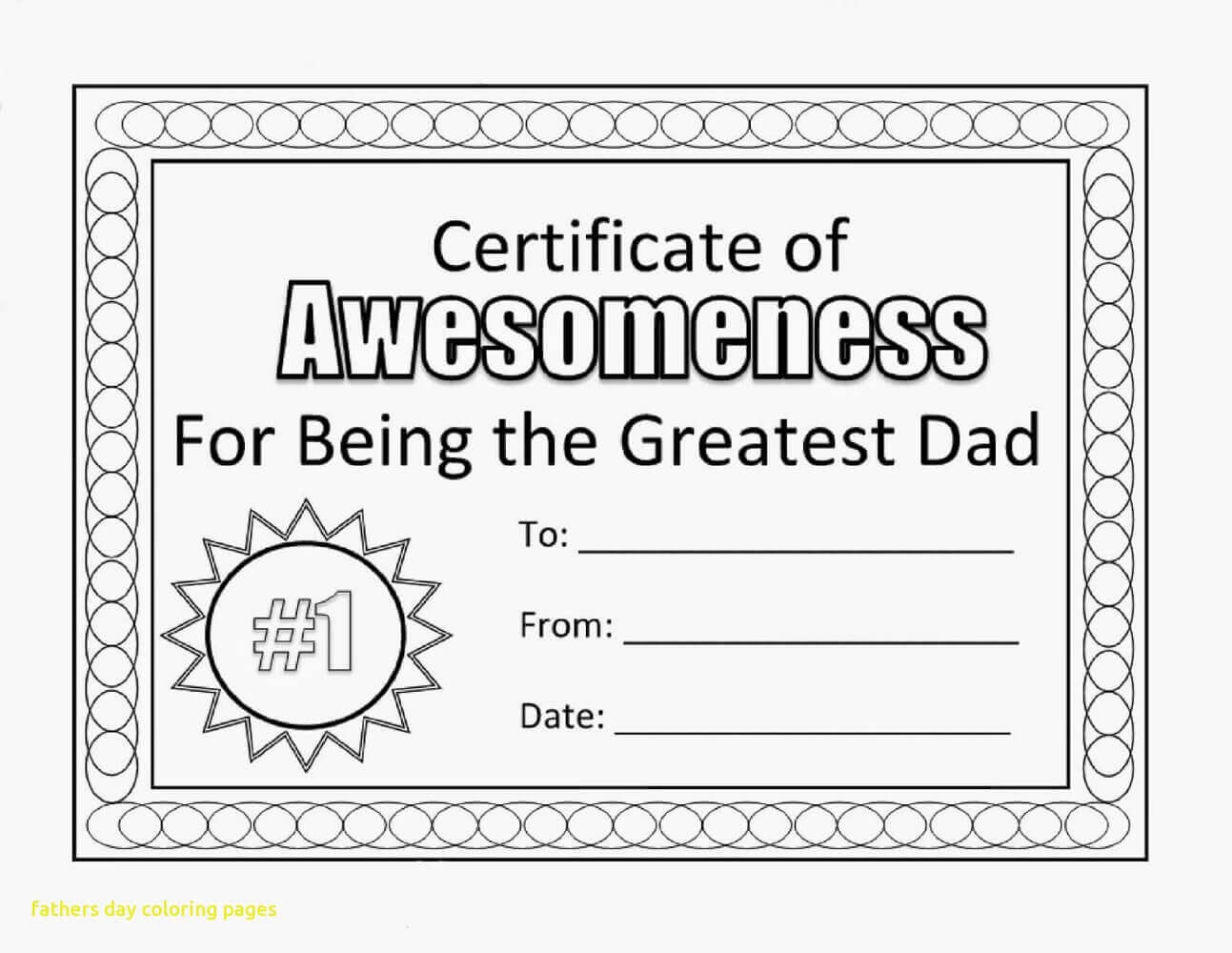 This certificate is designed for fathers that add both discipline and fun values to your life. Color it up, and fill in the blanks appropriately. Then gift it to your father and let him know how much you value his presence in your life. Boast how economical your gift is!
The First Horse Ride Father's Day  Coloring Picture: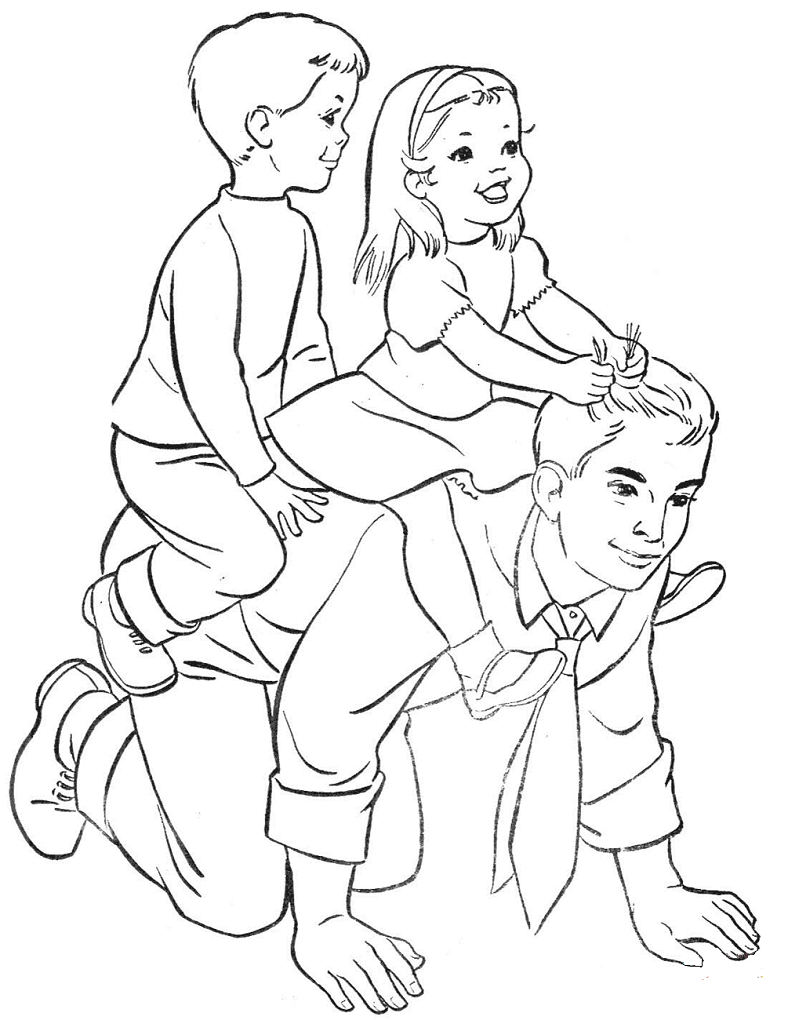 Not every family can afford a horse, but that doesn't stop our heroes from having a thrill of a back ride. Here are Tina and Sam riding on their father's back. Tina is scared of falling off, so she holds her father's hair and her father is more than happy to bear this pain from his princess.
Life-Of-The-Party Dad:
When no one can make your party interesting, your father can conjure up some fun from somewhere or the other. Here Vincent and Valerie are enjoying their pool party that was once really tasteless. Their father took a plunge in the pool and started a fun game. He added life to the party!
Happy Father's Day Coloring Page:
Father's Day is believed to have originated in Catholic Europe in the form of St. Joseph's Day on March 19. But different places having different cultures and beliefs had different ideas to celebrate the spirit of fatherhood. The United States started the trend of celebrating it on the third Sunday of June.
Teaching Family Trade:
Keith always wanted to help his hard-working father in his job. They have a family business of fisheries famous throughout their state. Keith always wanted to participate in it. Today, Keith's wish has come true as his father teaches him the basics of his business.
Father's Day Surprise Gift Coloring Page:
Father's Day has not been as commercialized as Mother's Day, mostly because fathers care about commerce and finance. They don't want the hard-earned money spent on unnecessary things for themselves. Here, Max and Molly have gone against their father's wish and brought him a surprise gift!
Father's Day Card Coloring Page: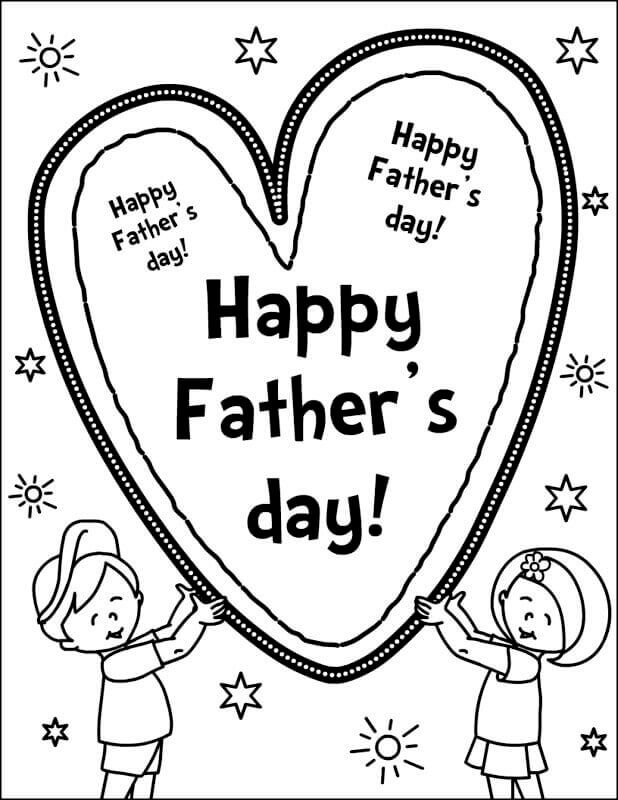 Here is another economical gift card for your father that you can color as per your imagination. He will definitely love it as he loves you and your artwork. Make sure you complement this gift to him with hugs and kisses!
Happy Father's Day Card Coloring Image:
Here is another card, and what is special about it? The blank space in the box can have the sketch of your father's favorite car, an "I Love You" message in a foreign language, or a ballad in your own language. What will you do with this space? Color it up and make your father proud!
Happy Father's Day Card For Adults: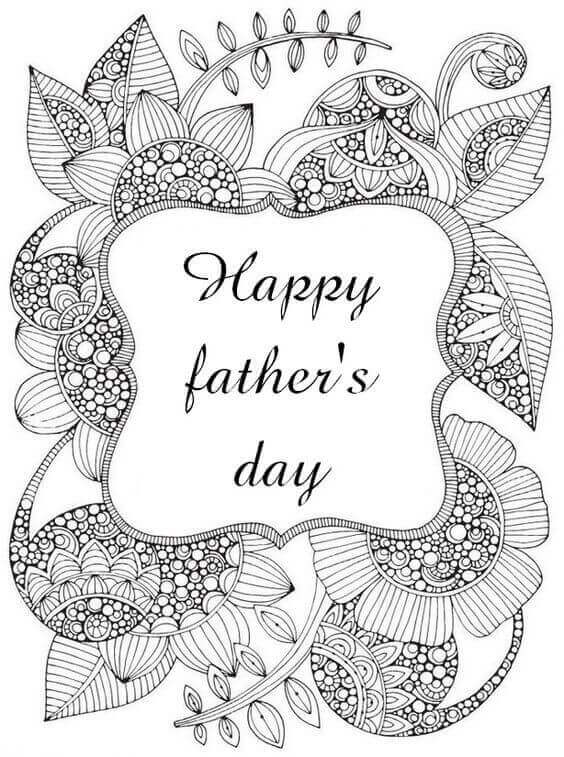 The older you grow more you will understand why a father is an unsung hero. He sacrifices a lot for our life lessons and happiness. He goes against his own love for us in order to inculcate self-discipline. Make sure to color this page with full respect and love!
Happy Father's Day Card Template For Kids:
Men's wardrobe accessories are limited. So are the Father's Day gift ideas in comparison with the Mother's Day gifts. Ties are the most gifted of the accessories that can be useful to your father every workday. Color the ties in shades your father wears!
The Story-Teller Dad:
Mothers excel in telling emotional stories while fathers are good at imparting serious lessons through stories. Here is Mr. Briggs being a story-teller to his three kids and one pet. All of them are intently listening to him. In the end, the kids will remember for life what happened on "The Night Before Christmas".
Father's Day Greeting Coloring Page: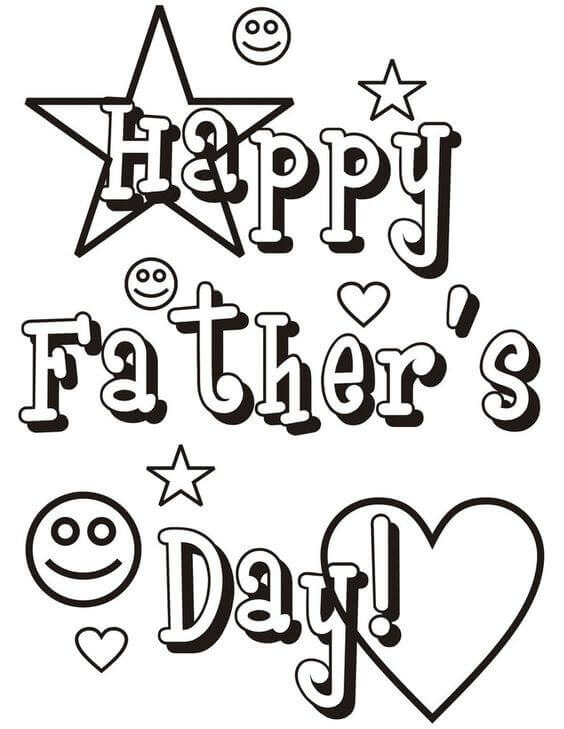 This is a card that can be easily printed for free and colored as per your wish and choice to wish your father "Happy Father's Day". In year 2018, the date to gift this to your father would be June 17. Make sure you compliment it with your priceless hugs and kisses!
Father's Day Card Coloring Page: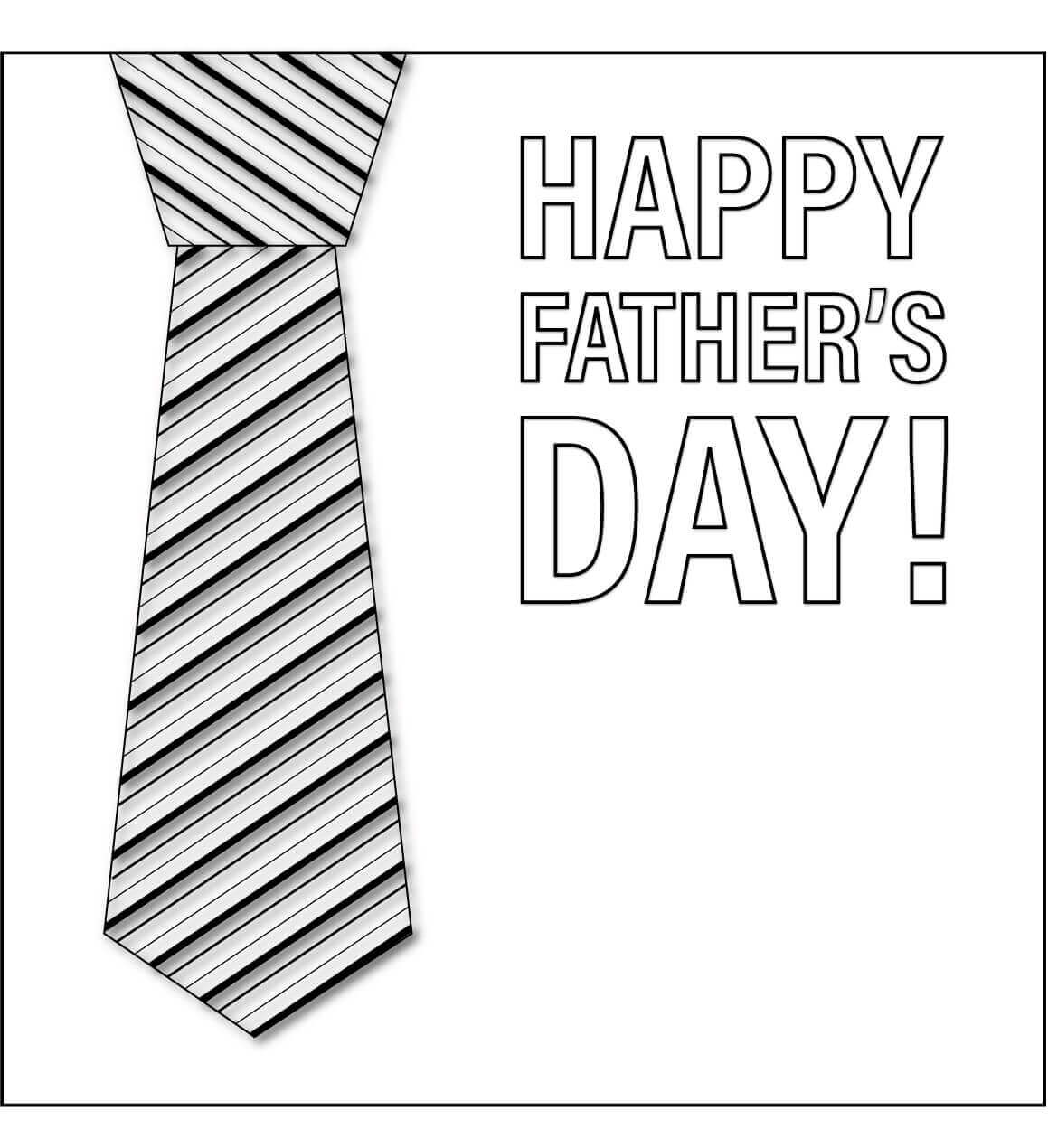 You might have seen your father wear a tie to work. Now is the opportunity to gift your father an idea of what color and style of tie would suit him best! Color the tie the way you believe will make your father look better than the rest of the ties! Use your colorful imagination.
Father's Day Greeting Card:
Malcolm did not know what to gift his father while respecting his wish to save money. Using some blank pages and his father's poetry lessons, he made a greeting card of his own. Look how happy and proud his father looks reading his card that is so economically and creatively designed!
I Love You Dad Coloring Page: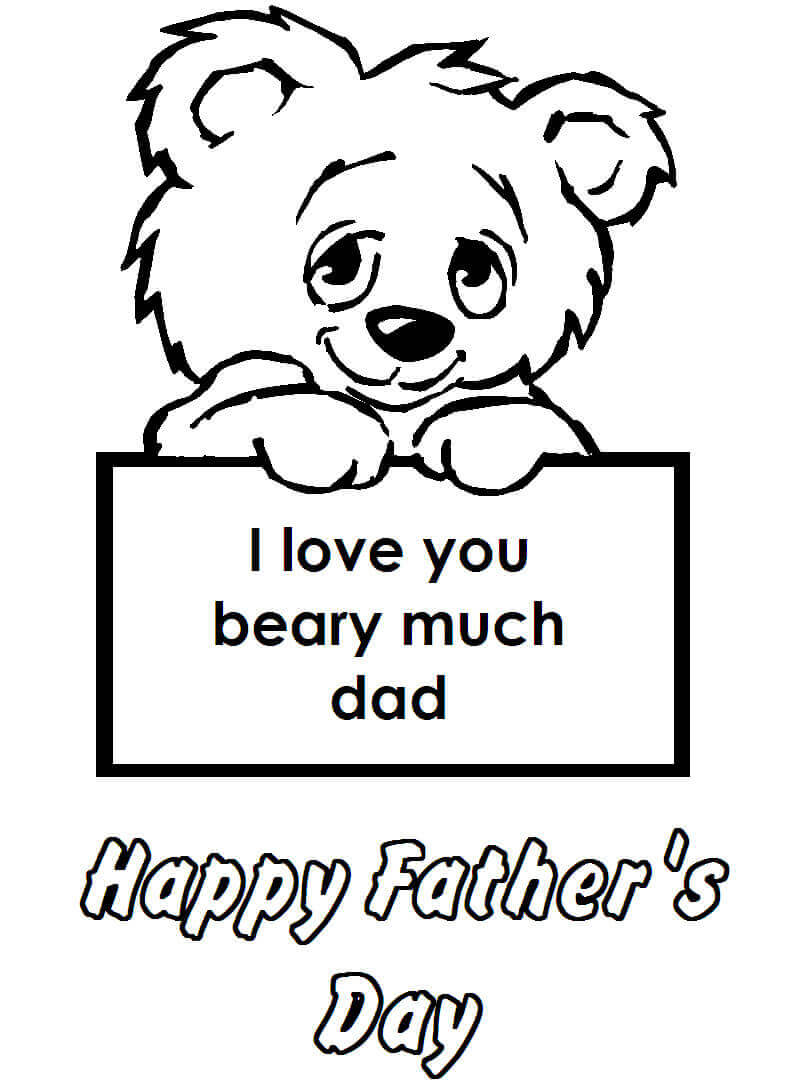 This card can serve two purposes if your father has ever gifted you a teddy bear – one, you get to wish your father sweetly a Happy Father's Day (again, complemented by your hugs and kisses), and second, thank him for the teddy bear my coloring this bear the "beary" same way!
Super Dad Coloring Page:
Considering how quietly our fathers work in the background and get food home while getting us our toys too, it will not be wrong to call him a superhero in our life. They make us believe that as long as they are with us, nothing is impossible. Here, sketch your father's face or stick his photograph to show how your Super Dad would look!
[ Related: Superhero Coloring Pages ]
World's Best Dad Coloring Page:
Nick has come to a function where his father has received the Best Employee Award. He feels delighted and proud to see so many people clapping for his father's achievement. He wants to award his father for being the best dad too. As he can't find a trophy, he awards him a bunch of flowers!
Number One Dad Trophy:
If there was a competition for Number One Dad, there would be no single winner, as even our fathers will say that their father deserves the award. Eventually, every kid's father most probably deserves this award. Color the award and let your father know how proud of him you are!
World's Best Dad Award:
On the eve of Father's Day, Angela's school organized a craft competition. Her father's lessons in clay molding and painting came in handy, and she prepared a trophy out of it. That trophy got her the first prize. As a thank you, she organized a surprise party for her father and gifted him that same trophy. All she changed was that after #1, she wrote DAD!
Happy Father's Day 2021 Coloring Page:
A new year calls for a new coloring page, isn't it? Hence we've got our lovely readers the latest father's day 2021 coloring page. Hope you'll enjoy it.
Dad, Daddy, Abba, Papa, Pitaaji, Babuji, Padre, and many more names for the same hero – Father! Some people celebrate it on March 19 while most of the others on the third Sunday of June. Many cultures have different dates and months, but every culture pays respect to fatherhood in some way or the other. It is not a public holiday like Mother's Day and rightly so. Fathers work hard for us as they find their share of contentment in our happiness. What do you call your father, and how would you want to make him feel special on this Father's Day? Plan it while coloring all these free Father's day coloring pages printable!