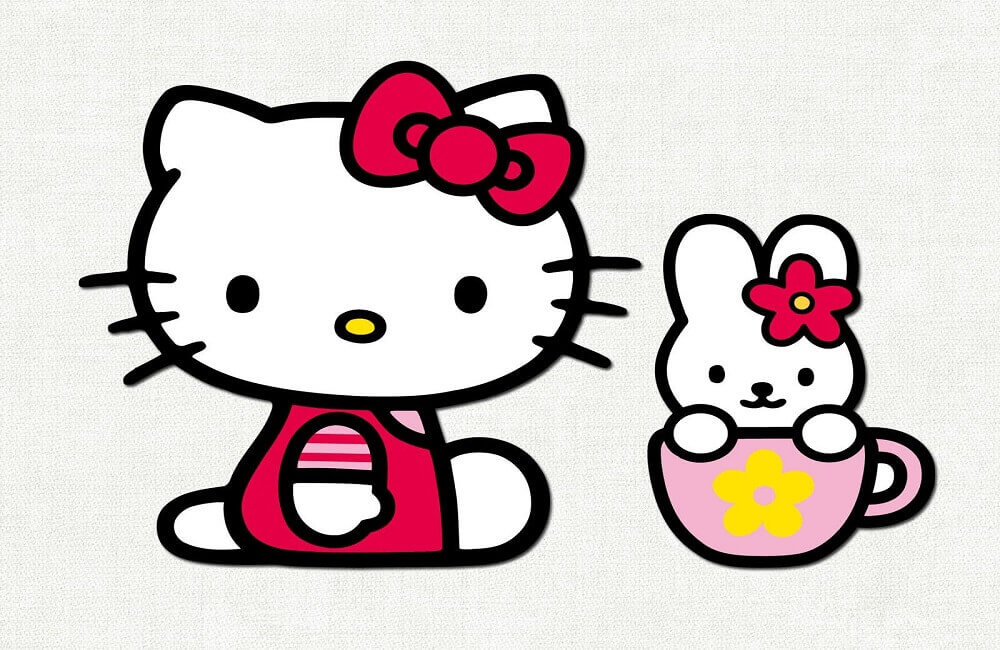 Hello Kitty! Oops, Hello kids! That slip up must have already given away the topic of our collection today. Yes, we are here today with an interesting and entertaining collection of free printable Hello Kitty coloring pages.
Created over four decades ago by Japanese designer Yuko Shimizu in 1974, Hello Kitty is a cartoon character produced by the company Sanrio. Over the years, it has gained phenomenal success spread over various media franchise, from anime series to product line, manga and more. Designed as an anthropomorphic Japanese Bobtail, a domestic cat, with a red bow on its head but uniquely without a mouth, Hello Kitty has become one of the most easily identifiable characters.
As of 2019, Hello Kitty is way above the rest in the global franchise, coming in second among the list of the highest-grossing franchise of all time. Definitely goes to show even a little idea of a cartoon character can go big if you follow through with passion and drive. Let's look closely into the day-to-day life of Hello Kitty through this extensive collection of Hello Kitty coloring sheets to print.
to join this conversation on GitHub. Already have an account? Sign in to comment Footer © 2023 GitHub, Inc. Footer navigation Terms Privacy Security Status
35 Free Hello Kitty Coloring Pages Printable
The Next Great Baker – Hello Kitty Bakes A Cake: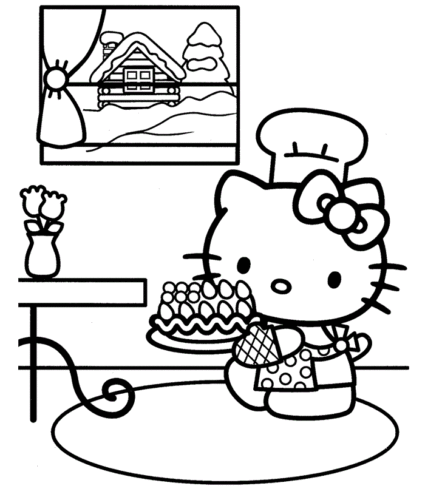 Feeling perfectly at home in the kitchen, Hello Kitty is donning the hat of a chef, more precisely a baker. She is having a little party together with a couple of her friends. Her delicious looking cake is already baked, and even icing is done. Make it look tastier with your coloring skills.
Hello Kitty Cycling: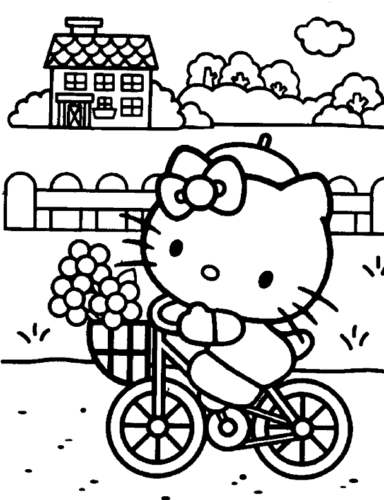 Early morning, Hello Kitty is out enjoying a relaxing and energizing ride on her bicycle. She is going around her house, which you can see at the back in the illustration. The greeneries all around is such a positive and refreshing vibe.
Hello Kitty Helps With The Laundry:
While visiting her family, Hello Kitty is always helping around the house. Today, she is taking care of doing laundry with her relative. They are through with all their washing and are hanging the last items to dry on the cloth line. Whenever you can you should help around the house too. Taking care of everything in a house is a mighty task and even your parents need a helping hand.
Hello Kitty – Flying Angel:
Presenting an angelic side of her personality is this Hello Kitty illustration where she is posing as an angel. You can print this page and make sure to bring out the goodness on this coloring page with your colors.
Hello, Kitty Barbecues In The Backyard: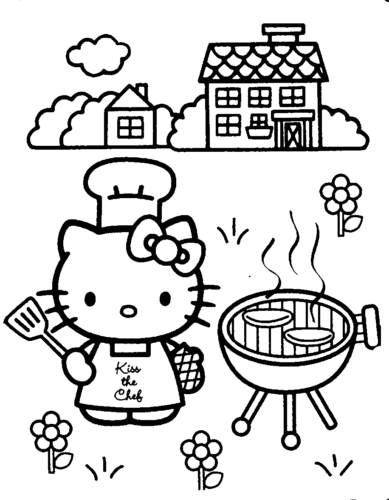 There is a bit of family entertainment going on in the house it seems. Hello, Kitty has voluntarily taken charge of the barbecue for the family party. Those patties she is cooking sure looks delicious and will make for great burgers.
Hello Kitty Skiing In The Mountain:
During one of the holidays, Hello Kitty had visited the snowy mountains in Switzerland. It was her first holiday in winter, and she was adventurous enough to try skiing. She does look natural at it, doesn't she? Give her your encouragement with your coloring skills.
Picnic With Hello Kitty And Her Friend:
Going on a picnic on a nice summer day with your close friend can feel like heaven. Hello Kitty is enjoying a wonderful picnic lunch with a friend she had not met for a long time. It is always rewarding to hang out with your friends, especially the ones you have not met for long.
Hello Kitty – The Mermaid:
From being an angel, Hello Kitty is trying on another avatar in this illustration. She has got herself a mermaid makeover. With the beautiful floral design in the dress she is wearing, Hello Kitty looks as cute as ever.
Hello Kitty Christmas Card:
You can prepare yourself early for Christmas this year with this special illustration which can easily be turned into a Christmas card. Not just any other normal Christmas card but a Hello Kitty special Christmas card for your dear friends and family.
Breakfast At Hello Kitty's:
If you are wondering what a breakfast spread looks like at Hello Kitty's place, here's the answer in this illustration. It involves some toasts and butter, bacon and eggs and of course some fresh fruits.
Hello Kitty Tries Her Hand At Painting:
Always trying her hand at something new, Hello Kitty is looking at learning painting today. She never shies away from learning new skills – whether artistic and creative or otherwise. As they say, learning never stops.
Good Morning With Hello Kitty:
Waking up early in the countryside, Hello Kitty is walking among the flowers in the garden with the sun just rising up on the horizon. She is observing one of the landmarks in the countryside, the rustic windmill.
Hello Kitty And Friends At A Bakery:
You have seen her baking a cake earlier so it will come as no surprise that Hello Kitty is here at the bakery with her friends. Everyone loves a slice of cake, sweet bread, muffins and more. Print this page and give all the details in the illustration some wonderful baking colors.
Hello Kitty Amidst Sunflowers: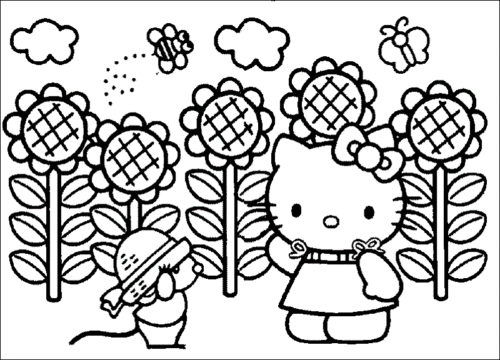 From all her time in nature, walking in the garden or going for the picnic, you must have guessed by now that Hello Kitty loves nature, being outdoors. Today, it is a sunny and floral time for her. She is amidst the sunflowers with her friend.
Sun, Sand, Palm Tree, And Hello Kitty:
When life gets too hectic and anxious, Hello Kitty makes sure to take time out to get rejuvenated. Being Hello Kitty, she does it in style too. She is here on a beach, relaxing under a palm tree, basking in the warm sunlight.
Hello Kitty Rides A Dolphin:
In her relaxation time, Hello Kitty also remembers to have fun in order to recharge. Since she is on the beach, she has managed to get a ride on a dolphin after consulting with the theme park officials. It looks so much fun!
Hello Kitty Dreams Of Being A Royalty:
With her visit to a royal castle, Hello Kitty is beaming with aspirations. She is imagining herself being the queen of the castle. Give her royal imagination some royal colors.
An Evening Tea With Hello Kitty: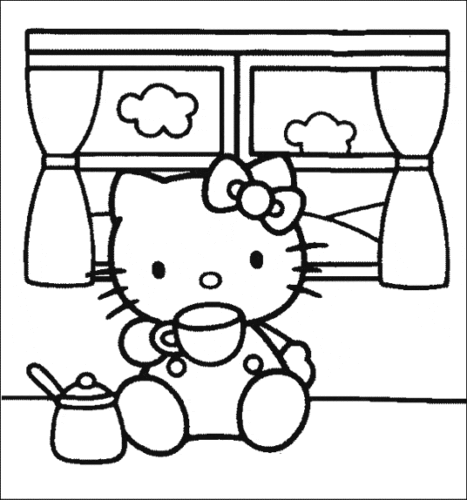 There are few things that Hello Kitty enjoys during her day. One of them is having her evening cup of refreshing tea. A very British thing to do. No wonder as Hello Kitty lives just outside London. Print this calming scene and fill it with warm colors.
Hello Kitty Comes To The Circus:
Reading about the circus that has come to town, Hello Kitty and her friend planned a visit. Today she is here with her friend, and they are keenly watching the elephant doing a few fun tricks. Print this coloring page and color it with exciting colors.
Hello Kitty Sips On A Cool Summer Drink:
When summer gets a little too hot and uneasy, Hello Kitty cools herself down with a nice, chilled drink. She is even wearing a cool polka dotted summer dress. Give this summery illustration a lot of cool colors.
Hello Kitty Flying A Plane:
Jack of all trades, Hello Kitty also knows how to fly an airplane. She is flying over the wide landscape and architecture of the countryside. For Hello Kitty, learning is really a fun thing and she always keeps learning a new skill.
Happy Halloween From Hello Kitty:
Be prepared well for Halloween wishes for your family and friends with this apt Hello Kitty Halloween illustration. She is wearing a black cape and riding on a broom. Flying bats and the full moon make the Halloween card sinisterly wonderful. Color this illustration with dark and great colors.
Hello Kitty Typing Her Notes: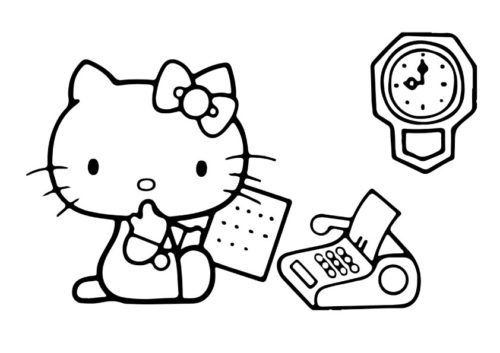 One of the things Hello Kitty does in the morning is her to-do list. She makes sure to write and organize the things she has planned out for the day ahead. You too can do something like this, to make sure you accomplish your goals for the day.
Hello Kitty In The Farm:
Visiting the countryside early morning during her regular walks, Hello Kitty has stopped again by the windmill which is part of a huge farm. Today, she finds a cow grazing on the fresh green pastures. Every day for Hello Kitty is a new day with new experiences.
Hello Kitty Visits A Zoo:
On her day off Hello Kitty decided to visit the zoo with her friend. As expected, she saw a lot of wildlife during their visit to the local zoo, from the lion to the kangaroo. Give the animals along with Hello Kitty and her friend your best coloring skills.
Hello Kitty And Her Little Friends: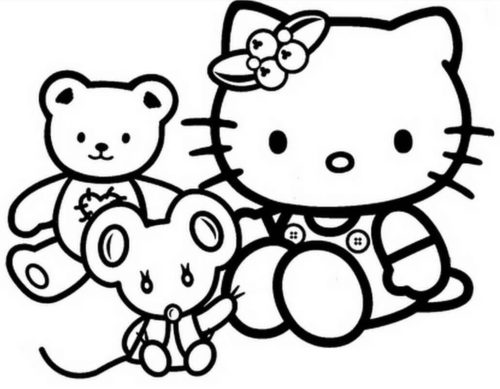 It's time for a little get together with her friends for Hello Kitty. No matter how busy she is, Hello Kitty always find time for her loved ones – be it her family or friends. Here she is having her get-together with her close friends.
Hello Kitty Clicks Photos: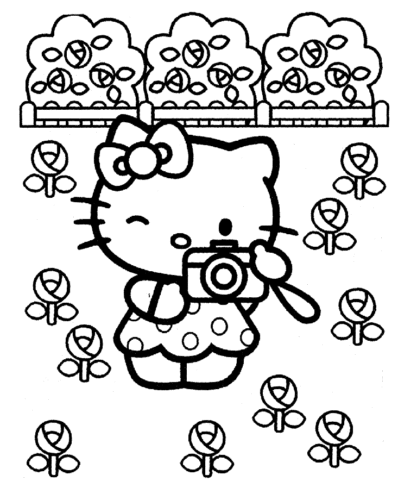 To make sure she has mementos of her countryside walks, Hello Kitty has brought her camera with her today. Look at her clicking pictures of any and every scene she finds beautiful. At this rate, she might finish the memory capacity of her camera.
Hello, Kitty Driving Her Car To Town:
Apart from organizing a get-together party with her friends, another thing Hello Kitty enjoys doing is going out with her friends for a fun ride in the town. They are sure having a good time being out and about.
Hello Kitty Playing With Her Toy:
When it is not her tea time or painting time, Hello Kitty has some fun playing with her toys, especially her toy duck. She is enjoying walking the duck around the round carpet. Join in with her playtime, print the coloring page and fill in fun colors.
In The Morning Hello Kitty Checks Her Mail:
Hello Kitty's morning routine, apart from doing her to-do list, is to check her old snail mail. There are bills to take care of and letters from friends staying far and away. Her friend is here today to help her organize.
Hello Kitty Reading A Book:
One of her "me time" for Hello Kitty is to curl up in a cozy corner of the house and read a great book. Can you imagine which book? Maybe you can print this page and design the book cover with the name of your favorite book.
Hello, Kitty Rides A Skate Scooter:
Today, Hello Kitty has ditched her bicycle and trying on a skate scooter for a change. That's how you should be, always ready for a new experience. Give her and her skate scooter a remarkable combination of colors.
Hello Kitty Swinging In The Park:
The visit to the park got Hello Kitty and her friends stopping by the swings and swinging on it for a long time. After all, who doesn't like swinging? Print and fill it with cool colors.
Hello Kitty Valentine's Day Card:
To help you spread love on Valentine's Day celebration, you can print this page illustrating Hello Kitty inspired love design.
Party Time With Hello Kitty:
It's party time now with none other than Hello Kitty. She is here with the balloons to help you decorate the house for a fun party.
Sadly, the party is over for today's collection of Hello Kitty coloring pictures to print. Wasn't it great to know all the things Hello Kitty manages to do? Hello Kitty doesn't let anything stop her from trying to do different things, no matter how tough or impossible. Even you should follow your passion and keep moving towards achieving your dreams. Keep it mind that everything requires hard work and discipline. Just like this fun collection of Hello Kitty coloring images to print which you can color while enjoying the different facets of Hello Kitty.