Hello children! We are here today with another collection dedicated to an animal. After having fun and interesting time coloring pages of horses, cows, and other farm animals, today we bring you another exciting collection of free printable dolphin coloring pages.
Dolphins are aquatic mammals belonging to the order Cetacea, ranging between 5.6 feet to 31 feet in size. Inhabiting widespread regions, dolphins generally prefer warmer tropic waters. Thanks to their torpedo-shaped bodies, pectoral flippers, dorsal fin, and a tail fin, they are great divers.
Just like in cattle, the male and female dolphins are referred to as bulls and cows respectively, while the young ones are termed as calves.
Let's swim along with excitement while learning about them through this collection of dolphin coloring sheets to print.
 30

 Free Dolphin Coloring Pages Printable
Amazon River Dolphin – The Pink River Dolphin:
One of the widespread river dolphins, Amazon river dolphins are found across six South American countries – Brazil, Columbia, Peru, Bolivia, Ecuador, and Venezuela – in almost all the aquatic habitats. Also referred to as Boto, Amazon river dolphins are among the toothed whale species and have the widest diet range, feeding on up to fifty-three different fish species. They are also known as pink river dolphins due to the pink color of the adults, especially prominent in an adult male. Take your time coloring this detailed illustration of the Amazon river dolphin.
Baby Dolphin With Mommy Dolphin:
A dolphin baby or calf and its mother dolphin are having a great time together in this illustration. Female dolphins give birth to a baby during the spring and summer months and take complete responsibility for caring and raising their young calves. Print this coloring page and fill it with warm and loving colors.
Baiji River Dolphin – Possibly Extinct:
Sadly, this particular dolphin called as Baiji is believed to be extinct since 2006; first dolphin species to be extinct owing to human activity. A type of freshwater dolphin, Baiji is also known as Chinese river dolphin or Yangtze river dolphin as it inhabited one of the longest rivers in the world. Baiji is pale blue to gray in color with a white underside and have a lifespan of about twenty-four years. Adeptly color this amazing dolphin with your incredible coloring skill.
Bottlenose Dolphins – The Most Popular:
Being the most popular and the most familiar dolphins, Bottlenose dolphins are what comes to mind when we think of dolphins. Seen in captivity in several parks or dolphinarium as well as featured in many films and programs, Bottlenose dolphins are part of the Oceanic dolphins or Delphinidae, inhabiting warm and temperate seas worldwide. Appreciate this small family of Bottlenose dolphins swimming underwater by giving them some amazing colors.
Three Cheerful Dolphins Having Fun:
This is one familiar image you might have in your mind when you think of dolphins, isn't it? Happy, fun and cheerful dolphins floating in the water, looking like they are laughing out loud. Just like these dolphins, be sure to have a wonderfully entertaining time when you print and color this page.
Cutest Little Dolphin With A Bow-tie Clip:
Dolphins are already such adorable creatures. To make them even cuter, this illustration showcases a dolphin with a cute bow-tie clip on her head. Quickly print this coloring page and fill it with fun colors.
Underwater Party Time With Dolphins:
This pair of dolphins are taking their fun image to another level altogether. Here on this fun illustration, you can see the two dolphins arranging for a party in their underwater abode. Look at those beautiful decorations. Few of the sea creatures have already turned up for the party. Join the underwater party by taking along your bright and brilliant colors.
Two Dolphins Playing In The Sea: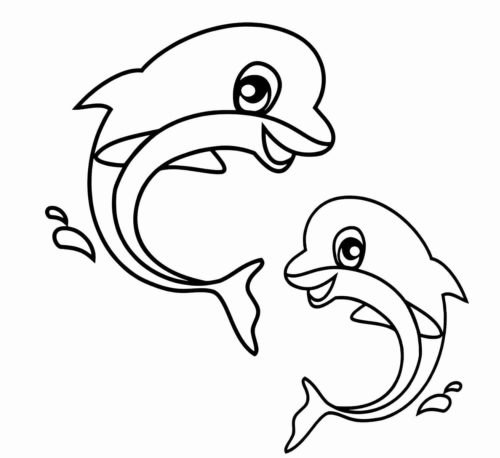 Being social animals, dolphins always travel in groups known as pods. There is always someone or the other to travel with and sometimes to simply play with each other. Like these two dolphins who have taken time out to play around a little in the sea.
D For Dolphin Coloring Page:
An endearing illustration accompanies this D for Dolphin coloring page. Give proper colors to the dolphins – baby and the mother. Also, remember to fill in colors for both the capital and small letter D and the word Dolphin.
Dolphin Leaps Out Of The Water:
Here's an activity that dolphins are often seen doing, especially if you have visited an amusement or marine park. Leaping high out of the water, dolphins enjoy doing some playful fun tricks.
Dolphins Find Seabed Treasure: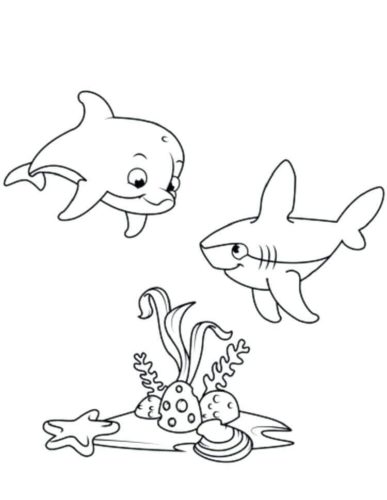 These two dolphins have dived deep under the sea. They have reached the seabed. Look what they found. A seabed treasure full of magnificent and colorful corals, a few exotic plants and sea creatures like starfish. Print this page and fill this illustration with your treasure of colors.
A Pair Of Dolphins Having Fun:
While one dolphin is jumping out of the water, the other watches overtaking a breather. It has leaped higher than the birds flying around them. You can see the water squirting out of the blowhole of the other dolphin with a seahorse and a fish keeping it company under the water.
Dolphin Coloring Page For Preschoolers:
You have nothing to worry about in case you are new to coloring. Here is a simple illustration of a dolphin for you to start. You can easily fill in the colors for this dolphin and carefully color within the line.
Dolphin Coloring Page For Kids:
For those who are better experienced at coloring, this illustration represents artistically designed dolphins, full of intricate details. You can choose the most beautiful color combination for this illustration. You can even choose contrasting sets of color for each of the dolphin.
Dolphin Diving Under:
With their ability to hold their breath for long, here is a dolphin taking a dive to go deeper into the sea. It had come up to the surface to take a few long breathes before diving under.
Dolphins Travelling By Porpoising:
As fast as they are able to swim underwater, dolphins are often seen jumping out of the water while traveling, as illustrated on this coloring page. This method of traveling is referred to as porpoising and it helps the dolphins conserve their energy since there is less friction in the air than under water.
Dolphin And The Sun Poster:
Here is an artistic illustration of a dolphin leaping out of the water and seen against the backdrop of the sun. It makes for an interesting image. Make sure to print out this coloring page and fill it with orange-yellow-reddish color on the sun and a darker grey to black color for the dolphin.
Dolphin Couple Love Card:
Dolphins have been used in cards and several other merchandise owing to their cute appeal. Giving competition to the lovebirds, often used in love cards, is this illustration of two dolphins drawn in a cute way to represent a heart-shaped design.
Dolphin Diving High:
Dolphins are one of the most popular animals in captivity used for entertainment in amusement and marine parks. Because of their sociable and intelligent nature, they are quick to learn tricks and commands like this dolphin jumping high in the air before diving right back into the water.
Dolphin Playing With The Ball:
Another popular trick is playing fetch with the ball or like this particular well-balanced dolphin who is adeptly carrying the ball on its snout. Give it a round of applause for its effort to entertain us by printing and coloring this page.
A Pod Of Dolphins: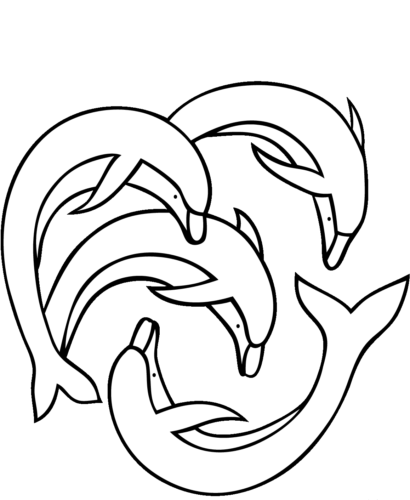 Being highly social animals, dolphins live together in groups or pods. Usually consisting of about twelve individuals, the size of a pod can vary dependent on the species and region. You can see a few members of a pod circling together in the illustration.
Dolphins Breathing In The Ocean:
Dolphins breathe using their blowholes which are placed right above on their heads. They exhale stale air, squirting out water from their blowholes when they reach the surface before inhaling fresh air. Here you can see one dolphin is floating on the surface to breathe while the other has already inhaled its share of fresh air and diving down again.
Dolphins And Their Blubber:
Blubber is a thick layer of fat that all dolphins possess. At birth, the newborn dolphin calf has a thin layer which later develops depending upon the environment they grow up. The blubber helps in several ways: protection from predators, buoyancy, and insulation. Print this coloring page and give this pair of underwater floating dolphins some buoyant colors.
Dolphins Uses Biosonar Echolocation:
Dolphins send out high-frequency sounds or clicks, helping them to produce biosonar. In addition to locating objects, with their echolocation dolphins are able to ascertain the shape as well as the size of the objects. This also helps them to communicate with each other.
Girl Feeding The Dolphins:
When working in a dolphinarium, all the staff are trained on how to interact with the dolphins. That is why this young girl is standing confident as she gets the dolphins ready for feeding time. She lets the dolphins leap high and open their mouth, then she throws the fish for them to catch. If you have been to such a place, then you must have witnessed this feeding exercise during your visit. Capture all the incredible details of this dolphinarium, the leaping dolphins and the girl with your coloring skill.
Lisa Frank Designed Mermaid And Dolphin:
Lisa Frank founded Lisa Frank Incorporated; an American company known for producing whimsical commercial designs for children. You can find one of her stylized creations in rainbow and neon colors in this illustration. Yes, it's a mermaid with a dolphin jumping out of the water. When you are ready to start coloring this illustration, be sure to use bright and dazzling neon colors.
Little Mermaid Plays With A Dolphin:
One of the several fairy tales created by the famous Danish author Hans Christian Anderson, The Little Mermaid was first published in 1837. You can see the lead character of the story, the little mermaid, named as Ariel in Disney's adaptation of the story, playing with a dolphin in this illustration. Print this coloring page and fill it with exciting and lively colors.
Porpoise – Dolphin's Close Relation: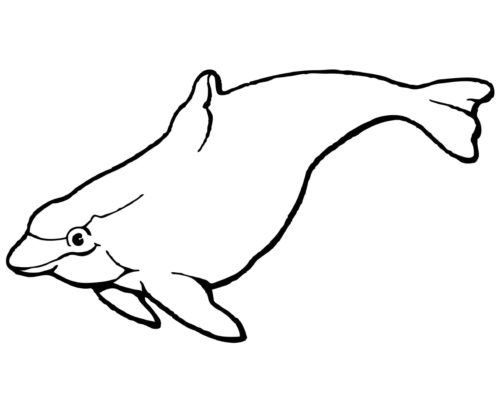 Similar to dolphins and very closely related, Porpoise are fully aquatic mammals belonging to the family Phocoenidae and parvorder Odontoceti or toothed whales. They are generally smaller in comparison to other cetaceans, ranging between 4.6 feet to 7.5 feet in size. Feeding mainly on fish and squid, porpoises are mostly found in the polar regions. Take a printout of this illustration and give it your best colors.
Realistic Dolphin Leaps Out Of The Ocean:
When you look at this illustration of a dolphin leaping out of the ocean water, you can clearly see the proper structure of this aquatic mammal. From its beak which has conical teeth, small eyes on the sides of the head, blowhole on the top for breathing, flippers on both sides for steering, dorsal fin for stability and a tail fin for propulsion, with this single illustration you get to appreciate this magnificent and intelligent creature. Make sure to capture all the details with your excellent coloring skills.
30. Happy Dolphin: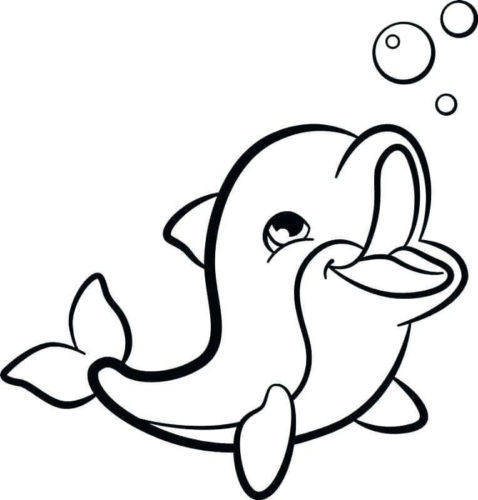 We're wrapping up the article with this excessively adorable coloring page of a young dolphin blowing bubbles. We totally love the surprised expression on his face.
That was the last coloring sheet we had for you in today's fun and exciting collection of dolphin coloring pictures printable. You have loved this cute and adorable creature on screen in films, series or online videos. Hope you were able to know more about dolphins through this collection. Make sure to show your friends and family once you are done coloring all these illustrations. You can even ask your friends to join you in filling this collection of dolphin coloring pages to print with fun, happy and joyful colors.