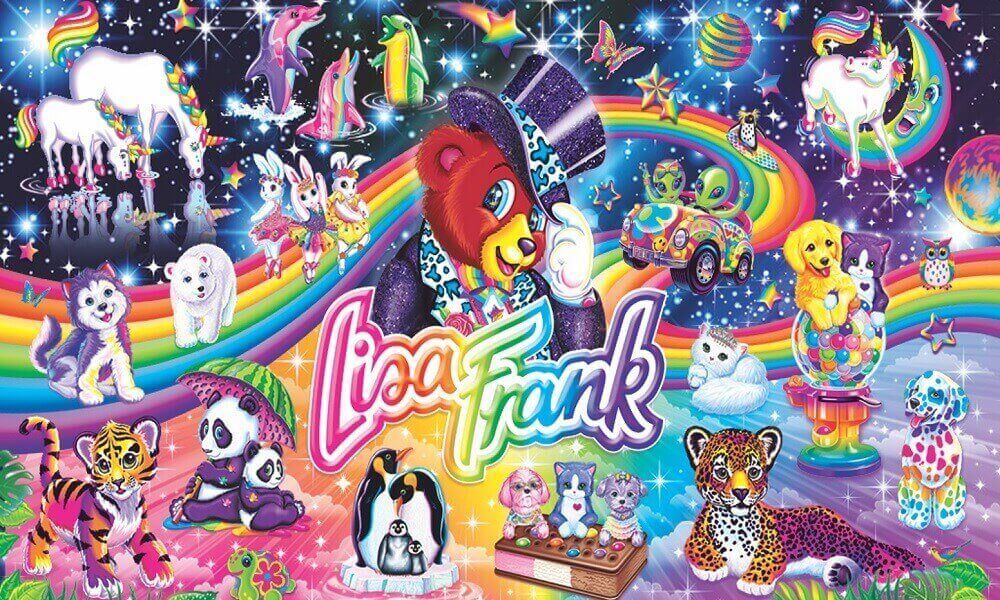 Hi Kids! Summer vacations have started and so have the summer camps and homework. Holidays are special treats that children get to enjoy the most. And who doesn't like to go out of town to meet relatives and travel to new locations to beat the terrible heat? One of the coolest things to do is to sit at home and color the amazing pictures that Scribble Fun collates especially for you – whether you are home, visiting relatives or traveling to a hill station. This time we have for you, 25 free printable Lisa Frank coloring pages which need lots of originality, imagination and gutsy colors to make them stand out.
Lisa Frank has been designing since 1979 for school stationery items for children especially girls including lunchboxes, toys, stickers, Trapper Keepers and more. Her artwork is characterized by flamboyant colors with lots of neon and rainbow hues and animal drawings that have been rendered the special Lisa Frank depictions. If colors inspire you and like Lisa Frank, you are fond of making every drawing sparkle with colors, then stay indoors this summer to spray colors onto free Lisa Frank coloring sheets to print in the typical Lisa Frank style!
25 Free Printable Lisa Frank Coloring Pages
Angel Kitty From Lisa Frank Coloring Sheet: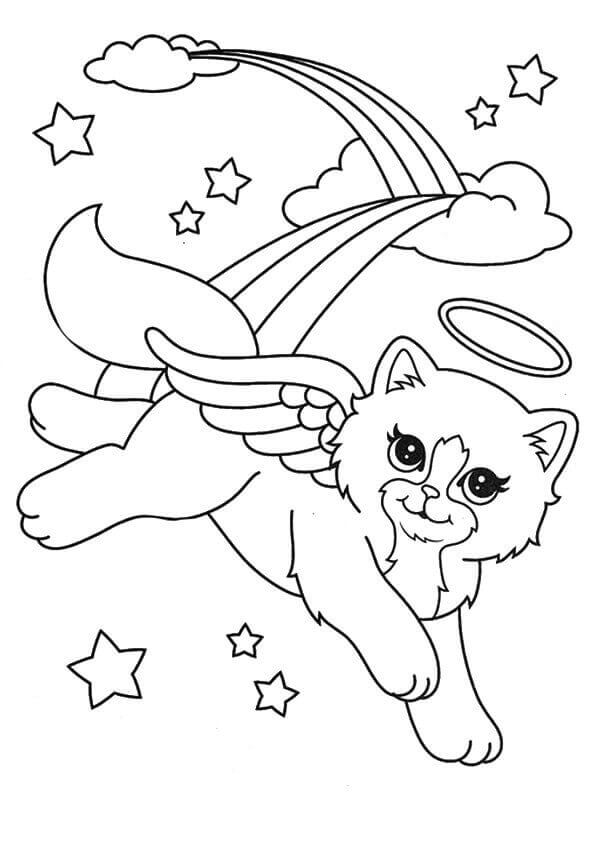 Too good to be true, this sweet and fairy-like angel kitty has all the seven colors of the rainbow in its feathers and wings! Even its eyes are double colored with blue and green. The angel kitty is otherwise white in color with specks of the monochrome color on his fur coat.
to join this conversation on GitHub. Already have an account? Sign in to comment Footer © 2023 GitHub, Inc. Footer navigation Terms Privacy Security Status
[ Read: Kitten Coloring Pages ]
Caymus From Lisa Frank Coloring Picture: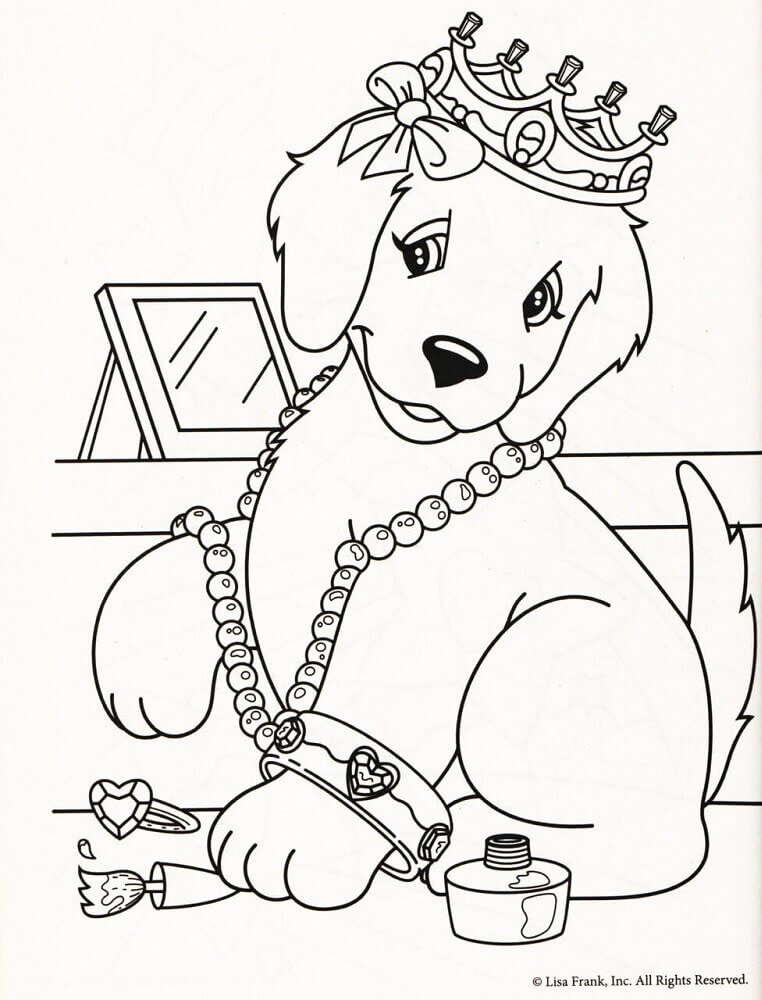 Named after Lisa Frank's female golden retriever, Caymus and her friend Candy are the darling golden-colored pups that Lisa had as her pets and wanted to immortalize them for generations to come. Caymus is extremely fond of accessories – as seen in the picture she is particularly fond of rainbow-colored pearls, the colorful bracelet, and the crown on her head. The golden fur of the dog represents the color of the Arizona sun.
[ Read: Dog Coloring Pages ]
Glamour Girl From Lisa Frank Coloring Image: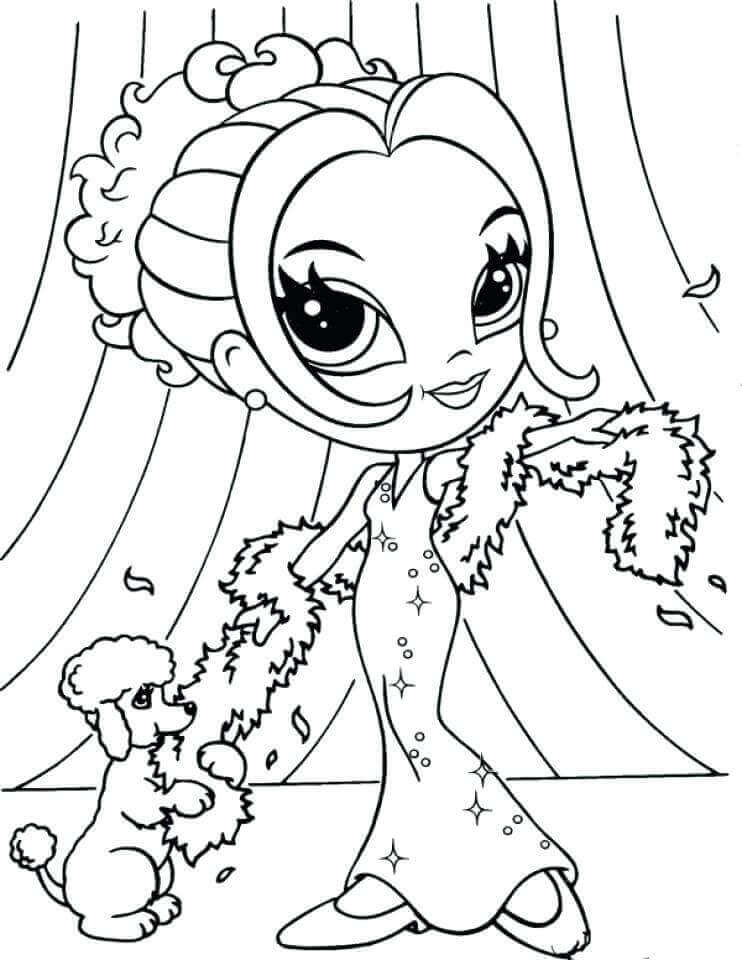 Always fond of dressing up, she doesn't let go of one opportunity to show off her slender figure wrapped in a pretty dress and her well-made up face and hair. As seen here, she is posing like a top model for the cover picture of a fashion magazine.
Lisa Frank Characters In The Sea: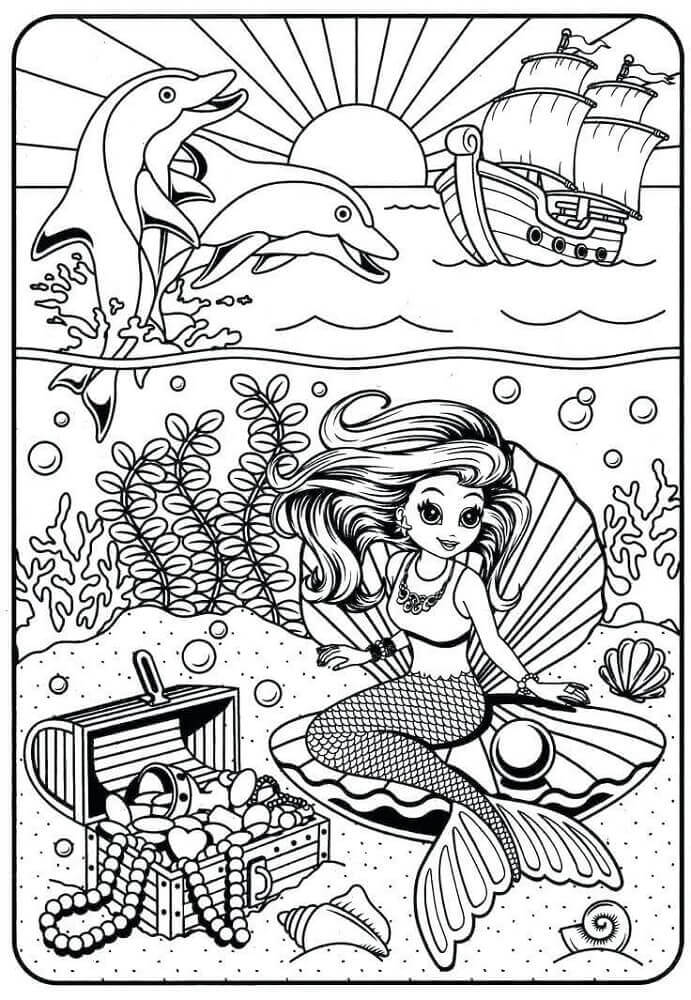 The Dolphin sisters are leaping up and down as the sun sets, while the mermaid sits on the bottom of the sea with her box of pearls and giggling it out with her sea friends.  The three Dolphins have one common trait – they loved biding adieu to the sun each evening with joy and happiness.
[ Read: Mermaid Coloring Pages ]
Glamour Girl Getting Dressed: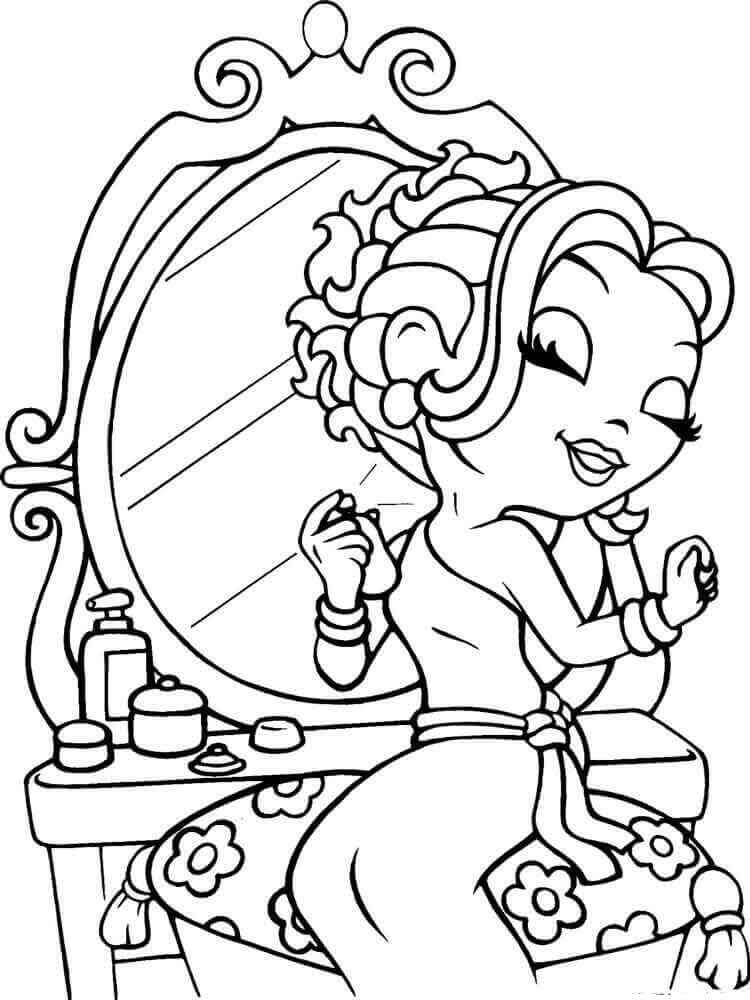 Our glamour girl is a true perfectionist when it comes to fashion and she hates bad odor. As seen here in this picture, she is spraying her best perfume before moving out. While coloring, remember her preferred color is sparkling pink.
Purrscilla The Kitty From Lisa Frank Coloring Image: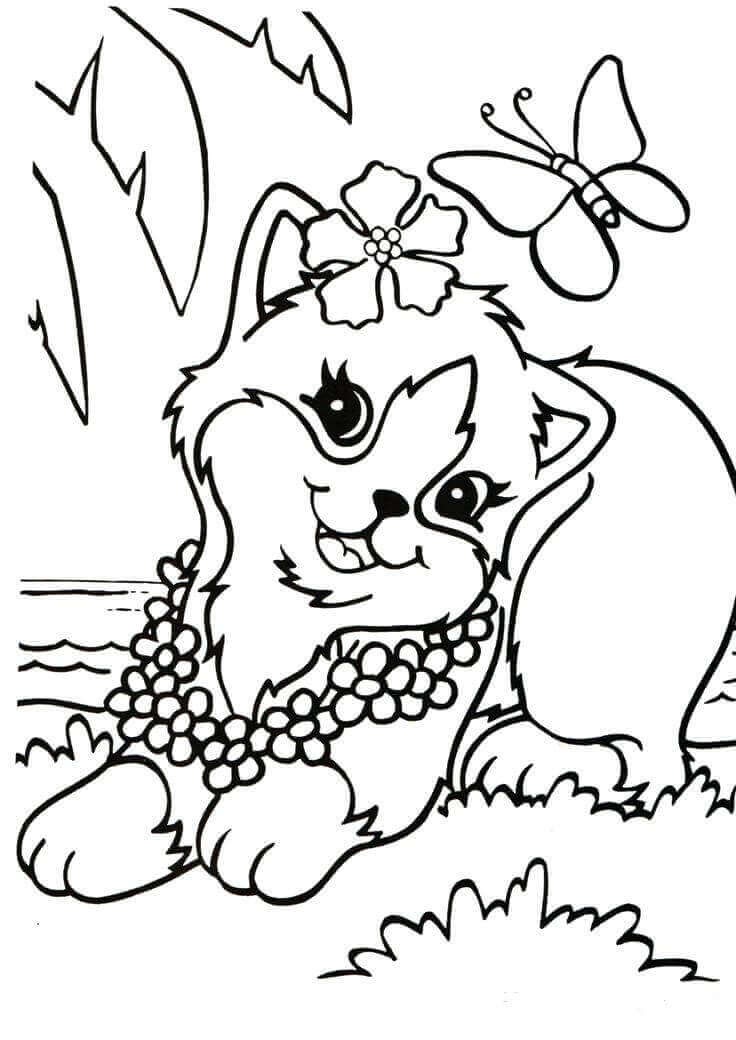 This is a special character because she resembles Lisa's character more than anyone else because the kitty is about girlish things, jewelry, and stuff. This kitty is also a fashionista in herself – too much of glamour and touch-me-not types.
Forest, Casey, Caymus, Playtime, Sunflower, and Spotty: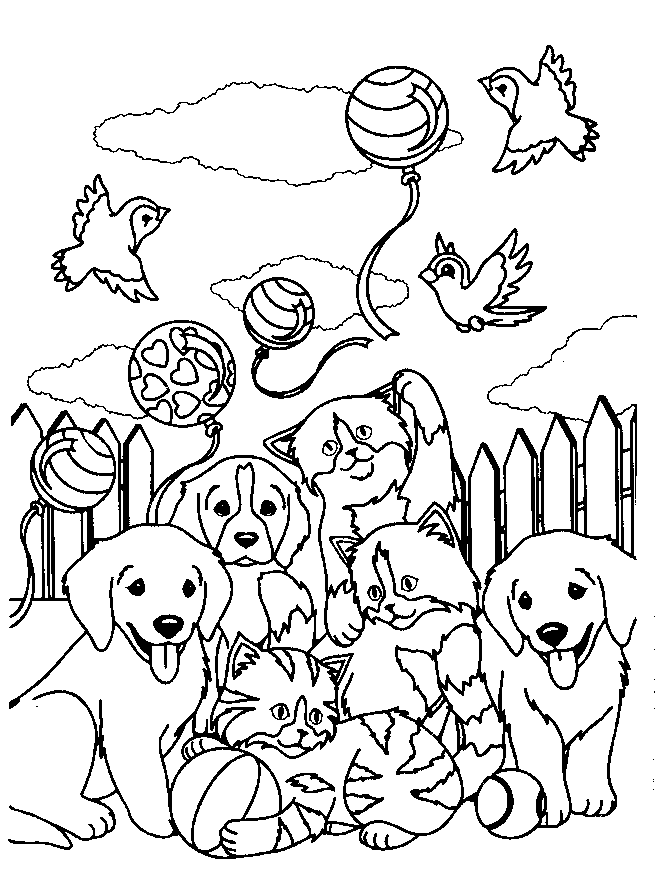 All of Lisa's favorite characters have come together in the same frame. Across all species – cats, dogs, and tiger that in real life cannot co-exist together but in Lisa Frank's imaginary world, they not only live with each other but live happily too.
Glamour Girl Out Shopping: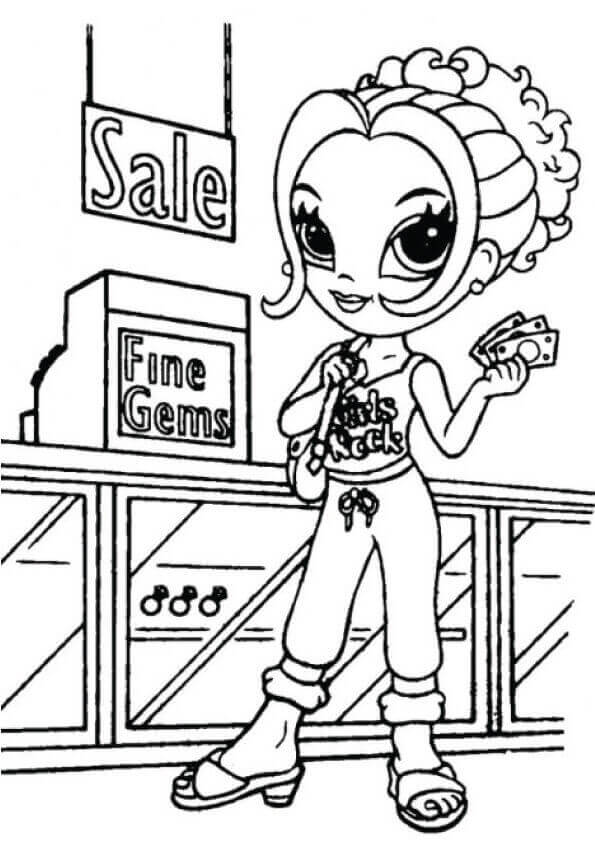 This ultra-fashionable girl is so much fond of clothes, glamour, make-up, jewelry, and perfume. On the way to becoming a fashion model, seen in this picture she is out shopping for gems and jewels looking glamorous as ever!
Hunter From Lisa Frank Coloring Picture: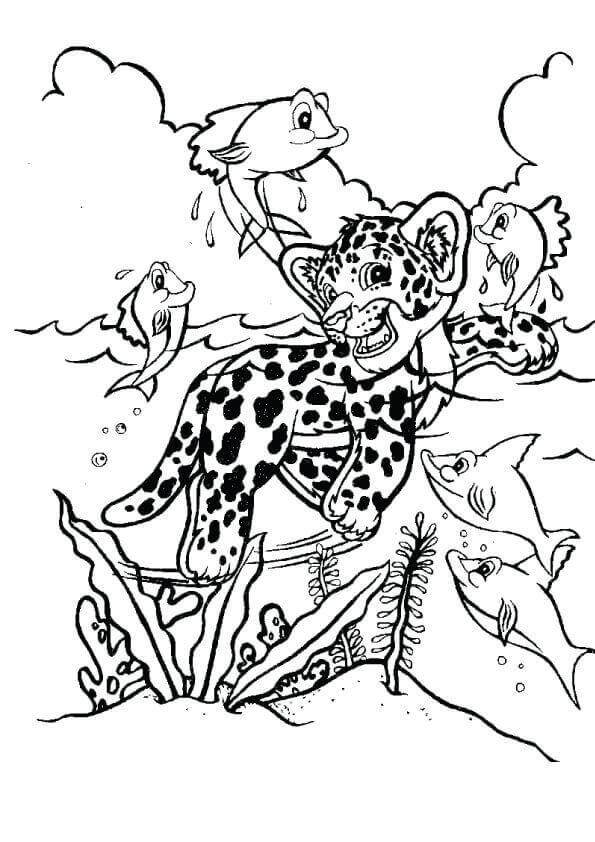 Rainbow printed leopard Hunter is one of Lisa Frank's favorite character because he is named after her elder son Hunter.  The personalities match too.  Lisa's fondness shows as Hunter is one of the most common characters featured on all her products.
Playtime and Sunflower: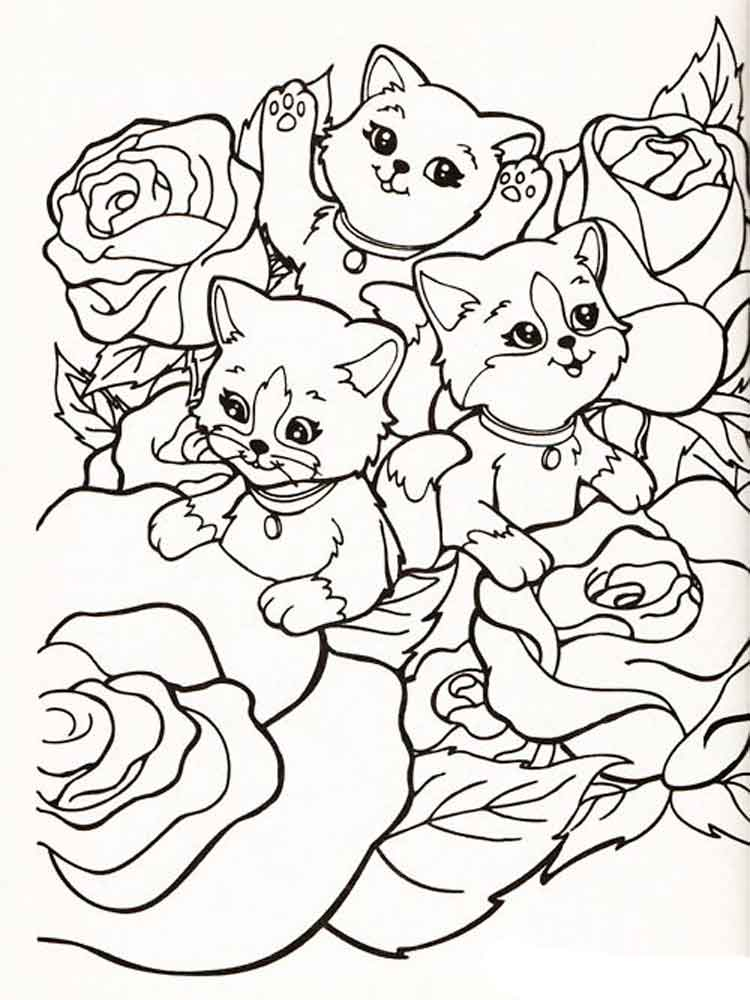 The purple-colored kitten is Playtime and Sunflower, her sweet little friend is yellow in color. These two make such an innocent-looking charming pair.  Seeing them on paper and other stationery, so many kids across America dreamt of owning a purple or a yellow colored kitten.
Casey: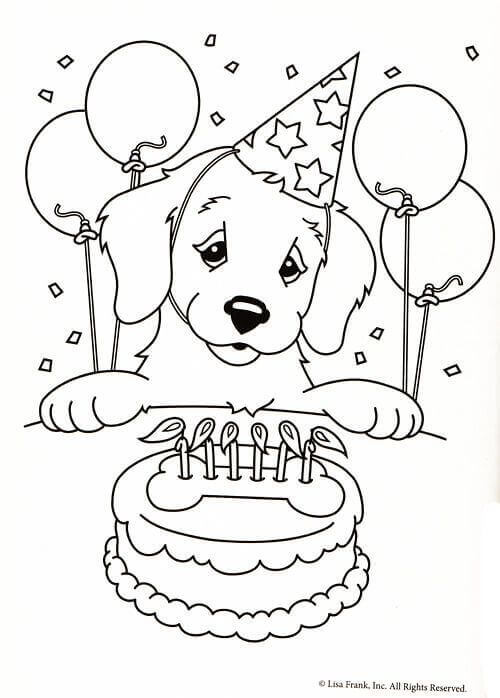 As seen in this picture, this male golden retriever is cutting his birthday cake. Along with his best buddy Candy, they keep relishing tasty snacks the entire day. Covered by a bright fluorescent golden coat these two pups are the cutest of the lot. Lisa Frank in actuality had two golden retrievers.
Glamour Girl Painting: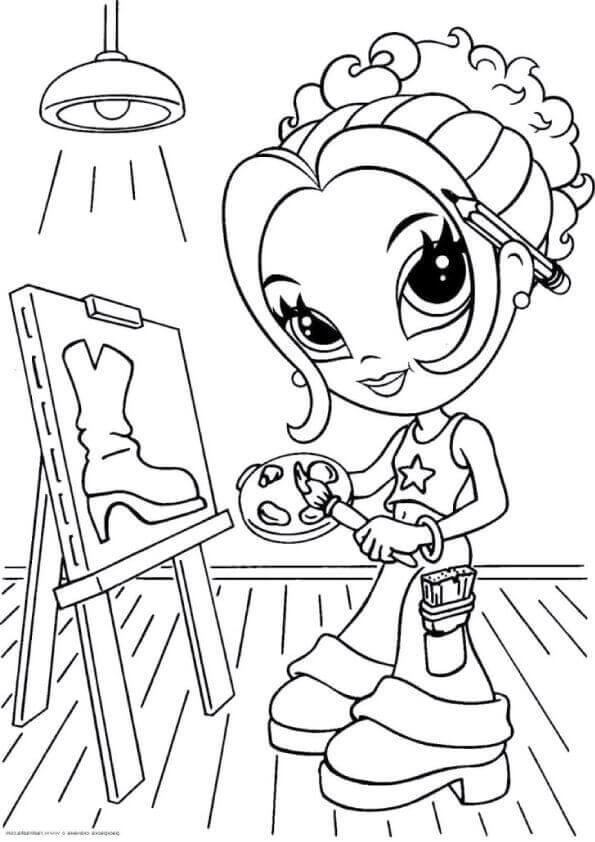 Extremely fond of fashion, even when she has to apply colors to a picture she is doing to one of the fashion accessories – the boots – so similar to what she herself is wearing.
Spotty celebrating His Birthday: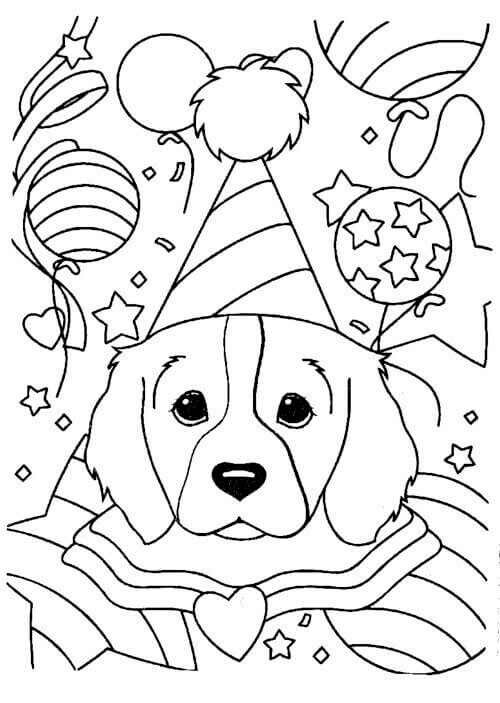 The mischievous Spotty is celebrating his birthday. The always smiling dog seems to be brooding a bit maybe because he is missing his darling sister Dotty who is always by his side.  Or maybe he is missing his paintbrush, which is his constant companion.
[ Read: Birthday Coloring Pages ]
American Cowgirl From Lisa Frank Colouring Page: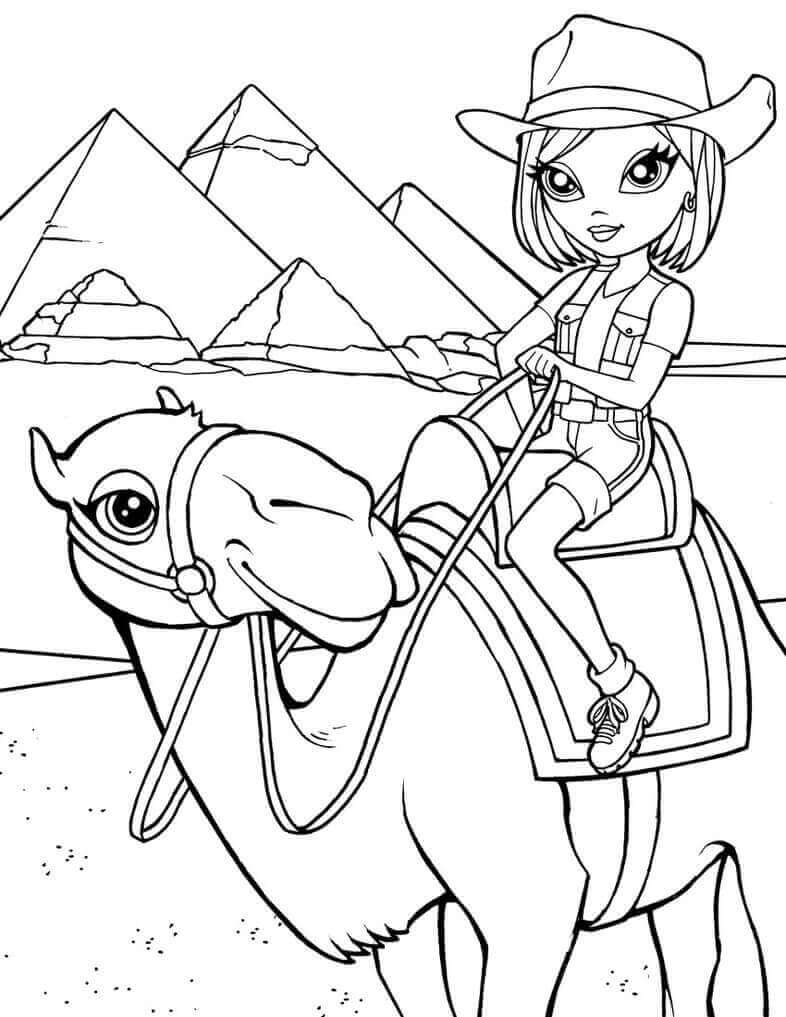 This girl, as her name suggests, is full of zeal and always on the move. Riding her horse Apple Pie or a camel as seen in this picture, she is powdered with quick reflexes and is always riding towards the sunset. In this picture, she is in Egypt amongst the pyramids. Color her in her favorite colors – white, blue, and red.
The High & Mighty Purrscilla: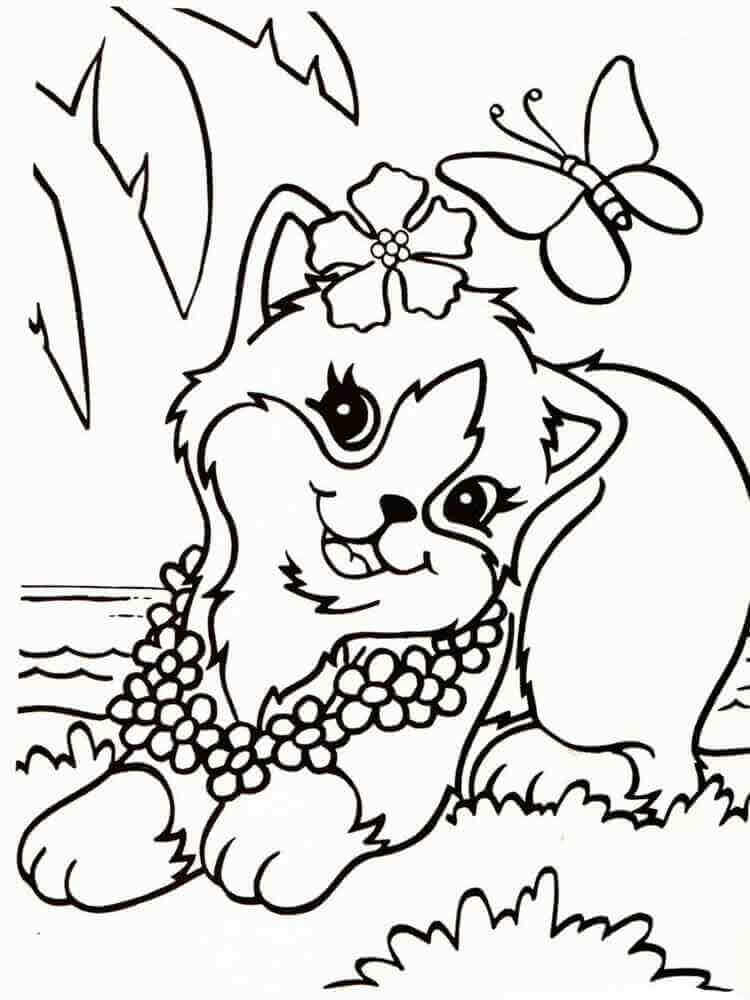 Too fond of jewelry, the catty was drawn by Lisa Frank wearing some of Lisa's own necklaces. Though Lisa Frank is fond of dogs, she illustrated this catty to resemble her personality as the kitty just loves anything that's girlish and glistening.
Glamour Girl Enjoying A Drink: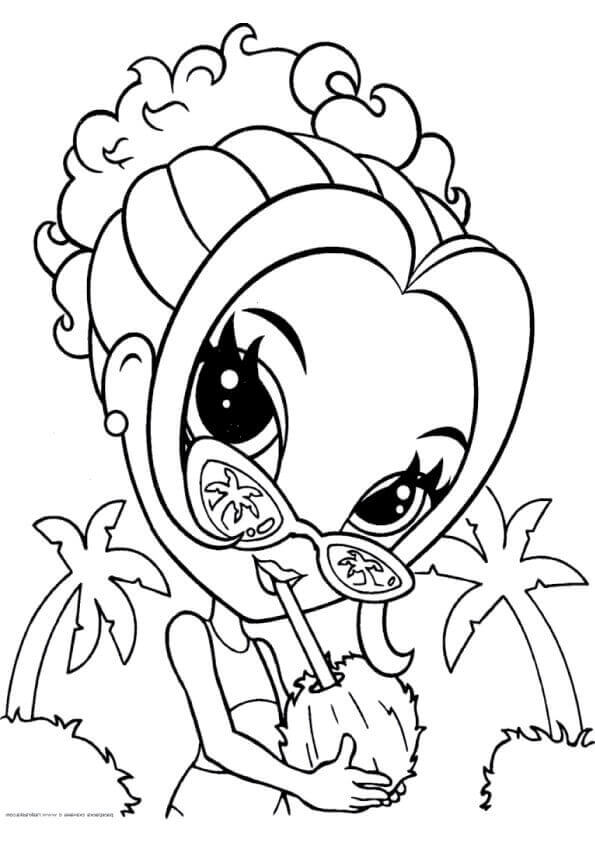 Our ever so cool girl wears her stylish sunglasses in the heat and is seen enjoying coconut water in style. Looks like she is on a beach with lots of coconut trees all around and she is having a gala time!
The Glamour Girl:
She is the fashionista from Lisa Frank's characters. Always dressed impeccably, she is never messed up with her appearance. Even if she has to go to the nearby mall or market, she will be dressed perfectly from tip-to-toe. Her favorite color is the bright sparkling pink shade. Her ambition is to become a super-model and feature on the cover of Lisa Frank magazine.
Statue of Liberty Replica:
The glamour girl from Lisa Frank's characters is dressed up exactly like the replica of the Statue of Liberty in this picture. Exactly like the liberty goddess, she is wearing a robe – color it in the brightest of colors. She is also holding the torch in her right hand above her head and carrying the 'tabula ansata'.
The Japanese Girl Grom Lisa Frank Coloring Pages: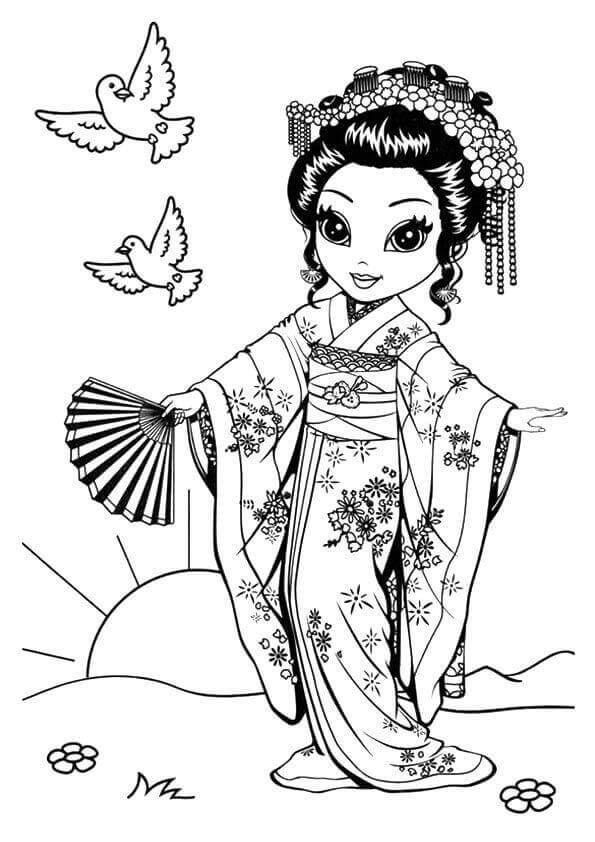 This is a glittery rendition of Lisa Frank where the girl is wearing the Japanese traditional and national dress called the kimono. Though you can use your imagination to color her, Lisa has reserved the following colors for her – purple for her nicely made-up hair, kimono bodice upper part is blue and the lower part purple; kimono baggy sleeves is a mix of purple and yellow. Her hand fan and the flowers on her head are a mix of yellow, violet, and blue.
Max Splash From Lisa Frank Coloring Page:
Amiable, full of fun, daring, and superbly confident, this Lisa Frank character stays in the Arctic Ocean. Dreaming to become the greatest acrobat, this Dolphin is not only a cutie pie; he is the most athletic around performing some of the dangerous stunts.
[ Read: Dolphin Coloring Pages ]
Shelle The Mermaid From Lisa Frank Coloring Sheet: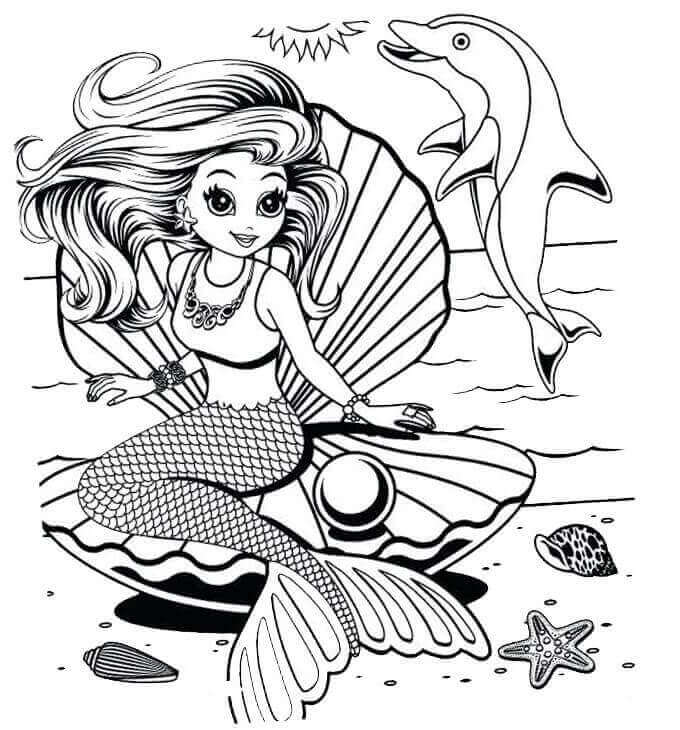 Golden-haired Shelle is a mermaid and her favorite hangout is the pond with her friends around. Bubbly, spontaneous, and always giggling, she creates a laughable surrounding near here. She loves to weave, likes fireflies, cattails, water lilies, and cotton candy but she just can't stand windy days.
Spotty and Dotty: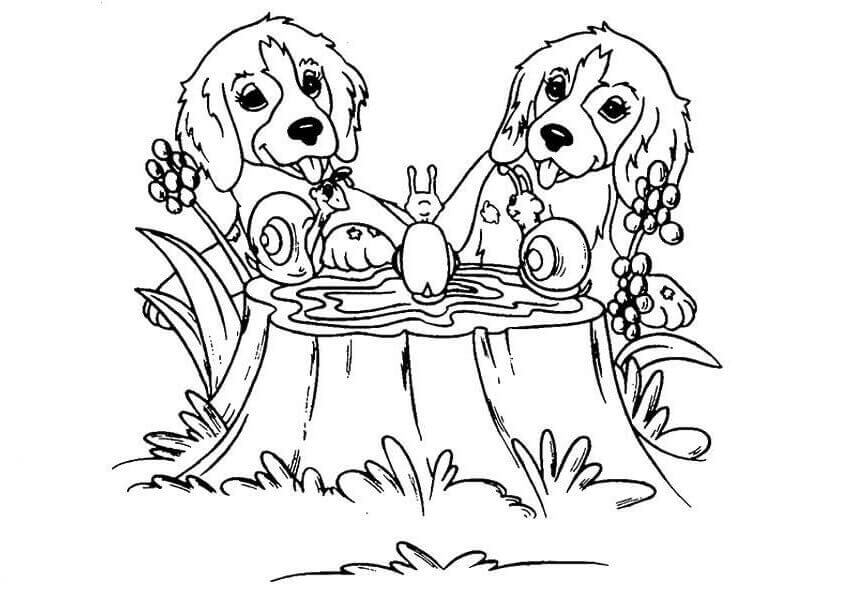 This brother-sister duo is similar in their nature to Lisa Frank – always putting colors onto everything bland as a result both of them dislike anything that is grey in color. Spotty is used to Dotty bossing around him and that is the reason that he loves to play pranks on her. Get them up and running with your exuberant coloring!
Markie The Unicorn: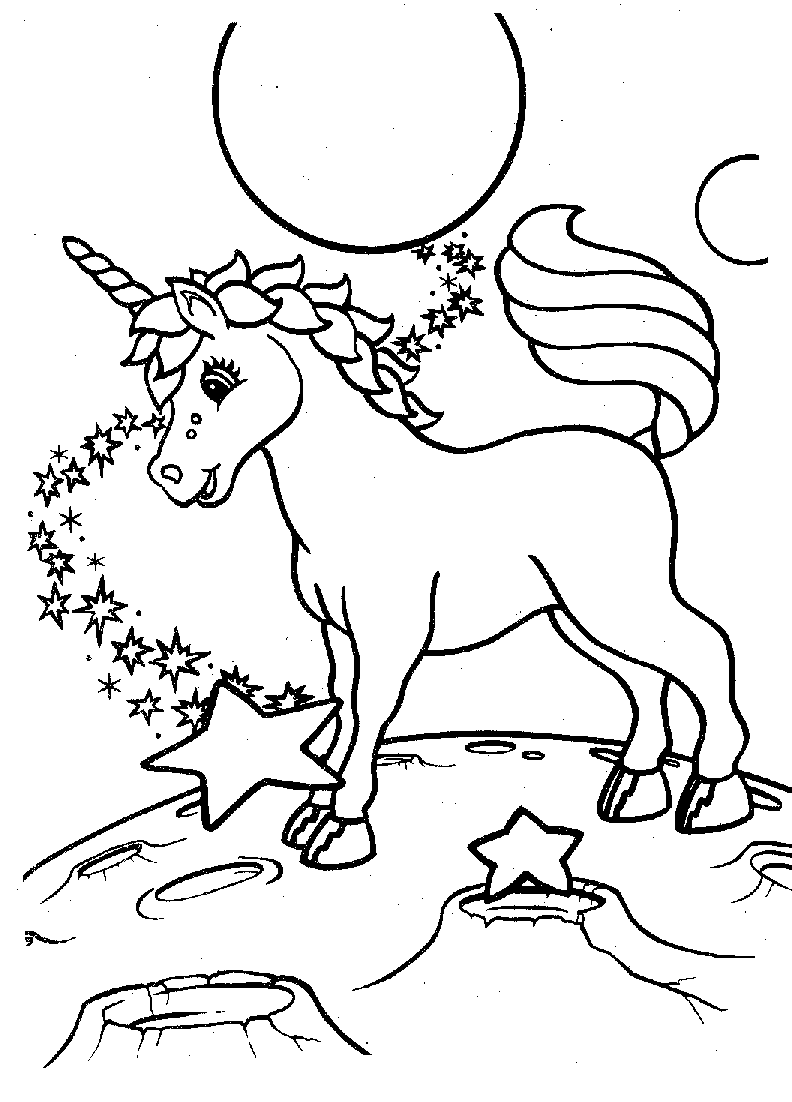 This white color unicorn has a rainbow-colored horn, hair, and tail. A happy-go-lucky unicorn, he loves adventures and wishes to go to places that no unicorn has visited ever before. Since his residence is in the Airfluff Islands in the clouds, he loves to collect stars and hop over clouds. Not one to be scared of a challenge or a new venture, Markie teaches us to be competitive and always be eager to learn new things.
[ Read: Unicorn Coloring Pages ]
Panda Painter From Lisa Frank Coloring Page: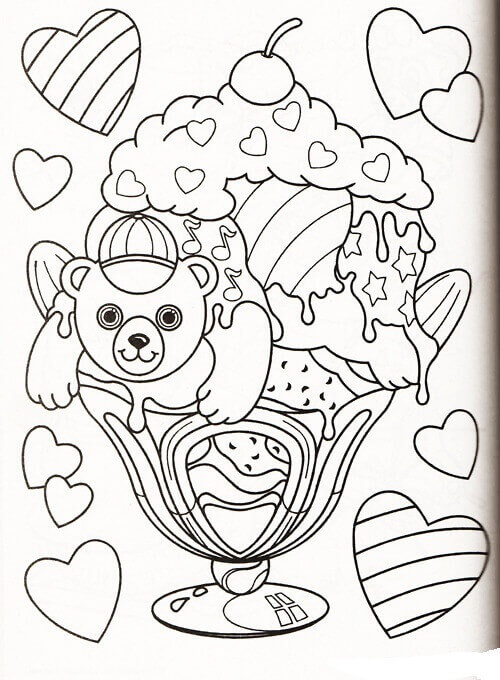 This one belongs to the giant panda bear species that are a pride of southern and central China. He shares his love for coloring and painting with Lisa Frank. Always accompanied by his paintbrush and special rainbow paint, here he seems to be feeling too hot and hence has resorted to the ice-cream for some respite from the heat. Isn't it true for us too – with the unbearable heat outside we all love to have regular scoops of our favorite ice-creams?
[ Read: Ice Cream Coloring Pages ]
Spotty and Dotty:
These two sweet little dogs, too fond of painting and coloring, once painted themselves in spots of rainbow colors! From then on, they don't like anything that appears dull. For them, everything has to have color – one of the seven colors from the rainbow or a mix of a few of them.
So many colorfully vivid and sparkling characters and we could only cover a few of them for preparing the list of 25 Lisa Frank coloring pages printable. So go all out and conquer all the rainbow colors and bring alive these characters with our Lisa Frank coloring pictures to print.