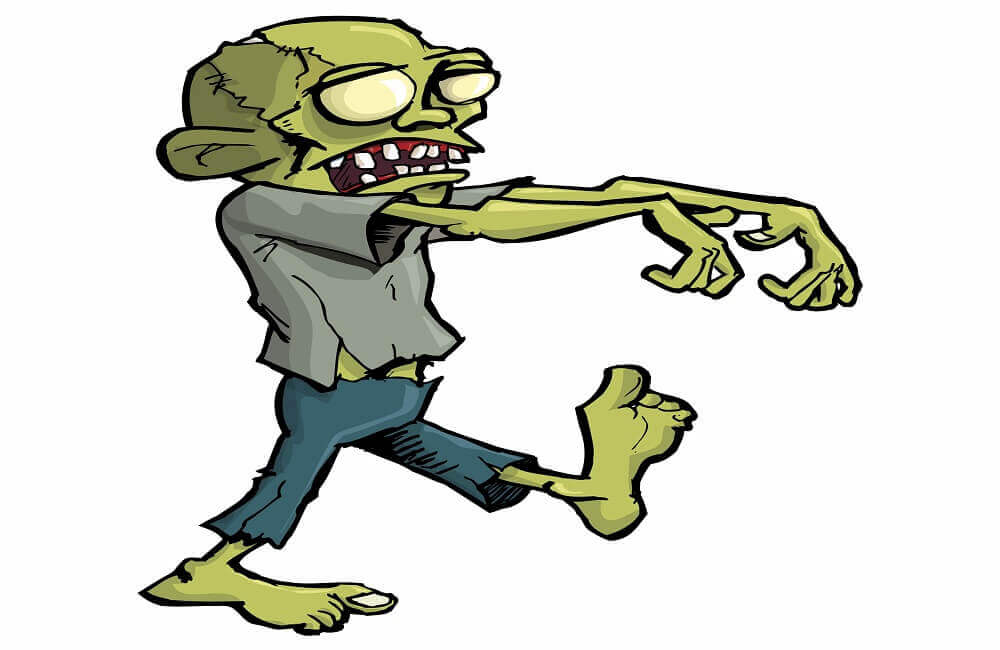 Hello children! We are venturing into some frightening territory today. Thankfully it's only illustrations and drawings. Today's collection is about one of the most dreaded enemies of the apocalyptic fiction – zombies. Even if you are not a fan of horror movies, this collection of free printable zombie coloring pages should be interesting enough to not scare you.
Zombies are undead – a dead body that regains some sort of life but for all other purposes are dead. They are believed to have originated from Haitian folklore where the dead come alive through magic, turning them into zombies.
Various literature, films, and other media have been inspired by zombies. Earlier versions followed the concept, where they are shown as creatures without thoughts and minds of their own brought to life by some magic. The modern version of flesh-eating zombies is thought to have come to light with Richard Matheson's novel "I Am Legend" and George A. Romero's film "Night Of The Living Dead". The cult film was partly inspired by the novel, which dealt with creatures the author called vampires but, in all characteristics, resembled a zombie. If this has piqued your interest, then come along for this thrilling ride on this collection of zombie coloring sheets to print.
to join this conversation on GitHub. Already have an account? Sign in to comment Footer © 2023 GitHub, Inc. Footer navigation Terms Privacy Security Status
30 Free Zombie Coloring Pages Printable
Frankenstein's Monster – Experiment Gone Wrong:
Written by author Mary Shelley in 1818, when she was only 20 years old, "Frankenstein" told the story of a scientist Victor Frankenstein who ventured to create a man using different bits and parts. In several instances, Frankenstein is said to be the name of the monster or creature when in fact it was the name of the scientist.
Frightened Zombie, What Did It See?
If a zombie is looking this frightened, can you guess what it must have seen? Well, you can imagine the reason to be scary like there are creatures even zombies are afraid of or funny like it saw itself in the mirror and got frightened by its reflection.
It's A Zombie, It's A Mummy!
Thanks to the Egyptian culture of mummification, preserving their dead through the process of embalming, legends of mummies originated in popular culture. Depicted as undead having their bodies wrapped in bandages, the legend of monstrous mummies catapulted with "The Mummy", 1932 film by Boris Karloff.
Hello Kitty As Zombie, She Looks So Scary:
Halloween is the time when the scary, odd and weird come to life in the form of all the different costumes people of all ages wear. Here is Hello Kitty who had decided to appear as a zombie for a Halloween party one year.
How To Kill A Zombie:
If you have seen movies or read books about zombies, then you must know the answer to how to kill a zombie. Yes, that is correct. You need to aim for the head. When the head is damaged, the undead truly becomes dead.
Lego Zombie, Don't Play With This:
If superheroes can have a Lego avatar, then perhaps it is not too far-fetched an idea that even the monsters can have their parallel in the Lego world. This coloring page illustrates how a Lego zombie would look like. Do not play with this!
Another Mummy, The Ultimate Zombie:
In films and literature, Egyptian mummies are most often shown to come alive when humans disturb or unearth their ancient tombs. The latest movie starring Tom Cruise, "The Mummy" which was released in 2017 featured the mummy of ancient Egyptian goddess Amunet.
Rainbow Dash As Zombie:
One of the main six elements in the series, "My Little Pony: Friendship Is Magic", Rainbow Dash is a Pegasus representing the element of Loyalty. Rainbow Dash is named thus because it has a rainbow-colored mane and tail. All those pretty and adorable features get horror makeover in this illustration of a zombie Rainbow Dash.
How The Zombie Apocalypse Usually Begins:
Like the saying about how curiosity kills the cat, careless experimentations by scientists is believed to be the reason for the start of Zombie Apocalypse in most apocalyptic fiction. Whether it is regarding finding a cure for diseases or trying to invent new vaccines, when doctors and scientists go overboard with their experiments, results have been catastrophic.
A Zombie Apocalypse:
Most of the stories about zombies revolve around an apocalyptic world, where the world is dying, and humanity is on the brink of survival. This is referred to as Zombie Apocalypse – a scenario when the world or the entire civilization is in danger of collapsing due to the rise of zombies.
Zombie Axed, Soon Will Be Dead: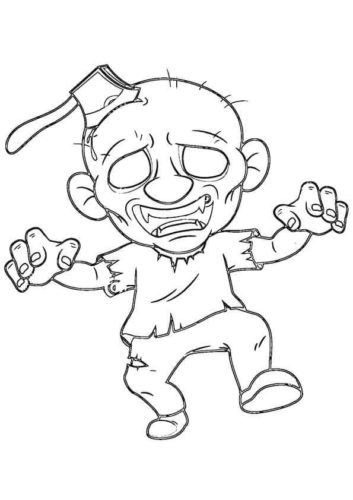 Somebody did the right thing to this zombie. Putting an ax into the head of the zombie is a sure-shot way of killing it. As discussed earlier, to kill a zombie, you have to aim for the head. Otherwise, it will never be dead.
Grown Up Or A Baby, A Zombie Is A Zombie:
Never underestimate the power of a zombie, even if it is a little child like this one. A zombie is a zombie with the power to harm any human it finds. That is why no matter an adult or a child, a zombie is dangerous.
Easy Zombie Coloring Page For Preschoolers:
A little less scary than the other zombies in this collection, this zombie illustration is easy enough for preschoolers to color. Print this coloring page and make sure to color it within the lines.
Zombie In A Cemetery:
When it comes to horror stories, there is bound to be a cemetery somewhere. Keeping the tradition alive, this coloring page features the buried dead coming out of its grave on a full moon night, as an undead, a zombie. To make it more foreboding, you can see a few bats flying across the night sky.
A Mummy Misses Its Mummy:
A witty illustration that showcases a play on the word, mummy which can mean both a mother as well as the mummified body. The illustration shows a mummy who is thinking about its mummy, buried in the cemetery. Confused? As long as you don't get confused about coloring the page, it's alright.
A Melting Pot Of Zombie:
Looks like this zombie has run out of its luck. It seems to have accidentally fallen into a hot pot and has already started to melt away. Very soon, there will be nothing left of its melting body. Quickly print this coloring page and fill it with terrifying colors before the zombie melts away completely.
Zombie Virus Can Infect All Of Us:
In some of the literature and films, it has been theorized that the zombies become zombies when they get infected by a virus. When the virus spreads it can infect every living creature including animals as well, not just humans. Illustrating this theory, this coloring page shows a zombie bat carrying a man's head.
Once A Cowboy, Now A Zombie Cowboy:
From a child zombie to a Lego zombie and even Hello Kitty, you have seen different versions of a zombie. Just in case, you are wondering what a cowboy would look like if he became a zombie. Here's a glimpse of it. A cowboy zombie with a cool hat and bandana covered face.
Slow Zombies, Sneaky Zombies:
Easy to get away from, but slow zombies are persistent. Dealing with slow zombies can be tricky because they can be so sneaky. So, it is always better to be on guard and watch out for any slow zombies trying to creep up on you. Even after being cut in half, the zombie on the ground is still dragging itself forward with its hands. That is why it is said to always aim for the head when trying to kill a zombie.
Zombie From Plants Vs Zombies:
Developed and published by PopCap Games, Plants vs Zombies is a video game which involves the use of plants in a fight against the zombies. In the game, various plants are utilized by humans to safeguard themselves and their homes against the zombies.
Zombie Girl In A Zombie World:
Young and old, everyone who gets bitten or infected turns into a zombie. This girl was at the wrong place at the wrong time. Now, she has turned into a zombie, moving about in a post-apocalyptic zombie world.
Girl Who Became A Zombie, Playing With Her Teddy:
This girl was however in her room, enjoying playtime with her teddy when the zombies attacked her house. So, now she is a girl who became a zombie, holding on to her teddy without knowing what it is and why she is holding it.
Zombie Going For Trick Or Treat On Halloween:
Halloween is a great time for the real zombies to come out for a hunt. Unknowingly blending into the costume party in town, this particular zombie is going about the neighborhood. Humans open their doors thinking it's a man dressed as a zombie and then getting bitten like candy treats themselves.
Zombie Head, Smiling Undead:
If things are looking a little intense, here's a funny zombie illustration for some zombie comic relief. Why do you think this zombie's head is smiling? Perhaps, it got infected while it was laughing. Have a fun time filling this funny zombie head with a riot of colors.
Ice-cream Zombie, Cold, And Icy:
Forget about just living things becoming infected, this coloring page turns the zombie world on its head by creating a zombie ice-cream. This is one ice-cream nobody would want to eat. Try not to imagine how this ice-cream zombie would taste as you print and color this illustration.
Old Zombie Man, Walk Hardly Can: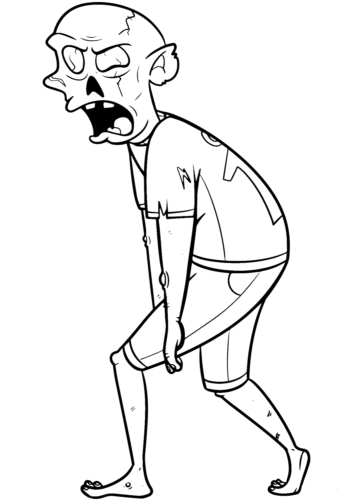 This old man could hardly walk around much when he was a human. That is why after turning into a zombie, his walks are slower than other zombies. You can see how his knees are too bend and his back is slouched over.
Zombie Rising From The Cemetery:
Another undead comes out of a grave in the cemetery. This terrifying looking zombie must have been buried in proper attire. He is still wearing the suit and the overcoat, although worn out by being underground for long.
Zombie Pikachu, This Pokémon Will Kill You:
The most popular Pokémon variety, Pikachu is a short and chubby rodent with pouches on its cheeks which store electricity. But do not mistake these two little Pikachu as good ones. They are zombie Pikachu and this Pokémon will not hesitate to attack anyone around.
This Christmas Is Tricky, Santa Is A Zombie:
Christmas in this particular village is going to be tricky this year. The undead version of Santa has taken over. The festive season has become undead season. As warm and cuddly as the real Santa looks, this zombie Santa looks just as much terrifying and scary. Print this coloring page and make sure to give it your best creative colors.
Woman Turned Zombie On A Killing Spree:
After turning into a zombie, this posh woman who was enjoying shopping in the mall went on a killing spree. Thankfully it was late at night when the mall was just closing. So, she now roams the empty shopping mall, trapped inside for good.
That concludes this little scary, little fun but always an intriguing collection of zombie coloring pages printable. Hope it was creatively fun for you to color these illustrations. From just a mass of slow-moving undead, over time, different versions of zombies have been invented. The fast running zombies first introduced in a Japanese video game "The House of The Dead", have found prominence in various films including "28 Days Later" and "World War Z". Of course, there are also friendly and loving zombies as presented in movies and series like "Warm Bodies", "Corpse Bride" and "iZombie". So, you see zombies are not all bad. You can create your own version of zombies while you print and color this interesting collection of zombie coloring pages to print.