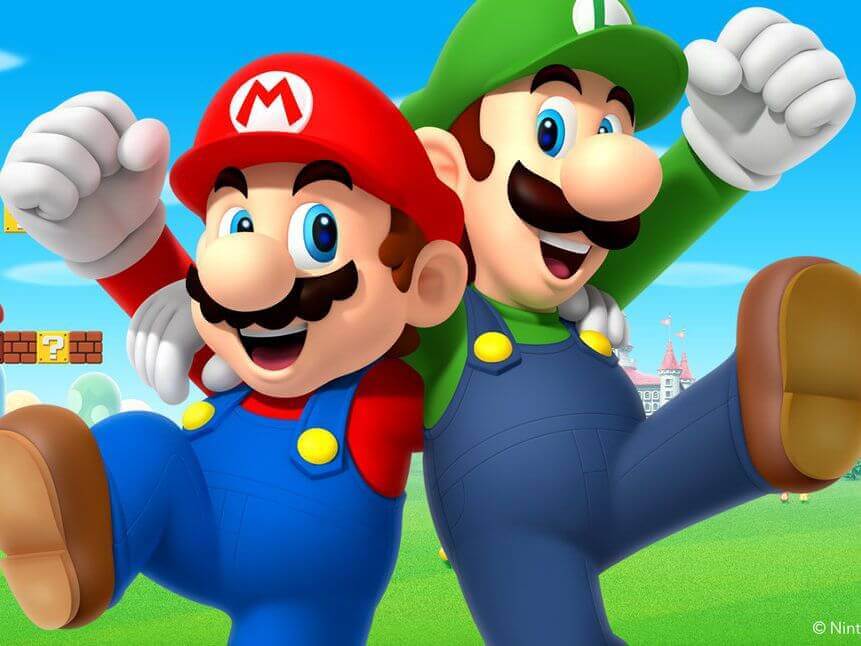 Greetings children! We will be coloring some video game characters today. In fact, one of the most loved video games characters. Yes, you guess it right, we've got you a collection of free printable Mario coloring pages.
Mario is a character created by video game designer Shigeru Miyamoto and designed by him along with Yoichi Kotabe and Shigefumi Hino. Designed as an Italian man, short in stature with a mustache, Mario is a plumber in the Mushroom Kingdom who is on a mission to save Princess Peach.
Owned by one of the largest video game companies in the world, Nintendo, Mario is also the company's mascot. The Mario video game franchise began its successful run with their first appearance in Donkey Kong in 1981. Get ready to discover the world of video sheets with this collection of Mario coloring pages to print.
to join this conversation on GitHub. Already have an account? Sign in to comment Footer © 2023 GitHub, Inc. Footer navigation Terms Privacy Security Status
36 Free Mario Coloring Pages Printable
Baby Mario And Baby Luigi:
We are starting off the collection with an illustration of the brothers, Mario and Luigi when they were kids. Even as little kids you can see the marked difference in height between the two brothers, Luigi is taller than Mario.
Bowser – Mario's Archenemy: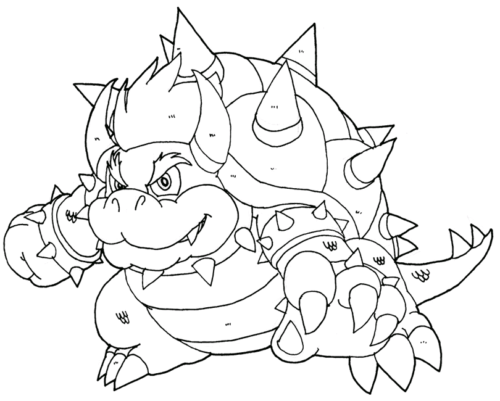 The archenemy of Mario, Bowser is the powerful leader of the Koopa race, which resemble a turtle. Bowser kidnaps Princess Peach of the Mushroom Kingdom in order to take control over the kingdom while Mario tries to save her.
Bowser Jr – Son of Bowser: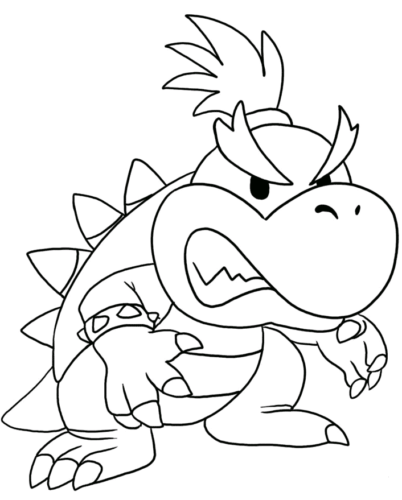 Helping Bowser with the mission is his son, Bowser Jr. Like his father, Bowser Jr wants to defeat Mario. Kidnapping Princess Peach is their way of gaining the Mushroom Kingdom and also hurt Mario.
Donkey Kong – Leader Of DK Crew:
The first appearance of Mario was in the arcade game Donkey Kong which chronicles the adventures of an anthropomorphic gorilla, named Donkey Kong and leader of the DK crew. The eponymous game was released in 1981. Bring out the characteristics of Donkey Kong by printing and coloring this illustration.
Mario Gearing Up For His Mission:
The main game involves Mario going through different phases and overcoming various obstacles to finally rescue Princess Peach. Helping him in his mission are different gears and items to make enhanced his capabilities or power up. Like how this illustration showcases the different items Mario has found and used them during his mission.
Mario, The Unlikely Hero:
This coloring page shows you a full-length illustration of Mario. Being a plumber by profession, Mario is an unlikely hero. But hearing about the capture of Princess Peach brings out the hero in him.
King Boo From Mario Kart Series:
Playing the major role of the enemy in Luigi's Mansion series, King Boo is Luigi's antagonist. You can also find him creating troubles in various minor appearances in other Mario series like Mario Kart and Mario Party. Look at its large tongue sticking out of its mouth and those sharp teeth.
Koopa Troopa From Mario Bros: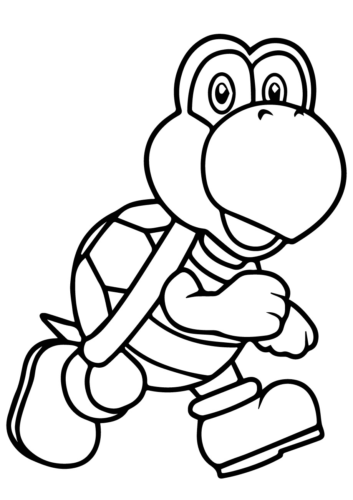 Koopa Troopas or simply called as Koopas are the anthropomorphic turtle-like species that Mario has to fight against on his way to save the princess. When Mario encounters Koopas he can simply jump over them or stomp over them to be able to continue on his journey and complete his mission.
Luigi, Mario's Fraternal Twin Brother:
Luigi, the fraternal twin of Mario and slightly younger in age, was also created by the game designer Shigeru Miyamoto. Being fraternal twins, Mario and Luigi do not share the same genetic information. That is why you find Luigi to be taller in stature.
Mario And Bowser Fighting:
When Mario successfully completes his long and arduous journey to get to the castle where the princess is kidnapped, he has to overcome the last hurdle. Yes, an epic fight between the hero and the villain takes place.
Mario And Koopa Troopa:
Making full use of the powers of his enemies, you can find Mario carrying the Koopa Troopa in his hand and running ahead in the game. After having stomped over them, Mario is able to carry the Koopa Troopa and use the shell to break down walls, etc. and get ahead in his mission.
Mario And Luigi Welcome You To The Game:
Here are the twin brothers, the protagonist Mario and his sidekick twin brother Luigi welcoming you to the game in this illustration. Capture all their characteristic details by printing and coloring them immaculately.
Mario Dressed As Santa Claus: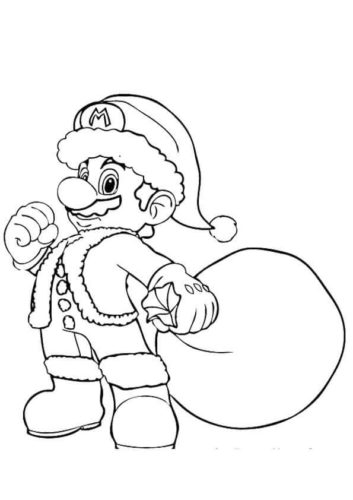 When the festive season begins, the bells jingle and winter arrives, you can find Mario soaking in the Christmas spirit as well. Look at Mario enjoying himself being dressed as Santa Clause in this illustration, holding a large bag of gifts.
Mario Brothers Celebrates With Their Birthday Cake:
The fraternal twin brothers are surprised to find that they have been gifted a large birthday cake. As Mario exults with ecstatic joy, Luigi is busy with the many gifts they have received, like the nicely wrapped huge gift he is holding himself.
Mario Skateboarding In Style:
There are not too many things that our hero Mario is not able to do. Look at him go so fast, skateboarding in style, very smoothly down the slope. Give this adventurous soul your best wishes by printing and coloring this illustration.
Mario Playing In Winter, Making Snowballs:
When winter finally comes and it snows, it is a fun time for Mario. He wastes no time in getting out into the cold to play with others. Look at the way he is expertly making snowballs. Thank god that you are not there, else he would have properly aimed his snowballs at you.
Mario Playing Basketball:
Apart from the main Mario series, there are several other Mario series, like those inspired by sports. Here you can see Mario playing basketball, jumping high up in the air and ready to throw the ball into the basket.
Mario Gets The Winner's Trophy:
If you are good at something and always excel in it, you are bound to get the winner's trophy at some point or the other. Persevering and working hard on his sporting skills, Mario has managed to get the winner's trophy. Look how proudly he is holding the trophy in this illustration.
Mario Video Game In Action:
When you play the video game, you will find Mario playing out actions like the one depicted in this illustration. From jumping over obstacles to kicking out obstructions and opponents, Mario is always on the go, till the very end when he has to rescue the princess.
Mario Kart Series:
A spin-off of the Super Mario series, Mario Kart is sports based and is inspired by the go-kart racing. It was first launched in 1992 with the Super Mario Kart game. Like the original series, the Mario Kart series has also been commercially as well as critically successful.
Mario Riding Yoshi, The Dinosaur:
The anthropomorphic dinosaur plays a character that can be ridden by the main heroes in most Mario franchise series. In many spin-offs, he can be played as well. Like the Yoshi series, where Yoshi is the main protagonist. Look at Mario superbly riding Yoshi in this illustration.
Mario Sings His Heart Out:
As passionate as any soul can be, Mario does everything with the best of his abilities. So, whether it is a rescue mission or belting out a tune or two, Mario always gives his best. You can think about the song he might be singing in this illustration while you print and color this sheet.
Mario Throwing Fireball:
The Super Mario Bros. series allow Mario to gain some added powers to face the difficulties he encounters during his mission. One of them is the ability to throw fireballs. Whenever Mario finds a Fire Flower, he gains the power to throw fireballs.
Princess Daisy Of Sarasaland:
Princess Daisy is the princess of Sarasaland who made her debut with the game Super Mario Land. She has made several appearances as a playable character along the years in many spin-offs of the Mario franchise.
Princess Peach Of Mushroom Kingdom:
The princess of Mushroom Kingdom, Princess Peach is often in danger due to the attacks by Bowser and his Koopa Troopa. Mario fights his war through several obstacles in the games to rescue her and save the kingdom.
Propeller Mario:
New Super Mario Bros games feature Propeller Mushroom or Propeller Suit which when obtained by Mario on his journey, he turns into this form with propellers in his hat. Referred to as Propeller Mario, in this form Mario is able to fly.
Rosalina, Watcher Of The Cosmos:
With her first appearance in Super Mario Galaxy, Rosalina is a non-playing character watching over the cosmos. Residing in the hub world or Comet Observatory of the Super Mario games, Rosalina is the adoptive mother of the Lumas, star-shaped beings.
Super Mario Bros. 3:
The third installment in the Super Mario Bros series, Super Mario Bros 3 continues its tradition of being a fun, adventurous and thrilling platform video game. The Koopalings or the children of the main villain Bowser were first introduced in this series.
Super Mario Bros. Series: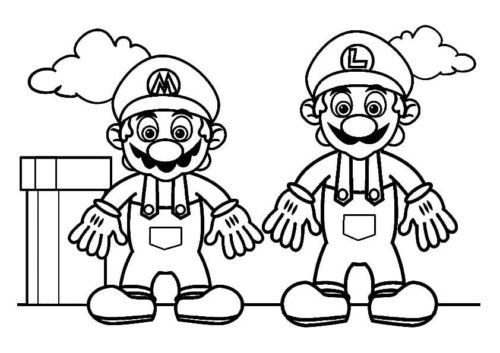 Frequently named by many as one of the greatest video games of all time, Super Mario Bros was designed by Shigeru Miyamoto and Takashi Tezuka. In addition to being one of the greatest video games, Super Mario Bros is also among the bestselling games of all time, selling over 40 million copies.
Super Mario In Popular Culture:
Super Mario has an expansive franchise including animated series as well as a feature film. Alongside the main character Mario, the Super Mario Bros. series has gained widespread prominence, becoming ingrained in the popular culture.
Super Mario World: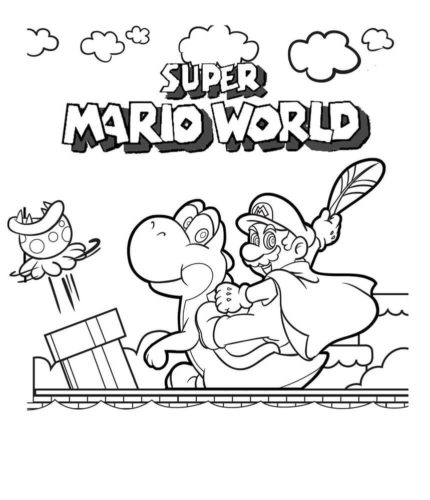 Developed in 1990, Super Mario World is a side-scrolling platform video game. The game involves the efforts of Mario and Luigi to save Princess Peach by riding on the anthropomorphic dinosaurs or Yoshis. They were on vacation in Dinosaur World when the kidnapping took place.
Toad From Mario Kart Series:
One of the most loyal attendants of Princess Peach, Toad is a humanoid mushroom. Mostly a non-playing character in the main Mario series, Toad appears as a lightweight driver in the Mario Kart Series.
Toadette, Toad's Counterpart:
Toad's female counterpart, Toadette first appeared in the 2003 video game Mario Kart: Double Dash. In one of the games, Toadette is able to transform into Peachette, a form which resembles Princess Peach.
Waluigi – Luigi's Archrival:
Created by Fumihide Aoki, Waluigi is the archrival of Luigi in several spin-off series of the main game. He appears as the partner of Wario, who in turn is one of the archrivals of Mario. Capture the mischief of Waluigi in this illustration with your colors.
Wario – Mario's Hot-tempered Enemy:
Dressed in yellow and purple, Wario is a hot-tempered fellow, acting like an enemy of Mario. Obese yet muscular, Wario first made his appearance as a greedy man in the 1992 game Super Mario Land 2: 6 Golden Coins. One glance on the coloring page gives you enough idea about Wario's characteristics.
Yoshi – Anthropomorphic Dinosaur.
Yoshi, an anthropomorphic dinosaur, made its debut in Super Mario World, released in 1990. Acting as a sidekick in several Mario series, Yoshi is the main protagonist in the Yoshi series. The Yoshi species are collectively referred to as Yoshis and they live in the Dinosaur World.
Like the dinosaurs that have become extinct for a long time now, we have reached the end of today's interesting collection of Mario coloring pictures to print. With sells of over 500 million units, the Mario franchise is the best-selling video games franchise of all time, featuring video games like the Super Mario platform series as well as other series like sport-based Mario Kart and Mario Golf, educational like Mario Teaches Typing and role-playing like Paper Mario. So, you see, video games are not just for fun but can also help you with many things like sports and education as well.