Hello kids! Hope the summer is going well for you. You must be enjoying the sunshine and greeneries. Someone else that has a great affinity with the greeneries is the animal who is the topic of today's collection of coloring pages. Yes, we've got you free printable panda coloring pages.
Widely popular because of their cute and adorable visage, the Giant Panda or generally referred to as Panda is a type of bear native to South Central China. Bearing the ever-recognizable black and white color, specifically the black around the eyes, Panda is a folivore which is a kind of herbivore that generally eats leaves, bamboo leaves in this case.
You might know of Panda from the several viral cute videos or from the successful movie franchise Kung Fu Panda. If lucky enough, you might have seen one in a zoo. Panda is listed as Vulnerable to extinction by the International Union for Conservation of Nature (IUCN), under Conservation-Reliant which means they need constant monitoring and intervention for their survival.
to join this conversation on GitHub. Already have an account? Sign in to comment Footer © 2023 GitHub, Inc. Footer navigation Terms Privacy Security Status
You can learn more about this cute bear species and have fun knowing them through this collection of Panda coloring sheets to print.
30 Free Panda Coloring Pages Printable
1. Baby Panda – Cuteness Overloaded:
At the time of their birth, baby pandas are pink in color. They develop their distinct black and white fur color after a month. Look at the cuteness level of this baby panda illustration. Admire this adorable baby panda and give it your best colors.
2. Baby Panda With Mommy Panda: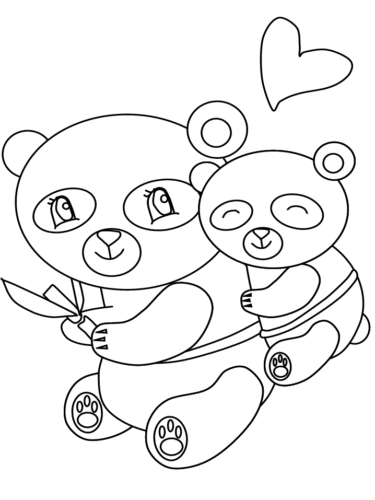 Mother Panda bears the sole responsibility of looking after the cubs. For at least the first year, the baby feeds on the mother's milk. Although, they do start eating or experiment with their stable diet of bamboos by eating very small amounts after they are around six months old.
3. Boy Hugging His Stuffed Giant Panda:
Soft toys are adored and loved by kids around the world, especially if they are toy versions of their favorite things like animals, birds or movie and comics characters. Like how this little boy is enjoying playing hugs with this stuffed Giant Panda toy.
4. Panda Resting On A Tree After Eating:
Pandas are able to climb since they feed on leaves. This panda is taking its time to rest on the tree branch after its climb up the tree and feeding for long on the leaves. It's just like how you must feel after having a heavy lunch, taking time to rest for a while.
5. Panda Feeding On Bamboo Leaves:
The basic diet of Pandas is bamboo leaves. They are also known to feed on other shrubs and grasses or even some meat like rodents. But the majority of their diet constitutes bamboo leaves, estimated at about more than ninety-nine percent.
6. Panda Eats Dinner With Chopsticks:
Cleverly indicating the country of their native habitat, this illustration shows a cute panda enjoying a bowl of bamboo leaves with chopsticks. Make sure to fill this fun coloring page with exciting colors.
7. Panda Finds Its Bamboo Tree:
After searching for a while, this Giant Panda has finally found a cluster of bamboo trees to feed on. It is carefully looking for the leaves to feed on. When raised in captivity programs, Pandas can sometimes be introduced to special diets alongside bamboos, like dietary supplements or specifically formulated biscuits.
8. Wooly, Furry Giant Panda:
Inhabiting a colder habitat of the South Central China forests, Giant Pandas have furs that are thick and wooly. This thick and wooly fur layer keeps the giant pandas warm and comfortable in the colder environment.
9. Panda Eats A Lot Of Bamboos:
A Giant Panda's normal diet is bamboo leaves which possess a very limited amount of energy content. That is precisely why you will find a giant panda spending most its time eating away lots and lots of bamboos, up to 14 kilograms in a day. Eating such a large quantity helps to compensate for the low energy content.
10. Giant Panda Moving In The Forest:
Pandas grow up to around 4 to 6 feet in length. This includes the length of the tail making up to about 5.9 inches. You can see their physical appearance to a great deal in this illustration of the Giant Panda. Remember to give this cute beast the appropriate coloring details.
11. Happy Panda Spreading Happiness:
Spreading joy and happiness all around is this cute Panda. Rolling about on the ground, you can feel the infectious happiness catching up on you as well. Have a blast filling some fun and positive colors on this coloring page.
12. Kung Fu Panda – Panda Star On The Silver Screen:
First introduced to the world when released in 2008, Kung Fu Panda featured the Giant Panda as its main protagonist who dreams of being an expert in Kung Fu. Produced by DreamWorks Animation, the hugely successful and critically acclaimed Kung Fu Panda movie franchise consists of three movies with the first sequel released in 2011 and the third five years later in 2016.
13. Mother Panda Walking With Her Cub:
After about two and a half months or around 80 days, Panda cubs are able to start crawling. Being solely responsible for the care of the cubs, mother pandas spent their time feeding and preparing their cubs to grow and develop properly. Just like how mother Pandas walk around with their cubs and indulge in playful rolling and wrestling.
14. P For Panda Coloring Page:
We are halfway through our collection of Panda coloring pages. You must have already learned some new things about the Panda. Keeping with today's topic your choice of word starting with P will definitely be Panda. Fill this P for Panda coloring page with the monochrome Panda colors and colorful P.
15. Panda Coloring Page For Preschoolers: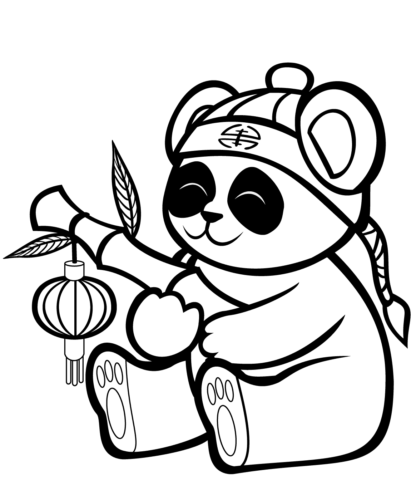 An easy and fun coloring page for the preschoolers. Looks like this adorable Panda is ready to have its snacks. Aside from the usual bamboo leaves, it has managed to get some fruits as well.
16. Panda Coloring Page For Adults:
With a more intricate and detailed illustration, this coloring page features a more realistic depiction of the Giant Panda. The background structure pays homage to its native habitat country and the leaves and shrubs indicating its diet.
17. Pandas Sitting Together, Pandas Eating Together:
Bamboo being their diet, Pandas enjoy eating all the varieties of bamboos that grow in the wild. However, there are very limited bamboo species available for Pandas in the higher regions they now inhabit. Since bamboo goes through a cycle of flowering, death, and regeneration, having two bamboo species at Panda's disposal ensures there is at least one type of bamboo for their consumption at any given time.
18. Pandas – Omnivorous To Herbivorous:
The ancestors of today's Giant Panda are believed to have been omnivorous once as per studies of the Panda's extinct relatives. From being omnivorous around seven million years ago, the Giant Panda turned mainly herbivorous somewhere around 2 to 2.4 million years ago. This evolution is the result of why this cute panda is relishing eating the bamboo leaves in this illustration.
19. Giant Panda Enjoying A Giant Christmas:
Making the most of all the festivities is the true spirit of celebrating any festival. That is just what this Giant Panda is on the mission to do. It is dressed in Christmas special attire and has also collected lots of gifts in the bag for all its loved ones. Give some giant loving colors to this Giant Panda and make its Christmas a giant success.
20. Make Your Own Panda Face Mask:
Here's an up-close look at the facial appearance of the Giant Panda that you can turn into a face mask. Once you fill it with proper colors, cut out along the outline and by tying a thread you can wear your own Panda face mask.
21. Pandas Up In The Trees In The Forest:
You can get a glimpse of the Giant Panda's habitat in the forest in this illustration. There is one of the Pandas resting comfortably on its back on a tree while the other is on the ground eating all the leaves it can find. Print this coloring page and give this inside look into the Panda's habitat some authentic colors.
22. Panda On A Tree, Sitting, And Eating:
Giant Pandas are capable of climbing trees. Since their diet is dependent on bamboos it is a great skill to have. Here you can find a Panda comfortable perched on a branch while nibbling on all the surrounding leaves.
23. Panda Climbing Tree For Sleeping:
Pandas do not have permanent dens. They generally climb up trees and rest in hollow trees or rock crevices. It seems like it is time to rest for this particular Panda here. You can see it diligently climbing up the tree to reach the hollowed out portion. Print this page and fill it with motivating colors.
24. Panda Trying To Break A Bamboo Shoot:
Aside from the bamboo leaves, Panda also eat the stems, which does not have as much protein as the leaves. Finding the bamboo shoots it was looking for, this Giant Panda is now attempting to break them properly before it starts eating.
25. Panda Leaving Their Claw Markings On A Tree: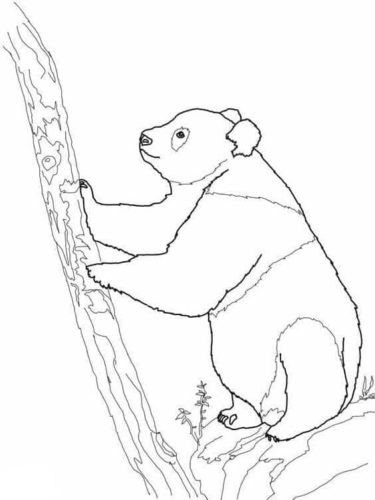 Pandas are territorial animals and leave their markings by spraying their urines or clawing marks on the trees. Announcing its territory to other Pandas in the forest, this Giant Panda is ensuring its claw marks are properly etched on this particular tree trunk. Print this coloring page and leave your own mark on this illustration with your excellent coloring skills.
26. Realistic Panda Coloring Page:
This illustration with its realistic details will give you a close look at how the Giant Pandas sit and eat the bamboo leaves. They use their forelimbs to hold the bamboo shoot in place while using their fingers to pluck out the leaves and eat them. Print this coloring page and give it some realistic colors.
27. Red Panda – Distant Relative Of Giant Panda:
With its similar habitat, diet mostly dependent on bamboo leaves and even the name, one might think that Giant Panda and Red Panda are closely related animals. In truth, they are only distantly related, as they don't even belong to the same scientific family.
28. Red Panda – The Endangered Species:
Unlike Panda, Red Pandas are in the Endangered list of International Union for Conservation of Nature. They are distinguished by their reddish brown color and feature a long tail. Red Pandas are the only species living under its scientific family of Ailuridae.
29. Sleepy Panda Resting Against A Fallen Log:
Feeling tired and in need of some rest, this particular Giant Panda has decided to rest on the giant fallen log. Doesn't it look funny with all its limbs hanging? It must have been exhausted roaming around for food all through the day. This must remind you of how you feel when you reach home after long school hours.
30. Surprised Panda Coloring Page:
Can you tell why this adorable little Giant Panda is looking so surprised in this illustration? Yes, you got it right. It is surprised to find that the bamboo shoot it got has only three tiny leaves on it to eat.
With the surprising page, we have come to the inevitable end of our fun collection of Panda coloring pages printable. Thankfully, it is not the end for the species of Panda, despite the Vulnerable IUCN status. Several scientists and wildlife conservationists are working tirelessly around the world, especially in China to safeguard and protect Pandas, including breeding programs in captivity to increase their population. Destruction and fragmentation of their habitat are some of the main reasons for their numbers being so low. You can spread awareness by getting involved in school programs, if any, or consulting your teachers or by doing something as simple as sharing this collection of Panda coloring pages printable among your friends and family.