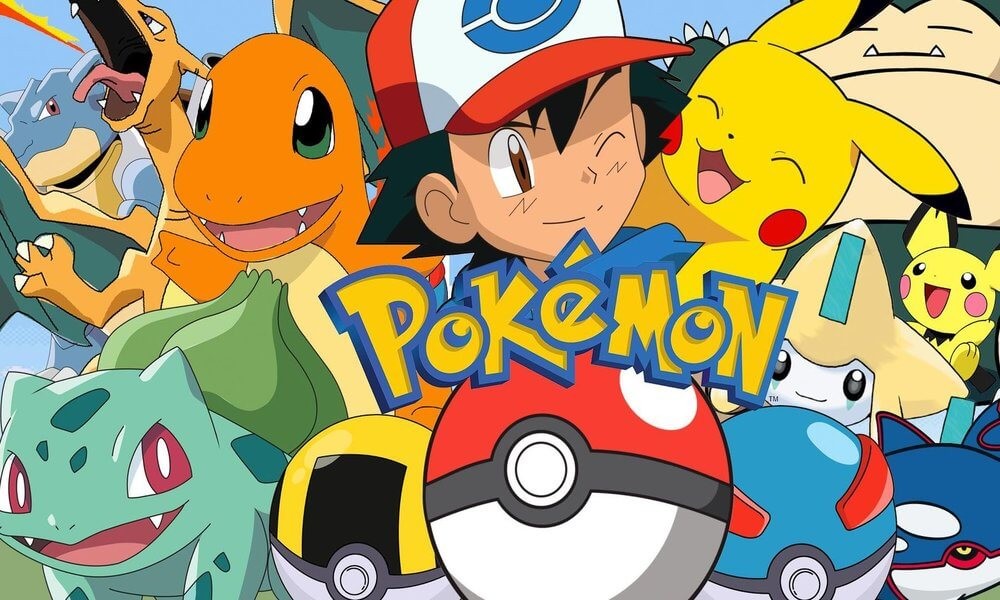 As a 10-year-old kid left his home to be the best Pokémon trainer in the whole world, the television series grew more fun and interesting to watch. On his way to becoming the best Pokémon Trainer, he made many new friends and fought great battles. He saved many Pokémon from being caught by Team Rocket with the help of his friends. So follow Ash and his friends in a series of Pokémon coloring pages or Pokemon coloring sheets.  
Top 40 Pokémon Coloring Pages
Wartortle In War Mode
Wartortle is ready for the enemies in front of him. The canon at his back and hands are ready for actions. The recently evolved Squirtle is ready to check out his new powers. Color him in the shades of blue as he is a water Pokémon.
Meowth In Trouble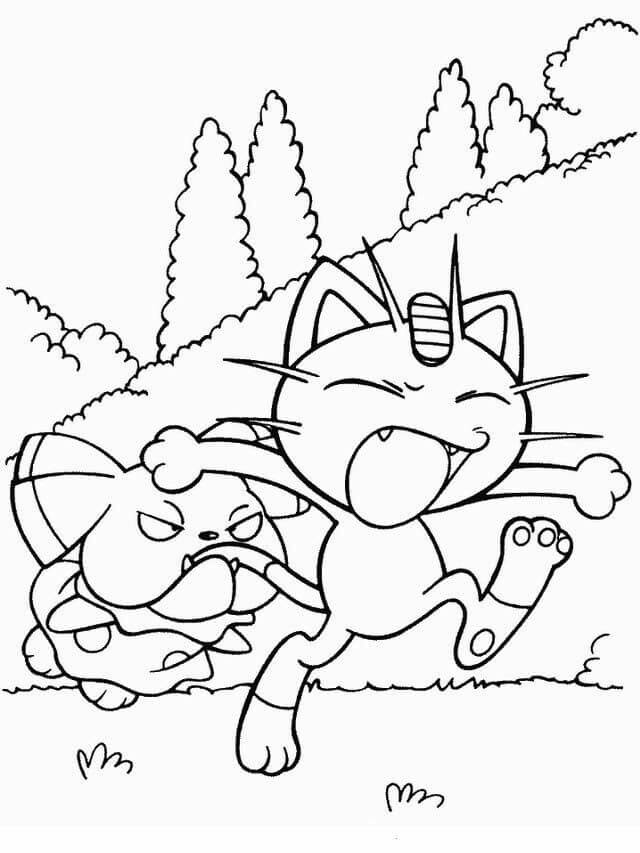 Meowth seems to be in a bit of a problem. The Pokémon was clever and understood the plans by Meowth to steal him for the high commander. And the chase began. Meowth's tail looks red after it's bitten, doesn't it?
to join this conversation on GitHub. Already have an account? Sign in to comment Footer © 2023 GitHub, Inc. Footer navigation Terms Privacy Security Status
The Eternal Friendship of Ash And Pikachu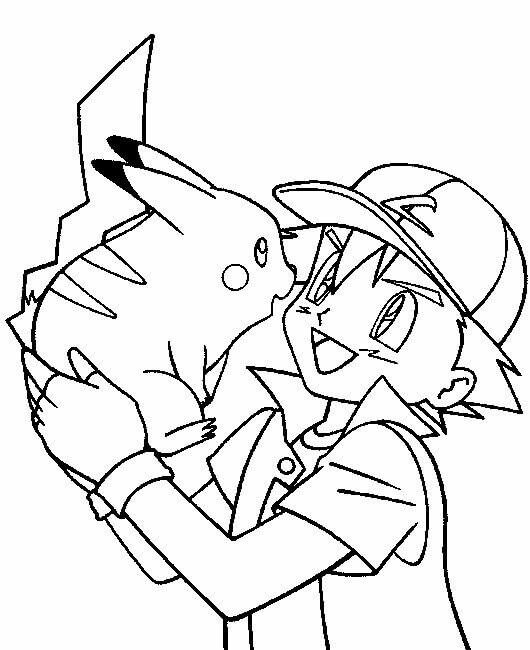 We all know that there are no friends such as Ash and Pikachu. They are most powerful when they are together. Apart from fighting together, they also spend a fun time together. Don't they look pleased together?
The Picnic Day Out For The Pokémon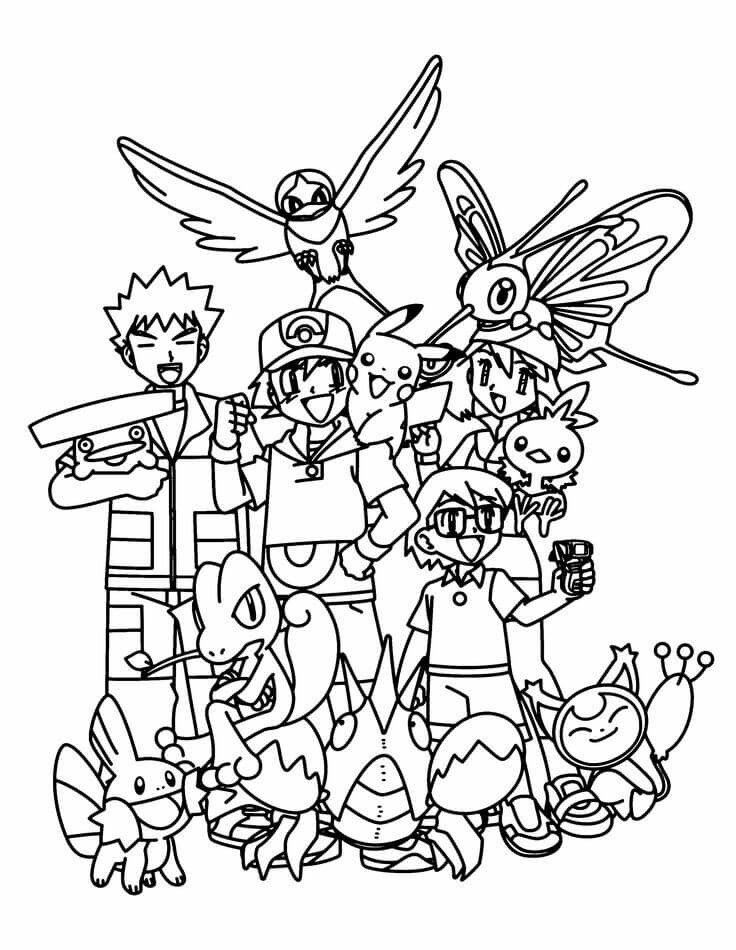 Ash and his friends are out for a picnic on a warm sunny day. They have let their Pokémon out to play games and enjoy the delicious food they brought from the store. A photographer asked Ash whether he wants a picture of the whole group and he said yes. Here is the black and white photograph that you can color and make more interesting.
Surprised Raichu
Raichu has seen something that made him very surprised. Can you guess what it could be? Colour the Pokémon in a beautiful sunny yellow color with red circles on his cheek. Oh, and don't forget to fill his mouth with pink color.
It's Time For The Ultimate Fight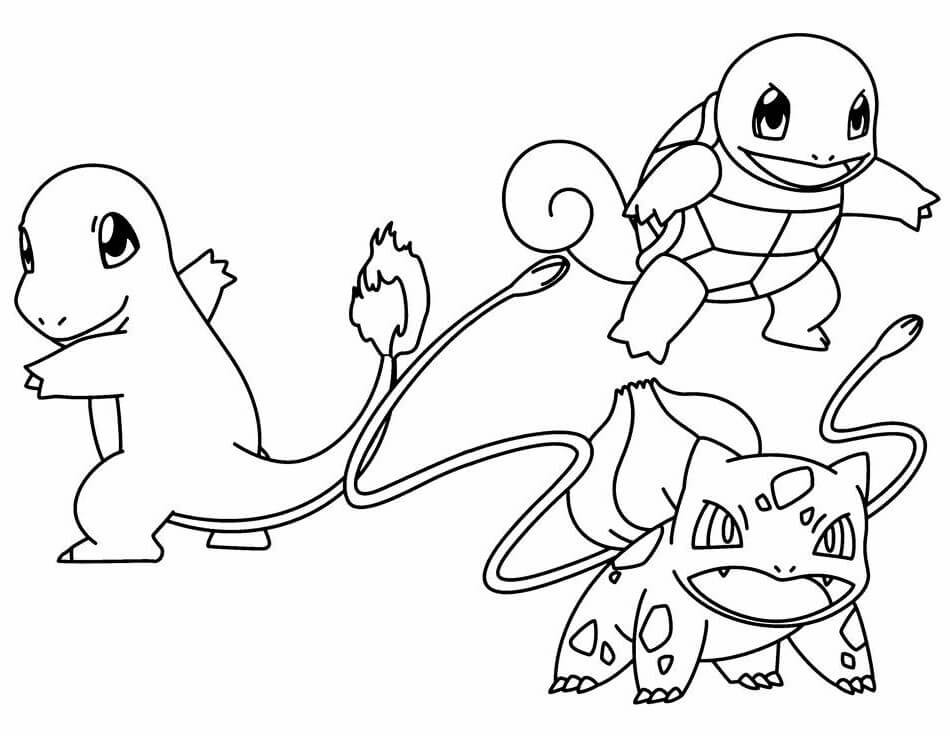 The team of Ash, Bulbasaur, Squirtle, and Charmander is ready for a fight. Look at the wines coming out of the bag at Bulbasaur's greenback. The yellow and orange fire at the end of the tail of Charmander looks amazing. And the blue and green Squirtle will be happier when colored.
Don't Wake Poliwrath up From His Afternoon Nap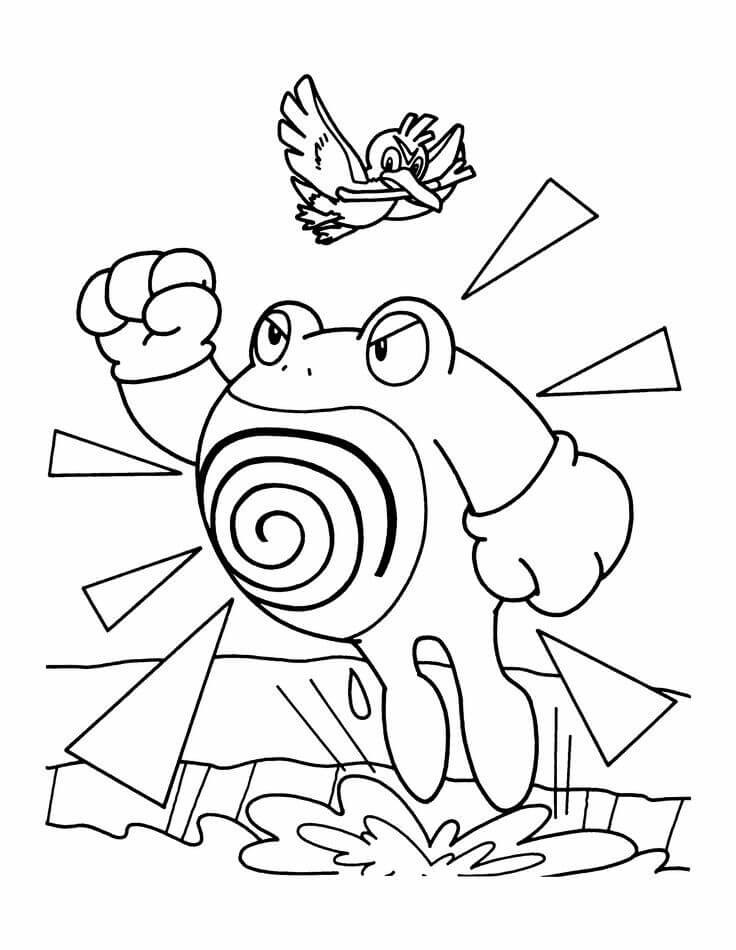 Poliwrath looks very angry. He went to school to study and played games with his friends at school. He completed his homework before he decided to take a small afternoon nap. But his friend came to wake him up and take him to play games.
Ash caught a new Pokémon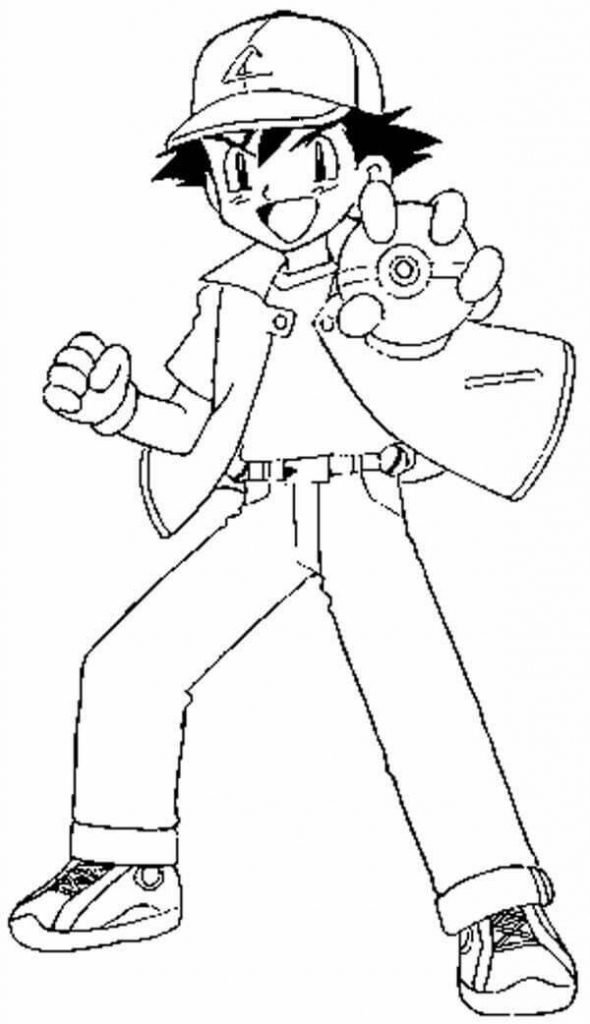 Ash just caught his new Pokémon, and he is pleased with it. He is showing his poke ball to you in which he caught his new Pokémon.
An Afternoon Of Pikachu Pokémon Picnic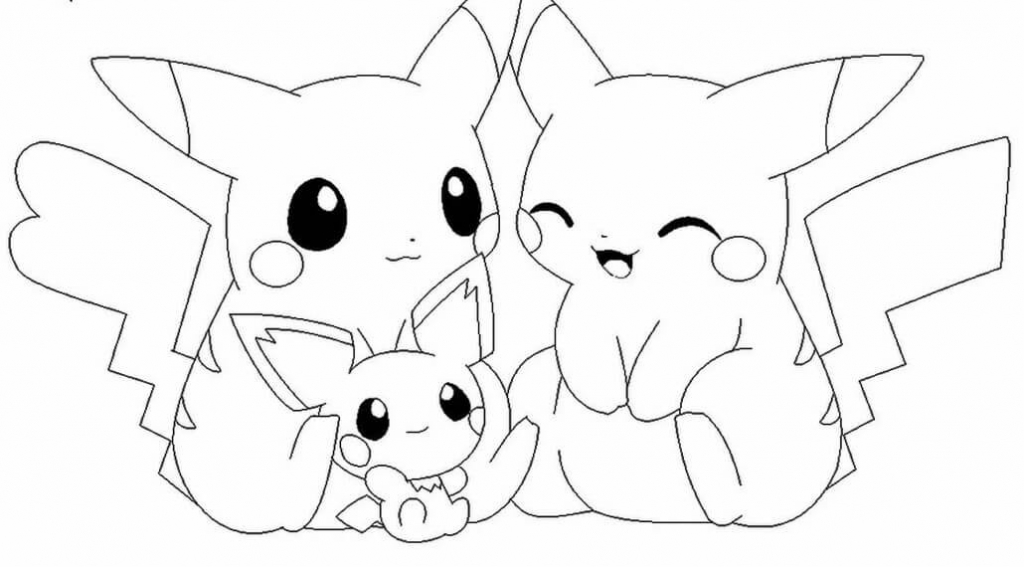 On a very sunny and pleasant Sunday, these two Pikachu with the small Pichu has decided to go out and enjoy the flower garden. With the yellow sun shining at the back and the green grass to sit, they are delighted. Colour the Pikachu in yellow color and their cheeks red and their mouth pink.
A Difficult Beach Trip For Slowbro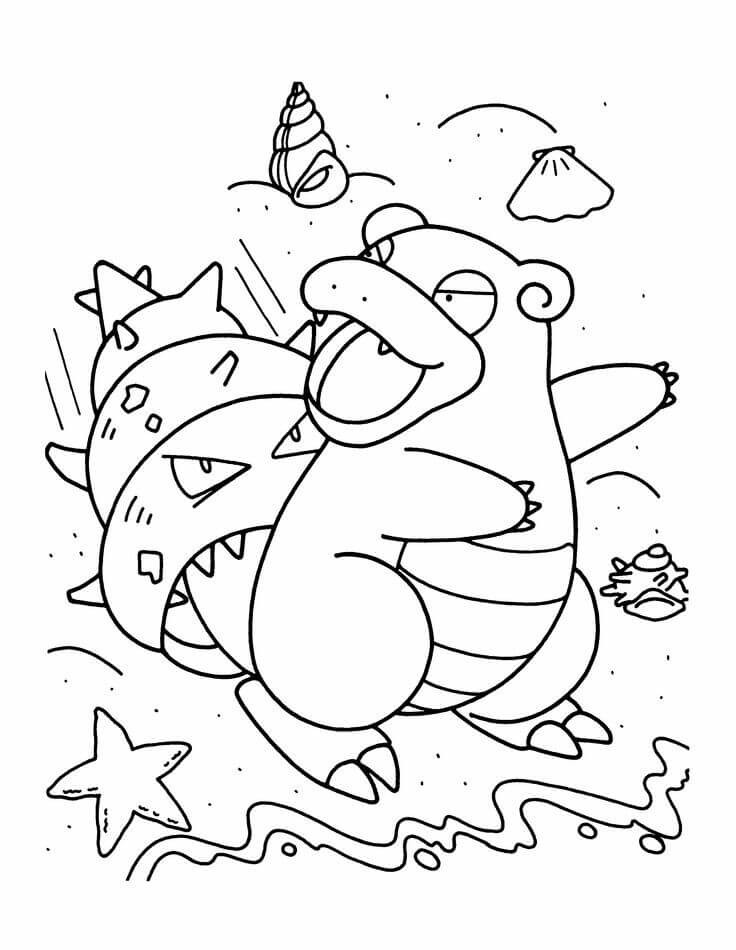 A beach trip for Slowbro this year is arduous. When he evolved from Slowpoke, he got a Shellder attached to its tail. He will not be able to do fishing with his tail anymore. So he will have to swim this year to catch and get a tasty meal this time.
The Pokémon Singing Star
Jigglypuff has always loved singing. She won her Pokémon battles with her music by making her enemies sleepy. Don't you feel already sleepy listening to her songs? With all the lyrics and music surrounding her, she definitely looks like a singing star. The colorful stars and music around her make her look more beautiful.
Pikachu Got A New Friend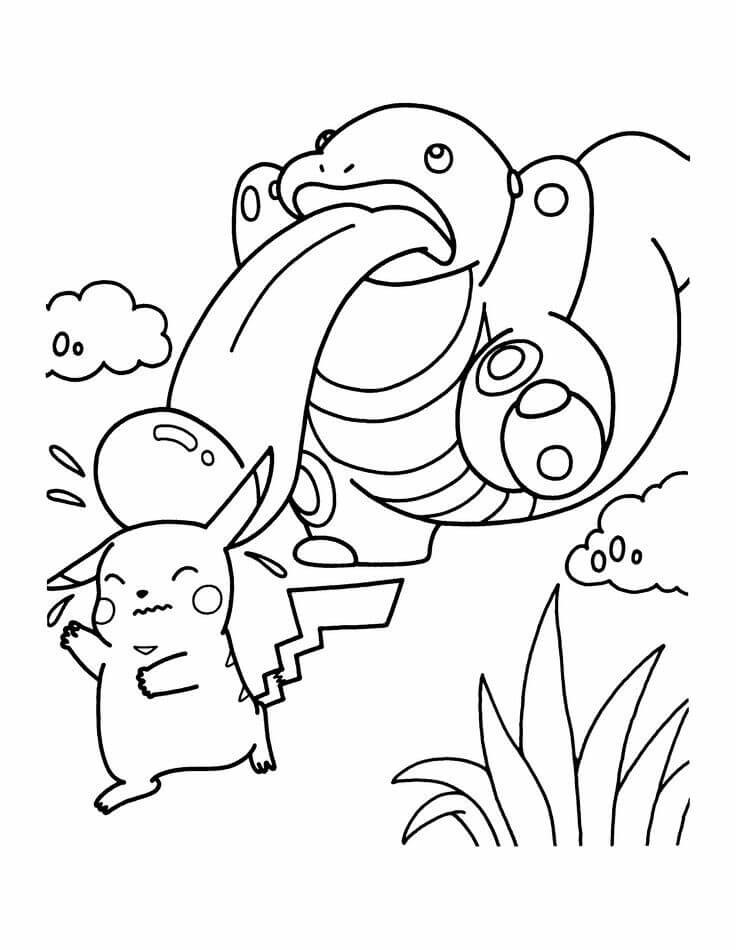 Don't you agree that all of us love Pikachu a lot! Lickitung saw Pikachu for the first time, and he greets new friends with a lick. Whenever he comes across something new, he licks it to understand and memorize the thing better. Color his tongue pink because it's the color for friendship.
It's Time For Pokémon Party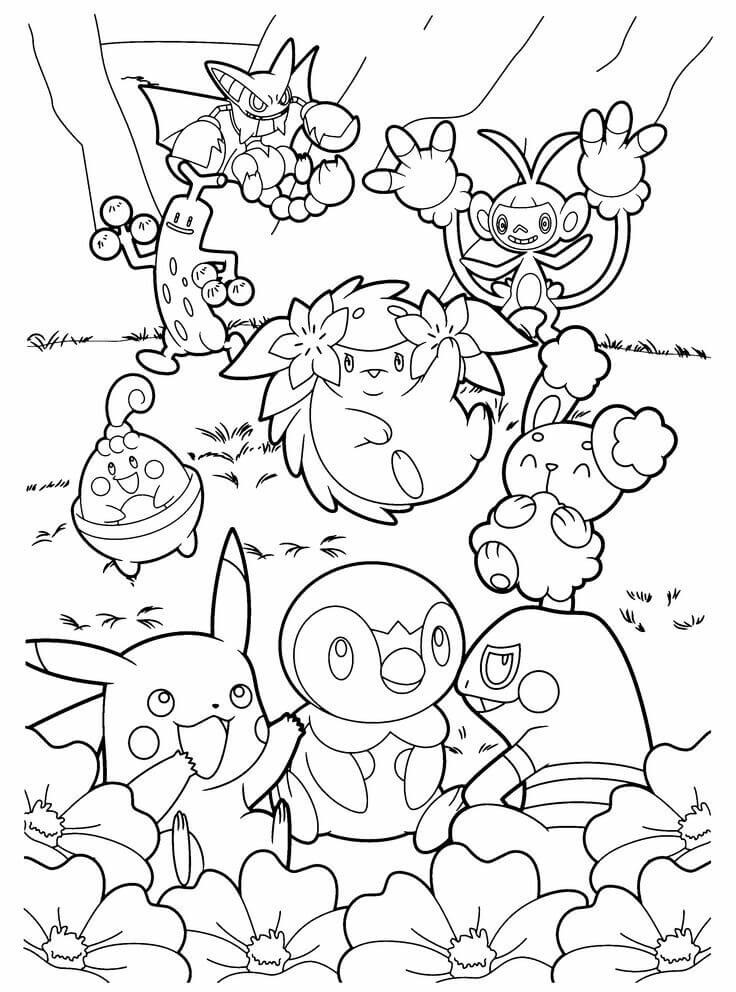 This is the backyard of the Pokémon health center. The doctors and nurses thought that a garden would help the Pokémon heal better and faster. There are many colorful flowers in this garden. There is healthy and very green grass in the garden as well.
It Is Pokémon Playtime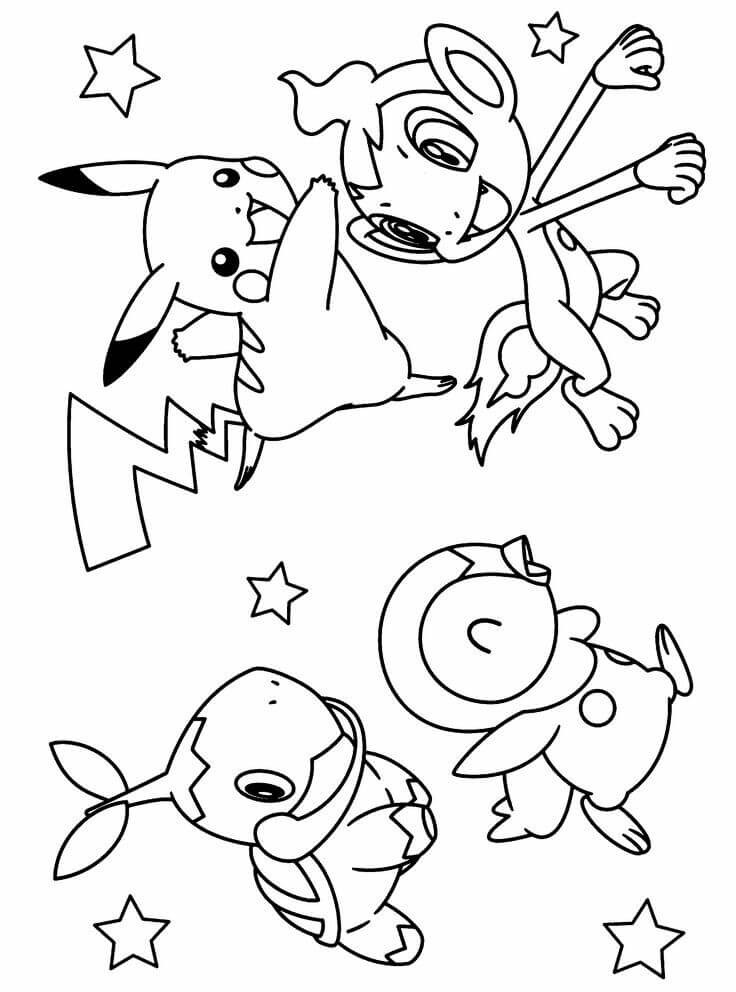 When the sun sets after a long day in school, it is time for games, parks, and friends. Chimchar, Pikachu, Turtwig, and Piplup have done their homework and evening is their playtime. They have decided to play lock and key today.
The Backyard Garden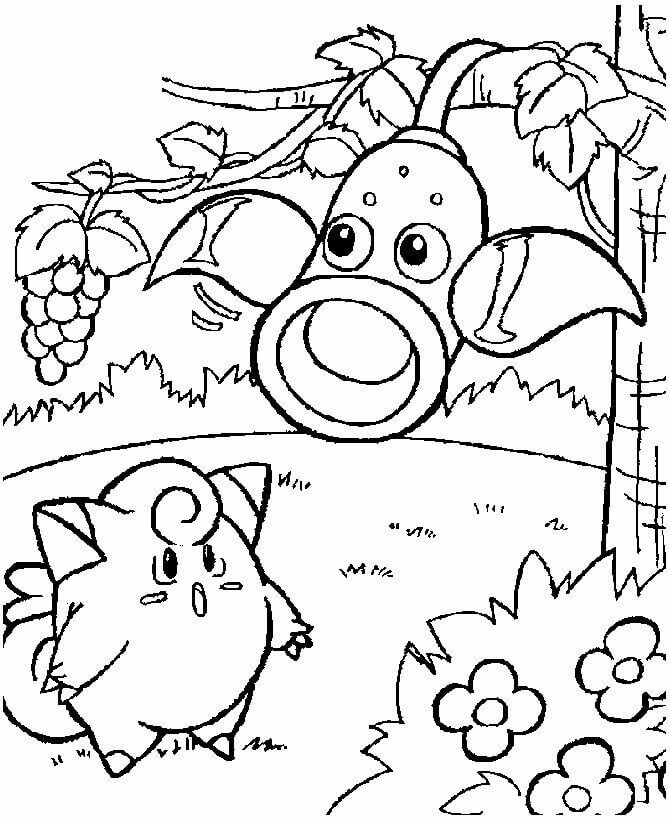 Weepinbell is very hungry. He found fully ripe grapes in grapevine in the garden. He climbed the tree to cut the grapes with his razor-sharp leaves cutters. Clefairy was passing by the same grapevine, and she asked for a few tasty grapes. Weepinbell happily shared a few grapes with his new friend.
Diglett- The Digging Pokémon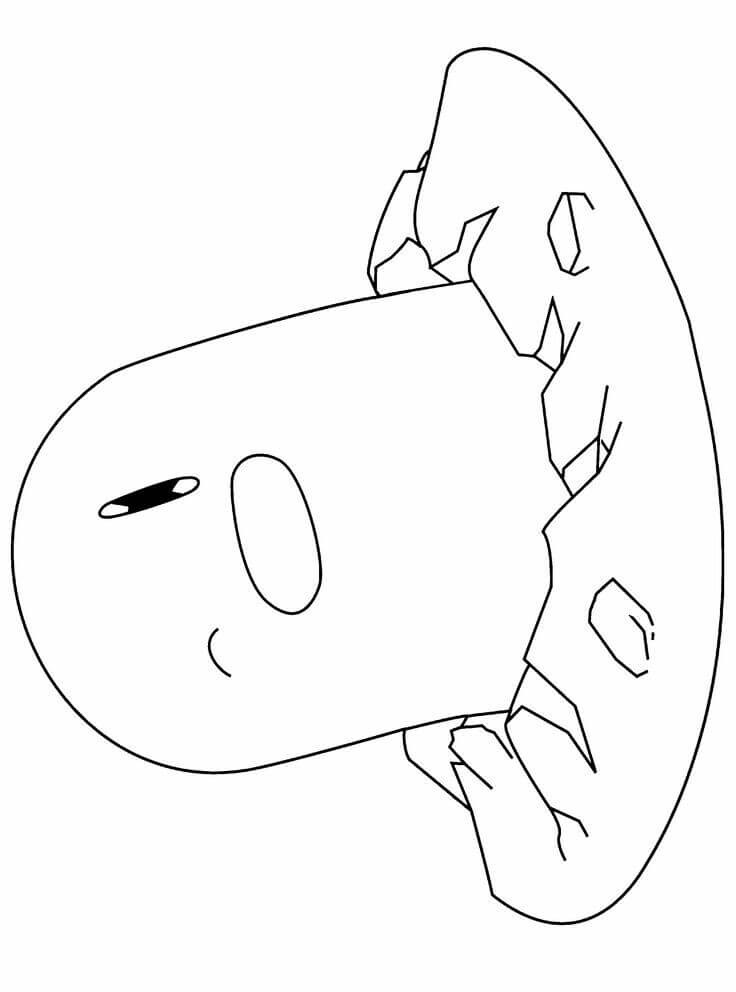 Cute Diglett is a ground Pokémon. He is not scared of living in the dark and makes his home there. He is a good friend of farmers. He helps them by digging the land to sow the seeds. He came up from the underground to say hello to you. Greet him back by coloring him in a beautiful shade of brown.
Pokémon Loves To Ride The Swing In Park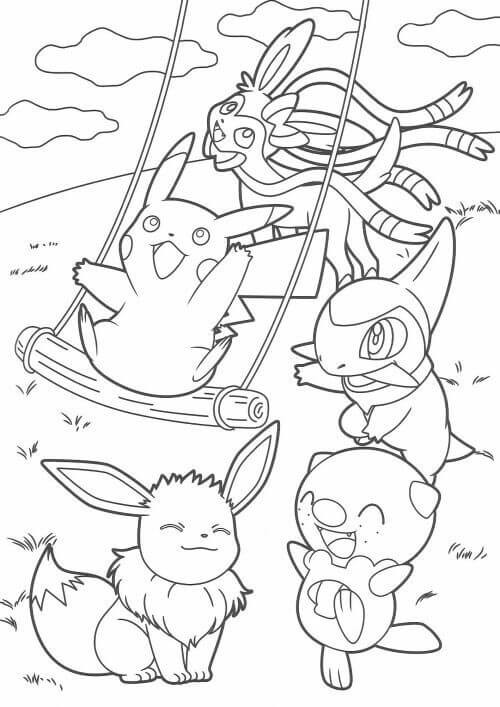 Swinging on a pleasant evening is the best way to enjoy the evening. Mr. Mime, Pikachu, and other Pokémon are taking turns to ride the swing. Its Pikachu's turn and his friends are helping him to go higher.
How To Save Your Pokémon From Gyarados Robot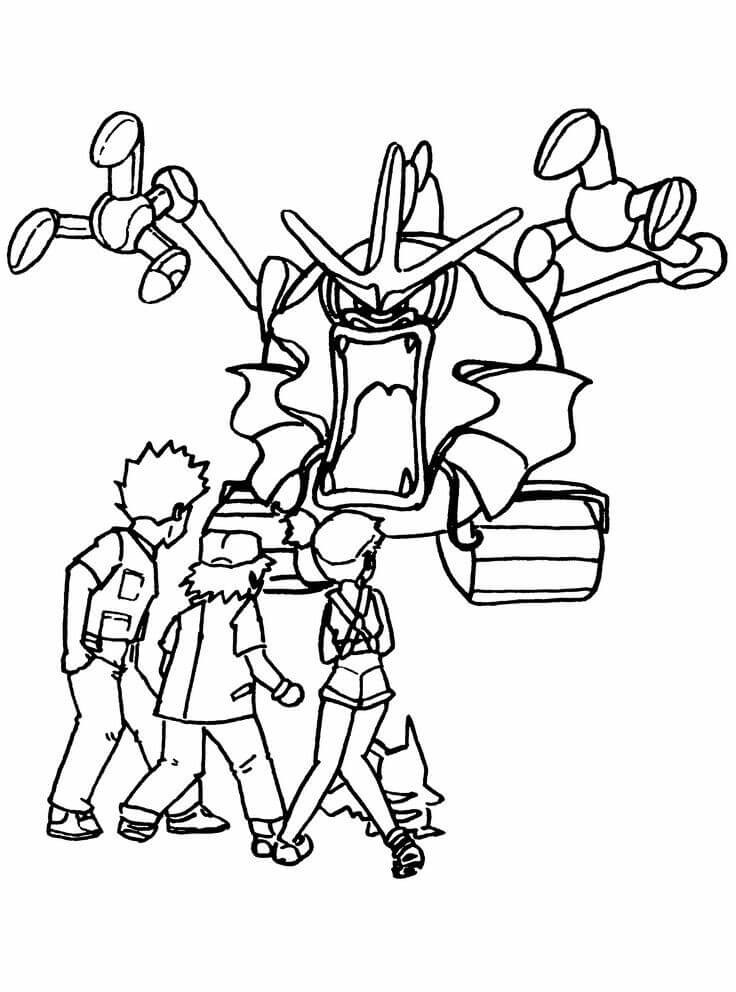 Ash, Brock, Misty, and their Pokémon friends have come across the mighty Gyarados robot. This robot is Team Rocket's new invention to steal all the Pokémon from Ash. It sucks the pokeballs from the trainers and flies off. How will Ash and his team fight back and protect their Pokémon?
A Holiday For The Hard Working Pokémon
Ash Ketchum always believes in letting his Pokémon exercise and play games. He lets them out and let them enjoy the day as they want. This is the day when the Pokémon gets a holiday from training. They eat good food and have fun after weeks of tough training.
Sleeping Pikachu After A Long Day Of Training
Ash is getting ready to win his next championship that is fast approaching. He and all his Pokémon are working very hard for this. They exercise and train all day. They are learning new strategies every day. All this training has left Pikachu very tired and he fell asleep in the training area.
Ash And Pikachu On Their New Adventure
Wherever Ash goes, Pikachu follows. Ash is ready for his next adventure to Tinsel Town. He trained hard with his Pokémon to participate in the world Pokémon championship in the town. But he cannot go without his best friend Pikachu. So both of them have set their sail for this new adventure of their life.
Karaoke Night For The Pokémon Trainers
Today is karaoke night for the trainers and Pokémon who are participating in the World Pokémon Championship. Misty and Pikachu have decided to be partners for the night and win the karaoke night. Aren't they the best singing partners ever?
Brock Is The Best Pokémon Chef Ever
Brock is the best friend and an aspiring doctor from Pewter City. He loves to cook delicious food for the Pokémon. He does experiments with their food to make them more healthy and tasty. All the Pokémon loves snacks and meals cooked by Brock.
How Ash And Pikachu Became Best Friends
Ash and Pikachu weren't very good friends at the start. Pikachu shocked Ash with his electric powers whenever he got a chance. But Ash never gave up on him. They eventually warmed up to each other.
Caterpie And Pikachu Meet For The First Time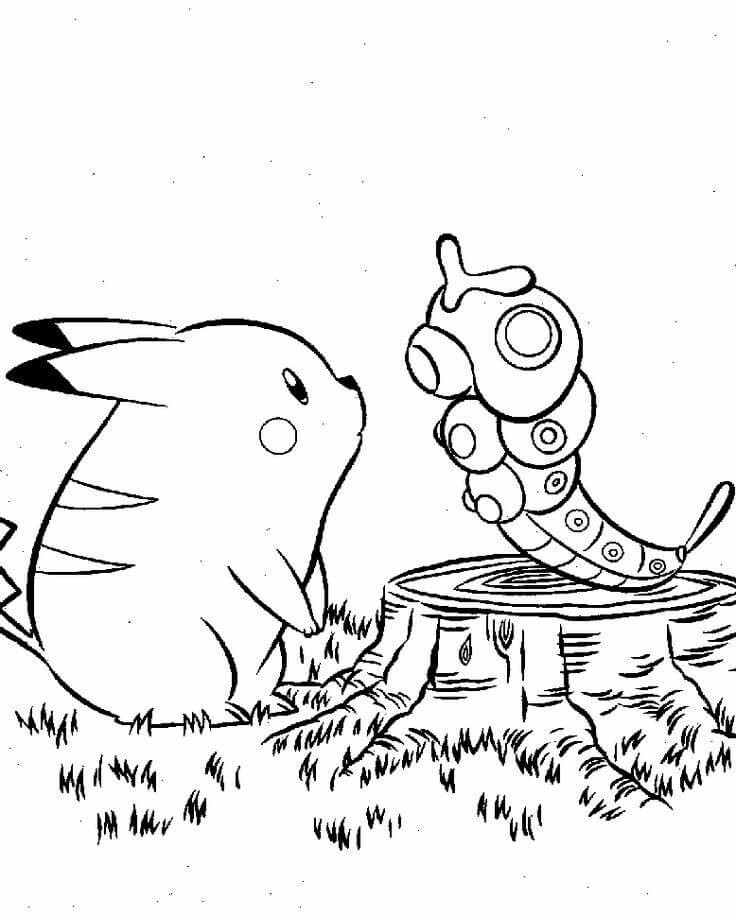 Caterpie and Pikachu met for the first time today. Caterpie ate all the leaves around him because he was very hungry. Pikachu found him sitting on the stump of a tree and he is curious to know what Caterpie is. Caterpie is curious as well and came close to Pikachu to take a better look.
Meowth- The Cat That Walks And Talks Like Humans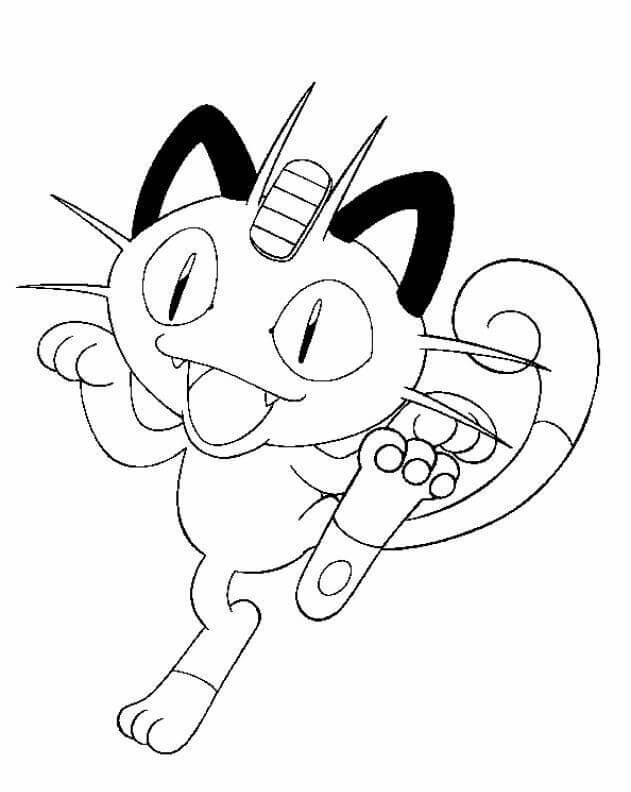 Meowth is a very important member of Team Rocket. He is the only Meowth who can speak the human language and he is very funny. He is different from other Pokémon as he can walk and talk like human beings. He is very mischievous and intelligent.
Bayleef And Ash Have Fun Time Together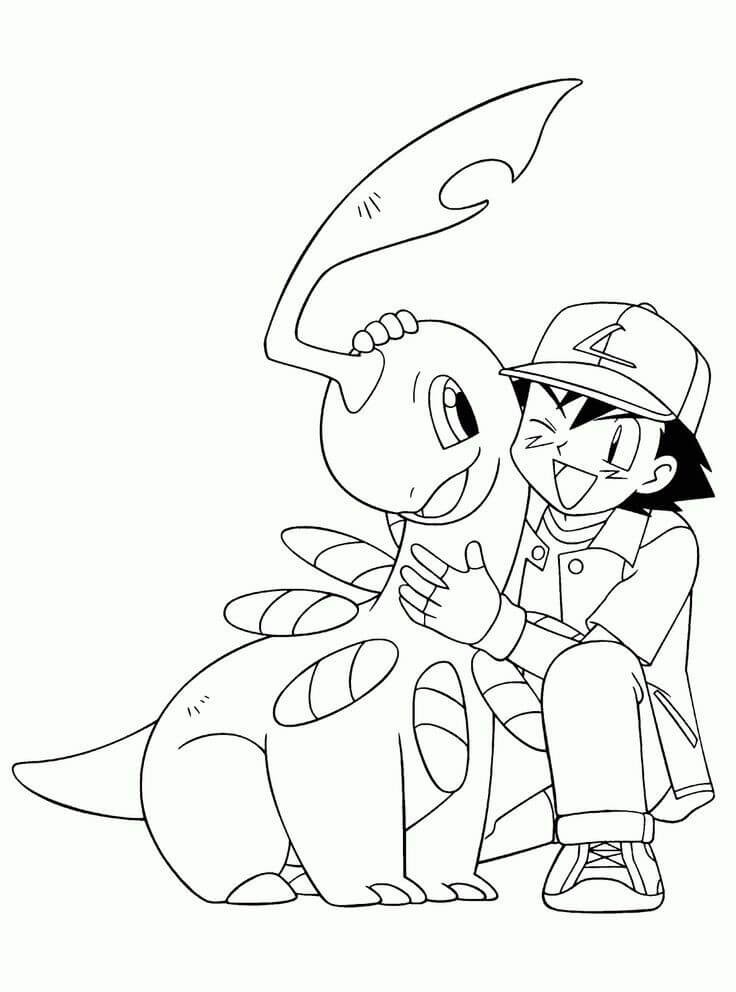 Bayleef is a grass Pokémon. Ash found her when she was just a Chikorita. With Ash's good training, care, and love, Chikorita evolved into Bayleef. They grew up together and love each other a lot. They love to spend time together.
Pikachu, Togepi, And Pichu Participating In World's Cutest Pokémon
There is a competition going on for the World's Cutest Pokémon. Pikachu, Pichu, and Togepi have decided to take part in it. Aren't they the cutest? But when they entered the stadium, the DJ played some awesome music. They forgot about all about the competition and started to dance together. Color them up to make them look the cutest of all.
Snorlax Sleeping Under A Tree
Snorlax can sleep anywhere and anytime. He is an expert when it comes to sleep. Today he ate a very tasty and heavy lunch. He was too full and lazy to get up and go to bed to sleep. So he fell asleep right where he ate- near the trunk of a big shady tree.
Squirtle And Pikachu Are Ready For An Adventurous Day
This morning when Squirtle and Pikachu woke up, they decided to go on an adventure. They have trained all week before. But they want to explore new places as today is their holiday. They went out and found a very beautiful meadow surrounded by green trees. There was a blue river that passed through the meadow. The place was splattered with green grass and colorful flowers.
Butterfree Lost All Of Her Colours In The Rain
Butterfree is a bug Pokémon. She can fly very fast and collects honey to eat. It has a purple body with light blue feet. Her wings are beautiful in grey color and she has red eyes. But she was drenched in rain last night and all of her colors were washed away. She wants you to color her so that she can look like herself again.
Brock Singing Along With His Favourite Band
Brock loves to listen to music. Whenever he is not cooking delicious food for Pokémon or traveling, he loves to listen to music. He loves to sing along the songs but is too shy to sing in front of people. Ash clicked this picture when brock was listening to his favorite band.
Cheering For Misty
Misty is participating in her first Water Pokémon Championship. She is very nervous about her first fight and she made a few mistakes at the start of the match. But Ash, Pikachu, and Charmander are there to cheer her up and motivate her. She is now more confident and is playing to show how strong her Pokémon are.
Ash and Pikachu's winning stance
This is the winning stance of Ash and Pikachu. They just won a fight against a very famous and strong trainer. But they are already ready for the next match. They are very confident and have trained hard for the championship.
The Pokémon Loves To Dance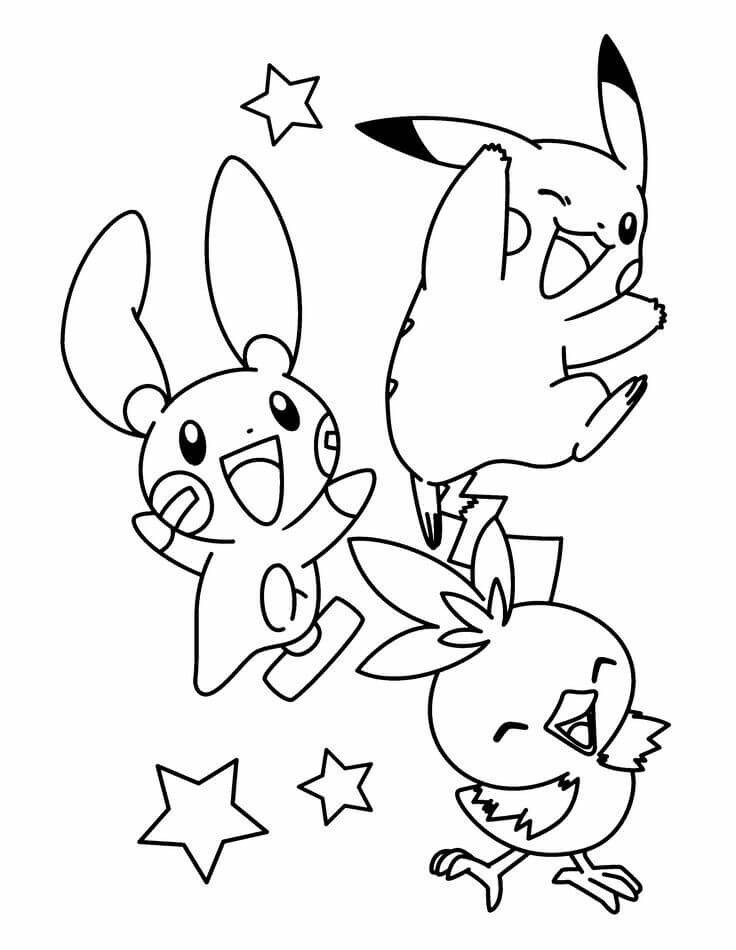 Pikachu, Pichu, and Torchic love to dance. You just have to play the music and they will start to dance. They are having fun while dancing. You can have fun too by coloring them.
Pikachu- The Ninja Pokémon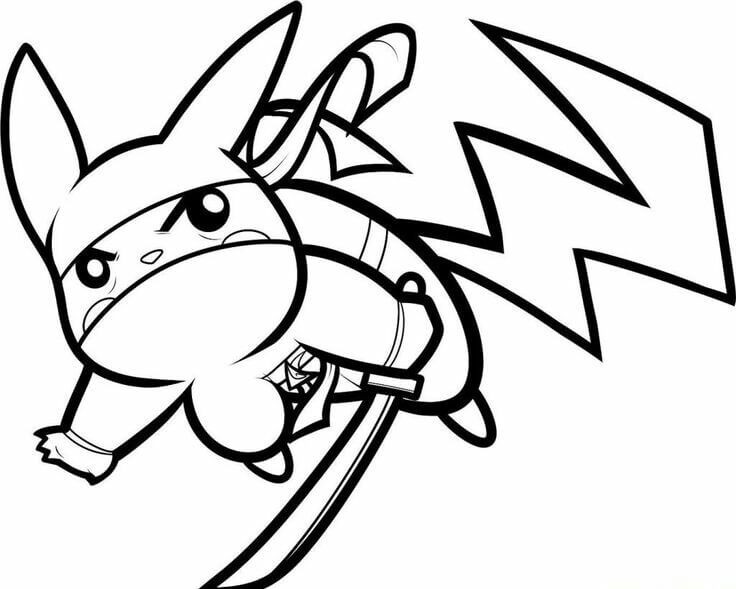 Team Rocket has kidnapped Ash and all of his Pokémon. They have hidden them in an icy cave surrounded by ninja guards. Now, only Pikachu can save them with his secret Ninja skills. He is ready to save Ash and his other Pokémon friends and dressed up as ninja with a sword.
Pikachu And Meowth Lost In A Jungle
Pikachu and Meowth don't like each other because Meowth always tries to steal Pikachu and his other Pokémon friends from Ash. But they are lost in a jungle with Butterfree. They need to work together to get out of the jungle. But they have started a fight right now.
Pikachu And Ash's Friendship Photograph
Pikachu just loves to be clicked with his best friend- Ash. This is another one of their photographs that show how close they are as friends.
Sleepy Snorlax And Pikachu Under A Tree
All of us know that Snorlax loves to sleep. He got very tired when he played for a very long time with Pikachu. Both of them are very tired and decided to take a quick nap before they can play again.
[ Read: Tree Coloring Pages ]
Wobbuffet- A Cute Warrior Pokémon
Wobbuffet warns Jessie by shouting his own name every time whenever there is some problem. He is also a very good fighter but he takes his time to understand things. He is a psychic Pokémon.
[ Read: Anime Coloring Pages ]
This was our compilation of Pokémon coloring pages for you! We hope you guys liked it. If you do, then don't forget to print and color our Pokémon coloring sheets! For more amazing coloring pages, keep yourself hooked with us.