Being a princess someday is every girl child's dream! Baby girls are always fascinated by them as well as their royalty. It isn't only about beauty and royalty, but also about fighting for justice, truthfulness, self- esteem and many such good moral values which embark in our children's growing mind! Today we present a compilation of top 40 printable princess coloring pages for your child. Let's get your child into this enchanting magical world full of glitter and shine. Little munchkins would be mesmerized by our collection while coloring these beautiful princess coloring sheets and rave about it all way along!
Top 40 Printable Princess Coloring Pages
Alice:
Alice is the protagonist of the movie 'Alice In Wonderland' which was released in the year 1951 as well as it upcoming sequels released later in the 2000's. As depicted in the books Alice was about 12 years old living in the Victorian era of late 1800, she was smart, pretty, well mannered, highly imaginative, but indolent! She had beyond the world imagination, which made her venture in an imaginary world known as Wonderland.
Anna: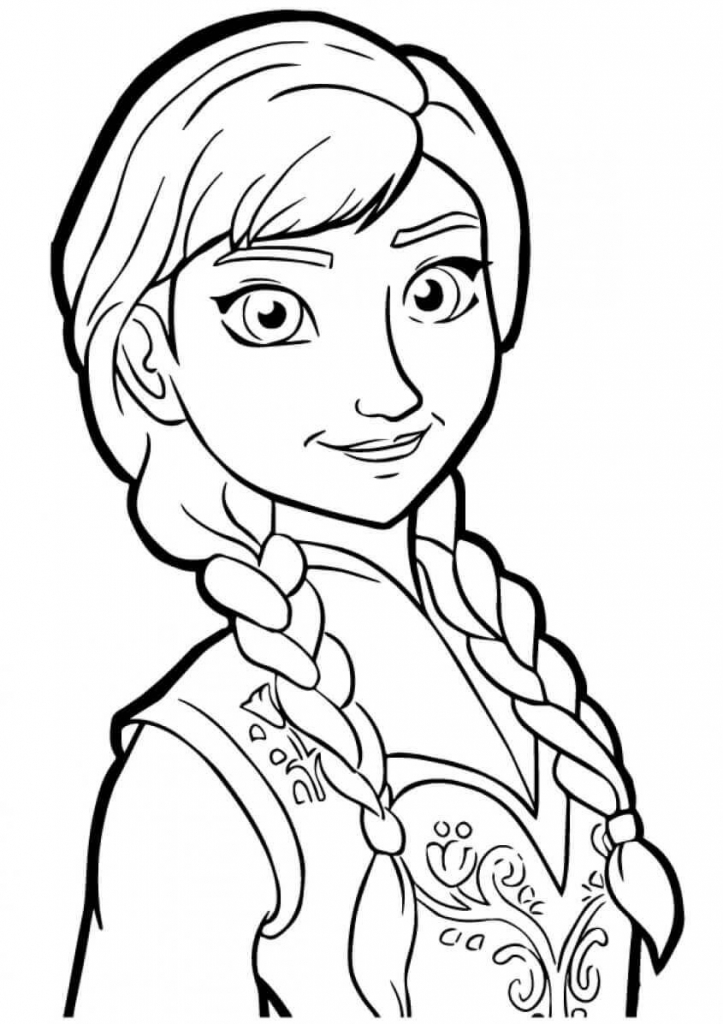 Princess Anna is one of the protagonists of the movie 'Frozen'. She is the younger daughter of former monarchs Iduana and Agnarr. A risk-taker, impulsive and brave Anna ventures out on a rescue mission to save Arendelle kingdom from an eternal winter. In this process, she reunites with Elsa her loving sister, whom she had lost in an unfortunate incident in childhood.
to join this conversation on GitHub. Already have an account? Sign in to comment Footer © 2023 GitHub, Inc. Footer navigation Terms Privacy Security Status
[ Read: Frozen Coloring Pages ]
Aurora:
Who doesn't know the classic Sleeping Beauty Princess Aurora? She is better known as Sleeping Beauty and is one of the classic Disney princesses. Her story depicts that there is always a path to come out from tragic situations with true love, modesty, honesty, and most importantly piousness of the heart and soul.
Barbie And The Unicorn:
Princess Annika is the main protagonist of the movie 'Barbie and the magic of Pegasus'. Anikka, who is the over sheltered and over-protected princess, sneaks out of her castle to explore the ice rink festival. Her keenness in exploring the outside world creates many chaotic and problematic situations that are faced bravely by Barbie and the Pegasus!
[ Read: Barbie Coloring Pages ]
Belle:
Who wouldn't fall for the Beauty, Belle from 'Beauty and the Beast'? The unparalleled beauty as mentioned by some of the villagers is undoubtedly the bare truth! There is hardly anyone who admires her beyond her beauty. She is someone who wants to be known for more than her looks, physical appearance. She wants to be known for her intelligence, her integrity, her soul, knowledge. She is definitely someone who finds solace in being your own self rather than adjusting to the needs of the outside world. 
[ Read: Belle Coloring Pages ]
Merida:
Merida is the main protagonist of the movie 'Brave'. Merida's braveness is so commendable that it's reflected in the title of the film! She is indeed one brave, willful, bold girl! She even has a softer side to her when it comes to her family and loved ones. She is not the stereotyped princess, but the out-going, carefree, unruly girl! She masters at archery and horse riding as well. In the course of the film, she comes out as a more mature personality with the same high spirit in life!
The Best In One: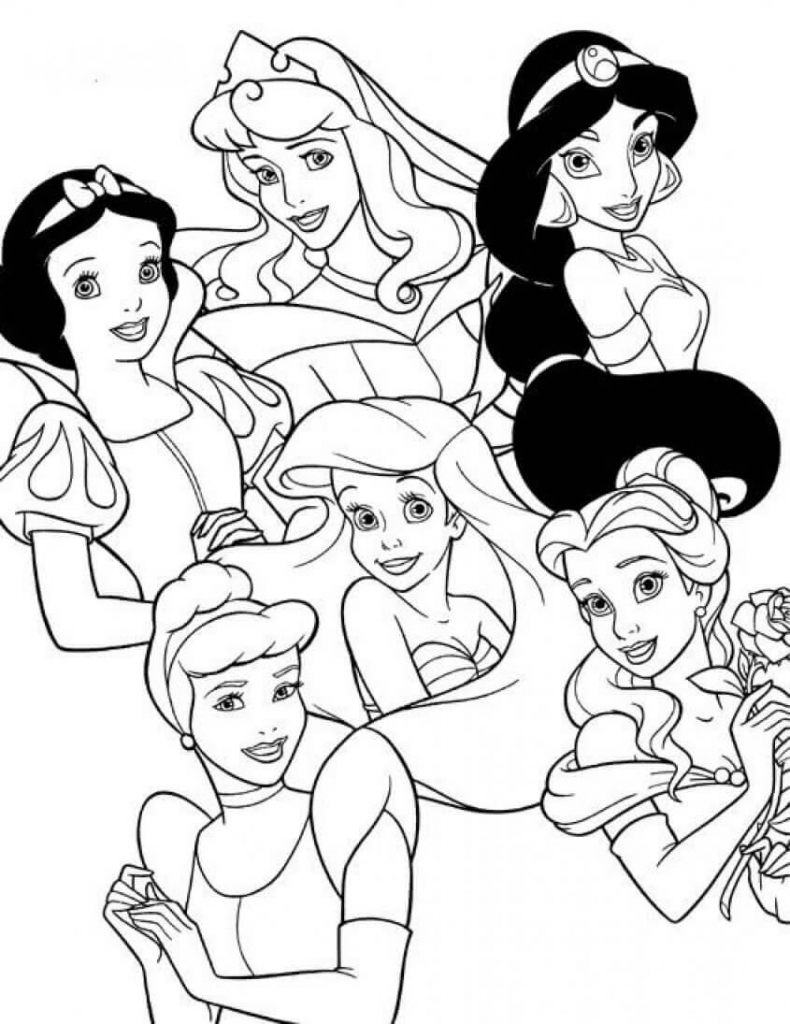 Here we present a coloring page for your child with many Disney princesses in it. Let's see how many of them do the little munchkins out there identify! Hit on your coloring boxes and identify these princesses while coloring!
[ Read: Disney Coloring Pages ]
Charlotte La Bouff: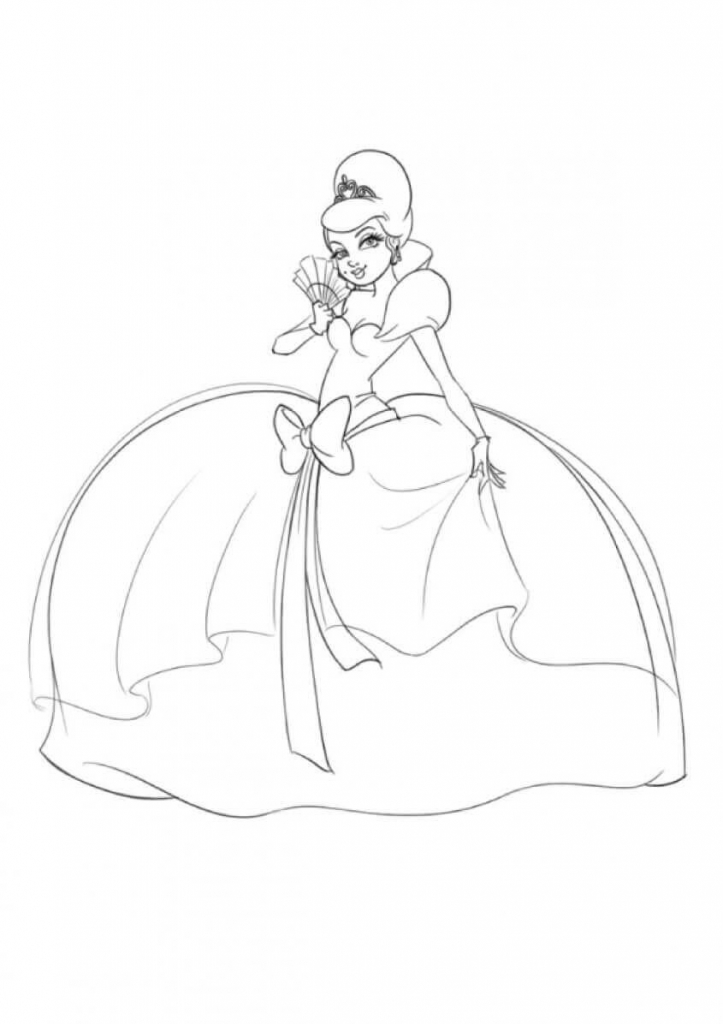 Charlotte La Bouff was the child of Big Daddy La Bouff. Her father chose the best seamstress in town, Eudora for his daughter's love for beautiful princess dresses. Eudora had a daughter named Tiana who was Charlotte's best friend in spite of the socio-economic difference between them. She was a bit tantrum thrower, but it could be ignored by her selfless heart and true friendship towards Tiana. She always wanted to live a princess's life and was dying to marry Prince Naveen!
Cinderella: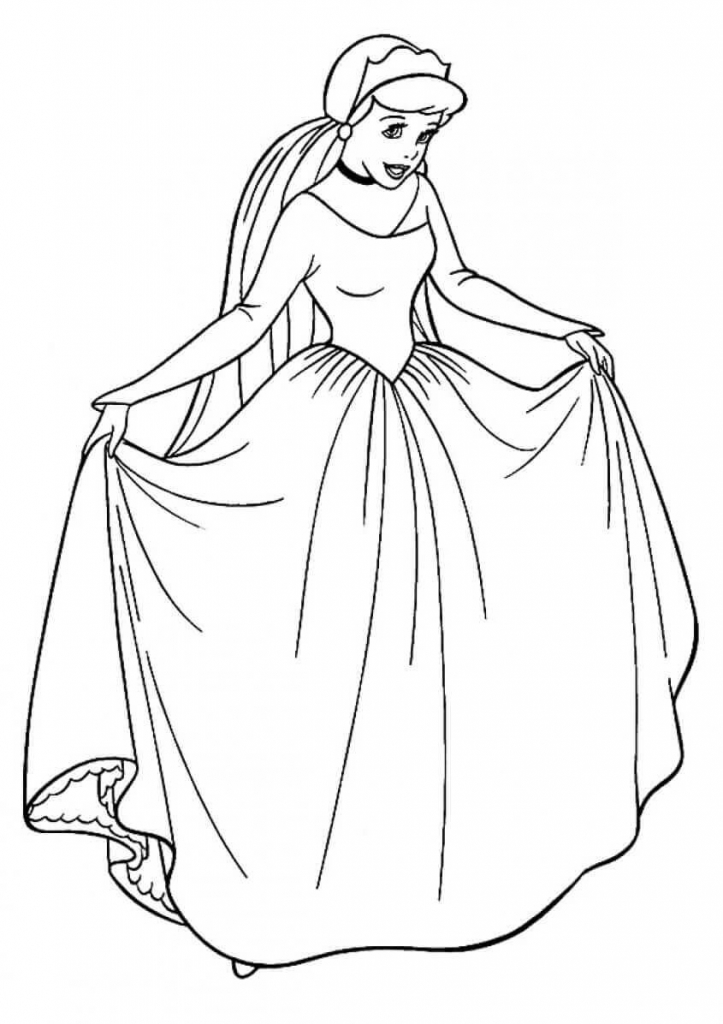 Here's a coloring page of Cinderella, the ultimate Disney princess. She is the true epitome of beauty, elegance, charm, and a strong-willed person. Despite her step-mother's harsh and rude behavior towards her, she is still kind, gentle, and humble to everyone around. Her patience finally passes all the time tests, and she gets to live the life of a princess which she truly deserves!
Princess Barbie:
Here is the coloring page of our favorite princess Barbie! Here we see Barbie with her pet cat, who looks adorably cute! We are sure the cat lover children would surely be in love with this coloring page!
Eilonwy:
Elionwy is one of the characters of the 1985 film 'The Black Cauldron'. She is a young adventurous girl. Her character is often stated as the 'Forgotten Disney Princess' by fans nowadays as she wasn't included in the official Disney Princess lineup. One can rather conclude that Elionwy isn't remembered for the film she was featured in, but for her sporty, unpredictable, and strong-willed personality.
Elsa:
Elsa is one of the protagonists of the movie 'Frozen' and the elder sister of Princess Anna. There was an age difference of three between the two, and they grew out to be each other's best friends until one unfortunate incident occurred in their lives. Elsa was blessed with magical powers to control ice and snow which went uncontrollable one night, and it proved to be one of the fateful nights which separated the sisters far away from each other!
Esmeralda:
Esmeralda is the Spanish and Portuguese name for emerald. Esmeralda had those perfect emerald color eyes, which were believed to be possessed by someone who does magic, evil, or witchcraft. She belonged to the Romani community and fiercely expressed her views against the tyrannical ruler Frollo. She is smart, cunning, outwit others and never ever falls prey to anyone's suppression even at the moment of death! On the other side, she is caring, affectionate and knows to see a person beyond his/her appearance.
Fiona: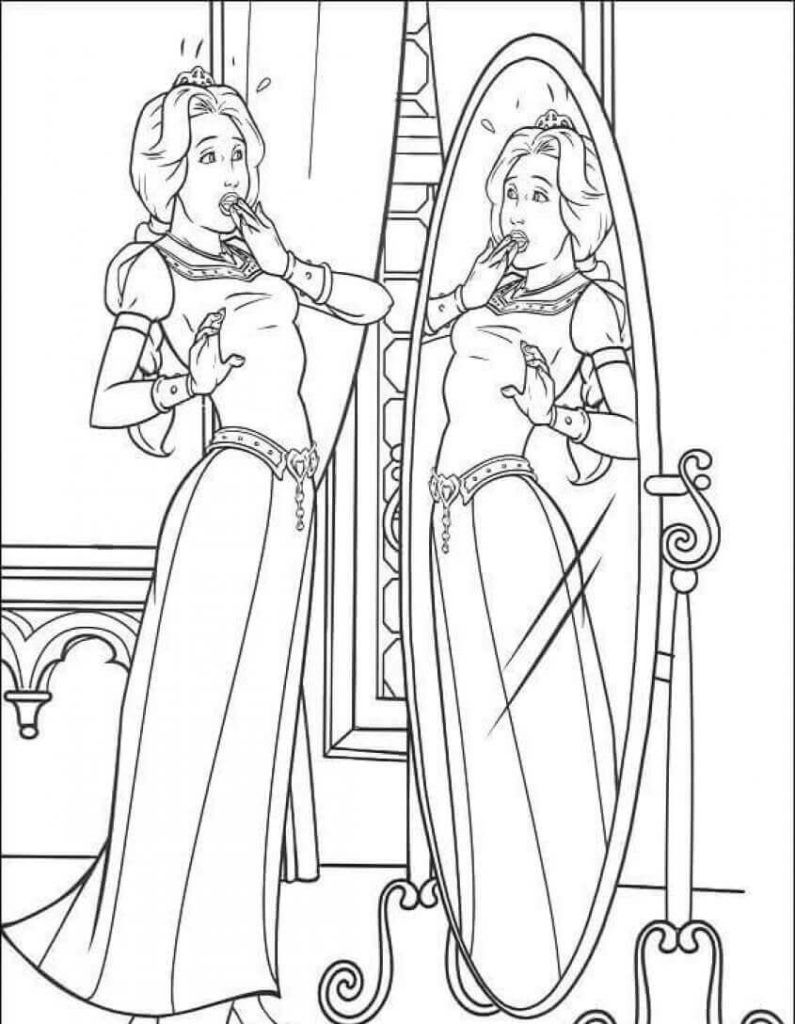 Princess Fiona is one of the principal characters of the 'Shrek' franchise. Fiona was cursed from birth that she would appear in the human form between sunrise and sunset and appear to be an ogre in the twilight. Since the curse was cast upon Fiona, she was kept hidden in a castle and was guarded by a dragon. It was believed that once a true love prince charming would kiss her and rescue her out of the curse. During the course of the film, contradictory events occur, and instead of Prince charming, she falls in love with Shrek.
Giselle:
Giselle is a stereotypical princess from the American fantasy film 'Enchanted'. She lives in a magical, joyous word of 'Andalasia' where everything is believed to be 'Happily ever after'. When Giselle was going to get married to Prince Edward, she was cunningly transported to earth where 'No one lives happily ever after' which is proved  The story depicts her survival through the toughest times and her adaptation to the new world.
Jane Porter:
Jane Porter is one of the characters of the movie 'Tarzan'. She is an animal researcher and daughter of a wildlife scientist. She belongs to British heritage and is quite well mannered in her behavior. She was reluctant earlier to climb on trees and swing on vines, but later on, we get to see her growing fondness for the jungle as well as Tarzan.
Jasmine: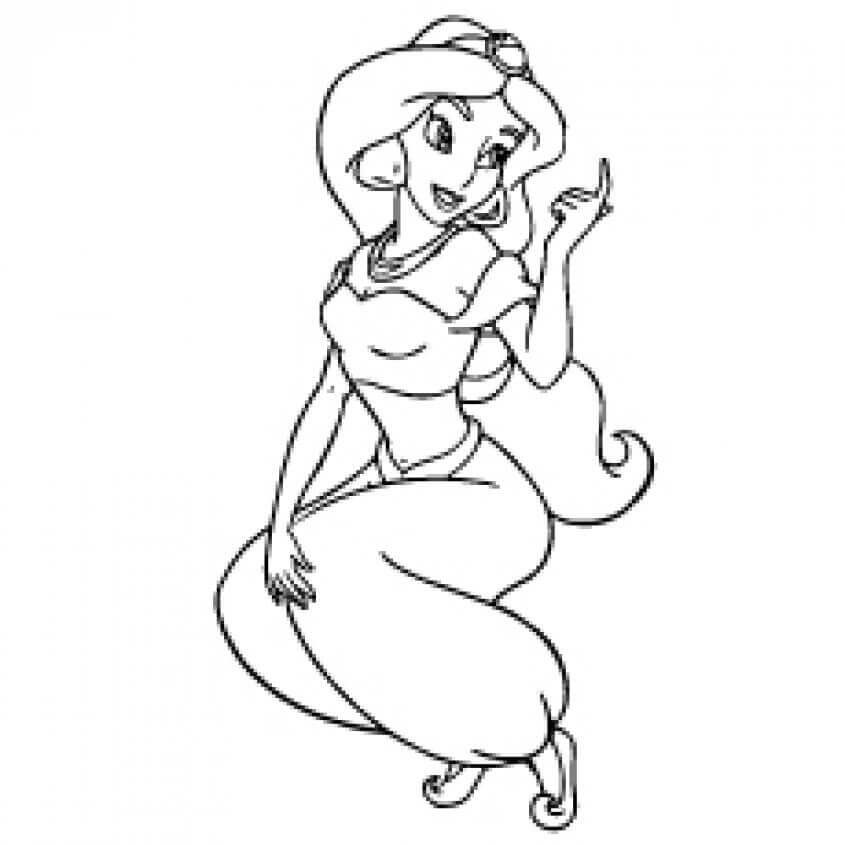 Jasmine is the daughter of the Sultan and princess of Agrabah. She wants to live her life free,  but is confined to the four walls of her palace. She is very close to her pet Rajah, a tiger whom she thinks is been sent by her deceased mother as a gift. Rajah is her protector and confidante. It's Aladdin who makes all her wishes come true by making her sneak out of the palace.
Ariel: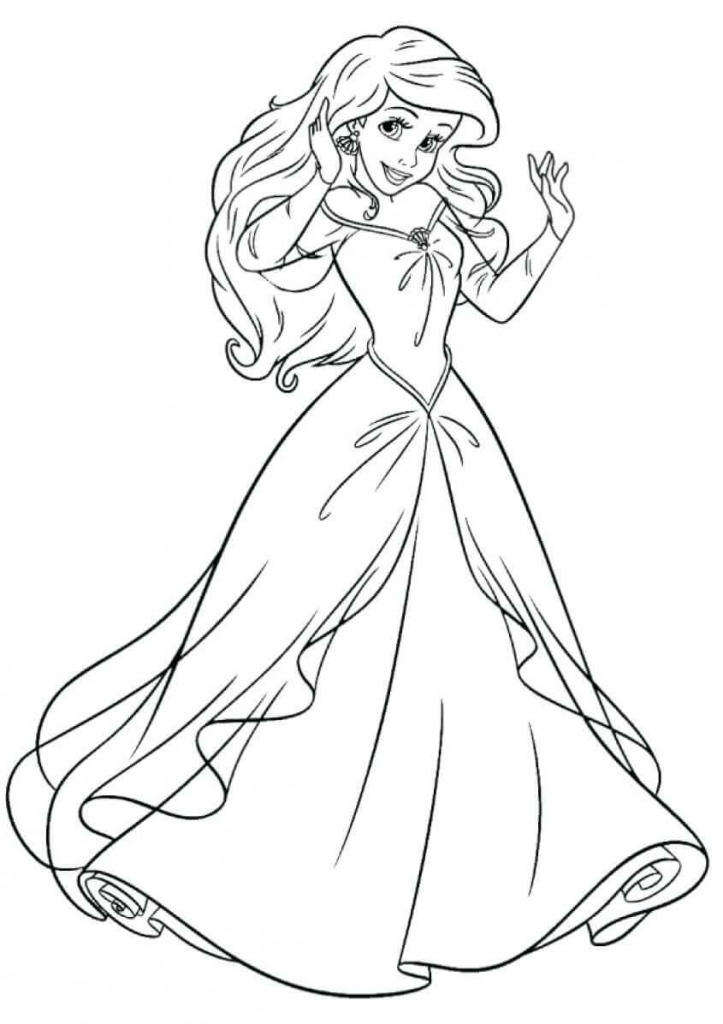 Ariel is the youngest mermaid princess of underwater kingdom Atlantica from the movie "The Little Mermaid". Her father, King Triton, had an everlasting hatred for humans. However, Ariel, unlike her father, was fascinated by human beings. It was only until she met a human Prince Eric that she decided on becoming a complete human. For her desire to be a human she traded her voice to a witch named Ursula in exchange for human legs. This tradeoff between the evil witch, Ursula, and princess Ariel turned the tables, and her story takes an interesting yet perfect end.
Kawaii Princess: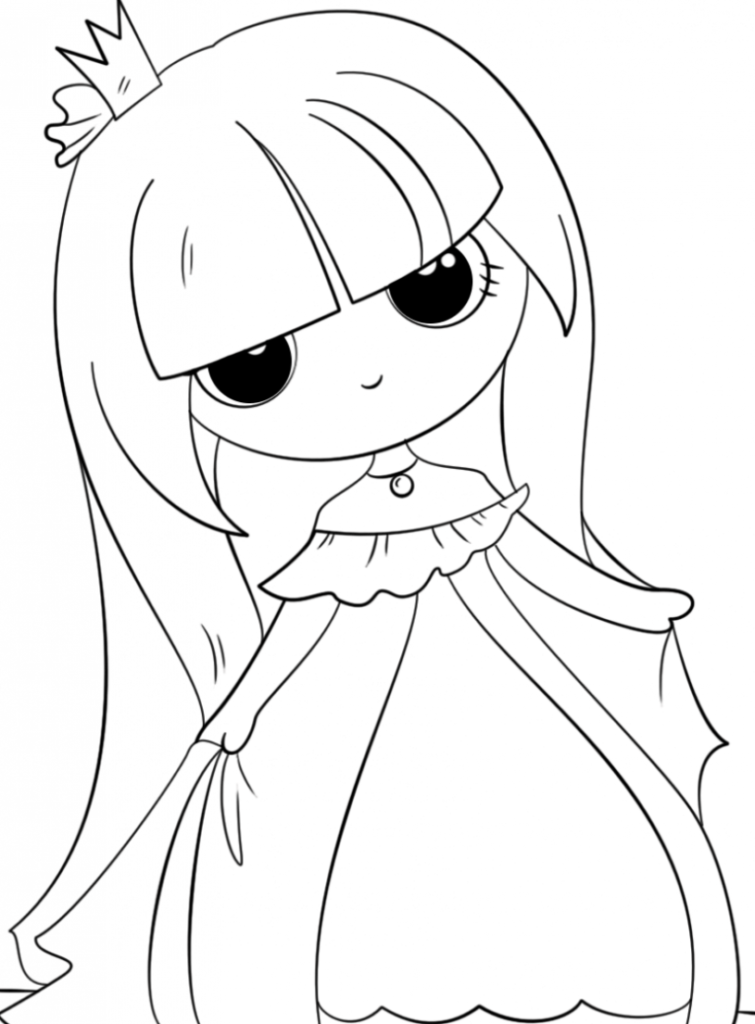 Here is a picture of a charming Kawaii princess with big beautiful eyes! Her height is just adorably cute. Your child would be mesmerized by this beautiful coloring page of the Kawaii princess.
Megara:
Megara is one of the characters of the 1997 Disney animated film Hercules. She is a heartbroken girl, yet strong and brave. She has a sarcastic attitude while dealing with people sometimes. Even after many heartbreaks and betrayal she falls for Hercules and wishes to stay loyal to him rather than putting him into trouble by expressing her love for him!
Mulan: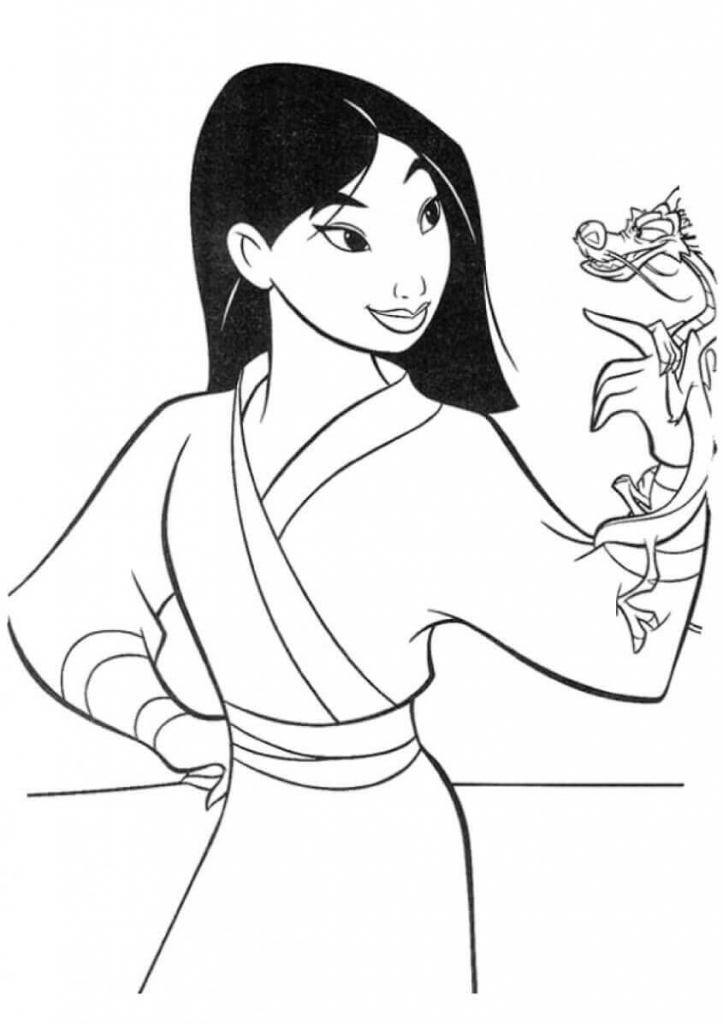 Fa Mulan is the main protagonist of the Disney animated feature film 'Mulan'. Her character was created for inculcating gender equality among children through media such as films. Mulan disguised herself as a man while fighting for the nation and ended up becoming a hero instead of getting caught! On the other side, her complete care for her family is seen especially for her old injured father.
[ Read: Mulan Coloring Pages ]
Pocahontas: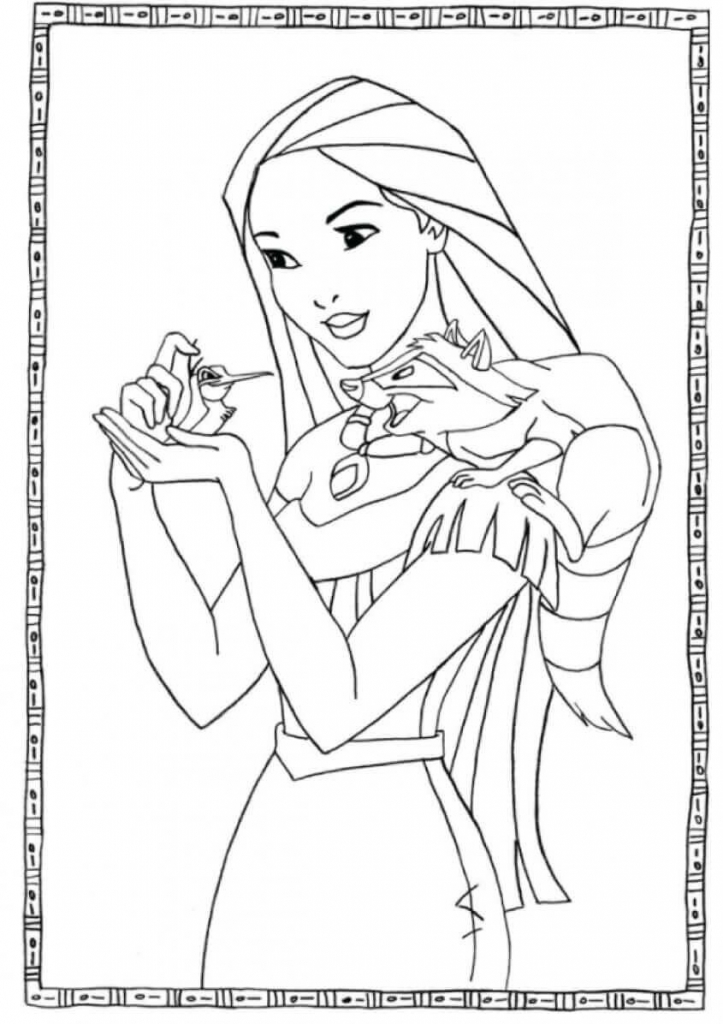 Pocahontas is a Disney princess who is based on a real historical figure rather than being virtual and confined to fairy tales such as other Disney princesses. She is the main protagonist of the animated movie 'Pocahontas' as well as its sequel 'Pocahontas II'. Her roots lie in Virginia, and she belongs to the Indian tribe of Powhatan. It is believed that Pocahontas has inherited her deceased mother's genes as well as qualities of living free spiritedly and in harmony with the people around her. Unlike her tribe members, she never had a fanatical hatred towards the white people living around instead she developed a romantic relationship with one of them. Later on, she was also sent to England to represent the people of her tribe.
Princess And Her Castle: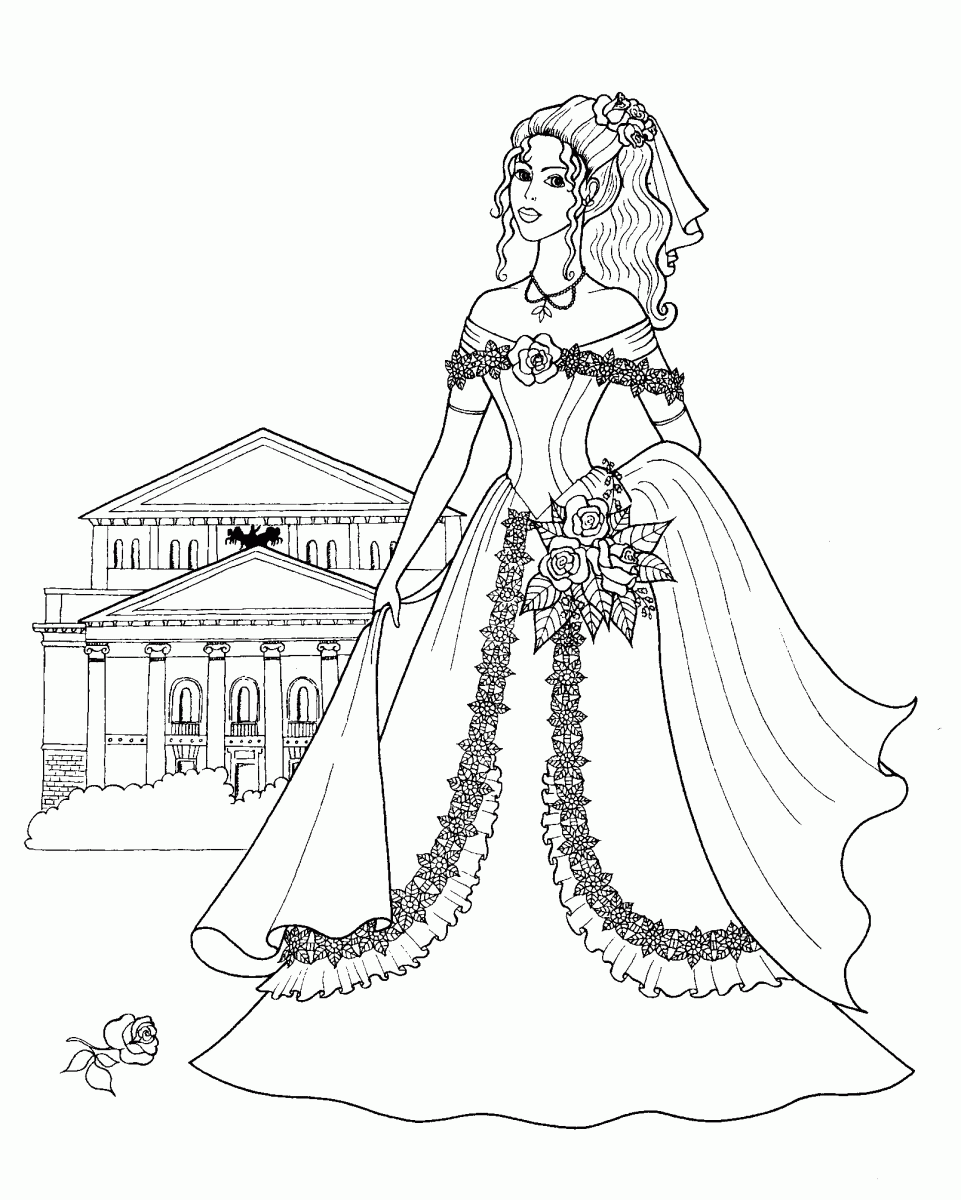 We all know how relative of each other do princesses and castle sound! A story of an archetypal princess would be just incomplete without a castle. Most of the tales begin with the description and beauty of the massive castles the princesses live in. The coloring page above is a perfect frame depicting the same!
Princess Peach:
Princess Peach is one of the characters of the Super Mario franchise. She is the leader of the Mushroom Kingdom and the best friend of Princess Daisy. She loves the color pink the most and is often seen wearing pink-colored dresses. Peach is always seen in trouble by the alien invaders in most of the Super Mario games and is saved by Mario with whom she also shares a romantic relationship!
Princess And The Pea:
Princess and the pea is a classic children's bedtime tale. The princess in this tale is tested for her royalty with piles of mattresses under her, and a pea kept hidden at the very end of the stack of the mattress. The princess couldn't sleep all night comfortably, and hence it was proved that she is a real blueblood and was fit to marry the prince. According to the prince's mother, only a real princess would have such tender, and sensitive skin and she is the perfect fit for the prince!
Princess Amber: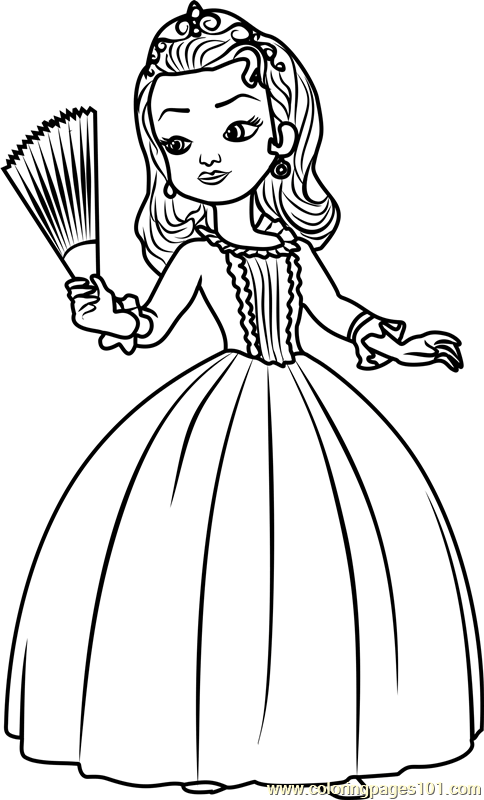 Image Source: www.coloringpages101.com
Princess Amber is one of the characters of the popular Disney animated series 'Sofia the First'. She is Sofia's half-sister and formerly dislikes Sofia and occasionally tries humiliating her, but only later when she realizes her mistake she comes to good terms with her, and it is seen that she utterly cares for her family as well as her stepmother whom she gifts a rose bush unicorn!
[ Read: Sophia the First Coloring Pages ]
Princess Daisy:
Princess Daisy is the sweetest and the most beautiful character in the Super Mario franchise. She is overwhelmingly cute and has a tomboyish attitude, yet she dresses as a princess being the ruler of Sarasaland. Super Mario is on a mission to save her from the evil alien Tatanga who kidnaps her with an intention to rule Sarasaland! 
Princess Diana:
Princess Diana was born in a royal British, Spencer family. In spite of her tragic life after marrying Prince Charles, she was a notable figure known for her charitable work worldwide. Despite her tragic accidental death in a car crash in 1997, she will always be remembered in everyone's heart for her commendable work for humankind.
Princess Diaries:
Princess Diaries aka Mia is the main protagonist of the 2001 American comedy film 'The Princess Diaries'. Mia was raised as a normal teenager until her grandmother Queen Dowager turns up before her 16th birthday and makes her realize that she is the next successor to the throne of Genovia, a small kingdom in Europe. From then onwards her grandmother Queen Dowager teaches her the basic etiquettes and mannerisms which should be adopted by a Princess to rule the kingdom and Mia's uncountable failed efforts at doing the same!    
Princess Elena:
Princess Elena is the main protagonist of the Disney animated series 'Elena of Avalor'. Elena is the brave, free-spirited, funny, smart, and bold daughter of late king Raul and Queen Lucia. She stays with her grandparents, sister, and cousin. She is the ascendant to the throne of Avalor, but she can become the queen only if she rules Avalor as the Crown Princess.
Princess Leia: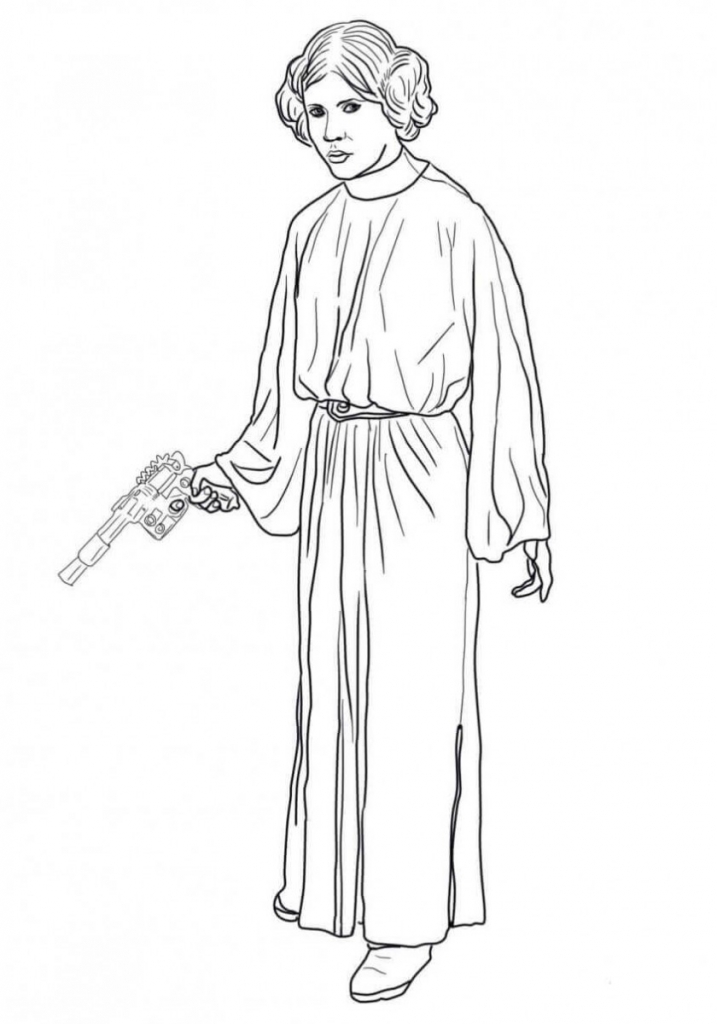 Princess Leia Organa is the recurring character of the Star Wars franchise and the protagonist of the 'Original Trilogy'. She is known as the feminist hero and has gone on many rescue missions to save the world from evil invaders. She is one of the toughest though beautiful princesses in our compilation until now!
[ Read: Star Wars Coloring Pages ]
Princess In Love: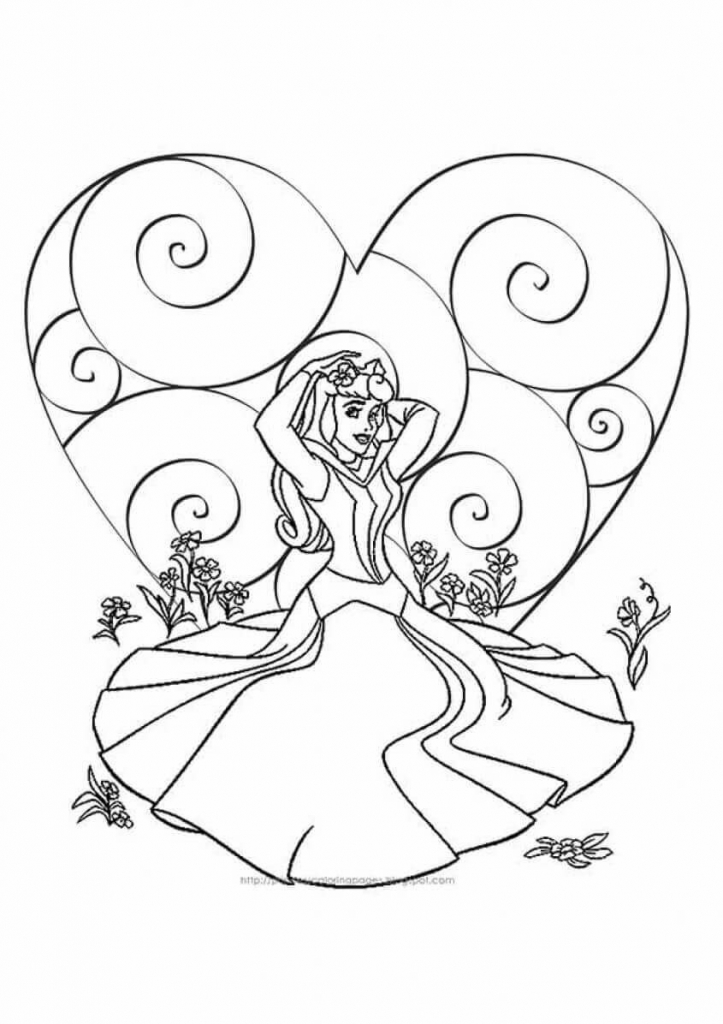 Source: coloringpages.blogspot.com
Here is the coloring page of a beautiful princess celebrating Valentine's Day. It seems that she's in love resting on the 'symbol of love' seen behind her, it perfectly portrays Valentine's Day aura!
Princess With Crown: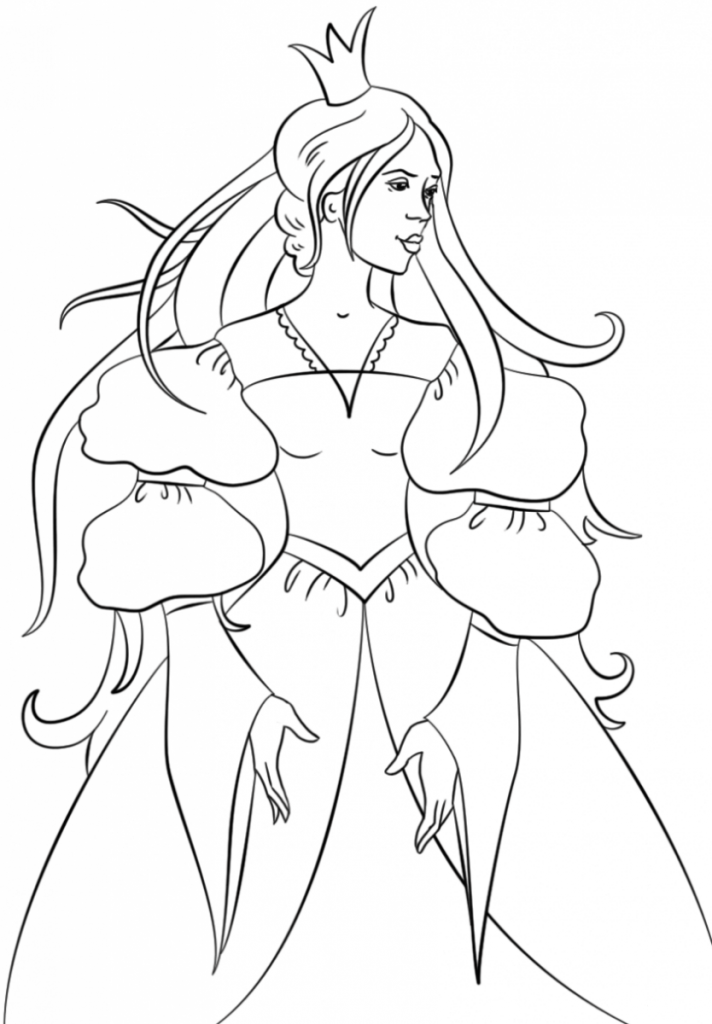 What a beautiful princess the picture depicts here! The crown on her head is just the cherry on the cake and completely complements her look!
Barbie As The Island Princess:
Rosella lovingly known as Ro is the main protagonist of the movie 'Barbie As The Island Princess'. She was shipwrecked at the age of 6 with only a nameplate left behind with Ro written on it. Ro spends the next ten years of her life on the island with a baby elephant, peacock, and a red panda. In the course of 10 years, she learns to communicate with the various creatures on the island and then slowly discovers civilization with Prince Antonio and her animal friends.
Snow White:
Snow White is the protagonist of Disney's first animated film, 'Snow White and the Seven Dwarfs'. She is the most innocent and pious girl who couldn't sense any evil in the world. She is the fairest of all, and hence her stepmother is jealous of her and plans to put her life to an end, but due to her kindness, humble and innocent nature, she is saved by the seven dwarfs living in the forest!
Sofia:
Princess Sofia is the main protagonist of the Disney animated series 'Sofia The First'. Sofia became an overnight princess as her mother remarried King Roland II. Since she was a commoner first it is tough for her to behave like a princess and hence joins the Royal Prep Academy and finally, learns a thing that it is easy to look like a princess, but really hard to behave like one!
The Rapunzel: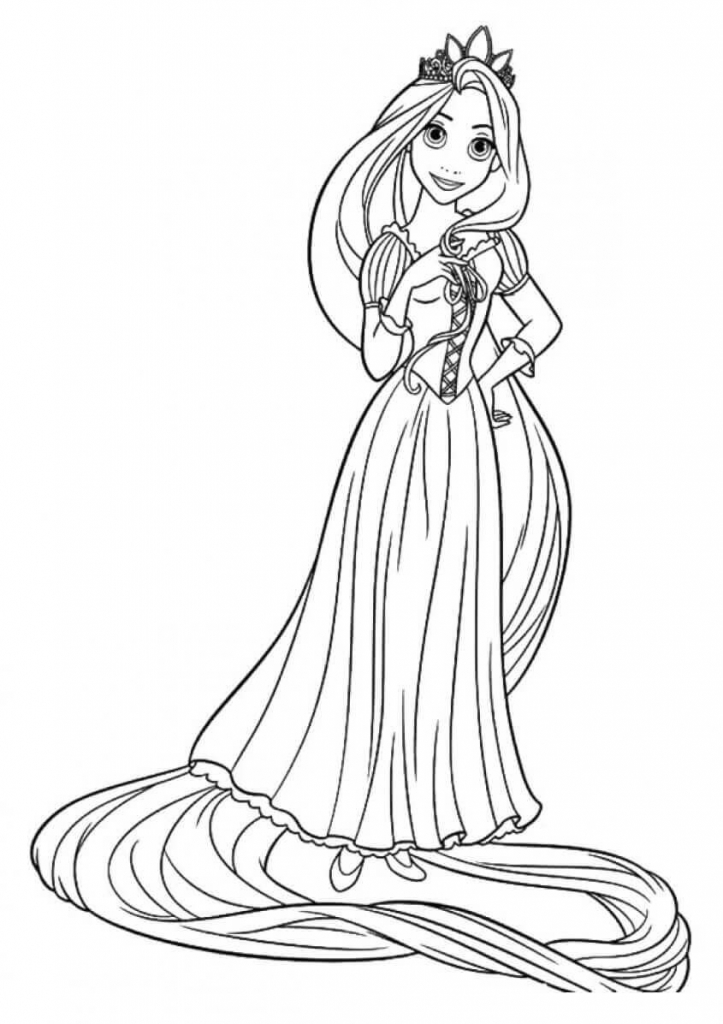 Princess Rapunzel is the protagonist of Disney's animated film, 'Tangled'. She was kidnapped as a baby by Mother Gothel and kept isolated in a tower for around eight years hiding her true identity. Rapunzel has long golden beautiful hair and is the child of the king and queen of Corona. Rapunzel possesses magical abilities since her mother ingested a potion from a magical flower during pregnancy. Unaware of this she is always curious and inquisitive about the isolated world.
Tiana:
Princess Tiana is the first African-American Disney princess. She is an active, brave, workaholic and ambitious girl. She is amazing at cooking and has a dream of opening a restaurant. Initially, she is very disgusted about kissing a frog, but eventually, does it and experiences an amazing adventure at New Orleans Bayou. 
Tinker Bell:
Tinker Bell has played significant roles in Disney's Peter Pan (1953) and Tinker Bell (2008). Tinker Bell aka Tink is impulsive, independent, sassy, short-tempered and annoying as well, but despite all these,  she is lovable at the core and comes up with good terms with the ones around her only after knowing and observing them well. Children all over love this cute Tinker Bell, and she is one of Disney's trademark characters.
Wendy Darling:
Wendy Darling is a young girl living in a middle-class British family. She has a highly striking imagination and believes in Peter Pan and his adventures in Neverland. She is very expressive and recites his stories to her younger brothers and gets a chance to go on an adventure with them at Neverland. In spite of returning back to the real world, she never forgets the adventures and is still very distinctive and compelling at imagining things.
So this was our compilation of some of the best princess coloring pages. We hope your child loved coloring them as we picked the very best and unique collection of princess coloring sheets for them. If you want us to have similar compilations ahead, please comment below about the same! Until then, check out Disney coloring pages and unicorn coloring pages