Do you remember the first Barbie doll you had? Did you give it a name? Does the Barbie doll you have now have a name? Even though they are called Barbie dolls, most of us tend to give them our own special names, because we love them so much. To continue spreading this love for Barbie, we have brought for you today, a special collection of free printable Barbie coloring pages.
The first Barbie dolls were released in 1959 when Mattel Inc. started manufacturing them. Since the release, every child has grown up with a dream to own their own Barbie doll, to dress up, care for and play with. No wonder Barbie became an important part of the popular culture around the world and hugely impacted the toy business.
Following Barbie's success, several other fashion dolls found its way to the market, but most didn't have the impact as Barbie. When we think of dolls we think of Barbie. After all, there is only one doll like Barbie and that's Barbie, right?
to join this conversation on GitHub. Already have an account? Sign in to comment Footer © 2023 GitHub, Inc. Footer navigation Terms Privacy Security Status
Get ready to know more about this iconic fashion doll and her lifestyle through this entertaining collection of Barbie coloring sheets to print.
40 Free Barbie Coloring Pages Printable
Barbie And Friend Bathing A Pup:
When you have a pet, you need to take proper care of it. That's exactly what Barbie is doing today. Along with her friend she is giving a bath to this cute and adorable puppy. Print this coloring page and fill it with fun and playful colors.
Barbie And Her Friend Going For Some Shopping:
The change of season means there will be a change in fashion too. From light summer clothes to warm autumn and cozy winter wear. As the season changes, Barbie is ready for some shopping to buy new clothes with her friend.
Barbie And Kelly Looking At The Stars:
Kelly is Barbie's younger sister. You can see these two sisters having a great time together looking at the stars through the telescope. Playing with siblings can be so much fun. Appreciate this sisterly love on this coloring page by printing and coloring it with lovely colors.
Barbie And Ken – Sun, Sea And Sand: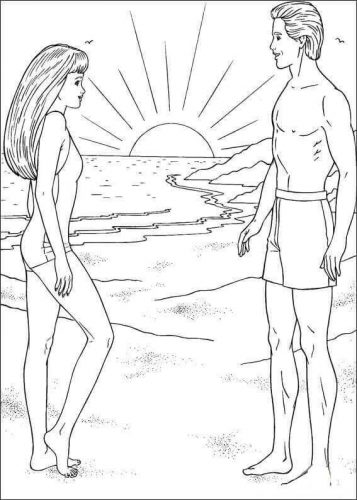 Having been together for some time, you can see Barbie and Ken, her boyfriend, are comfortable with each other and seem to be having a relaxing time as the sun sets on the sandy beach. Print this romantic illustration and fill it with heartwarming colors.
Barbie And The Three Musketeers:
"Barbie and the Three Musketeers" is a fun adaptation of the classic famous story "The Three Musketeers". Print this coloring page depicting Barbie and other dolls as characters from the film and expertly color the incredible designs of the clothes they are wearing.
Barbie And The Magic Of Pegasus: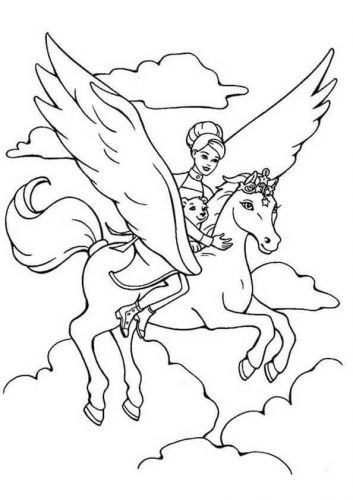 The 2005 film, "Barbie and the Magic of Pegasus" is a mystical and magical original tale written specifically for the film. You can see how magical the film will be through this illustration. Give this fantastical scene from the film some of your expert coloring skills.
Barbie Blowing Up A Balloon: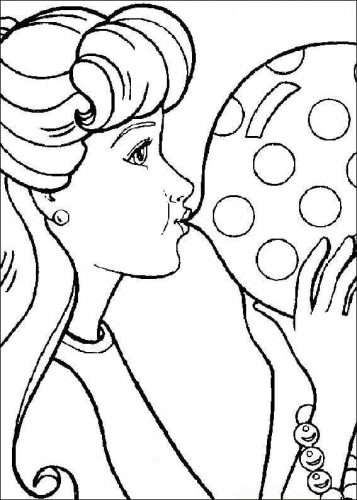 There is a party happening at Barbie's place tonight. When she is hosting, she is very detailed in her preparation to ensure everybody has a good time. She is busy doing the decorations and is almost done blowing up all the balloons.
Barbie Checking Out A New Dress:
To get ready for the party, Barbie checks out an exquisite new dress. You can imagine just how wonderful the dress will look on Barbie as you print and color this page.
Riding On The Waves, Barbie Surfs With Style:
Having several interests and indulging in a few hobbies, you can always find Barbie busy with some activity or the other. Here, she is catching some cool waves while surfing. Capture this thrilling illustration in some exciting colors.
Barbie And A Friend Try New Dresses:
Whenever they go out shopping, Barbie and her friend make sure to properly try each item. You too should always try checking any new clothes you buy to see if it fits properly and if it feels comfortable. After all, you should always feel good and comfortable in anything you wear.
Barbie Sits Down To Rest:
With so much to do in a day, things can get overwhelming for anyone including Barbie. But she makes sure to take a break, whenever she can. Right now, she has taken a few moments to just sit down, relax and do nothing. It helps to recharge yourself and continue with the day feeling refreshed.
Barbie Takes A Break From Surfing: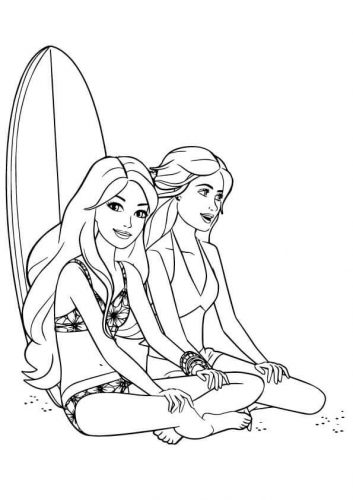 After surfing for a while, Barbie sits down on the beach, taking a break along with her friend. Like anyone who has been surfing for long, she is expertly resting against her upright board.
Back At Home, Barbie Wears Her Pajamas:
As soon as she gets home, Barbie gets cozy in her sofa, changing into her comfortable and snug pajamas. Just like how you must be changing into your home clothes from your school uniforms as soon as come back home from school.
Barbie Dining With Ken:
Part of any relationship is enjoying all the moments of togetherness. Like your dinners at home or dining out with family and friends, Barbie and Ken also like to enjoy a good meal together.
Sporty Barbie Does A Headstand:
Because of her interests in sports and maintaining her physical health, Barbie is able to spontaneously do a headstand, highlighting her flexibility and athletic abilities. Give this fun illustration some of your bright and fun colors.
Barbie Doing Her Hair:
Feeling and looking good as well as healthy take hard work. To keep her hair looking silky, shiny and healthy, she massages her scalps. Print this page and give Barbie's hair the color of your choice.
Makeup Time, Barbie Looks Fine:
Using beauty products that are properly certified and good for her skin, Barbie is getting ready with her makeup on point. You too should always be aware of and educate yourself about the products you use on your skin.
Barbie Doll Wears Her Surfing Costume:
As you must have noticed in earlier pages, this is the costume Barbie was wearing when she was surfing. Make sure to give it the same colors.
Barbie With Ken And Kelly:
Ken has become a part of Barbie's family. Here in this illustration, you can see the family bond they share. Ken is telling Barbie's baby sister, Kelly a story while she watches them fondly.
Barbie Getting Ready For Picnic:
Getting every detail right is crucial when you're making plans. With picnic plans for the day, Barbie is packing up the picnic basket with some delicious sandwiches she had prepared a while back.
Barbie In A Mermaid Tale:
You can see Barbie in her mermaid avatar in the 2010 film, "Barbie In A Mermaid Tale". Although the story is fantasy filled, the characters are based on the real modern world, unlike the earlier Barbie films which were more of a period film or costume drama.
Barbie In Hawaii: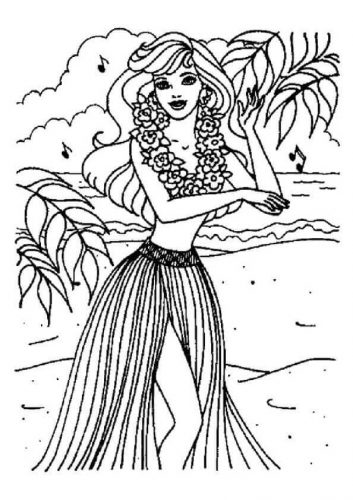 Dressing up like the locals in Hawaii, Barbie is quick to learn the Hula dance. Fill in all the heavenly colors on this coloring page.
Barbie In The Pink Shoes:
"Barbie In The Pink Shoes" showed Barbie in the role of a ballet dancer. The pink shoes in the title refer to magical shoes Barbie and her friend find. On wearing the shoes, it takes them on a magical adventure.
Barbie Making A Cake:
It's Barbie's birthday today and instead of buying a cake for her friends, she has decided to bake a cake herself. Yes, you are absolutely correct, her birthday falls on 9th March.
Barbie Making Kelly's Hair: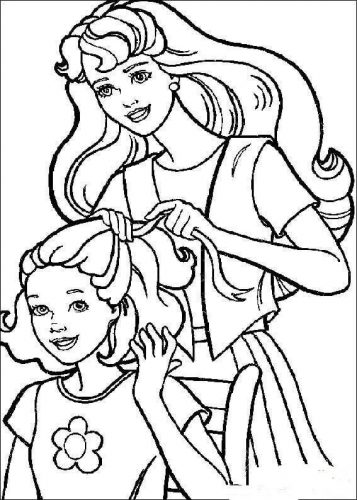 One of the things you get to do with your siblings, especially if you are sibling sisters is doing each other's hair. This time, instead of a simple ponytail, Barbie is making a new hairstyle for Kelly.
Barbie Mariposa Movie Coloring Page:
This 2008 Barbie film titled as "Barbie: Mariposa" treated Barbie fans with a story about a butterfly fairy. Can you guess who plays the fairy in the film? Of course, it's Barbie. Look how exquisite Barbie looks like a butterfly fairy.
Barbie Playing At The Beach:
Other than surfing while she is at the beach, she enjoys playing with her friends. Whether it is throwing Frisbee or playing volleyball, Barbie has a good time playing at the beach.
Barbie And A Turtle Hatchling:
As a sea turtle hatchling comes out of the sand after hatching, Barbie helps it to reach the water. Sea turtle females lay their eggs by digging up the sand on the beaches.
Barbie Skating Skillfully:
Having a blast, Barbie shows off her excellent skating skills in this dramatic illustration. Pick your favorite colors and fill this coloring page.
Barbie Trying Out A Flower Headband:
There are simple accessories you can use to accentuate your look. Like how Barbie is trying out this flower headband to match with her floral t-shirt.
Barbie Checks Out Her New Earrings:
After trying out headbands, Barbie is now checking out a new pair of earrings. Fill the colors you like in the earring and the rest of the illustration.
Barbie Walking The Dog:
As you saw in the beginning how Barbie cares for the pets, you can now see her taking a dog for a short walk outside in the evening.
Barbie With A Ball:
Planning to play some ball game outdoors, Barbie checks the weather from her window. It seems like a fine day to play outside.
Barbie With Her Kitten:
After bathing and walking a dog, here is Barbie stroking a cute cat. Look at the luxurious tail of the cat and the pretty dress Barbie is wearing. Print this page and fill it with some brilliant colors.
Barbie Riding A Horse:
It's not just dogs and cats, Barbie loves horses too. Dressed in proper attire, Barbie is enjoying an early morning horse ride.
Barbie Enjoys A Breezy Bicycle Ride:
When the weather is cool and breezy, Barbie likes to go out for a nice little bicycle ride around her neighborhood.
Barbie Sending Out Party Invitations:
Whenever there is an event like a party or something she is hosting, Barbie always adds a little personal touch to all the elements. Like how she makes her own party invitations and also writes handwritten notes to all the invitees.
Barbie Plays Guitar:
Apart from being sporty and being active, she also has other hobbies like music. You can find her rocking a guitar in this illustration. Print the coloring page and fill it with glittering colors.
Cowgirl Barbie Does Lasso Tricks:
Barbie is here in another of her avatars. This time she is dressed ruggedly in a cowgirl outfit with matching hat. Barbie has even mastered the lasso and is using the rope to do some cool lasso tricks.
The Popstar Barbie:
After showing her guitar in the earlier page, here is Barbie in her popstar look. When there's a party, she entertains everyone with her singing and dancing abilities. Print this coloring page and give this lively scene an exciting combination of colors.
On that exciting note, we have now come to the end of this entertaining collection of Barbie coloring pictures to print. Over the last few years, Barbie dolls have diversified, and Mattel Inc. also produces Barbie dolls representing different cultures. You can now find a Barbie doll that will truly represent your own culture and ethnicity through its features as well as its fashion. When you have a sleepover with your friends, maybe you can each bring a Barbie representing each one of you. For fun activity, you can print this colouring pages of Barbie dolls and enjoy coloring together the different facets of Barbie.