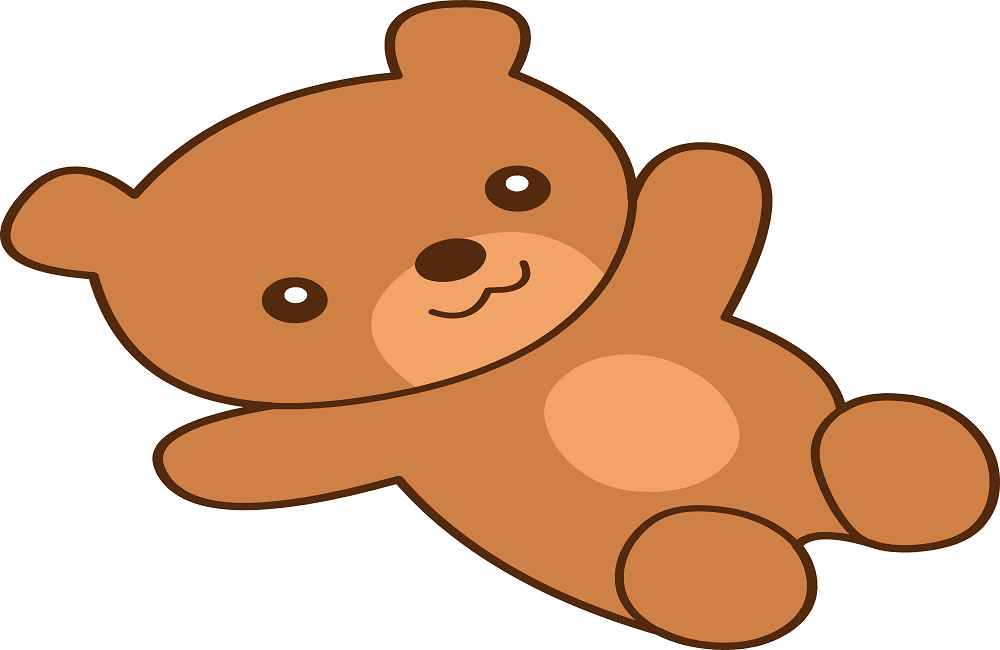 There are several toys that we love to play with as a child. Most often than not, we soon get tired of playing with them and they are forgotten when a new version or a new toy comes along. Yet, we rarely get tired of playing with, holding and hugging our soft toys; especially teddy bears. In today's collection, we will be sharing some free printable teddy bear coloring pages for you.
Teddy bears are soft toys made of soft fabric stitched into the shape of a bear with cotton or other similar material stuffed inside. Have you ever wondered how the name Teddy came to be associated with this line of soft toys? Teddy bear gets its name from Theodore Roosevelt, the 26th president of the United States, who was often referred to as "Teddy". On an unsuccessful bear hunting trip, Roosevelt's assistants rounded up a bear for him to kill. But he refused and this inspired political cartoon, which in turn inspired inventors to create a soft bear cub named "Teddy's bear" with his permission.
Since then, Teddy bear has gone on to become one of the most popular toys and most selling soft toys in the world. They are not just popular with kids but adults alike, especially as romantic gifts on occasions like Valentine's Day. Get ready for some warm and loving hugs as we begin today's collection of teddy bear coloring sheets to print.
to join this conversation on GitHub. Already have an account? Sign in to comment Footer © 2023 GitHub, Inc. Footer navigation Terms Privacy Security Status
35 Free Teddy Bear Coloring Pages Printable
4th Of July Teddy Bear:
Starting off the collection is a smartly-dressed teddy bear in the colors of the American flag celebrating the 4th of July, which marks the American Independence Day. It was on the 4th of July in 1776 that the Declaration of Independence was adopted. Print this page and give the cool teddy bear, colors of blue and red with white.
Bedtime Bear – Original Care Bear Character:
Care Bears first appeared on the greeting cards with artwork by Elena Kucharik for the company, American Greetings. Since then, a franchise was developed and expanded into different media. Simply color the numbered areas with the corresponding colors given in this illustration to reveal the colorful avatar of Bedtime Bear, one of the original characters.
Thanks-a-Lot Bear From Care Bear:
Thanks-a-Lot Bear became a part of the Care Bear franchise in 2004. It teaches you the importance of politeness. Look at how happy it is jumping up and down on a cloud. You can recognize Thanks-a-Lot Bear by her tummy symbol which has a star with a curvy rainbow tail.
Teddy Bears Make A Christmas Tree:
What an interesting illustration of a Christmas tree, isn't it? All the teddy bears have come together, supporting each other to form a triangle shaped like a Christmas tree. The bear on the top has even managed to carry a star to symbolize the Star of Bethlehem.
Duffy the Disney Bear Coloring Page:
Duffy the Disney Bear first came into existence thanks to the creative people at the Tokyo Disney Resort. This stuffed bear is found at various Disney parks around the world. Print this coloring page and make it come alive with colors.
Easy Teddy Bear, Color With Simple Care:
In case you found all the teddy bears so far hard to color, this simple illustration of a teddy bear should be easy for you to color. Always remember the golden rule of coloring – color inside the lines.
Female Teddy Bear Coloring Page:
While most teddy bears are shaped the same, this illustration showcases a female teddy bear wearing a dress. She seems to be singing a happy song and has even found a captive audience in a rabbit.
Big Teddy Bear With Small Teddy Bear:
These two teddy bears are taking a much-deserved rest on this coloring page. They had been up since early morning going for a run and cleaning up their rooms. Print this coloring page and give them some relaxing colors.
Teddy Bear Christmas Scene, All The Gifts Are Seen:
It's Christmas day celebration at this Teddy Bear family home. You can see the well-decorated Christmas tree shining bright. The little teddy bears have already opened their Christmas gifts and each of them seems happy with their respective toys.
Garfield With His Teddy Bear:
One of the great things about soft toys is being able to hold and hug them. You must be hugging your favorite soft toys too. Even Garfield loves to hug his soft toy teddy bear. Give this warm illustration some loving colors.
Lots-o'-Huggin' Bear From Toy Story 3:
Lots-o'-Huggin' Bear looks cute and fluffy, but he was the tough enemy that Woody the Cowboy had to overcome in Toy Story 3, released in 2010. He is super large or jumbo size with a body that is colored in pink and white.
Naughty Teddy From Andy Pandy:
Andy Pandy is a British children's show that featured the titular character along with a naughty Teddy and a rag doll Looby Loo. You can find Naughty Teddy looking so deceivingly well-behaved and proper in this illustration.
Sleeping Teddy:
It's a moonlit night and this particular teddy bear is already in the land of dreams. Print this coloring page and bring out the peaceful atmosphere of the night scene with your colors.
Good Luck Bear At The End Of The Rainbow:
Another one of the original Care Bear characters, Good Luck Bear is a very lucky bear and brings luck to everyone. Did you notice the lucky four-leaf clover on his tummy? Be sure to color him accurately in green.
Grumpy Bear, Care Bear Color By Number: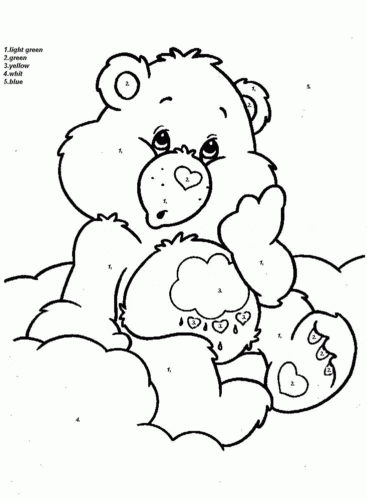 Grumpy Bear is a Care Bear with a tummy symbol of a cloud with raindrops and little hearts. He is mostly grumpy but smiles on rare happy occasions. Make this moment one of those joyful ones by printing and coloring him accurately by number.
Teddy Bear As A Gift:
Somebody got very lucky on their birthday. Among the many presents received on the day, one of the gifts turned out to be this adorable teddy bear with polka-dotted bow tie.
Teddy Bear Coloring Page For Preschoolers:
Here's another simple illustration of a teddy bear that is ideal for preschoolers. The eyes have already been colored black. Give every other part of the teddy bear some wonderful colors.
Funny Looking Teddy Bear:
This teddy bear illustrated on this coloring page looks a bit strange, doesn't it? The facial expression on this teddy bear feels funny and a bit odd. Give him a mix of fun colors.
Teddy Bear And Other Toys:
What do we have here? It's like a dream room for any kid, full of different toys. You can find a toy horse, even a duck, among others. Give each toy your unique coloring skill.
Symmetrical Teddy Bear:
This is a cool illustration of a teddy bear. Why? Because the left and the right side is completely symmetrical. You can try filling in different colors for the different sides.
Teddy Bear Connect The Dots:
We have an activity sheet for you on this coloring page. All you have to do is connect the dots to reveal a giant teddy bear. Remember to connect the dots according to the ascending order of the numbers.
Teddy Bear Couple:
There is love illustrated everywhere on this coloring page. The teddy bear couple is spending some quality time together. Even the balloons are in the shape of hearts!
Teddy Bear Going For Trick Or Treat:
Come Halloween time, this teddy bear puts on his best costume and get ready to take part in the festivity. He has even carved out a pumpkin to put in all the goodies he is going to collect during his trick or treat.
Teddy Bear Invited To A Tea Party:
The little girl plays with her teddy bear. She has invited the teddy bear to an evening tea party. Look at those treats she has prepared to be eaten with the refreshing cup of tea.
Teddy Bear Near Christmas Tree:
The teddy bear seems to be guarding the Christmas gift in this illustration. Maybe he was put near the Christmas tree to make sure no one opens their gifts before the morning of Christmas. Print this coloring page and fill this interesting Christina scene with some of your best colors.
Teddy Bear With A Huge Crayon:
It must be a giant drawing for which this teddy bear is carrying such a huge crayon on his shoulders. You get to decide what color crayon he is carrying. Fill it with your favorite color.
Teddy Bear With Christmas Gifts:
Nothing makes one happy than getting gifts. It's the same feeling for this smiling teddy bearing opening up his Christmas gifts.
Teddy Bears Guarding Their Gifts:
While a single bear guarded the gifts near the Christmas tree, here we have two of them guarding the huge bag of Christmas gifts.
The Teddy Bears' Picnic:
This illustration pays tribute to one of the popular melody associated with Teddy bears, aptly titled "The Teddy Bear's Picnic". It was composed by John Walter Bratton in 1907. It has been sung by several artists after Jimmy Kennedy wrote the words in 1932.
Teddy Bears Playing, Screaming While Sliding:
A visit to the children's park proved to be a fun time for this group of teddy bears. They are screaming with joy while going down the slides. You must have done the same with your friends too. Print this page and fill this playful scene with some fun colors.
The Teddy Bears Family: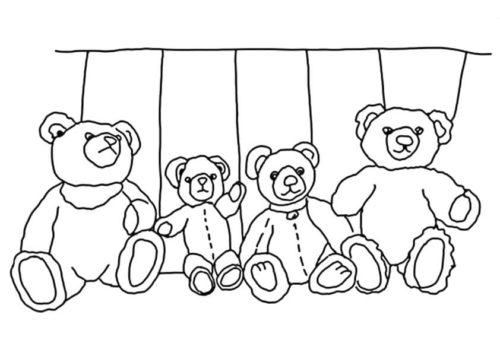 There's Papa Bear and Mama Bear along with their two adorable Teddy Bear kids in this illustration. It's like a perfect family portrait with the children flanked by one of the parents on both sides.
Teddy On A Rocking Chair: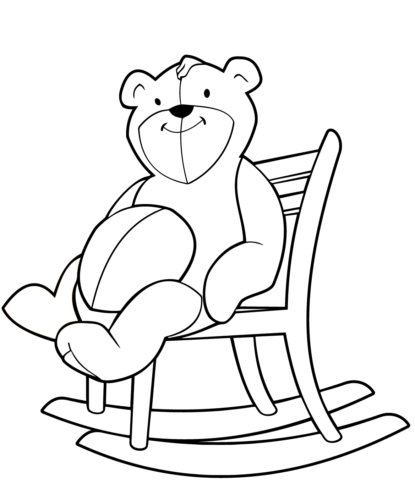 Rocking chairs are one of the most common chairs you see on the porches of most houses. You might have noticed that most grandparents are seen sitting on these chairs. But this teddy bear is keen to have a relaxing time and enjoys sitting on this rocking chair.
Teddy Spreading Love:
Looking at a teddy bear fills us with love and warm feelings, doesn't it? This illustration shows a teddy bear spreading love from his basket everywhere he goes. Print this coloring page and greet the teddy bear with some of your loving colors.
Teddy With His Grandma:
Our grandparents always take care of us and spoil us with treats, don't they? It's the same with this little teddy bear who is out for a walk with his grandmother. No sooner does he sits down his grandma gives him some cookies to eat. Like a good boy, little teddy says, "thank you". Just like him, you should always remember to say "thank you" too, especially to your family.
Valentine's Day Teddy Bear Couple:
This loving Teddy Bear couple brings you double the love on Valentine's Day, celebrated each year on February 14. Look at the adorable way they are hugging each other. Print this coloring page and fill it with colors of love.
On that note of love, we have reached the end of today's cute collection of teddy bear coloring pages printable. Hope this collection filled your heart with warmth and love as well as made you smile with pure joy. Several arts and literature have been inspired by teddy bears. You must have enjoyed characters like Winnie-the-Pooh from author A. A. Milne's books or Paddington Bear from Michael Bond's series of books. Both these characters have been adapted into other media, including various series and films. Can you think of other characters, some of which we have already discussed in this collection? If you can't recall, maybe it's time for a quick revision by coloring this teddy bear inspired collection again.